3d printed robotic claw controlled by Arduino… via the wrist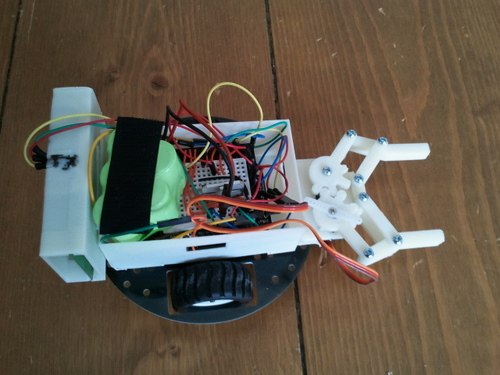 Control may be a relative term… but once the learning curve is taken into consideration, this project from Lars Roland is quite a nifty little effort.
The claw mechanism is 3d printed from a design on thingiverse, and Arduino controllers are used to manoeuvre the robot and servo motors.
Data is sent from a Chronos watch whose buttons and built-in accelerometers tell the little critter what to do. Kind of.
Click through to see a video where the claw conquers one of life's more difficult tasks; manoeuvring those pesky yellow cuboids around. Someone's gotta do it! 
Lars has comprehensively documented the project on Gadget Dreams, where he includes sources for files to print your own robot claw as well as talking us through the software that will drive it.
Via Engadget