Laser Cutting that's out of this world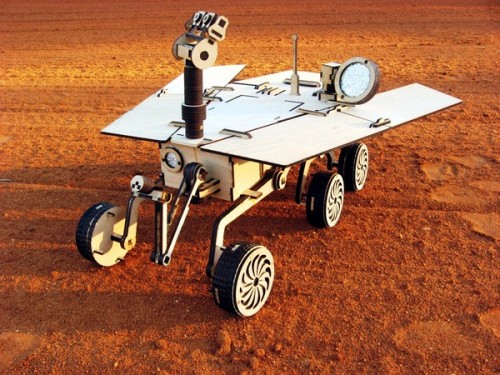 Frequent visitors to Ponoko will be familiar with WoodMarvels, a lasercut range from the inspirationally prolific designer Jon Cantin.
Intrigued by the complexity in many of the 270+ WoodMarvels products, CNC contractor Angus Hines decided that he needed to see more than the shiny CG renderings that Jon has become famous for. Being a man of action, Angus joined forces with Jon to get his hands on some plans for the Mars Rover. He then fired up his own machines to cut out all the pieces.
A suitably Martian landscape of red clay was selected for the photoshoot of the finished model Mars Rover: Opportunity. The tinfoil details are a nice touch… and it will be interesting to see NASA's reaction to those mysterious footprints captured in the frame.
Fans of WoodMarvels are in for a treat; stay tuned on the Ponoko Blog for an upcoming feature in which Jon gives an exclusive run-down of his 3d animation process.
Via Make