designs by Lauren Moriarty


Lauren Moriarty has a knack for designing fun, commercially appealing product designs that merge her background in textile design with digital production. Her work ranges from custom commissions and one-offs to small batch productions and fully manufactured designs.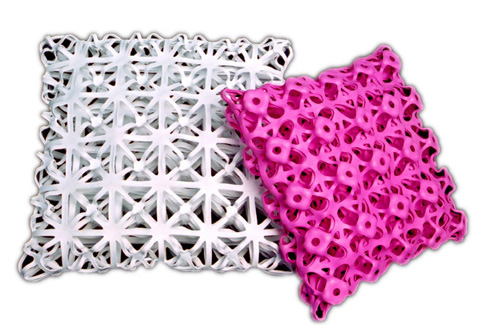 The Geometric Structure Cushion is made from laser cut and heat formed rubber. Its unique ratio of mass to volume gives this pillow a CAD rendered quality. With color choices like bright pink, lilac, light yellow, and aqua, the Geometric Structure Cushion is like a techie re-imagination of British interior legend, Designers Guild.
Similar projects to the cushion include the Noodle Block Cube and a shelf for the Renault Zoe concept car.

Moriarty has also explored several 2D laser cut designs, such as the  Lace Panels.
The Laser Cut Lace Panel is also made from heat formed rubber and comes in a selection of organic patterns. And in addition to photos of the products, Moriarty has several illustrations of the process behind the designs on her website.