Well, kinda more like $1200 to get it running…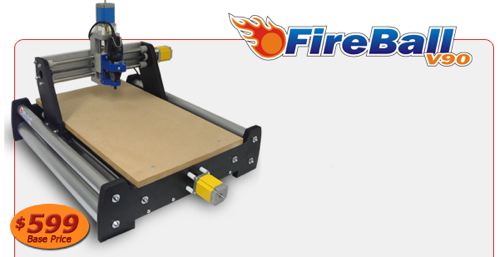 The Fireball V90 CNC Router from Probotix is really a DIY CNC kit with:
Approx. 12″ x 18″ x 3″ Cutting Area
Thomson Precision Linear Shafts
Oilite bearings
Precision Acme 2-start Leadscrews
Delrin Nuts
Solid Brass Machined Couplings
Cast & Machined Commercial Grade Z-Axis
Tool Holder for Dremel Model 300 Included
Uses NEMA 23 Frame Motors
220 Inches Per Minute Rapids*
Easy To Assemble
The base kit is supplied as a mechanical machine kit only. No motors, electronics, spindle or software is included.
Or for an additional $600 you can get the bottom of the line motor, software etc. etc..
There does seem to be a community of users for support as well a great post on Hacked Gadgets critiquing the unit and it's assembly.
Or check out their YouTube video here which reminds me of My Own Private Idaho in a kinky kinda way.