Simple technologies enable objects to take form before your eyes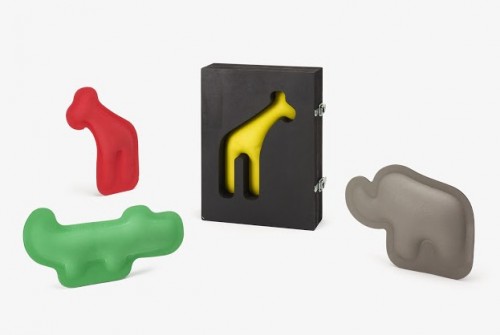 One of the gorgeous explorations from the students at ECAL, the University of Art and Design Lausanne, Animal Growth challenges the automated production processes that most designers have come to rely on.
In Animal Growth, simple hand tools are utilised to break down the manufacturing process of expanded foam animal toys. Templates that enable an operator to cut, glue, and fill the animal form have the appearance of something much more refined than the prototyping model-shop roots that these techniques would suggest.
The Low-Tech Factory projects were recently exhibited as a part of a local design festival, and showcased six fun, unique production processes. Each project is supported by an engaging video of the process in action, where you can really get a taste for the physicality of the forms as they come to life before your eyes.
"Students look at showcasing the manufacturing process of an object, from the machine to the finished product."
Click through to see the Animal Growth clip, and we've also thrown in the other quirky Low-Tech Factory videos. They're just too good to skip over.
Animal Growth by Eleonora Castellarin and Moises Hernandez
Also featuring at the Low-Tech Factory:
ECAL via Monogocoro