Now your drawing robot is even quicker on the draw…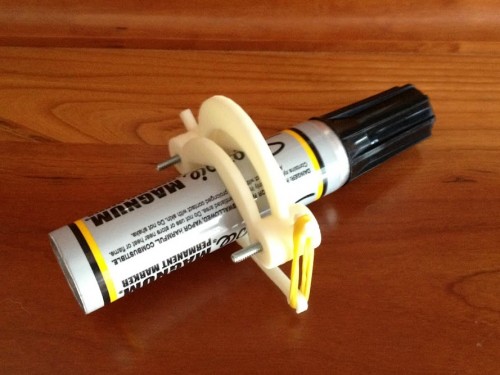 With a soft spot for drawing and a special place in my heart for all things robotic, it's kind of understandable that the Drawbot gets me excited.
Rather than leaving Drawbot users to fiddle around changing pens, this 3D printed clamp will make switching over to a new Magnum felt-tip quicker and easier than ever. It's a simple pen holder modification, but one that makes a noticeable difference to the Drawbot's process.
The image above is a working prototype printed on a Makerbot by Michael Audette, and boasts the following features:
* Pinch to release
* Rubber band for spring tension
* Holds a 20mm marker, can be scaled to hold a Sharpie fine point marker
With the Drawbot featuring as a part of the Robots for Schools campaign on Indiegogo, this modification couldn't have come at a better time.