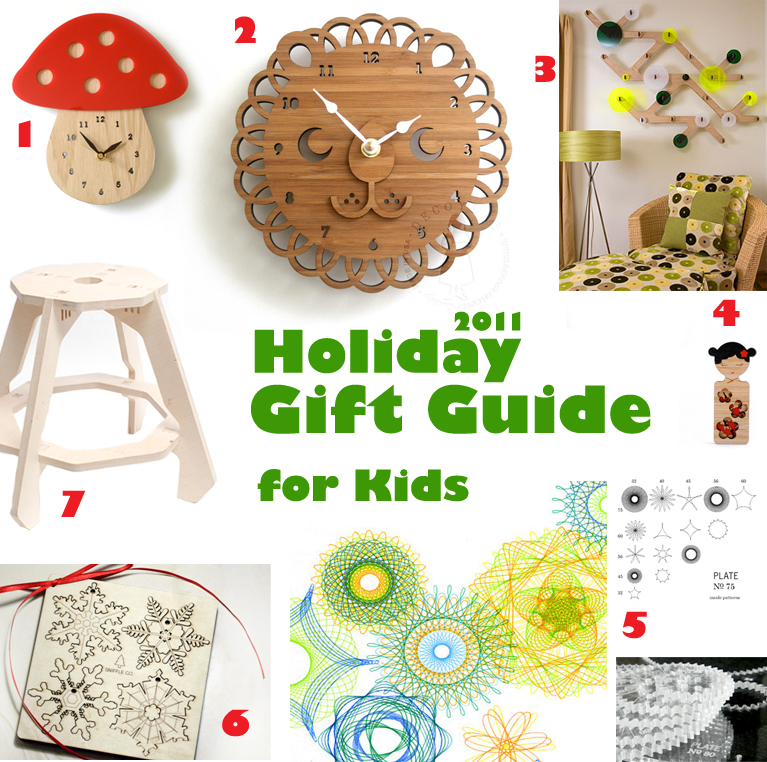 Click the image to make it bigger!
1. Mushroom Wall Clock $68 by Decoylab – I don't really know why toadstools are so precious, but they are!
2. Lion Wall Clock $78 by Decoylab – This lion face clock lasercut from bamboo is Jonathan Adler-level adorable but so much more affordable.
3. Custom Modular Wall Art (contact for price quote) by A.R.T – Design your own work of modular wall art with a downloadable template or work with a designer from A.R.T. to create the perfect, kid-friendly installation.
4. Hand painted Kokeshi Broach $42 by Kimono Reincarnate – Just ask Australian designer Melanie Gray to leave off the metal brooch backing, and you've got a darling little doll.
5. Cycloidal Scribbling Engine $35 by Mr. Velocipede – have some old-school spirograph fun making colorful radial art with this set of 5 acrylic discs.
6. Pop-out Snowflake Ornament Set $38(aud) by Sniffle Co. – The pop-out action of these snowflake ornaments makes this gift double as a puzzle!
7. DIY Ponocto Stool Kit (2) $180 by Made on Jupiter – This is not just a great product, but a great project for kids and parents to do together. You'll receive 2 stool kits that require tab cutting, some sanding, assembly and finishing. Made from quality Baltic Birch plywood.