Open today through 9 January!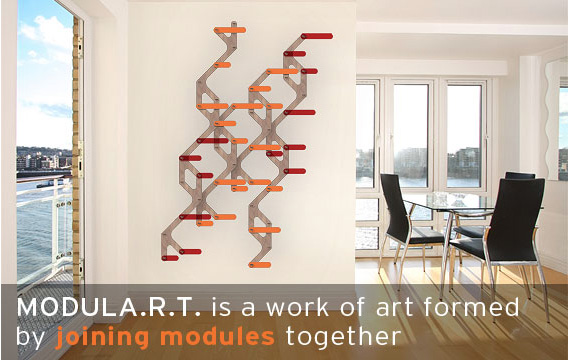 Husband and wife team Donald and Gaby Rattner, founders of A.R.T, are opening a pop-up shop today in Brooklyn at 400 Atlantic Avenue. Hours are Wednesday — Sunday, 11am — 7pm.
The pop-up shop will feature modular wall art from the A.R.T. label as well as 52+ modular products like wine racks, shelving units, room dividers, housewares, etc under the brand Module R.
"We liked the idea of creating a venue where people could find modular art and design all in one place," says Donald, an artist, architect and curator of the new store.
Together, A.R.T. and Module R will offer the first destination devoted exclusively to selling modular (and only modular) art & design products under one roof, playing on the growing interest in mass customization.

Pictured above: Puzzle Wine Rack by Gideon Dagan Design, Nomad Room Divide by Mio Culture, Stacking Cubes by Way Basics, Modular Ceramic Dish Set by Adonde
We at Ponoko are especially excited for the Rattners who have been using Ponoko to create bespoke and customized wall art. Click HERE to read an interview with architect/designer Donald Rattner.
And if you're in NYC, don't miss the A.R.T. + Module R opening party on Thursday, 2 December from 6:30—8:30pm. 10% off all purchases, one night only! RSVP to: rsvp[at]AMP3pr[dot]com