Flatpack Furniture in the Ponoko Showroom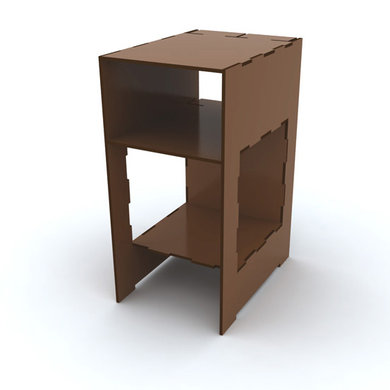 The Narrow Bedside Table by Formatwork is made from laser cut hardboard. There are two of every part. Besides the sides, each part is used uniquely. The slots at the rear of the table top and upper shelf originated as slots to fit the tabs of the vertical panel at the rear of the upper shelf. These T-shaped and L-shaped slots that run to the back of the table allow for organization of power cords such as an alarm clock and phone charger.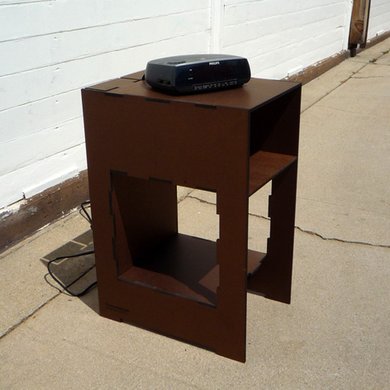 The Ponoko process would be really well suited for making other smaller furniture items such as stools, children's furniture and hacks to existing furniture. If your first prototype is produced in cardboard instead of hardboard or poplar, the cost of any corrections needed is greatly reduced.
The Narrow Bedside table is one of the most inexpensive pieces of furniture currently in the Ponoko showroom which indicates an efficiency of design by Formatwork. This design is also a great example of the scale of furniture suitable to be produced using Ponoko suh as items like stools, childrens furniture and product hacks. Initial prototypes can also be made in cardboard to reduce the cost of the first iterations before making the final product in hardboard, MDF or veneerboard.