Jetsons Cuisine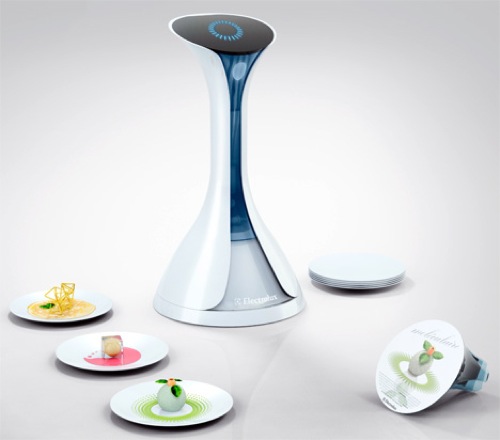 Nico Klaeber from Koln International School of Design, Germany is one of the 8 finalists in the Electrolux Design Lab '09 with his Moleculaire taking 3D printing into the world of gastronomy.
Moleculaire is influenced by chefs that scientifically and painstakingly experiment with food and food states to surprise and provoke fresh ideas in cooking. Klaeber recognizes that this approach, as it currently exists, requires great skill, time and knowledge. The Moleculaire simplifies the process and acts as a computer numerical control (CNC) food printer for both professional and domestic kitchens. It autonomously prepares basic and otherwise difficult to create two and three dimensional parts of meals. It works with a layer by layer printing process using small particles from diverse ingredients. This provides simplicity, accuracy, repeatability and, of course, great tasting food!
This is interesting and not a very big stretch from the Jetsons or Star Trek concepts but at least Electrolux are giving it a nod along with the Teleport Fridge by Dulyawat Wongnawa and the Naturewash by Zhenpeng Li.
Not sure the folks at the Slow Food Movement would think much of the Moleculaire with the implied haste and separation of food from nature and seasonal freshness.
Watch the Henrik Otto, Senior VP of Global Design (with a megalomanic title) at Electrolux talk it up…
via Yanko Design