Pumping out approx 4000 prototypes a year…..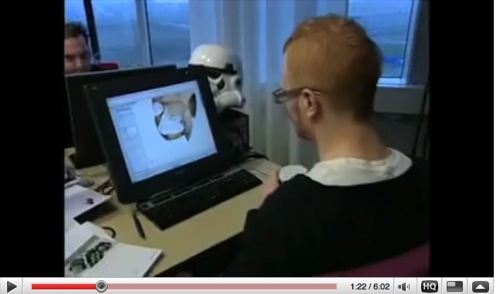 A video on Youtube that has been bouncing around the web for a month now features an excerpt from the SolidWorks World 2009 Tuesday general session, SolidWorks founder Jon Hirsctick visits with Sony/Ericsson in Sweden and discusses their use of rapid prototyping technologies on a day to day basis, check it out here.
Ok, so engineers are not known for their charm and social interaction but Jon takes awkward conversation to a new level as he drills the design and engineering team at Sony/Ericsson on how many prototypes they produce and how it has changed over the years.
Perhaps Sony are about to release a Stormtrooper headset as Magnus at the 1.22 minute point seems to be modeling up a helmet (or maybe it is about product confidentiality) but the hand scrawled sign on his desk "S**t happens when you drill naked" at the 1:59 point is a very nice touch.
Don't forget the SolidWorks Engineering Stimulus Package might get you a position with Magnus modeling the next generation mobile phones and Stormtrooper helmets..
via 3DSystems Blog