We're starting a new weekly series that we've decided to call (quite imaginatively really) "Product of the Week". There are lots of cool, bizarre, and fascinating products being uploaded into the Ponoko Showroom and while we do regularly feature them on the blog doing it on a weekly basis we are hoping will create a few more regular fans for the designers involved. We hope you enjoy it, and you're welcome to suggest future winners in the comments.
The Inaugural Product of the Week is (drum roll please)……

Marmalade Monkey and their Wooden Lace wearable art garment.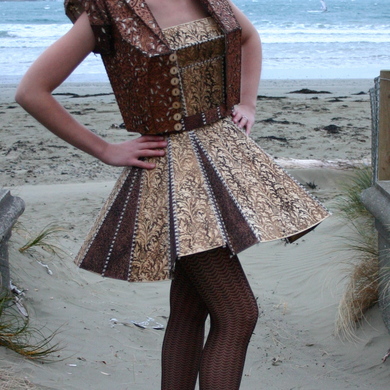 In addition to having one of the coolest name's on Ponoko Marmalade has one of the most bizarre products, a wooden lace dress (what is "wooden lace"?). Here's her description of the product and she has even more pictures in her showroom. I wonder if she can sit down in that?

"Wooden lace was one of my entries into the world of wearable art competition in 2007. It was a finalist in the Avant-Garde section. Inspired by the intricate patterns of William Morris' tapestries and wallpaper I used the laser-cutter to construct the entire garment. Each panel features an etch of the tapestry and is hand sewn together to make the garment flexible".