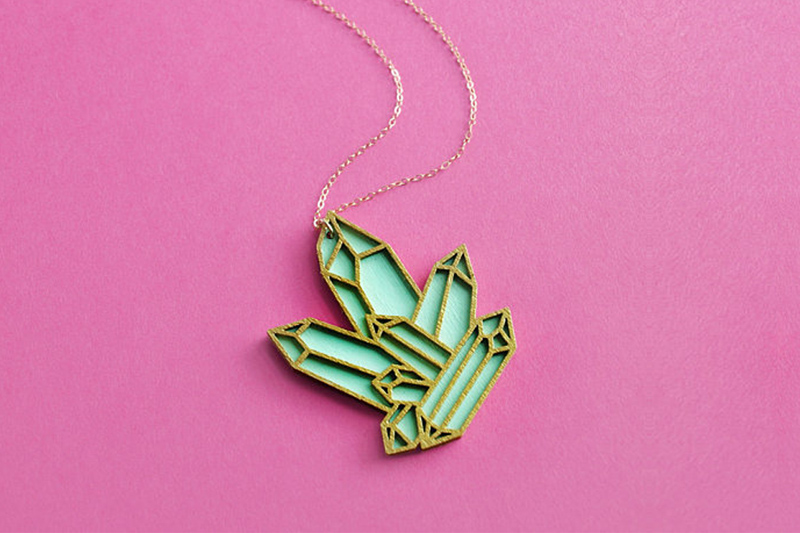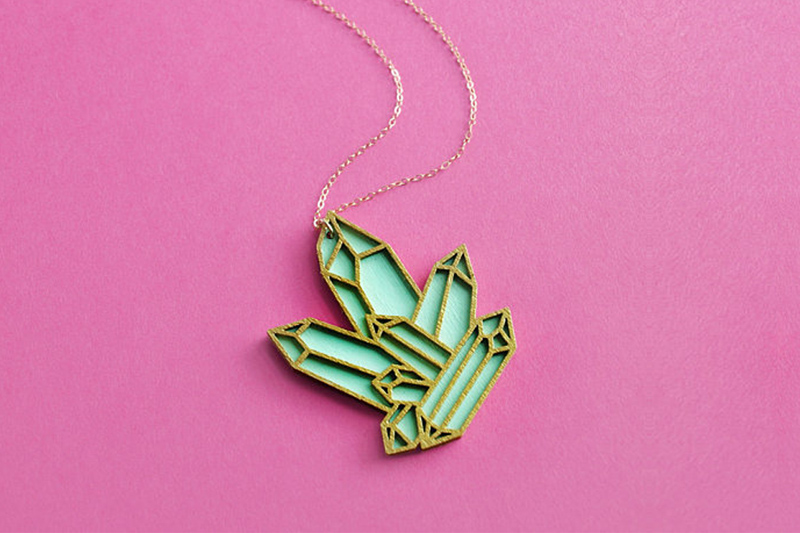 Maker Galactic Affair Represents People Who Want To Revolt Against Fast Fashion
Like many kids, Rachel Buske grew up playing video games and watching sci-fi movies, and she unleashed her creativity by making costumes out of staples and felt. Owning a small business certainly wasn't on her young mind.
But after attending college and entering the workforce, something changed. She needed a new creative outlet. One that was inspired by the things she loved growing up. And one that offers an alternative to fast fashion while making a difference in the world. So Rachel launched Galactic Affair, a line of geometric jewelry, in 2014 and opened an Etsy shop to sell her designs in 2015. Here's her story.
Uncovering Her Entrepreneurial Side
After graduating from SCAD Atlanta with a BFA in fashion design and getting some graphic design experience from studying design communications in Nashville, Tennessee, Rachel got a desk job for a manufacturing company, which gave her a lot of opportunities for growth.
"But working with smaller brands and startups through that job made me realize that I wanted to be on the other side," she says. "The side that did all the creating, trail blazing and building something from nothing."
The challenge: How could Rachel stand out with her own brand using the skills developed at school and through her time in the workforce? Since her education was in fashion design, she originally planned to open a clothing store.
"Buying clothes online is so tricky and I didn't want to have to deal with all the possible fit issues and hours of sample making and buying yards of fabric," she explains. "I wanted to open a store that I knew I could manage all by myself with the resources I had but still implement my aesthetic and style. And having done lots of research over the years, I found that jewelry was much easier to sell than clothing and didn't require as much material cost."
At this point, Rachel looked into laser cutting and thought it could be a great way to combine her favorite design inspirations with her technical computer skills. "I designed my first few jewelry pieces and sent them off to Ponoko," she explains. "When I received the laser cut pieces back, I was so thrilled with how they looked. I had never seen any other jewelry like what I made. I posted a picture to Facebook, and the feedback from my friends helped really set me on the direction that my brand has taken."
Making And Selling Etsy Jewelry A Reality
For any maker who wants to make a product to sell, it's imperative to have a unique style that cannot be found either at mass-market retail or other small business marketplaces.
Rachel believes ingenuity and creativity are the keys to running a successful design-based business. "I have always prided myself on being able to set myself apart from the crowd, never doing something that I feel would make me a 'sell out,'" she says. "I also believe in sticking to my own style, not trying to imitate someone else's. And that's the brand message I am curating.
Most of the designs at Galactic Affair have Rachel's own geometric aesthetic, using both laser cutting and laser engraving on acrylic and combining it with precious metal chains and findings. "My favorite materials are the gold mirror acrylic and fluorescent acrylic because they really let the line etchings show through, which are a key element to my jewelry designs," she says.
See what she means with this laser cut gold mirror acrylic statement necklace. Are the geometric shapes origami inspired? Or perhaps two fighter planes in formation? Maybe there's even a hint of a Star Trek emblem? We'll let you decide.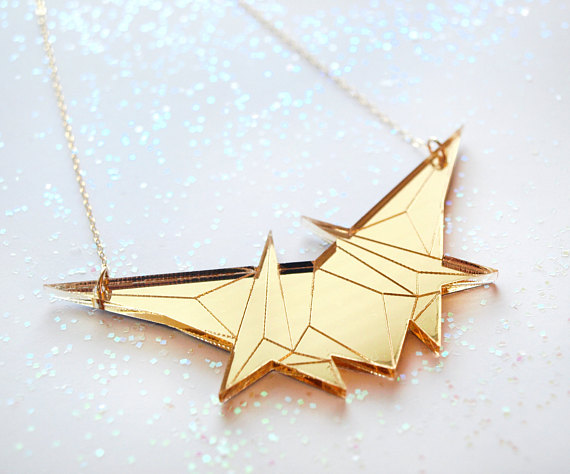 Laser engraving is what makes this fluorescent green acrylic crystal pendant a head turner. The etchings create a transparent 3D effect, but the pendant is actually one-dimensional. And when the light hits it just right, it appears to glow.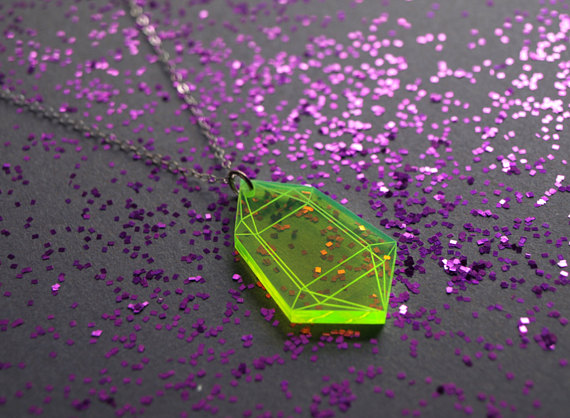 Rachel says that she doesn't like limiting herself, so she's always exploring new materials such as with this laser cut wood pendant. It is made with layered laser cut wooden pieces that have been hand painted with acrylic paint. The base color is lavender and the outlines are painted with a metallic rose gold. The whole pendant has been sealed with glossy acrylic to preserve the colors. Finally, the pendant is fitted with 14K rose gold findings that glimmer in the light and really gives this piece a luxe look.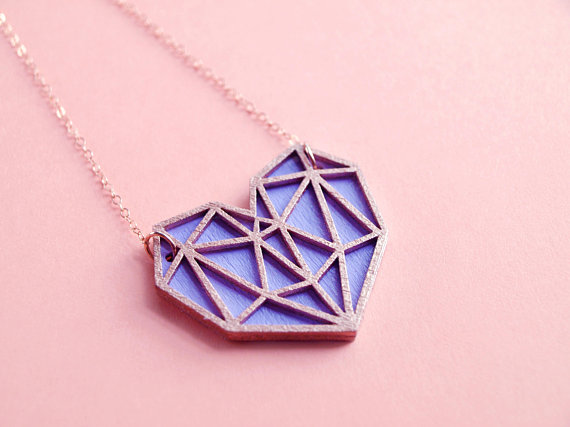 "My inspirations tend to come from science fiction, art and video games since those are the three main things I grew up with," Rachel says. "I have several pieces that draw from Egyptian art since it is something I have always appreciated. The scarab beetle bib necklace has been my most successful piece so far and is my personal favorite as well!"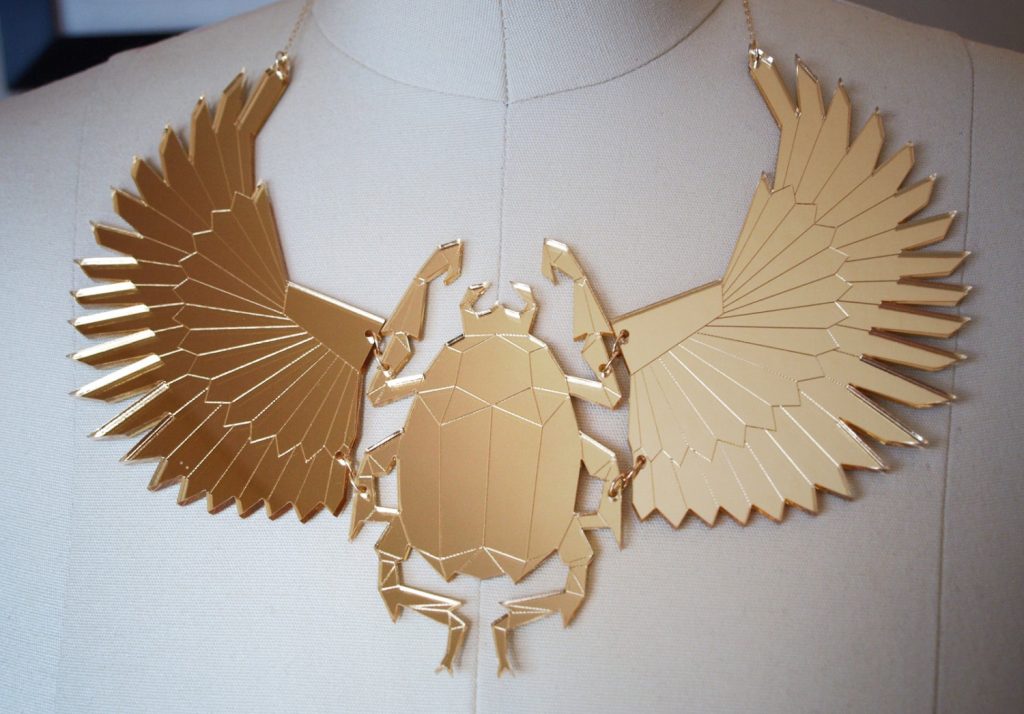 In addition to her affinity for insects, Rachel says you'll find cats, Japanese culture, and space reflected in her pieces. Hey, if a little galaxy jewelry won't put a twinkle in your eye, what will?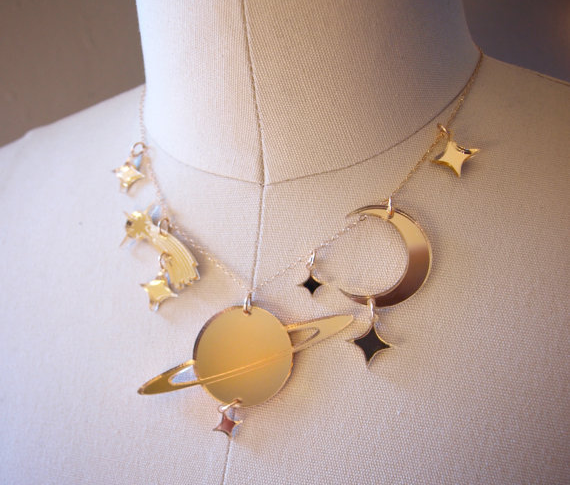 Working With Ponoko
When designing geometric jewelry pieces for Galactic Affair, Rachel says she wasn't into metal crafting or anything super intense that required a bunch of specific tools, as she never really had the space or money to try out those things. So she began looking for alternatives.
"I was drawn to laser cutting because of the many possibilities and clean, precise execution," Rachel says. "Laser cutting is all about the use of lines. Whether it's a silhouette or etchings, laser cutting enables you to create designs that you can't get with any other medium, and Ponoko has made it extremely easy to bring my designs to life."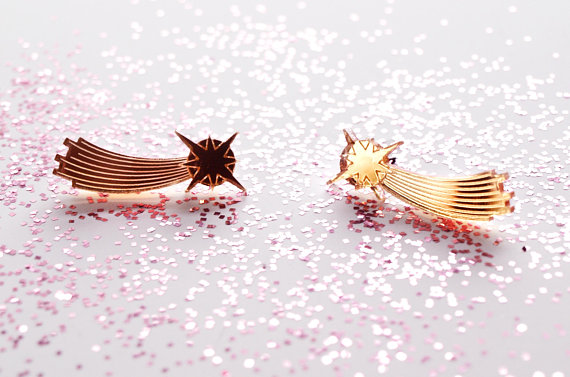 So how did she choose Ponoko? "I initially looked into local laser cutting places, but being the typical millennial who prefers to shop online, I stumbled upon Ponoko. I found the pricing to be really fair and extremely friendly toward my budget," she says.
To make the most of her budget, Rachel has to be smart not only with how she designs each piece but also how she arranges these pieces on the material sheets to maximize yield. This is where cost savings techniques such as nesting and shared lines come into play.
"I try to fit as many pieces onto a sheet as possible so that I can make more jewelry with only one sheet of material," she explains. "And a lot of my designs have mostly straight lines, which is more cost effective than curved lines."
But Rachel says there is much more to working with Ponoko than great pricing. "The turnaround time is always admirable and the customer service has been nothing but great," she says. "I don't even feel the need to invest in my own laser cutter, unless of course I grow enough to be able to afford one someday! But for now, I am perfectly happy using Ponoko's services."
Creating A Brand With A Purpose
What's clear about Rachel and her vision for Galactic Affair is that there is much more to it than simply selling jewelry on Etsy. She also has platform for making a difference.
"In the past few years, I have worked for a couple design startups that have also had a social aspect to them," she says. "I found that I really enjoy combining great products with giving back to the world in some way, and this is ultimately what has driven me to pursue with my own brand."
Rachel supports organizations such as Electric Family, which is an EDM lifestyle brand that brings the community together by making the world a better place. Additionally, animals have a special place in her heart.
"One of my goals as a business owner is to continue helping promote the humane treatment of animals because I truly believe that animals can aid with emotional support and deserve nothing but unconditional love in return," she says. "I would love for my impact on this cause to be much larger, because there are so many animals out there that need a loving home."
In addition to being exposed to the lessons surrounding environmental and social impact, Rachel's day job is also contributing to her side-hustle success. "I learn a lot through my day job and am able to apply everything I know toward my own business, which I currently do on the side," she says. "I am very lucky to be a part of a startup company and am able to take on a lot of responsibilities, which is crucial for my own success as well."
Overall, what impact does Rachel want to have through her small business of selling Etsy jewelry? "I want Galactic Affair to be a brand that represents people who wish to express and empower themselves as well as join the revolution against fast fashion," she says. "There are so many corporations that put out hundreds of thousands of products for the cost of a fast food meal while ignoring their long-term impact on the environment and poor ethical practices.
"With my brand, you know who you're getting products from because I'm the one making the product from concept to finish," she continues. "I don't want to produce disposable, trendy products that aren't relevant the next season. I want to create timeless pieces that are hand-crafted with the best intentions of giving customers something they will wear and cherish for a long time."
To learn more about Rachel and keep up with what she is making at Galactic Affair, check out her Instagram and Etsy shop.
SaveSave
SaveSave