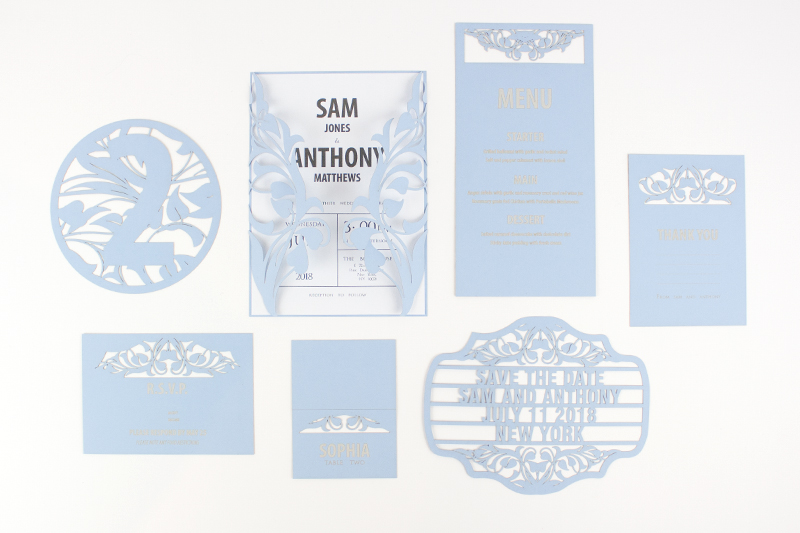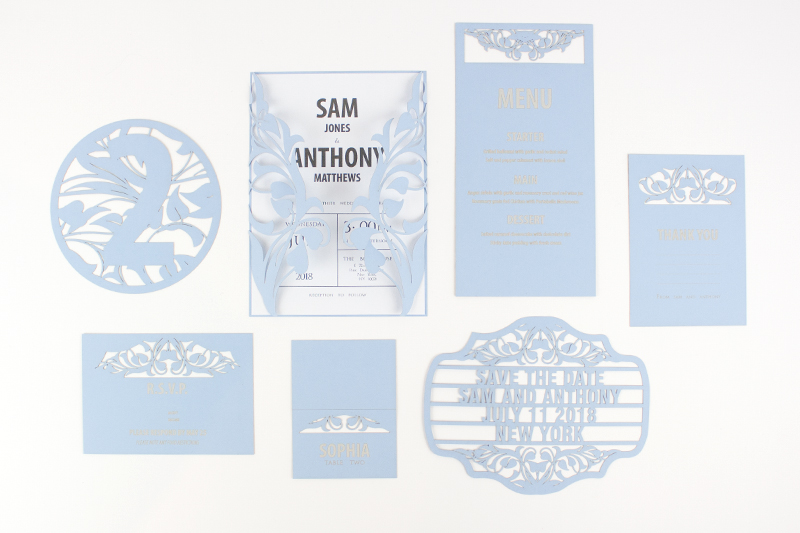 This Swallow Blue Cardstock Paper, Just Added To The NZ Catalog, Is Perfect For Individual Invitations And Corporate Collateral
When we saw this swallow blue cardstock paper, we just had to add it to the NZ materials catalog because the soft hue can not only be incorporated into springtime pastel palettes but also because its cool undertones would make wonderful winter themed pieces, too. So we had to try it out for ourselves. Here's what happened:
Seven Stationery Designs You Can Make With Swallow Blue Cardstock Paper
While we used a wedding theme in these examples, you could just as easily create custom corporate collateral to invite VIPs to special events. Just replace the wedding whimsy with a logo design to create catchy customer communication.
The first design we tried is a save-the-date card—the perfect kick-off to any event (as well as this story). We created this one to incorporate inspiration from popular letter board designs while adding decorative flourishes to make it wedding ready.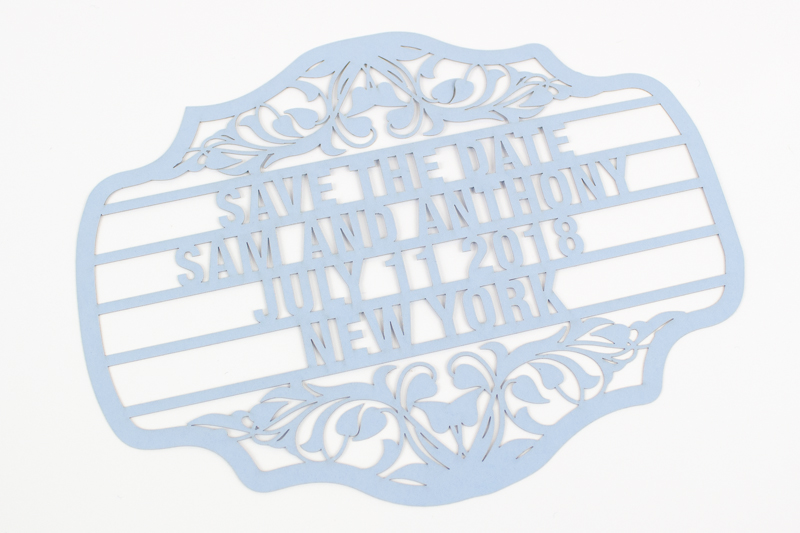 Next comes the wedding invitation. This "envelope" has a delicate floral gatefold to beautifully enclose the printed details.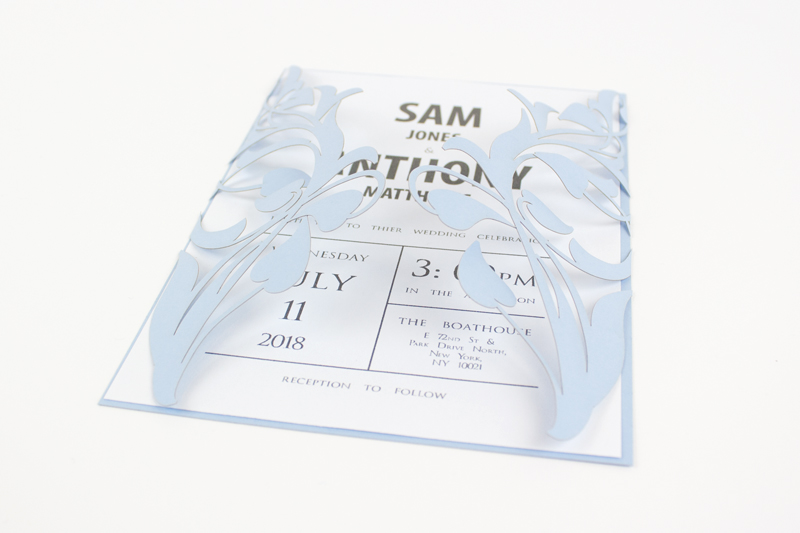 So guests can officially reserve their spot for the big day, don't forget to include RSVP cards.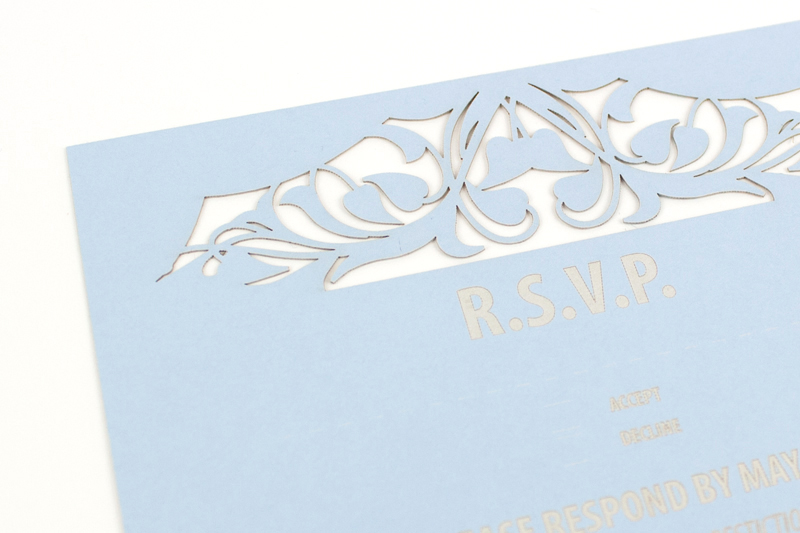 The menu should be mouth-watering—not only with the culinary creations to be served but also in how pretty the selections are presented.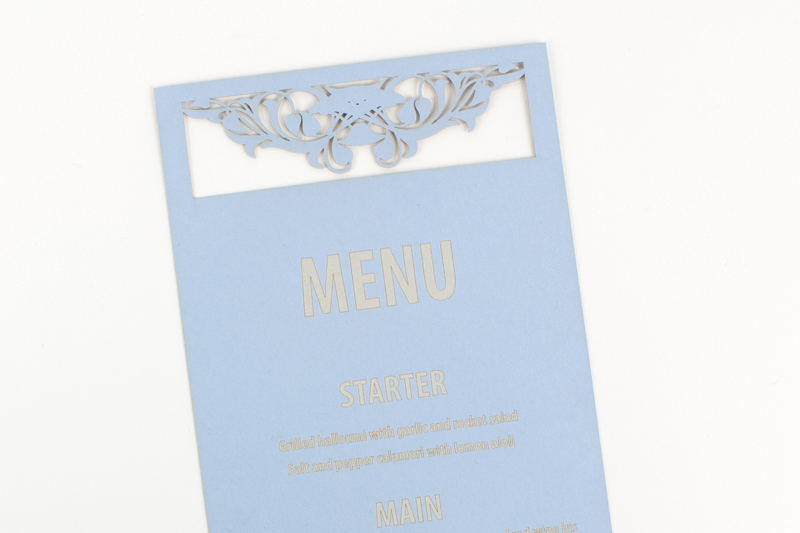 To provide a sense of direction in a crowded reception hall, prominently display table numbers like these.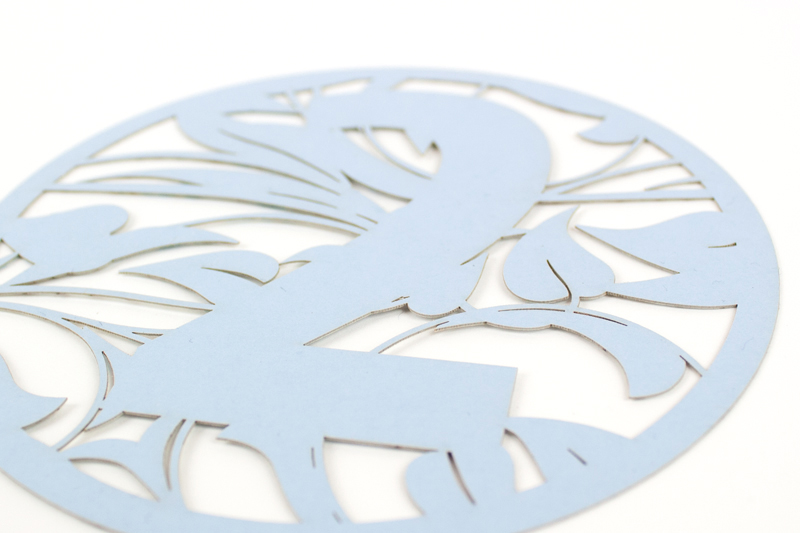 Give guests individual place setting cards so they not only know which table is theirs but also allows everyone else at the table to know each others' names—quite helpful for remembering who's who (especially after too much champagne!).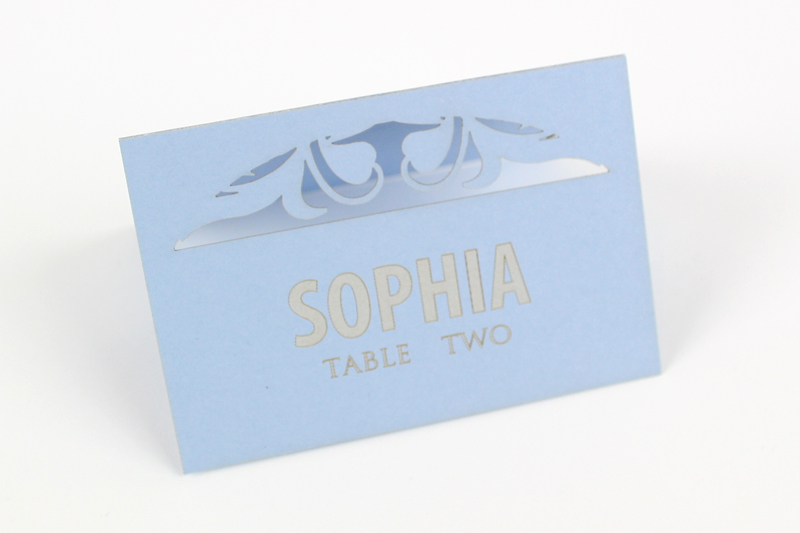 It's always polite to say thank you when given gifts, no matter how big or small. These thank-you notes tie-in perfectly with all the other pieces and leave a beautiful final impression of the big day.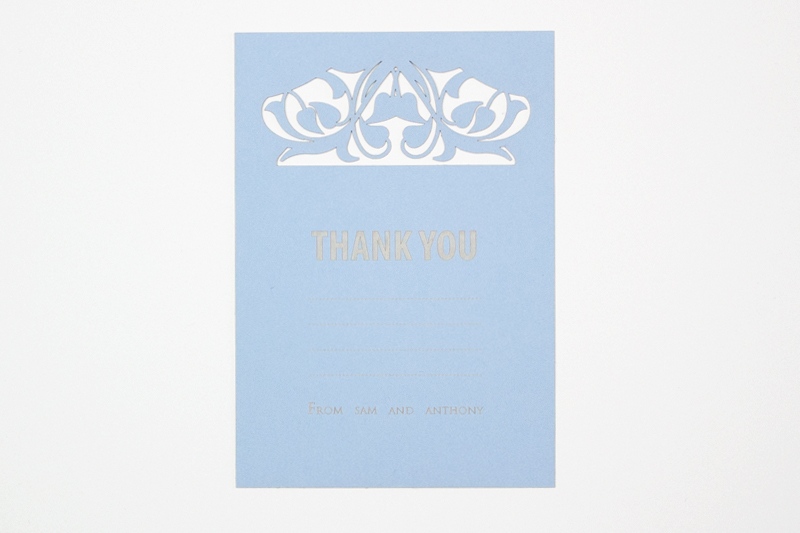 Now Available: Swallow Blue Cardstock Paper
This single layer cardstock has a smooth matte finish with a thickness of 0.3mm and weight of 225gsm. It is totally chlorine free, pH neutral and 100% recyclable. It is PEFC certified and has achieved both ISO 14001 and ISO 9706 long life certifications.
Learn more about laser cutting Swallow Blue Cardstock Paper here and get sample here.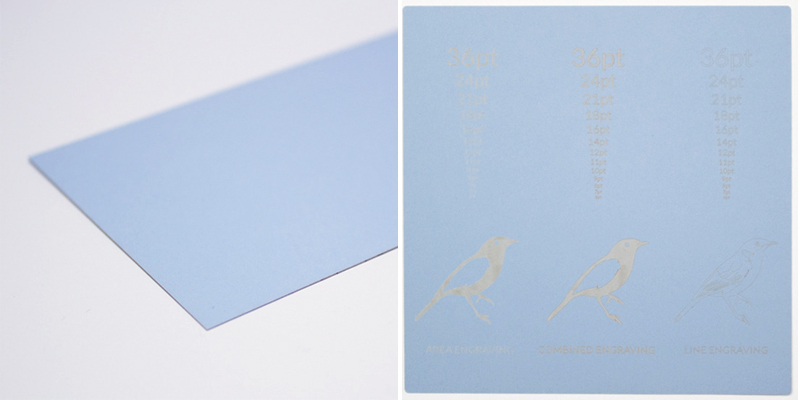 Maker Tips: This swallow blue cardstock paper actually laser engraves to a buttery tan color with some yellow undertones—a bit unexpected! To achieve this creamy contrast, use area engraving. But a little area engraving goes a long way. Dense area engraving can leave a brown residue around the engraved area, so design accordingly.
Additionally, if your design contains lots of little cut outs, get the most out of your cutting time and materials by using these tiny pieces as confetti. Since small parts can be lost in the laser cutting process, tab them in if you need them. Tabbing leaves a gap in the cutting line so that the small part stays attached to the sheet of material. Once the entire piece is laser cut, use a utility knife to hand cut the tab (so be sure to make the tab quite small).
What Will You Laser Cut With Swallow Blue Cardstock Paper?
How will you have fun with graphics and decorating using this new swallow blue cardstock paper? Will you design laser cut wedding invitations to sell on Etsy or create custom collateral for corporate events? Perhaps you'll make prototypes, architectural models or packaging? Or maybe you'll dive into decorative arts, crafts or even collage. For even more inspiration, check out these 7 Craft & Design Ideas For Red Cardstock Paper That Grab Attention or see what kinds of paper cut artwork others are making.
Whatever laser cutter projects you want to start making, tell us your ideas for using swallow blue cardstock paper by sharing your ideas below!
SaveSave
SaveSave