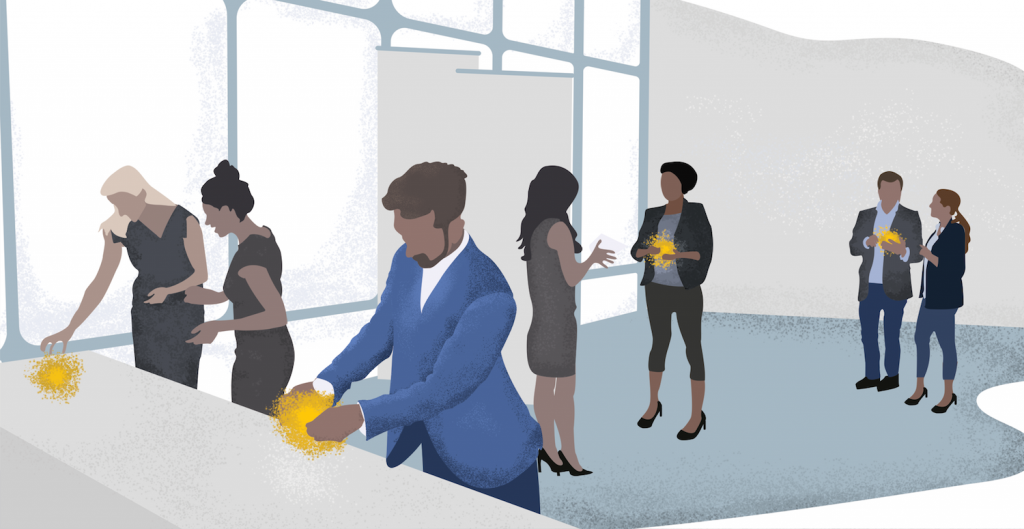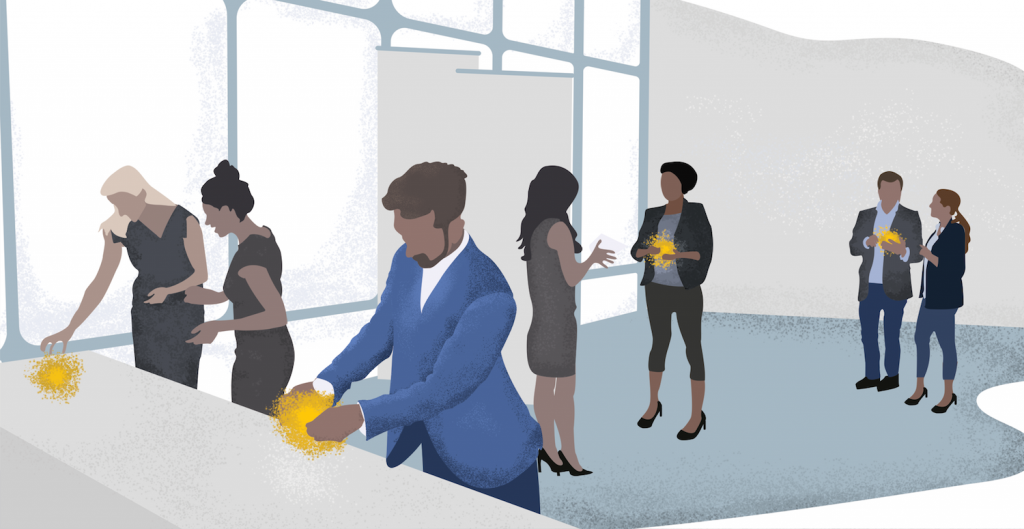 85 Creative Promotional Product Ideas For Brands & Creative Agencies
The most successful branded merchandise ideas bake in the DNA of your brand, your audience and the context in which they are given. They ooze your story and make your recipient feel something.
That's why dreaming up unique, creative promo products ideas is so tough. Sometimes you miss the mark and the items end up in the trash.
However, when you get your giveaway ideas really right, they take on a life of their own. Not only is there immediate social buzz but also ongoing use by your audience, which gives long-term brand impressions from your corporate gifts. But this doesn't happen with mass produced products. You need promo items that force you to stop and take notice.
The 12 Immutable Laws Of Trade Show, Conference & Event Giveaways details how to achieve this perfect fit between your corporate gift ideas, your audience and your situational context—all with swag ideas for brands such as Apple, Google and Netflix.
But these 12 ideas were so very specific to each brand, audience and event that we thought you might like to see a big list of cool promotional products ideas with broader appeal to really get your creative juices flowing.
Check out these 85 branding ideas for your business:
1. Custom Leather Bookmarks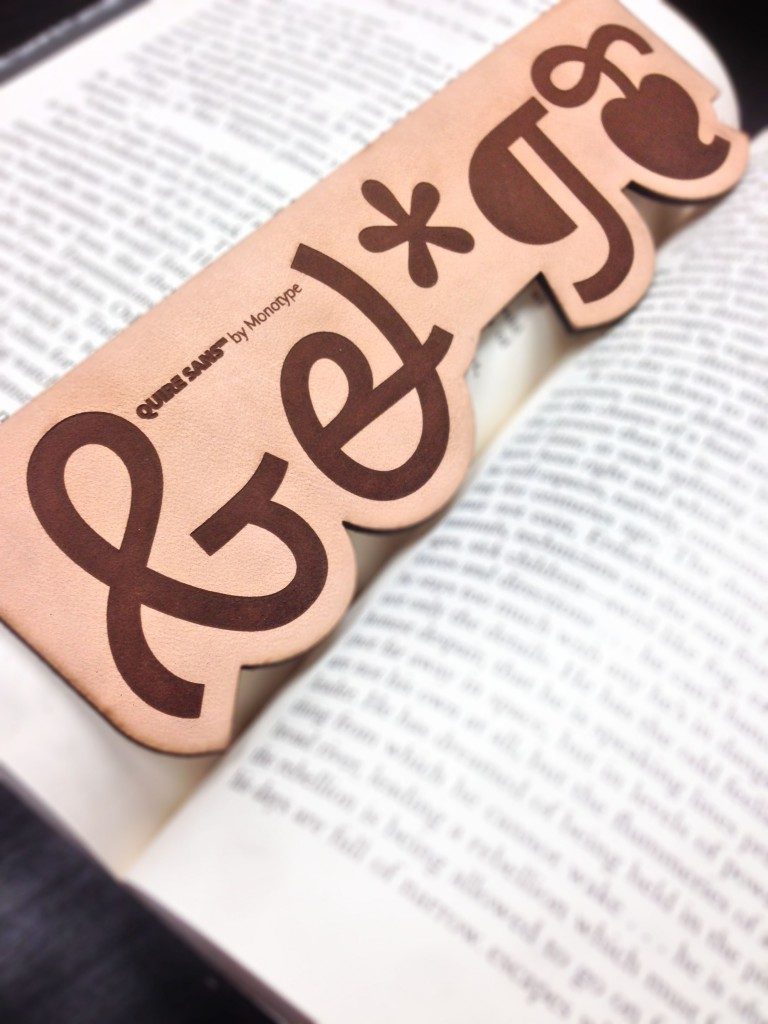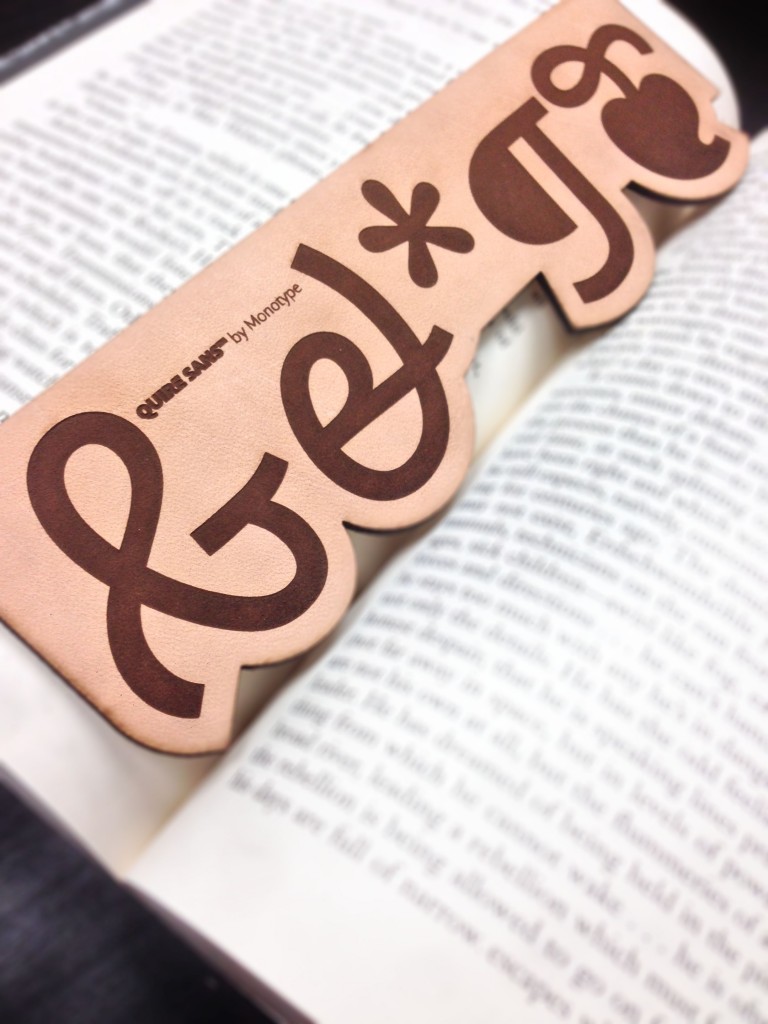 When Monotype, the brand behind more than 20,000 typefaces, introduced Quire Sans, it needed some special swag to get the buzz going at an upcoming tradeshow. Since "quire" is a classical term for a signature of printed leaves, folded and ready for binding with other signatures into a book or manuscript, a bookmark was a natural fit. Read the entire story here.
2. Branded Wristbands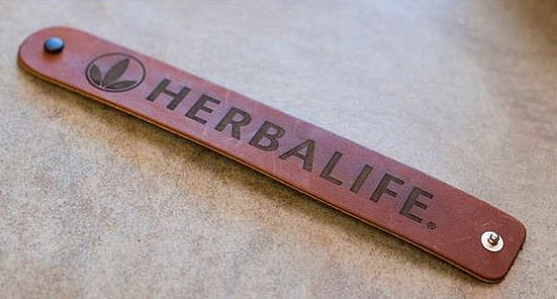 Whether you're hosting a VIP party, networking event at a tradeshow or even an employee appreciation event, wristbands are an easy way to identify who's in…and who's out. But most of the time, event managers use those generic, disposable Tyvek wristbands. Boring! Why not design fashionable wristbands that not only serve their admittance purpose but also become part of the event swag—and support your brand in the process?
Retail-inspired branded wristbands are perfect for a VIP area at festivals, event-only areas at a restaurant/bar/club, or an exclusive celebrity meet-and-greet prior to a keynote presentation. You can also include them in swag bags for corporate sales meetings or even use them in different colors for teambuilding experiences.
3. Laser Cut Headphone Wraps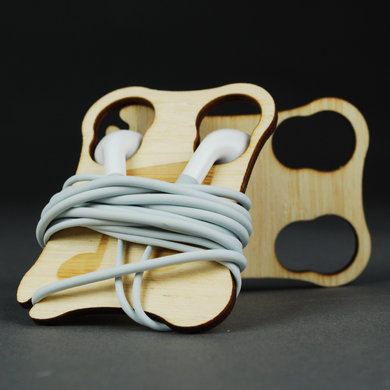 It's an annoyance we've all faced: The tangled, ungainly mess that happens when headphones have been carelessly tossed into a backpack. Often, untangling them is such a hassle that it feels easier to go out and buy a new pair rather than waste another second on the snarly situation. But there's a simple solution: The handy headphone wrap. Give these babies away and say goodbye to tangles and hello to a useful branding tool that's guaranteed to be kept and used.
While this example from Klug showroom features a laser engraved musical note, just swap that out with a company logo to make it brand ready.
4. Business Card Holders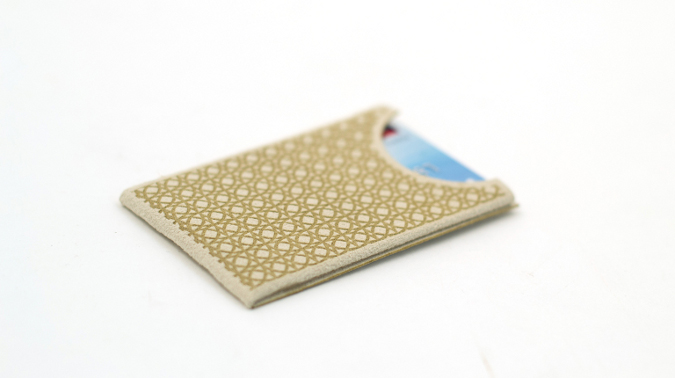 Most conference attendees tend to bring one business card case for their own cards and just shove others' cards in their backpack or jacket pocket. The result? A jumbled mix of cards that's not only hard to arrange but relatively easy to lose. Instead, consider bringing a second laser cut business card case to catch all the business cards you receive during the conference so you can easily sort through them later when you're back at the hotel. Go with a solid wooden one, or add branding to a soft material such as ultrasuede to look extra swish.
5. Commemorative Frames

In this digital age, if you think people no longer print photos, you're wrong. In fact, print isn't dead; it's better than ever. "We may no longer print every photo by default, but this can actually be a good thing for printing," says Daven Mathies in this Digital Trends article. "It is now about quality rather than quantity, and the pictures we choose to print deserve the best treatment. Honestly, there has never been a better time to print than now, thanks to technological advances in both digital cameras and inkjet printers."
With photos being carefully curated, the right picture frame is just as important. And when done right, these frames can be an amazing branding tool.Laser cutting offers fantastic potential for creative customized picture frame solutions. There are several approaches to take, from material selection and cut path complexity to laser-etched details.
These frames were a NOTlabs project produced for the Brevity Jewelry New York Gift Fair booth. (Read all about the process here.) While these frames weren't designed with logos or corporate gift giving in mind, you can easily imagine mini logos being seamlessly interwoven into a border design or an event name and year laser engraved as a keepsake memento.
6. Laser Cut Desktop Calendars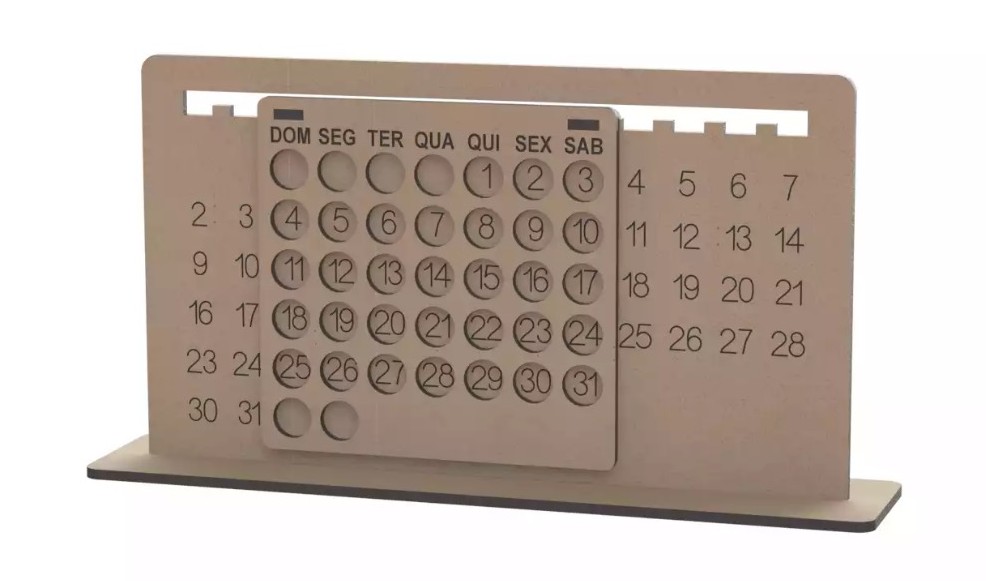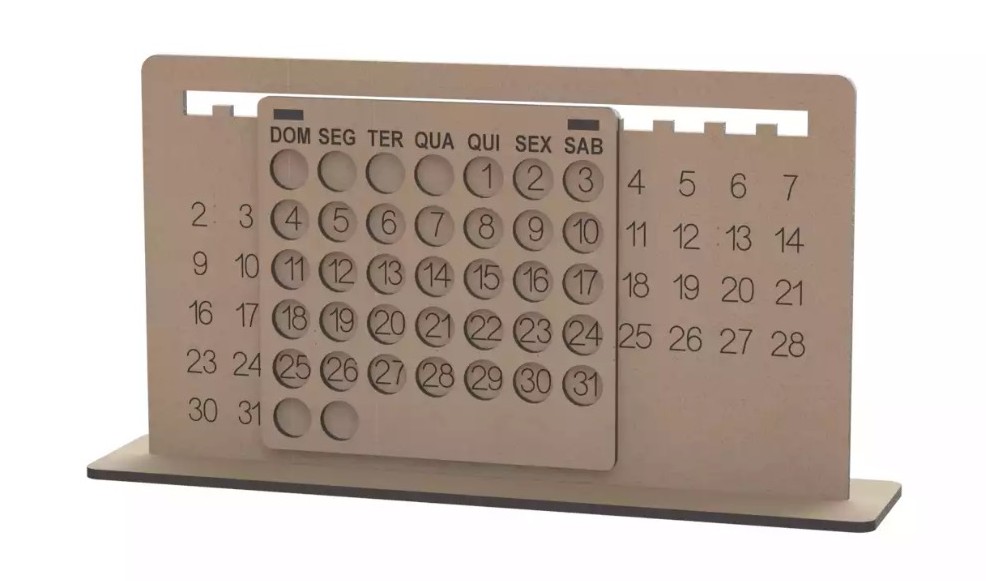 Keeping track of dates, schedules and all those important calendar entries are sometimes best left to digital devices. However, the utility of having a physical calendar within eyeshot still runs true no matter how fancy the latest app download promises to be. Laser cut desktop calendars become not only an interesting focal point for the office space, but they also provide key information about the past and the future that keeps the productivity flowing.
This elegantly simple perpetual calendar made available on Laser Cut Plans by Renan Rozante lends itself well to custom laser etched details. This design would work just as nicely laser cut from acrylic, with the wide number of options available in the Ponoko Materials Library. Just add a company logo or a workplace tagline and you've got an ideal item to include in employee onboarding gift bags.
7. Retro Table Clocks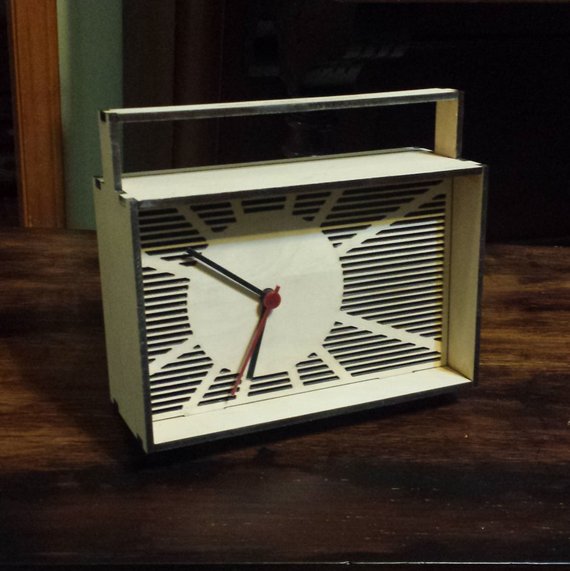 Keeping time is an important part of any work day, and it is handy to have a dedicated clock to let you know at a glance how the day is tracking. Laser cutting has long provided designers and brands with interesting possibilities for custom timepieces, whether through material usage or the addition of laser etched details to enhance the clock mechanism.
This retro-styled desk clock by RolphLaserCreations makes neat use of traditional laser cut assembly methods while still holding true to a mid-century design aesthetic. The ubiquitous nature of dials and numbers means that it can be quite refreshing to visualize clocks in a different way from time to time.
The workplace is an area where calendars and clocks can create interest and personal connections. By designing these products for laser cutting and incorporating laser etched personalization, your brand can become a part of the daily grind in a positive, functional way.
8. Laser Cut Stencils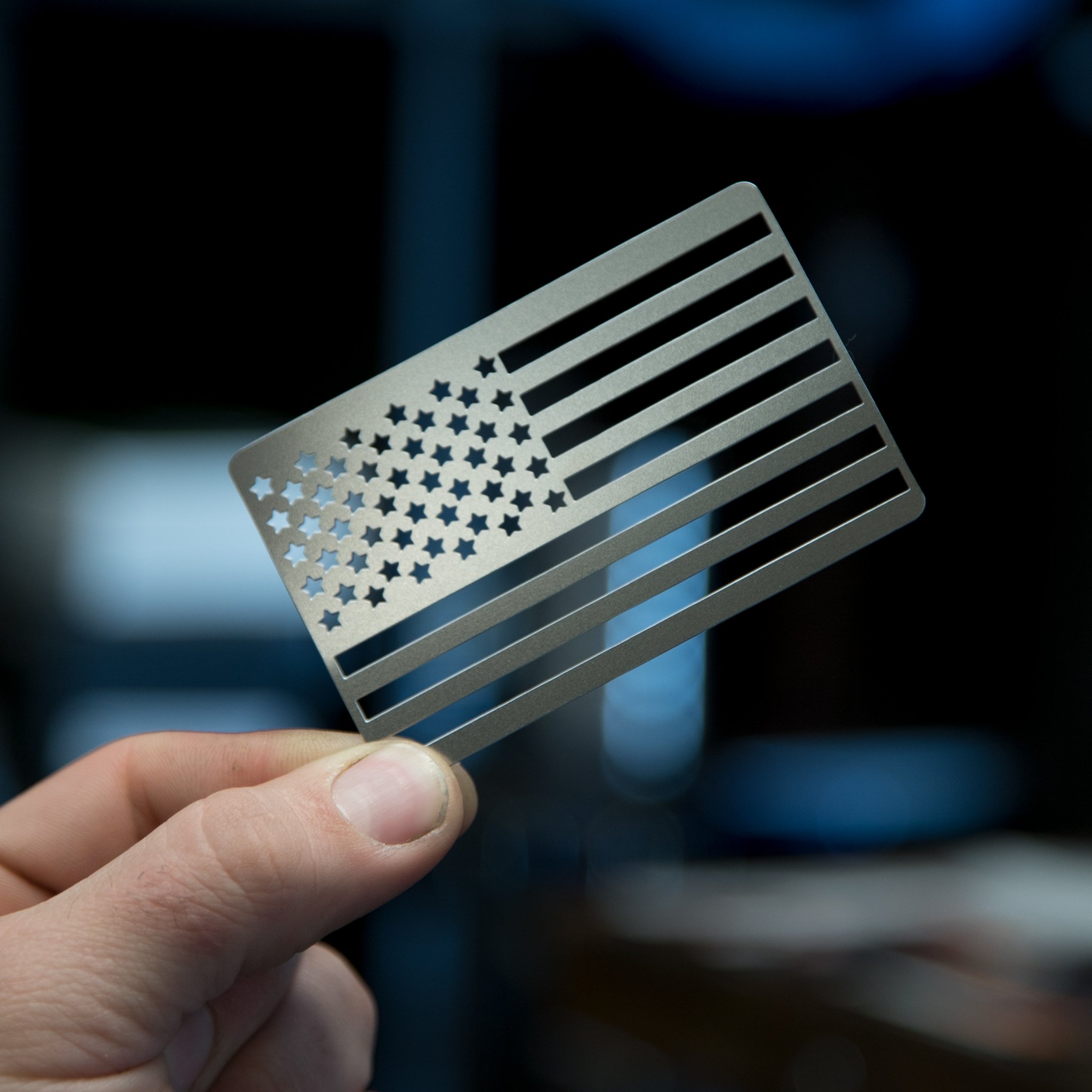 Made from 301 stainless steel, this American Flag Card from READYMAN is a no-nonsense, seriously tough keepsake that can be used as a tracing template or as a decorative object in its own right. While we love the patriotic starts and strips design, it's just one of the millions of options you can create. Perhaps you laser cut your name and laser engrave your contact details for an unmistakeable and unforgettable business card.
9. Brand Boosting Ruler/Stencil Combo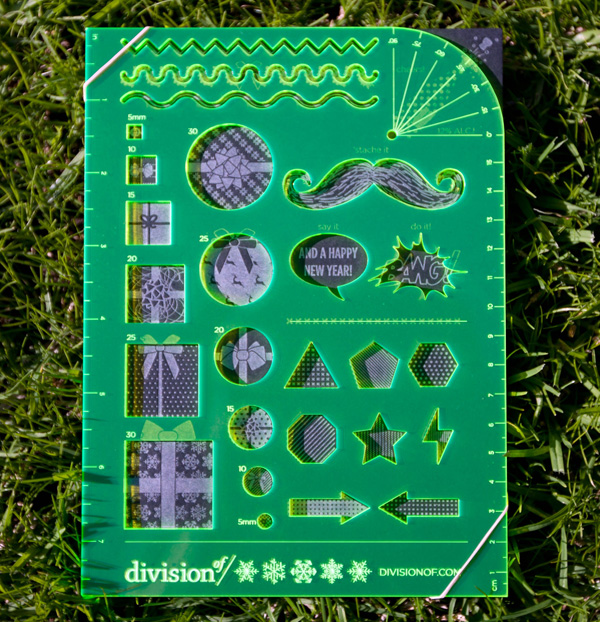 Bet ya haven't seen a holiday card like this. Inspired by the ruler/stencil combos of our youth, this memorable brand booster was made for Division of and appeared on NotCot.
For an even more creative take on the concept, laser cut a branded stencil with various sizes of your logo and pair it with a pocket-sized sketch book and colored pencils for a creative conference giveaway. Give attendees the opportunity to create a unique drawing using the stencil, then have the rest of the attendees vote on the most original design. You could even use a special hashtag to encourage social shares. The design with the most votes and shares is then awarded a special prize at the conclusion of the event. Not only does this build an interactive component to the conference, it also includes a little bit of friendly competition.
10. Paper Cup Sleeves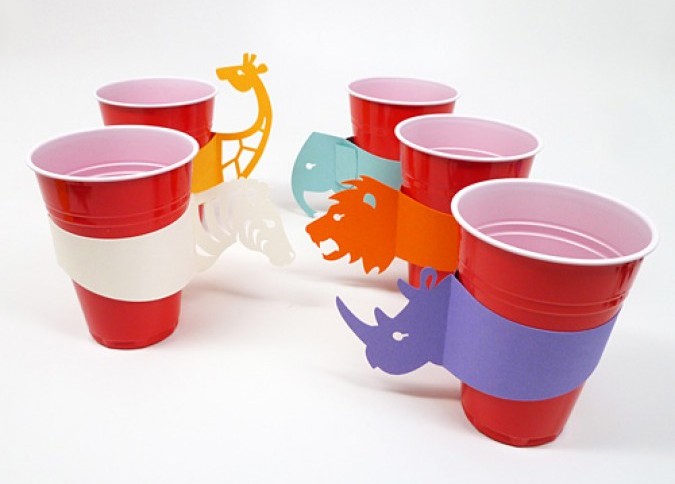 Having a chat with a drink in hand is an important part of any networking event. Indeed, sometimes the most progress is made during those in-between moments when people tend to be a little more relaxed. How can laser cutting make this even better? Cups With Bite are a clever innovation from Shy Shadow that add a little extra to the everyday cup in a light-hearted, fun kind of way.
The paper strips featuring iconic silhouettes of safari animals quickly wrap around the cups to become not only a novel way to identify which drink is yours but also provide a surface for adding doodles or text to further engage and personalize.
This is another great example of how a familiar, unremarkable item can become a memorable focal point through creative use of laser cutting. Whether a cup has water, coffee or something with a bit more of a kick in it, chances are your company will stick in peoples' minds if you add a twist of fun to the social side of a networking event.
11. Reusable Coffee Cup Cozies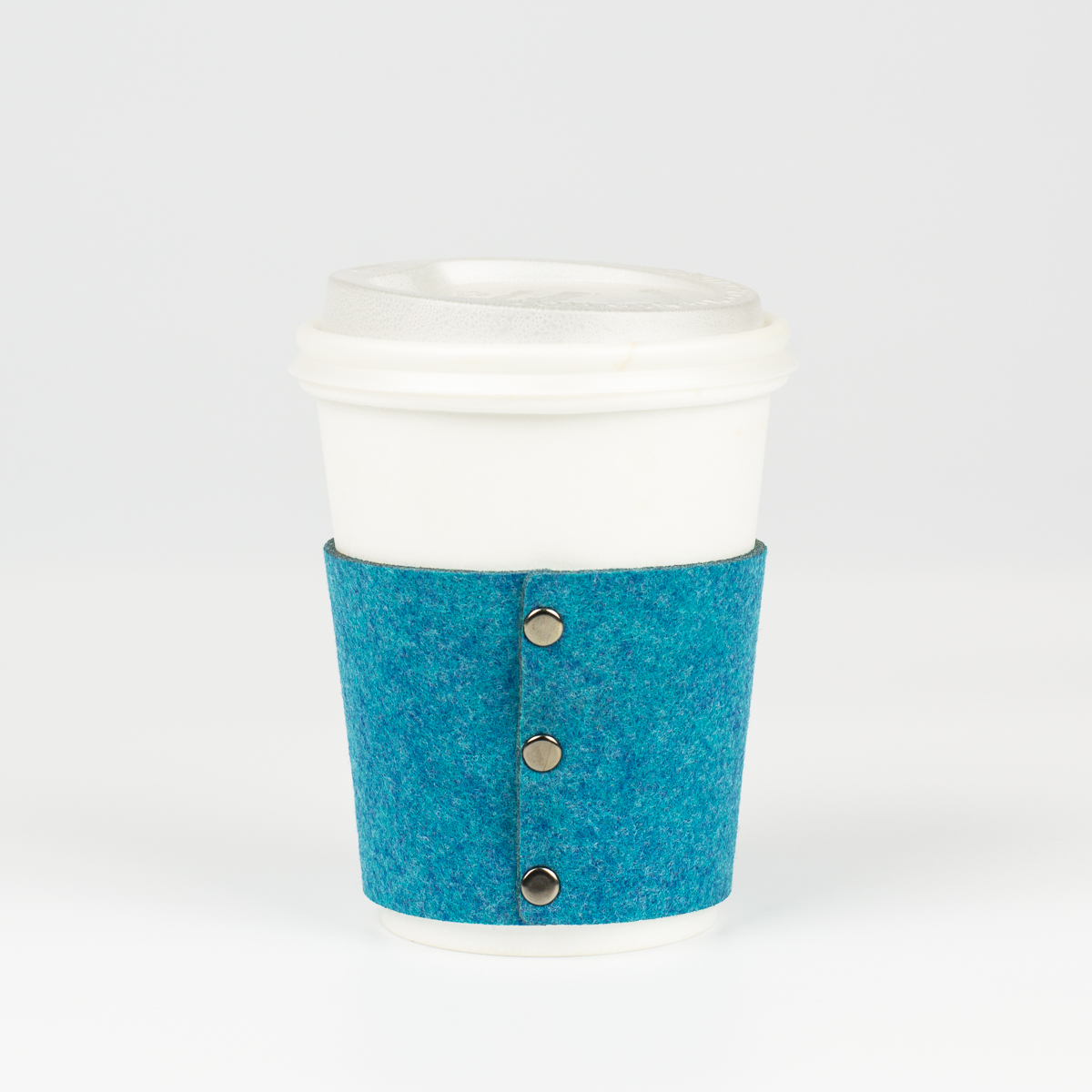 Coffee connoisseurs are always in need of a cozie to insulate hands from hot java. Why not make a reusable sleeve with some flair? The snaps on this design are functional yet add an industrial vibe. Engrave a corporate logo, and you'll have one good-looking promotional product for brands and agencies.
12. Silk-Screened Holiday Ornaments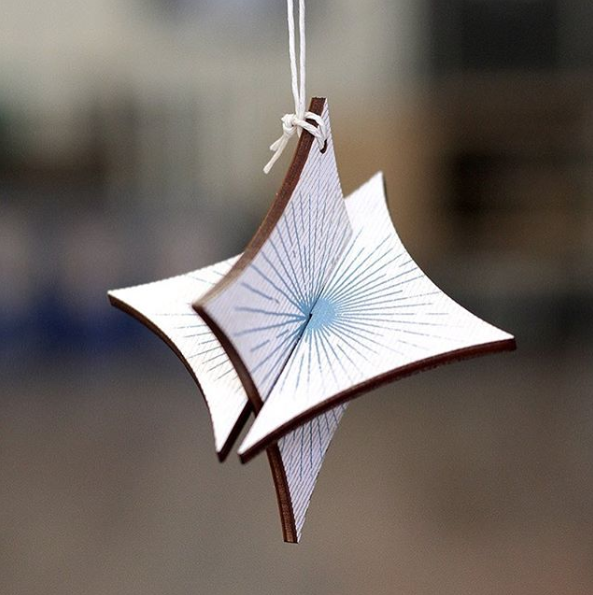 Christmas ornaments may be traditional, but these high-design examples from Eight Seven Central are anything but. Those clever cats could have stopped with simply laser cutting interesting shapes. Nope. They put their design skills to work and created custom graphics that are hand silk-screened on to each piece for truly original hanging works of art. Read more about their work here.
13. Laser Cut Holiday Decorations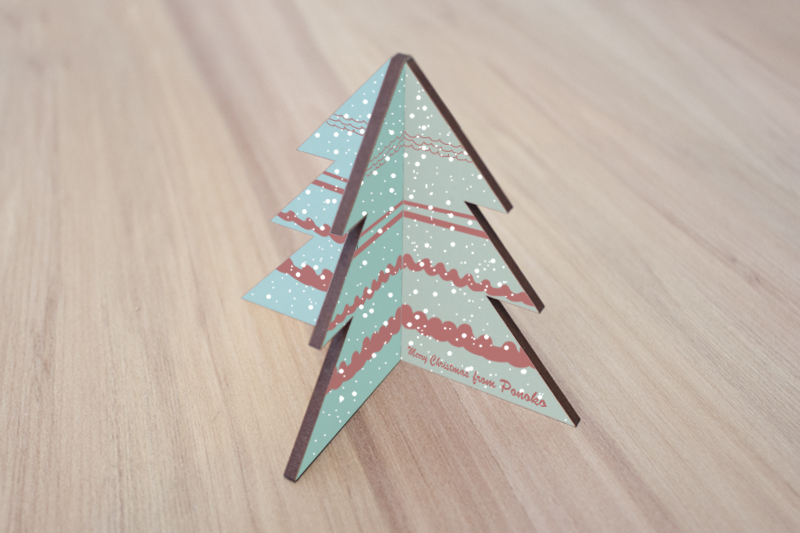 If picking out holiday greetings for your customers turns you into Ebenezer Scrooge, not to worry. All you need is some Christmas spirit—and festive design skills. Check out how this laser cut MDF slotted Christmas tree design turns an otherwise 2D holiday greeting card into a 3D displayable decoration.
14. Laser Cut Robots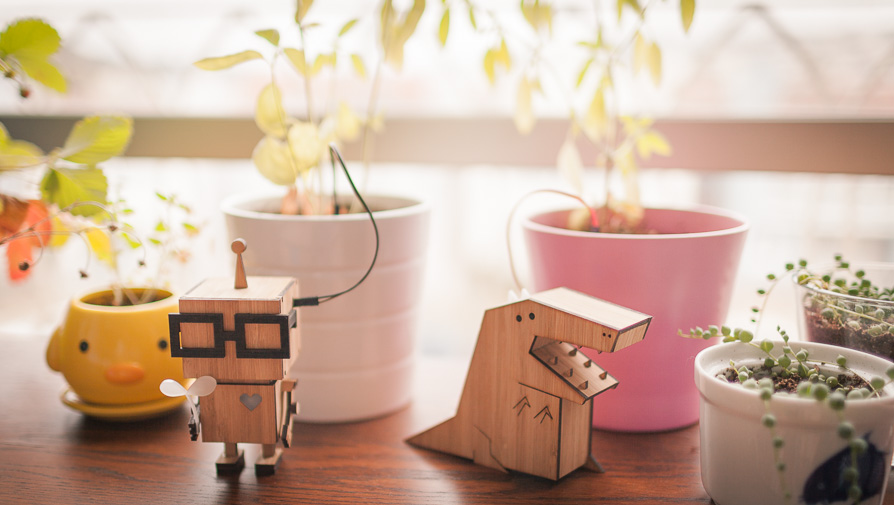 Robots are intriguing and get people interested in your product (and therefore brand), which is the whole point of promotional products. Think about it this way, if a conference swag bag included both a pen and a robot kit, which one would you be talking about? Check out these really cool robots by Dickson Chow that not only look good but also have a functional purpose, too. They help recipients remember to water their plants! Combine this kind of usefulness with design flair and that's a recipe for a successful brand builder.
15. Two-Color Acrylic Invitations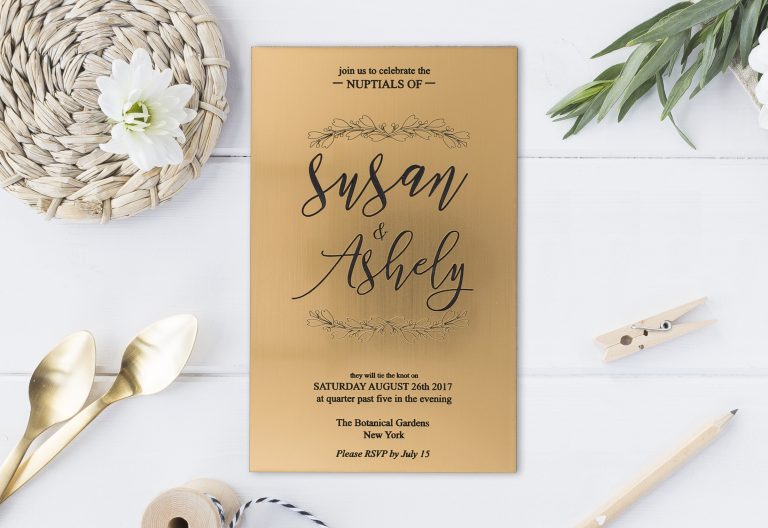 Hosting a VIP bash for your customers? How you invite them to this exclusive event sets the tone for all that follows (including any other promotional products that support the celebration). This two-color acrylic invite has an elegance and presence that paper simply doesn't have. And although the invite above is for a wedding, this concept can easily transferred to a premium invite or ticket for festive corporate functions.
16. Laser Cut Bamboo Bookmarks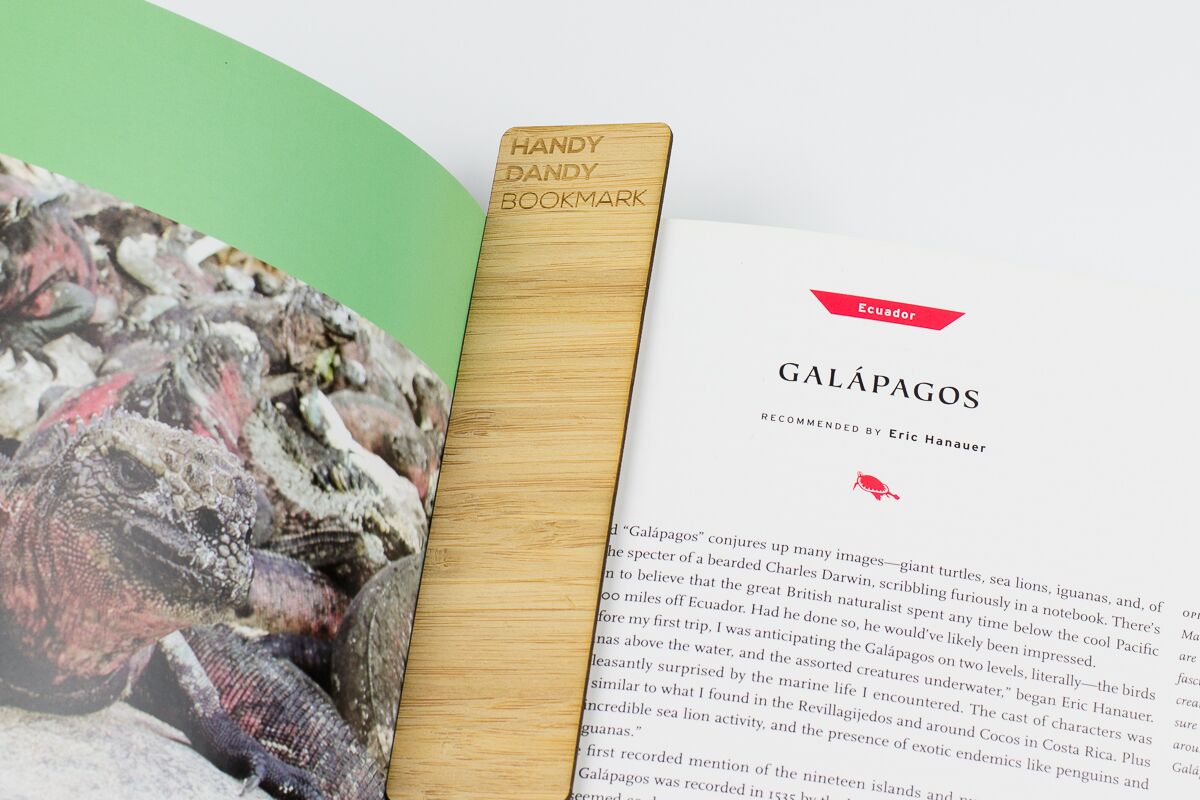 This charming bookmark proves that the right simple design can make a big impact. While these page holders make great teacher gifts and birthday party favors, they also make smart promotional products or direct mail pieces because they easily fit in an envelope and can be personalized with additional text.
17. Custom Book Covers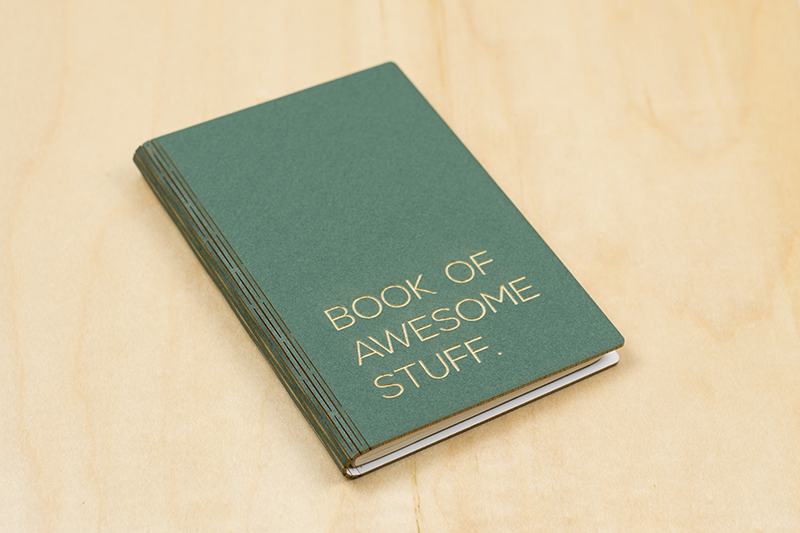 It may be the digital age, but pen and paper continue to be welcome gifts in conference swag bags. Yet today's event attendee doesn't want just any ole journal. Beautify traditional note takers while giving extra protection by custom cutting a book cover with graphic elements and engraving. To get the mat board to bend around the journal spine, design a living hinge, which uses a series of strategically placed cuts that builds in flexibility to an otherwise stiff material. The results—of both the living hinge and the color contrast with engraving—are beautiful.
18. Audience Specific Keyrings
While slapping a logo on a generic object doesn't tend to inspire interest, it doesn't mean that common objects such as keyrings can't still work—if the concept aligns with your brand. The pixel-shaped edges on this heart keychain give a nod to gamers while demonstrating why solid shapes are a great fit for hardwoods. The overall shape is simple; that's why we love it. And it's likely there is a customer base out there that will, too.
19. Custom Laser Cut Packaging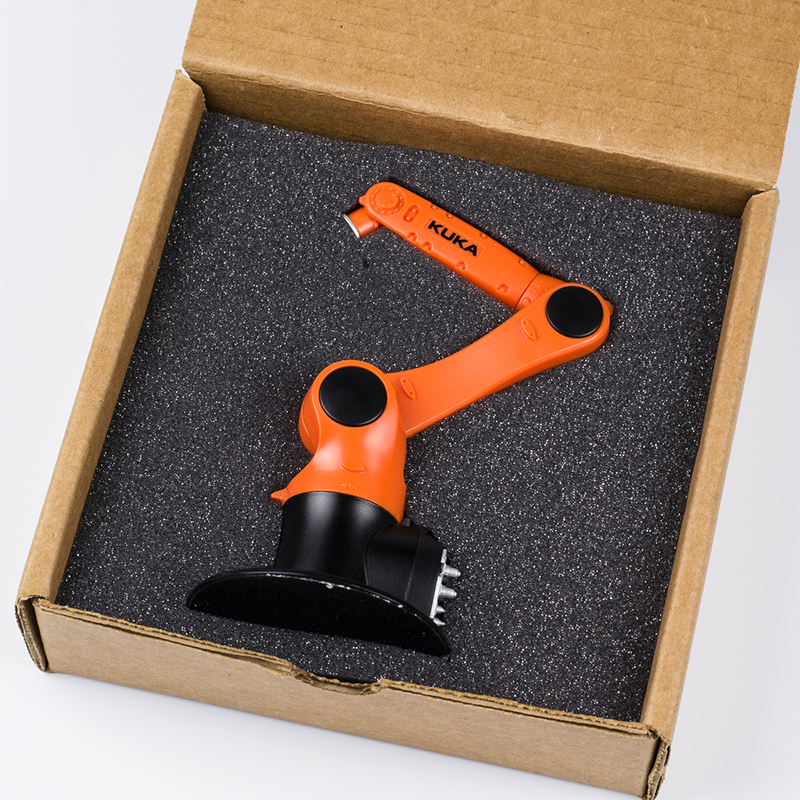 Packaging. It's often taken for granted as merely something that protects a product during transit and stacks nicely on store shelves. Yes, it's functional. But it can do so much more. Packaging, like promotional products, is a tangible extension of your brand. So it's important to not only use it to functionally support your star products but also include a custom design that celebrates them.
20. Premium Magnets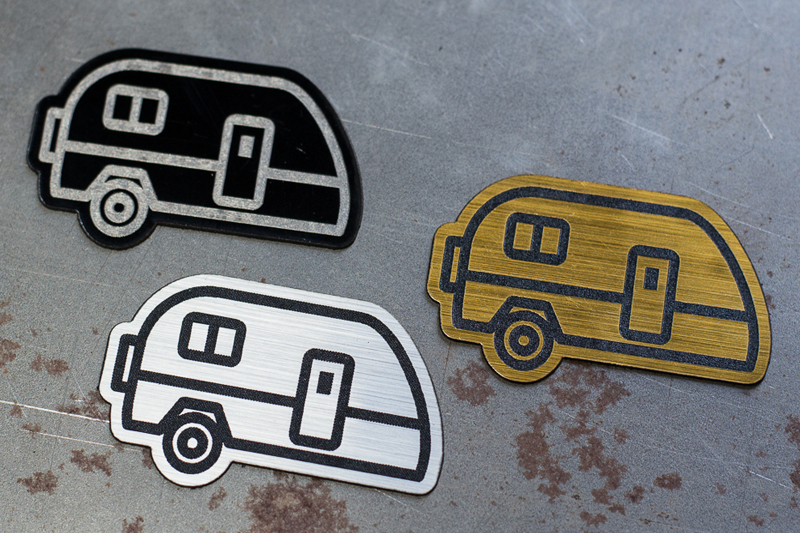 When you think of refrigerator magnets, the white rectangle imprinted with the pizza delivery's phone number often comes to mind. And while these stock magnets are functionally sound, there's often no pizzazz. But adding a little zing is easier than you think. Laser cutting allows any shape to be custom cut, completely freeing designs from those limited to stock shapes in a catalog—all with the texture of metallic looking materials—that will stand out from the rest.
21. Felt Phone Sleeves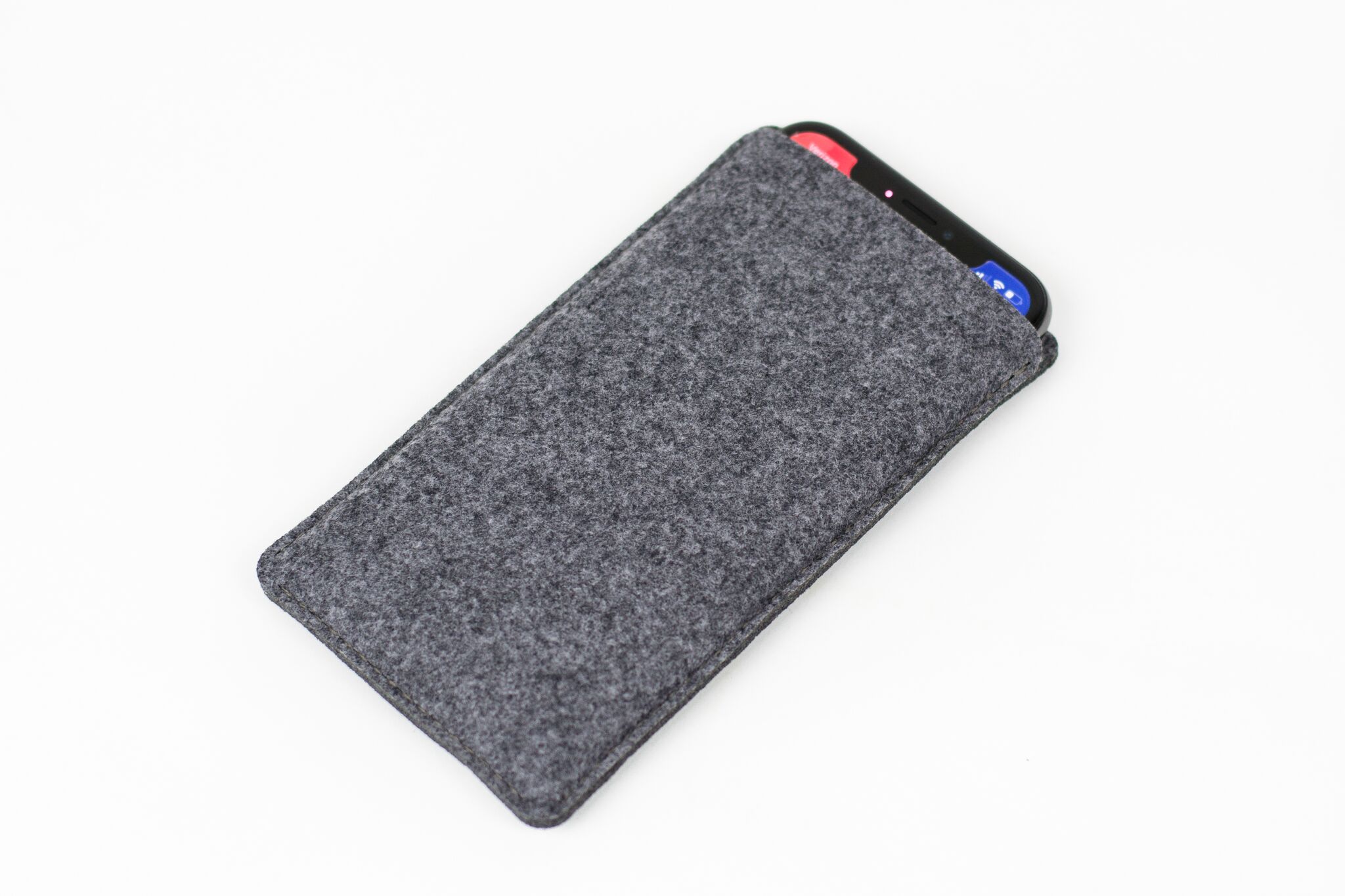 Do you have protection? Phone protection, that is. Everyone these days has a phone, and some even have two to separate business communication from personal use. With so much of our lives wrapped up in these digital devices, you gotta keep 'em safe. And felt is an ideal material because its softness keeps phones free from scratches and damage. The bonus: It also looks quite cool when engraved, so incorporating branding into a laser cut design is easy peasy.
22. Laser Cut Phone Cases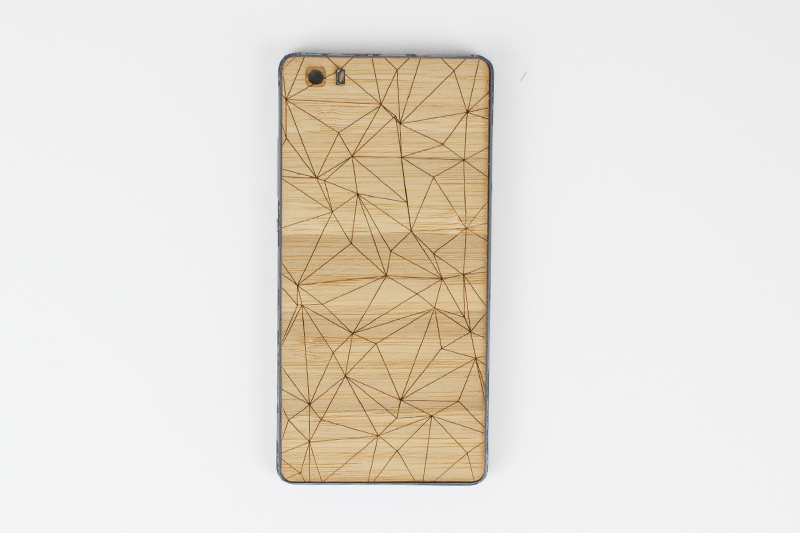 While some don't want phone sleeves since they're not attached to the device, a snap-on case provides additional protection without much bulk for those of us who drop phones far more than they should. These blank canvases are ideal branding opportunities, but keep in mind that phone covers are a very personal choice that reflects a person's style. A bold design with understated corporate branding will go a long way toward being a well-loved promotional item.
23. Custom Envelope Pouch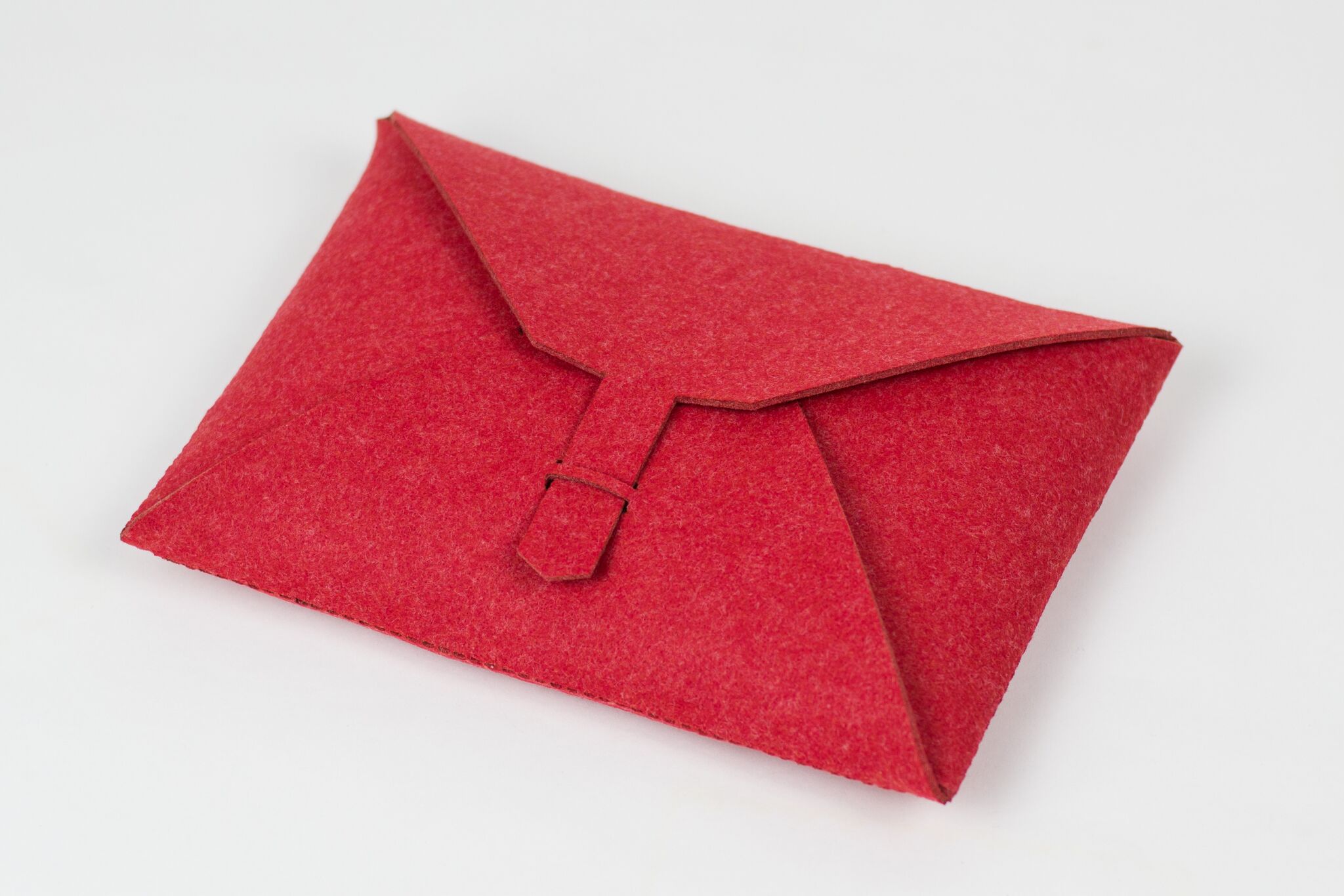 Bags generate 5,700+ impressions in the U.S., according to the Advertising Specialty Institute. That's more than any other promotional item. While not a traditional bag (that everyone already has, btw), these felt pouches are a convenient way to deliver conference materials such as schedule of events, tradeshow floor plan and vendor coupons in an easy-to-distribute envelope style. Add a logo or event name laser engraved on the flap, and the result is a memorable brand builder that will be used again and again.
24. Wooden Living Hinge Bag
Wooden handbags may not be on your radar as promotional products. But customized with an understated logo design, you've got a business gift that almost no one has. What other product can boast that?
Because of the complexity of the design (and budget required), these bags wouldn't be given en mass. Rather, these are best suited to small audiences you really want to impress. While these bags are definitely unconventional, we'll wager that any fashion-conscious audience would L.O.V.E. to get their hands on one.
25. Flat-Pack Lampshade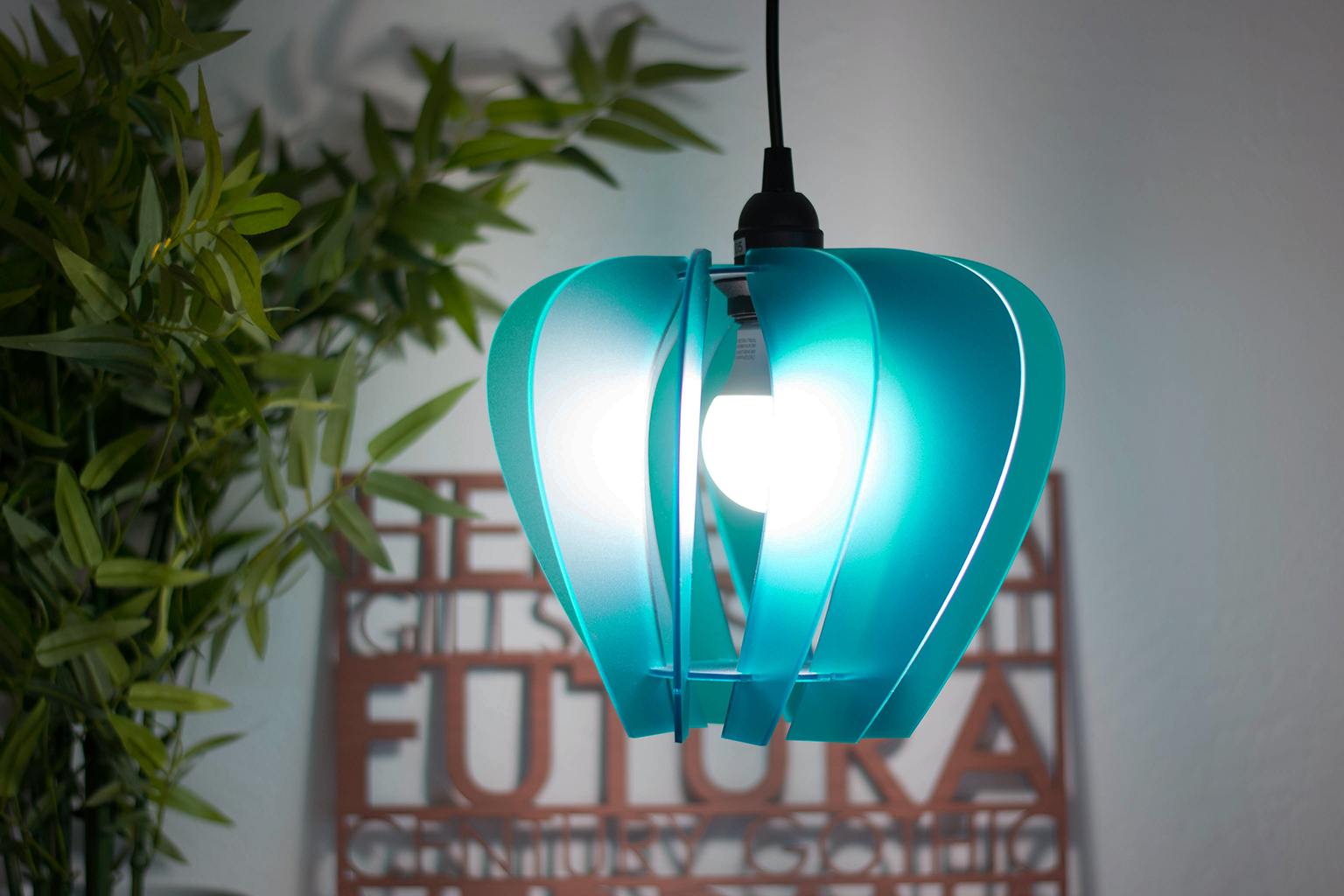 Of all the promotional products on the market, lampshades probably don't come to mind. But here's why you should give this unconventional idea a second look and show customers how working with your biz will light up their life.
What if you received a package and the box was imprinted with "bright ideas inside." You'd be tempted to look, right? Then once inside, there would be instructions for an "illuminating experience." Who wouldn't play along!
The final shape could be a simple geometric form like this one cut from matte turquoise acrylic with an understated logo smartly interwoven into etched details. Or depending on logo composition, the pieces could combine into a likeness of your brand icon.
Either way, recipients will be intrigued. The act of building something into a physical object seems to imbue it with additional value above and beyond its inherent quality, which researchers dub the "IKEA effect." Talk about a win-win. Not only will recipients love the promotional gift more because they put it together, but they'll also remember your brand. And that's the power of promo.
26. Kerf Cut Teeny Lamp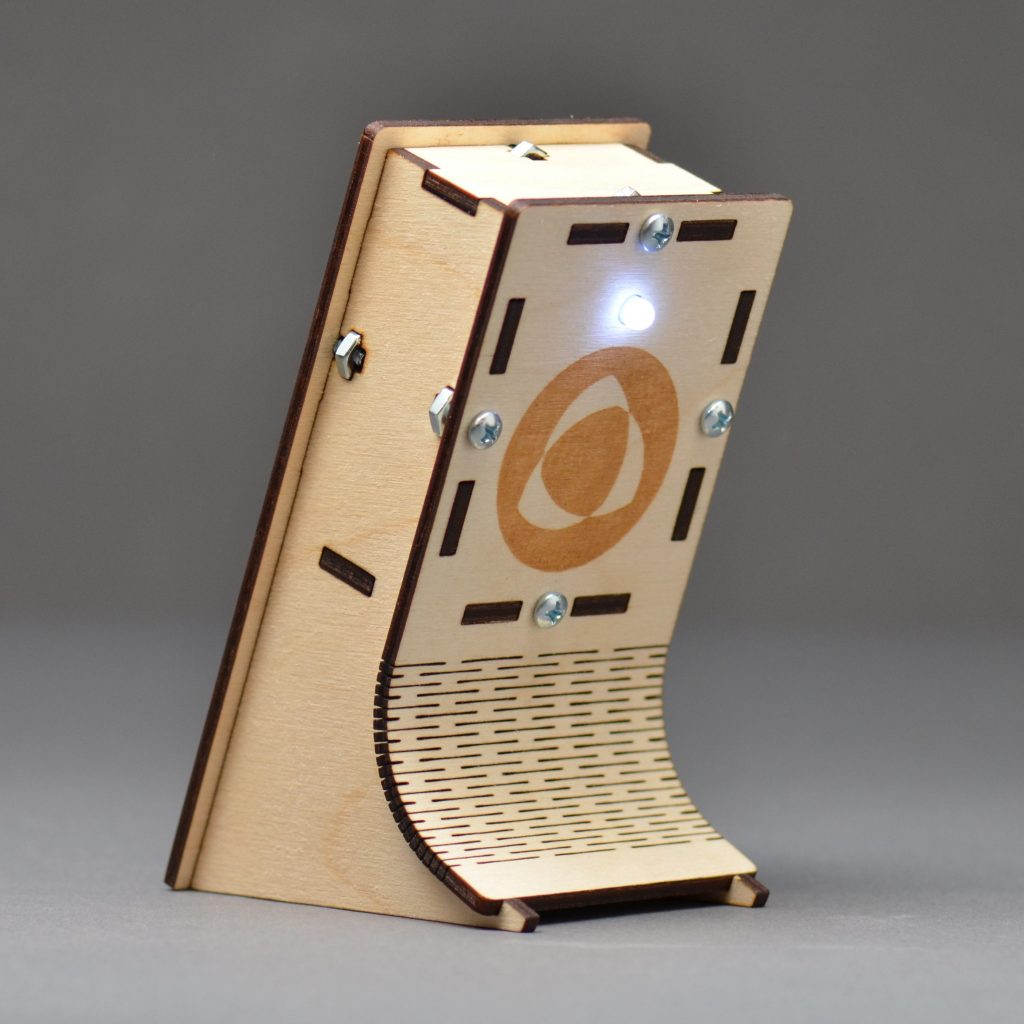 Here's another bright (promotional) idea. The desk is coveted real estate space, and it takes a really cool desk accessory to make the cut. Designed as part of the Stanford Product Realization Lab's laser-cutting curriculum, this teeny lamp could light the way in your next successful branding campaign.
27. Laser Cut Coasters Or Trivets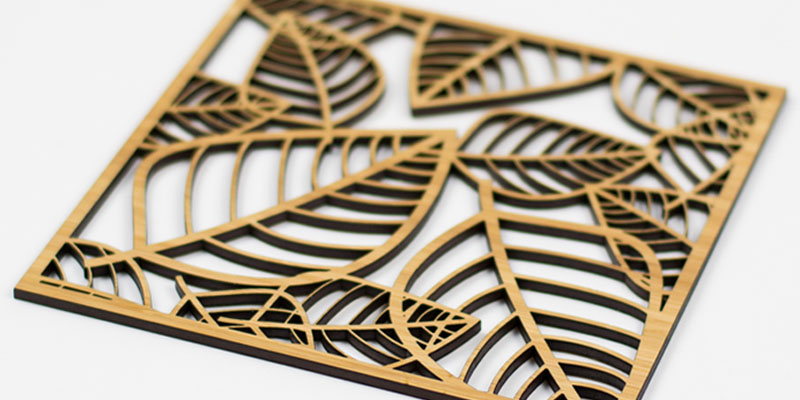 While traditional coasters are limited to imprints on stock shapes, laser cut coasters allow the actual design to become the product. Cut from eco-friendly bamboo, these leaves could easily be a logo for a landscaping company or a sustainable construction firm. The beauty of the design is the key for getting these promotional products kept and used by recipients.
Along those same lines, you could enlarge the coaster design to turn it into a trivet. Perfect for cooking conference attendees or if you'd like to show customers that you serve up a smorgasbord of delicious ideas.
28. Custom Coaster Sets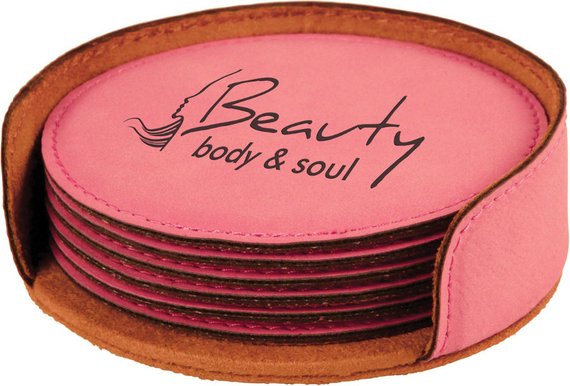 These days, leather colors aren't limited to shades of brown, grey and black. Eye-catching colors are available, too. These colorful coasters from Etsy seller LazerDesigns demonstrate just how great laser engraving looks on leather. And by offering them in a set, there's a higher perceived value by recipients.
29. Photo Booth Props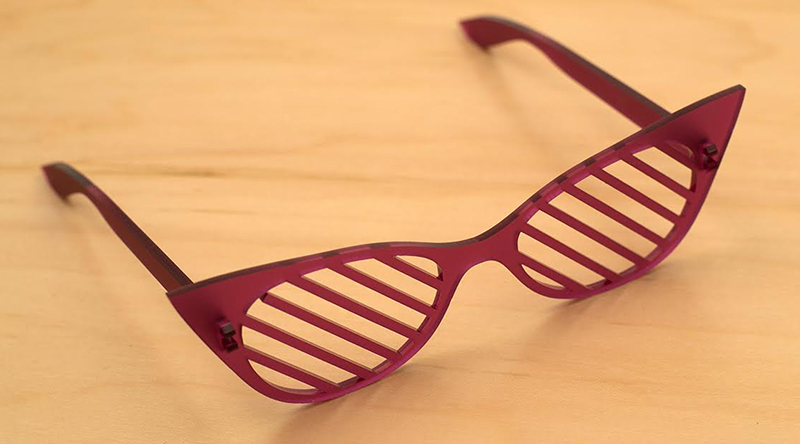 What's one of the easiest ways to help event attendees break the ice, get comfortable participating in activities and capture all the fun for social media? Photo booths! When done right, they're a marketing trifecta for just about any kind of event from annual sales meetings and trade shows to education forums and corporate retreats. But you'll need some props to entice engagement.
Perhaps some brightly colored laser cut sunglasses? What about laser cut top hats and bowties that are engraved with your company logo? Designing speech bubbles with the company tag line or that say "I Love XYZ Company!" would be fun, and photogenic, too.
30. Laser Cut Acrylic Bowls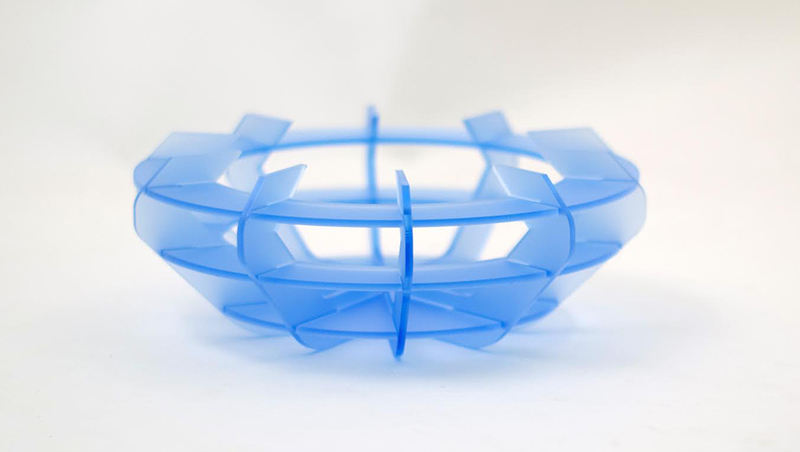 If you like the concept of a flat-packed products, bowls are another option that can showcase your good taste. Talking to foodies? It's a fruit bowl. Gardeners your target market? It's a potted plant adornment. Got the ear of engineers? It's a puzzle. Oh the possibilities. It's all about how you frame it for your audience. Get it? Frame…
31. Game Tokens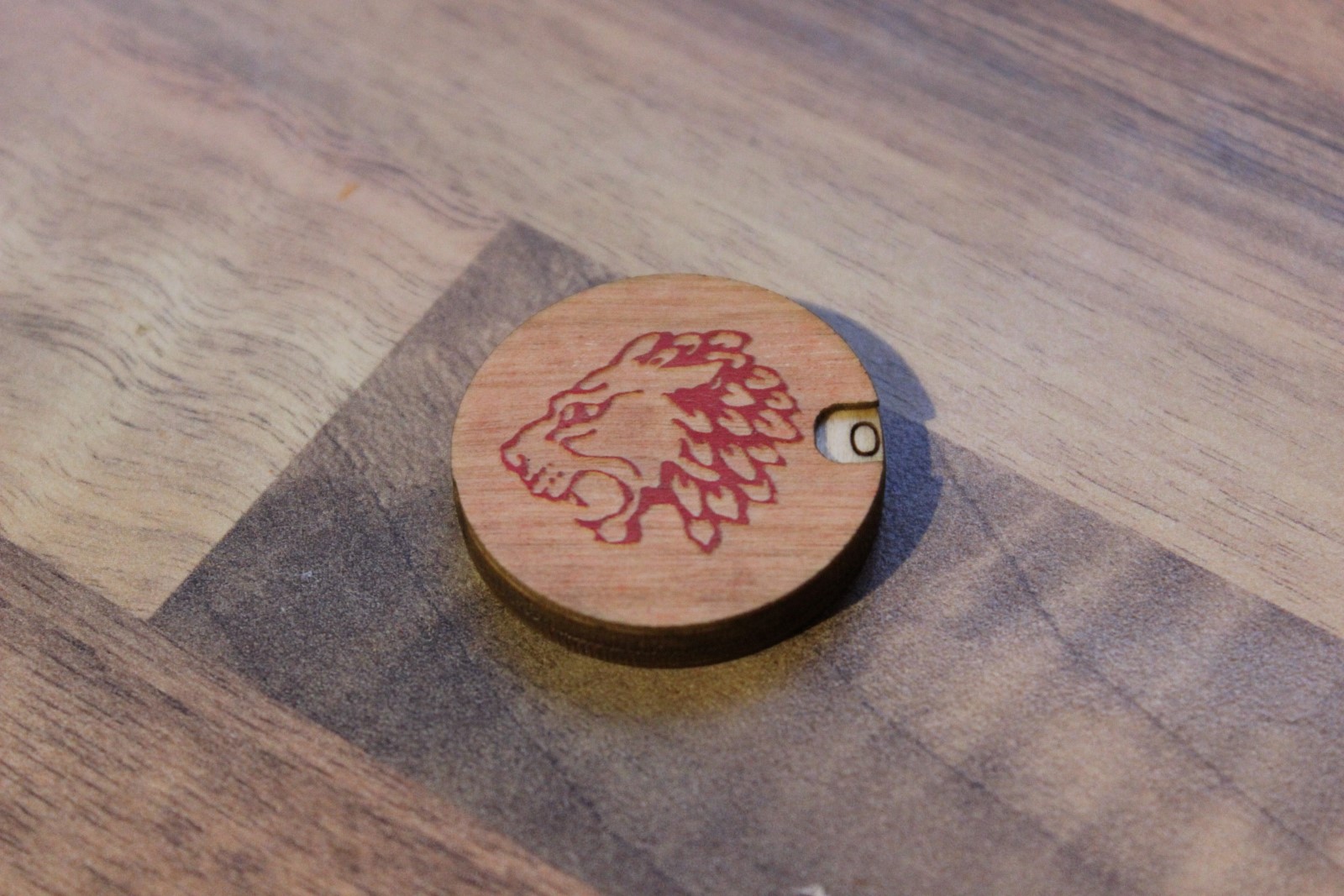 Hosting a casino night event? Rather than off-the-shelf chips, take the opportunity to incorporate your brand with custom gaming tokens. While MSRaynsford designed these tokens specifically as counters for the Tigris and Euphrates game, you can use them as inspiration for creating your own logoed tokens. Use them during games at team-building events, or hand them out at education conferences when audience members correctly answer questions as a modern take on getting a gold star.
32. Playing Cards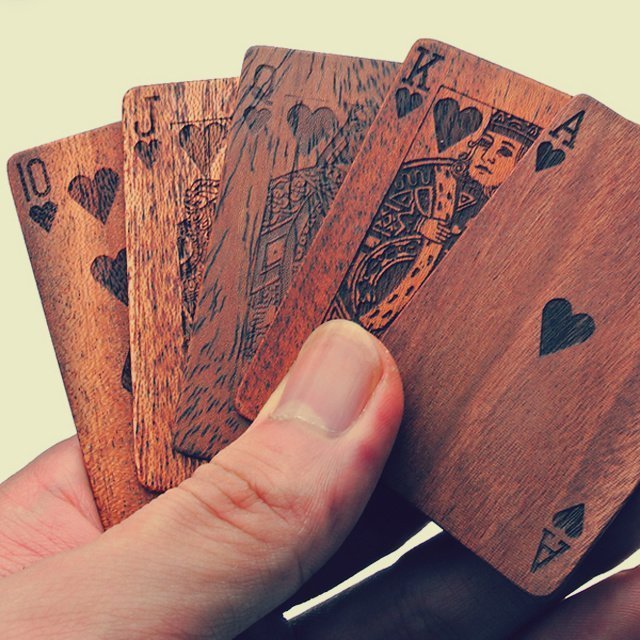 If you're looking for an executive gift that's no gamble, you'll be aces with this Fancy laser engraved wooden deck of cards. If you're designing your own 52 words of art, wouldn't it be fun for the face cards' clothing to be designed with mini logos artistically placed throughout? And here's a great networking idea: Give conference attendees a card at registration, then encourage interaction by getting each person  to find their matching suites or styles.
33. Soundwave Jewelry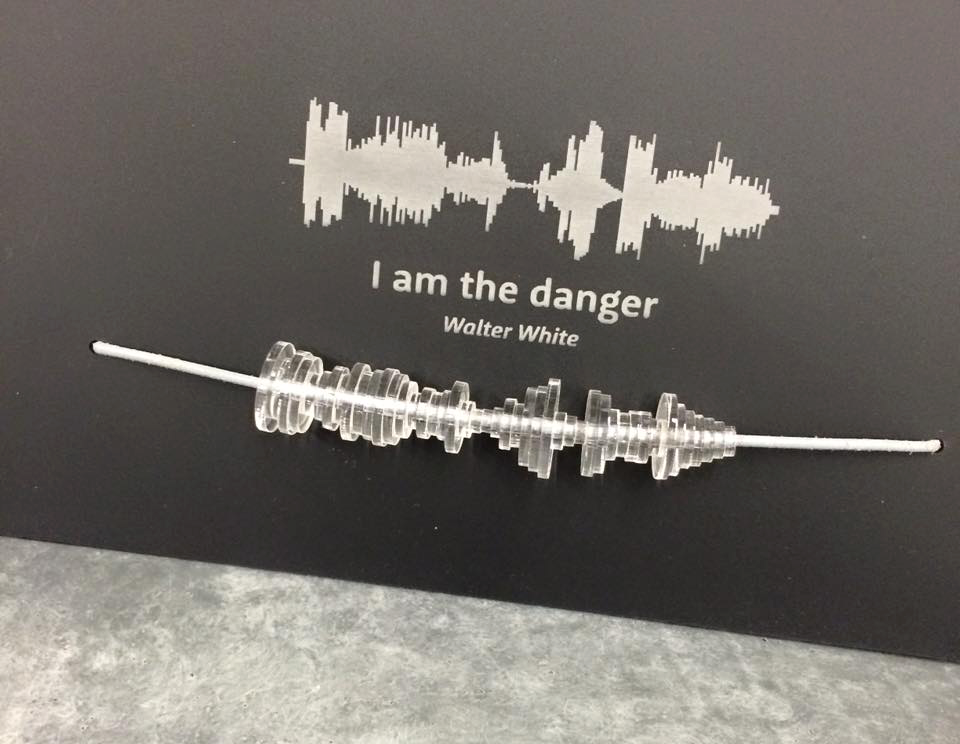 If you really want your corporate jewelry to make a statement without being so obviously branded, the waveform necklace is one of the coolest concepts we've seen. The auditorily acute peeps over at Soundwave.love take voice recordings and turn them into custom-made bracelets, necklaces or keychains using laser cut wood or acrylic disks that are sized and arranged to match the soundwave patterns of the voice recording. Every piece is 100% unique based on the individual's voice and the words said. Brilliant!
Applications? Bosses can give words of thanks and praise to their employees on milestone work anniversaries. A president of a board of directors could use them as service gifts for board members with a phrase that is meaningful to their board term.
Conferences could use them as VIP gifts or sell them as commemorative mementos with the conference name, year and theme/tagline. Do a new version each year and turn them into a collectible series that attendees can use as conversation starters during networking events by inquiring which year each person is wearing.
34. Acrylic Knitting Needle Gauge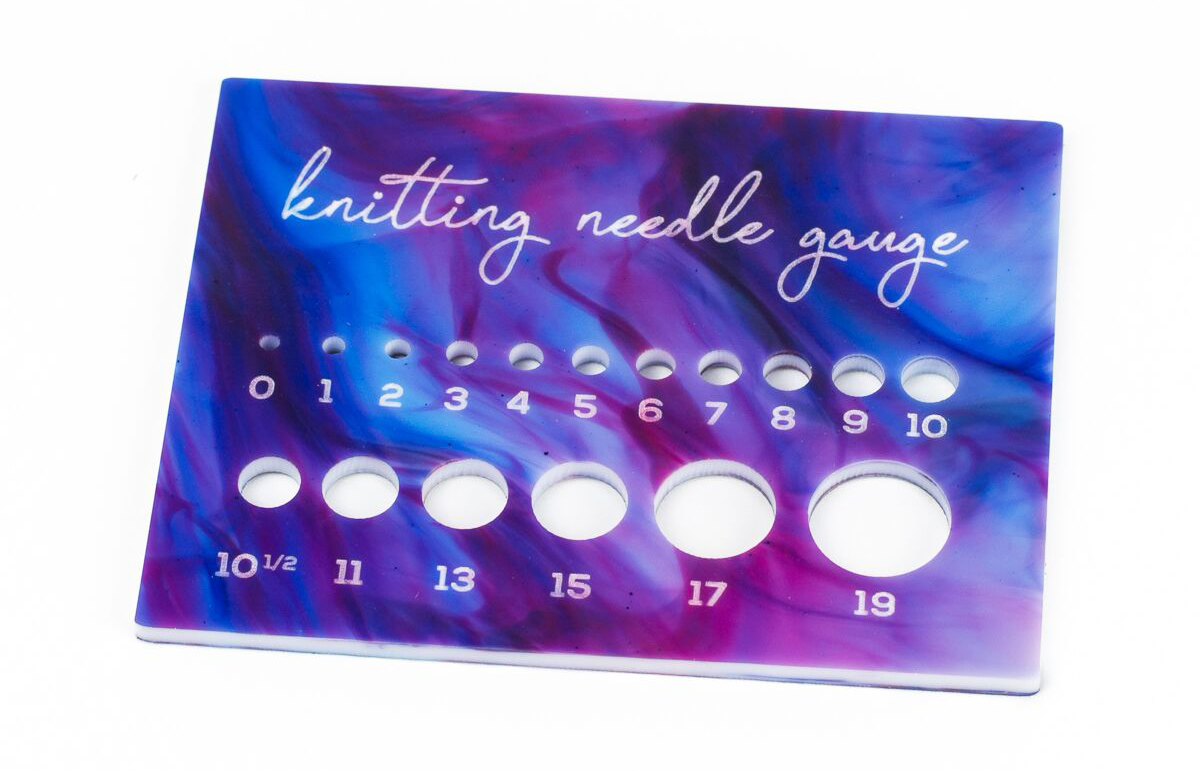 Knitting needles come in a variety of sizes, from the small, thin varieties for tightly woven projects to the large and wide options for chunky construction. While it would seem logical for knitting needles to be marked with the size, it's often not the case. Thus the need for a knitting needle gauge—and a branding opportunity for those companies targeting yarn crafters.
35. Wooden Knitting Needle Gauge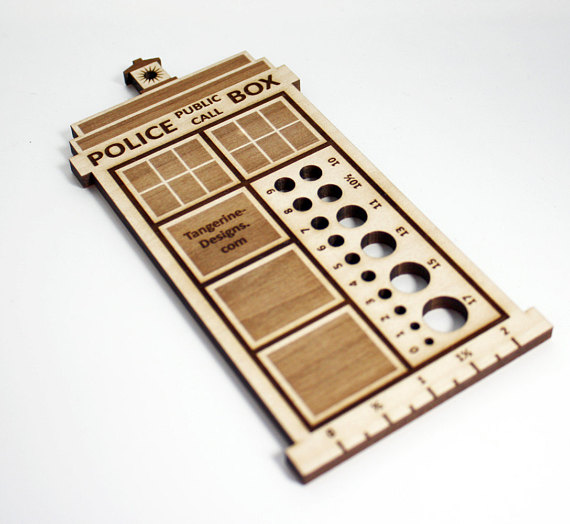 Another measuring tool that we've seen a supissing amoutn of people laser cut is a needle gaude. Clearly quite a speicifc market, but if your audinece is into needlework then there is endless room for custom versoins of this type of product. Due to the small size and the need for accuracy this is well suited to laser cutting .
Material choice is an important consideration when laser cutting knitting needle gauges. The swirl acrylic in the previous example is so bold that the design remains simple so that the material can be the star. But in this TARDIS-inspired gauge from Etsy seller Tangerine8, the wood is the perfect backdrop to let the police call box design shine through. The addition of the company website fits perfectly within the layout, giving it a hint of branding without being overpowering.
36. Custom Sunglasses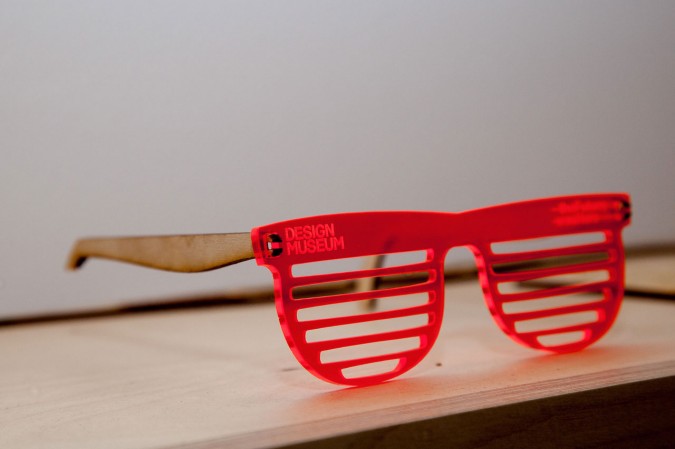 This fetching set of Venetian Blinders may look like something from a 1980s music video, but in actual fact it was featured at The Future Is Here, a 2013 design exhibition showcasing digital manufacturing.
Agencies and brands can take inspiration from cleverly simple laser cut products like this. Finding a way to play on their debatable merits as a fashion accessory, they are a perfect example of what can be made at high volume and low cost.
Creating promotional products ideas that show off your technical and creative skills in a fun, playful way is made even more memorable if your clients can wear it home.
37. Pop-Up Record Player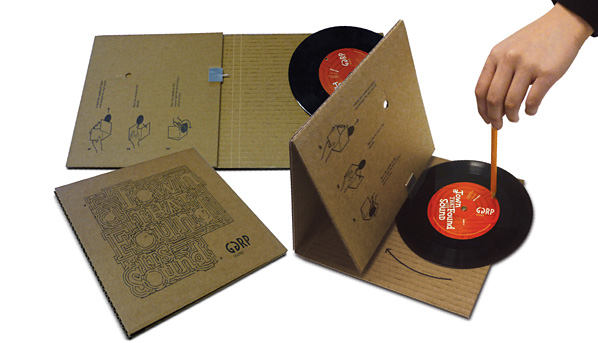 For executive gifts to make a lasting impression, it can help to find a clever way to surprise and delight recipients. Take this example from Canadian ad agency Grey who created a memorable direct mail product that references the client's historical association with vinyl records.
A very basic but fully functional record player folds out from a sleeve containing the 45rpm single. Manually operated, the hollow space in the folded card amplifies the sound. According to Geoff Dawson from Grey:
"It's actually shocking how good the sound quality is, it took a long time of playing with different materials and designs to get the audio just right."
For a little more on the Grey player and how it kept customers in the groove, check out the brief review on Modular 4.
Take this idea for a spin or use it as inspiration for making simplified interpretations of other familiar domestic products.
38. Laser Cut & Engraved Stamps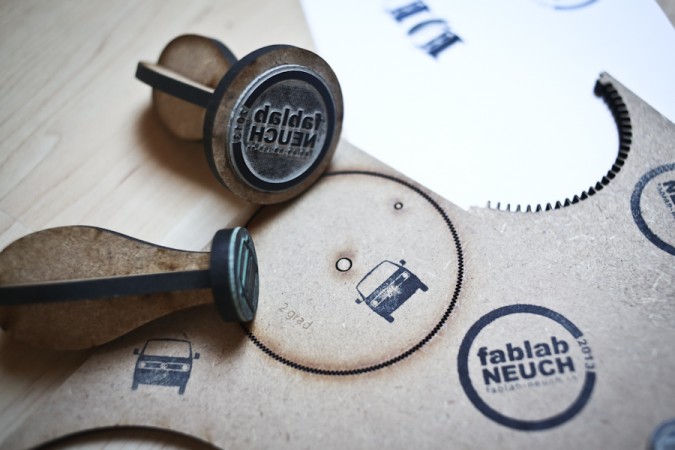 The tactile satisfaction of a physical stamp can help give your brand a memorable impact. The example above includes a simple but cleverly designed laser cut ergonomic handle which also has several surfaces where further branding or information can be laser etched.
Whether laser etched stamps are produced as promotional items to be given away or as a tool to apply branding onto media for prospective customers, there is a novel human element to it that can communicate at a deeper level than conventional printed materials.
Creative modern interpretations of seemingly superseded technologies are a great way to make your brand stand apart from the competition.
39. Laser Cut Paper Crowns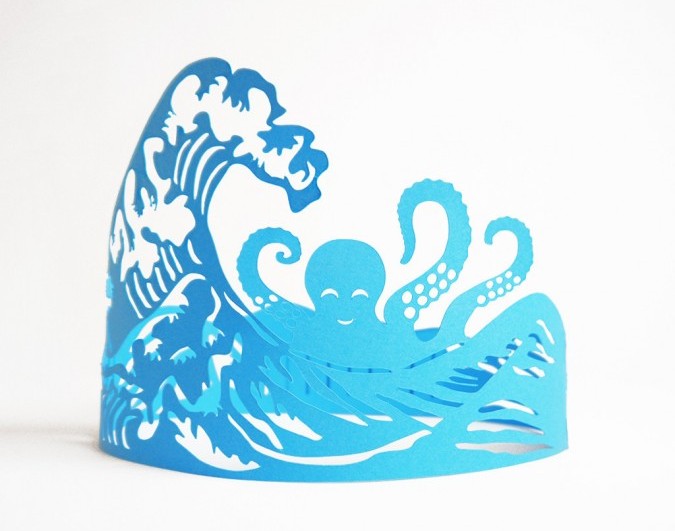 Whether you are actual royalty or just a regular Joe, on certain occasions there can be something special about slipping a crown onto your head. As this example from Art We Heart shows, there is scope to include considerable complexity (and therefore artistic expression and identity) when using laser cutting in this way.
Laser cut crowns are a cost-effective way to transform customers into proud, willing and eye-catching roving brand ambassadors that will make heads turn. Let your fans make a regal impact wearing your company's brand messaging at the next big trade show or industry event.
40. Laser Cut Pop-Up Chair Card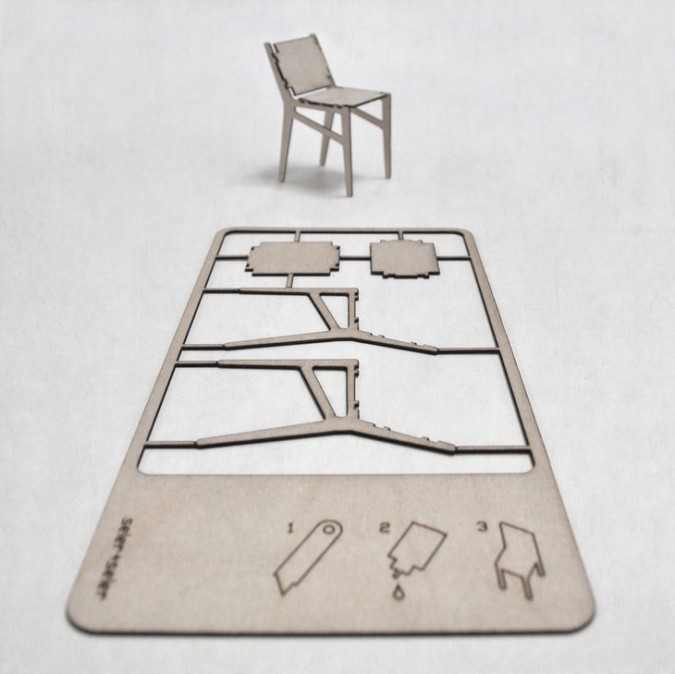 Giving your clients a quick and easy construction project can be a fun way to ensure your message will be remembered. This effective example of a pop-out chair from seier+seier was produced as a Christmas card and includes straightforward assembly instructions and branding etched onto the remaining material.
As a cute little extra, an additional card featured a bonus pop-out cat to sit on the assembled chair.
Using laser cutting, you can create branded merchandise that can ecreaasily be transformed from 2D to 3D by the end user. These kinds of interactive designs are great way to make a lasting impression.
41. Business Cards With Just The Key Details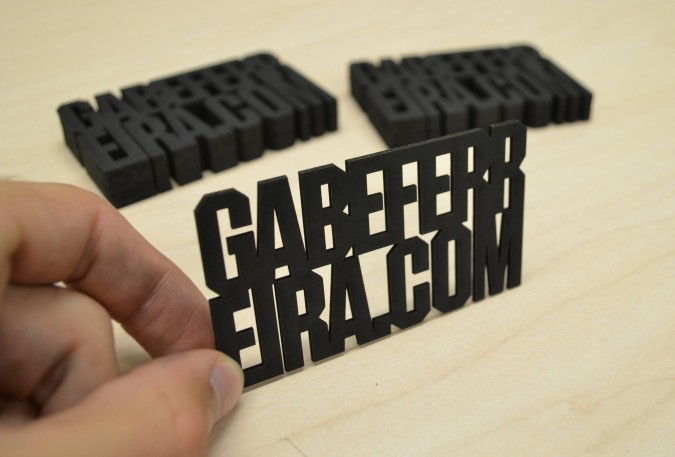 When exchanging business cards with someone, what information about you do they really need? In a world where connected devices are within reach at all times, perhaps your most critical info is your online presence.
Gabe Ferreira reduced his key details down to a personal website address and then maxed out the text to fill the area of a traditional business card. In his own words:
"…there is no distinction between content and material. The cards are more durable and cheaper to produce than most 'premium' business cards."
To give brand identities a strong visual presence, this example from Gabe shows how clever laser cutting will really stand apart from the more familiar printed alternatives.
42. Multi-Layered Laser Cut & Etched Images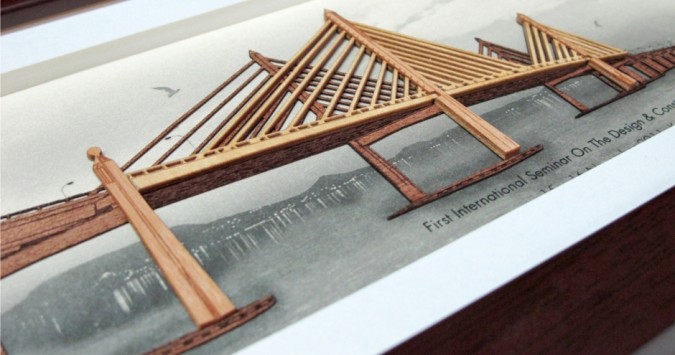 When an image is laser etched it takes on a whole new emotive feel, as many artists have demonstrated in recent years. This example from Malaysian laser cutting service Passion Woody uses a clever combination of photographic imagery with laser cut and etched wood.
It is a simple but very effective technique that gives the printed material a depth and visual presence that really catches the eye. Using laser cutting and etching in a selective way to enhance key aspects of an image enables your brand messaging to have a totally different impact.
43. Laser Cut DVD Sleeves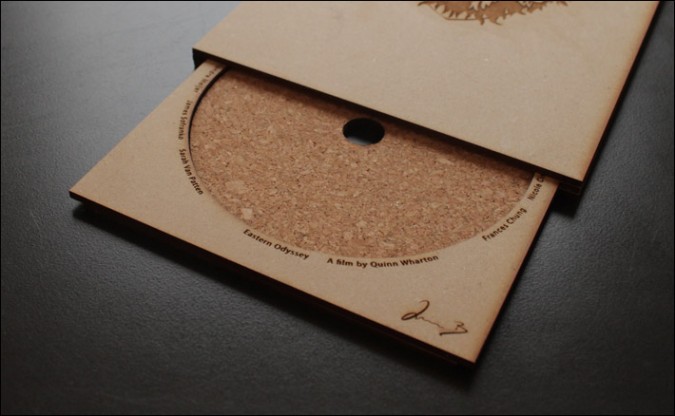 Distributing large files on optical media continues to provide significant bang for your buck… even in these times of ever-cheaper flash storage. So if you're still using discs as a way to distribute your digital wares, why not show off some creative flair with the packaging that goes along with your promotional CD, DVD or Blu-Ray?
The particularly refined laser cut case pictured above comes from designer Jazz Tigen, and it is a great example of the impact that can be achieved when you break away from the standard DVD sleeve.
Here are a few more approaches that others have taken in creating unique CD and DVD sleeves through clever use of laser cutting such as these by Sarah Holbrook.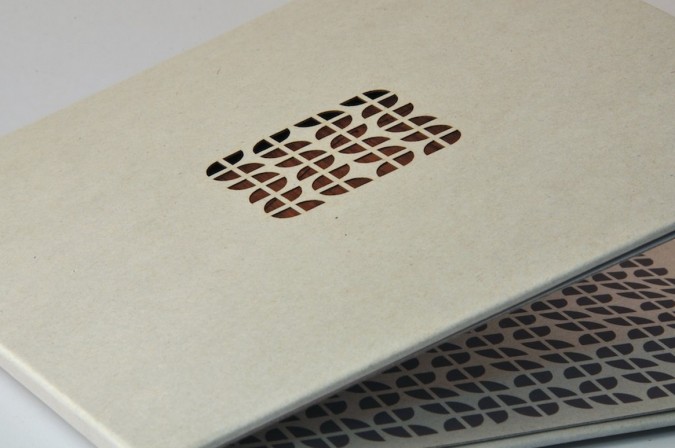 The dark colors used by Stine Strand allow the contrast of the bright colors to show through.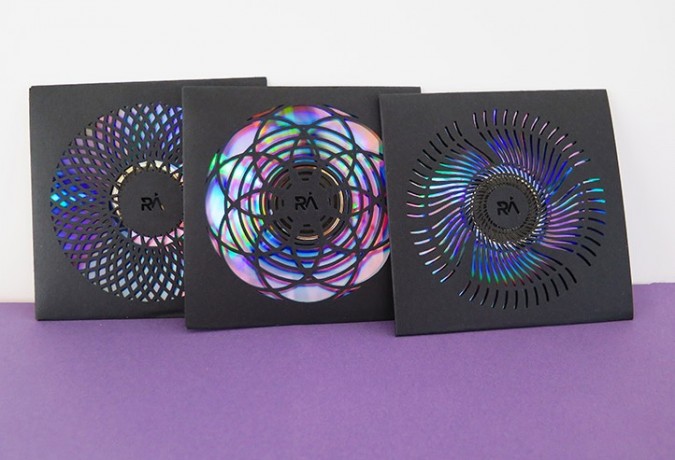 The circle design by Neslihan Ulus has a subtle cool vibe.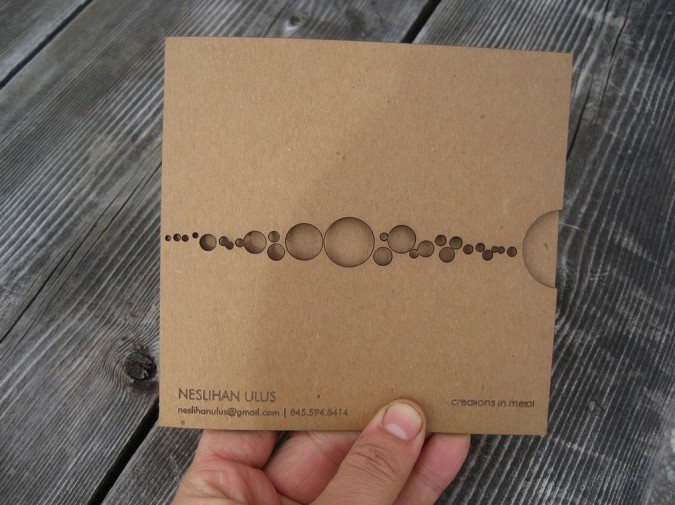 44. Laser Cut Flat-Pack Vases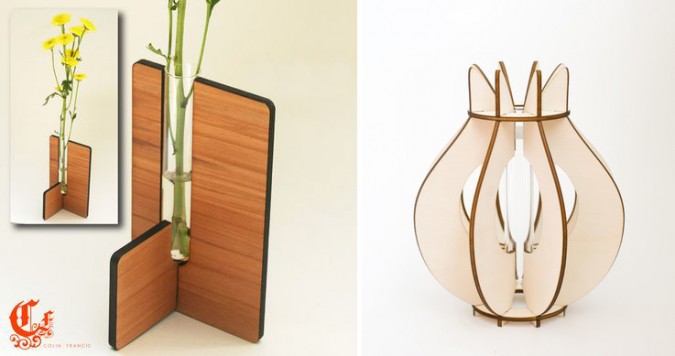 Flowers in a vase can mean so many things, and bringing a beautiful snippet of nature into our lives has a unique magic to it. Where to put those flowers can be as personal as the choice of flowers themselves, but sometimes it can help to give people something to work with.
As we've seen many times before, laser cutting is a great way to quickly achieve novel 3D forms from sheet materials. These vase examples from Colin Francis and Chromatophobic use a test tube as the vessel, with a laser cut structure to hold it in place.
How would you use this as inspiration for your own creative promotional product ideas? To get you started, imagine placing branding on a slot-together structure that assembles around a standard water bottle, which can then become a functional keepsake for conference attendees or clients to take home with them.
45. Laser Cut & Laser Etched Awards & Trophies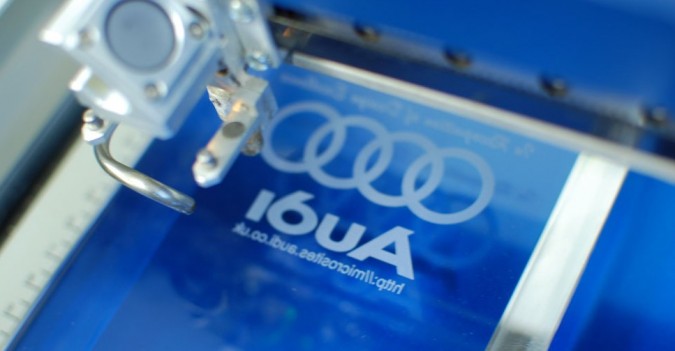 Rewarding people for their hard work or congratulating team members on a particular achievement has greater impact when something tangible can be handed over. If the presentation item is good enough, hopefully it will be retained and proudly put on display to share with others.
With even the most straightforward use of laser cutting and laser etching, awards and trophies can be easily customized. Identifying the event and naming the recipient in crisp, clean laser precision adds a perceived authenticity to the trophy. We've come a long way from hand-engraved brass name plates glued to a generic cup!
Pictured above is a laser etched award plaque-in-progress by Epilog Laser. For more creative approaches, check out their other examples and think about how you could make the most of laser cutting to give your next presentation ceremony a memorable impact.
46. Laser Cut & Engraved Business Cards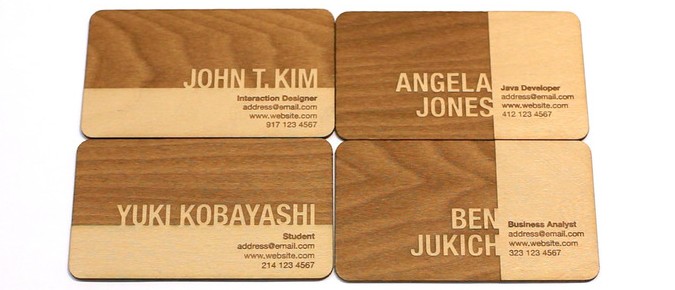 Attending a conference or event involves many layers of social nuance. As these laser cut and etched examples show, with a little creativity and planning in advance you can find all kinds of ways to make personal identification novel and memorable.
Pictured above are samples from the Engraved project by John T Kim. The clean graphic impact of this design and the way that it has used the precision of laser etching are a good reference point.
47. Key Rings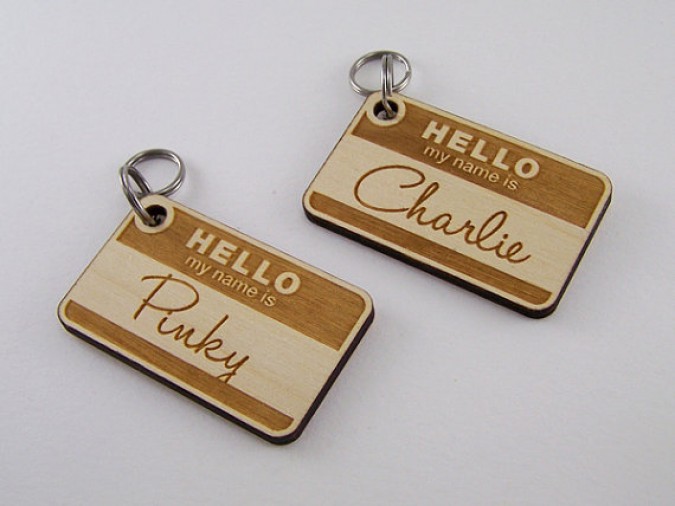 Quirky Etsy laser cutters Cropscotch have taken the traditional name tag and given it a laser etched makeover.
48. Name Tags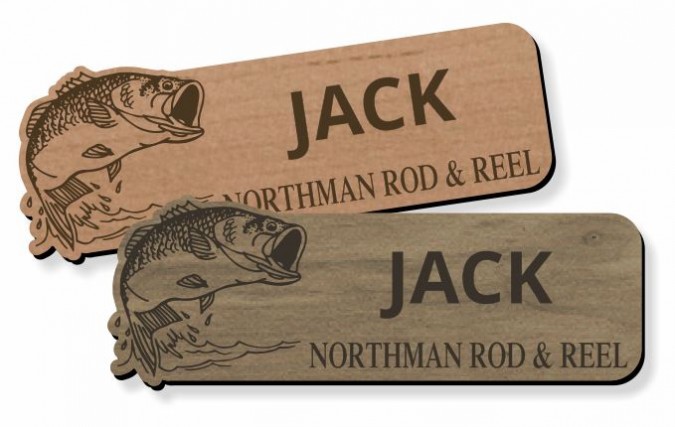 Here's another traditional name tag, where a section of the contour that has been laser cut to break free from the standard rectilinear format. This works well with the laser etched artwork, while leaving plenty of space for primary and secondary lines of text. A nicely resolved example from Dominion Stamps.
49. Place Names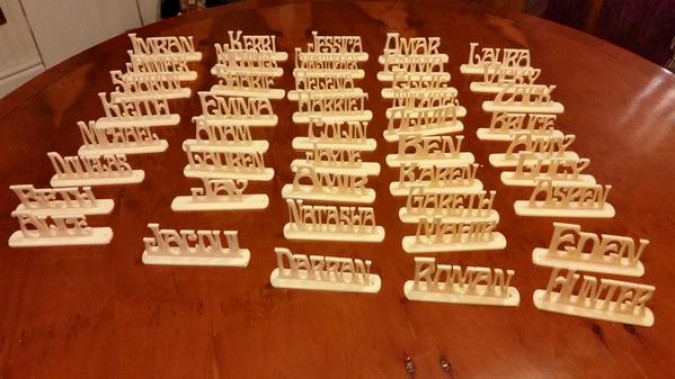 Here are some wedding name tags produced by DoES Liverpool that will be standing up long after the guests have gone wobbly at the knees.
50. Conference Badges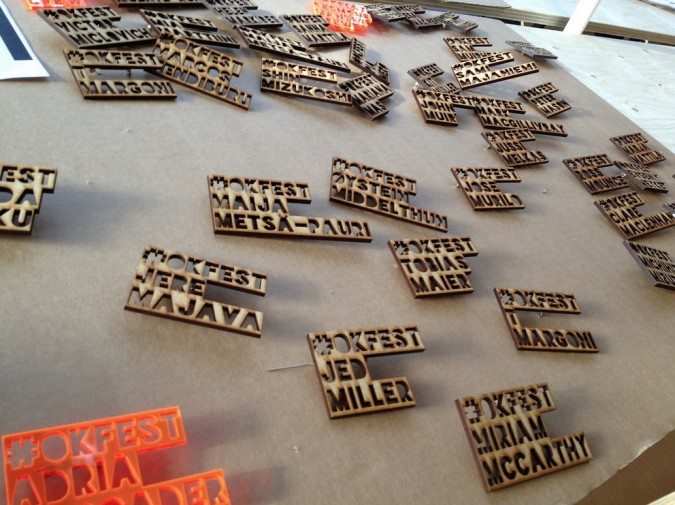 These name tags have that iconic laser cut look to them, and were quite a hit at the OKFestival event in Finland.
51. Stencils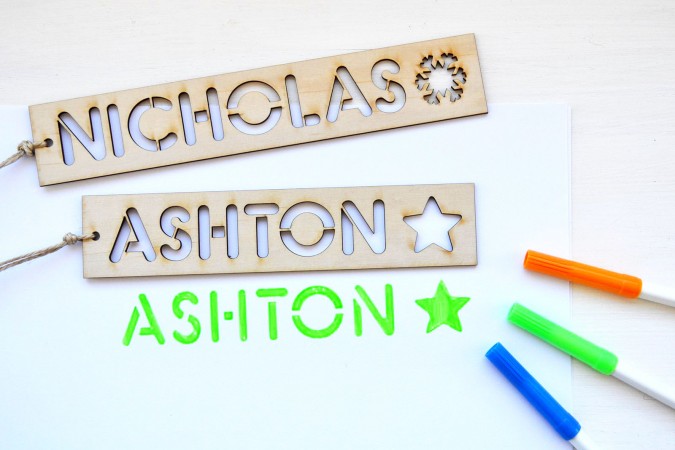 Taking a similar approach but with a more refined outcome, these name stencils from Miss Bold encourage the recipient to use the laser cut trinket for further acts of identification.
52. Illuminated Signs & Labels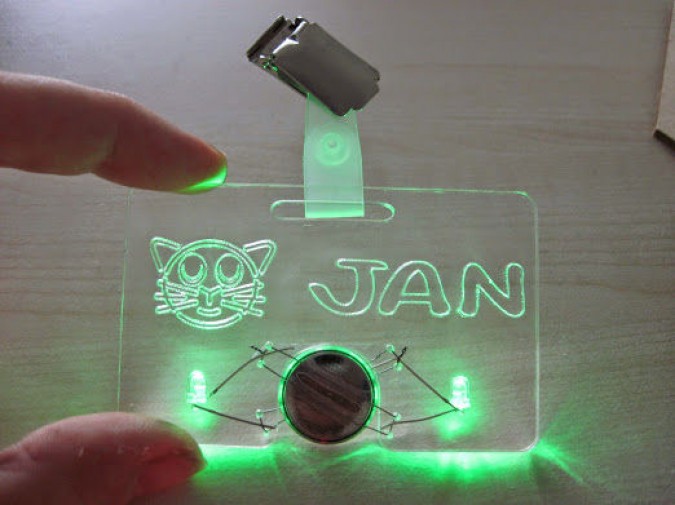 This creative promotional product idea is a bit more involved than laser cut or laser etched wood, but as you'll see, the extra effort is well worthwhile. Produced for a kids workshop at FabLab Aachen, the LED illuminated name tags have laser etched details that light up when a cleverly integrated circuit is activated. The battery is held in place by the wire legs of the LEDs, so there's no soldering required. Check out the design in detail over on Instructables.
53. Laser Cut Annual Reports & Catalogues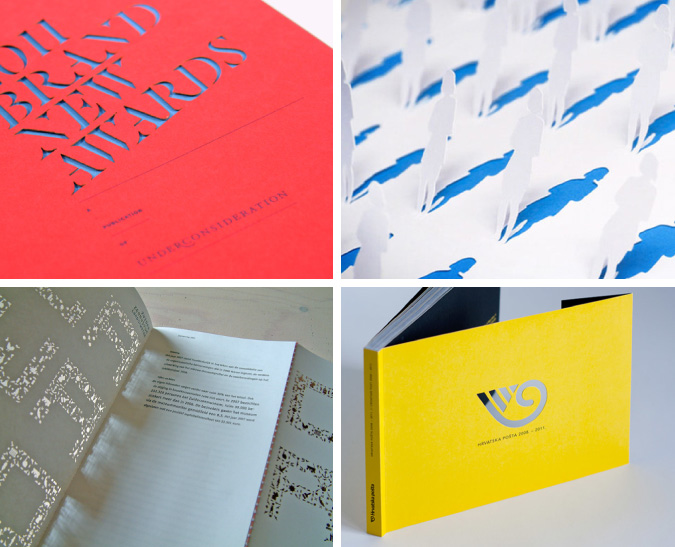 Celebrating a company's milestones and achievements, the annual report is an important document that can be further enhanced through clever use of laser cutting. By using typographic voids, multicolored layering and other similar techniques familiar to laser cutting designers, the published information becomes interesting and eye-catching in a way that invites the reader to explore further.
Pictured above are examples of laser cut cover artwork on annual reports and cataloges from Under Consideration (top-left) and Croatian Post (lower-right) as well as internal content from Pelayo Insurance (top-right) and the Zuiderzee Museum (lower-left). We can see in these different approaches that selective application of laser cut elements can help to give a sense of prestige and style to the printed material.
54. Laser Cut Cards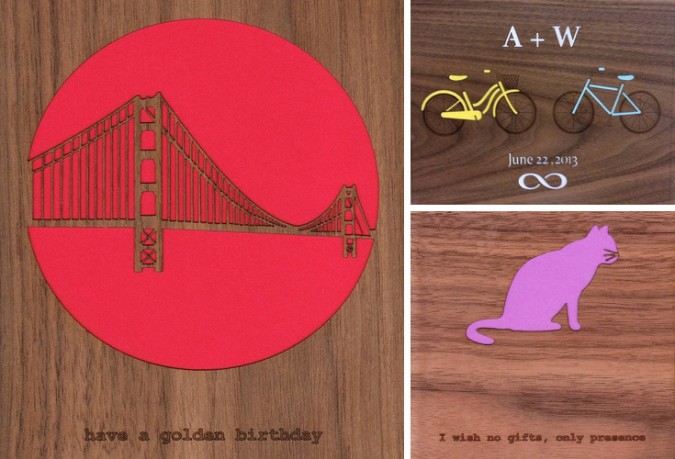 High contrast laser cut layers are really visually effective and unusual materials mean recipients are more inclined to display and keep them.
Laser cut and etched wood has a striking impact all on its own, but as this example from San Francisco creative duo b-spired shows, adding in a backing layer of bright colored card really makes things pop.
Enhancing the crisp lines and bold negative space that is such a strength of laser cutting, the layered card creates a high-contrast visual impact that completely transforms the natural tone of the timber. The same effect will be equally impressive when applied to other popular laser cutting materials such as acrylic and metals.
These greeting cards and invitations also have a sturdy backing and a neat little pop-out stand, because when something looks this good, chances are high that people will want to display them.
Imagine how this technique would look when applied to corporate identities and company artwork.
55. Laser Cut Mobiles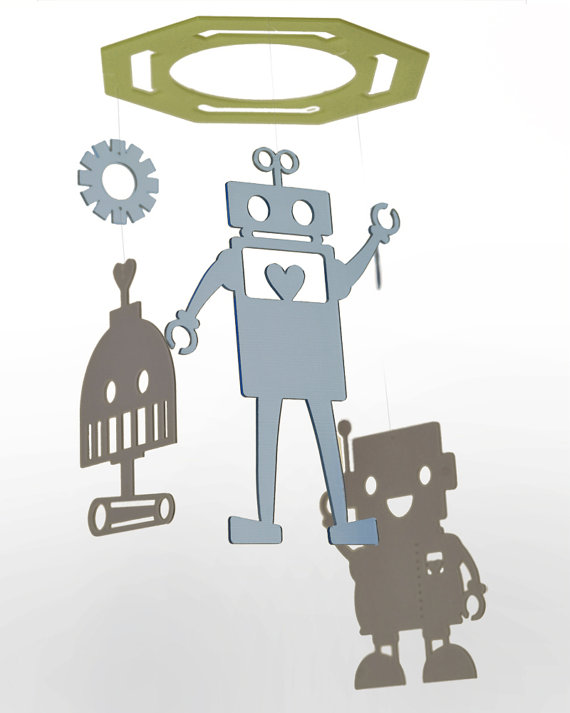 While there are some people who don't give the humble mobile much thought outside of a baby's nursery, for others the transformation that takes place as an object floats delicately through the air can be quite mesmerising.
Mobiles can take on many forms, as is demonstrated by the playful examples pictured here from Diana Jess aka daswooddesign. Hand-made from low impact eco-plastic, she used the compositionally friendly arrangement of four floating elements (pictured above), but you can also have just as much impact with five, three, two or even one lone pendant suspension. It all comes down to how interesting your individual items are and how well they balance when suspended.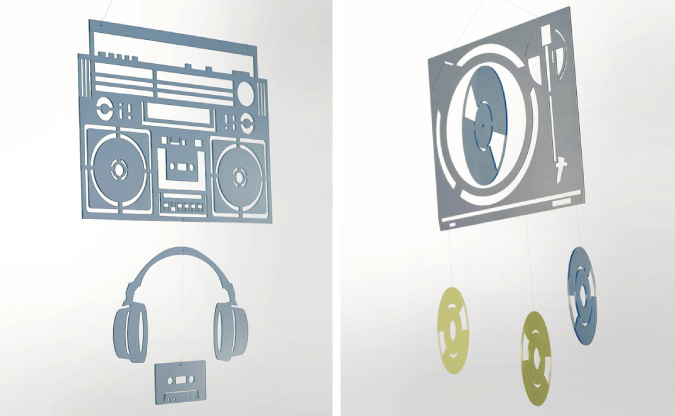 Many of our favorite laser cutting materials are ideal to use in this application, as the silhouette of the object and the negative space around it contribute to creating a dynamic visual impact. The designs from daswood achieve this particularly well, using the strengths of laser cutting to make the most of the chosen material's physical characteristics.
Where can you suspend this kind of eye-catching merchandise from? Going beyond the standard ceiling mount, there are opportunities around us all the time. See what else you can come up with to create a "space modulator" that leaves a lasting impression.
56. Scale Models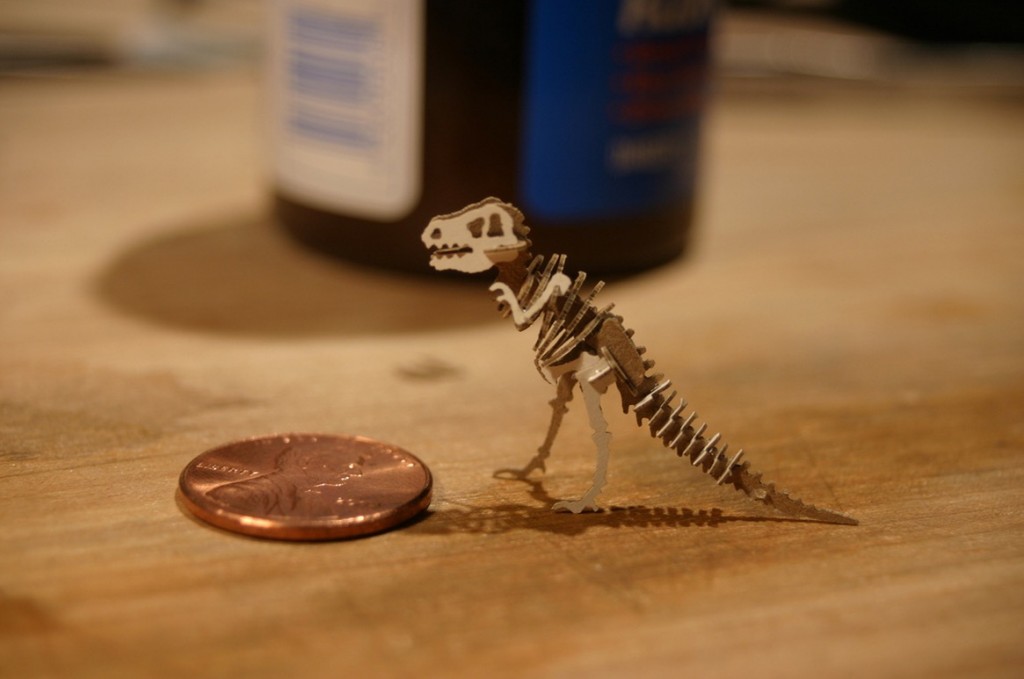 Taking an everyday object and making it big can really change your perspective. The same thinking can be just as effective going the other way–when large objects become interesting and engaging by making them tiny.
No one does this better than the clever makers at Everything Tiny. As we can see in the tinysaur example above, miniaturisation is an easy way to encourage a fresh, light-hearted response to your brand. Considered use of layering and materials can also help to create more impact, and also remember that small items tend to be fragile or easily lost, so a display case of some kind (perhaps laser engraved with a logo?) would be a handy addition.
57. Cake Toppers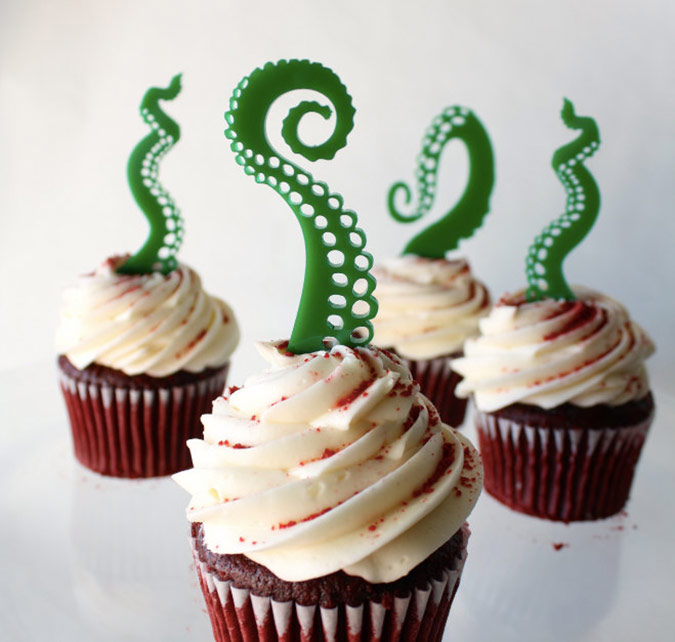 Tasty treats are a great way to draw a crowd at your tradeshow, and as these playful laser cut cake toppers demonstrate, there can be so much more to the proverbial "cherry on the top" if you're willing to get creative with laser cutting.
This approach calls for elements that ring true with the strengths of laser cutting: A combination of crisp outlines, bold forms and delicate silhouettes that are uniquely eye-catching. Individual units are also fast and cheap to make, and they will be resilient enough to withstand the rigors of more than a few rounds at events or parties. This makes them a great take-home souvenir or giveaway, with the added memorable twist of your brand being associated in a fun way with a tasty treat.

Using the cupcake as a base for their creative endeavors, John and Christine from Thick and Thin Designs have gathered quite a following with their cake toppers on Etsy; a few of which are pictured here. Bringing your corporate messaging to life has never been so sweet.
58. Tiny Boxes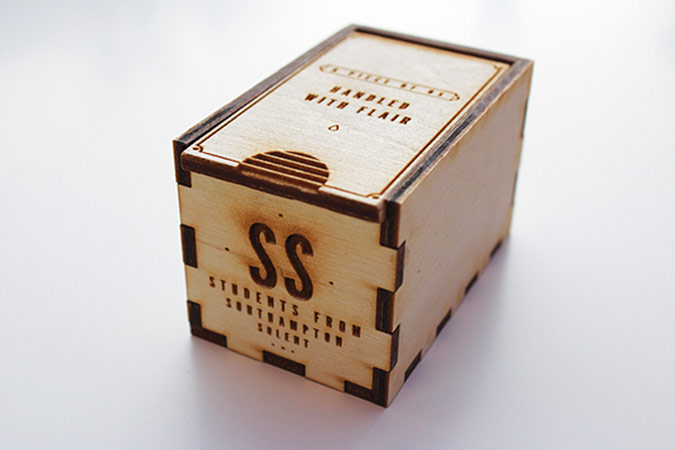 Wondering how to use laser cutting to stand out from the crowd?  Check this mini shipping crate out. Complete with cargo inside.
The distribution of creative promotional products can be a powerful marketing tool, with novelty objects triggering conversations between stakeholders in new and interesting ways. When used to full effect, these products become memorable in their own right and, most importantly, this also means the brand identity becomes an integral part of the ongoing conversation.
For an exhibition showcasing the best student works titled "D&AD New Blood," the creative design team from Southampton Solent University incorporated visual, conceptual and sensorial metaphors into their very effective event swag. A neat little laser cut box was produced in the style of the ubiquitous Southampton dock packing crates. Inside, further supporting the theme of "cargo," nestled a macabre-looking glass vial with the top sealed in wax.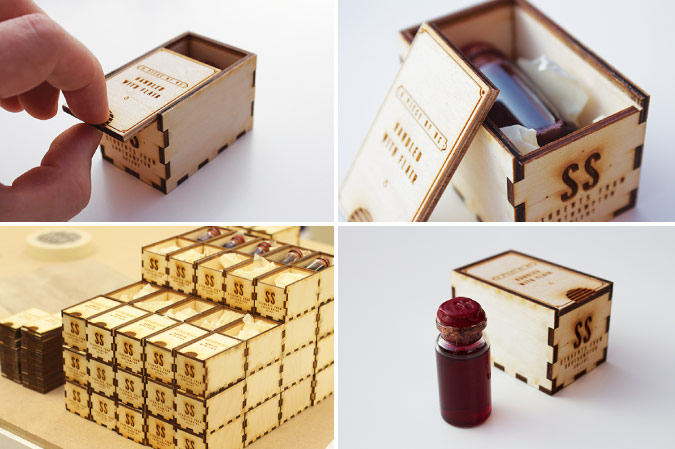 This small bottle of wine continued to play on the New Blood idea of creative juices being shipped out. All sealed in a laser cut crate with sliding lid and laser etched details, it held just the right combination of conceptual nostalgia and contemporary novelty to become an effective conversation starter. People loved the diminutive scale and the nonsensical utility of the object. This was all made possible through clever use of laser cutting to increase brand awareness. See more photos of the miniature crates on behance.
59. To Scale Models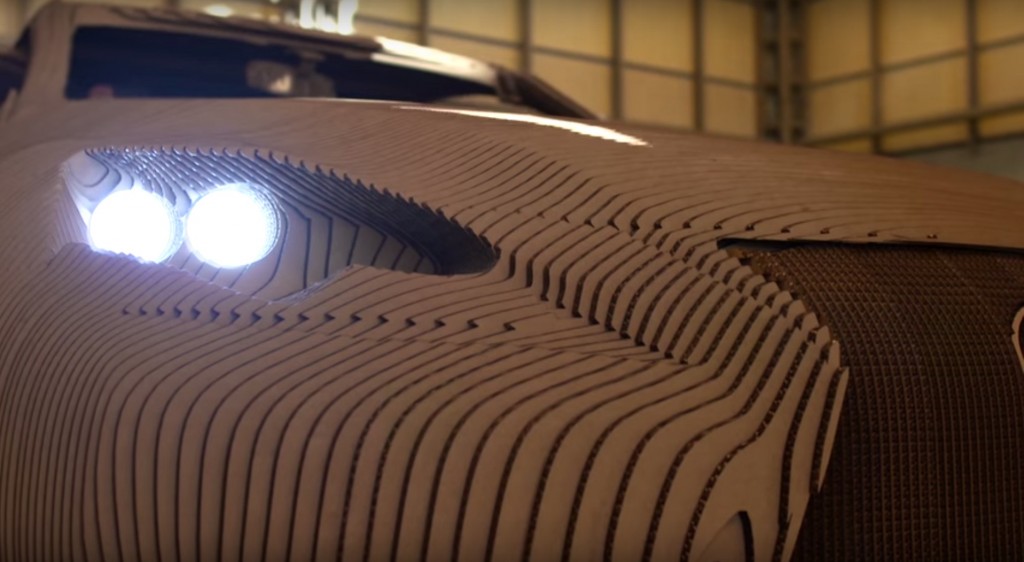 Life-sized laser cutting is pretty darn impressive, especially with shiny lights.
For brands and agencies in the automotive industry, the challenge of finding new ideas for creative promotional products to engage and excite potential customers calls for eye-catching innovations that are able to match the impact of the vehicles themselves.
In a campaign created for the Lexus IS Saloon, the collaborative team from LaserCut Works and Scales & Models faithfully reproduced the automotive giant's flagship vehicle out of cardboard.
Hand assembled from 1,700 individual laser cut pieces, the cardboard replica carries with it the fine contours and perception of energetic motion that is a hallmark of the Lexus brand. For the model makers, the process of exploring the complex three-dimensional design contours using a flat 2D laser cut material gave them an insight into the creative skills of the automotive engineers.
Through this cardboard construction, they were able to create a visually arresting object that is "…a celebration of the human craftsmanship skills that go into every car Lexus makes."
Just as in smaller laser cut products, to achieve this highly refined, successful outcome the designers went through many iterations with the seats and wheels proving particularly tricky. The speed and versatility of laser cutting enabled an efficient workflow in the transition from digital model to 3D physical object.
"Once we could see the physical pieces taking shape, we could identify where we needed to make improvements…"
For brands and agencies working in the automotive industry, the scope for novel creative responses to design briefs is greatly enhanced when laser cutting enters the process. We often see fantastic 2D laser cut promotional works, and as this Lexus campaign demonstrates, the impact of laser cutting at 1:1 scale can be a real conversation starter.
Read all about the cardboard Lexus here.
60. Silhouettes At Human Scale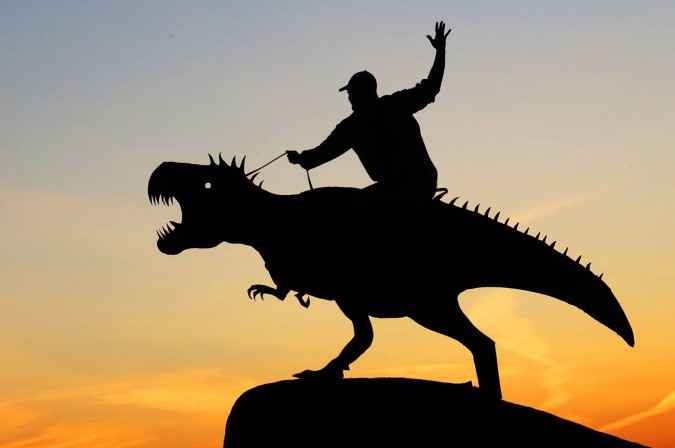 The magic that's in the air at sunset helps to bring John Marshall's playful cardboard cutouts to life, with a real sense of movement and action communicated through his carefully constructed photography.
By planning each scene according to perspective, lighting and precision timing, an entertaining scenario is depicted with surprising realism. This human-scaled shadow puppetry is a technique that could be adapted to give an impact to marketing collateral that standard graphic prints can only dream of.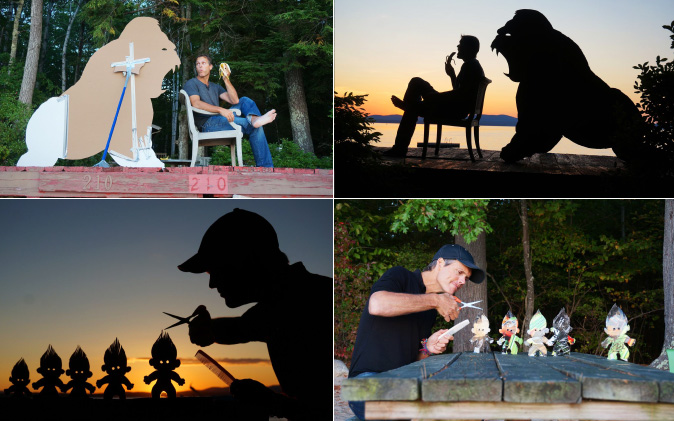 Location-specific installations encourage people to rethink their role in the physical environment, engaging the viewer and ultimately creating a connection to the space that leaves a lasting impression.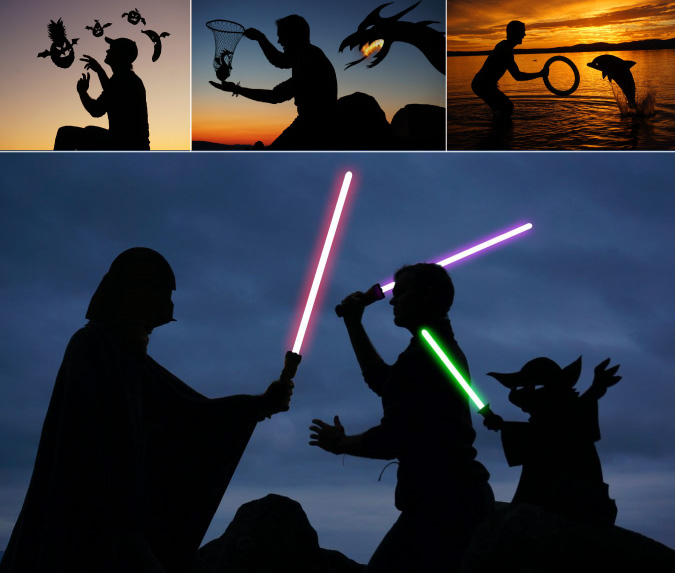 The examples shown here in John's Sunset Selfies are all cut out by hand, and the concept is well suited to a streamlined process using laser cutting. How can your clients apply this idea of immersive puppetry using laser cut cardboard?
61. Laser Cut Pop-Up Text
It makes sense that with many promotional products and messaging items, the choice of typography plays a major role in whether your messaging gets through to people. One way to literally stand out from the crowd can be to create something that looks interesting and encourages a simple physical interaction, all within the text itself.
This eye-catching example of 3D text with a difference came from the forward-thinking fashionistas at Anthropologie. The event invitation would have looked appropriately refined and stylish printed onto white card, if only a more traditional approach had been taken.
However, the simple transformation of laser cutting a portion of the font outline completely changes how the recipient reads the message. Each word can be folded out to stand proud from the surface, making perspective, light and shadow all contribute to a more memorable sensorial experience.
Make your corporate messaging take on a whole new impact using laser cutting and see how your words stand up and get noticed.
62. Laser Cut Fashion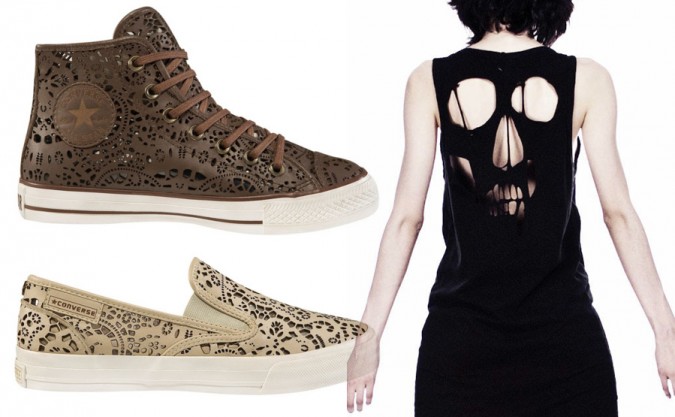 The intricate designs enabled by laser cut textiles are no longer an exclusive novelty for the haute couture runway scene. The bold fashion statements enabled by laser cutting are now within the grasp of the everyday consumer with leather, silk and other textiles ideally suited to the digital manufacturing process.
Delicate patterns reminiscent of fine lace and needlework lend themselves well to laser cutting, but as we can see in the image above, bold shapes and iconic imagery can be just as effective.
With some clever design thinking, laser cutting has also enabled more exotic materials to become wearable garments. The wooden t-shirt below by Pauline Marcombe uses laser cut panels attached together with wire, transforming what was once a rigid material into a malleable interlocking form of modern body armour.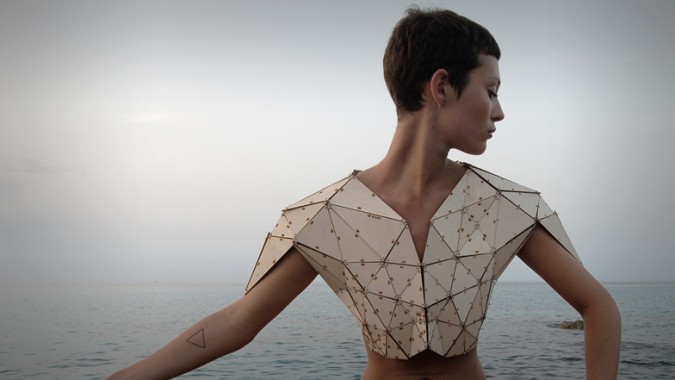 Why would you turn to laser cutting for brand promotion? For one, the eye-catching impact of these fashion items invites attention and a healthy curiosity. But also, thanks to the laser cutting process, there is much scope for design freedom and customization at a price that is accessible to the consumer.
63. Laser Cut Food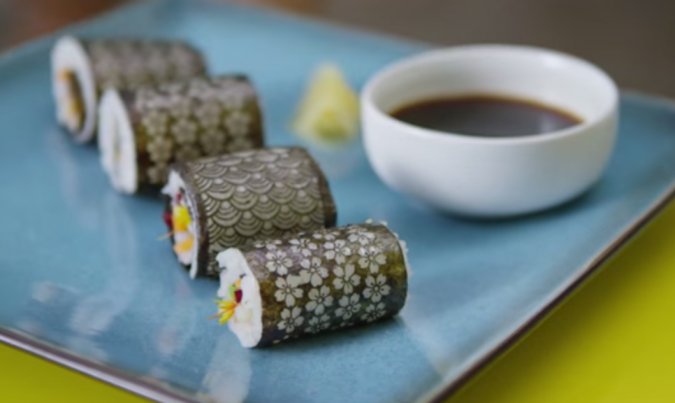 For a tasty treat that is as much a feast for the stomach as it is for the eyes, laser cutting opens up a whole new world of possibilities. The precision and intricacy enabled by laser cutting is perfectly suited to many delicious everyday ingredients, as is demonstrated with the laser cut maki sushi rolls pictured above.
Laser Cutting In The Kitchen
The laser cutting we know and love works in two dimensions, transforming any flat material into an open creative canvas. Taking this into the kitchen where so many ingredients are rolled, stretched and beaten flat gives enterprising chefs a new tool with which to win over your heart. Sheets of nori (dried seaweed) are a great example, as they respond much like thin paper when laser cut. Then when they are assembled into a sushi roll the dramatic visual impact really draws attention.
Branding Good Enough To Eat
Applying brand identities and iconic imagery to ingredients creates quite a different engagement for the consumer than if the same elements are used on printed materials or packaging. With good reason, the way we pay attention to something edible triggers a response from somewhere deeper inside. How does that old proverb go? The way to a man's heart… (following images via meatcards.com)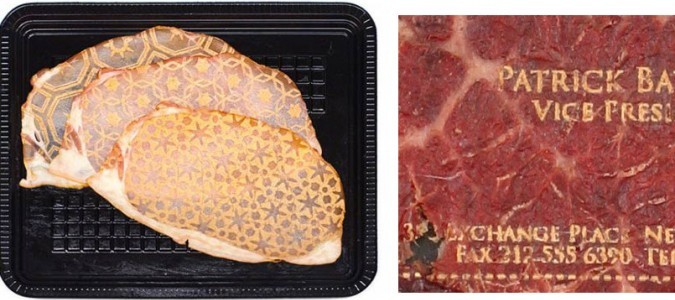 How can you tickle some taste buds using laser cutting?
64. Laser Cut Clutch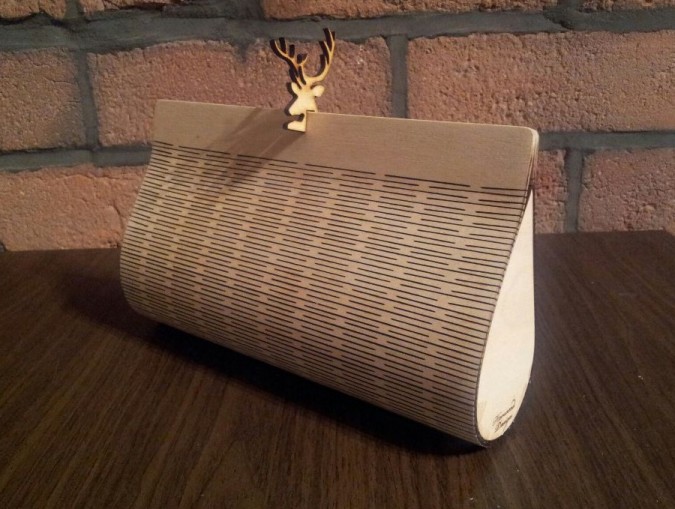 Wrapped in a living hinge, this laser cut pattern makes hard materials flexible. This clutch is made of wood!
There is something almost magical about the way a flat sheet of rigid material becomes flexible when laser cut using the "living hinge" technique. This method of achieving a 3D shape from 2D material is ideally suited to laser cutting, as it exploits the natural tendency for stiff materials to flex around voids or notches. With a distinctive visual identity, the functional design elements can also be quite eye-catching.
The result is a smooth, organic curve that can be controlled rather efficiently if you are willing to either put your head far enough into the mathematics of how it works or simply enjoy the prototyping process through several rounds of trial and error.
About Living Hinges
Learn more in our post on How To Design a Living Hinge where the mathematics behind this construction technique are revealed. While many examples of living hinges use simple lines as the decorative and functional element, it is in fact possible to adapt complex graphics (such as icons or company logos) to achieve a similar physical manipulation in the material.
See the following examples of patterns increasing in complexity and how they respond when they are a part of a living hinge. To the left is a basic staggered line element, similar to the clutch bag design featured above from Michael Harwood. Moving through to chevrons, larger voids in a plus symbol and then the more detailed Space Invader sprite, it is clear that visually recognisable icons can indeed become living hinge elements.

Applying This Technique To Your Brand
Staggered lines are an excellent starting point when looking at living hinges, as the behavior of the material is much more predictable and therefore easier to control. To keep things interesting, we do also encourage exploring more complex designs for maximum impact. Consider both the form that is created when the material bends around the living hinge and how best to incorporate brand identity.
Bagging the perfect fashion accessory has never been so fun.
65. VR Headsets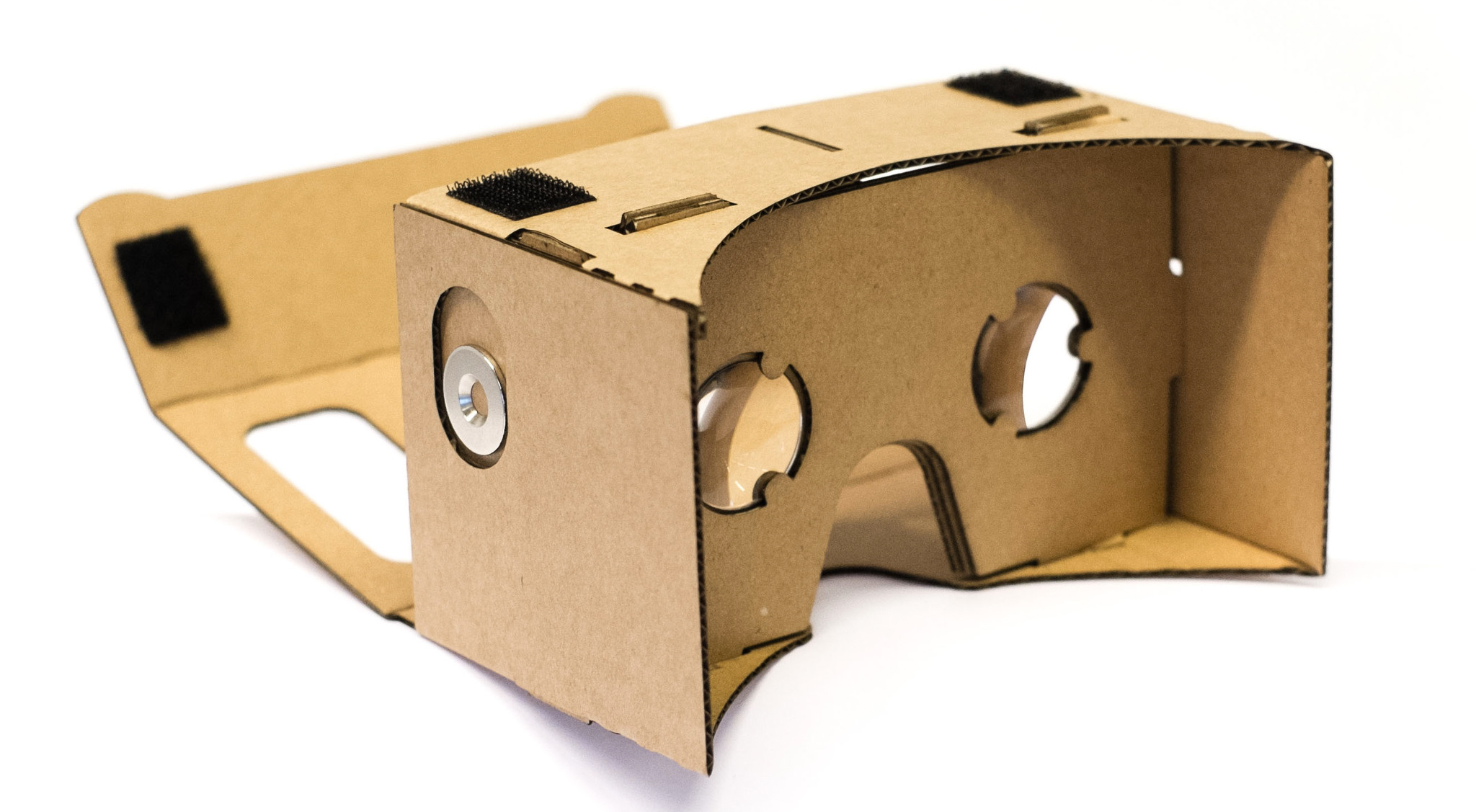 The impact of Google Cardboard on the accessibility of virtual reality has been dramatic. While not quite in the same league as "true" VR headsets such as Oculus or Sony's offerings, it is remarkable what can be achieved using the Cardboard platform for under $10.
One benefit of the accessibility of Google Cardboard is that it is an ideal vehicle for promotional messaging. The platform has been used for advertising campaigns by some pretty big players as well as a myriad of small-scale campaigns and personal projects.
What Is Google Cardboard?
Watch the intro movie below to see how The New York Times introduced its viewer in a campaign that saw the units distributed to 1+ million subscribers. The portal at NYTVR showcases a collection of highly refined immersive clips filmed specifically for use in these virtual reality headsets.
The High Tech Approach To Low Tech
For a really polished example of Google Cardboard at its finest, look no further than the Volvo XC90 campaign. Using some serious high-tech equipment, they were able to film an immersive experience that enables people to get a sense of what it is like to be physically inside the new car. The Volvo Cardboard viewer has also received a fancy facelift, going beyond everyday cardboard to reflect the luxury feel of the brand.
https://www.youtube.com/watch?v=ODTZ709v90k
Are You Ready To Go Virtual?
Can you think of a way to create your own branded laser cut Cardboard Viewer? Although the content associated with these two examples looks pretty slick, the physical platform itself is still based on the same core components. With freely available plans for the structure to be laser cut, it is surprisingly easy to achieve unique, engaging results from more modest materials and equipment.
If the examples from The New York Times and Volvo have perked your interest, then you may enjoy looking further at how others have made use of this affordable technology. There were also some creative submissions to the Ponoko Cardboard Design competition, showing there is still plenty of room for clever adaptations and customizations.
66. Puzzles 
Give a bunch of people something round that can be thrown, caught, bounced or rolled, and within moments an impromptu game will have started. So strong is the allure of the ubiquitous ball, even the non-sporty types are likely to join in.
This clever flat-packed ball from Instructables user Scientiffic is comprised of only two simple laser-cut components. Repeated and then snapped together with no need for glues or adhesives, it is a neat example of how you can make a robust and functional object from basic elements.

What Does An Object Like This Do For Your Brand?
Engaging customers with a physical object that can then become a light-hearted networking tool allows your brand to form a different kind of association at an event. Incorporating the tactile process of assembling the ball, then adding in the element of play either as an introverted solo activity or as a way to interact with others may indeed prove to be more engaging (and therefore more memorable) than the usual event swag.
A Vehicle For Your Corporate Identity
The example here from Instructables shows the components of a ball that have been laser cut from wood. Ways to adapt this design could include the addition of company branding as a laser etched detail or even changing materials to use acrylic in colors that match your company's colorway. Other options to generate interest and encourage interaction could involve the addition of simple electronics to illuminate the material from within or add engagement triggers such as sound or motion sensitive functionality.
67. Laser Cut Glider Business Card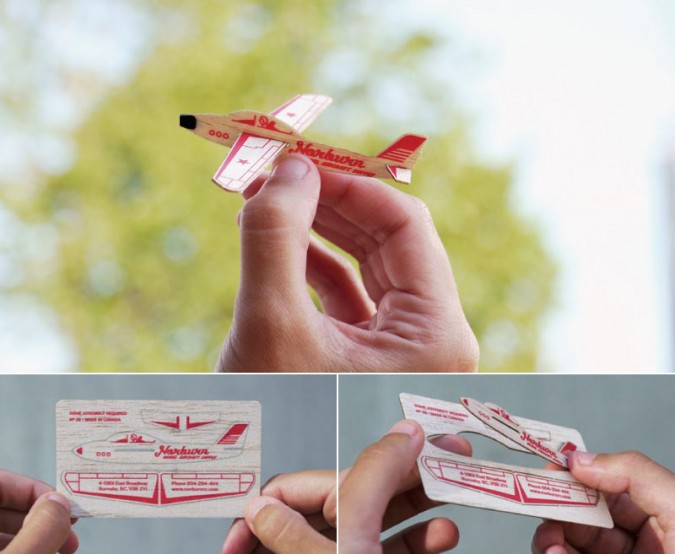 Watch your brand take flight with this playful idea for a business card makeover. Canadian model aircraft supplier Norburn put a sample of its wares right into potential customers' hands thanks to a snap-fit mini glider incorporated into their business card design.
The simple but fully functional flyer easily assembles from three components that pop out of the card. The fuselage and wings give plenty of space to lay out all the key company info, and although the assembled plane may not fit back into your wallet so well, chances are you're not going to forget these guys any time soon.
Inspiration For Your Brand
The surface area provided by a business card may be small, but as this glider shows, that doesn't mean you can't have fun there with some laser cut designs. Taking an aspect of what your company does and turning it into a simple 3D assembly gives people an interactive way to engage with your brand and generate a memorable connection. Adding in the functional element of (in this example) a glider that can actually fly would make for a real conversation starter at events or in the retail environment.
This design came from the clever minds over at Rethink Communications, and you can read the whole story at The Inspiration Room.
68. Sweeten Up Your Laser Cutting

Here is a great way to use laser cutting to help your brand stand out from the crowd. We already know that laser cut letters have serious impact when compared to printed alternatives, and there's something that really grabs you when a typeface stands proud in 3D.
For agencies and brands, the need to go one step further in order to draw in the target audience can lead to some interesting design explorations.
Mouth-Watering Appeal
The use of food, with all of its associations and temptations, opens up a number of unusual opportunities to enhance laser cut objects.
We're wired to respond positively to sweet things. There's something about desserts, particularly sweet ones, and it's hard to get any sweeter than honey. Putting the sensorial experience of eating honey aside, actual honey is also a visual marvel with its mesmerising molten viscous motion and deep golden glow.
Here is a great example of this combination of food and laser cutting working really well together as seen in Design Hooked. Giving laser cut letters a unique eye-catching appeal, this experimental typeface takes inspiration from the classic wooden honey dipper. It is only once the honey is added that the letters become complete.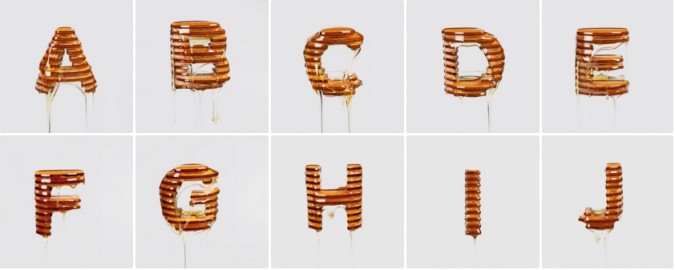 When challenged to create a liquid-inspired typeface with minimal post-production, Franc Navarro and Alberto Martinez from IED Barcelona turned to honey coated laser cutting.
"We were attracted to the simplicity of structuring layers of wood, the mesmerizing viscosity and warm tonalities that honey has."
69. Themed 'Build Your Own' Event Kits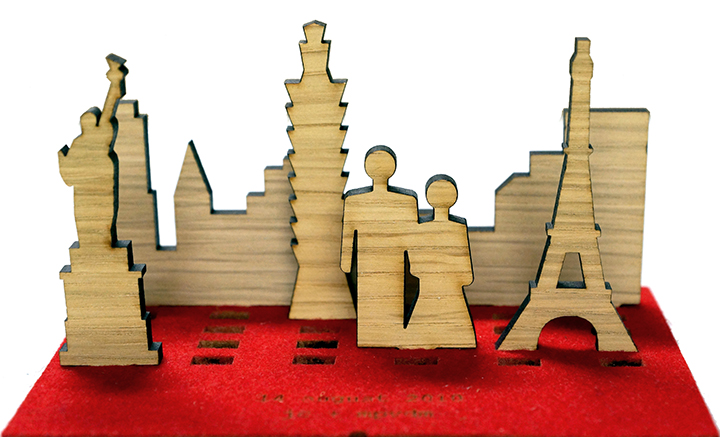 DIY kits are a great way to engage people with the world that your brand inhabits. From a collection of snap-together laser cut parts, a miniature diorama can be created that entertains and stimulates playful conversation.
The example here comes from Michiel Post van der Molen's wedding, where guests were given a Build Your Own Honeymoon kit that enabled them to become immersed in the newlywed spirit. The package contained iconic laser cut silhouettes along with a felt base, where a grid of slots allowed personal interpretations of the ideal romantic getaway to be clipped into place.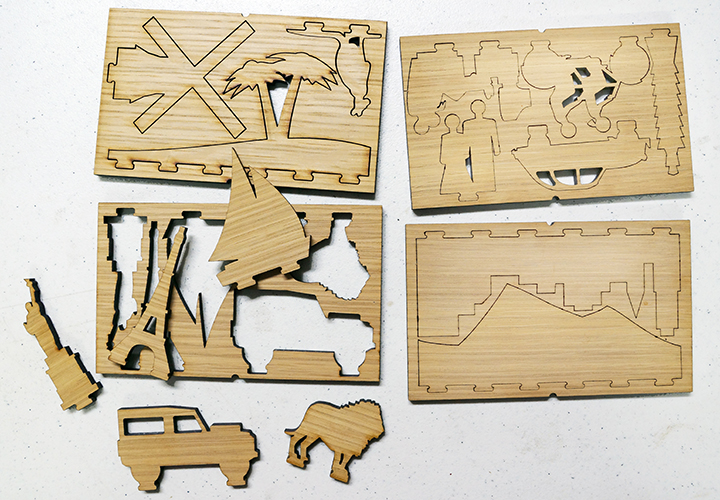 What unique worlds can you create to connect people with your brand using laser cutting?
70. Illuminated Laser Etched Business Card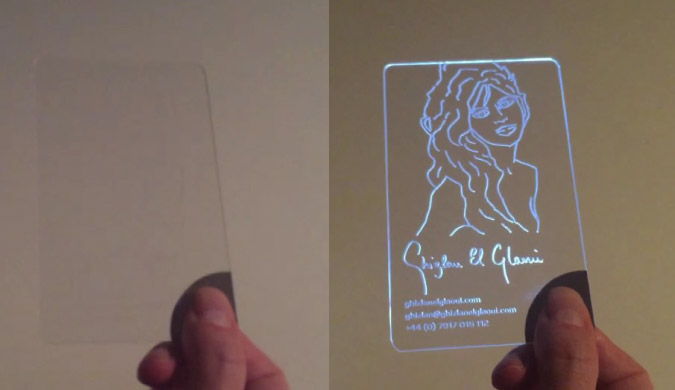 Handing out cards is a networking ritual that is still going strong, and for good reason. As a conversation starter and trigger for memory recall, the trusty business card plays an important role. But with all the cards that get passed around at events, how can you make sure yours stands out from the crowd?
This bright example, designed by UK creative agency The Big A for artist Ghizlan el Glaoui, shows that there are indeed alternatives to printed cardstock. Although it may not be something she's handing out to every passer-by, it would certainly have an impact for the select few who do receive one.
How Does It Work?
A laser cutter was used to etch artwork and text into the clear acrylic surface, with the result almost invisible when viewed in natural light. This all changes when the material is lit from an edge, in a process known as total internal reflection. For Ghizlan's illuminated business card, a small LED embedded in the corner is activated with a gentle squeeze, lighting up a sample of her artwork along with her signature and key contact info.
Get inspired with the whole story via PSFK. With some ingenuity and imagination, laser cutting can illuminate your brand's image, too.
71. Laser Cut Cross Stitching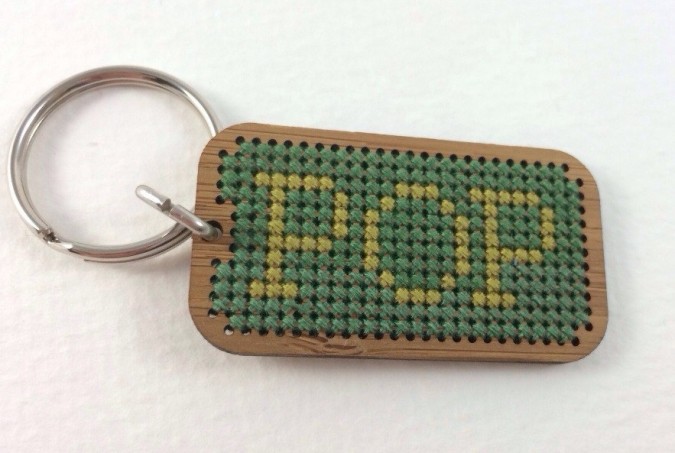 The crafty, handmade look of cross stitch embroidery has something wonderfully warm and fuzzy about it. While the regular grid of holes speaks of an industrial precision, the contrast of woven yarn introduces a human element that is organic and inviting.
The pendant above was made by Rebecca from Hugs are Fun as a gift for her dad. Over time, Rebecca has refined her techniques to become a bit of an expert at making all kinds of laser cut cross stitched whimsies. It's well worth browsing through her website for inspiration, patterns, project ideas and even items to purchase.
How To Use Laser Cutting For Cross Stitching
Cross stitching describes an embroidery technique of tracing out patterns using yarn or other coiled materials. In this particular example, the yarn is threaded through a defined pattern of laser cut holes to generate the raster-like effect. With a little creative thought and planning, you can come up with many interesting variants based on this core idea give your brand a cross stitched crafty twist.
The material of choice can be any of our usual laser cutting favorites. Bamboo ply, acrylic, metals or even leather and felt will all respond well as substrates for the cross stitch technique.
For versatile cross stitched patterns, a grid of laser cut holes will allow for quirky pixellated artwork or logos. It can also be effective to cut only the holes you need to define the form; leaving the substrate surface bare either to have presence in its own right or as an optional space for further laser etched details.
72. Laser Etched QR Codes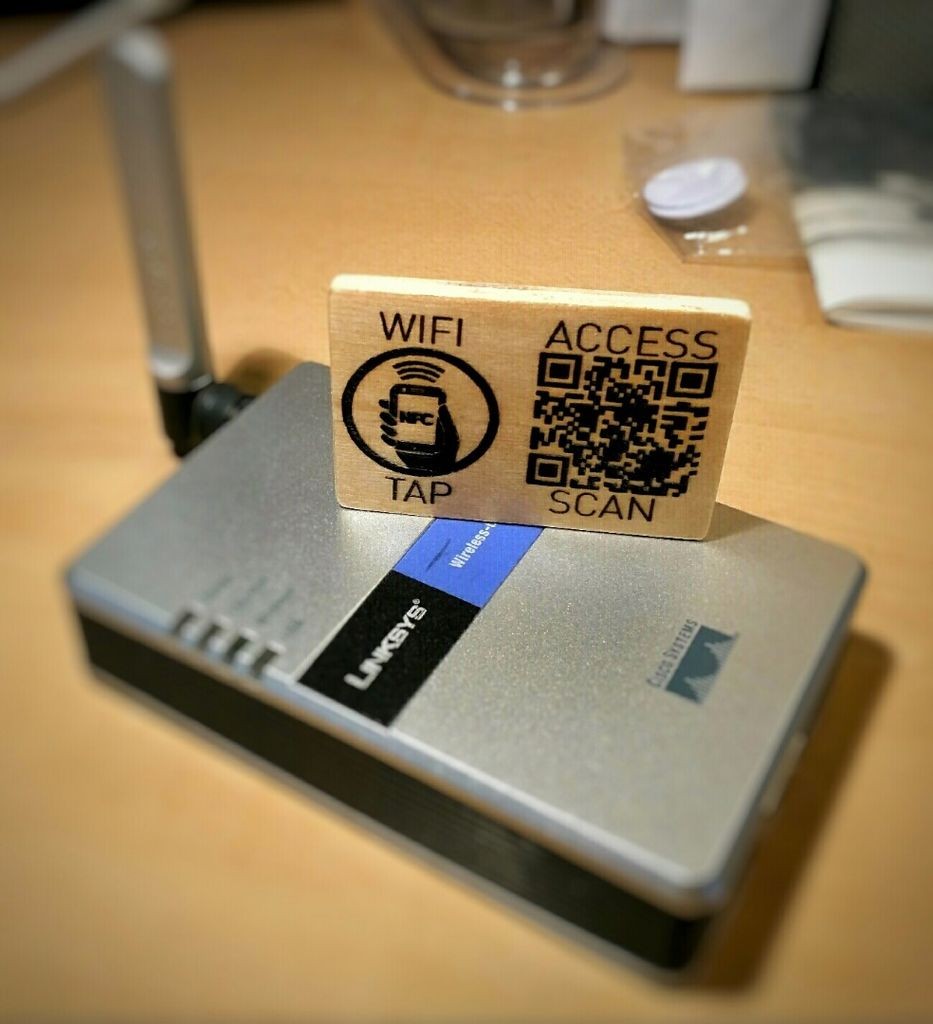 Ok so this picture is actually printed rather than laser cut, but you get the idea!
Our devices are talking to each other every day, and with all this chatter going on, making new connections or transferring data should be an effortless process. Technologies such as NFC (Near Field Communication) and QR (Quick Response) Codes help to make these digital interactions smooth and simple.
How Does NFC & QR Work?
For NFC to work, information is encoded onto an embedded chip. When two devices containing NFC chips come into contact (usually in the form of a bump or light tap) a process is engaged–payment could be transferred, data and audio connections established or other tasks involving interaction between the two devices.
QR codes operate much like a barcode; they contain a set of reference information that can be scanned using the camera on a smartphone. This prompts the device to access information such as a website address, play a video or (as in the example above) display login credentials.
Why Is This Useful For Your Brand?
The ability to seamlessly connect can give your customers immediate access to a deeper level of information. This means you can add collateral such as image galleries, video clips and other detailed supporting content without consuming valuable real estate on your product. There is much scope to have fun with QR Codes as well as to use them for sensible, straightforward communication.
In the example shown here, Instructables user BWRussell needed a way to share the login details for his wireless network. Tired of spelling out the passphrase to relatives and visitors, he constructed his own dongle that houses an NFC chip and a laser etched QR Code. All visitors need to do is tap or scan the code with their mobile device and they will be granted access to the network.
It is worth noting that when it comes to the actual physical QR code, a similar functional outcome can be achieved with a desktop printer. However, a laser etched QR code has a greater sense of quality and purpose.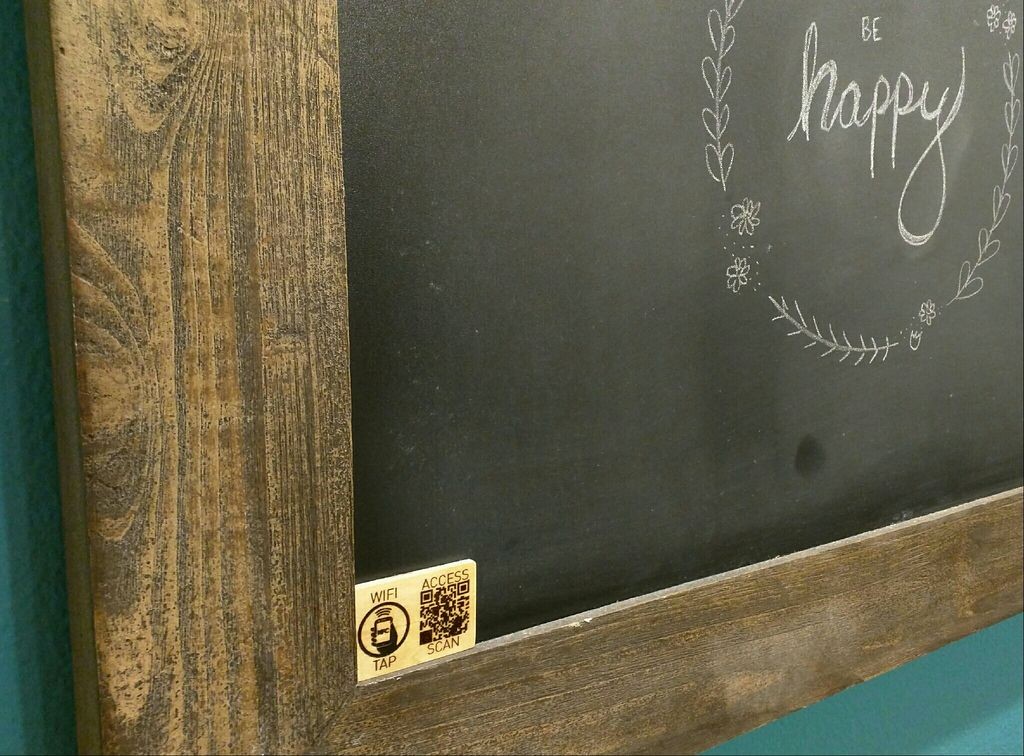 See more of this DIY approach to NFC and QR from Instructables user BWRussell.
73. Hand-Stitched Laser Cut Action Camera Case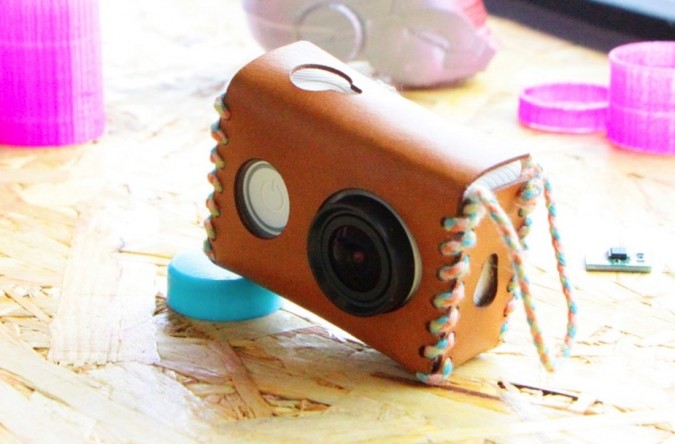 In almost every sport and active lifestyle pursuit, you will find people strapping on action cameras to document their exploits. These cameras have transformed the way outdoor activities are captured and shared in recent years, and because they provide broadcast quality results at bargain prices, action cameras have become an important piece of kit for professionals and amateurs alike.
While the action cameras themselves tend to be diminutive and relatively discreet, there may still be times when the camera is handy to have around without the need for underwater housings or fancy mounting systems. So what options are out there for the more relaxed uses of an action camera?
Pictured above is a laser cut leather case for a popular budget-level action camera. Designed by Seoul-based Architect Eduardo Chamorro, the laser cut protective sleeve will give minor protection from bumps and scratches and it is also valuable as a lighthearted way of creating a different visual presence for the camera.
How Can This Help Your Brand?
If you deal with people engaging in an active lifestyle, there is a good chance that many of them already own (and use) an action camera. There is also a high probability that these users care about how they look, which extends to their techno gear (it kind of goes along with the territory). Creating a custom accessory for an action camera will provide a strong visual reference that differentiates from the classic robust utility of most action camera designs.
Instead of a cheap silicon overmold, a laser cut action camera case can provide a visually appealing option for when the camera is not actually in action. The example from Eduardo is held together with crafty looking hand-stitched yarn that adds a cozy aesthetic that helps to soften the hardcore "action camera" styling of the product. There is also scope to use laser etching to add text, logos, brand messaging or other customisations to the leather surface.
For further images and files for Eduardo's laser cut camera case see the project page on Thingiverse.
74. Laser Cut Drink Caddy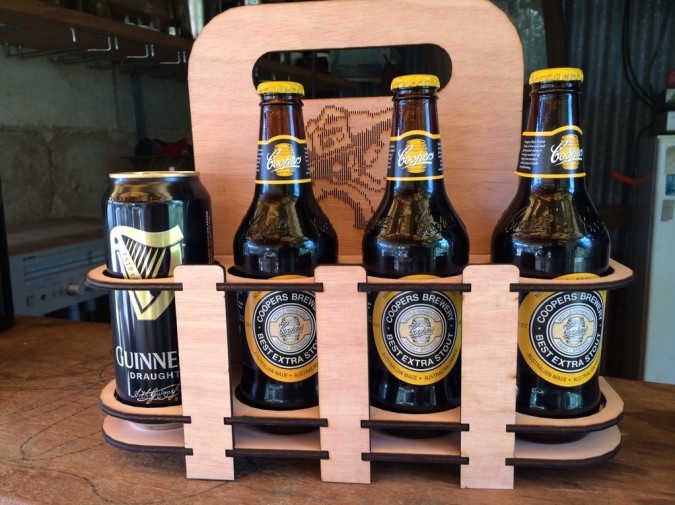 Yes, your summer BBQ essentials can  be laser cut. Oh the possibilities.
As the days get longer and the hint of summer warmth spreads its cheer, gathering together for a BBQ is a great way to reconnect with friends and family. For those who are hosting and also as gifts for (or from) the invited guests, laser cut BBQ tools and trinkets can make any event a memorable experience.
Pictured above, this handy beer caddy will enable up to eight bottles or cans to be easily transported. The design makes use of the strengths of laser cutting, with interlocking components that require no adhesives and plenty of space to laser etch company, event or personalised details. Carting drinks from place to place doesn't need to be an awkward balancing act. A laser cut beer caddy will get those drinks to your guests in style.
75. Laser Cut Beer Sleeves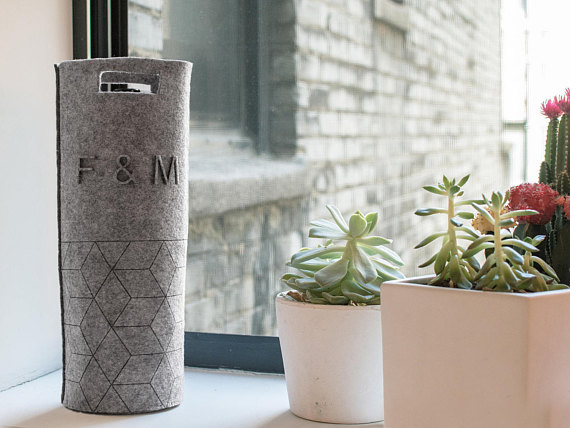 If a wooden caddy is too cumbersome, you can go ahead and laser cut felt or leather to make fold-able beer or wine or on non alcoholic drink sleeves too. Check out these felt wine bags from MetisDeco.
76. Laser Etched Cutting Boards

The broad, flat surface of a wooden cutting board or cheese platter is an ideal location for laser etched brand messaging.
Adding details from an event or personalizing with quirky snippets and brand messaging will make this communal table item a memorable conversation starter or possibly even a desired keepsake. Examples: Dinner is Coming from Wicked Wooden Things, Mom's recipe from 3D Carving, Lionel Richie from Darkling Designs 10.
77. Laser Cut Bottle Opener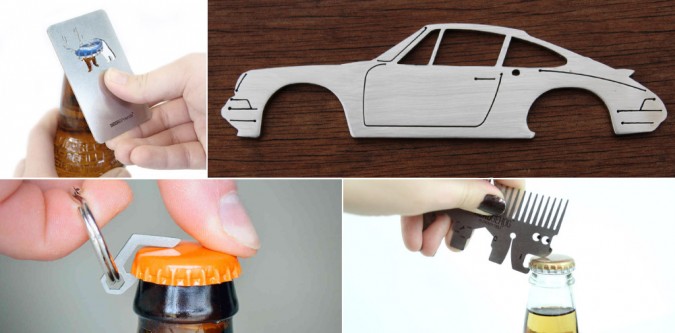 Having carted beers to all your guests, they will need a way to open the bottles.
The profiles of openers are many and varied, and as these examples show, they are well suited to laser cutting. Whether you choose to have a little fun with the forms used (Beer & Friends from Hyde House, Porsche 911 classic from Racetrack Style) or incorporate the opener into an ingenious multi-tool (Hedgehog by Zootility Tools) or maybe go super-tiny like the Pangea Pico, the potential to get really creative with this simple and handy product is fantastic.
78. Laser Cut Coasters

The surface and outline of the coaster can also be used for creating functional laser cut bottle openers, but if you're not going that far, simply creating interesting shapes can be more than enough. Consider the laser cut and etched street map series titled I Kinda like it here by the National Design Collective, further quirky fun from Zootility and interlocking Penrose tile coasters from PhaseSpaceDesign.
Each of these products present both an interesting form and a generous surface area where laser etching can be applied. As customized event collateral, they make for ideal promotional giveaways because they cleverly combine the feature of having fun with the function of being truly useful. All this happens while establishing further brand recognition and recall.
79. Divot Repair Tool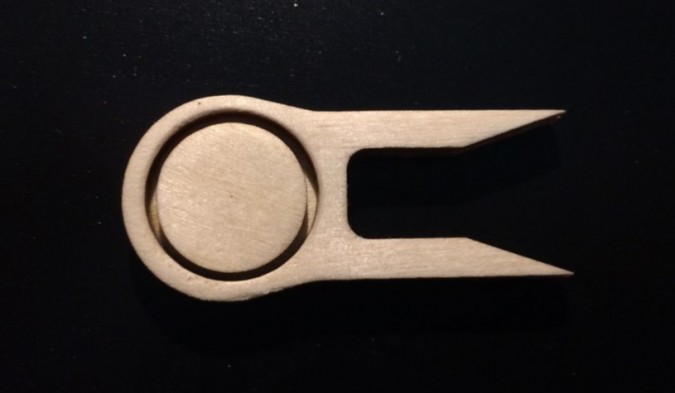 Those hard working executives at the top of the corporate ladder need to balance their business brains with some serious leisure activities. And as every CEO knows, the golf course is a great place to escape from the pressures of the office. Golf related goodies are always popular with corporate types, and this opens up a number of opportunities to introduce laser cut promotional products to tickle the fancies of the golf enthusiast.
Pictured above, a laser cut divot repair tool available on Instructables incorporates a magnetic disc marker that would be an ideal surface to add laser etched logos and personalized messaging. The divot repair tool is a simple device that can take many forms, so long as the functionality of the prongs is not compromised. Use laser cutting to get creative and customize a truly unique golfing accessory.
80. Golf Tee Markers

Tee markers are also a part of the group dynamics on the golf course, and as with the divot repair tool, what happens above the ground is quite open to interpretation. The brightly colored examples here from Boyd Golf (below, left/center) show how laser cutting makes it easy to follow a golfing theme. Using the same approach to suit particular corporate clients with branded imagery, logos and text can give a personalised feel to the laser cut golf accessory.
81. Sportula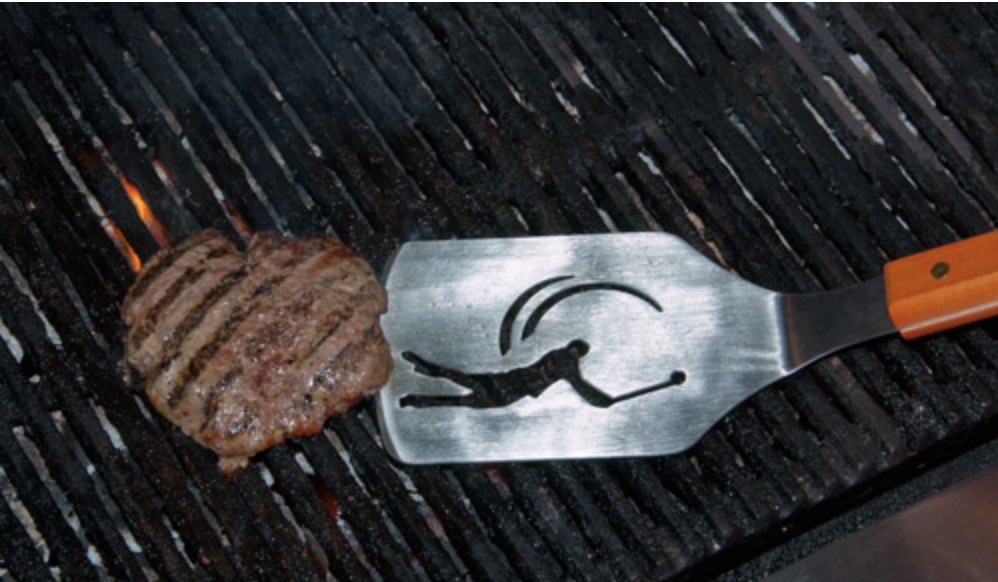 Golf themed products are a lot of fun as well. The reliable source of quirky products Vat19 has a neat Sportula (above, right) on offer, giving the trusty BBQ tool a golfing makeover that is sure to be a talking point at post-game drinking networking events.
Laser cutting enables you to be creative in the ways that you engage with your client's penchant for golf accessories.
82. Passport Holder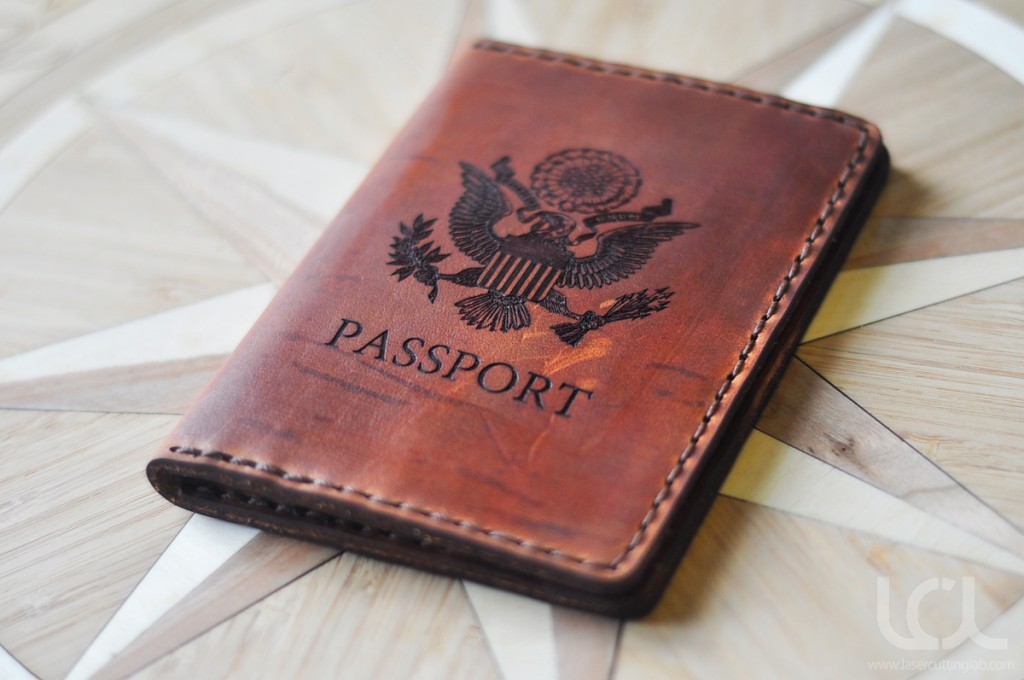 When marketing to the travelling executive, personalized laser cut travel accessories hit the mark because they will keep and use them.
When business executives and head honchos hit the road to seal the next big deal, they love to have all the right corporate gear. Let's take a look at how laser cut giveaways and laser cut corporate gift ideas can smooth out even the bumpiest of business junkets.
83. Luggage Tags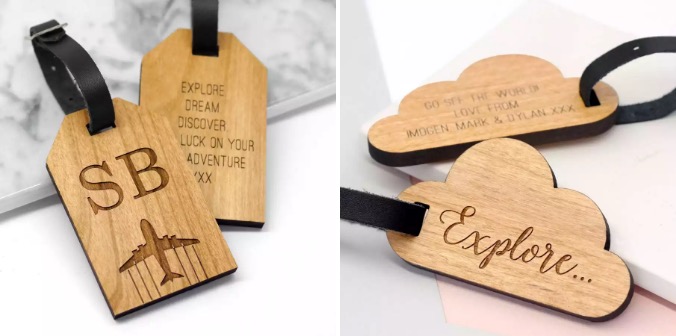 Travel accessories are a great way to use laser cutting to customize products with company branding or personalized info.
In the above example from Laser Cutting Lab, a leather passport wallet with laser etched details not only protects this important document, it also sets the exec apart from the other travellers in the departure lounge.
Briefcases, suit bags, backpacks and checked items all need to be easily identified. The scope for creative laser cut solutions is broad and varied when it comes to luggage tags. The two examples above show how laser etched details can be used effectively, and also how the shape of the tag itself can reference travel-themed forms. Luggage tags can be produced using most of the familiar laser cutting/etching materials such as leather, acrylic, ply and sheet metals.
84. Chess Set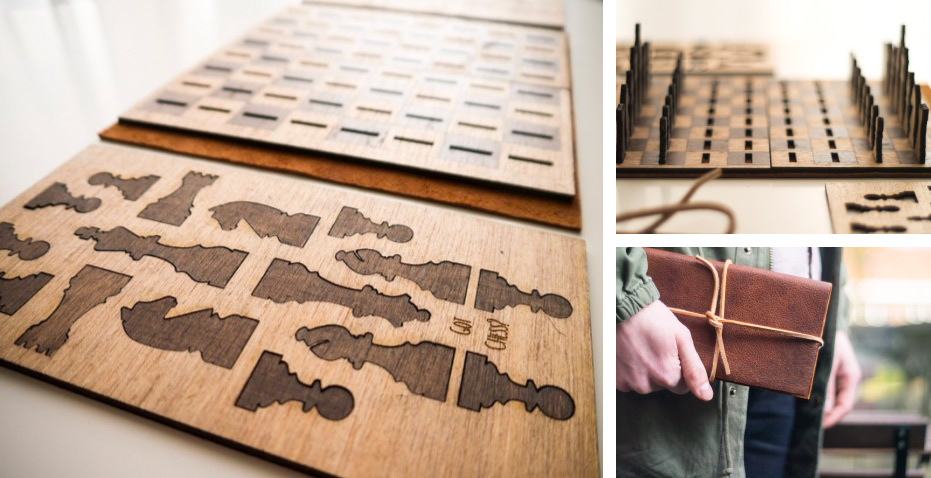 Work hard, play hard. Travel games are a great way to clear the head from all those work stresses while keeping the mind active. The portability of laser cut chess sets like the timber and leather Got Chess (pictured above) is just one example of how traditional board games can easily slot in to the briefcase or day pack.
85. Document Wallets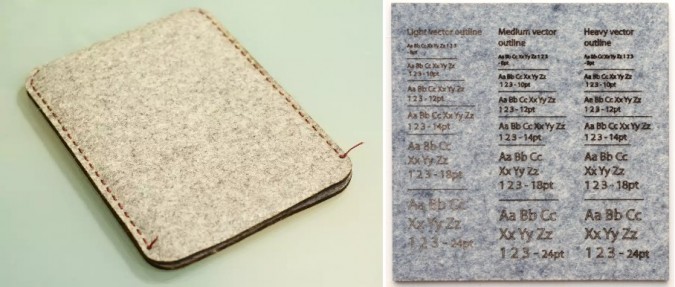 Document wallets, briefcase inserts, tablet and notebook holders can all be laser cut from leather and then stitched together. This method of construction gives a hand-crafted artisan look and will balance nicely with any custom laser etched corporate details that are included in the design.
Another consideration is to use laser cut felt, as in the example above from David Sjunnesson. Pictured on the right is a sample sheet showing how different engraving settings will look when using felt.
Laser cutting makes it so easy to add custom details to executive travel gear, made even more accessible thanks to the relatively simple design requirements of products like luggage tags and basic document sleeves.
Calling Designers, Engineers & Marketers At Brands & Agencies
You can go add your logo to a tee, mug or cap (like everyone else) OR you could turn on your creative streak to pump out some promotional product ideas that represent the DNA of your brand, your audience and the context of your giving.
Why have you not been doing this to date? It's because on-demand custom manufacturing has not been so readily available. Until now.
If you'd like to discuss your whacky ideas, just let us know. We'll let you know the feasibility, the delivery timeframe and cost. And anything else you'd like to know.
Peace.
Additional thanks to Guy Blashki for supplementary writing.
SaveSave
SaveSave
SaveSave
SaveSave
SaveSave
SaveSave
SaveSave
SaveSave
SaveSave
SaveSave
SaveSave
SaveSaveSaveSave
SaveSave
SaveSave
SaveSave
SaveSave
SaveSave
SaveSave
SaveSave
SaveSave
SaveSave
SaveSave
SaveSave
SaveSave
SaveSave
SaveSave