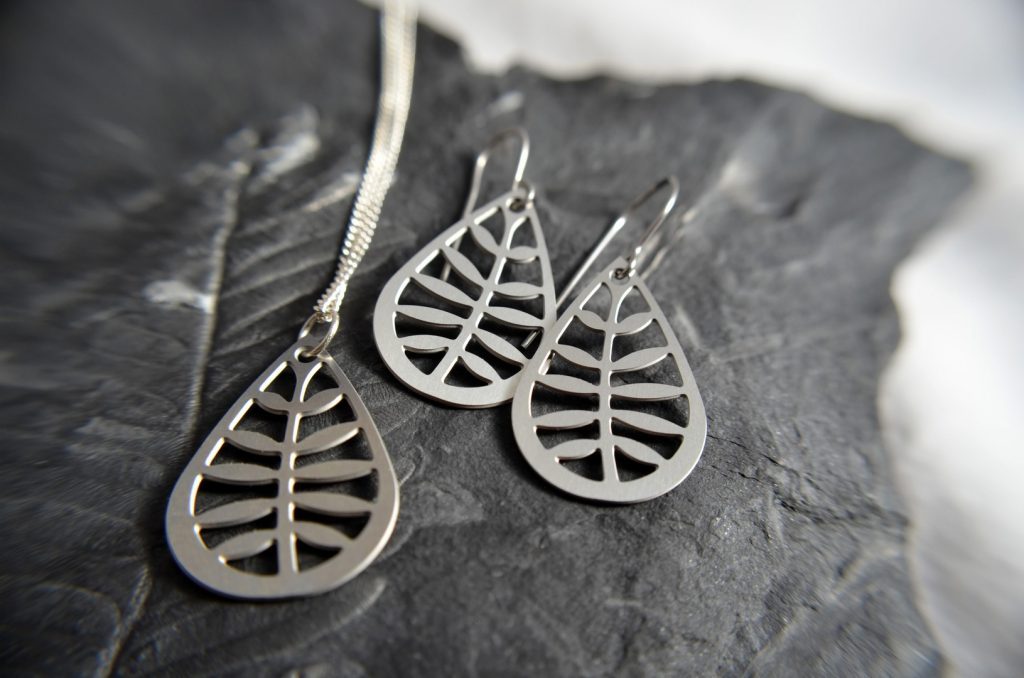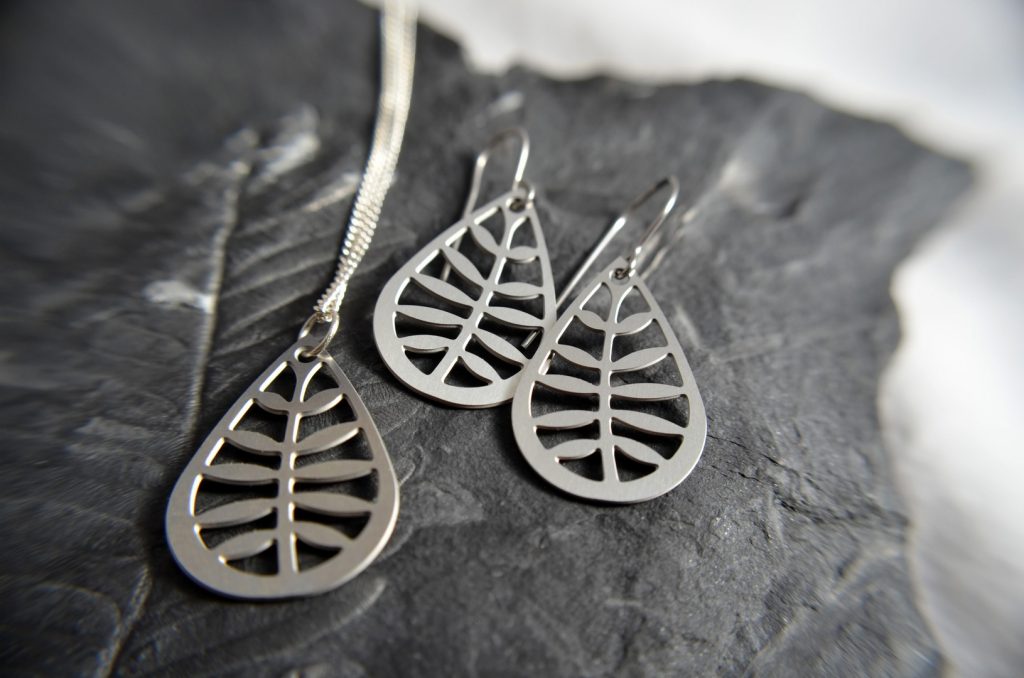 A Practicing Architect Turns Into Product Designer & Jewelry Maker At GioGio Design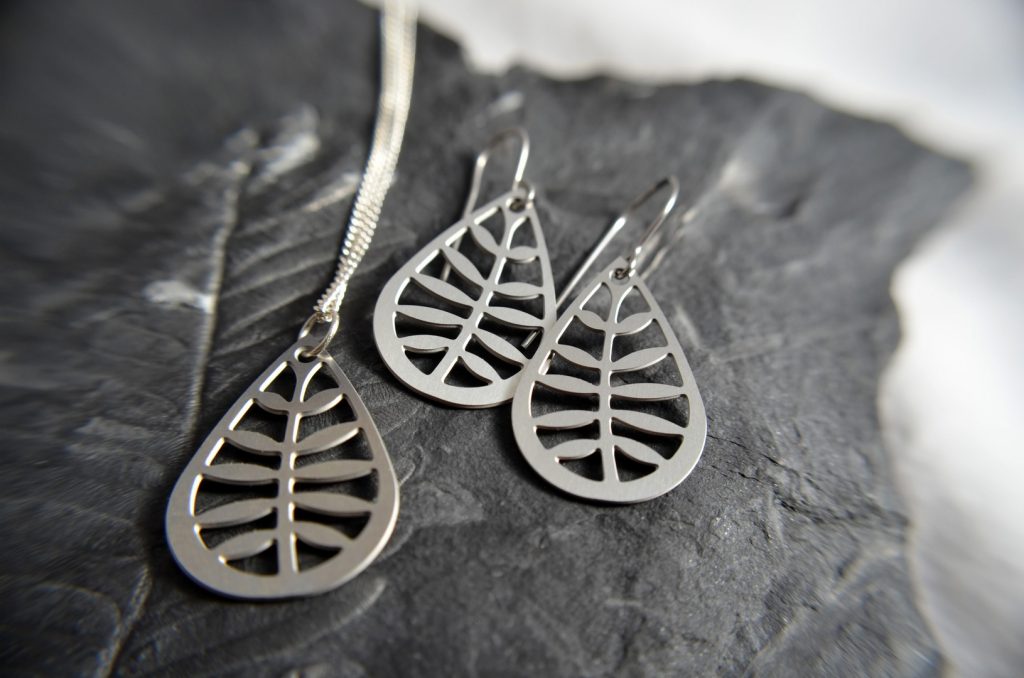 Artists can find inspiration anywhere. For some, nature is the calling that frees the mind. For others, a stroll through a bustling city can stimulate the imagination. But can inspiration be found in something as simple as a cabinet?
For Jessica Giovachino, co-founder of GioGio Design, LLC, the answer is "Absolutely!"
As a practicing architect, Jessica frequently works with cabinet-making shops to design built-in cabinetry and furniture for clients as a part of her residential architectural projects. She became familiar with preparing CAD drawings of individual parts that were then cut out with a CNC machine in the shop. Going through this process sparked her imagination.
"I began to think of how I could use this process to create my own home accessory designs from wood,' she says. "And my line of jewelry came about as I realized I could apply these same design and production methods on a much smaller scale."
Finding Inspiration
As a product designer, Jessica brings her architectural background to the jewelry and home accessories she sells online. The goal is to offer a unique and fresh line that features alternative materials combined with elegant, clean design.
"Nature and architecture are my main inspirations," Jessica explains. "I like to start with a traditional design or form, and then simplify and streamline it. Because of this approach, my pieces integrate well into both traditional and modern aesthetics."
Designing GioGio Jewelry
With her architectural background, it's no surprise that Jessica looks to her favorite architects—from Frank Lloyd Wright to Frank Gehry—and their buildings for inspiration. She also is drawn to Moorish and Celtic shapes in her jewelry designs because of the intricate patterns.
Jessica balances out these linear and geometric influences by also looking to nature for insight. "Natural motifs have been present in jewelry design for ages," she says. "I think flowers, leaves, etc. appeal to most people because they reflect the beauty of the world around us."
She also uses a variety of materials to incorporate the architectural and the natural themes she explores. "I love making jewelry from steel, wood and leather," Jessica says. "These alternative materials appeal to trendy customers looking for something different and unique."
With the "Reflection," "Mirror Image" and "Interlocking Circles" pendants, the bamboo softens the crisp lines while also giving an organic feel to the necklaces.

These earrings and pendants have the softness of a flower juxtaposed with the rigidity of the geometric shape and stainless steel material to create a balanced aesthetic.

Jessica's designs also tap into the spiritual and eclectic with "Wings," "Primitive" and "Wish" motifs.

Creating GioGio Design Home Accessories
With all the competition in the home accessories market, Jessica knew she had to do something different to get noticed and successfully sell online.
"I do not use any metal fasteners in my work," she explains. "All of my home accessories are made of individual pieces that slot together. Putting them together like a 3D puzzle is part of the fun and playfulness of my designs. This also allows me to ship them flat-packed, and it is great for storage."
You can see this design aesthetic in the Equinox Tea Light Holder, which showcases a lively reinterpretation of a classic form.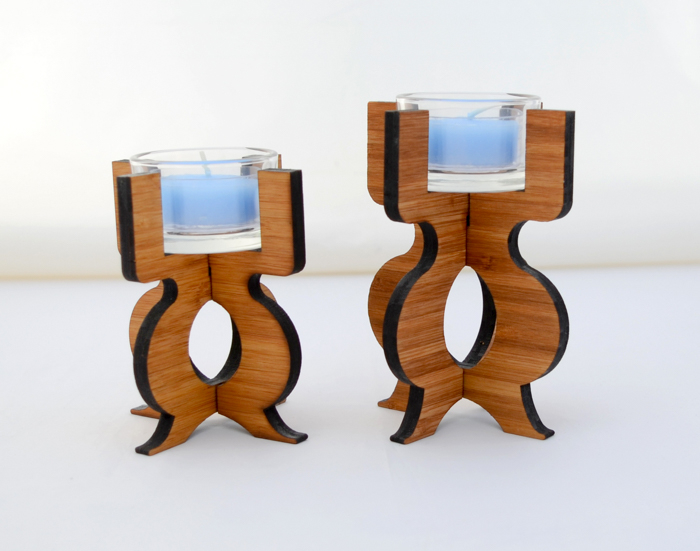 The Sushi Boards feature a raised base, etched geometric designs and scalloped edges to make them a stand out at any dinner party.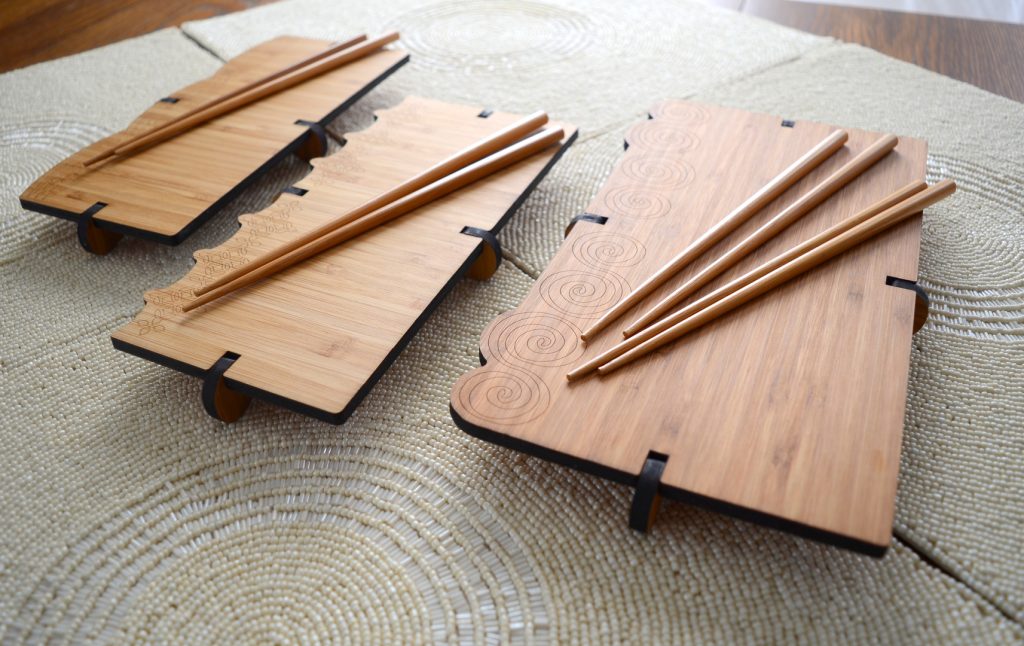 Moving From Ideation To Finished Product
What's the creative process like for Jessica? "First, I collect ideas in my head; inspiration can spring from many places," she explains. "Then I sketch to develop or refine an idea. These can be very loose and abstract. I definitely make a lot of hand sketches before I start to design."
Once the initial forms are clear, Jessica turns to the computer to translate these into patterns that can be laser cut. "Designing on a computer using AutoCAD is my most comfortable way to work," she says. "Laser cutting is a natural extension of this process because the drawings directly tell the laser cutting machine what to do. And I love that laser cutting gives a darkened edge that provides contrast and is also smooth without the need for further sanding."
Working With Laser Cutting And Ponoko
When Jessica first began GioGio Design, she was looking for a local laser cutting service when she found Ponoko during an internet search. "With the ability to upload drawings directly from my computer, I realized the need for a local shop was not necessary," she says. "I love that Ponoko provides the materials and cutting all in one service/location. Not having to source materials myself and arrange for them to be shipped to a shop gives me more time to concentrate on the creative side of my business."
Jessica was also drawn to Ponoko because of the materials library. "All of the work that went into sourcing and stocking this large variety of materials is a definite value," she says. "Using Ponoko has helped me refine my design and manufacturing process. It has also helped me develop and fine-tune my product lines."
For the metal jewelry product line, Jessica is able to take advantage of Ponoko's Photochemical Machining (PCM) to control production costs and boost profits. With this service, there's one price set price per sheet for materials and making. This means she can maximize output by fitting as many pieces on the sheet, thus reducing her cost per piece.
Making Into The Future
What does the future bring to Jessica and GioGio Design? "Our mission is to make things we would want to have in our own homes," she says. "Why should the things we use every day be boring? We think people should surround themselves with creatively designed, cool and smart products that are both functional and fun. Life is more interesting when we are inspired by the things we see around us every day."
She also sees laser cutting an essential creative tool for makers and designers because it can not only speed up the creative/creation process but also spark new ideas.
"I encourage all types of artists and makers to try it and think of unique ways to incorporate this technology into their work," she says. "The intersection of technology and traditional craft is an exciting new direction for the artisan community."