The Moon Lab's Laser Cut Creations Combine Science + Pop With A Side Of Quirk

What happens when spirituality, science and pop culture combine forces in the universe? A little magic is made.
The Moon Lab is a unique Etsy shop with a style and flair all its own. "When starting with jewelry design, my challenge (and also my desire) was trying to create pieces that I personally had always wanted; things that don't exist; things you can't find anywhere," founder Aeryn explains.
And she has succeeded at creating a collection of stainless steel pieces that have become her signature style. What's interesting: Stainless steel wasn't her first material of choice.
"When considering what type of material to use, I first thought about using colored acrylics," she says. "I did some searching online, and that's when I came across Ponoko and saw the laser cut acrylics, wood and also stainless steel. There are a lot of people selling acrylic necklaces, but I hadn't seen the type of things I had in mind done in stainless steel."
Aeryn thought it seemed like a great idea, so she chose stainless steel for her designs. "My first run of stainless steel pieces from Ponoko came out so wonderfully that I kept submitting designs and ordering more," she says. "The look and thickness of the stainless steel is absolutely perfect for my products. They came out beautifully and very unique."
An Eclectic, Artistic Mix
A graphic artist living in Burbank, California, Aeryn says her Etsy shop has an eclectic mix of themes unified by consistent design aesthetic. The inventory rotates because the things she loves varies so much, but right now the collection features a little bit of spirituality, science, old school gaming, movies and anime.
You can see her spiritual side in the Flower Of Life (left) and the Hamsa (right) necklaces.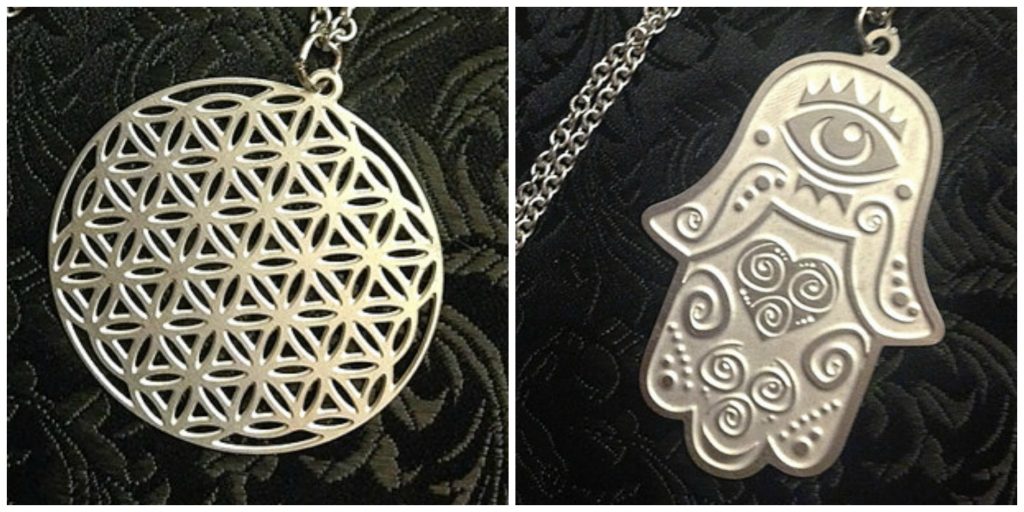 The Flower Of Life is a geometrical shape composed of multiple evenly-spaced, overlapping circles arranged in a flower like pattern with six fold symmetry like a hexagon. According to Token Rock, the perfect form, proportion and harmony of the FOL has been known to philosophers, architects and artist around the world.
In New Age thought, the Flower Of Life has provided what is considered to be deep spiritual meaning and forms of enlightenment to those who have studied it as sacred geometry. "The patterns recurring in nature depict space and time," Aeryn explains. "It's a template from which all life flows."
The Hamsa—a symbol of an eye embedded in the palm of an open hand—has been variously interpreted by scholars as a Jewish, Christian or Islamic amulet, according to My Jewish Learning, and its magical form continues to be shrouded in mystery.
While scholars debate nearly every aspect of the Hamsa's emergence, it is recognized today as a kabbalistic amulet and as an important symbol in Jewish art. "The Hamsa is known to protect against the evil eye," Aeryn explains. "A powerful amulet indeed!"
Inspired By Science
Science is another theme Aeryn explores, and there's no shortage of inspiration. She recently added three new pieces to the collection to pay tribute to the works of Albert Einstein, Nikola Tesla and Carl Sagan.

What attracted Aeryn to these scientific greats? "Einstein is one of the greatest minds of our time. Tesla, the inventor of free energy, is a man ahead of his time. And Sagan will take you on a trip through the cosmos," she says. "I was tired of seeing names like 'Jessica' on these necklaces, so I switched it up with something a hell of a lot cooler!"
She has also tapped into some scientific symbols that serious mathematicians, chemists and fans of The Big Bang Theory will fall in love with.

Pi, the ratio of the circumference of a circle to its diameter, seems a simple enough concept. But as Live Science explains, it turns out to be an "irrational number," meaning its exact value is inherently unknowable.
"Computer scientists have calculated billions of digits of pi, starting with 3.14159265358979323…, but because no recognizable pattern emerges in the succession of its digits, we could continue calculating the next digit, and the next, and the next, for millennia, and we'd still have no idea which digit might emerge next. The digits of pi continue their senseless procession all the way to infinity."
Wearing 3.14 around your neck sounds like the ultimate expression of number love. For even more fun, Aeryn says to make sure you wear the necklace on March 14th while eating pie. Or wear it backwards because, coincidentally, it spells PIE!
If that doesn't make you smile, then perhaps you need more serotonin—the molecule associated with making you feel good—in your life. If you're feeling a little down, this necklace (middle) that details the molecular structure of serotonin will certainly cheer you up.
Alchemy, the precursor to today's chemistry, is a medieval chemical science and speculative philosophy that aims to achieve the transmutation of the base metals into gold, the discovery of a universal cure for disease and the discovery of a means of indefinitely prolonging life. Perhaps wearing this necklace (right) will begin the process of transforming something common into something special.
Fantastic Pieces For Entertainment Fans
The worlds of gaming and anime are full of characters that are ideal for being turned into jewelry pieces for fans, and Aeryn has tapped into this appeal to add a whimsical element to her collection.

For the retro game lover, the Lakitu Cloud (left) pays tribute to Super Mario Brothers. "This is the special item you always saved for World 8!" Areyn says. "Gotta get past those pesky air ships, and this little cloud made it possible."
For Final Fantasy fans, the Cait Sith (middle)—everyone's favorite moogle-riding, crown wearing cat—is a must-have accessory.
Kodama—spirits in Japanese folklore that inhabit trees—are "the cutest characters from Princess Mononoke," according to Aeryn. They are signs that a forest is healthy, so wear it in good health.
A Childhood Dream Comes To Life
Aeryn has created a lot of original designs as well as ones inspired by movies or TV shows she loves. But her favorite piece is something she has wanted ever since she was a little girl: A necklace inspired by the film The Secret of NIMH.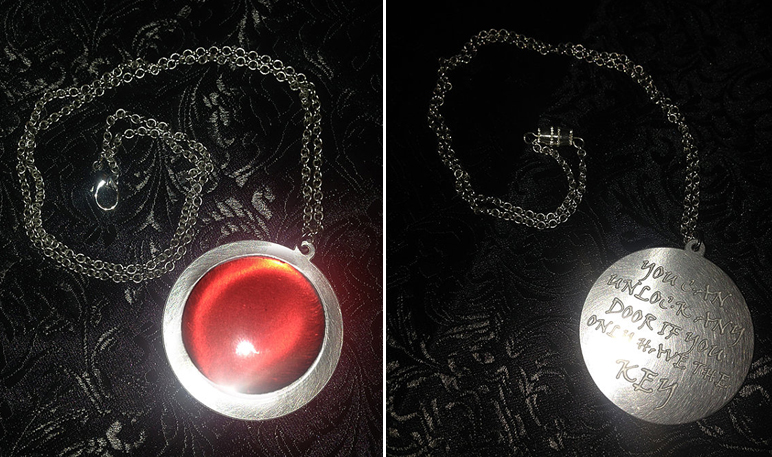 "It's this amazing red medallion with an inscription on the back," she says. "I had to hunt around for the perfect cabochon to use for the red stone, and when I finally finished the piece it really felt like an accomplishment to me."
Magic In The Making
Aeryn says she wanted to create unique items with a touch of magic, so she started her Etsy shop to share that magic with everyone. "I feel a connection to the moon and stars, basically just the heavens at night, and I wanted the shop name to reflect that," she explains. "I've been an artist ever since I can remember. I've always loved the ability to just create something I want to own whether it's a shirt, a plush toy, a drawing or a necklace. To be able to craft and create things brings me joy, and I'm grateful for this gift I was given."
What can we expect from The Moon Lab in the future? "My shop will always be an eclectic mix, because the things I love vary so much," Aeryn says. "But right now, a little bit of science, a little bit of quirk, a little bit of pop culture, and a little bit of magic is what you'll find at The Moon Lab!"