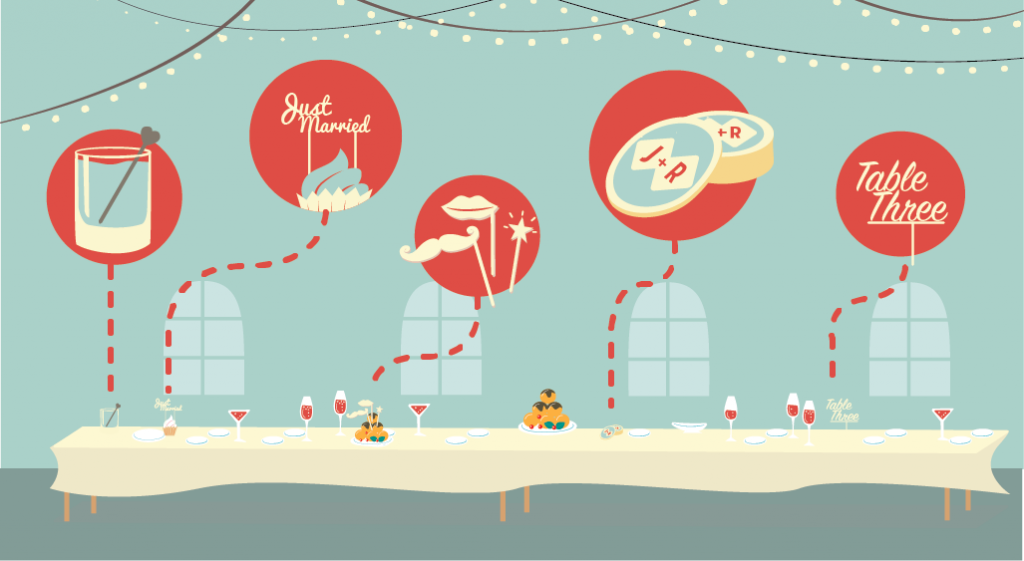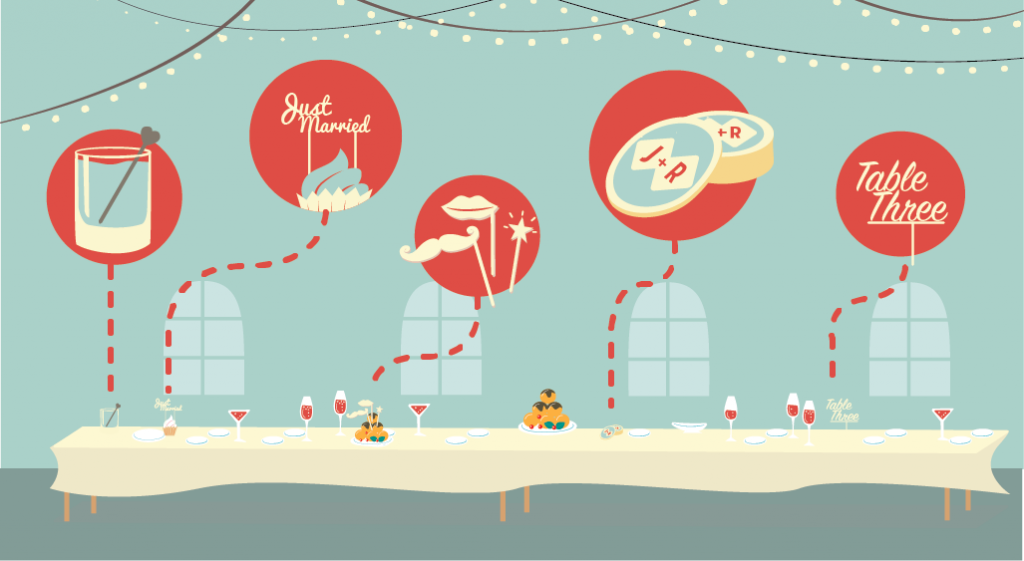 Everything You Must Know To Plan, Make & Sell Wedding Decorations Like A Pro
The bride (or groom!) has said, "YES!" Now that the couple is officially engaged, it's time to start planning the wedding. It's easy to get overwhelmed with all the decisions to be made and details to be finalized. So they don't have to sweat it (too much), they're turning to you for help.
Whether you're a full-service wedding planner or you specialize in one part of the wedding decorations arena, we've created this wedding decorations guide to help make the process as easy and stress-free as possible—for both you and your clients. This guide is written from a comprehensive point of view so you can use it for working with clients on all aspects of the wedding decorations plan. Or, simply jump into the sections that align with your maker talents so you can focus on creating those products to sell. Let's get started.
Starting The Wedding Decorations Plan
Once the happy couple has set the date and found the venue for the ceremony and reception, it's time for you to help them start planning—and have a little fun with—the wedding décor. Whether the wedding and reception is in a church hall, hotel banquet room, garden park, a backyard or even a barn, the decorations will make the event uniquely their own.
The venue plays an important role in the wedding decorations you suggest for a number of reasons. The size of the site will dictate the size of the decorations, as they need to be proportionate to the space available. The style of the venue should also align with the décor style. Clashing design styles and/or colors take away from the beauty of the day.
The location may also have restrictions that will influence decoration choices. Some sites do not allow open flames, attaching things to walls or ceilings, loose flower petals, moving furniture, etc. You'll want to get a list of any restrictions up front so you can make recommendations accordingly and keep the couple from having any costly surprises later.
Now that the couple is ready to start selecting decorations for the wedding, you must help them look at the big picture and determine the overall wedding theme/style that aligns with their personalities and aesthetic preferences. Themes can be based around colors, seasons, styles (vintage, modern, rustic, romantic, etc.) or locations (garden, seaside, etc.).
For more daring couples, a concept wedding theme (Harry Potter, The Great Gatsby, etc.) can make the perfect day. Just be careful: The day should be classy, not kooky. And it absolutely must be authentic to the the couple.
To get a sense of the kind of themes that can be used for wedding venue decoration, check out these ideas from the Bridal Guide as well as this post from A Practical Wedding with 20 must-see wedding themes.
Once you and the clients have determined the general direction to go, let the brainstorming for wedding decoration ideas begin.
Unique Wedding Invitations
Okay, so wedding invitations aren't decorations. Duh. But, the marriage announcement is a good jumping off point to figure out the color palette and overall theme to weave throughout the décor choices. So, they're worthy of a quick chat within that big-picture context.
The types of fonts and imagery used on the wedding stationery suite—save-the-date-cards, invitations, RSVP cards, thank you cards, envelope liners, return labels, envelope seals—should tie-in to the types of wedding decorations used to give the celebration a cohesive and considered feel. Are they formal and clean, or are they frilly and fun? Perhaps the couple is drawn to traditional classics, or maybe they want to make a modern statement. There are not right or wrong answers here, just preferences.
Keep in mind that wedding invitations are the first impression that friends and family get of the upcoming life the couple is going to spend together. So take your time and work closely with them to ensure you get the recommendations right.
There are many wedding stationery sources, both in-person and online, that offer stock designs you can recommend. Right now, we're lovin' MagnetStreet. Just check out these blue-and-white invites. Indigo is so on-trend.

If your clients aren't sure what their dream wedding style is, MagnetStreet also has this fun quiz to help narrow down the choices. The results include color palettes to play with, links to the inspiration board and stationery samples that would work with that style. It's a great tool to use when working with couples to help whittle down the vast array of choices.
Another place to look for inspiration is with printables. This post via POPSUGAR has a collection of 72 beautiful wedding invite printables, while these 31 printables from Buzzfeed not only have save-the-date cards and invitations, but there are also signs, menu cards, photo props and more.
If buying someone else's stock design isn't your client's thing, there's opportunity for you to make and sell custom wedding invitations that are perfectly tailored to your client's preferences. How? You can incorporate calligraphy, watercolors, stamping or embossing. (But probably not all at once!) You can use hand-pressed paper or create a faux deckled edge. You could even add embellishments such as buttons or cabochons, ribbons or twine.
For some inspiration of what's possible and to help your clients narrow down the possibilities, check out this compilation of custom wedding invitations via Woman Getting Married. We especially like hand painted envelopes in idea #2 and the invitation accents in idea #8.
Speaking of custom wedding invites, let's look at some of our faves. If the couple knows their preferred style is more rustic or if they're having an outdoor wedding, here's an unconventional idea: Wooden wedding invitations. If you haven't seen them before, you're in for a treat.
Check out these "Into The Woods" invitations from Etsy seller DotLaser. They're made from 1.5mm plywood that is both laser cut and laser engraved for an authentic, tactile feel that is perfect for a countryside wedding.
Laser cut invitations aren't limited to wood. Cardstock and plastic can also be laser cut and engraved into beautifully intricate designs that are uniquely matched to your clients. The design below was cut from a two-color acrylic, which engraves down from brushed gold to black giving a great contrast and really luxurious finish.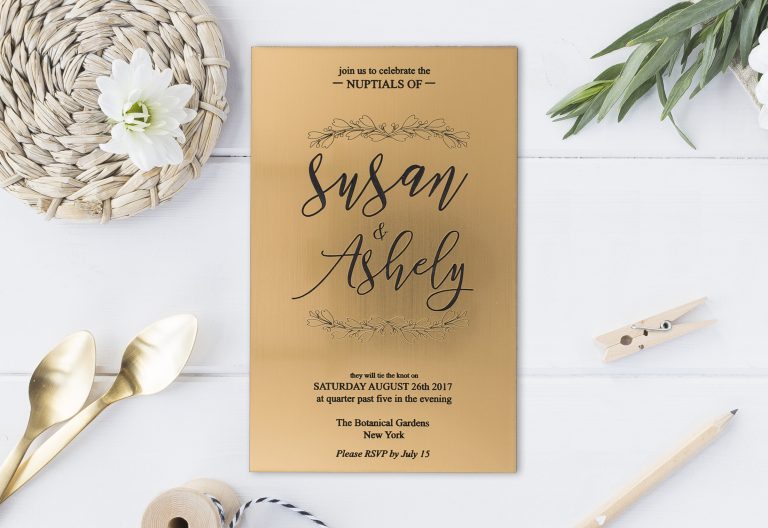 A word of caution: Laser cutting cardstock, plastic or wood will cost more than traditional printing on paper. As such, these are typically better for smaller weddings or weddings with larger invitation budgets. Keeping the invites small in size will help. Combining wood and paper could even keep costs under control.
Whether your clients are buying stock invitations or you're selling custom pieces as a part of your product offering, make sure all the essential information—who, what, when, where, RSVP date, etc.—is included. For reference, this post from The Spruce has the basics every wedding invitation should include, and this post includes the modern etiquette for addressing wedding invitations.
Wedding Signs
So the invitation has led guests to the big day. It's finally here! To help them navigate the venue throughout the day's event, there needs to be some signage.
Having a wedding easel at the front of the venue welcomes guests and lets them know immediately they're in the right place. Easels make signage placement easy because they can be set up anywhere, and there's no need to hang anything from a wall or ceiling (which can be restricted in many venues).
Since easels come in a variety of styles—from simple to decorative, wood to wrought iron, freestanding to tabletop—they can be used throughout the wedding in any number of applications beyond the welcome signs.
We love using wedding chalkboards with easels not only because of their functionality but also their charm. They're also relatively inexpensive when it comes to signage. All you need is someone on staff with great penmanship and/or drawing abilities to create a beautifully functional directional tool.
These chalkboard signs from Happy Wedd show how to welcome guests and let them know it's open seating for the ceremony. (This is good to know because, let's face it, no one remembers which is the traditional "bride's side" and which is the "groom's side.")
The above post actually has 60 cool ways to incorporate chalkboards into wedding décor—everything from the welcome signs above to menu signs, table numbers, photo backdrops, #hashtag info for posting on Instagram and more. And many of them are displayed on cute wedding easels. Even if your clients aren't into chalkboards or this style doesn't work with the design aesthetic, it's worthy of a bookmark because there are some great signage ideas here for things that could be done in a material that makes sense for your client's preferences.
Wedding Banners And Bunting
One of the quickest ways to set the tone of a wedding/reception is through what is hung, either from the walls or the ceiling—or both! Banners and bunting (a.k.a. wedding garland or pennants) are an effective way to transform a sparse venue into a beautifully themed wedding space. They bring the couple's color scheme and overall design theme to life, and they can explicitly define the occasion with text.
Visually, banners and bunting have a significant impact because they cover a large area. When well done, they not only balance out the other wedding decorations within a room, but they can also add a dash of sophistication to a pretty plain space. Because of their visual effectiveness, they look great in photographs that become the cherished memories of the day.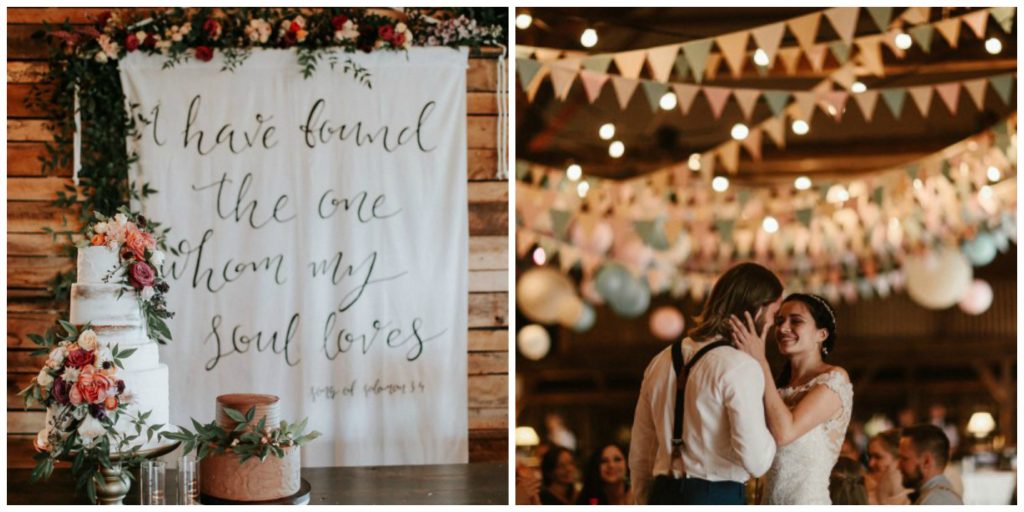 Wedding Banners are a great way to establish a focal point in a space. While traditional banners are made from wide rectangles of cloth, they can also be a modern pennant style. But the key distinction is that banners have text—anything from the couple's name or the wedding date to "Just Married" and "Happily Ever After." If your clients have a favorite quote about love or a Bible verse from the ceremony, this is a great way to incorporate it into the overall decor.
The typography used on wedding banners adds to the overall feel of the event and should complement the style of the other wedding decorations and possibly correspond with the invitations. Is the couple trying to achieve a strong and simple aesthetic, or is floral and light more their style? Are they traditional or whimsical? Is the ceremony during the day or at night? What's the size of the space where the banner will hang? All of these factors (and more) go into choosing the size of the banner and a typestyle that matches the couple's personality. And with thousands of fonts available (including these from dafont), there's one just right for them.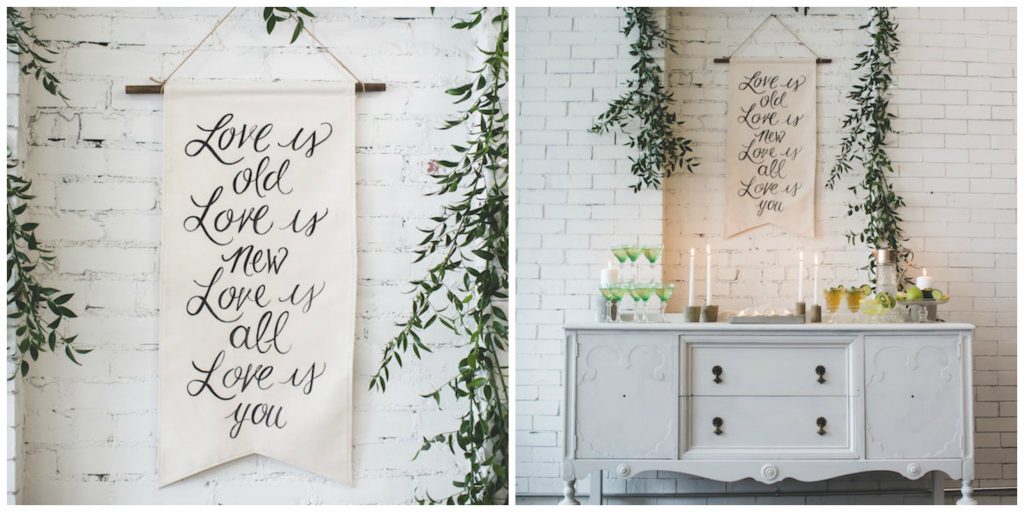 Wedding Bunting is constructed of a string of repeating geometric shapes that is typically hung in rows from the ceiling. In the past, bunting was limited to the triangle paper pennants, but today it can be any material in any shape, just so long as there is repetition.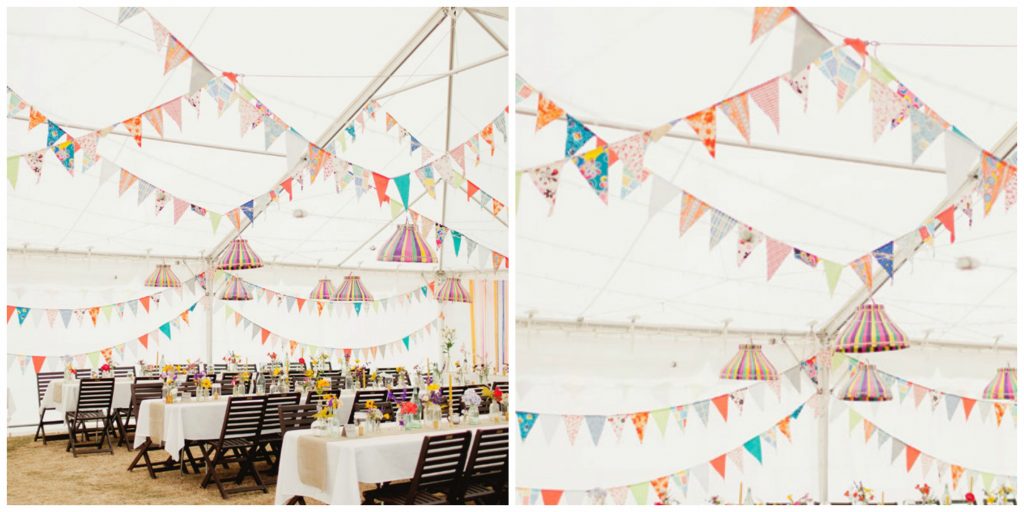 Bunting is effective at framing and transforming a space because it employs the design principles of repetition and pattern. These design principles are visually pleasing and make any space, especially those with high ceilings, feel more cozy and intimate.
Bunting can be constructed from items such as fabric, paper, pom poms, tinsel, etc. that is tied, glued, stapled or sewed on to string, twine or fishing wire. Here's another opportunity for you to sell custom wedding bunting so your clients aren't limited to what's available off-the-shelf. This tutorial at Intimate Weddings can get you started.
As mentioned before, venues may have decoration restrictions. You'll want to confirm what can or cannot be hung from the ceiling or attached to a wall before suggesting any embellishments. If wedding decorations cannot attach to walls, all is not lost. Simply use smaller banners or buntings to hang on easels, tables, chairs or other objects.
Once you know what's allowed for your couple's venue, check out these sources for inspiration. Of course, Pinterest is a great place to start. You'll also want to see these 30 photos of glorious wedding bunting ideas at Whimsical Wonderland Weddings. We love this suggestion:
"Ask your nearest and dearest for fabric scraps, use meaningful fabric from old clothes or bedding and see who has some sewing machine skills. Why not host a bunting craft party!"
What a great way for couples to gather their closest friends to make something memorable for the big day. Fun!
Finally, don't miss these 10 unique ways to use bunting at weddings via Bridal Musings. We especially love the scalloped edge bunting that is timeless and elegant, and the hanging vintage handkerchiefs are so pretty in a garden setting.
Wedding Flowers
Wedding flowers are an integral part of any ceremony and reception. They create the mood, accentuate the couple's style and bring a room to life. There are a number of different ways flowers are incorporated into weddings, so let's take a look at some.
Bridal Bouquet: Oftentimes, flower selection starts with the bridal bouquet. These bouquets can be as simple as grabbing a few flowers together and securing them with twine or a ribbon to designing more elaborate, professional arrangements.
There are seven popular types of wedding bouquet shapes: Cascade, posy (shown below), hand-tied, round, nosegay, pomander and composite. Each has its own style, shape and arrangement. Learn more about them in this post from Inside Weddings.
Flower Petals: Loose petals are often carried in a basket by the flower girl, who sprinkles them down the aisle in preparation for the bride. But many wedding venues have banned throwing petals of any kind, while some have restrictions about using real petals but silk petals are acceptable. So before the couple asks their favorite little one to be a flower girl, you'll want to confirm what can and can't be done to help them plan accordingly.
Flower Centerpieces: When designing table decorations, flowers are almost always included because of their beauty, effectiveness and versatility. The arrangements can be a simple as a few long stems in a vase to professionally sculpted pieces. Flowers can be used in conjunction with candles, contained in terrariums, entwined around lanterns or woven into garlands that run the length of a table. They can even be accessorized with ribbon or twine to tie the look together. (More about centerpieces below.)
Hanging Flowers: A major trend in recent years (perhaps inspired by the wedding scene in the Twilight Saga), hanging flowers can turn even the most sterile venue into a fairytale wonderland. Whether hung over the ceremony area or used in the reception over tables or even the dance floor, hanging flowers add another layer of beauty to the overall wedding decorations. Check out this post from Brit + Co that features 18 hanging flower displays your clients will definitely obsess over.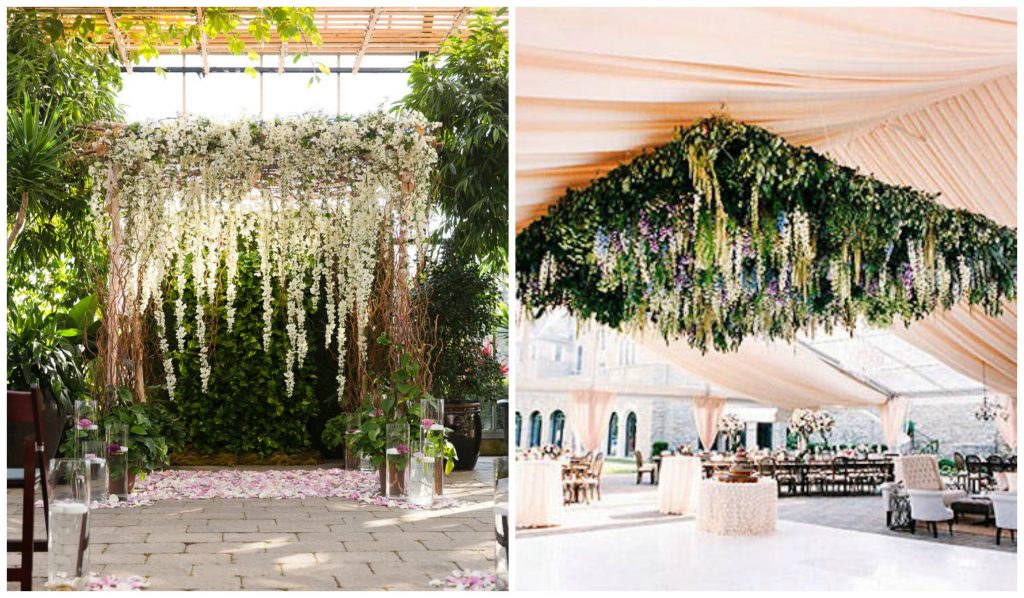 Other Options: Flowers can also be used as trellis or wedding arch decorations, aisle markers, chair garlands, wreaths throughout the venue, flower boxes around the dance floor or even as flourishes on the cake. And don't forget about boutonnieres for any of the men in the wedding party or corsages for mothers and grandmothers of the bride and groom.
Keep in mind that flowers can get pricey, so you'll want to work with your clients to establish a budget at the beginning. But flowers don't have to be expensive. If the couple is getting married in a garden, there is probably little need to invest in lots of flowers. For clients with smaller budgets, think about how you can incorporate more foliage (which is less expensive) to accentuate the flowers that are available. Couples may find that paper flowers can be a nice touch.
Before floral planning can begin, the couple should have already secured a venue for the wedding and reception. The size and overall look of the location will dictate many of the floral choices. The couple will also want to have selected their attire, as dress/tux/suit styles will also influence the kind of flowers that will work best.
Additionally, take into account what is in season for the client's wedding date. Do some research to see what's available so you can make proper recommendations to help the couple figure out what they like and don't like.
To get started, check out blogs and magazines for wedding flowers. This Mod Wedding checklist has the complete list of flowers needed for a wedding. This post from The Knot has 26 of the most Insta-worthy flower ideas ever seen. (Their headline could be a bit of an oversell, but the flowers are truly beautiful and worthy of a bookmark.) And this floral tutorial from A Practical Wedding has 10 simple tips that will save you all from having a meltdown. Whew!
Wedding Centerpieces
When planning wedding table decorations for the reception, the centerpiece (or centrepiece for our British friends) is the center of it all. Thus the name!
Decorating tables may sound like a simple job, but there are many elements to consider. The design of table centerpieces depends first on the kind of tables used. Long banquet-style tables often have a fabric runner down the length with multiple centerpieces strategically placed along the way. Whereas smaller tables for 6-10 guests will have their own individual table decorations.
The next consideration is not only the size of the table but also the overall size of the room. The centerpieces should be in proportion to both while still making an impact. If the venue is massive, little centerpieces will get lost. On the other hand, a more intimate space will be overwhelmed with table decorations that are too large. If the room has tall ceilings, you have some flexibility with floral recommendations as height can be added to level out the visual weight. Finding balance is the key.
Color is another important component. The color palette should be consistent with other elements being used throughout the ceremony and reception. Gold is back on-trend, and these gold wedding centerpieces used in a chic Philadelphia winter wedding are gorgeous. See them (and the rest of the wedding decoration photos that have touches of gold throughout) over at Ruffled.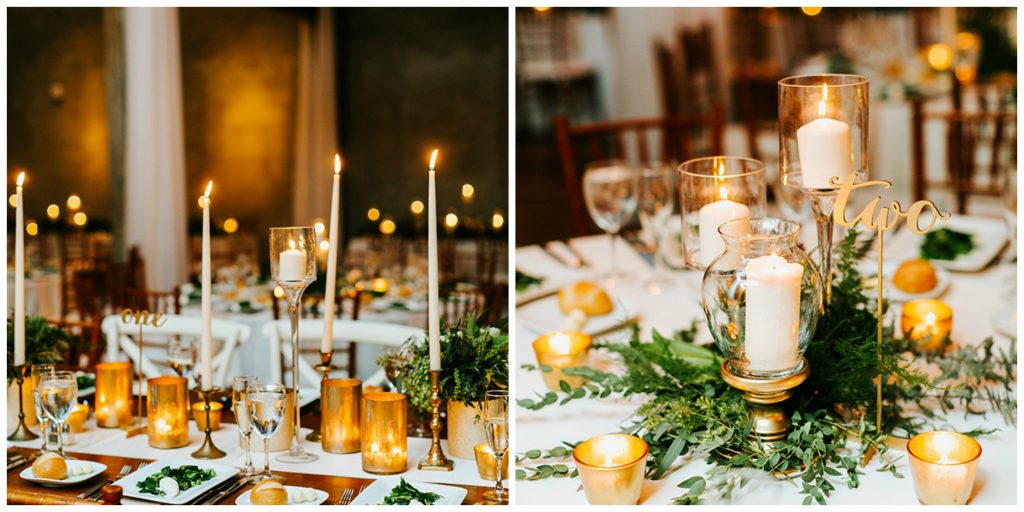 To maintain position and hierarchy on the table, give the centerpiece a base. Something to build upon. This could be anything from a plate, piece of wood, basket, tray, etc.
From there, just about anything—candles, lanterns, flowers, greenery, driftwood, vases, footed glass vessels, even fruit or vegetables—can be added to create a one-of-a-kind centerpiece design.
Candlelight has such a warm glow and gives a romantic touch that's perfect for weddings. And there are so many ways to use candles to decorate a table. Small tea lights and votives, floating candles, pillars and tapers can be mixed and matched to get the right effect.
If decorating with tapers, use non-drip to avoid any unsightly and messy wax drippings. You'll also want to suggest going with unscented candles, as some people are sensitive to fragrance. You may also want to recommend giving candles some kind of glass protection to keep the fire away from other centerpiece elements as well as guests, especially if there are children attending.
When incorporating flowers, a vessel of some sort is needed for arranging them. An elegant black-tie wedding might call for crystal vases, where an afternoon garden wedding could incorporate simple glass jars with twine trimmings.
Vintage milk glass is popular because of its nostalgic feel and it's easy to incorporate it into a variety of wedding themes from traditional to French country. It can also be an affordable decorating option, as milk glass vessels can be found at antique malls, consignment shops and thrift stores as well as through Etsy sellers for reasonable prices. This pictorial at Intimate Weddings has 13 ways you can incorporate the milk glass trend into your wedding décor.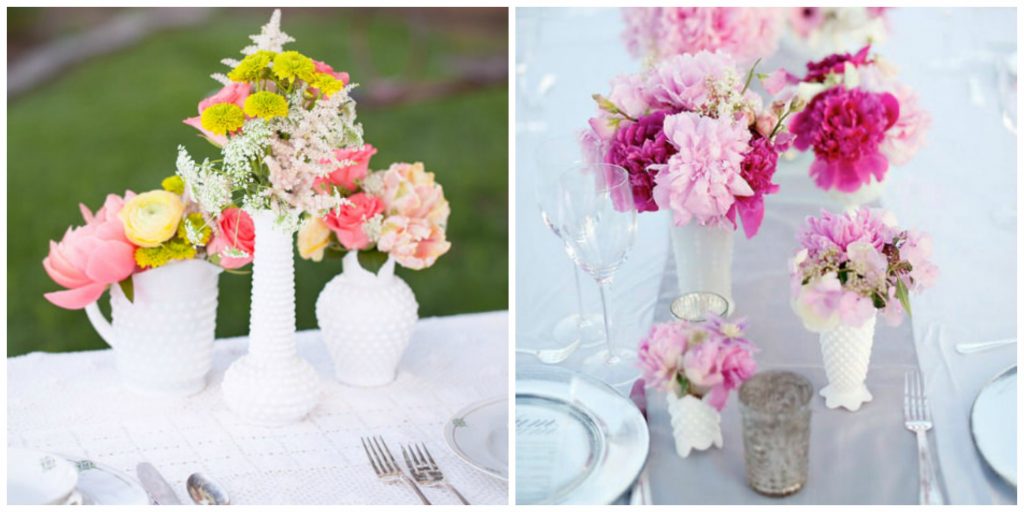 Whether buying or renting, glassware is typically a less expensive option compared to vases, so you'll want to consider how this impacts your client's budget. The budget will also dictate the kind and quantity of flowers used in centerpieces.
Once you work with the couple to select elements for the table décor, the next step is determining the arrangement of the various pieces. Give height by stacking things or using tall objects. Add width with a runner. Give weight to a large space with denser flower arrangements. Or keep things light and airy with just a few long stems in a pretty vase. Once again, it's all about balance.
If you're not sure where to start or where to source items to purchase, sites such as Bride Club Me can be helpful for ideas and links to vendors.
Need more inspiration to provide options for your clients? Check out 32 unique wedding centerpiece ideas via Elegant Wedding Invites as well as these 23 centerpieces you'll love via Martha Stewart. Finally, this post from Once Wed will help you make recommendations for the perfect wedding tablescape.
Wedding Cake Toppers
Wedding cake toppers are those stylish adornments placed on the very top of the cake. Back in the day, this focal point often featured little bride and groom figurines. But recently there has been a major shift from traditional stock cake figurines to customized designs. With the availability of digital manufacturing technologies, custom cake toppers have gotten much easier—and more affordable—to make and sell.
Check out these 3D cake toppers with the couple's actual faces on them. Talk about customized! These days, couples don't have to be traditional. They can add funny and unique cake toppers if that matches their personality and other decoration choices.
Clients don't want to use figures? No worries. Words and silhouettes are a popular trend in wedding decorations.
These kinds of graphic toppers are actually much easier to make because 3D forms aren't required. This tutorial from Hey Wedding Lady demonstrates how to make them using a personalized cutting machine or you can get your custom designs professionally laser cut.
To see what's on the market, there are many Etsy sites dedicated to toppers and a range of other wedding merch. Etsy seller Cabin + Cub has super cute animal wedding cake toppers if your clients want a woodland themed wedding.

For more ideas, check out wedding cake toppers on eBay or search "love cake toppers"on Etsy or Amazon. And Chic Vintage Brides has this post about wedding cake toppers that features ideas for using wooden peg doll figurines, hand-painted banners, felt birds, jewelry brooches or even snow globes. Talk about inspiration!
Wedding Seating
Unless your clients are having a cocktail-style wedding where guests will be moving around or there will be fewer than 50 people attending the reception, you must help them plan a seating chart. It's not always an easy task, especially if there are divorced couples, eccentric family members, or friends with overbearing personalities or controversial opinions.
But you want guests to be comfortable and enjoy the experience. So it's worth taking the time to create seating arrangements that facilitate great conversation and avoid any unpleasant confrontations.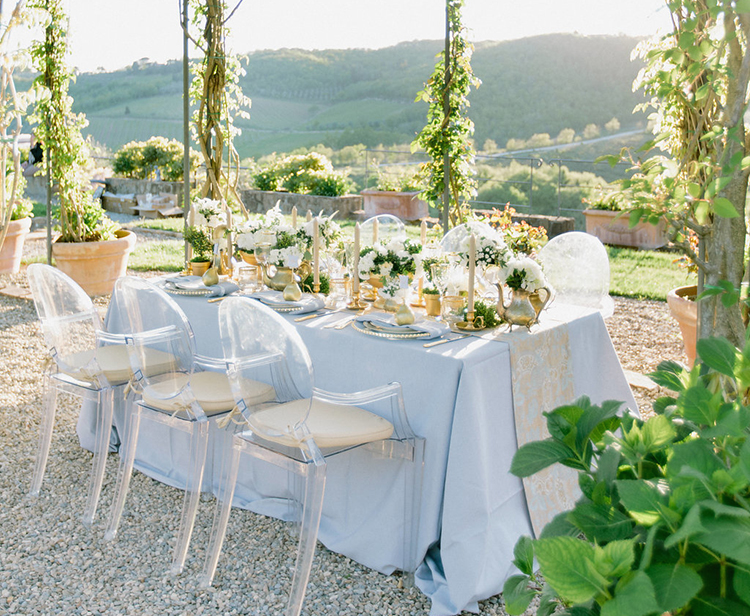 Wedding Seating Charts & Plans
After all the RSVPs are in, it's time to work with your clients to make the wedding seating plan. One of the first decisions to make is where the newly married couple will sit. In the past, the bride and groom sat alone at a "sweetheart table." But today's couples often find this tradition isolating. If your clients feel this way, skip it and instead create a head table at the center of the room so they can be close to guests.
Once the couple's seating is determined, begin organizing family and friends. Depending on the dynamics, parents may sit at the head table or they may be at adjacent tables. The wedding party may also sit at the head table, depending on the number of attendants (and their +1's).
After that, there are no hard rules about what to do next. You can suggest grouping guests by how your clients know them (high school friends, coworkers, relatives, etc.). But it's also nice to mix it up a bit and give guests a chance to meet someone they otherwise wouldn't know, especially if they have common interests.
That said, no one likes to sit at a table where they know no one else, so always try to have at least one acquaintance per person at each table. And "singles" tables are passé. Integrate the couple's single friends within the tables, just so long as they're not the only single person at a table of married couples.
There are no right or wrong ways to create the seating plan; it all depends upon your client's unique set of guests. For more on wedding seating etiquette, see this post from Wedding Paper Divas.
To make the process of designing a seating plan easier, recommend creating a visual representation of all the seats. You (or the couple) can use software specifically for the task (yes this is a thing, and it's awesome), but high-tech isn't necessary. Simply use sheets of paper for tables and sticky notes with people's name to find the arrangement that works best.
Once you and your clients know where everyone is sitting, how will they actually find their seats at the reception?
There are options. One way is to list guests' names by table number on a printed poster or hand-write them on a chalkboard. Each person's name can be written on individual "escort cards," which they find at the entrance to the reception. They simply grab the card with their name on it and go to the appropriate table. You can even recommend having a chart that diagrams the table location and each person assigned to sit there.
And these are just a few ways. For more wedding seating chart ideas, check out these 20 stylish seating charts from My Wedding. We especially love the paper cranes since they're symbols of hope and prosperity. And the vintage frame with guests' names written in metallic gold is so Insta-worthy.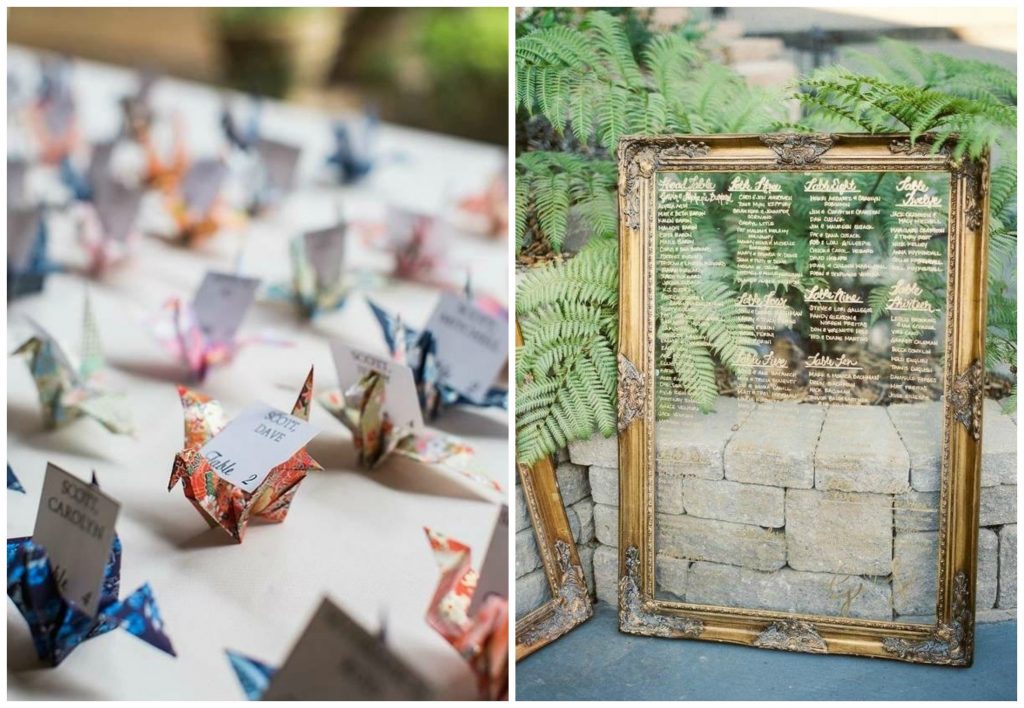 For more details on creating wedding seating arrangements, this post from A Practical Wedding has great tips for when to assign seats vs. just assigning tables plus diagrams for how many people can comfortably sit at tables and how to lay out the venue so there is adequate space around each table.
Wedding Chair Covers & Sashes
When guests arrive at their tables, they'll likely see beautiful centerpieces and elegant dinnerware. But what about the chairs?
One aspect of wedding reception decoration that sometimes gets overlooked is the chairs. Wedding chair covers and chair sashes can turn otherwise boring, but quite necessary, furniture into statement pieces with the simple addition of fabric, ribbon and/or flowers. It's a small detail that has a big impact.
An affordable option is to take ribbon that matches your client's wedding color scheme and simply attach it to the chairs with knots, bows or even vintage brooches for a hint of nostalgia. For a rustic aesthetic, wrap chairs with burlap and add a floral wreath. Create a lush feel by intertwining tulle or lace fabric within the chair backs. We love these 53 examples of wedding chair décor ideas using fabric and ribbon as well as these 74 ideas using floral swags—both from Happy Wedd. So pretty!
Wedding Table Numbers
As the name suggestions, wedding table numbers are literally numbers placed on reception tables so guests can effortlessly find their assigned seats. Though they are a functional item, table numbers must be large enough to be easily visible yet be small enough so they're not distracting. And they must look great while coordinating with the other wedding decorations on the table. While table numbers are often incorporated into the centerpieces, there's no rule that they have to be.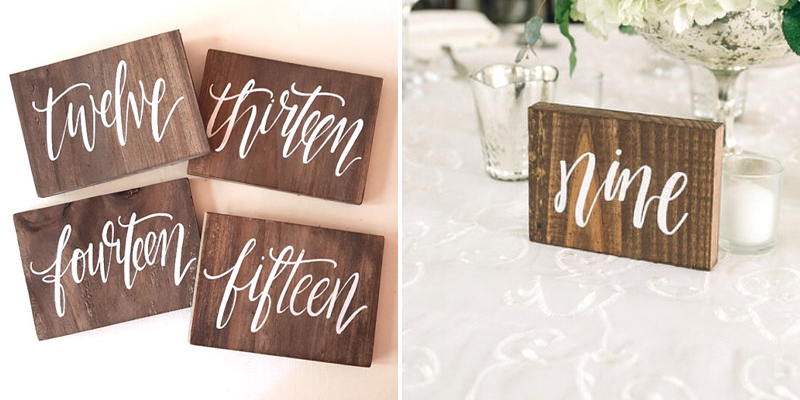 One of the most straightforward ways of making table numbers is to print them on cardstock. Ready-made designs can be printed online from vendors such as Minted. Some services include table numbers in their comprehensive stationery suite offerings so they'll match the overall style of the invitations and other cards.
Once printed, cardstock can be folded in half so it stands on its own to form a little numbered table tent. Cardstock can also be cut into shapes that can be incorporated into more solid stands such as mini easels, card holders, wooden blocks with slots or wire holders. If your clients want custom wedding table number holders made out of wire, this tutorial from The Budget Savvy Bride shows you how.
Tap into the laser cutting trend by using numbers that have been cut and engraved out of wood, acrylic or other solid materials. These can be done as numerals or with the number written out, typically in a script typestyle. And they usually have a spike in the middle to insert the numbers directly into a floral centerpiece, although some are stand-alone pieces with a base for more placement flexibility. For inspiration, check out these laser cut table numbers and get a sense of what's already on the market through Etsy sellers.
Gold is the current color of the season, and you'll see it beautifully and seamlessly incorporated into wedding tablescapes. The Knot has some great examples, like this gold terrarium centerpiece that serves as the backdrop to the geometric mirror table numbers as well as these gold table numbers that add a modern touch to garden-inspired table décor.
For other table numbers ideas for a wedding, check out this post at My Wedding as well as these ideas from Style Me Pretty.
Wedding Table Names
While using numbers to denote specific tables may be the easiest and most popular seating location solution, it's not the only option. Instead of recommending numbered tables, offer tables names that are meaningful to the couple. Perhaps the names are places they have lived, their favorite songs or the flowers in the centerpieces.
This post from Inside Weddings has 10 ideas for how table numbers and names can be personalized, including using photos of when the bride and groom were kids and naming tables after the couple's favorite wines or the famous cities they've visited together. And you'll want to bookmark this post from Whimsical Wonderland Weddings that has 50 table name ideas.
Wedding Menu Cards
One of the best parts of a wedding celebration (other than the "I do," of course!) is the food. Reception fare can range from small plate hors d'oeuvres to a casual buffet or a formal multi-course dinner. Including a menu in the overall wedding decorations plans lets guests know what to expect.
Wedding menus can take a variety of forms. For a buffet, you could suggest a large sign at the beginning of the line and then have each of the choices individually labeled as well. For a seated dinner, couples may opt for printed wedding menu cards displayed on the table or put atop each place setting.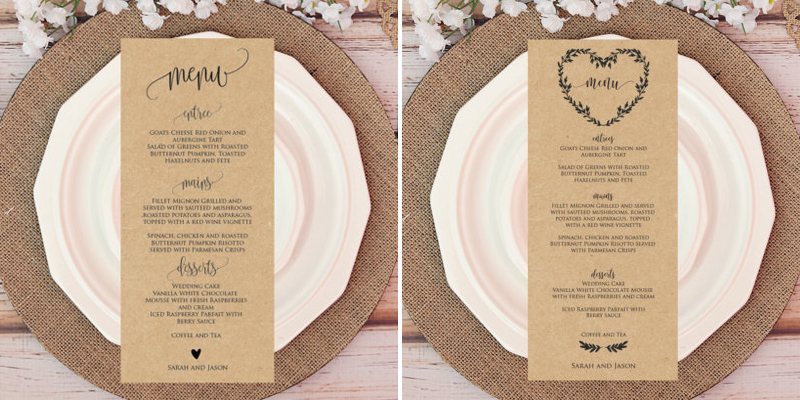 Menu cards are often offered within a stationery suite when ordering invitations, which can be a simple way to coordinate with the other printed pieces for the wedding. There are also printables offered online.
While the menu style should be simple, elegant and easy-to-read all while coordinating with the overall design aesthetic, you can help clients add some flair with how the menus are displayed.
For large menu signs next to a buffet, use a chalkboard or even have vinyl letters cut at a sign shop and adhere them to a piece of wood. For menus at the table, display them in a frame or adorn them with ribbon or foliage at each place setting.
Laser cutting can even be incorporated into the menu design. Check out this post from Inside Weddings that has nine ways to incorporate laser-cut details into wedding decorations, including this intricately cut menu. Beautiful!
On the other hand, you can suggest keeping menus simple like these specialty cocktail menus from 100 Layer Cake. A standard piece of brown kraft cardstock was the foundation for a hand-written menu, which was displayed using a plate holder. Perfect for a garden setting!
Whatever is on your client's menu, just be sure to offer options for guests who have any kind of dietary restrictions (you can ask for this info on the RSVP). By labeling what is gluten-free, dairy-free, vegan, etc., guests have the opportunity to eat confidently and fully enjoy the celebration without having to worry about any adverse reactions.
For more menu inspiration, feast your eyes on all that Pinterest has to offer. And check out this post from Martha Stewart that features 49 of the best wedding menu ideas from real celebrations.
Wedding Props
Back in the day, wedding photos were formally posed and, let's face it, pretty boring. But no more. Today's couples are having much more fun with their photos. And props are playing a starring role.
From simple signs and banners that say "Just Married" or "Happily Ever After" to elaborate storybook backdrops, props can not only make wedding photos more visually interesting but also more personalized to the couple. As with all the other wedding decorations, any props used should align with the overall wedding theme as well as match your client's personality and style.
This photo gallery at Bridal Guide demonstrates how to incorporate props such as balloons, umbrellas, pinwheels, confetti or flower petals, wooden letters and even sparklers into wedding photos. The examples that incorporate sentimental photos of the couple's parents on their wedding day are especially sweet.
With 50 photos in this showcase, there's surely an idea (or three) you can incorporate into your client's big day to make it their own. We especially love these wedding chalkboards that show how all the bridesmaids are a part of the bride's life as well as another bride checking off the last thing on her to-do list. Cute!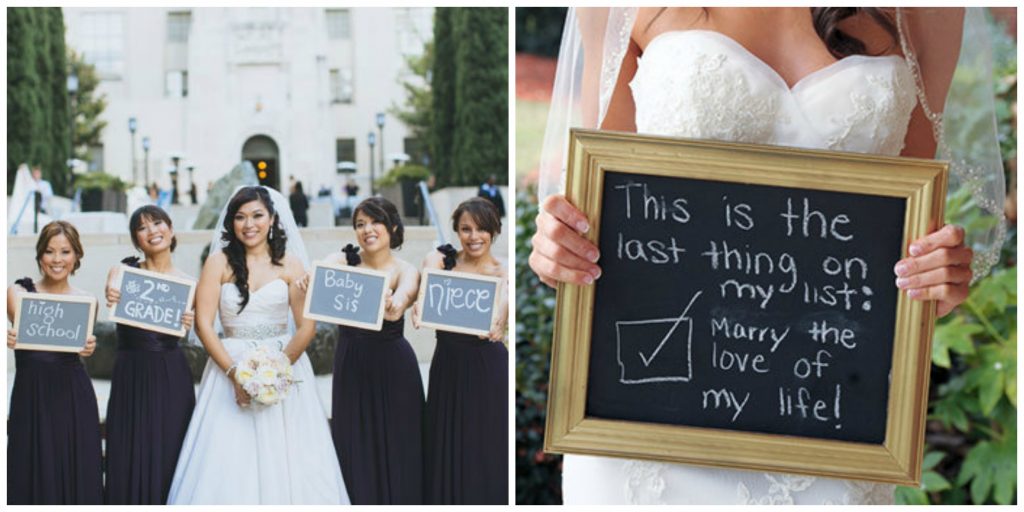 Photo Booth Props
Photo booths are all the rage. And why not? They're super fun and add a sense of playfulness to an otherwise formal (and sometimes stiff) event. But to make this part of your client's wedding a success, you'll need some photo booth props.
These props can be anything: Picture frames, sunglasses, signs or hats. They can also be themed to match other aspects of the wedding—anything from vintage to nautical styles.
For some photo booth prop ideas that will liven up any Instagram feed, don't miss this collection of ideas for wedding photo booth props as well as this post from POPSUGAR. If you're interesting in selling props as part of your product offerings, this tutorial on making photo stick props from MagnetStreet can help. And to see what's currently being sold in the market, check for more props on Etsy.
Vintage Wedding Props
One way to keep the props budget low—and have some fun—is by incorporating vintage items into the photos. Consignment shops and thrift stores are great places to find retro bikes and ornate picture frames.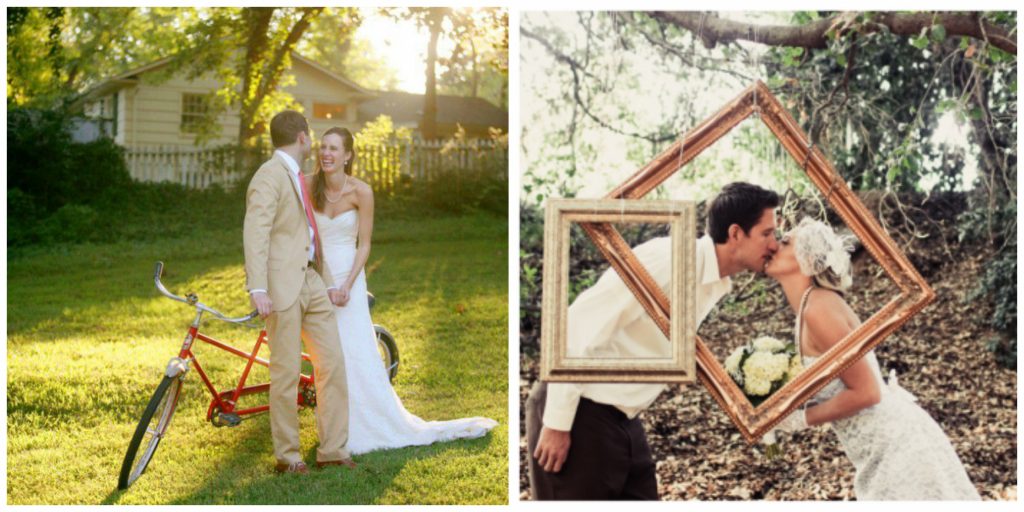 You could even create a tea party scene with the heaps of cute old teacups from thrift stores that would make Alice In Wonderland jealous.
Wedding Arch
A wedding archway creates a beautiful backdrop for wedding photos because of how it naturally frames the couple. Like other wedding decorations, arches can range from simple to elaborate and should align with the overall design aesthetic. They can incorporate natural wood adorned with flowers or be a simple metal frame wrapped in fabric and ribbons.
This post from Brit + Co has 20 wedding arches they can't stop obsessing over. We think you'll obsess, too. Just look at how beautiful these arches are, simply constructed from branches with flowers and draped fabric. The lanterns and carpet in the photo on the right are ooooh so right for a boho theme.
Wedding Party Favors
As the festivities are winding down, you want the couple to have a way to say thanks to everyone for attending. Wedding souvenirs for guests are a lovely way to show appreciation while also commemorating the occasion.
Food gifts are typically inexpensive wedding favors that are not only tasty but also look nice on display when used as part of the overall reception décor. Smores kits, specialty cookies and miniature pies in a jar are delicious and appeal to any age. Package homemade granola in colorful wedding favor boxes with pretty ribbons. Gourmet coffee beans or epicurean tea blends also make for delicious gifts. And local honey is a sweet treat sure to be enjoyed.
Candy like these "Mint To Be Together" mints are easy wedding favors. Just add labels like these from Etsy seller ClementineWeddings and voilà! Instant personalized wedding favors.
Small items for use around the home also make great party favors. Handcrafted soaps and candles are always welcome. Bottle openers are handy, and matchboxes are making a comeback. (Perhaps pair a candle and a matchbox?)
Succulents are on-trend when it comes to home décor, so many couples are giving them as a memento from the day.
And Polaroid pictures are no longer a lost art. They're back! And perfect for wedding guests to take candid shots as a keepsake to take with them but also take some for the wedding guest book.
To find the perfect favors for your client's wedding, have a look on Pinterest and bookmark these 42 ideas from Buzzfeed and these 100 ideas from Wedding Paper Divas.
Designing The Wedding Of Your Client's Dreams
Keeping up with all the decoration details can seem like an overwhelming task. But it's definitely doable with the right tools and some major organization. This compilation of the eight of the best infographics from Oh Best Day Ever is a great starting place for what you'll need to know when working with clients. Use this checklist from Junebug Weddings or this checklist from MagnetStreet as inspiration to customize your own list so you can nail every detail and exceed your client's expectations.
In addition to the sources referenced throughout this guide, you can get even more inspiration from blogs dedicated especially to weddings such as Wedding Lovely. And the Huffington Post compiled this list with the best wedding sites you've never heard of before for even more info.
Good luck on building your wedding decorations business!