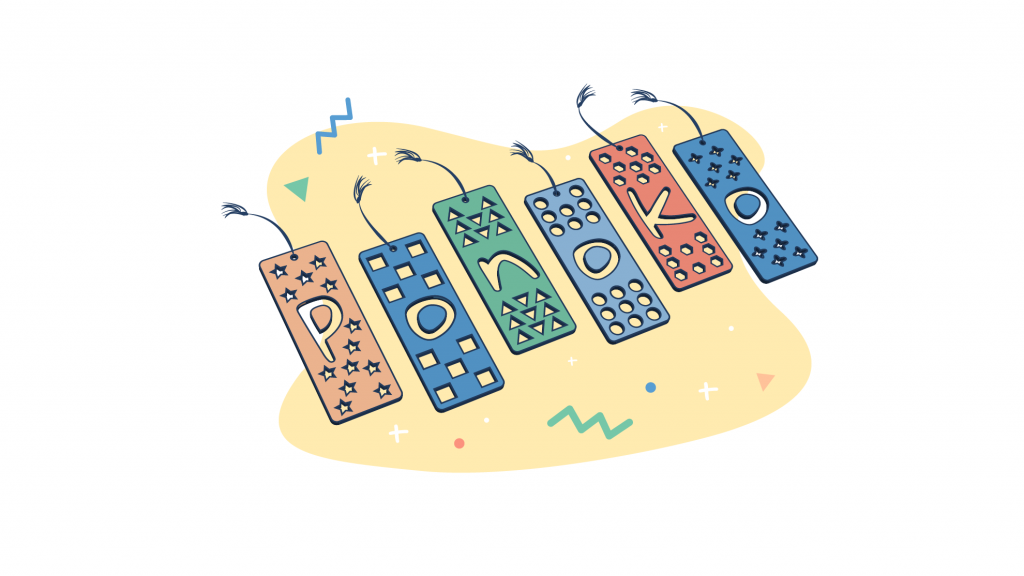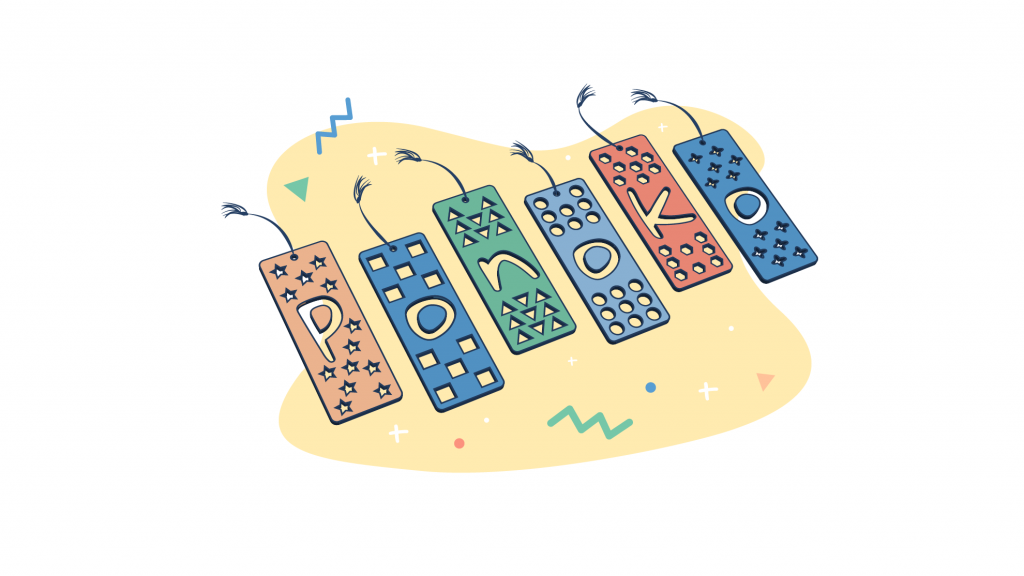 Putting Your Creativity And Personal Touch Into Making Unique Bookmarks
Whether you're voraciously reading New York Times Bestsellers, keeping tabs on the latest business trends or perusing the pages of the classics, there's one thing every bibliophile needs: A bookmark that's just as amazing as the books being read.
Sure, you could use a receipt from today's lunch, an envelope from the bill you just opened or even a magazine renewal postcard to mark the pages. But why? That's so boring!
Why not have bookmarks that are just as original as the books you—or your customers—choose to read!
In this article, we'll look at how to make a bookmark for a book and give lots of creative inspiration on crafting personalized bookmarks to use yourself, give to friends and family, or even sell online.
Designing A Bookmark
With all the bookmark designs available, where do you start on your bookmark making journey? A good brainstorming session is a great place to start, as this allows you to figure out what you like (and don't), determine what is already on the market and identify any gaps that could be filled with your creativity.
Perhaps you're drawn to a thick, art-paper style like these watercolor bookmarks featuring quotes from Jane Austen, Dr. Seuss and JK Rowling. If so, you're in luck. Get the printables from Remodelaholic.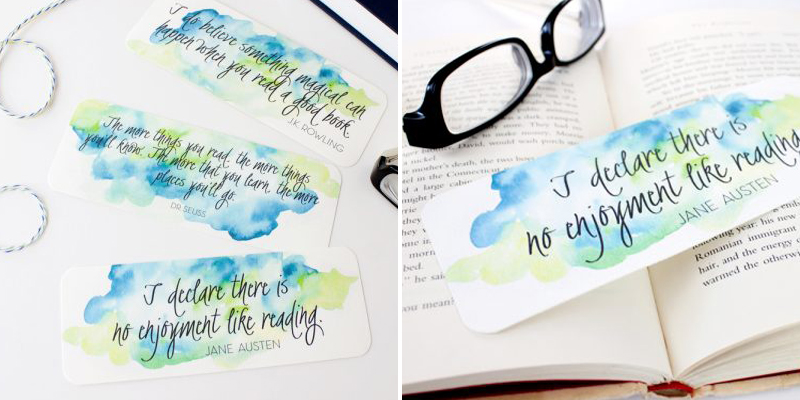 Or maybe tech is your thing. Illuminate some inspiration with this bookmark light that is printed on a special film using ink that transmits electricity. Design Boom has the details.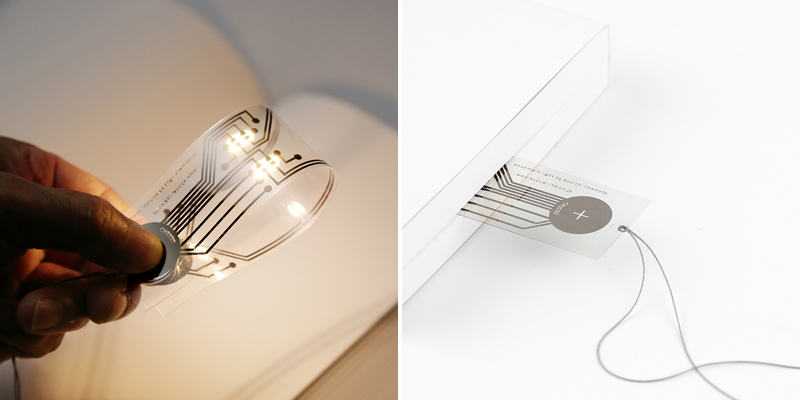 Or maybe you like bookmarks with dimension—and humor. Etsy seller bloomyjewelry was inspired by The Wizard Of Oz to create this Wicked Witch of the East bookmark from polymer clay that was decorated with acrylic paint, then varnished and attached to a cardboard base. Very clever! How can you find inspiration from characters in your favorite books to create a design of your own?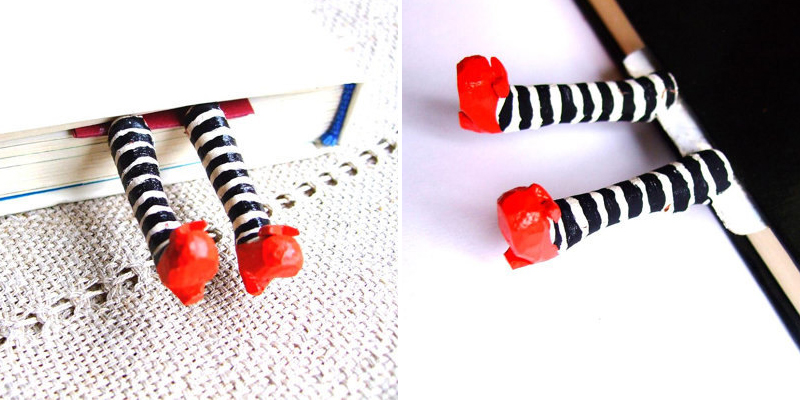 For even more inspiration, check out these bookmark ideas at Bored Panda and Huff Post. You can also find some really unusual ones on Trend Hunter. If you're a fan of the zombie apocalypse, then don't miss #14.
After your bookmark brainstorming party, it's time to make decisions about the kind of bookmarks you want to design. Considerations:
Audience: Who will be using the bookmarks? Are you making for yourself, to give as gifts or to sell for profit?
Materials: What materials do you want to use? New vs. recycled? Are you comfortable using these materials or are you learning new techniques?
Quantity: Are you making a single bookmark or multiples?
Time: How complex is your design, and how much time will it take to complete?
Budget: How much do you want to spend?
At this point, grab a pencil and paper or open up your go-to design program. It's time to get the ideas going.
This tutorial via Instructables shows how to make bookmarks using Photoshop. But don't worry if your design skills are more novice than pro. There are user-friendly sites such as Canva that use drag-and-drop technology + a variety of templates to make designing bookmarks a breeze.
Craft Bookmark Ideas
Now that you have some ideas for making unique bookmarks, it's time to start having some fun! Let's look at the variety of bookmark materials you can use: Paper, fabric, yarn, felt, leather and metal as well as some specific styles of craft bookmarks including corner, tassel and paper clip.
Paper Bookmarks
Cardstock is of the most widely available and easiest materials for making bookmarks. Paper can easily be printed on a home printer, cut with scissors, embossed or laminated to make bookmarks of any size, shape and design.
There are also all kinds of free printables available online to make bookmarks. All ya do is download the art file, print it out and finish it to your liking. These examples (left to right) from Frugality Gal, College Life Made Easy and Or So She Says will get you started.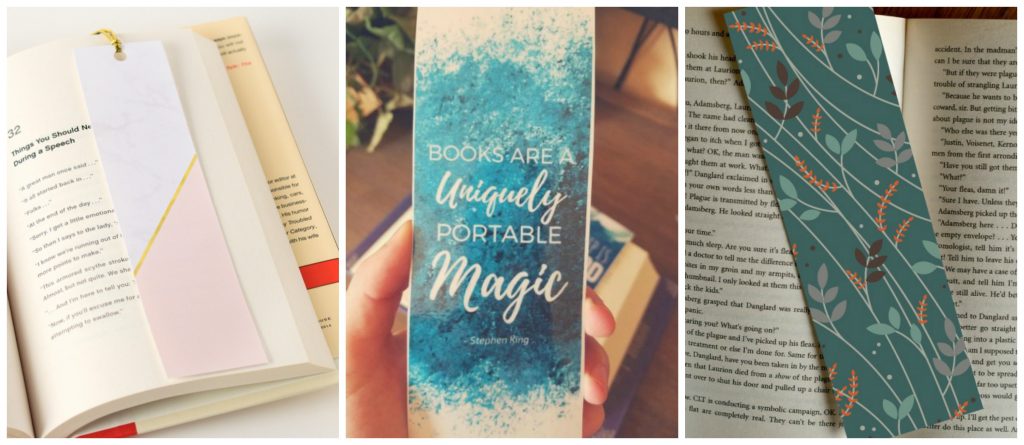 If you have larger orders (especially if you plan to sell your bookmarks), you can design your own and have them printed and cut with commercial companies to ensure consistency and a professional finish.
Here's a paper bookmark idea that doesn't involve printing: Use paint chips as the foundation, then cut and draw to your heart's content. If you love cats (we do!), then stop by DIY Candy for the tutorial of these kitty bookmarks.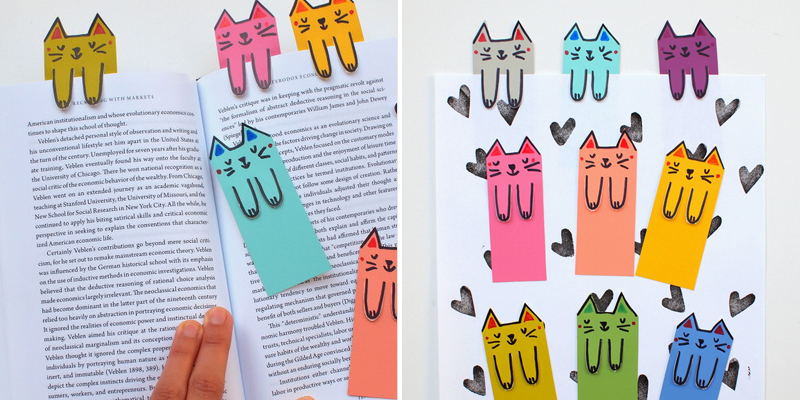 Sometimes you need to mark multiple pages in a book or magazine, such as when researching a term paper or flagging favorite recipes in a cookbook. Sure you could use regular ol' Post-it® Notes. But designer Duncan Shotton has a better idea: Sticky Page Markers that are a collection of natural environments as well as renowned cities. See his ideas at Design Boom and get inspired to make your own.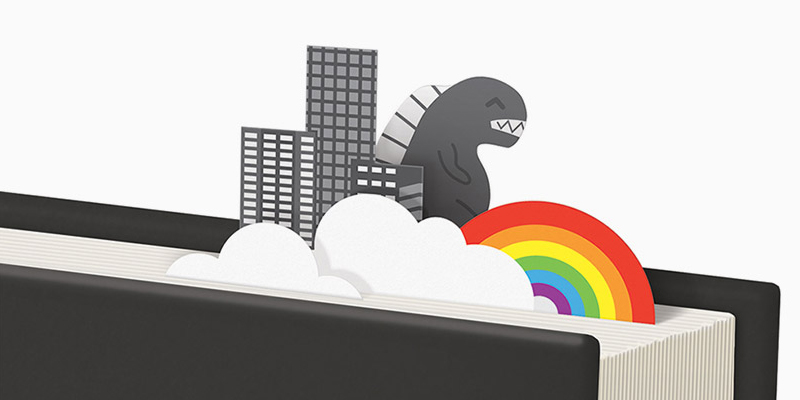 For more ideas on how to make a simple bookmark with paper, check out these origami bookmarks as well as these paper craft ideas.
Corner Bookmarks
If you're looking for an easy way to make bookmarks beyond the conventional rectangle, then corner bookmarks are a great place to start.
These simple heart corner bookmarks only require some pretty paper and scissors to make. Follow this tutorial at Easy Peasy And Fun to make your own in minutes.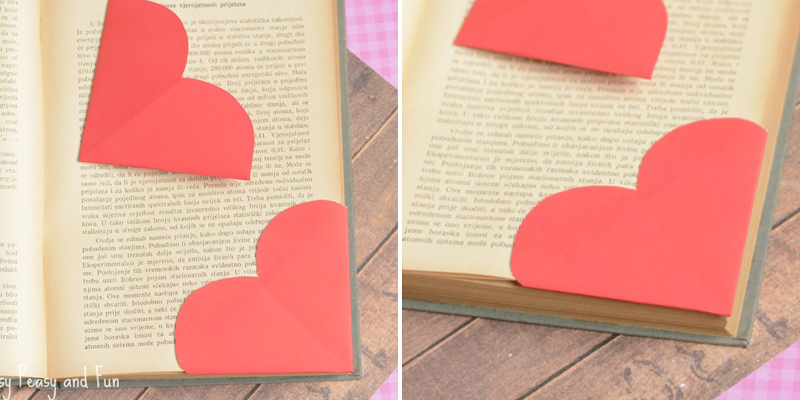 And if you're looking for tons of corner bookmark designs, check out this post at Red Ted Art that has links to 50+ ideas. Wow! For easy-to-follow instructions on how to make corner bookmarks, check out this Emoji corner bookmarks video. There's also a tutorial to make these Totoro bookmarks. Watch it here.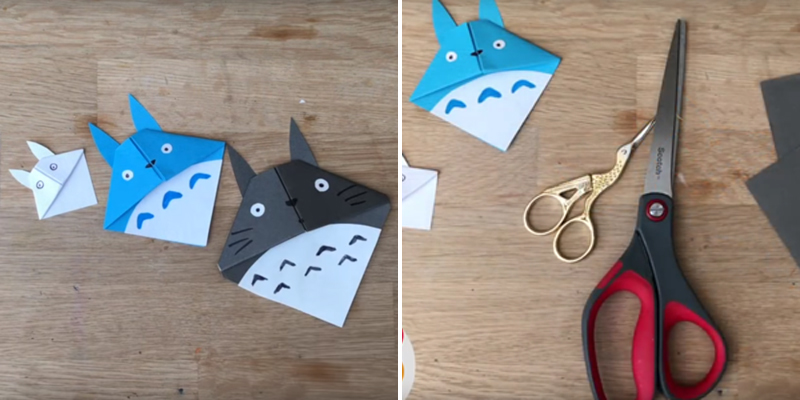 While corner bookmarks are traditionally made from paper as seen above, they can also be crafted from felt. Check out this tutorial via Makezine to learn how.
Fabric Bookmarks
What's great about fabric bookmarks is that the patterns and colors available are nearly limitless. From timeless and traditional to wild and whimsical, there's a print for everyone and every occasion.
If you already do some sewing of your own, then you no doubt have fabric scraps lying around. Perfect to make bookmarks! You can also find remnants at fabric stores on the cheap. And what about your own closet? There are probably some pieces that you love the pattern but the cut is outdated or the garment simply no longer fits. Recycle that blouse, skirt or denim into a stunning set of bookmarks that are great for gift giving—or to sell!
For inspiration, look no further than these fabric bookmarks from Etsy seller LonettaAvelarDesigns. She has taken premium cotton fabric and added an acid-free chipboard insert to give the bookmark just the right amount of rigidity. It's finished with a tassel threaded through a metal grommet at the top.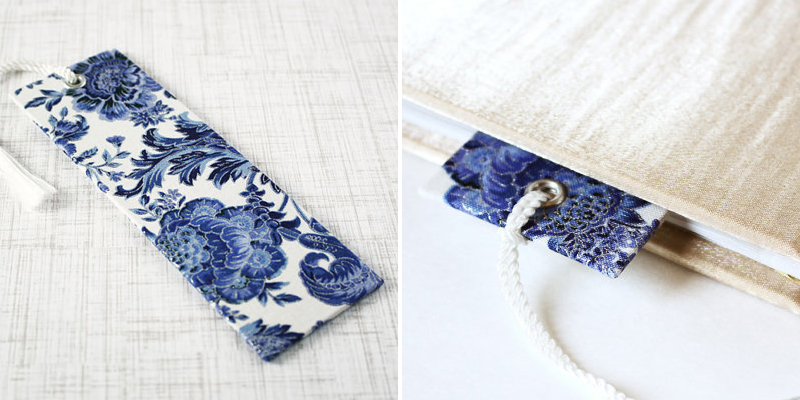 To learn how to make bookmarks of your own using fabric, check out this tutorial via The Crafty Mummy to get started.
If you love the look of fabric but want a bit less sewing, this ribbon bookmark is a super easy project. All you need is some pretty ribbon, fun buttons, hair elastics, needle and thread, and scissors. Get the step-by-step instructions from 5 Minutes For Mom.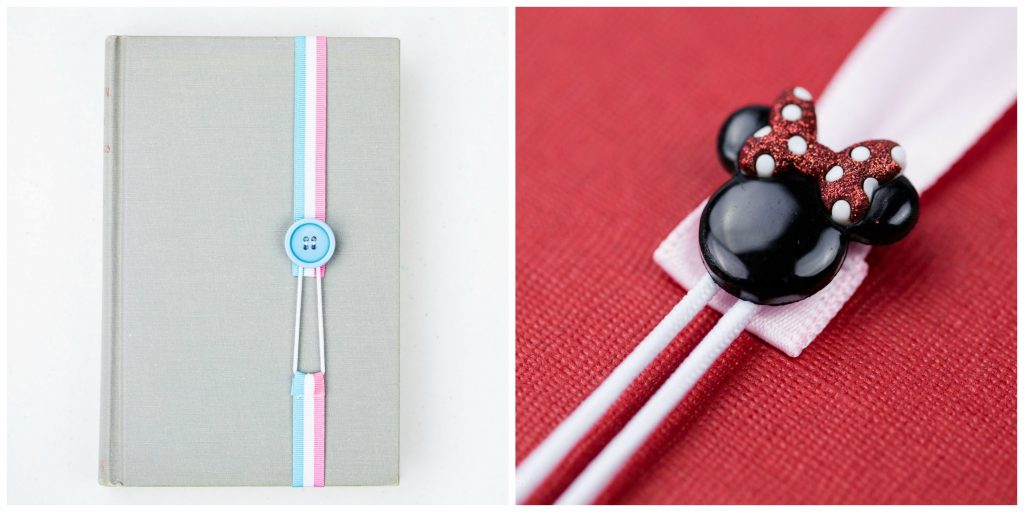 Yarn And Crochet Bookmarks
Yarn crafts are so on-trend. From crocheting to macramé, these hand-made techniques have had quite the resurgence—even to the point of spinning your own yarn! Perhaps it's because of the hygge trend. Or maybe it's just fun. For whatever reason they're back, we love the cozy feel that yarn brings to any crafts. And they make especially pretty bookmarks. Just check out these ideas for inspiration to make bookmarks of your own:
These pom pom bookmarks are super cute…and super easy to make. Use the tutorial from Design Mom and get to crafting gifts for teachers (just add your fave book) or favors for book club gatherings. You could even make these as a craft activity at a book-themed birthday party!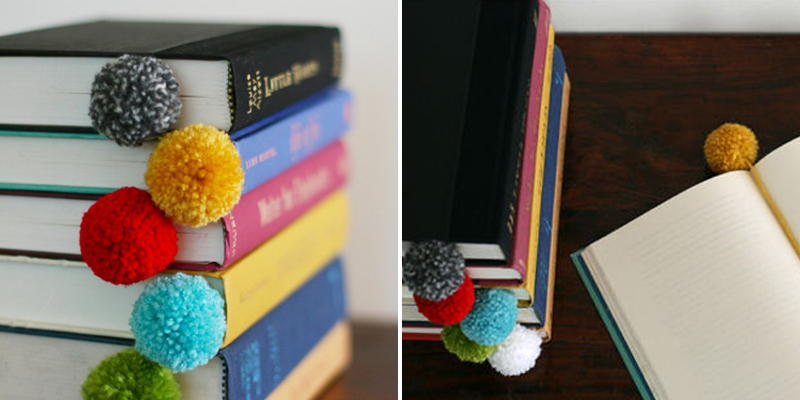 These lace crochet bookmarks from Petals to Picots incorporate ribbon through the middle of the design. So pretty. Just think of all the color combinations that could be done! Get the tutorial here.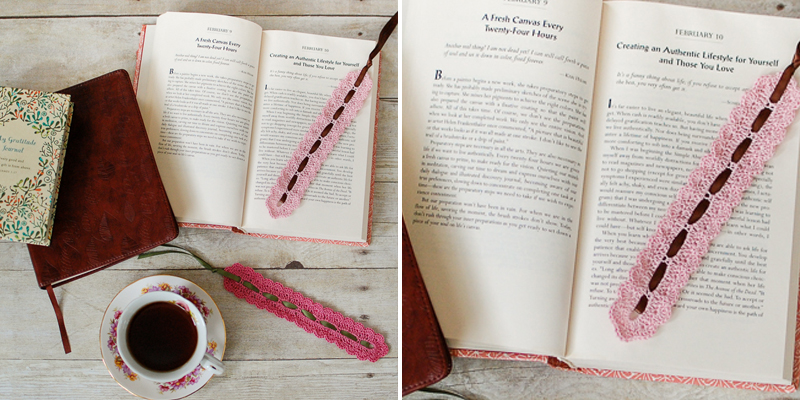 Etsy seller SeaFrills weaves and knots linen thread into intricate macramé bookmarks. A perfect placeholder when turning the pages of a summer read on the beach!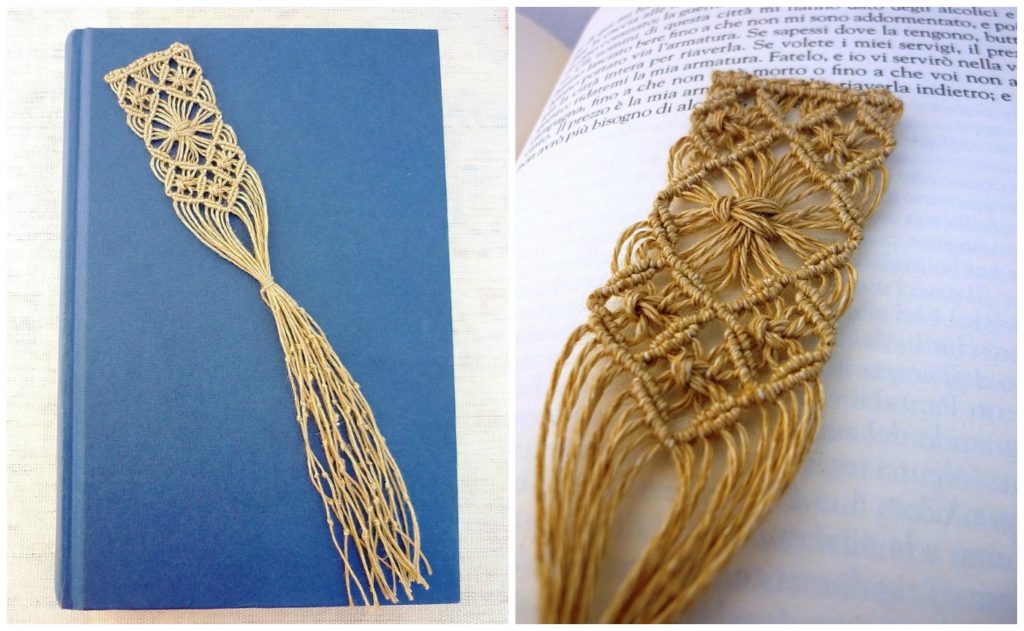 For even more inspiration, here are 10 ideas from The Spruce and another 20 crochet patterns from Creativities. We're obsessed with the Mike Wazowski pattern!
Tassel Bookmarks
Tassels may seem like a simple decoration to spice up a bookmark. But they actually serve the important function of keeping the bookmark in place without it getting lost within the pages. Tassels come in all shapes and sizes, and they're really easy to DIY. This tutorial on Wikihow walks you through how to make bookmarks with tassels with ease.
While the above tutorial is for an average-sized tassel, we're really loving these chunky tassel bookmarks from Homey Oh My. The oversized scale is interesting—and eye catching especially when paired with geometric cardstock. If you want to make custom bookmarks with tassels like these, here's the tutorial.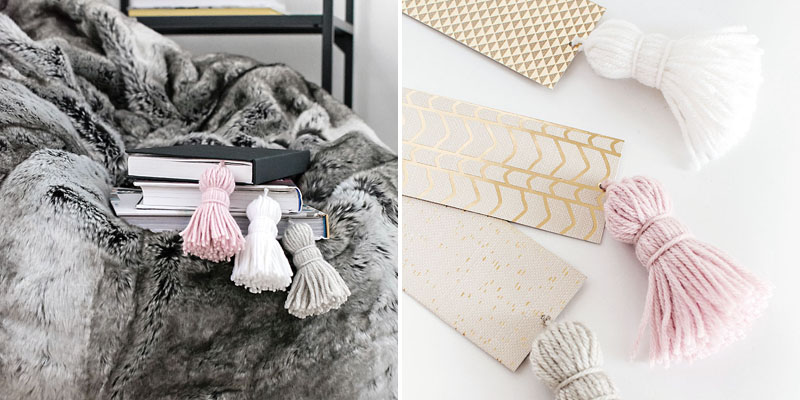 Felt Bookmarks
Felt is a soft material that is easily workable. Cut it with scissors or a utility knife, sew it into cool shapes or even laser cut it (this is a great option if you're making a larger quantity and want consistency, especially if you're selling them). Since felt often has a wool base, it's more substantial and has some rigidity when compared to traditional fabric, but it still remains soft and flexible. And it often comes in bright, eye-catching colors for added interest.
Just check out these DIY geometric felt bookmarks from How About Orange. You can really have some fun creating these stained-glass-inspired designs.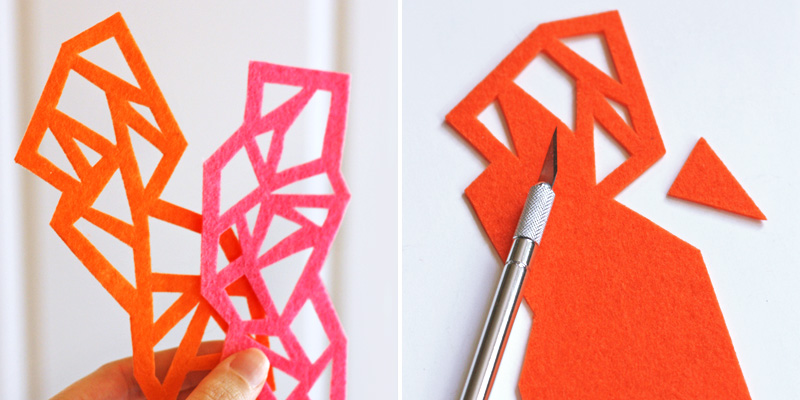 These cute ribbon bookmarks combine felt with elastic to tame the pages. While these were made with a die cutting machine, you could easily hand cut or have them precision laser cut. Get the tutorial at Cutesy Crafts.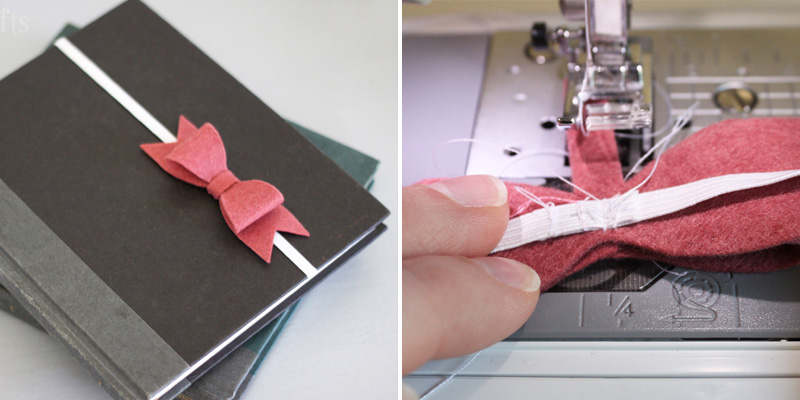 Leather Bookmarks
Leather is a durable and versatile material that can be cut, engraved, tooled, stamped and etched. (If you want to learn how to tool leather yourself, check out this Wikihow tutorial.) And since early bookbinding was done with leather, it's a natural accompaniment for any booklover. How can leather be used to make bookmarks? Check out these examples:
Taking a cue from Alice In Wonderland, these leather bookmarks from Amazon seller ES Corner Leather are stamped with "Read Me." To add additional interest, the top is looped and secured with a metal stud. And they are offered in 12 colors. (We're especially drawn to the vibrant blue!)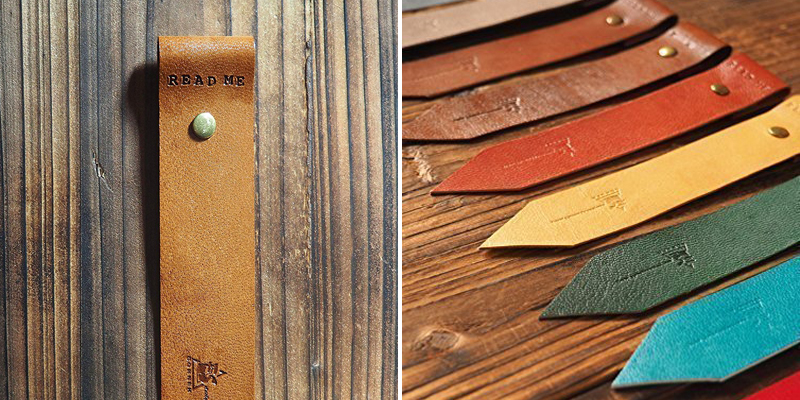 These personalized bookmarks from Etsy seller SwagAndTassel are hand-stamped with a personal message + a splash of metallic paint and are finished with a leather cord. The mint and peach colors are really unusual—and fun!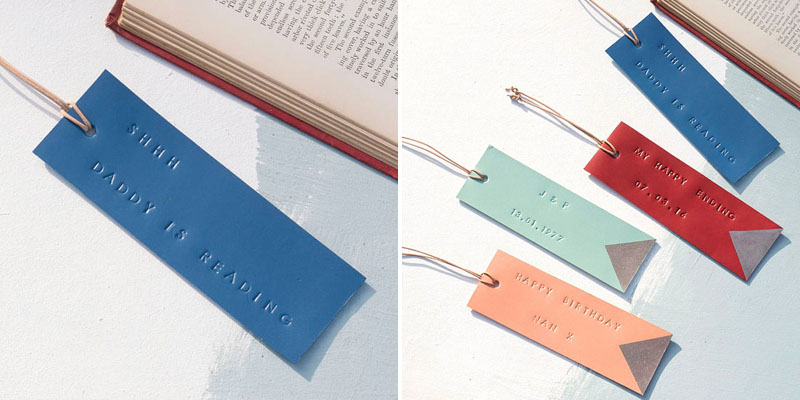 In addition to making leather bookmarks to sell (or give to friends and family, which is rad, too), they also make great promotional products for brands to build awareness. Just check out these laser cut and laser engraved bookmarks from Monotype, the inventor of 20,000 typefaces: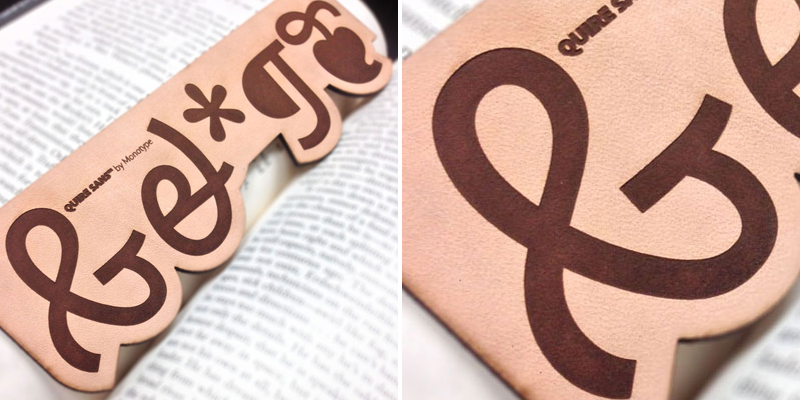 Monotype needed some special swag to get the buzz going at a tradeshow for the new Quire Sans typeface. Since "quire" is a classical term for a signature of printed leaves, folded and ready for binding with other signatures into a book or manuscript, a bookmark was a natural fit. While Monotype could have done a paper bookmark, they decided to do something more tactile. More substantial. Get all the details on this bookmark (and how tradeshow attendees responded) here.
Custom Metal Bookmarks
Whether you make forms from wire, stamp or print on solid sheets, or machine cut custom shapes, metal is an attractive material for bookmarks. And if you're selling them, metal bookmarks have a higher perceived value because of their weight and substantial appearance—which means they can command a higher price than their less expensive counterparts. Just look at these examples:
"I like big books and I cannot lie!" Sing it in your best Sir Mix-a-Lot voice! Impressions aside, we found these beauties on Pinterest, and while these metal bookmarks no longer available from the original Etsy seller, we just had to share because they're AWESOME! If you want some inspiration for how other Etsy sellers have incorporated this fun saying into their offerings, click here.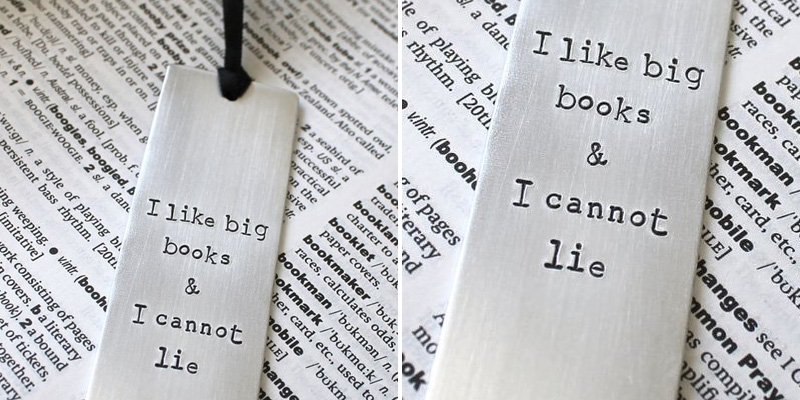 Etsy seller CoachHouseForge hand forges these iron bookmarks at the anvil, personalizes each via hand stamping, then finishes with a polished shine and seals with wax. We love the craftsmanship!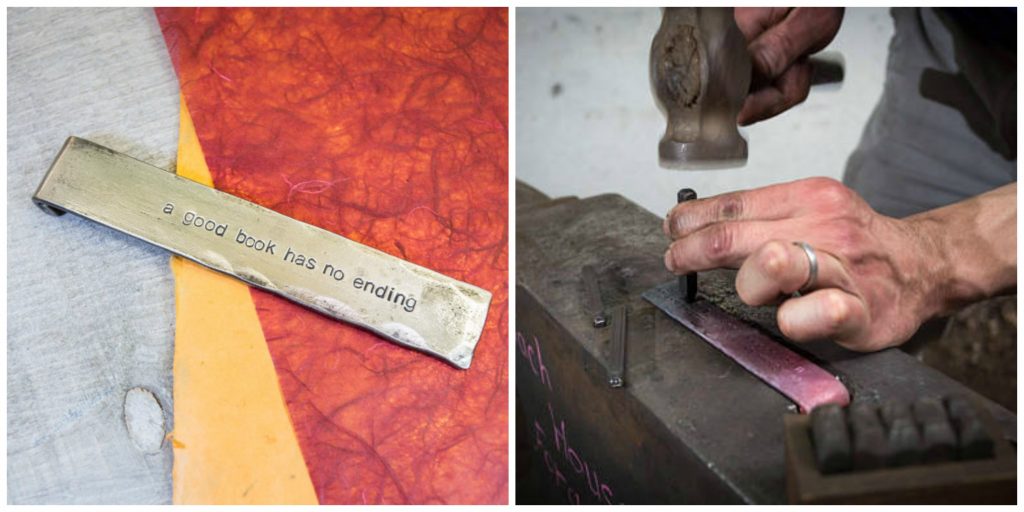 Paper Clip Bookmarks
If metalsmithing seems too daunting of a task, there's one really easy way you can work with metal without all the tools (and skill!). Enter the beloved paper clip.
You can make bookmarks by bedazzling the simple paper clip with buttons, bows, cabochons…just about anything. Check out these paper clip bookmarks from Etsy seller InspiredPeach where a pretty glitter bow was attached to a gold paper clip. Simply pretty!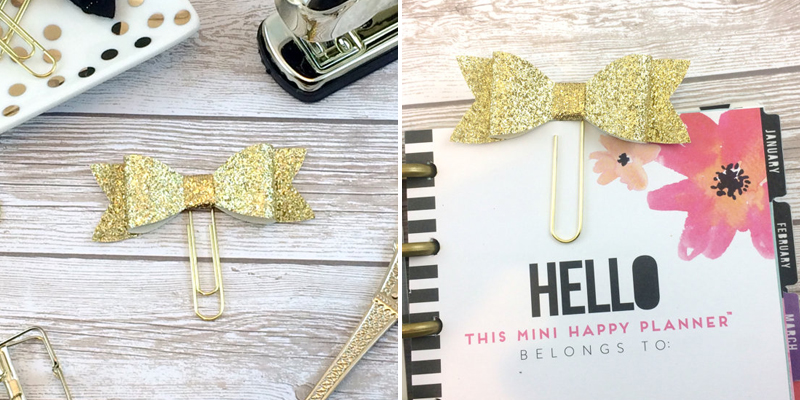 For more paper clip bookmark ideas, check out the "Help" bookmarks that were featured on Bored Panda. These machine-cut bookmarks use the natural shape of the paper clip to create outstretched hands. How could you use this design principle to create your own shape?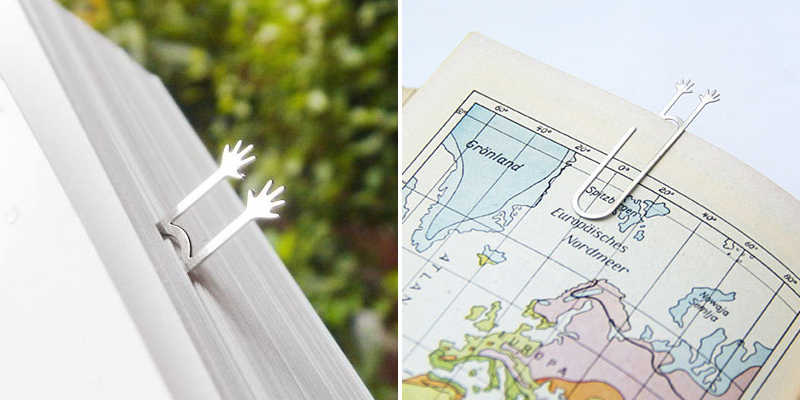 Fallin Design used the paper clip style to create these sets of mini bookmarks. Clever way to make bookmarks unique while keeping the functionality of the paper clip!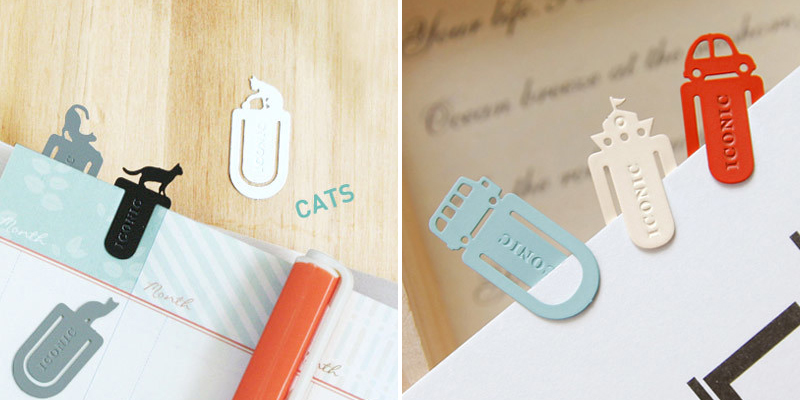 Selling Your Bookmarks
If you're a maker who wants to profit from his or her creative passion, determining how to sell your products is a big decision. In the past, craft fairs and boutiques were the way to go. And they still can be. But today, most are selling crafts online.
Why? Ninety-six percent of Americans shop online, according to this research. And they spend an average of $488 per year.
Selling online will give you the largest audience, but how do you reach them? You could set up your own website, but having shopping capabilities with secure checkout can be complex and expensive. Plus, most creatives don't want to be spending time on web development. They want to be making!
That's where online selling services come in.
Where To Sell Bookmarks
The most popular places to sell handmade goods online are Amazon, eBay and Etsy. But they're not the only ones. This list on Small Biz Trends has 25 more places to sell handmade crafts online. So when you're making bookmarks to sell, check out the options so you can make an educated decision on which site is the best fit for your particular products.
Printing Bookmarks To Sell
Initially you could print your own bookmarks at home. But if you want a luxurious finish, professional quality and larger quantity, then selecting a printing company to make bookmarks will be the most cost effective choice.
You can get them printed with online services such as Smart Press and Vistaprint, retailers such as Staples and The UPS Store, a promotional products consultant or your local print shop.
Laser Cutting Bookmarks To Sell
When working with harder materials such as wood or metal, you may need to invest in tools and or machinery in order to make bookmarks in bulk with consistency. For most makers, selling bookmarks will be a side hustle, so investing in machinery may be cost prohibitive.
But there are online laser cutting services to the rescue! By making laser cut bookmarks through one of these services, you can have an ongoing supply that has consistent quality buyers expect. This method of production is an easy path to volume plus you can rely on the precision of a laser cut product to be consistent over time.
Make Bookmarks Of Your Own
"A book is a device to ignite the imagination," wrote Alan Bennett in the novella The Uncommon Reader. Shouldn't bookmarks be creative and interesting enough to spark the imagination, too?
Hopefully by this point you've been inspired to make bookmarks of your own. But just in case you need one final bit of inspiration:
Check out these 50 ways to make bookmarks on Tip Nut plus these 25 DIY bookmark projects on DIYs.com. And, of course, there's always more on Pinterest!
May you always have a great book in hand…and an equally great bookmark to keep your place.