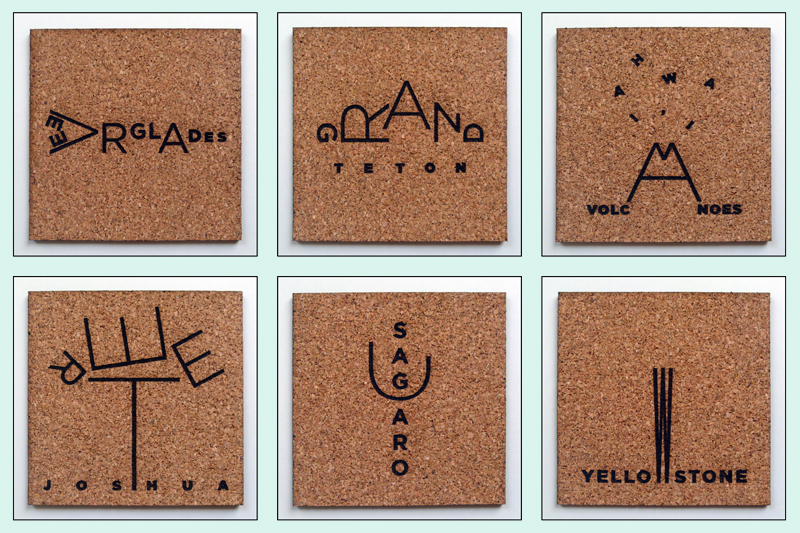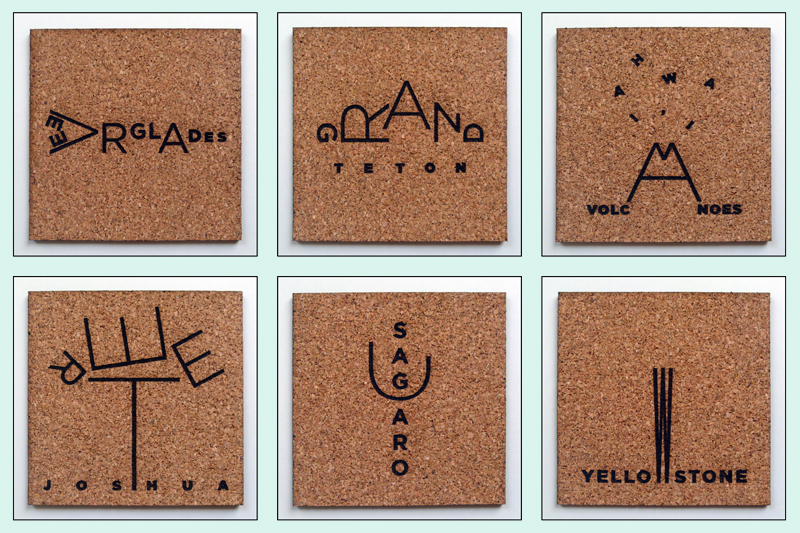 If You Want To Make Your Own Coasters, Magnets Or Wall Art, See How Etsy Seller Nine Day Weekend Has Laser Cut His Own Niche
Dan Narva, owner of Etsy shop Nine Day Weekend, "enjoys showing people a new way of looking at familiar images." From how he can design a coaster to how he can illustrate custom laser engraved wall art, Dan's artistic interpretation puts a fresh take on classic products.
Picturing U.S. National Parks In A New Way
If you've ever been to any of the 59 U.S. National Parks, you've experienced the awe that comes from spectacular scenery and the breathtaking beauty of the wilderness. You probably also dropped some coin at the visitors' center on professionally photographed postcards. And you most likely took sooo many pics yourself that you filled up your phone's memory. Or, if you're old school, used more rolls of film than you'd like to admit!
So it's fair to say that photographing the National Parks has been done. Check!
But is there another way to capture the essence of the parks that hasn't been done before?
That was the challenge that piqued Dan's creative curiosity. "I have always enjoyed creating art both as a personal exercise and also as gifts for family and friends," he says. "I had previously drawn many pointillist portraits with ink. When I tried to replicate my process on the computer, I shifted from dots to straight lines. But the challenge remained: How to create a recognizable image with the abstract simplicity of only straight lines."
Then the answer finally came. "I woke up early one morning with the idea that I could 'draw' the Grand Canyon simply by dividing the name in half and spreading each half to the far edges of the page," Dan explains. "As I laid in bed, waiting for the alarm clock to go off, I tried to come up with similar solutions to other National Parks. I found this challenge very exciting."
Over the course of the following months, Dan kept going back to the drawing board, literally, working on the designs. If unfamiliar with a particular park, he'd read up to get a better sense of what features he could illustrate. Sometimes he would work at the computer. Other times he'd sketch ideas on random scraps of paper. And of course ideas would flow in the most inspiring of places: The shower.
"I shared drafts with my wife and a close friend, refining every park's design so that while each puzzle might range from easy to difficult to decipher, they all used the same visual language to create a series that worked well as a complete collection," he says.
The result is an enlightened series of pictograms, unique illustrations that depict recognizable features of each of the 59 U.S. National Parks, composed entirely of the letters that spell out each park's name.
Some of the designs showcase the physical geography of the parks, such as these six coasters made from white melamine finished MDF: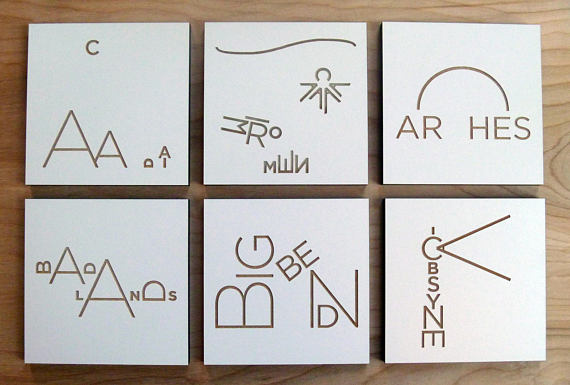 Can you decipher the park names? Here's some help:
1. Acadia (Maine – Cadillac Mountain, campsite)
2. American Samoa (American Samoa – scuba diver, coral and octopus)
3. Arches (Utah – Delicate Arch)
4. Badlands (South Dakota – eroded buttes, pinnacles and spires)
5. Big Bend (Texas – Balanced Rock)
6. Biscayne (Florida – lighthouse)
Other designs depict the indigenous wildlife that make their homes in the parks, such as these coasters made out of cork.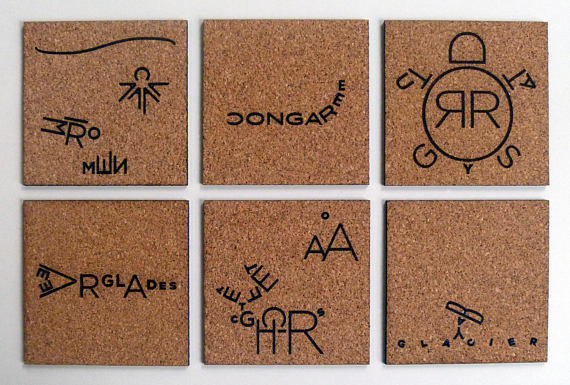 You'll recognize the first design from above. It's cool to see it in both white melamine and natural cork for comparison. Can you figure out the rest? Here's the key to see if you're right:
1. American Samoa (American Samoa – scuba diver, coral and octopus)
2. Congaree (South Carolina – rattlesnake)
3. Dry Tortugas (Florida – sea turtle)
4. Everglades (Florida – alligator)
5. Gates of the Arctic (Alaska – caribou and mountains)
6. Glacier Bay (Alaska – humpback whale)
When designing these coasters, Dan wanted to offer a couple different materials so customers would have options depending on use, décor and aesthetic preferences. "Cork obviously works great for coasters, and I love the way the area engraving contrasts with the natural cork texture," he explains. "The white melamine coasters tend to work best with drinks that don't perspire (such as wine glasses). Many customers prefer this option because of how sturdy and modern it looks."
In addition to coasters, Dan has expanded the National Parks line to include a collection of magnets. These smaller versions of each of the 59 designs are laser cut in birch plywood, which has a nice warm tone when engraved. He chose birch because of its reasonable price point, the attractive wood grain and the ability to fit 32 magnets onto a single P3 sheet.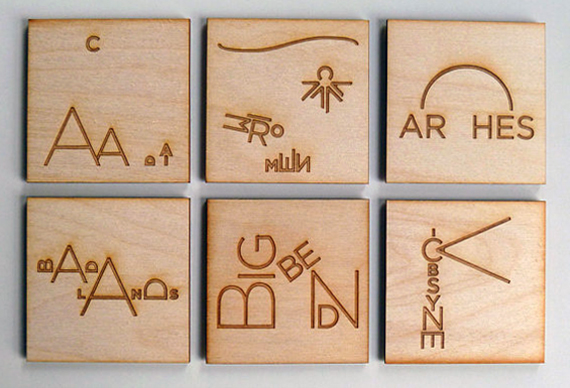 What's great about this kind of line extension is that you can offer complementary products without having to develop completely new designs. Between the magnets and the two types of materials for coasters, customers have the option to mix and match products so they can collect all of their favorite parks. Fun!
Solidifying Favorite Memories In Wood
One way we humans remember special moments and relive past triumphs is through photographs. In the past, you could walk into any home and see family pictures proudly displayed. But in today's digital world, unfortunately, most pics live only on our phones and are rarely printed out and framed.
Once again, Dan saw a challenge—and opportunity—in finding a new way to look at the familiar. "Instead of just framing photos, why not turn them into a piece of art?" Dan asked himself.
So he began looking at ways he could transform photographs into custom images that are laser-cut into a solid piece of wood. "I wanted to create a way to break free of the Facebook/Instagram pattern of fleeting photos that pass in and out of our lives as quickly as a swipe of the thumb," he says. "Laser cutting portraits creates a piece of art that can be hung on a wall, set atop a mantle or snuggled among books on a shelf."
Creating this kind of portrait solidifies favorite memories in a way that's different from a simple printed photo. While these mementos are perfect for milestones—buying your first car, graduating college, getting married, having a baby, running a marathon, summiting a mountain—but they're just as suited for a fave selfie with your bestie.
For these custom portraits, Dan offers three Veneer MDF options: Cherry, walnut, and white oak. "I chose these three because of cost and physical attributes," he explains. "Veneer MDF is less expensive than premium veneer MDF, and I prefer its natural finish to the glossy premium surface. It is also thicker than premium, which helps to avoid warping."
To get a sense of what his artistic representations of customers' photographs look like laser cut into wood, check out this reproduction of a couple's wedding photo.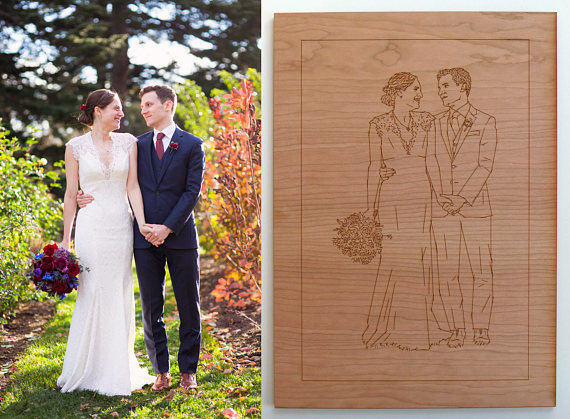 He even captured the sweet gaze between them. Love is in the air!
Next, check out how architectural details really come through beautifully in this portrait done for a new home buyer.
Can you imagine getting something like this from your real estate agent as a housewarming gift? Hello referrals!
Working With Ponoko
While it may look like Dan has tons of experience with laser cutting, that wasn't the case when he got started in the fall of 2016. In fact, after Dan created the first digital designs of what would eventually turn into his line of custom portraits, he wasn't entirely sure how to present the final product.
"I didn't want to simply print them out, and it occurred to me that laser cutting was becoming a more accessible option for the general public," he says. "On a whim, I searched online and found Ponoko, which looked like the best option around in terms of price, speed and materials."
Dan had never used a laser cutter before and was eager to see how his art would look burned into wood. While he could have joined a maker space or local studio, he says the downside of being responsible for buying his own materials just wasn't an attractive option.
"From the beginning, I liked how self-contained the entire process was with Ponoko," he says. "I also liked the variety of materials available, which allowed me to experiment and shift courses along the way. In fact, I've adjusted my ordering process several times in order to keep costs down. This includes arranging components to make the laser time as efficient as possible. It's actually been a fun challenge to see how I can reduce unit costs while keeping my designs the same. And in some cases, I actually adjusted my artistic vision in order to make the final product's cost align with the original goal."
One of the ways Dan knows if he is on track with costs is through digital prototyping. "I love how easy it is to mock up an order and see exactly how much it will cost. I often do this with drafts in order to get a general sense of cost," he says. "And the lack of minimum order size allows me to experiment with many materials and produce test versions of new products—all without requiring a large investment."
One of the things Dan says he has been most excited about is how quickly he can cultivate an idea and turn it into a tangible product. "As I developed my National Parks series over several months, I could periodically order magnets and coasters of all the new designs I created," he says. "This allowed me to increase my collection of inventory smoothly along the way instead of waiting until I had all 59 Parks complete and then manufacturing the products."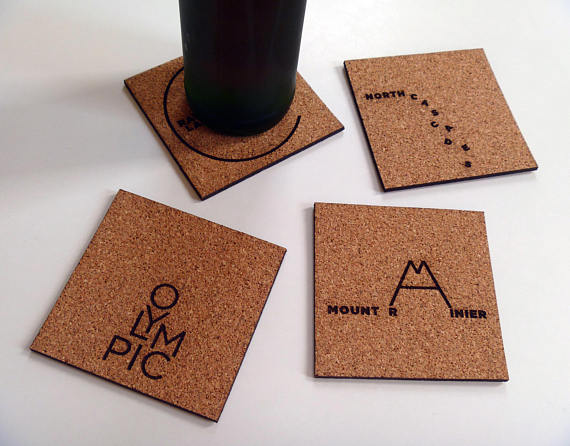 It's also interesting to note that Dan's creative strategy allows him to stay true to his vision while also keeping Ponoko's processes in mind. "The more I've worked with Ponoko, the easier it is for me to know how to adjust or nudge my project in whatever direction is best suited for laser cutting, whether this means keeping costs low, deciding between line and area engraving or just having a feel for what sort of image will look good laser cut into wood," he says.
What advice does Dan have if you'd like to make your own coasters, magnets or wall art? "Only use area engraving if it's necessary to the product, and try your best to line up all of your area engraving horizontally in order to minimize the time spent burning these sections," he recommends. "And whenever possible, group orders together to take advantage of free shipping and discounted laser cutting rates. I usually do this by making prototypes in small orders, followed by large orders of finished products."
Finding Your Niche
All makers have to find that sweet spot where their creative interests intersect with a need in the marketplace, especially for those selling the products they make.
For Dan, he was able to recognize the American public's growing interest and attendance in the National Parks since their centennial year was celebrated in 2016. He was able to tap into this trend by creating a product line to honor the increased interest in the parks while depicting them in an original way. And there will always be a market for custom illustration as consumers continue to look for original gift ideas that can't be purchased at the local retailer.
If you're currently selling your custom laser cut products or are considering it, challenge yourself to see how you can look at the familiar in a different way. This is true no matter what products your make and sell whether you want to make your own coasters, design jewelry, sell electronics enclosures or anything in between. What trends are happening right now where you live? How does your creativity and artistic interpretation lend itself to fulfilling a need? This process worked for Dan. It can work for you, too.
To learn more about Dan and keep up with what he is making at Nine Day Weekend, check out his Instagram and Etsy shop.