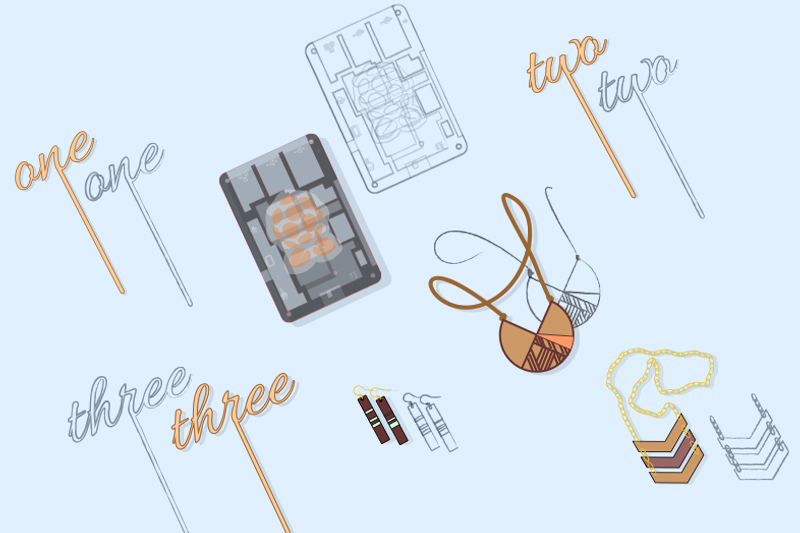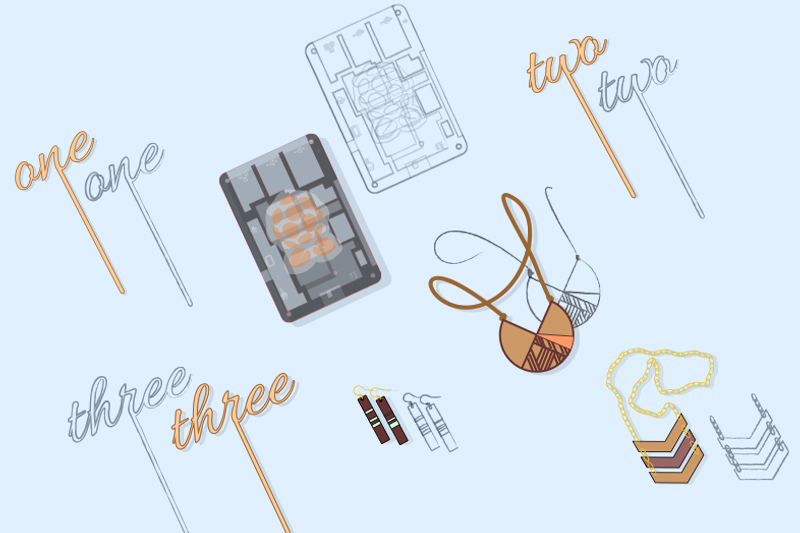 Spark Your Creativity And Up Your Design Game With This List Of Laser Cut Ideas
Whether you're new to making and looking for a place to start or you're a seasoned maker who wants to expand in new directions or get a fresh take on your current path, do we have some laser cutter projects inspiration for you.
There's so much opportunity for making amazing laser cut products (and profiting from them, too!). But where to start?
To spark your creativity, we've scoured the best Etsy shops, Instagram feeds, Pinterest boards and blog posts from all over the web to find the coolest custom laser cut design ideas from top designers. It took some doing, but we narrowed the list down to 150 of our faves. Whew!
With so many ideas, we wanted to make this post easy to navigate and refer back to. So we divided the story into two sections.
The first section contains 100 laser cutter projects organized into popular product categories. If you're a maker with an affinity for a particular product, this section is just for you.
The second half of the story features 50 laser cutting ideas divided into 10 groups based on top-selling materials. So if you love a certain material and want to expand what you're making, scroll down and get inspired.
You may notice many geometric designs made the list. Well, we do love some geometry! But here's a truth bomb when it comes to laser cut products: Laser cutters love geometry, too.
Straight lines are less complicated to cut than curved ones, so it's faster to make this design style. And when we're talking laser cutting, time is money. So faster cutting designs are less expensive—an important consideration if you are selling your laser cut products. Geometric designs are also a lot easier to nest (share cutting lines), another cost savings tip. #winning!
So are you ready to get inspired? Let's do this.
100 Laser Cutter Projects By Product Category
Do you make clocks, coasters, art, jewelry, electronics cases, wedding decorations, bookmarks or signs? Then take a look at these laser cut ideas and get inspired to create your own designs.
Laser Cut Clocks
Time is an illusion, but that doesn't mean we can't make sense of it. While the concept of a clock is relatively simple, telling time doesn't need to be boring. Just combine creativity with some maker skills and you too can build one-of-a-kind DIY timepieces. These inspiring laser cutter projects will turn you into a horologist in no time.
1. Mid-Century Modern Moth Clock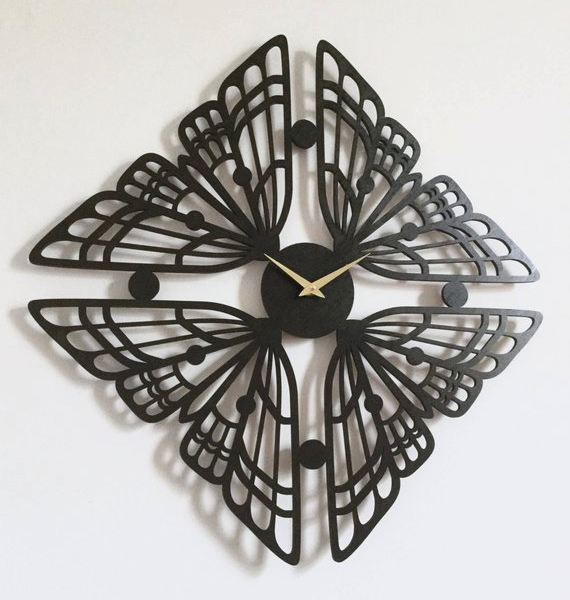 Chicago-based artist Sarah Mimo brings a unique eye to her clock creations. Her background as a freelance designer at a textile company coupled with inspiration from the ornate beauty of Europe's public clocks results in an layered visual approach to clock making that is truly original. Find this (and more!) in her Etsy shop.
2. Honeycomb Clock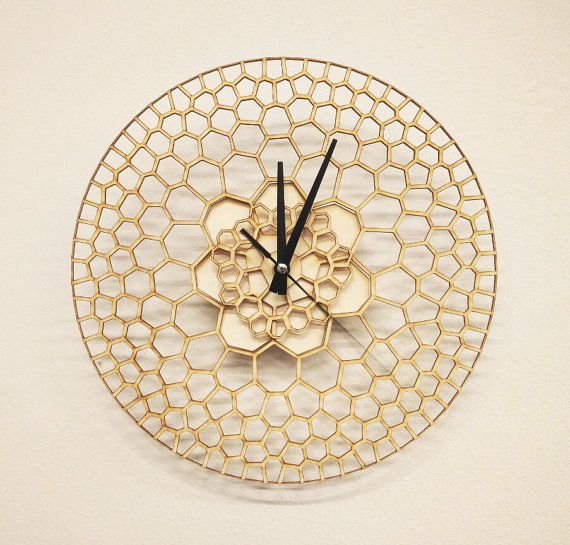 When it comes to style, this honeycomb clock is oh-so sweet. Etsy seller Woodinky found inspiration in the Voronoi diagram combined with parametric design theory to create a time keeper that you don't have to be a mathematician to love.
3. The Great Wave Clock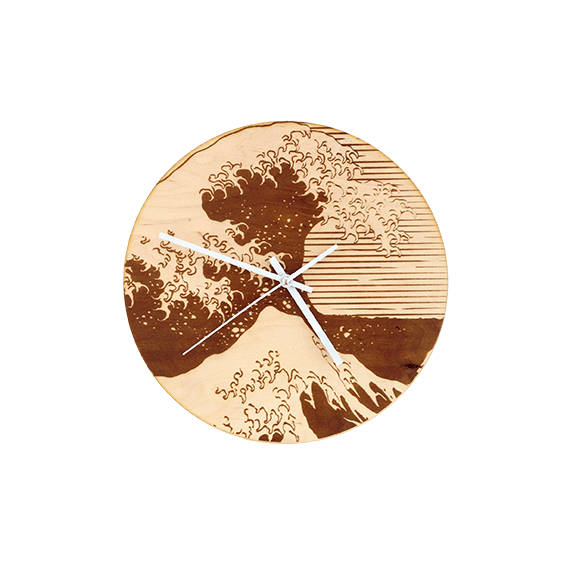 Inspired by iconic The Great Wave Off Kanagawa by artist Katsushika Hokusai, this wave clock from Etsy shop RockwoodArtShop captures the details with the precision of laser engraving.
4. Dodecagon Clock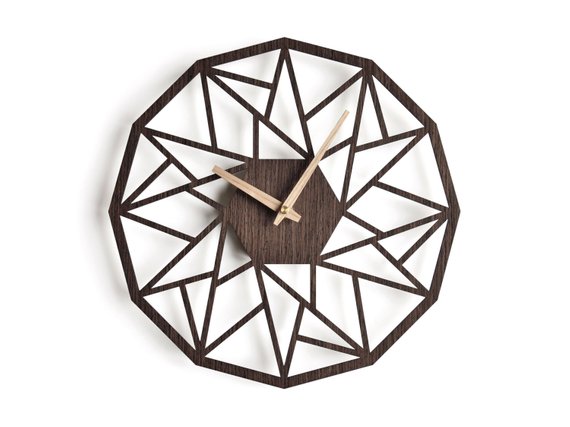 This dodecagon clock from Etsy seller NIUSdesign is a 12-sided polygon filled with repeating triangle and trapezoid shapes for a unique, modern aesthetic.
5. Nursery Time Clock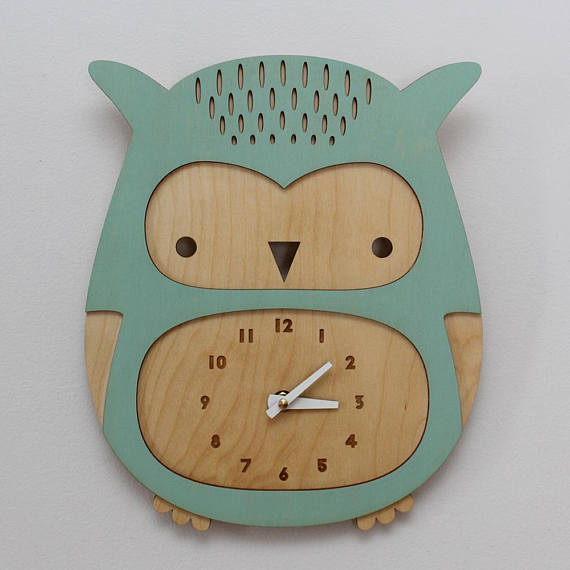 Woodland themes are super popular modern nursery décor, and this lovely birch wood owl clock from Etsy seller ohlittlewren brings some timely whimsy to any room. The painted cool mint accents create a pretty contrast with the birch wood while keeping the clock gender neutral for parents who are going for the surprise.
6. Baltic Birch Clocks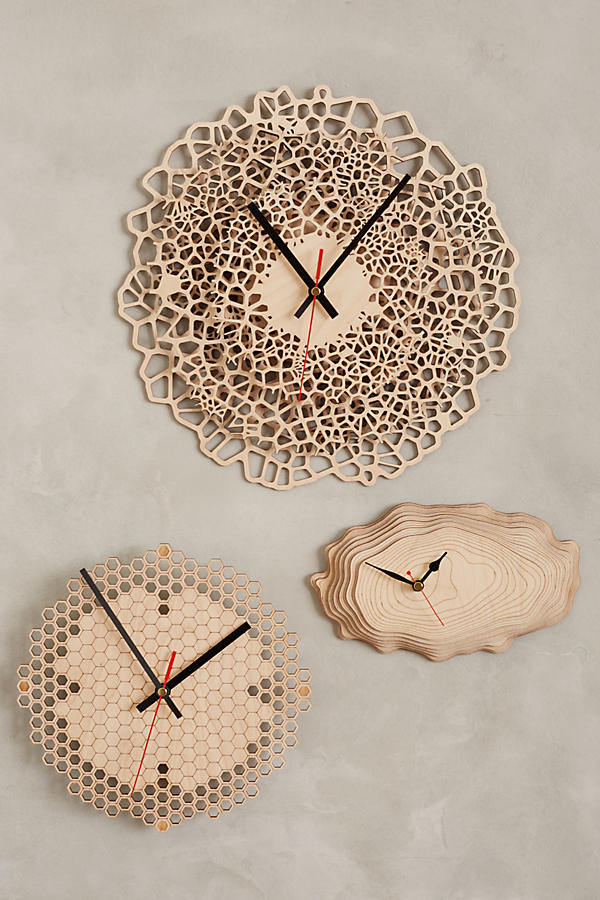 These Baltic birch wall clocks from Anthropologie start as a solid piece of wood (right) that is then laser cut in a giraffe pattern (top) or honeycomb (left) to bring a natural yet geometric aesthetic to telling time.
7. Cityscapes Clock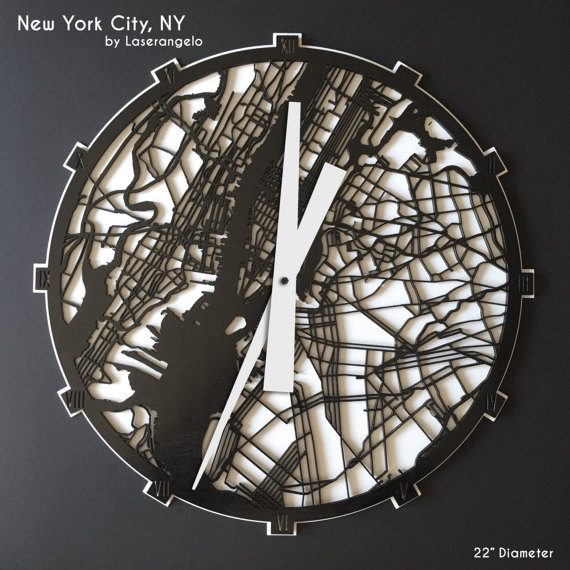 In a city that never sleeps, keep your days and nights straight with this New York City clock from Etsy seller Laserangelo. The roads and waterways are laser cut from birch in the foreground, and land area is the acrylic background. With this hanging on your wall, you can keep NYC in your heart even if you don't call the Big Apple home.
8. Bulldog Clock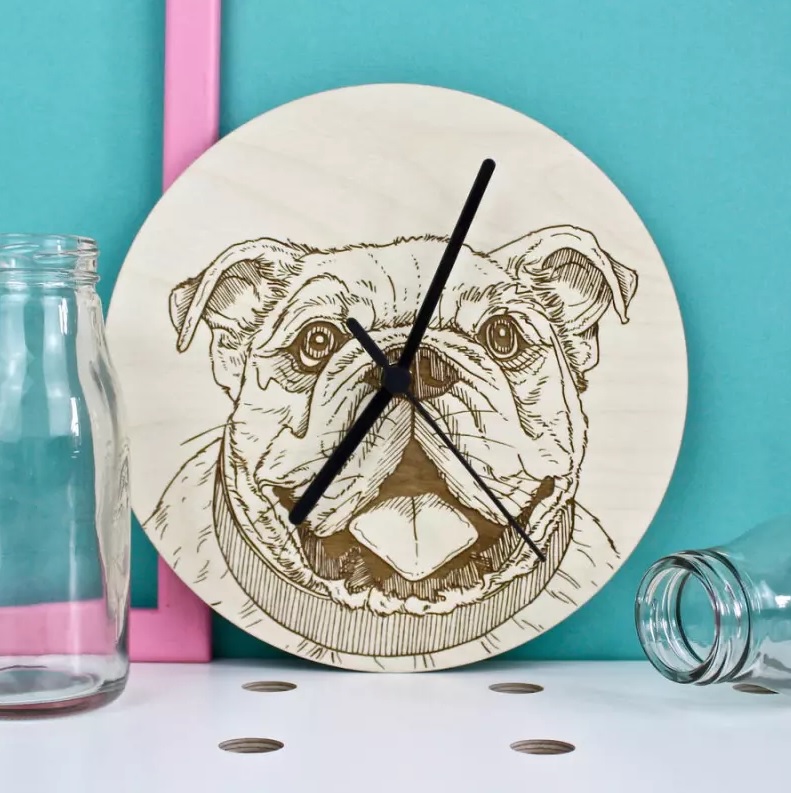 You don't have to be from Georgia to be a bulldog fan. This original pet portrait line drawing by Adam Regester Design has been laser engraved so the image is both strikingly realistic as well as durable.
9. Time Flies Clock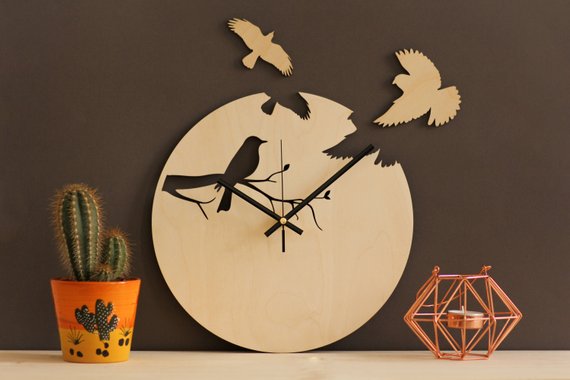 Clocks are about much more than telling time. Today's buyers want them to integrate seamlessly into their décor choices. So you better make them interesting!
SnazzyNestShop does just that by transforming this wall clock into a work of art that includes two birds "flying" out of the clock. Ah, time does fly when you're having fun!
10. Camera Time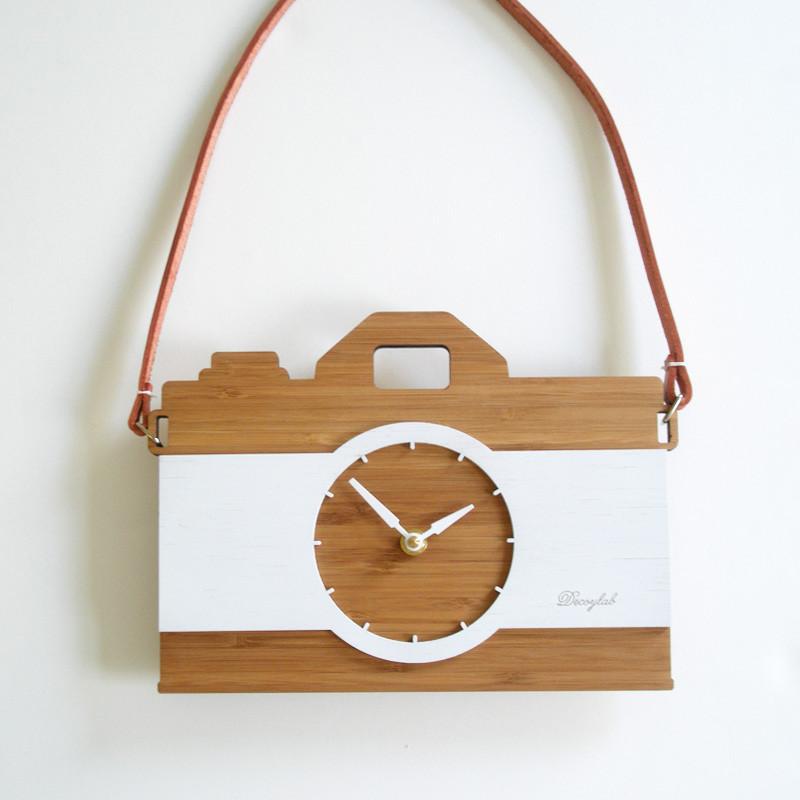 Capture a moment in time with this vintage style camera clock from Maiko Kuzunishi. The combination of laser cut bamboo and leather give this clock a unique look and feel.
11. Clock Gear Art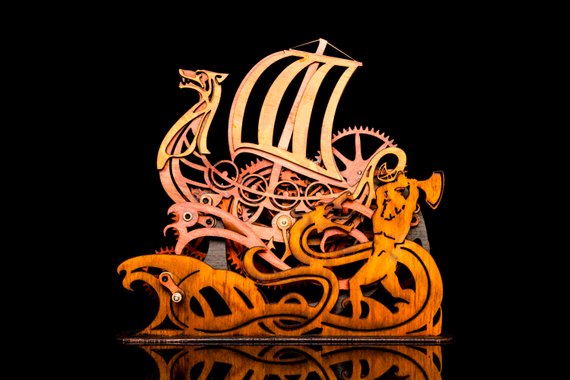 While this wood sculpture doesn't technically tell time, it uses clock gears as the mechanism to depict the Norse legend of the Midgard Serpent. It took Etsy seller MadnessAndTea a year of design and experimentation to get the intricate cog design just perfect. See it in action here.
12. Target Clock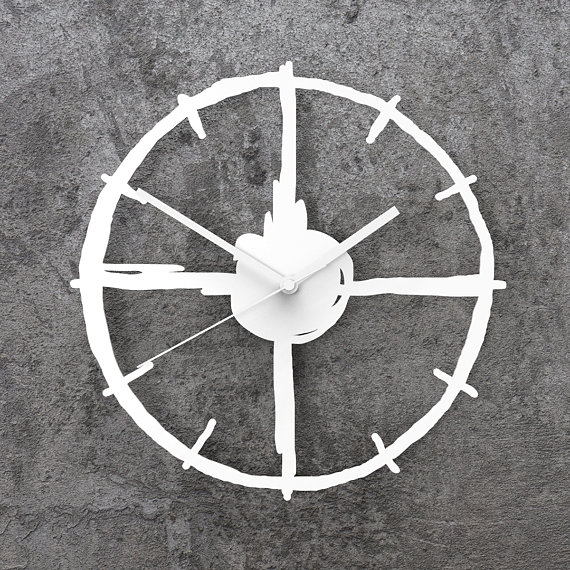 If you're killin' time, don't use this clock for target practice. Etsy seller Momendala took a hand-drawn illustration and turned it into a whimsical wall clock that you can't help but keep in your sights.
13. Setting Sun Clock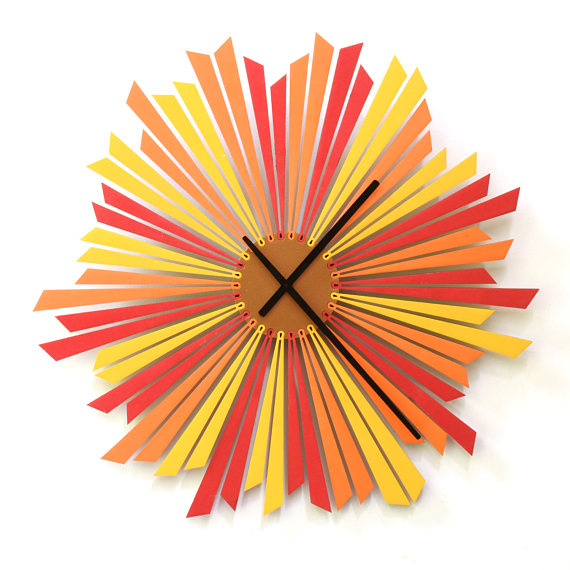 The Setting Sun Clock from Etsy seller ardeola is more than just a clock; it's a striking piece of art. Laser cut from 6mm birch, each piece is hand painted in alternating colors of metallic gold, red, orange and yellow for a modern take telling time with a sunset.
14. Redshank + Samphire Clock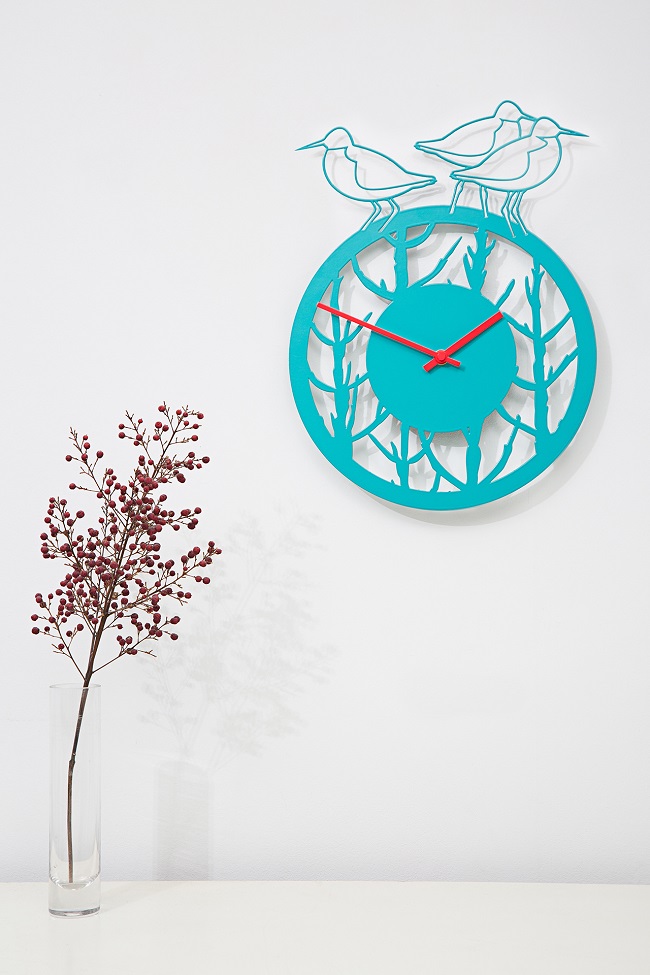 As part of the "Britain, Naturally" collection, artist and designer Max Cairns paired birds with the flora from their natural habitat. "The colors chosen are then inspired by these elements," he explains. "For example, the Redshank + Samphire Clock has a very coastal theme and is where these species can be found so the turquoise and blue is then a reflection of that environment." Learn more about Max and the inspiration behind his work here.
15. Modern Flora Clock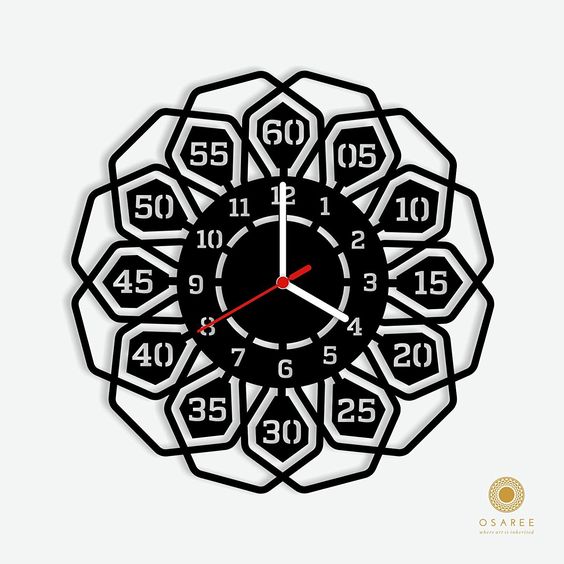 In contrast, this Fabulous Flora Modern Wall Clock uses a geometric style to offer a different take on the natural world. To give it an even more modern feel, laser cut matte black acrylic was chosen for its sleek aesthetic.
16. Play On Words Clock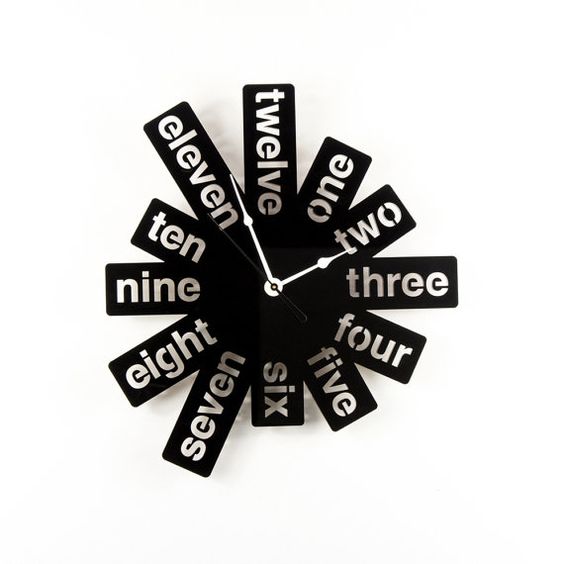 Rather than tell time with numerals, this WoodEnvyDotCom clock spells out the hours for a wordy take on timekeeping.
17. Winged Clock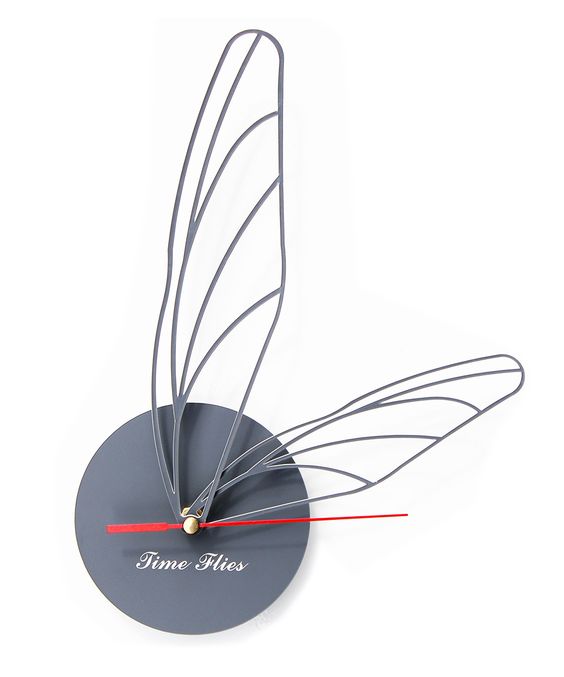 Rather than laser cutting the face, this timekeeper stands out because it's the clock hands that are laser cut into wings. Not only do we know time to fly conceptually, but this clock also demonstrates how the hours can literally fly by.
18. Industrial Metal Clock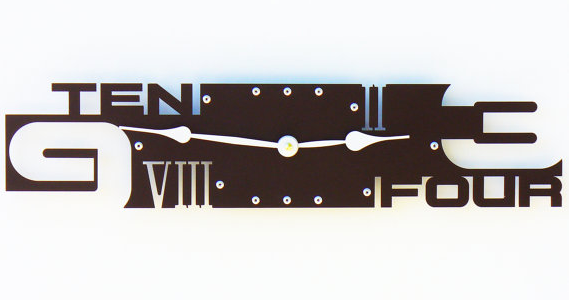 Once you see the laser cut designs from Etsy shop All15Designs, you won't be surprised to learn that Scott, the owner, has a degree in architecture. His goal with this modern industrial metal wall clock was to grab attention. "My intent with this concept was to use material cutouts to depict numbers in a variety of ways," he explains. "I used a combination of standard, spelled out and roman numerals to encourage focus on the intricacies of the layout. All of the numbers are cut through to reveal colors behind and create a more integrated wall feature."
19. Exposed Gear Bike Chain Clock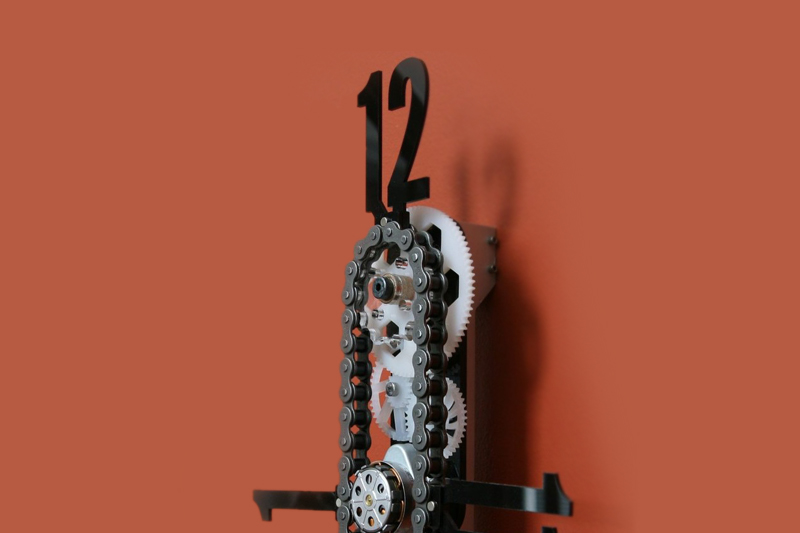 This exposed gear bike chain clock with laser cut gears and numerals from Needlessly Complex lives up to its name. Every part of the mechanism is required for it to work, but the thing as a whole is more complicated than it needs to be—thus, needlessly complex!
20. Lixie Clock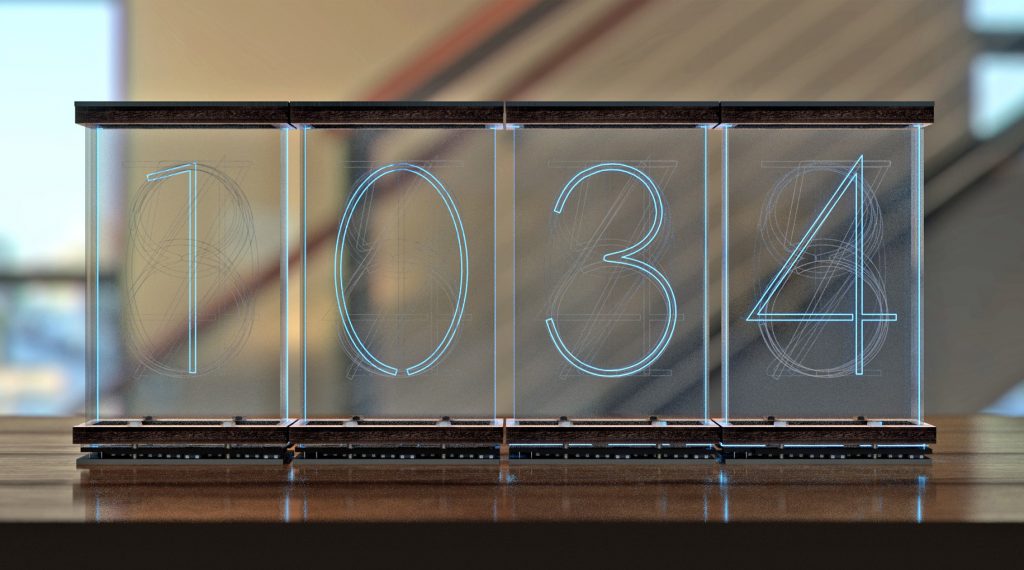 Engineer Connor Nishijima loves the style and functionality of Nixie tube clocks and wanted to build one of his own. But the price point in today's market was a deal-breaker. So he designed and built the Lixie—an LED Nixie clock—that incorporates edge lighting laser cut acrylic with a wooden base for a fresh take on modern time telling.
What time is it? Time to make a clock! If you're inspired by all the laser cutter projects above, stop messing about. Time's a wastin'! This guide to how to make a clock will get you started.
Laser Cut Coasters
Coasters have utilitarian value, but when you make them visually interesting with some high design they're even more appealing—whether you're selling them for a profit or using them as a promotional tool for your brand. These laser cutter projects will have you thirsty to start making some of your own.
21. National Parks Coasters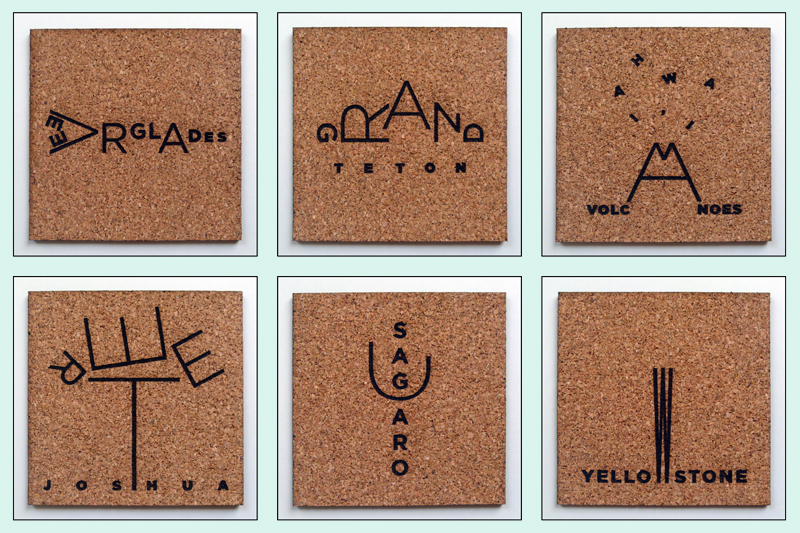 These cork coasters from Etsy seller NineDayWeekend are part of a series that features 59 U.S. National Parks like you've never seen: An enlightened series of pictograms, unique illustrations that depict recognizable features of each park composed entirely of the letters that spell out each park's name. Some of the designs showcase the physical geography of the parks, while others depict the indigenous wildlife that make their homes in the parks.
22. Monogrammed Cork Coasters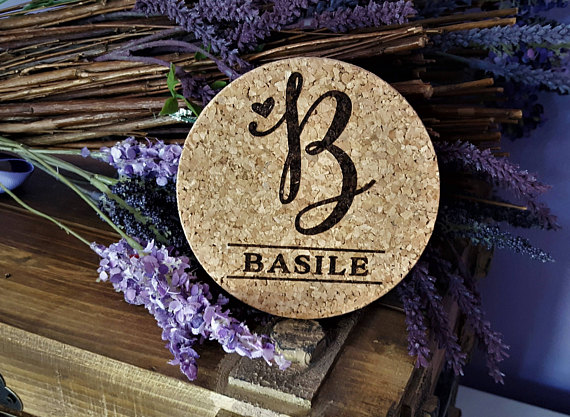 While these monogrammed cork coasters from Etsy seller Engraved Sensations make inexpensive wedding favors, you can easily envision a company name and logo laser engraved for a memorable—and useful—promotional product.
23. Geometric Felt Coasters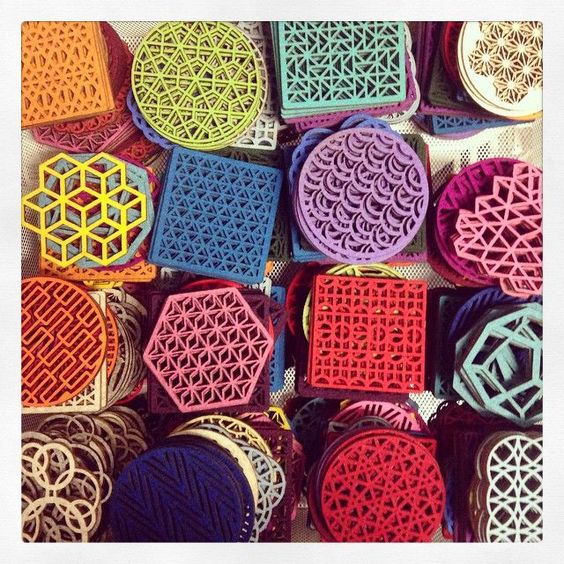 San Francisco-based designer Molly McGrath is professionally trained as an architect, and after using a laser cutter to make architectural models, she recognized the machine's unique potential to make jewelry and housewares.
Her work, such as these colorful felt coasters, is focused on conceptual integrity, material exploration, and figuring out new ways to use laser cutters. Her approach to design is heavily influenced by her background in architecture—a synthesis of concept, form, material, details, connections and use.
24. Brain Coasters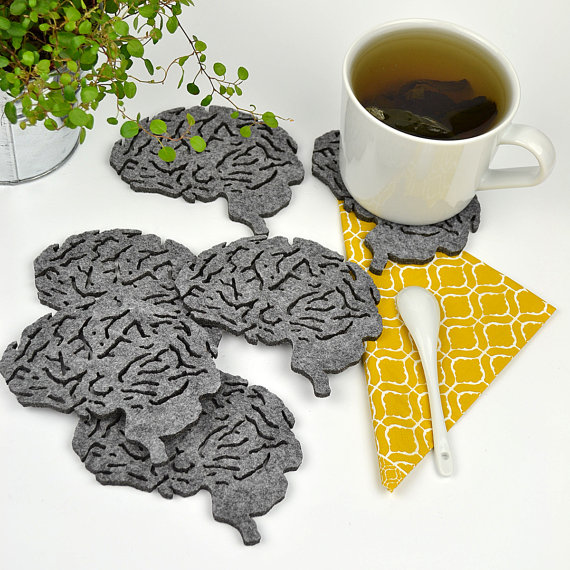 You don't have to be a mastermind to know that coasters keep surfaces safe from scratches and sweat. These brain-shaped coasters from Etsy seller FeltLabel prove that laser cutting works beautifully on organic shapes, too.
25. Celestial Coasters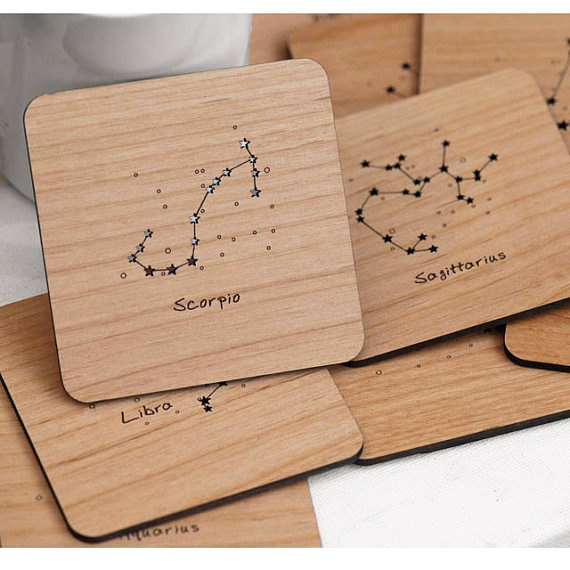 What's your sign? These zodiac coasters from Etsy seller StylineDesigns combine laser cutting and engraving to whimsically illustrate the night sky—and add flair to your table.
26. Manchester Bee Coaster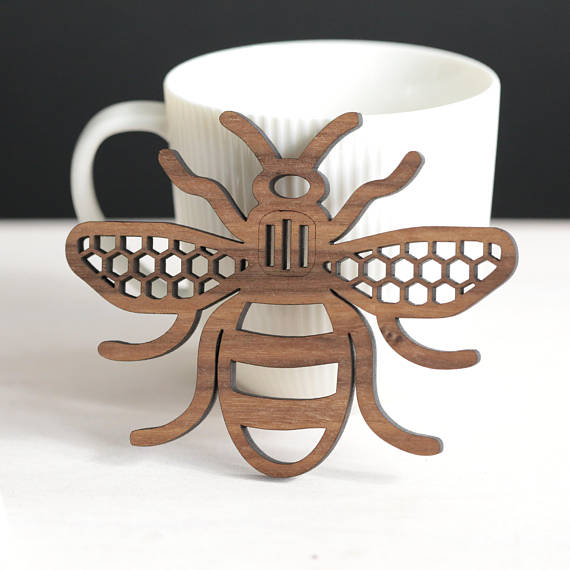 Made from 6mm thick walnut (shown) or oak veneered board, Etsy seller Jessica6Designs hand finishes and treats each laser cut design to withstand spills and drips. In addition to being a coaster, this charming little bee can also be hung to create contemporary wall art. That's the bees knees.
27. Herringbone Coasters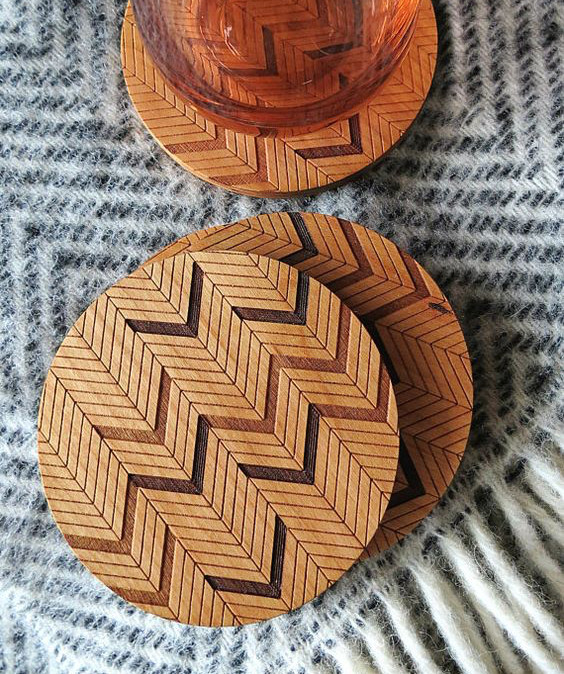 The Herringbone inspired pattern of these coasters from Etsy seller GrainDeep has been laser engraved into the surface of the wood. Combining various thicknesses of chevrons adds visual interest for a style that can be used in both traditional and contemporary décor.
28. Lavender Coasters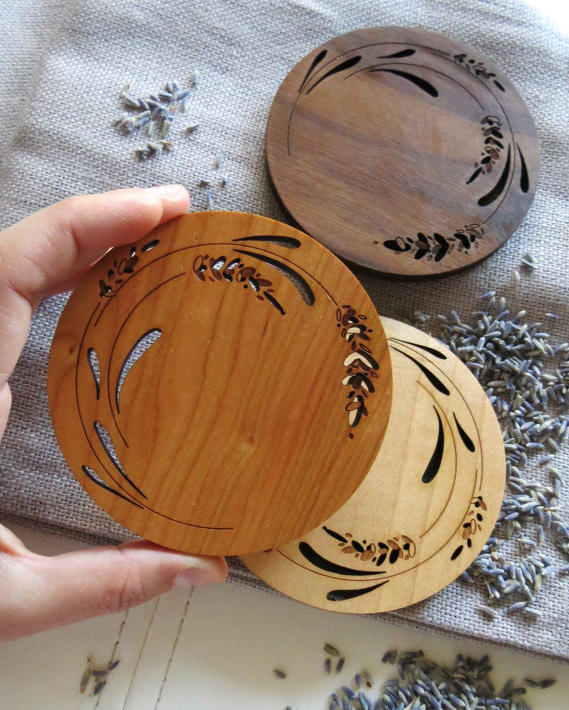 Also from Etsy seller GrainDeep, these coasters feature a lavender design perfect for cottage living. Offered in three colors—maple (lightest), cherry (medium), walnut (darkest)—a clear oil finish has been applied by hand to protect the surface.
29. Geometric Coasters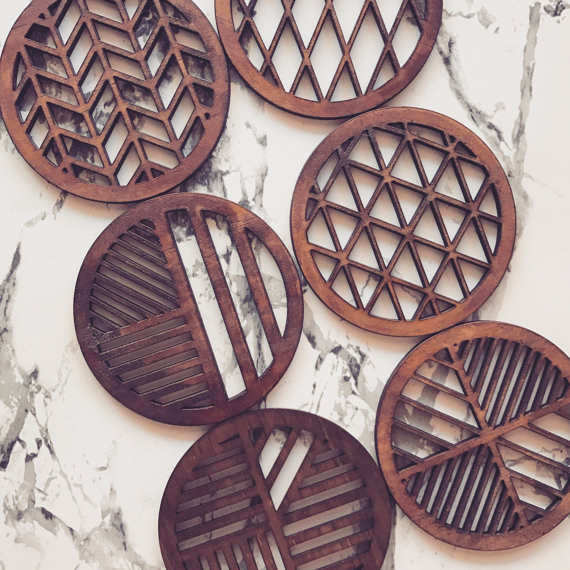 These exquisitely designed oak coasters from Etsy seller sawmillplace have a retro vibe that would be at home in both mid-century modern décor and current Scandinavian designed spaces.
30. Promotional Coasters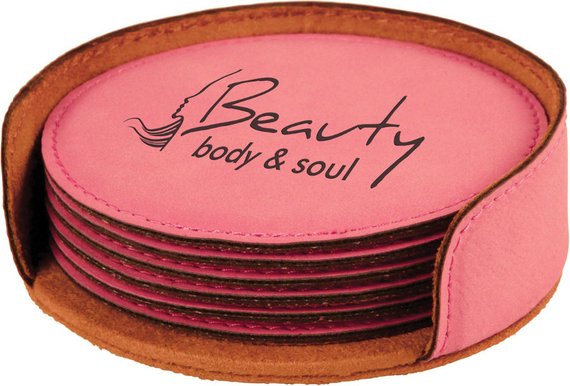 Add a company logo to these colorful coasters from Etsy seller LazerDesigns and you have a perfect promotional tool for getting your brand remembered.
31. Wedding Coasters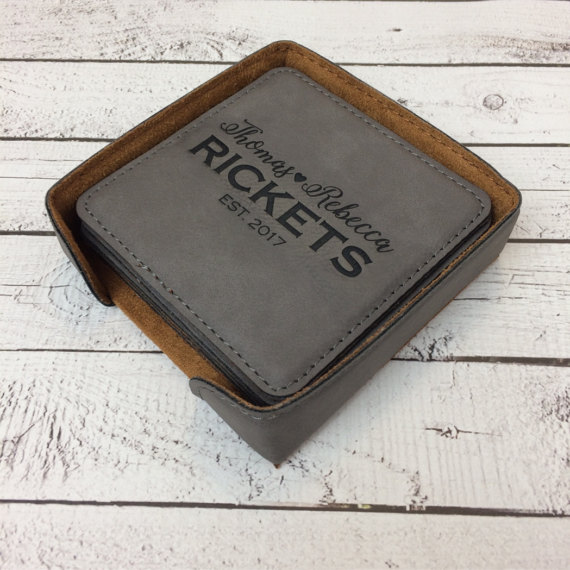 These leatherette coasters from Etsy seller Markeza have a velvety smooth feel and are laser engraved with the bride and groom's name and the year they were married.
If you're ready to quench your thirst for after all of these laser cutter projects, be sure to implement these graphic design principles so you can laser cut your coasters with confidence.
Laser Cut Art
Laser cutting isn't only for practical products such as clocks to tell the time or coasters to protect surfaces from scratches. It's also an ideal manufacturing technique for creating one-of-a-kind artwork that's not found in any standard store. After seeing these laser cutter projects, you won't be able to wait to make.
32. Botanical Paper Art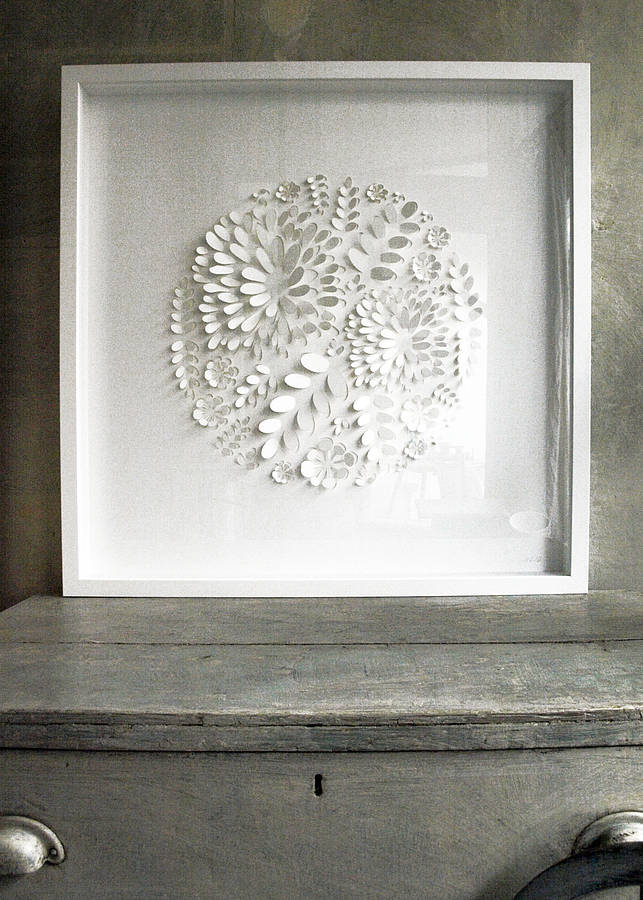 ''Botanical" is a beautifully precision-cut, hand-arranged and framed piece of art by Emma Penrice and Samantha Smith of Illustries. The silhouetted organic petal shapes create abstract flowers, which are is cut from crisp 270gsm smooth white card, making it a beautifully simple pure white original piece.
33. Shadowbox Map Art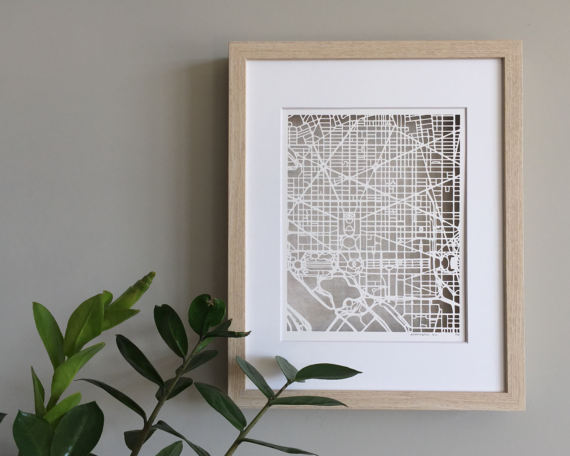 Politics aside, Washington D.C. is a pretty exciting place. Using the city streets as inspiration, Etsy seller MoniqueHarby turned a simple map into a laser cut work of art.
34. Typography Art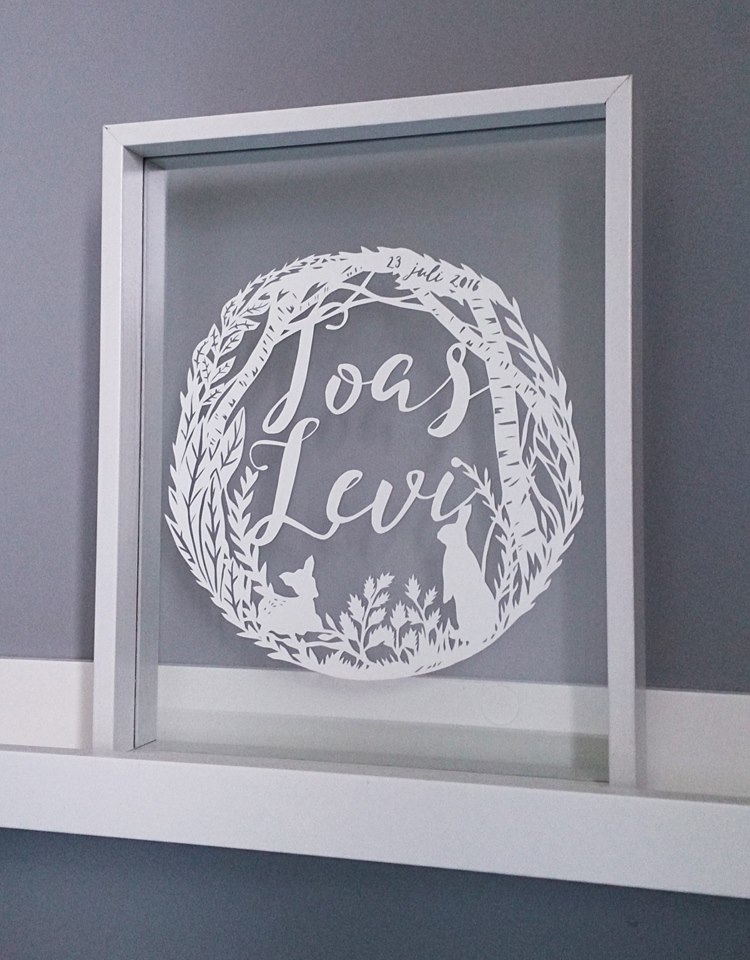 Artist Monique van Uden puts her illustration and design talents to work merging nature with typography to create this baby gift celebrating the birth of Joas Levi. See more of her papercuts in her portfolio here.
35. Illuminated Shadowbox Art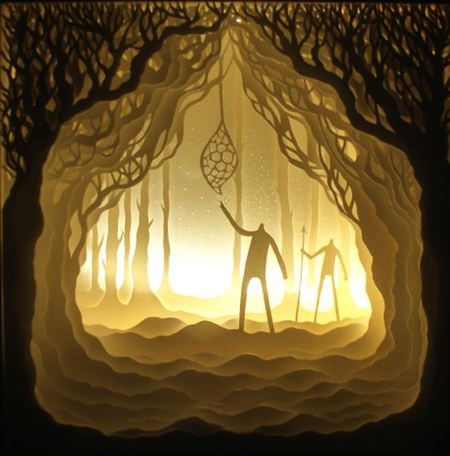 Artists Harikrishnan Panicker and Deepti Nair create intricately cut paper shadow boxes that are illuminated with battery-powered lights to showcase all the details. When photographed in darkness, their scenes take on a deep, theatrical feeling. Take a glimpse inside their thought-provoking work here.
36. Sleeping Fox Art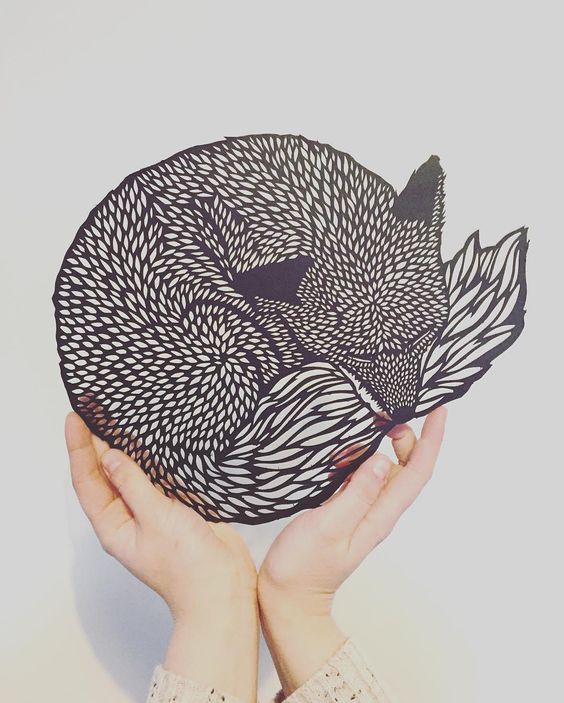 Who doesn't love woodland creatures? This sleeping fox from creative duo (and couple) illustrator Kate Costin and graphic designer James Webber would look great in a child's room or equally at home in a mountain cabin. Check out all the duo has to offer at Fox & The Bear.
37. Stately Stag Art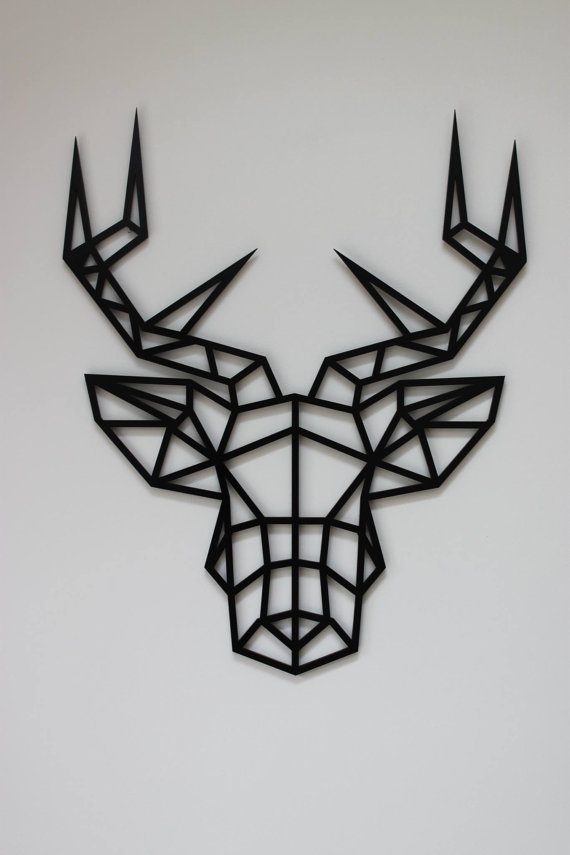 Speaking of woodland creatures, this stately stag from Etsy seller KreativDesignCo has a contemporary Scandinavian style illustrated by a combination of geometric shapes. Matte black acrylic gives it a modern and sleek look, but you can warm it up by choosing the wood option.
38. USA Mirror Art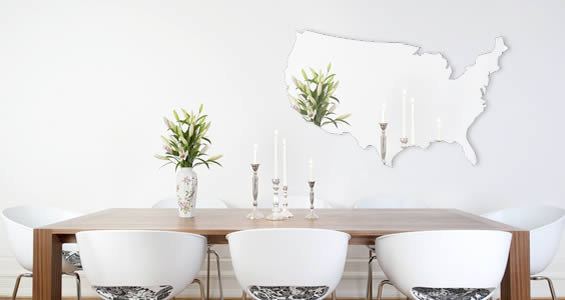 Laser cutting doesn't have to be overly complicated to be stylish and effective. This wall mirror in the shape of the continental U.S. from Etsy seller Dezignwithaz brings a bit of patriotism to any décor. Made of 1/8" thick silver acrylic resin, this premium product delivers a comparable reflection to a standard glass mirror and is un-foggy and clear.
39. Wood Wall Art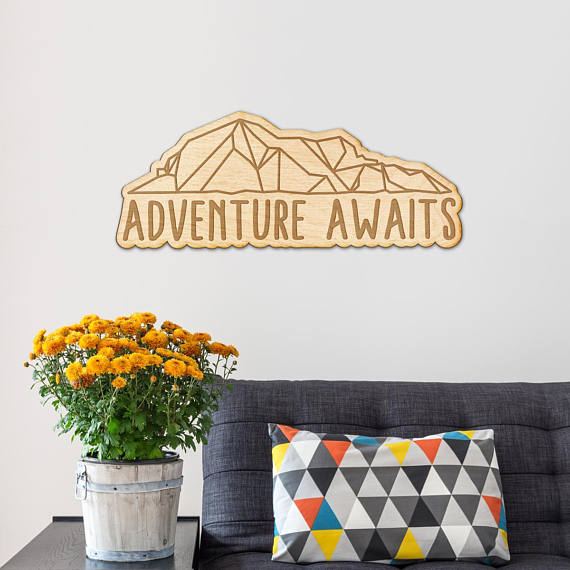 If the mountains are calling, celebrate the awaiting adventure with wall art from Etsy seller Woodums. Cut from 1/4″ Baltic Birchwood, this custom laser engraved wood sign features a geometric mountain and the phrase "Adventure Awaits." Laser engraving allows for unparalleled depth when compared to printing, making this sign the perfect décor piece for entryways, offices or rooms or any kind.
40. Lake Map Wall Art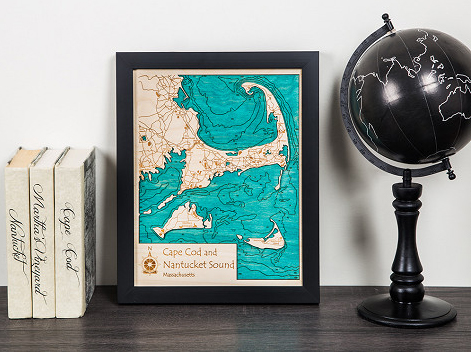 The perfect keepsake for decorating homes, cabins or cottages, Lake Art wooden wall maps feature intricate details including shorelines, two colors and up to eight depth dimensions. The laser cut maps also depict surrounding towns and major roads giving each of the available 4,000 lakes a sense of place and belonging. Who would've thought bathymetry (the study of the depths and shapes of underwater terrain) could be so beautiful.
41. Hanging Mosaic Screen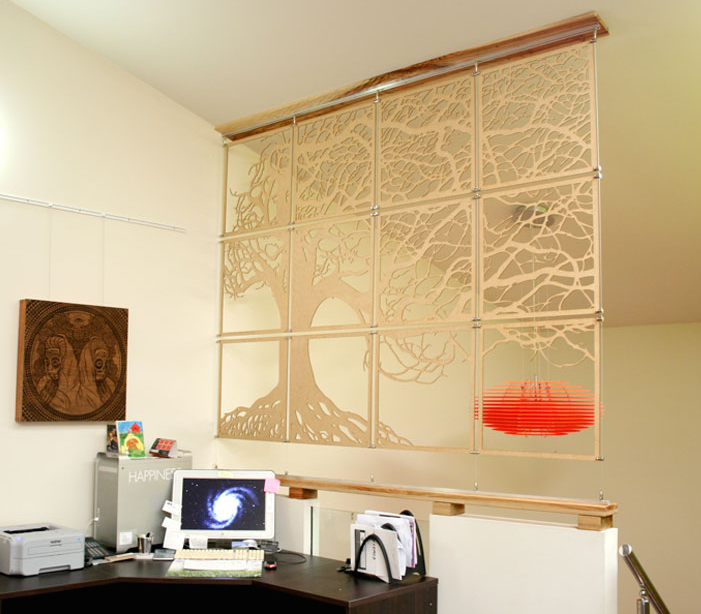 Potato Press, a creative design and custom manufacturing company, designed and installed this mosaic screen using a rail system with stainless steel wires and clamps to hold the panels in place. Since they intend to change the image every few months, the rail system gives flexibility to switch the size and the amount of panels used.
While a tree was laser cut from 3mm MDF for this particular installation, you can see how this application is also suited to corporate branding with the use of logos or typography. Learn more about how they did it here.
42. Fairy Tale Wood Relief Sculpture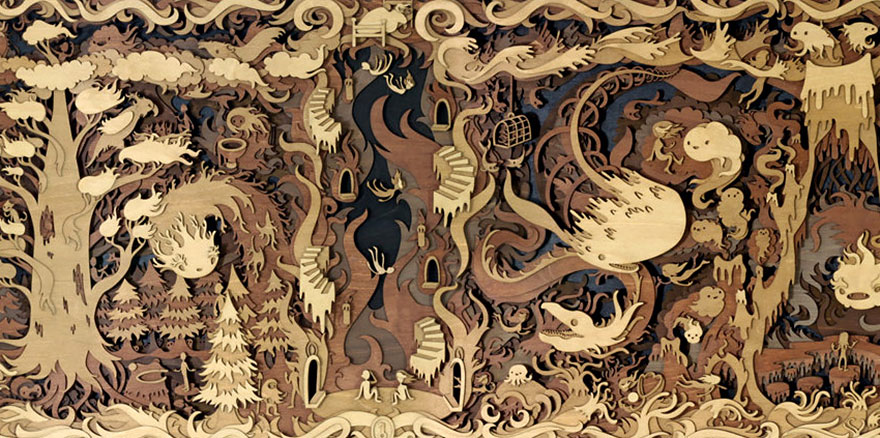 Freelance illustrator and graphic artist Martin Tomsky creates entire illustrated scenes, including particularly stunning fantasy worlds, from the art of laser cutting wood. By building up layers of laser cut stained plywood, he creates intricate relief pieces that bridge the gap between craft, illustration and sculpture. These works are essentially drawings that have been brought off the page and into the real world as a permanent form of storytelling.
Read more about his work here and see what pieces he's selling (everything from tiny pendants and brooches of small animals to large intricately layered sculptural works) in his Etsy shop.
43. Geometric Wood Relief Sculpture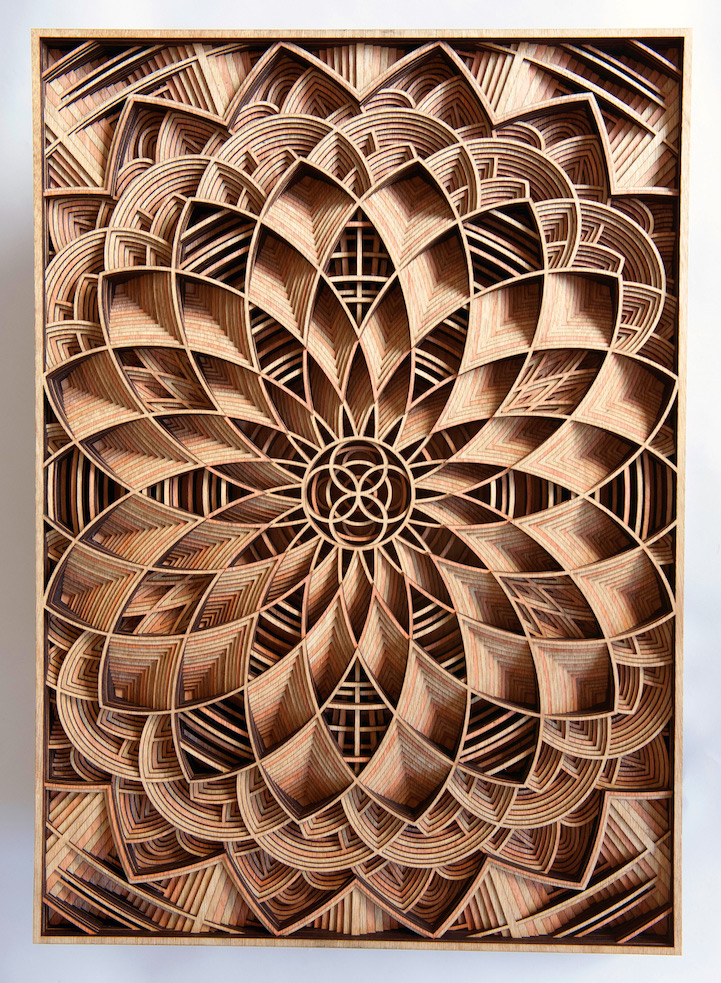 Artist Gabriel Schama creates incredibly intricate, densely layered wood relief sculptures using thin, laser cut pieces of mahogany plywood. He starts with a vector illustration that is sent to a laser cutter. Lasers carve these designs into 1/8-inch sheets of plywood, which are then glued together and varnished. The result is a magnificently textured, mandala-like work of art comprised of ornate layers that twist, overlap and intersect spectacularly. Read more about his work at My Modern Met.
44. Portrait Wood Relief Sculpture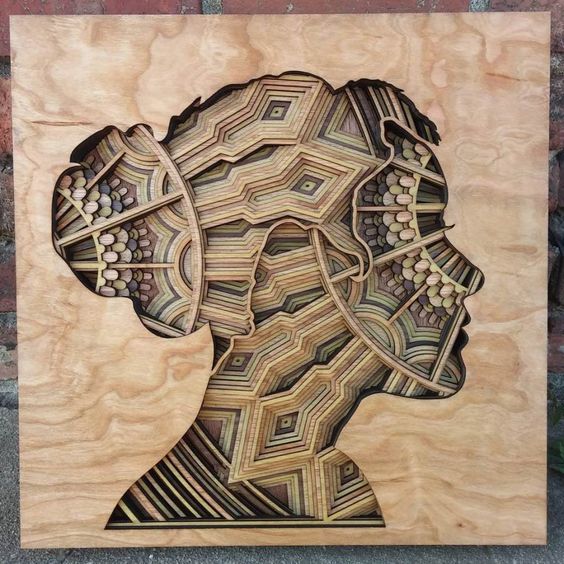 Gabriel Schama's work is so incredible that we had to include a second piece for inspiration. Thanks to a wildly successful Kickstarter campaign, he was able to raise the necessary funds to purchase his laser cutter, fondly nicknamed "Elsie." Check out his website for even more amazing projects that Gabriel and Elsie have made together.
45. Stacked Paper Artifacts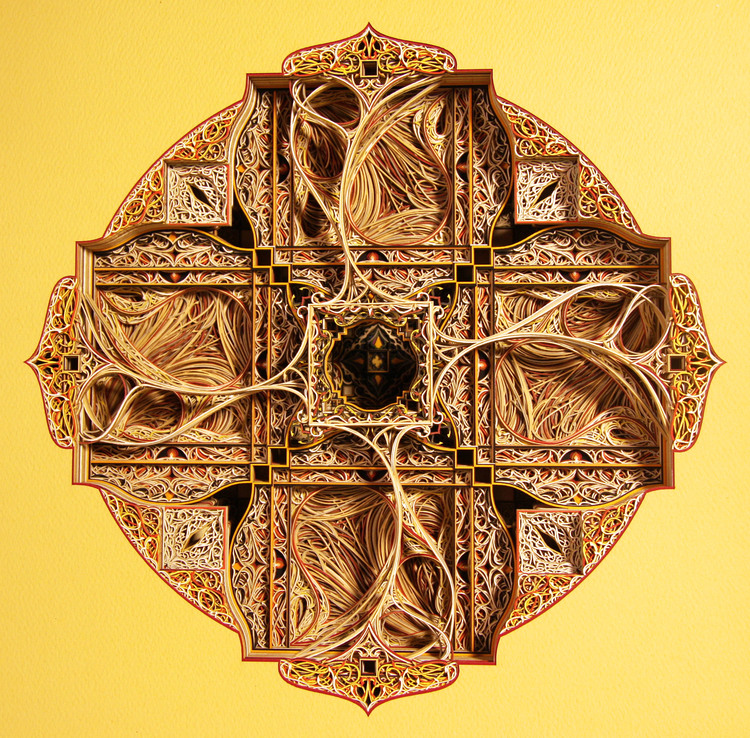 Eric Standley, an Associate Professor of Studio Art for the School of Visual Arts at Virginia Tech, builds complex paper-cut artifacts using vector-based software and CNC lasers. Each layer is cut into paper with a CNC laser, then stacked into the completed artwork.
The layers are conceived as "events" in the vein of key-framing to create a consciously woven space. Because of Eric's labor-intensive process, his works take months and sometimes years to create.
His compositions are determined by removing material from each sheet of paper, and pre-visualizing the sum of the layers as line, color and space. He does not use processing or algorithm-generated elements but instead draws each line with a conscious effort toward a holistic goal. Eric's technology-infused studio practice enables him to create complex artifacts within a realm of precision of that is often reserved for industry, mass production and scientific research. Learn more here.
Feeling artistic after seeing the creativity in these laser cutter projects? This post will walk you through all the steps necessary to create a product that sells.
Laser Cut Jewelry
What's one of the top laser cutter projects made by Ponoko? If you guessed jewelry, you're right. From earrings, necklaces, bracelets and rings, there are so many great design ideas that it was hard to pick just a handful!
Since many makers specialize in making with certain materials, we have grouped the design ideas into subsections by materials to make your browsing experience easy. So you'll see all the wood jewelry, acrylic jewelry and so forth together.
46. Wooden Jewelry Components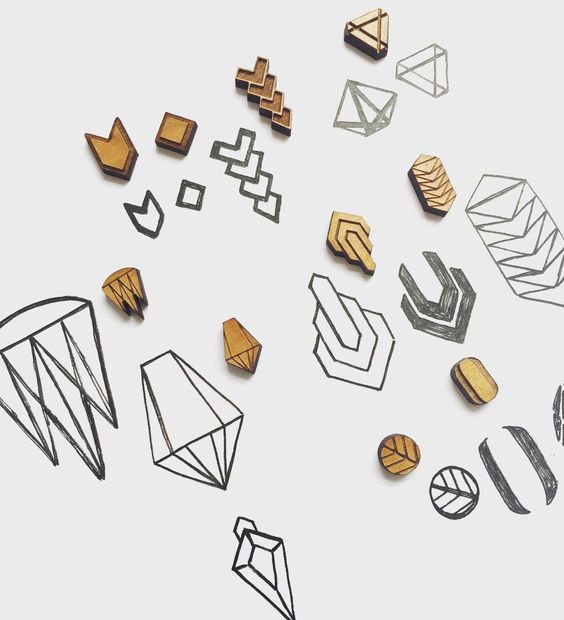 Based in Cincinnati, Ohio, Lucca Laser Workshop creates wood and paper gifts, home decor and custom-designed merchandise using all natural materials. Above is an inside look at some initial product sketches along with the final products.
47. Geometric Earrings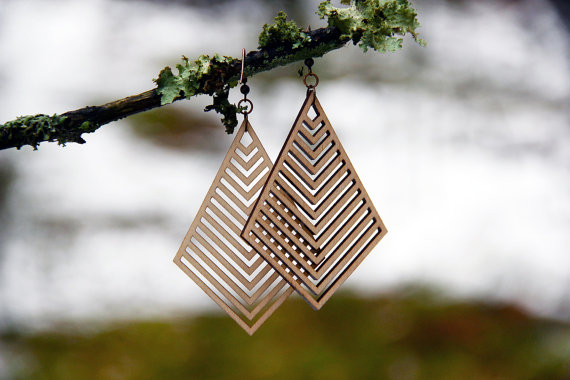 Etsy seller MoodWoodShop uses birch to create striking laser cut designs, such as these diamond chevron earrings.
48. Chevron Necklace

Chevrons are also a popular motif with Etsy shop CompanyKind. In fact, this salvaged wood ombre chevron necklace is the shop's signature piece. CompanyKind's founder and her husband own a cabinetry shop in the Santa Cruz mountains of California, and the work always results in an abundance of overshoots and cut-offs. She wanted to find a way to use every piece of wood possible, so the jewelry making began.
49. Wooden Diamond Statement Necklace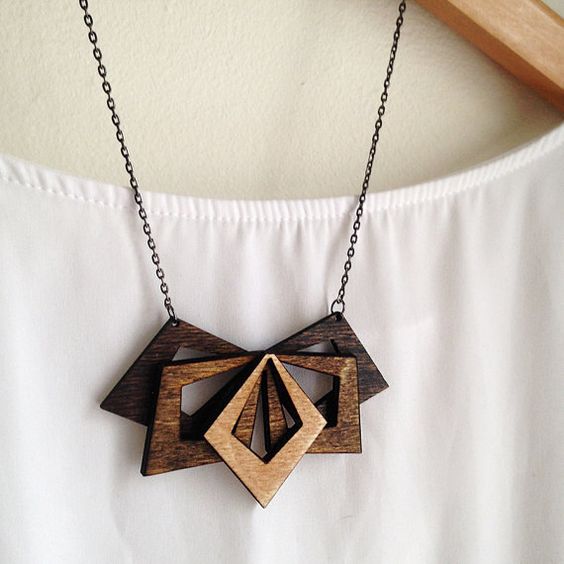 Diamonds are a girl's best friend, right? For days when you want to make a statement but the real bling is a bit much, this large wooden statement necklace from Etsy seller alysonprete has all the class without the hefty price tag.
50. Wing Earrings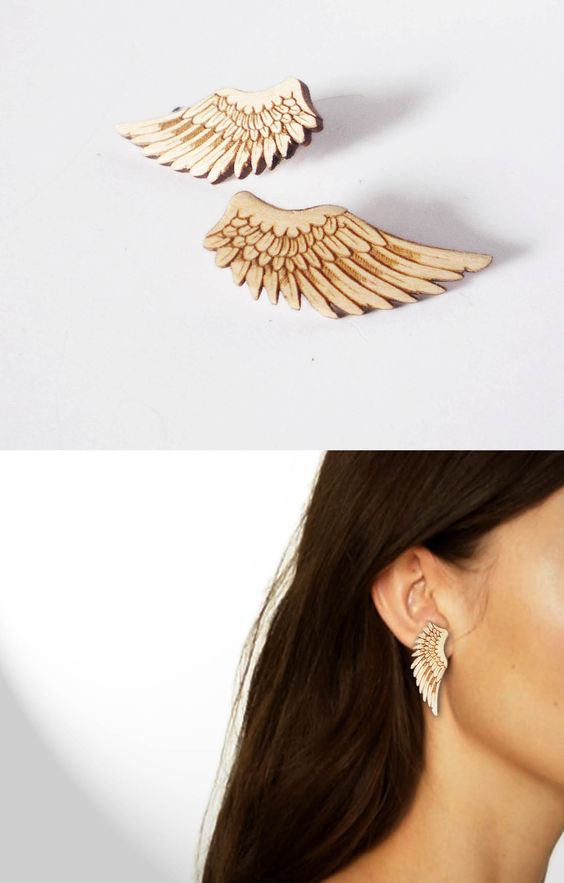 Etsy seller Vectorcloud combines laser cutting and laser engraving to create these wing earrings with realistic feather details.
51. Layered 3D Bracelets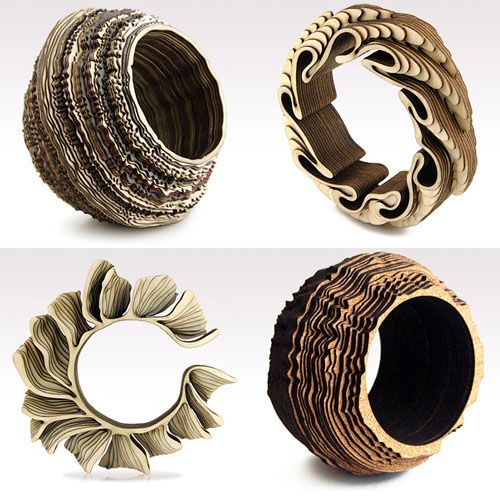 By combining 3D software and high tech laser cutting techniques, artist Anthony Roussel creates stunning layered rings and bracelets that are inspired by modern architecture and seaside coastlines.
52. Ethnic Patterns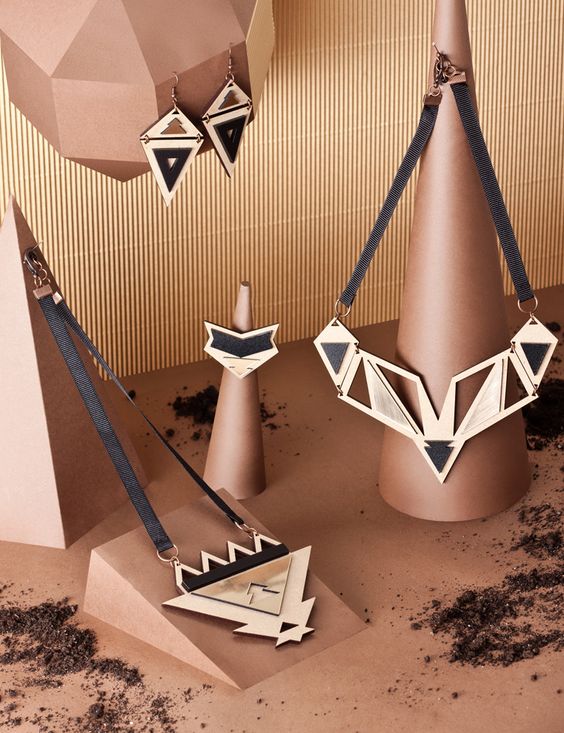 The "Ethnotize" collection by Rename is a modern interpretation of traditional ethno symbols. Well known ethnic patterns blend the traditional with the modern, and the combination of the wood base with matte black and gold details creates memorable statement pieces.
53. Star Trek Inspired Necklace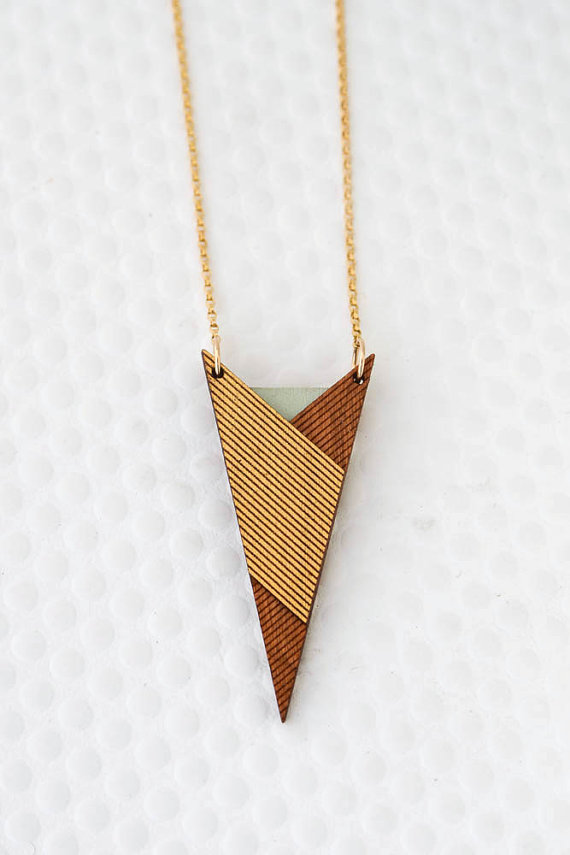 This triangle shaped cherry wood necklace from Etsy shop birdofvirtue may seem like just a cool chevron design to some. But Star Trek fans will recognize the symbol right away. It's made of three-layers of intricately laser etched solid cherry wood with the top panel hand-painted a soothing icy mint green for a unique pop of color. This blending of both classy and nerdy is just our cup of tea. (Earl Grey, hot, of course.)
54. Lunar Necklace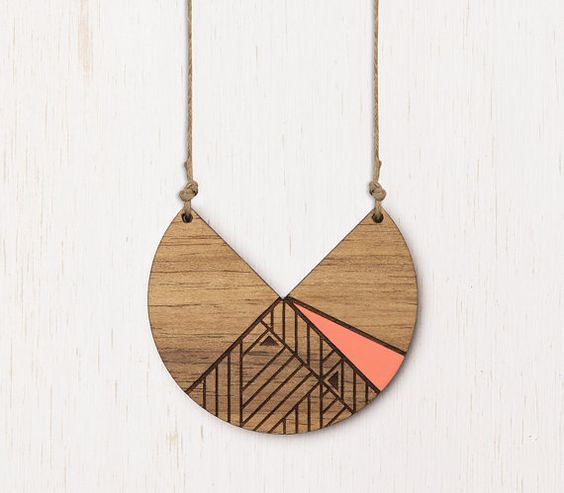 Born from a love of nature and pattern, Etsy seller adaandcedar puts an interesting twist on this moon-shaped tribal wood necklace by hand painting a peach color accent.
55. Hand Painted Earrings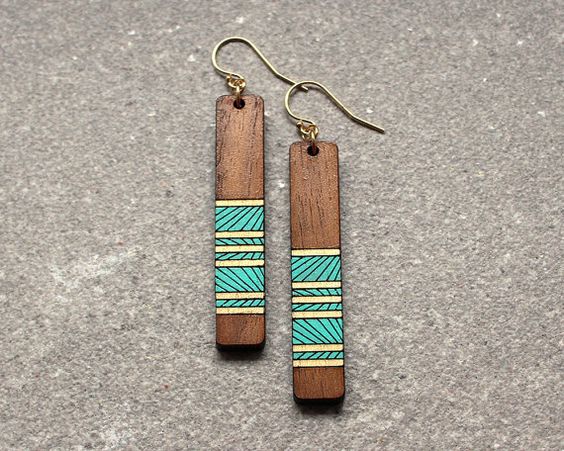 Etsy seller ShopJoyo works at the intersection of art and technology to create clean, modern pieces that integrate graphic design with architectural influence. These drop earring take a simple rectangle shape and then brings it to life with a hand painted teal and gold geometric design.
56. Whimsical Rings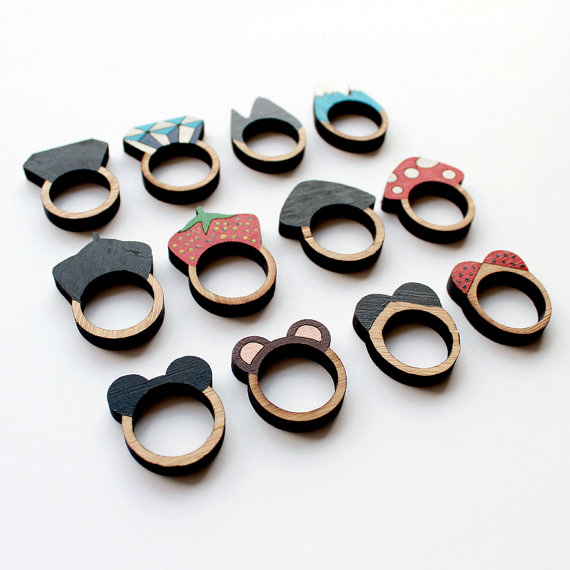 If a touch of whimsy brightens your day, these silhouette rings from Etsy seller whimsymilieu will definitely bring smiles. With diamond, mountain, bear, lady bug, mushroom and strawberry shapes, there's a little fun for everyone.
57. High Flying Necklace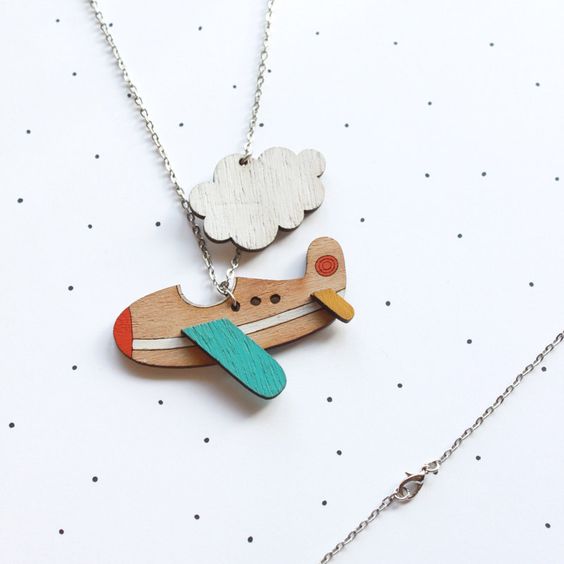 While So Little Time Co. technically designs jewelry, this husband and wife team like to refer to their brooches, necklaces and earrings as wearables. And you'll see why with this aeroplane necklace. It's three dimensions, multiple pieces and hand-painted finish make it as much art as jewelry.
58. Urban Modern Acrylic Necklace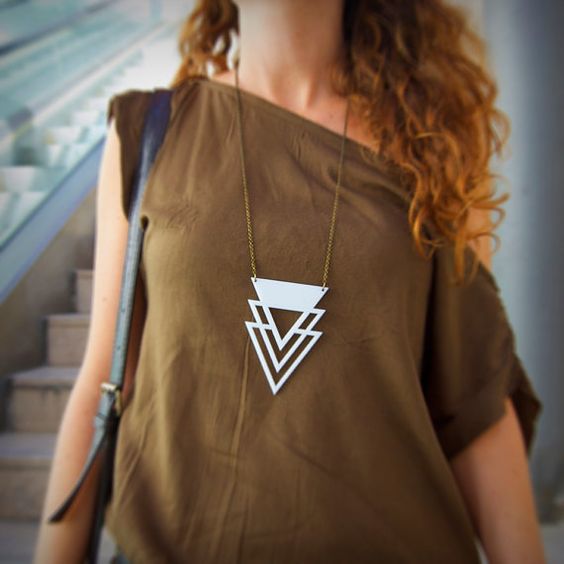 A Portuguese industrial designer that since an early age has interest in fashion design, Olga Ribeiro of Objects of O creates modern acrylic jewelry for urban trendy women—all with an irreverent twist.
59. Haute Couture Acrylic Necklace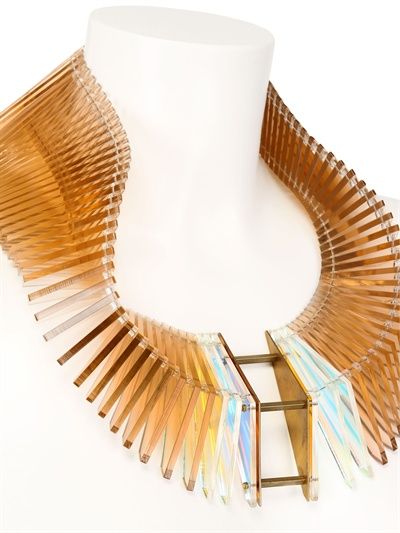 World renowned designer Sarah Angold combines her passion for sleek avant-garde styling with the visible structural engineering behind her intricate pieces. This signature aesthetic is seen in her collections that routinely collide hyper-modern industrial processes with meticulous hand assembly and artisanal craftsmanship, such as the stunning Kingla Necklace.
60. Shape Changing Jewelry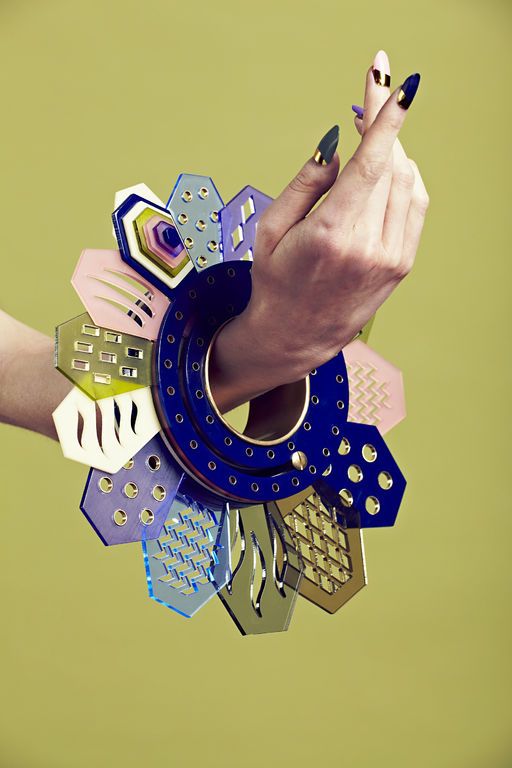 London-based designer Alexandra Druzhinin puts a new twist on custom jewelry—and it earned her the London College of Fashion Off-Catwalk award. The Transformable Runway Bracelet combines acrylic with brass, copper and silver laser cut into unique shapes and patterns.
"Through model-making experiments of paper engineering used to make pop-up books, the designer has developed a built-in, rotating mechanism that enables the pieces to change their form," LS:N Global reports. "By placing layers on top of each other, each piece of jewelry can be worn opened or closed, transforming its design from a minimal aesthetic into a mesmerizing display of geometrically patterned surfaces and flamboyant colors."
Inspired? Ready to make your own unique jewelry? Then don't miss this jewelry making for beginners guide that shows how to make jewelry that is functionally sound, aesthetically pleasing and professional looking so that you can proudly wear it yourself, happily give it to friends or family, or confidently sell it to make a profit.
Laser Cut Electronics Enclosures
Building your own electronics is super cool. They blink and whirr, they can speak in tones, might even be voiced-controlled and are definitely "cloud connected."
But what happens when a now assembled heap of your own design is just sitting on your desk? It's waiting for the extra-special final touch: A robust electronics enclosure to house and protect it. Whether you are an Arduino fan or like to build with Raspberry Pi, check out these laser cutter projects for inspiration.
61. Kerf Cut Teeny Lamp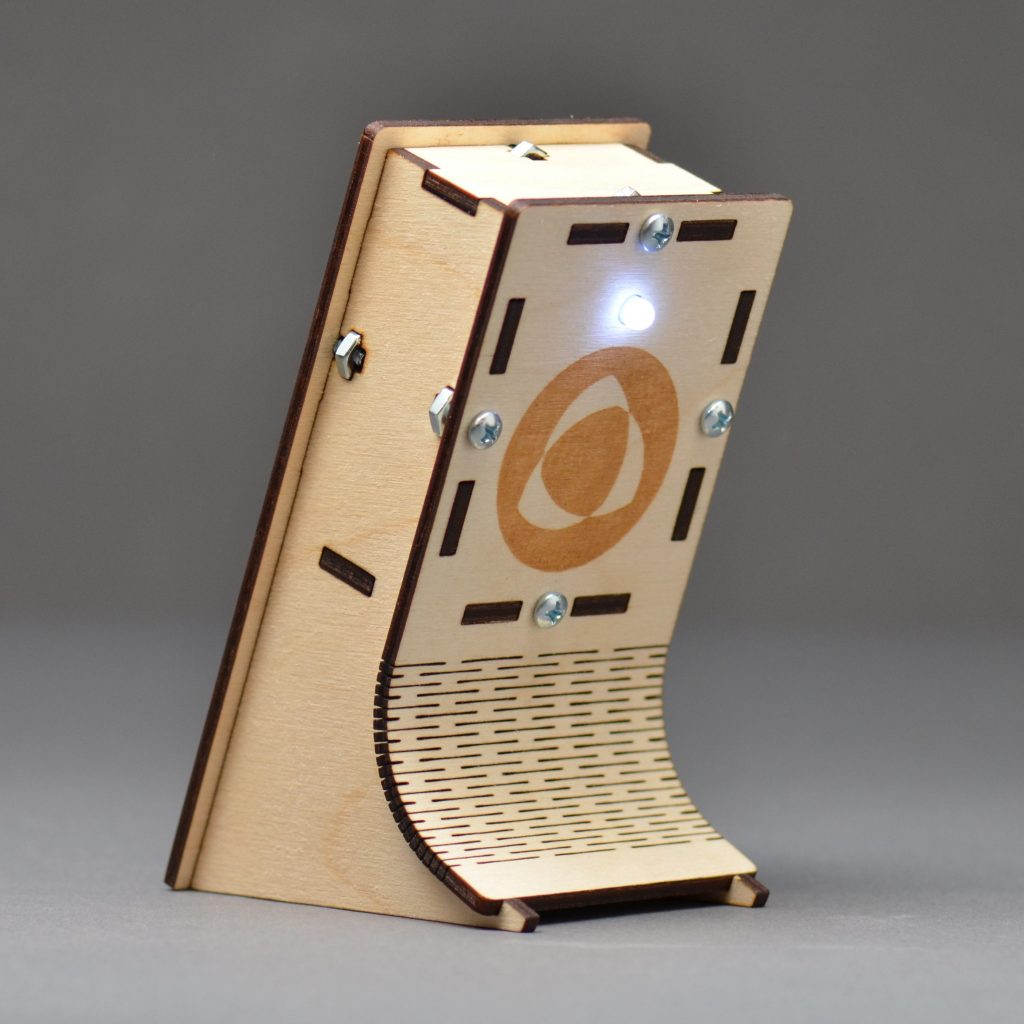 This little light may be small, but it sure is mighty—in design, that is. The Stanford Product Realization Lab, a multi-site teaching facility where Stanford students discover the power to create the future, designed this lamp as part of its laser-cutting curriculum. The kerf cutting pattern of slits allows the flat sheet of wood to bend, giving an otherwise boxy shape a much more interesting silhouette.
62. 3D Printer Case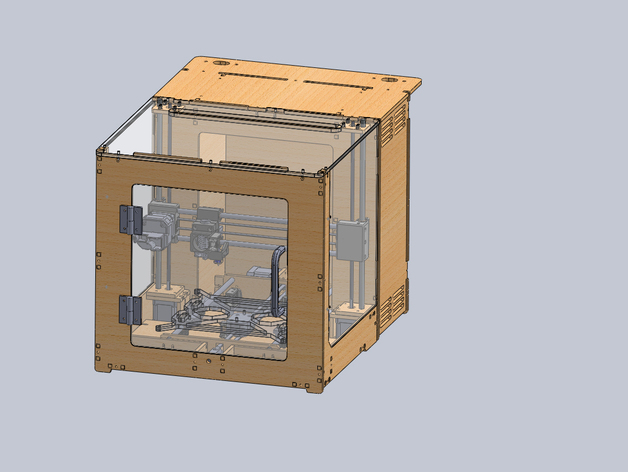 If you want to make things so you can make more things, then don't miss this maker's take on what he did to redesign a Prusa i3 3D printer, including a complete laser cut enclosure. What's cool about the Prusa is that it's a type of RepRap 3D printer, which is an open source printer you can make yourself. Fun!
63. MeArm Robotic Arm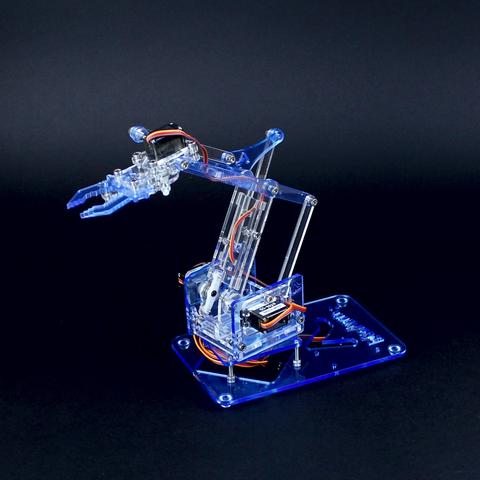 Robot arms. Because robots are awesome. The MeArm Robot Arm was developed to be the world's most accessible learning tool and smallest coolest robot arm. #success. It comes as a flat-pack kit that you can build with nothing but a screwdriver and enthusiasm. Count us in. Described as the "Perfect Arduino Project for Beginners," it's a great kit to get anyone started in the world of programming, electronics, robotics and engineering.
64. Colorful Raspberry Pi Enclosure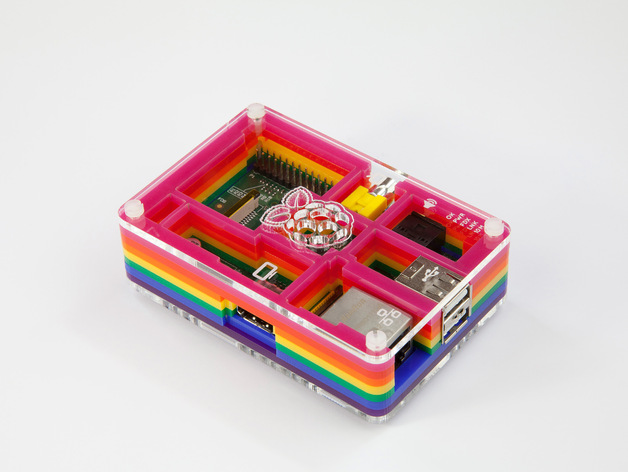 This just might be our favorite Raspberry Pi enclosure evvaahhh! The colors are so poppin'. Get the files and make your own via Thingiverse.
65. RetroPie Arcade Game Controller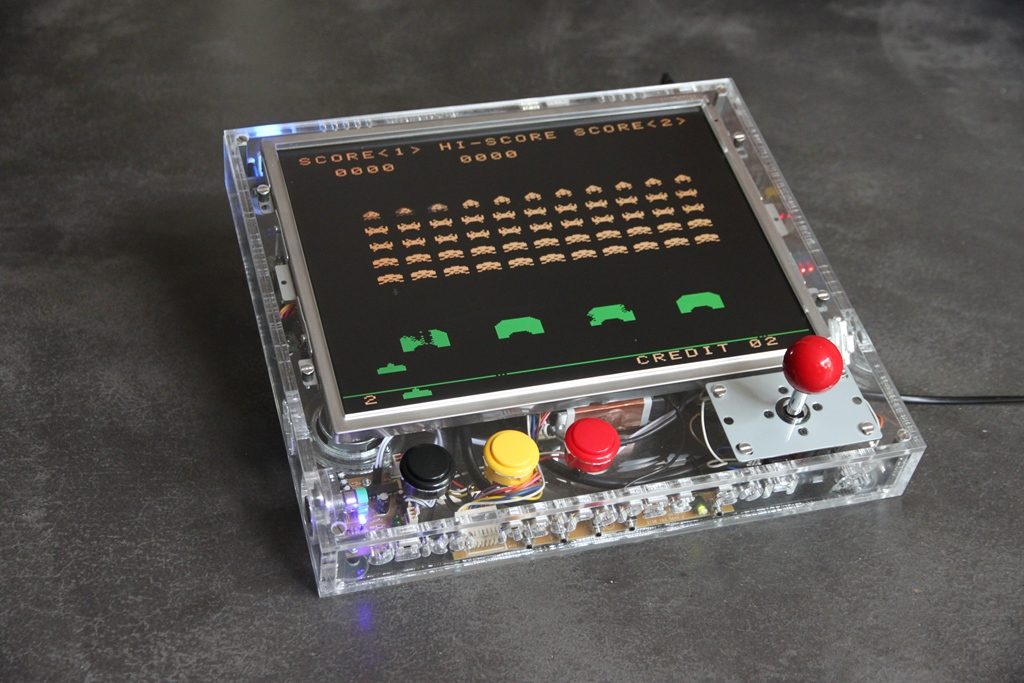 If you love old arcade games (who doesn't?!), then don't miss a little piece of electronics enclosures heaven with this throwback game console powered by Raspberry Pi. Follow the full maker journey on Wikimal, then go make your own.
66. Raspberry Pi Mini HiFi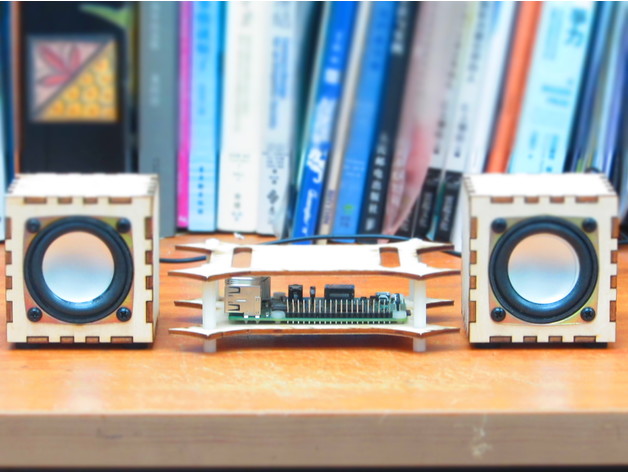 Spotify sounding a little soft on your iPhone? Pump up the volume by building your own mini HiFi system. All you need is a Raspberry Pi, PC speakers and these plans from Thingiverse. The laser cut plywood looks great on its own, but you could stain it for a richer tone or use the wood as a canvas for a custom, hand-painted masterpiece.
67. TJBot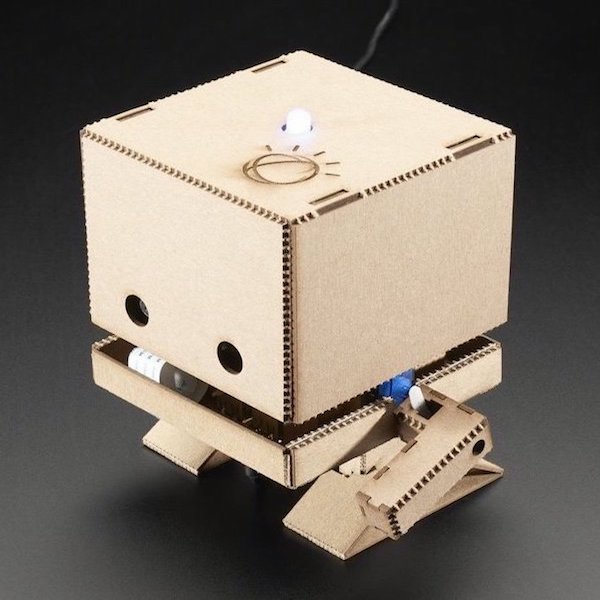 If you wanna put some fun into functional, this TJBot is your guy. Born at IBM Research, TJBot is a DIY template to learn, experiment and explore AI with IBM Watson. Laser cut this little dude using these plans, then use the open-source, step-by-step recipes (read: coding instructions) designed for a Raspberry PI to connect your TJBot to Watson developer services. Now the fun begins. Teach TJBot to tell a joke, carry on a conversation or even dance. We'd love to see the Macarena!
68. Engraved Raspberry Pi Case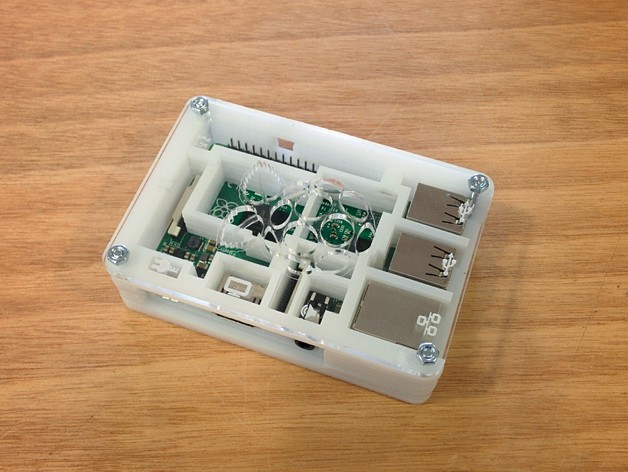 Keep your Raspberry Pi in tip-top shape with this enclosure. It's made from 3mm acrylic; use clear for the top panel to see the engraving, then choose your fave color for the sides and bottom. Wouldn't this look cool in aqua? Or what