Custom Products Made From The 10 Most Popular Materials Of 2016

Happy New Year Makers!
As the calendar flips a page, there are 365 new days for making your next laser cutting ideas. What will you make (and profit from) using the precision and consistency of a laser cutter this year?
To fire up your creativity, we've scoured the best Etsy shops and the web to find the sweetest custom laser cut project ideas from top designers.
And to make it super easy, we've paired these amazing designs with the top 10 most popular laser cutting materials from the past year so you can successfully create your own products for 2017.

Top Quality: Engraves Beautifully
Why is clear acrylic the #1 choice of makers in 2016? Because of how well it reacts to laser cutting. The surface of this thermoplastic engraves with a nice frosty finish that catches light wonderfully, and the edges melt smoothly rather than burning like wooden materials.
It's also a staple material choice because of its versatility. You can make anything from jewelry, tableware and electronics enclosures to conference badges, signage, book covers, point of sale displays—and these ideas are just the tip of the iceberg of potential uses. And since you can heat acrylic to give it a bend, you can give your laser cutting projects a boost by taking it beyond the constraints of two dimensions.
Finally, acrylic is budget friendly, making it an economical alternative to glass. Clear acrylic is also less expensive than other acrylic colors, which only helps sweeten the appeal.
Feel free to write your own tips about this material.
And here are five products made from your most popular material:
SturlesiDesign Shop uses laser cut clear acrylic modules when creating the iLLuminite collection.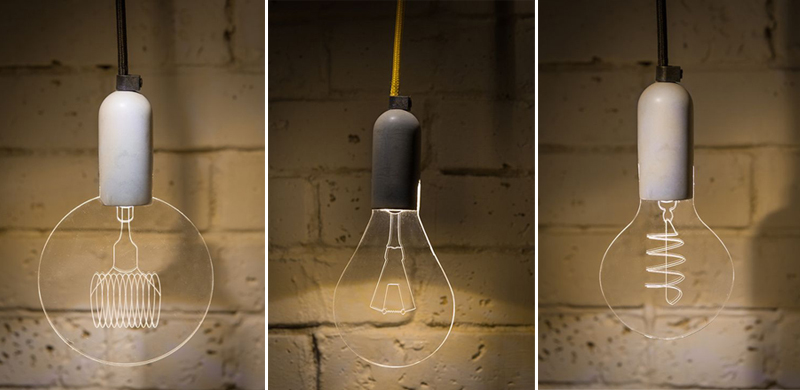 Esty shop lesfollesmarquises showcases laser engraving on clear acrylic with Japanese doll pendants.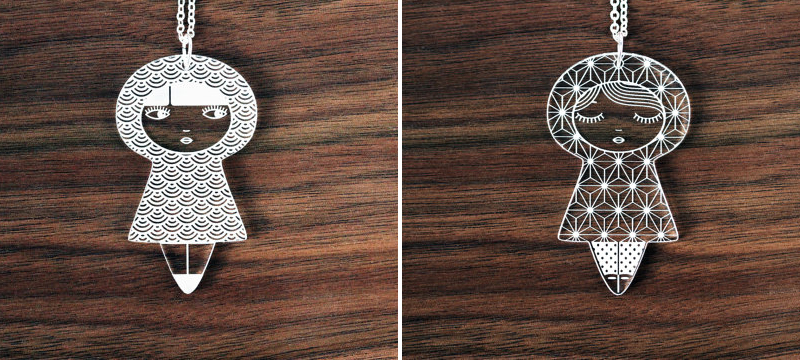 For any ornithologists in the house, this Clear Hanging Bird Feeder from Esty shop Artbirdfeeder combines utility with style.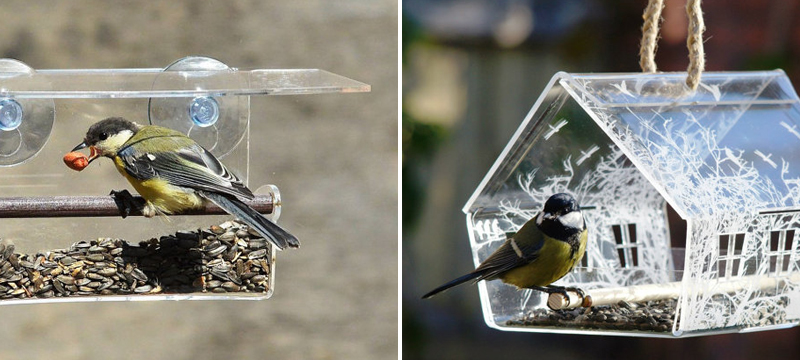 For a taste of tech inspiration, head over to C4Lab's Etsy shop to see why this Raspberry Pi case is so sweet.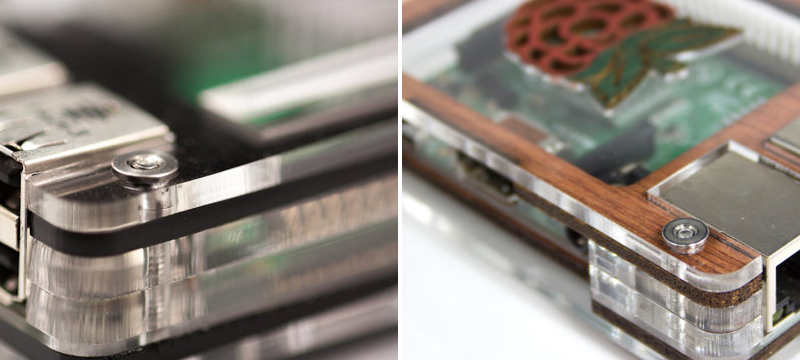 Who says clear acrylic can't have an air of haute couture? Fashion designer Joanna Vanderpuije has layered laser cut geometric shapes to give this skirt texture like no fabric can.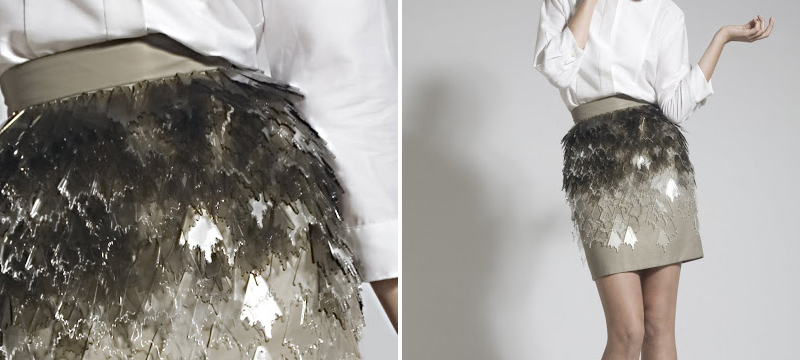 Top Quality: Natural Honey Tone
There's so much to love about bamboo. It is a sustainable and eco-friendly material because of its fast growth. Once formed into sheets, it is plywood, which makes it strong and durable. It can be laser cut to a fine detail and engraves beautifully. And because of its thinness, it is quick—and thus more economical—to laser cut.
Bamboo is also super versatile. Makers use it for jewelry, tableware, electronics enclosures, conference badges, signage, book covers and point of sale displays.
Bamboo's prominent grain and warm hues make it stand out from a myriad of other plywoods and timber laminates. And the warm color of the amber stain makes it ideal for projects with a nature theme. Artist, designer and Ponoko maker Bridget Kearney has created an entire line of earrings, brooches and pendants made exclusively from bamboo. See her work, which is inspired by travels through the countryside collecting flora and fauna, at Caravan Creative.
Add to the discussion by writing your own tips about this popular material.
For inspiration, here are five products made using this bamboo:
Feeling crafty? Check out these geometric wooden cabochons from Etsy seller CraftyCutsLaser.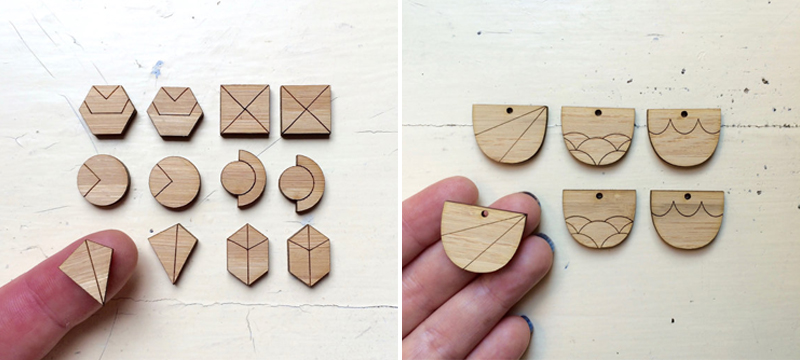 You'll never drink tea alone with The Tea Buddy™ from Esty Seller TheOtherLabs.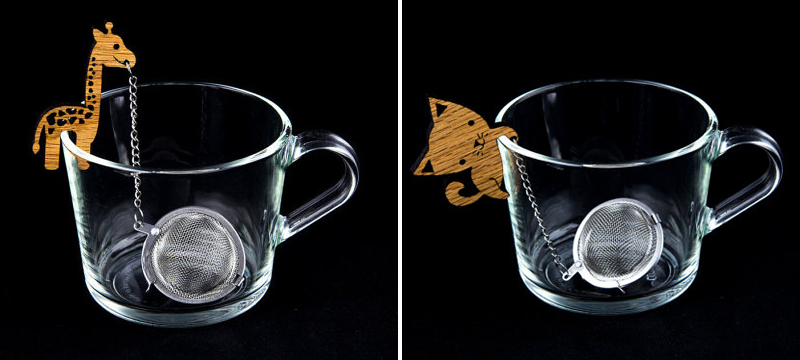 Etsy seller LHDUCK hand paints sections of these laser cut bamboo earrings to add a pop of color against the natural wood tones.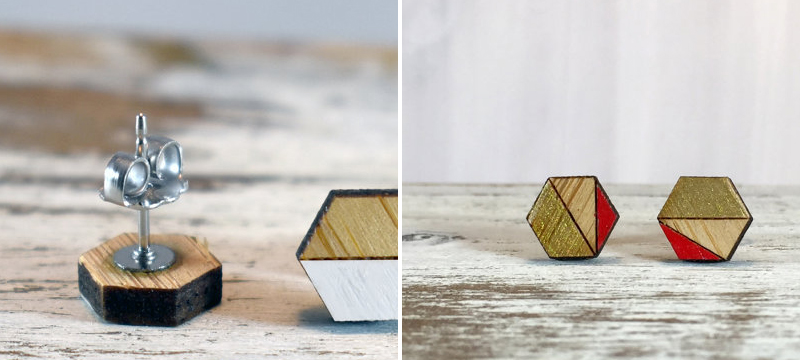 Plant lovers will turn green from envy upon seeing Etsy shop MGreenhalghDesigns terrarium and scallop necklaces.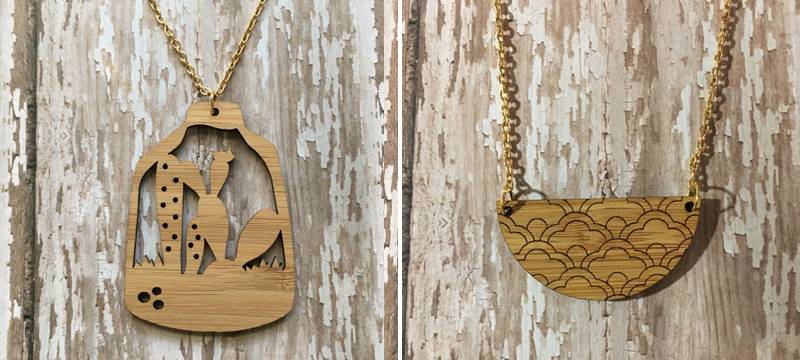 Etsy Seller GeekModish makes trendy things for geeky people. Embrace #nerdpride with the math and periodic table coaster sets.

Top Quality: Budget Friendly
Birch plywood is made from laminations of birch veneer. It is lightweight but strong, among the strongest and most dimensionally stable plywoods. It has a great price point and is commonly used for making laser cut scale models, jewelry, model boats, model airplanes, product housings, drones, clocks, prototypes and signage.
Feel free to write your own tips about this popular material.
And checkout these five products using birch:
Etsy seller OrigamiZoo has taken the inspiration from the geometric shapes of origami to create a line of playful products, such as these laser engraved birch necklaces.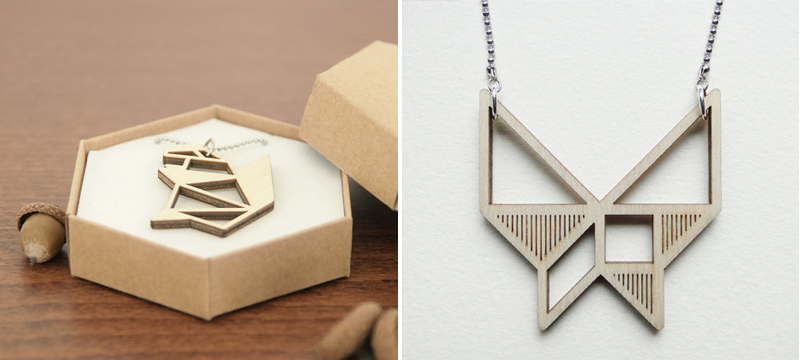 By using laser cut birch as the foundation, Etsy shop JSLaserCraft creates eye catching wedding save-the-date invitation tags and magnets that leave a lasting impression as a charming memento for guests.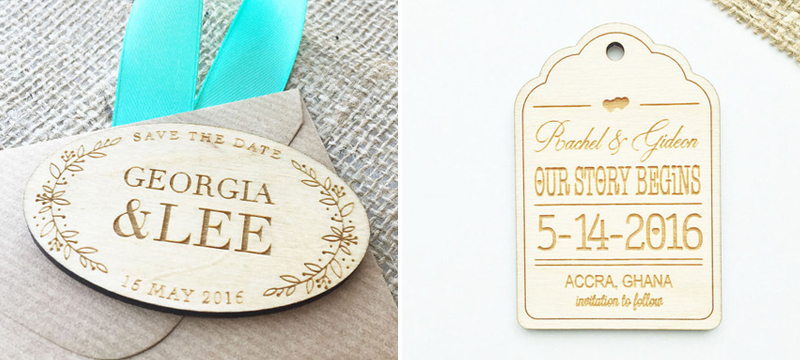 An unexpected addition to any wardrobe, this laser cut birch wood necktie from Etsy seller CreativeUseofTech is an attractive accessory for today's modern man.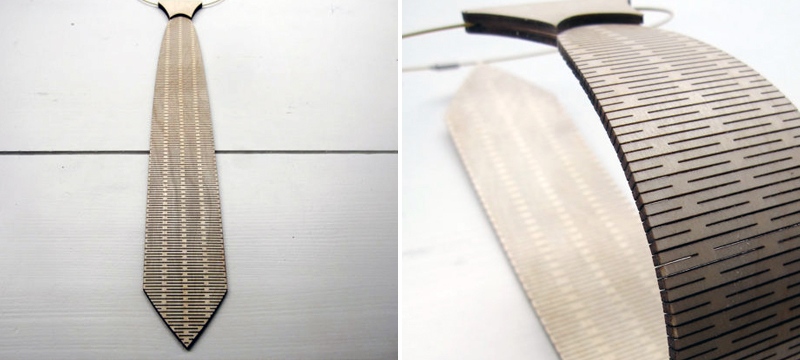 This trio of laser cut birch hanging lamps, also from Etsy seller CreativeUseofTech, cast the perfect glow and create an ambiance of warmth in any space.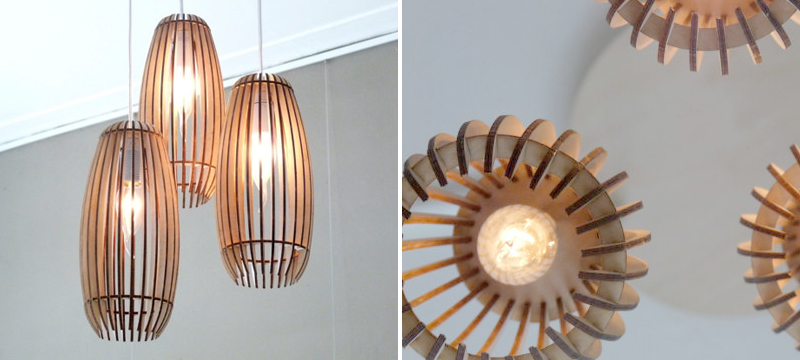 The "Hairwolf," from Etsy shop miniFab, will tame the most epic of beards with its wide, long teeth laser cut from beautiful birch.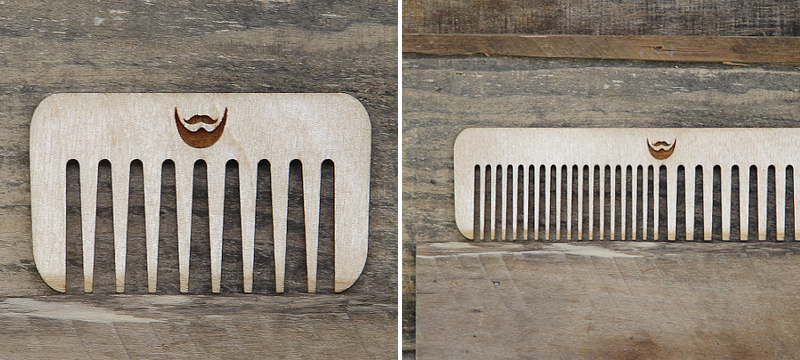 Top Quality: Thicker Yet Economical
When you need thicker wood for your laser cutting projects, this is the top choice. Like it's thinner companion, this birch is commonly used for making product housings, drones, clocks, prototyping, furniture and signage. Because birch is a natural product, keep in mind that there may be an occasional knot on the surface. It's part of the beauty of wood, but this characteristic can potentially impact the design.
Add to the discussion by writing your own tips about this popular material.
Plus see this material used to make these five products:
The six-pack beer case from Etsy seller nygaarddesign makes a great laser cut gift for beer connoisseurs.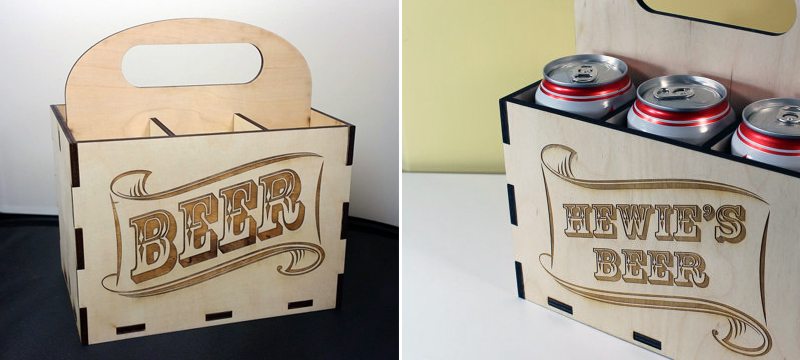 With the laser cut Star Wars Millennium Falcon inspired wall clock from Etsy shop HamsterCheeksStore, the force will be with you.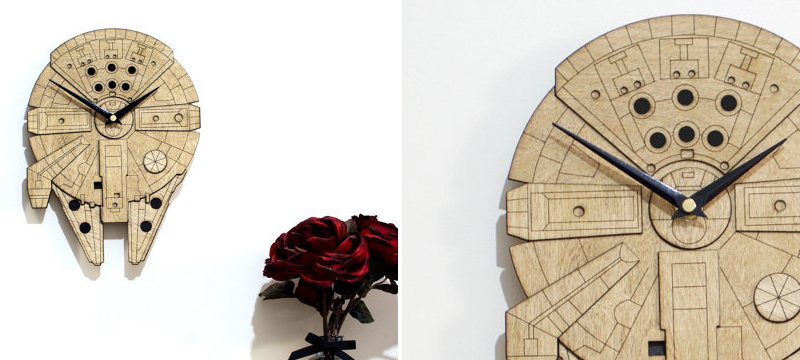 Who would want to see chess legends Garry Kasparov and Anatoly Karpov square off in an epic match with this laser cut birch chess set designed by Matthew Livaudais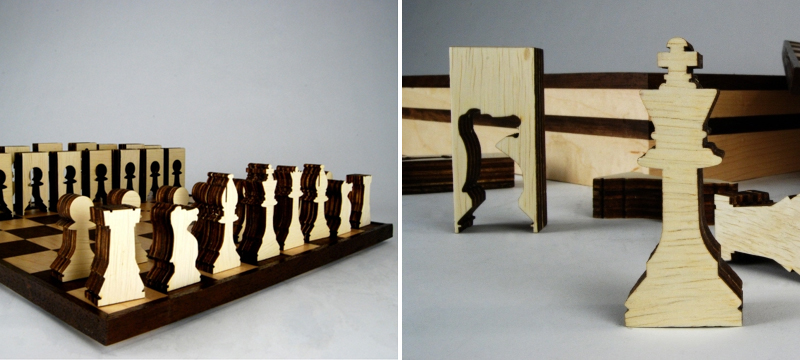 Shout out from Etsy shop TwikiConcept to all the '90s kids with this nostalgic laser cut birch key holder that features three coins from your favorite old school games.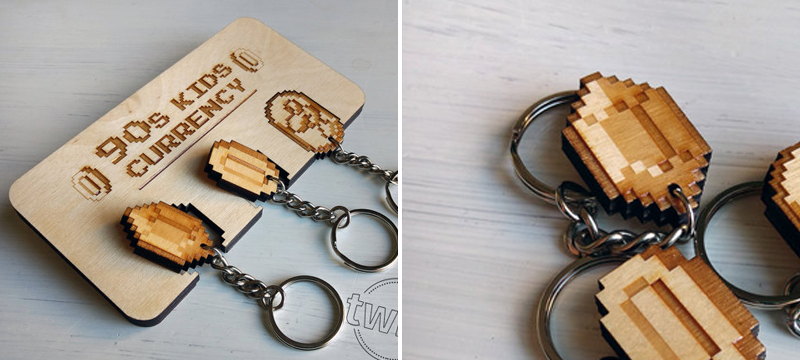 A must-have for any harmonica player, this laser cut birch storage case box from Etsy seller BrassandBirch keeps the instruments organized by key.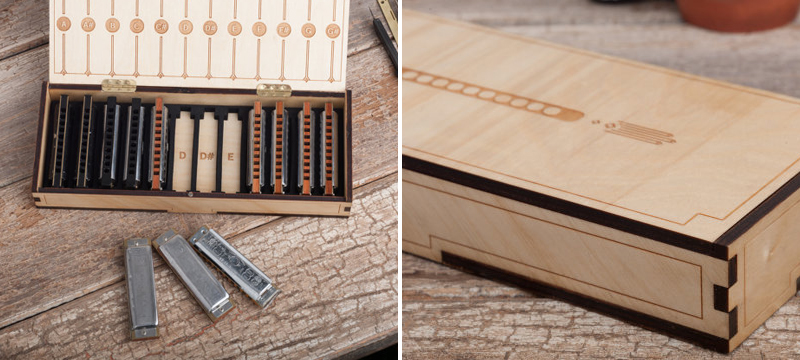 Top Quality: Classic Black
Black acrylic is a classic favorite. Why? Because engraving looks soooo good on this material. The frosty white engraving contrasts beautifully with black. Jewelry is one of the top laser cut products from black acrylic, but it also looks smashing for anything that requires a sophisticated, sleek palette—tableware, electronics enclosures, conference badges, signage, book covers, point of sale displays, etc. And if your design includes interlocking pieces, check out this tutorial that covers how-to make it happen.
Feel free to write your own tips about this popular material.
What could you make using this material? Here are five product examples:
Etsy seller CABfayre used black laser cut acrylic to create pendant featuring two little love birds kissing in the center of a heart filled scallop-edged oval.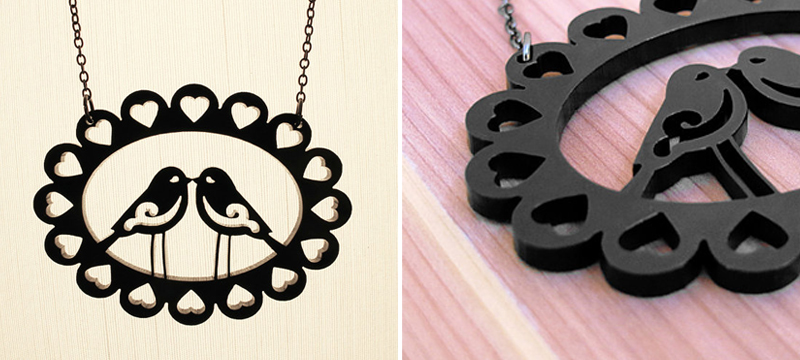 As if cake wasn't delicious enough on its own, Etsy shop LoveGarlands' laser cut black acrylic cake topper really makes us want to celebrate.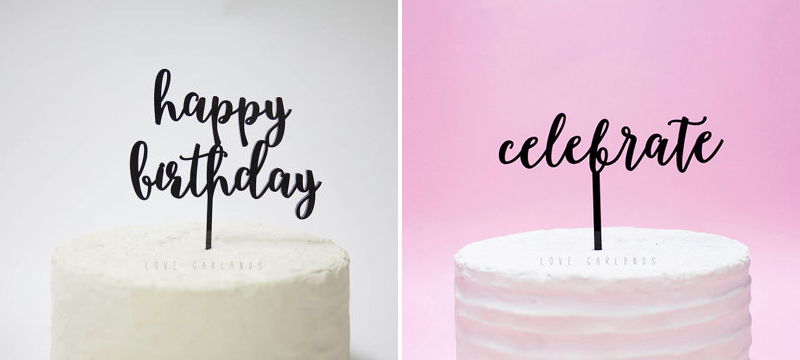 It's ok to leave your cape at home as long as you're carrying the laser cut black acrylic Batman or Superman silhouette keychain from Etsy seller SolPixieDust.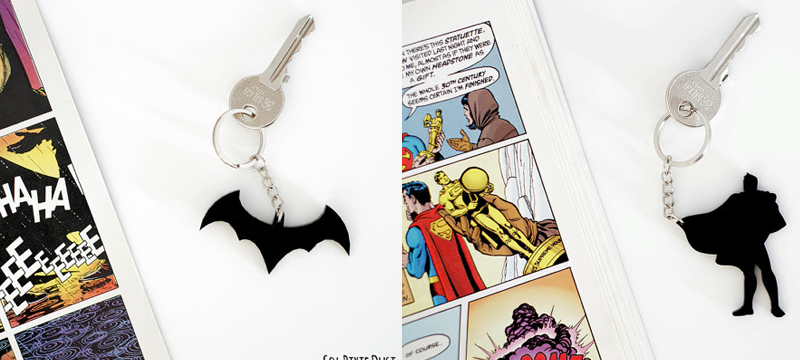 Laser cut black acrylic honeycomb earring from Etsy shop liseLOVE add a modern, geometric statement to any outfit.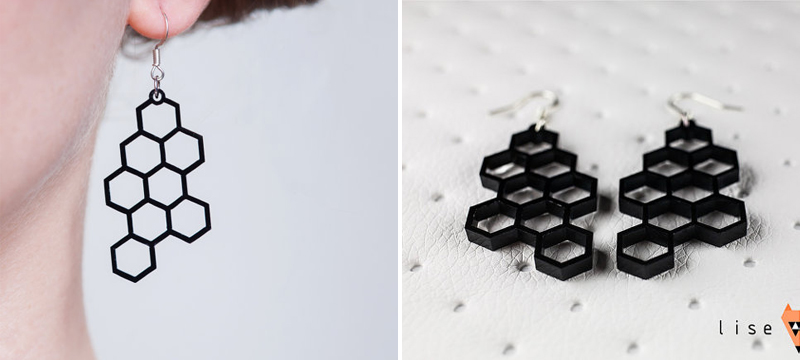 Make a lasting impression with laser cut black acrylic business cards from RockDesign.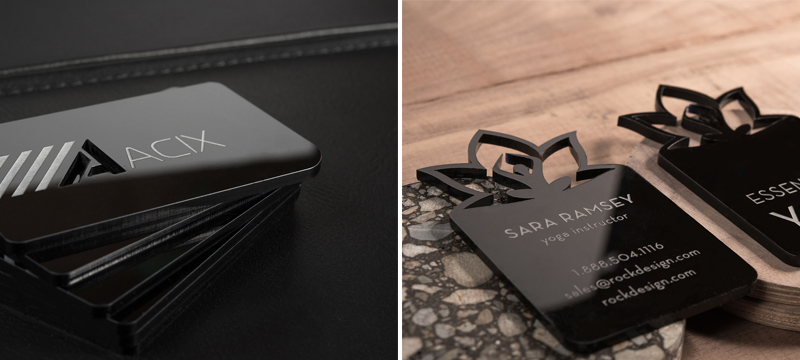 Top Quality: Sophisticated Texture
Matte black acrylic is a close second to traditional black acrylic and is used when you want a silky satin finish that doesn't reflect everything. Engraving contrasts well on matte black acrylic too, making it perfect for jewelry, tableware, electronics enclosures, conference badges, signage, book covers and point of sale displays.
Add to the discussion by writing your own tips about this popular material.
And what do you think of these 5 black acrylic products:
Etsy shop SkullAndHawk uses laser cut black matte acrylic to create lapel pins/tie tacks and cufflinks.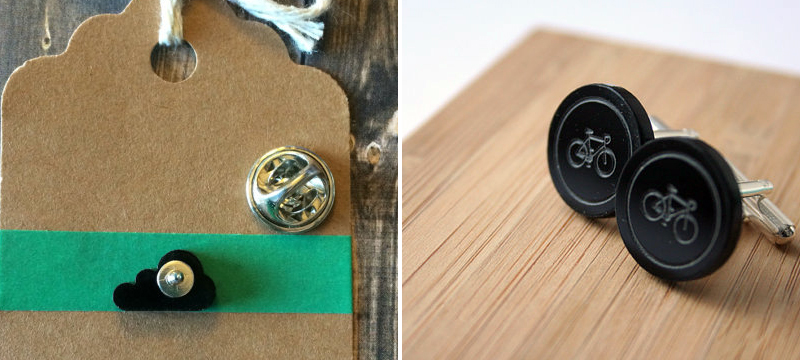 If you're looking to make a statement, this geometric statement necklace made from laser cut black matte acrylic from Etsy seller PrettyUrbanCo should do the trick.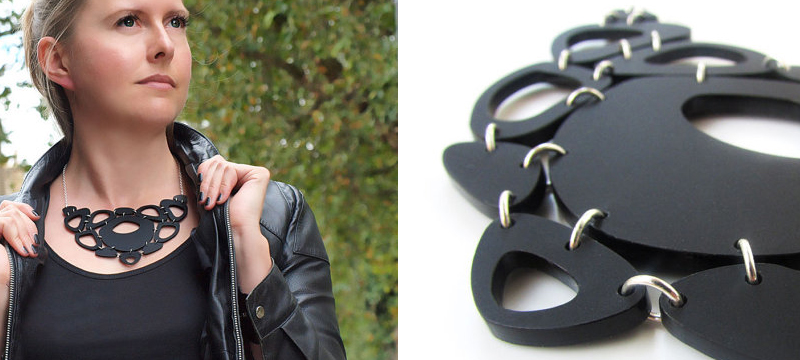 Laser cut black matte acrylic makes great signage. This one from Etsy seller HopStudio will have you shouting YAY!"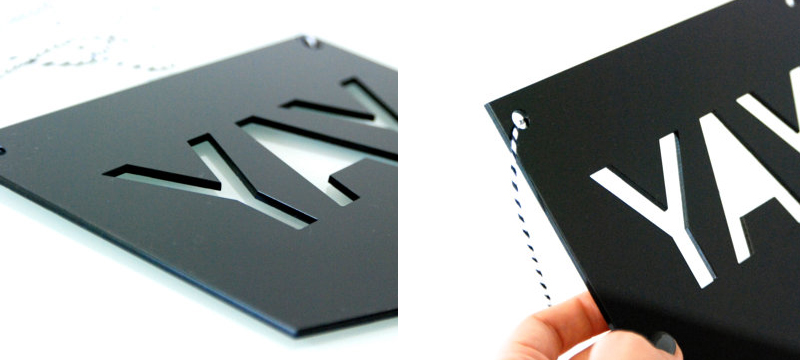 A subtle way to raise a smile, the laser cut Smile necklace from Etsy's RoseThomasShop is a contemporary and fun piece made from matte black acrylic.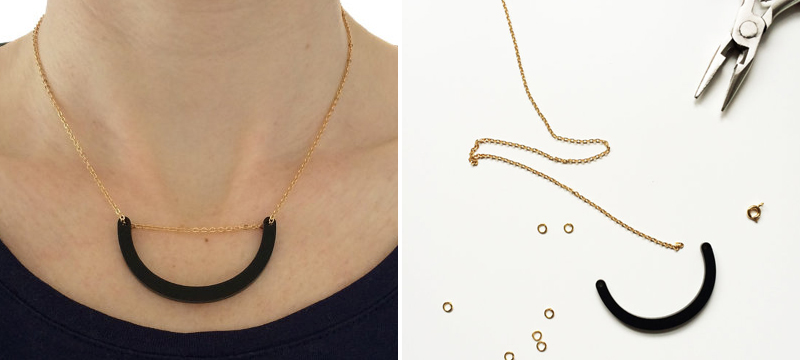 If you want to power up your fashion game, check out these laser cut black matte acrylic Pac-Man earrings from Etsy seller muchoshop.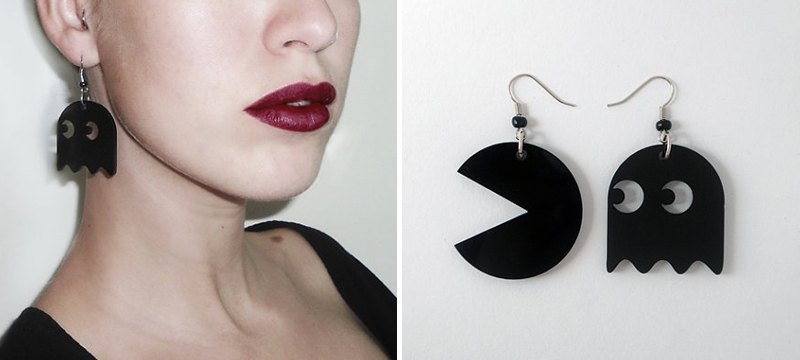 .

Top Quality: Sustainability
When you need a thicker bamboo for those bigger projects—such as this award-winning modern birdhouse—look no further than the three-ply 6.7mm bamboo. As a plywood, it's nice and strong. Since bamboo is 100% renewable, it's an ideal choice for the eco-friendly crowd.
The amber color is a golden brown with a fine grain. The bamboo joints are visible on the surface, breaking up the grain to create a unique appearance. And like the thinner bamboo materials, you can also make jewelry, tableware, electronics enclosures, conference badges, signage, book covers and point of sale displays from this thickness as well.
Feel free to write your own tips about this popular material.
Plus here are five product examples to inspire you:
Laser cut bamboo signs make a statement. This modern and motivational art piece from Etsy shop Cabin will inspire you to have a beautiful day.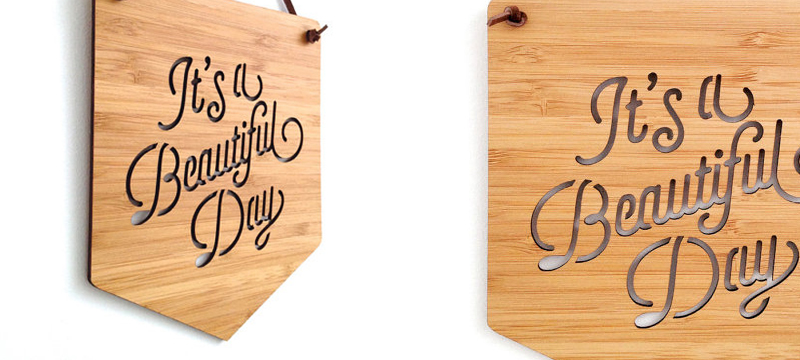 Check out this custom coat hanger from bridenew.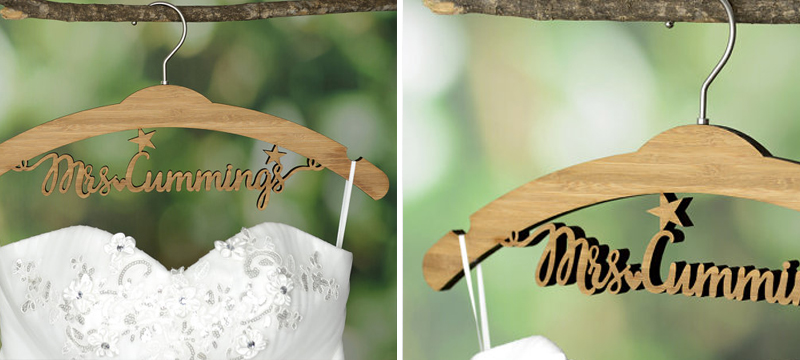 Etsy seller ElectricElmDesign makes wedding cake toppers from laser cut bamboo to celebrate happily ever after.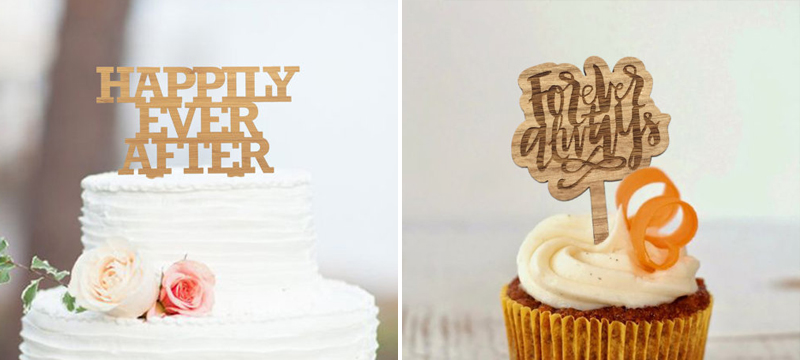 Telling time has never been so much fun as with these laser cut bamboo clocks from Etsy shop HOMELOO.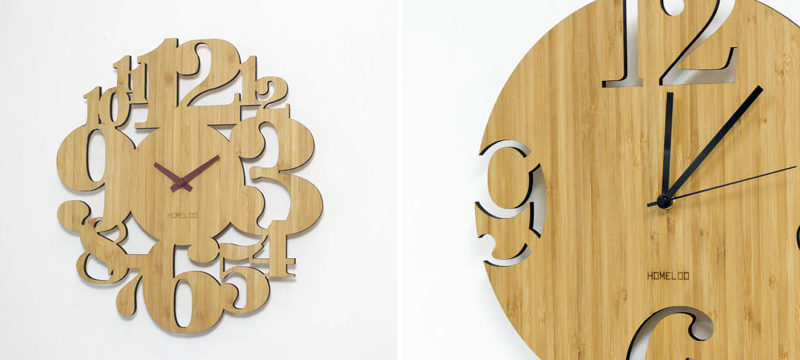 Designer Andy Shen uses interlocking pieces of laser cut bamboo to create Booboo drones.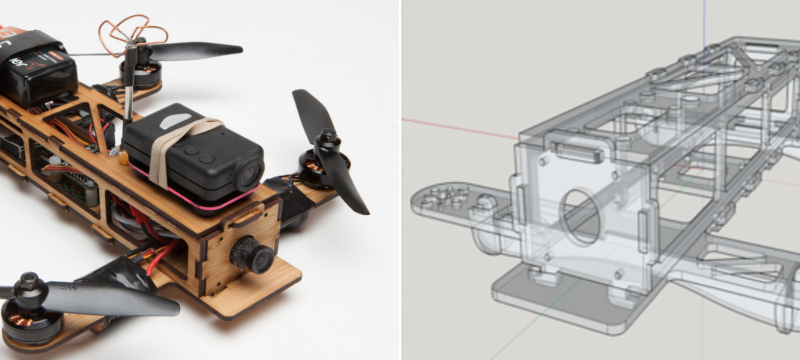 Top Quality: Ideal For Prototyping
Cardboard is a great choice when creating prototypes of designs, as it is inexpensive and cuts quickly. Creating structures from corrugated cardboard can be a great way to test out complex designs because slotting, stacking and folding shapes all work well to create 3D forms.
But don't think that cardboard is limited to prototyping. With the right inspiration, it is sophisticated enough to stand on its own. See these 20 designs and you'll know why.
While cardboard has a lot of great applications, keep in mind that it isn't great for super intricate designs. And you'll want to keep it away from heat sources unless the cardboard is treated with an environmentally friendly fire retardant because it catches fire easily!
Add to the discussion by writing your own tips about this popular material.
Check out these five products made from card:
Inspired by the sculptural and infinite layers of the American Grand Canyon, architect Giancarlo Zema merged high design with recycled cardboard to create an innovative collection called Canyon for Origami Furniture.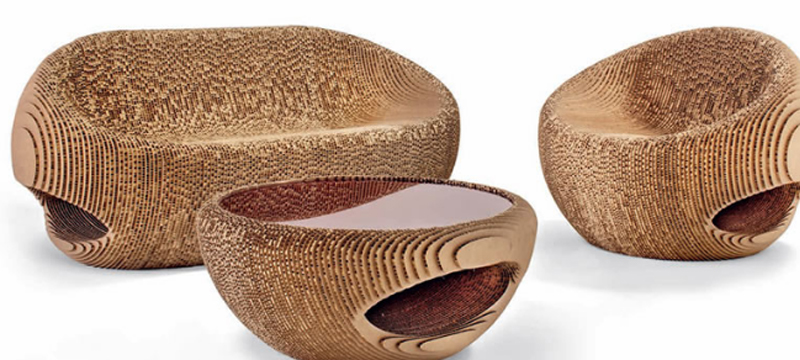 Graypants' flagship Scraplight series of laser cut cardboard pendant lights provides warm, intimate and functional lighting for any occasion or type of space.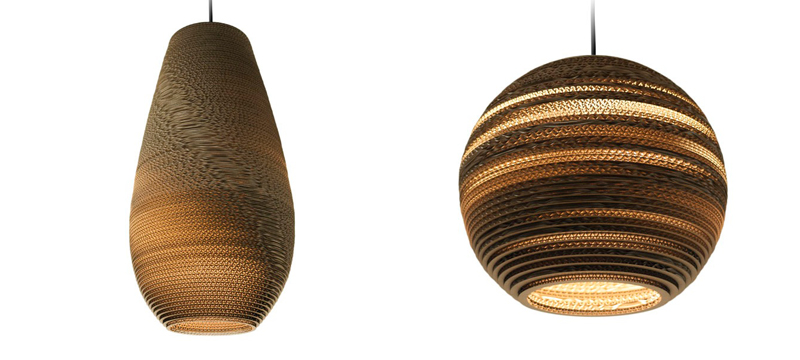 Aidan Chopra created the most epic Halloween costume for his son using laser cut cardboard.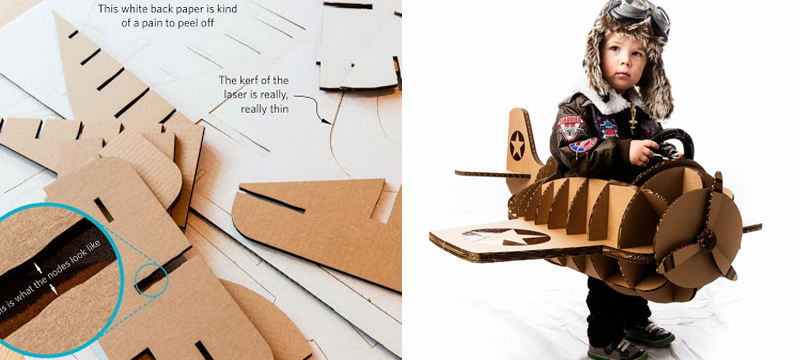 Named "Not A Box," this lamp by David Graas uses it's own laser cut cardboard packaging as the lampshade.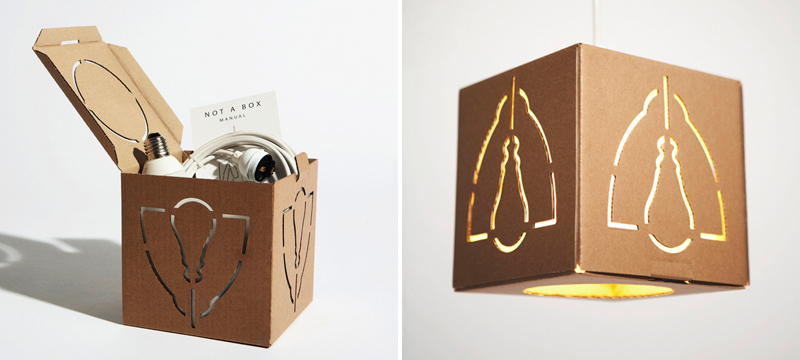 He also designed this innovative "FIY" (Finish It Yourself) children's chair, which he describes as "one step beyond Do It Yourself" since it incorporates the cardboard packaging with the laser cut chair pieces.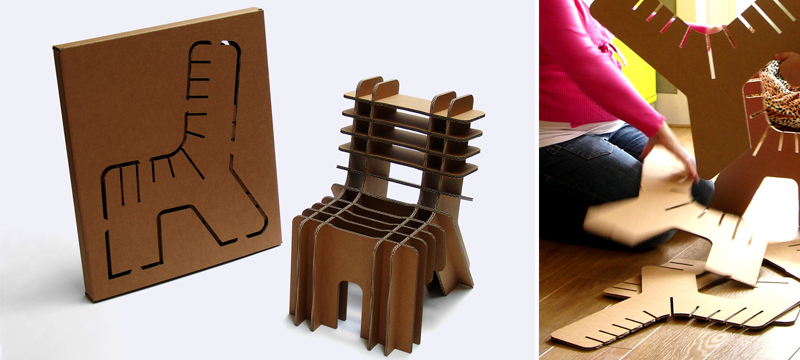 Top Quality: Great For Detail
With black acrylic making the list (twice!), you shouldn't be surprised to see white acrylic make the list too because it such a classic, neutral color. Acrylic cuts precisely, so you can create beautifully intricate designs with this material. This is probably why so much jewelry is made from acrylic. But it's also suitable for tableware, electronics enclosures, conference badges, signage, book covers and point of sale displays.
Feel free to write your own tips about this popular material.
And here's this material used to make these five products:
Etsy seller BenditaIndomina found inspiration for this laser cut white acrylic necklace from dragonfly wings.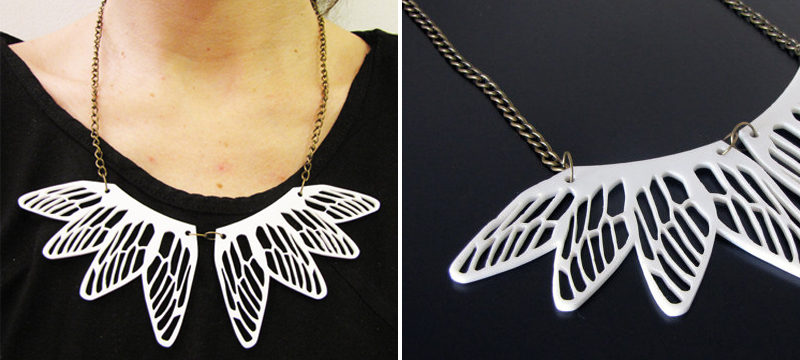 These laser cut white (and black!) acrylic bunny rings are a part of Etsy shop NocturneDesignsCut's "cute animals" series.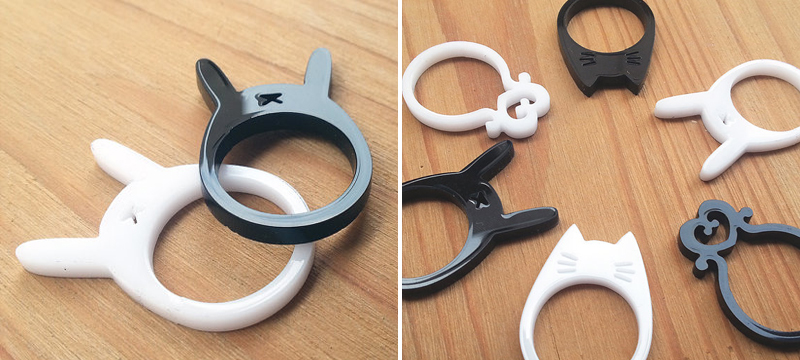 Etsy seller decoylab adds laser cut white acrylic atop bamboo bases to create one-of-a-kind clocks.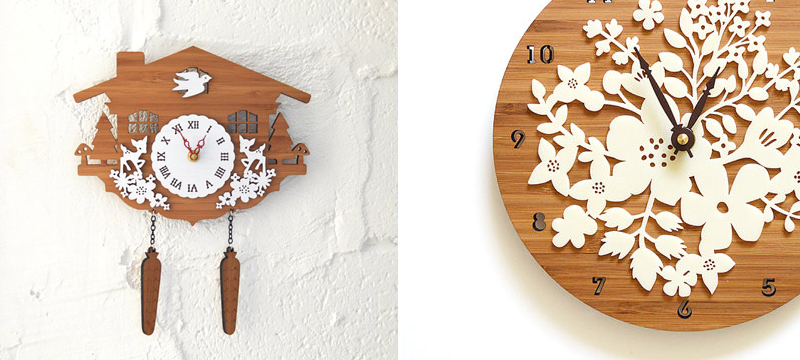 Artist Sandra Fettingis uses laser cut white acrylic to create geometric wall hangings.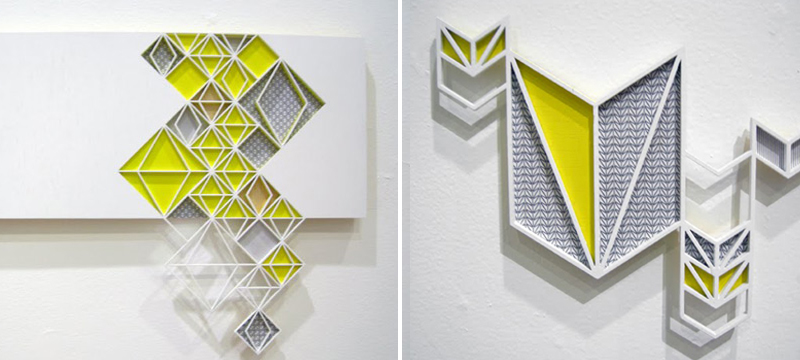 White laser cut acrylic placemats from Etsy shop ByCharlie add sophistication and elegance to any table setting with diverse patterns inspired by old fashioned paper doilies to fish scales.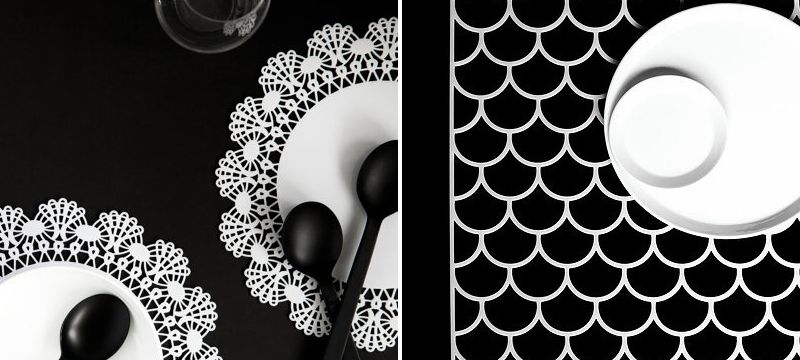 Top Quality: Easy To Glue & Paint For 3D Designs
Another budget-friendly material, MDF has a warm golden tone and a smooth texture that makes it easy to glue and paint with pretty much anything. It's great for creating complex 3D forms, so it lends itself well to making models, drones, clocks, prototypes, furniture and signage. Check out this previous post for even more laser cut project ideas.
Add to the discussion by writing your own tips about this popular material.
And here are five products made from the 10th most popular laser cutting material from 2016:
Inspired by historical industry lighting, the No.19 industrial lamp from Etsy shop HetLichtlab is designed to be assembled without screws or glue—using as minimal resources as possible.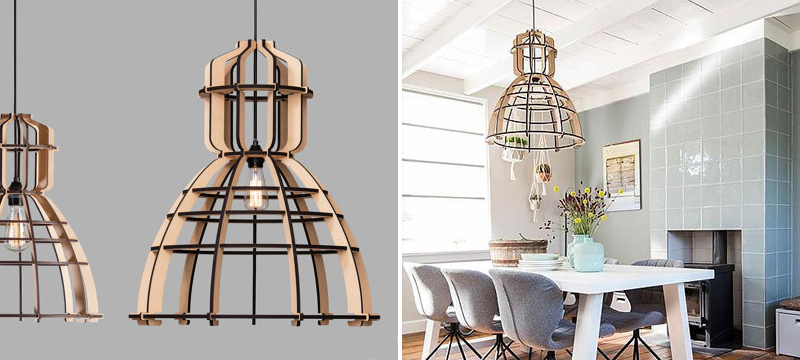 Flat pack animal heads from Etsy seller TheCraftyCowLtd keep animals safe by being made from laser cut MDF.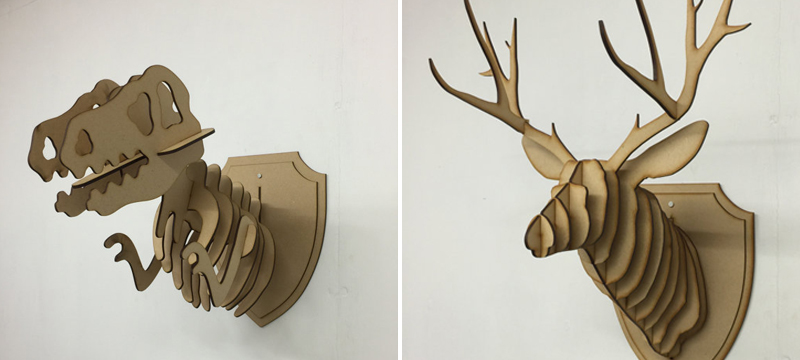 Etsy shop CedarStreetDesign pushes the limits of what laser cutting can do with its intricate mesmerizing patterns on this surprisingly sturdy MDF box.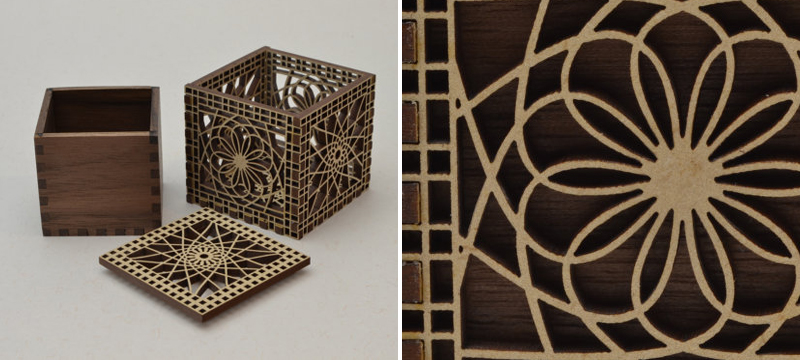 The laser cut curved lines and organic shape of the Pendant Antler by Etsy seller Lampshapers create a natural, yet modern, aesthetic.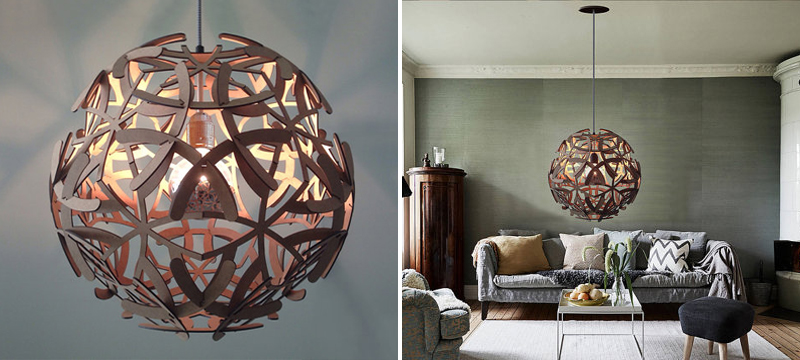 The beautifully stylized scale models from Etsy shop ScaledDimensions embraces Filipino ingenuity while creating a one-of-a-kind, modern sculpture that it is the perfect laser cut gift for art lovers and miniature enthusiasts.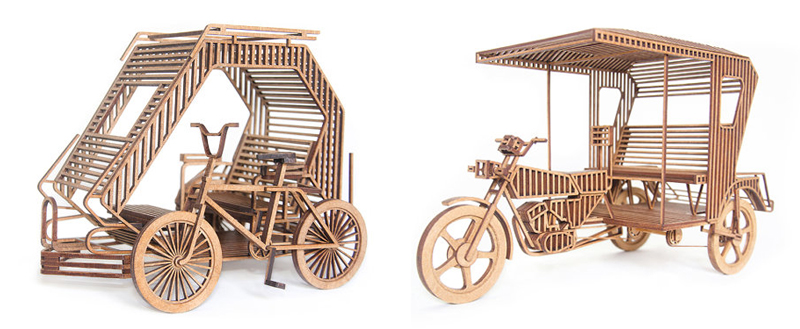 What Have We Learned From This List Of Popular Laser Cutting Materials?
A great price makes all the difference to you, so we'll be on the hunt for even more budget-friendly options as we continue to introduce new materials throughout 2017.
Got suggestions of what materials you'd like to see? Let us know your new material suggestions here.
Got pics of your creations? We'd love to see them. Mention @Ponoko on Twitter or give us a shout on Facebook.
And if 50 products were not enough inspiration for your next laser cutting project, check out this previous post of 100 awesome designs for even more laser cut gift ideas.