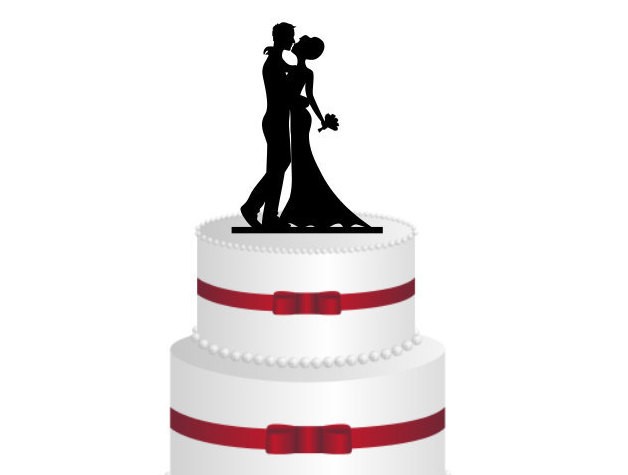 How Etsy sellers are finding success with generic wedding cake topper designs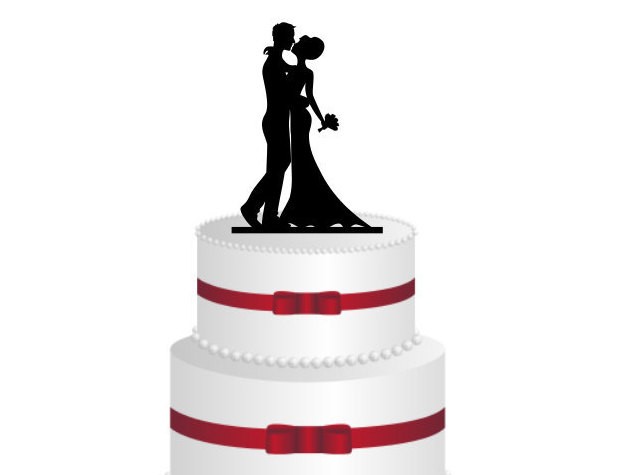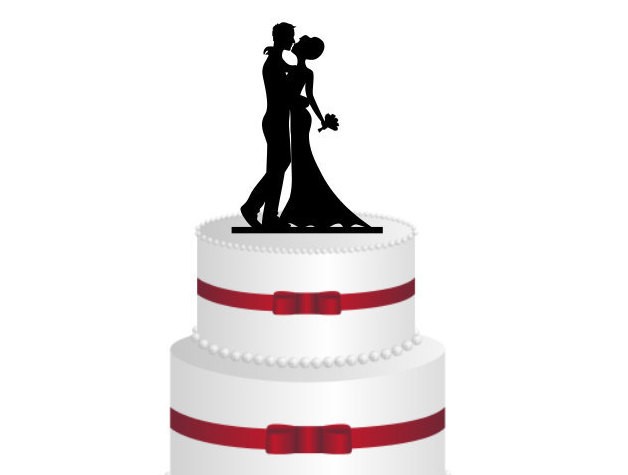 Wedding celebrations often take the best parts of a party and do them bigger and better than ever before. Weddings are a big deal, from the dress to the venue, to the dancing and of course that all time favorite… the wedding cake. And what better than a laser cut cake topper to top off the most extravagant of celebratory desserts.
Why use laser cutting for wedding cake toppers?
Let's take a look at what makes a good topper, and see how successful Etsy sellers are making the most of what laser cutting has to offer. Pictured above is an example of a laser cut bride and groom silhouette from LiveLoveDesigns7, which neatly captures the elegance and romance of a traditional wedding celebration.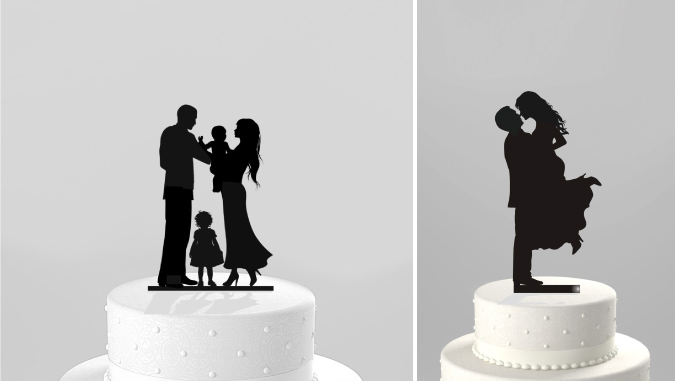 Laser Cut Silhouettes
The silhouette theme is well suited to laser cutting, with the versatility and precision that is able to be achieved. Forms are easy to identify and silhouettes communicate an enhanced energy through the simplicity of the unknown; the information that is not being shown.
This can be seen in the two examples above from True Love Affair. On the left, the happy couple are lucky enough to share their wedding day with their kids, and on the right, the exuberance and romance of the new bride and groom's interaction cannot be denied.

A sense of fun
While the elegance of a bride and groom in traditional wedding dress and fancy suit has broad appeal, the formal ceremony is not for everybody. Making a laser cut wedding cake topper is an opportunity to communicate your playful side. Here we can see some romance in the rain (above, left) by Cake Topper Design that may suit a wedding in Seattle, and the dancing family in the example from Wedding Cake Name (above, right) are really tearing it up on the dance floor.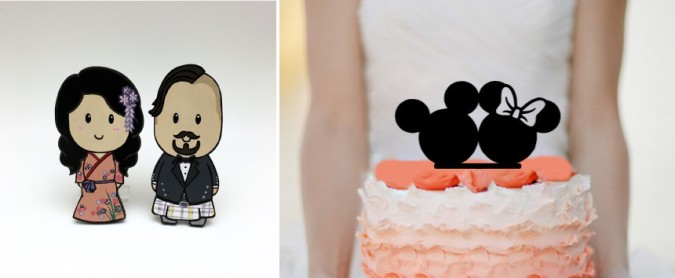 Another fun approach is to make mini-figures of the bride and groom. While not quite as precise as if they were 3d scanned and printed, the cartoon character versions from NGO Creations (above, left) are very cute and playful. It doesn't have to be an actual representation of the bride and groom – many themes and lifelong favorites can also become wedding cake toppers thanks to laser cutting! Chances are this fun topper from Coral Mint Design (above, right) wasn't the cake from Mickey and Minnie's actual wedding…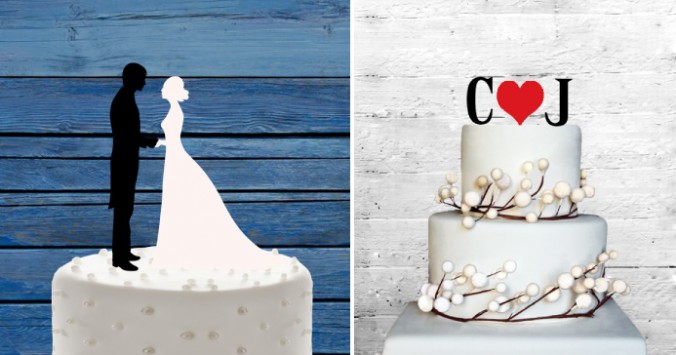 Mixing laser cut materials
By using different materials for a laser cut wedding cake topper, further context can be created. The bride in white is matched by a groom in full dinner suit in this graceful ornament from Cake Topper Design (above, left). Enhancing the use of text with a warm red love heart from Coral Mint Design (above, right) is eye-catching and romantic, just right for a wedding cake.
Most of the designs shown here have been laser cut from acrylic, which is a good choice for something you're sticking into your dessert as there is little chance it will impact the flavor or health of your wedding guests.
Personalised cake toppers using laser cut text
For a more personal touch, having names, initials or other identifying aspects of the happy couple custom laser cut is another option. Here we can see two examples; one with ornate text from Coral Mint Design highlighting the newly shared surname (below, left) and another approach taking romantic inspiration from the ever-romantic Jack Johnson song Better Together (Holiday Cake Topper, below right).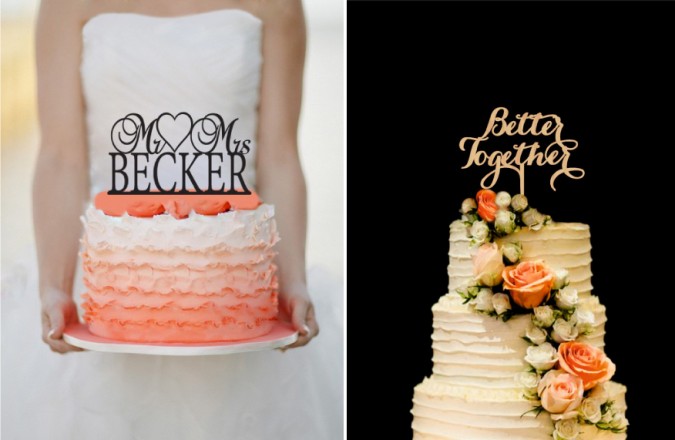 The cake toppers that we have highlighted here are just a taste of the diverse range available from savvy Etsy sellers. With as many as 2.5 million weddings annually in the US, these laser cutting entrepreneurs are on the right track by directing their creativity towards this vibrant market segment. Perhaps you can find success too, using the Ponoko Personal Factory to top off the most memorable of matrimonial desserts!