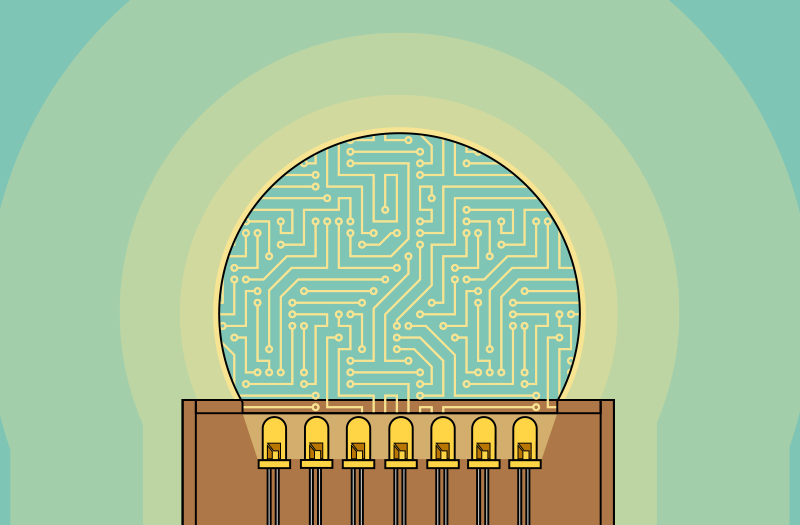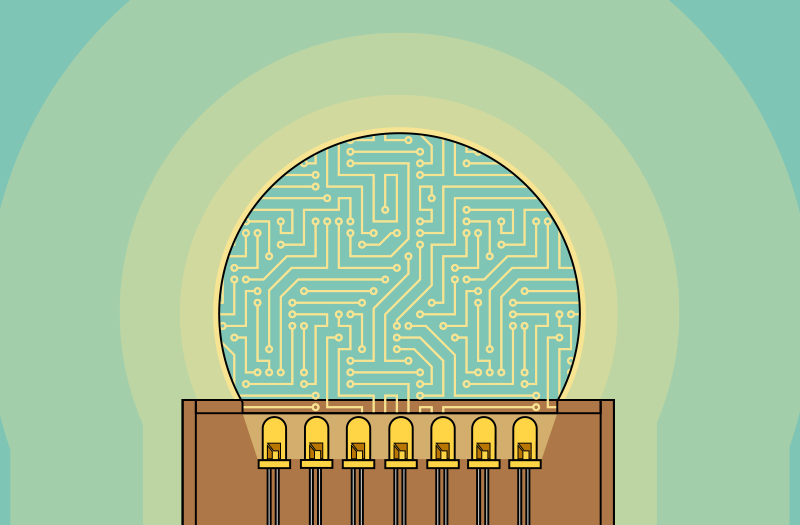 Use These Engineering Design Ideas To Inspire Your Next Build
There are a few ways to change the world.
For hardware engineers, you can tinker your way into building the future, go full-on into starting a business to do it, or work in a startup or innovative enterprise division that needs your hardware engineering expertise.
However you do it, one thing remains constant: You. You're the one with the dream. And you're the one who will execute on it—including pulling together a team and resources to get shit done.
If you're thinking about how to go from idea to product to market 10x faster and lower cost than ever before, using digital making tools is the only way to go. From digital design software and digital DFM analysis to instant online pricing, digital manufacturing (like laser cutting) and digital fulfillment management, these tools will help you get the job done.
But what is a laser cutter really capable of for hardware products? Here are some examples of engineering design ideas to get you thinking.
Cool Engineering Projects Gallery
How will you begin to design engineering projects? To get you thinking creatively, we curated some of the best ideas on the web. Some are easy engineering projects, while others are more advanced—from robots and electronics enclosures to keyboards, speakers and more. Whether you are an Arduino fan or like to build with Raspberry Pi, check out these sweet engineering project ideas for inspiration.
1. Otto LC
While building a biped that moves around like a person is a significant challenge, you don't need much experience to build a robot like Otto. This sweet open-source robot comes with a downloadable 3D model for printing the body as well as all the electronics/programming you need to get Otto going—from walking, dancing, making sounds and avoiding obstacles. While many versions of Otto are 3D printed, the Otto LC is a version where the housing is laser cut (hence the LC). Once you have the laser cut parts, you can build Otto in less than a day and be able to say that you built a functional biped!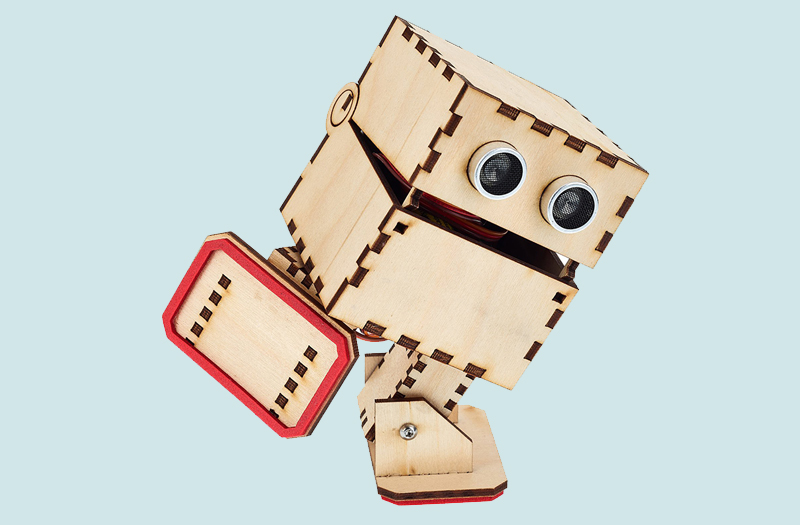 2. Fri3D Biped Robot
Loosely based on the Otto bipedal design, the Fri3D Biped Robot is one of the main projects at Fri3D Camp (a family hacker, maker and DIY camp in Belgium). The face (or Ph0xx) is the animal-shaped badge given to attendees that does double-duty as the brains for the build. While this version is laser cut out of MDF, imagine the fun you could have with all the colors of acrylic.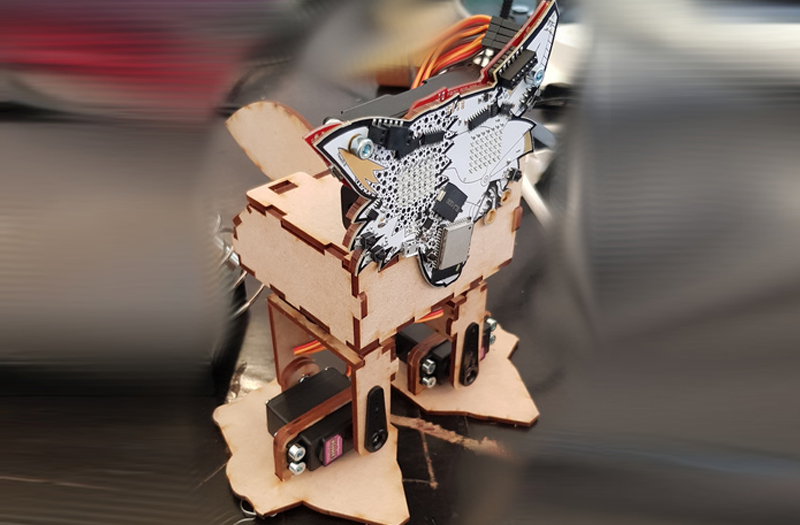 3. TJ Bot
If you wanna put some fun into functional, then TJBot is your guy. Born at IBM Research, TJBot is a DIY template to learn, experiment and explore AI with IBM Watson. Laser cut this little dude using these plans, then use the open-source, step-by-step recipes (read: coding instructions) designed for a Raspberry PI to connect your TJBot to Watson developer services. Now the fun begins. Teach TJBot to tell a joke, carry on a conversation or even dance. We'd love to see the Macarena!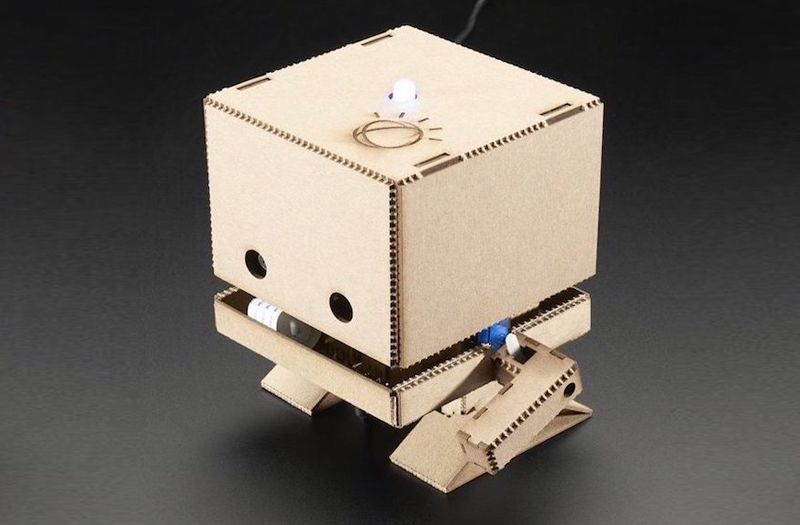 4. LOFI Robot
LOFI Robot is an educational robot construction kit designed to help young students and engineers learn basics of mechanics, electronics and coding. This Rover Robot is the most basic construction that can be built using a LOFI Robot kit, so it's an ideal place to start. What's great is that this tech is fully open source and works with Arduino and Scratch, making it a universal build. Get the plans here.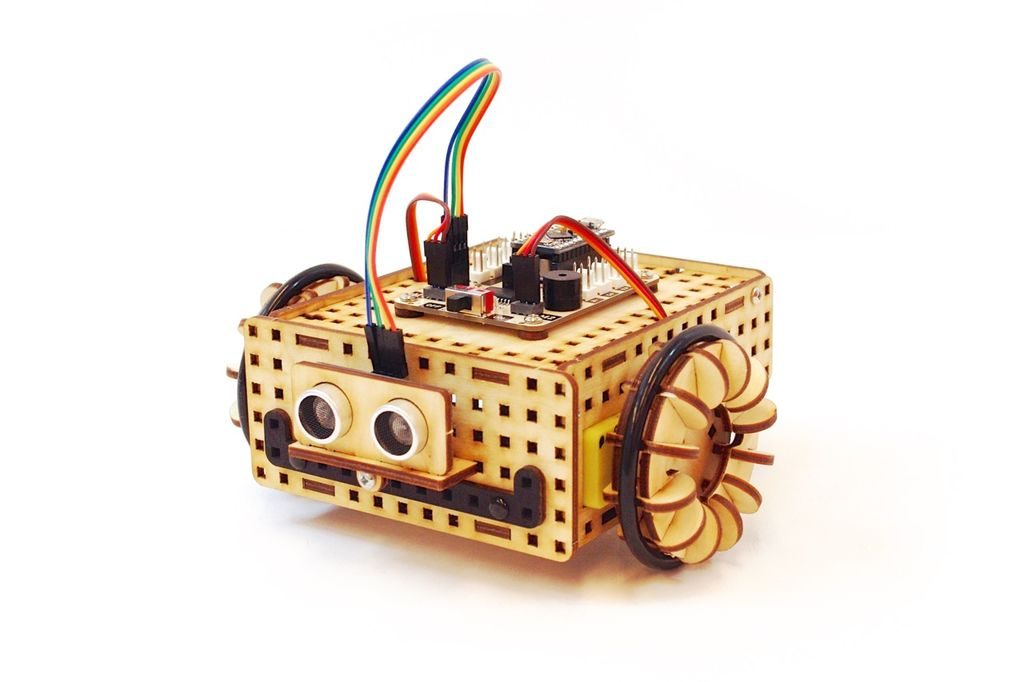 5. Mirobot
While the Mirobot, a small WiFi-based drawing robot, is designed for kids, that doesn't mean that those who are young at heart can't play along. Whether you find inspiration in Pollock or Picasso, program this little guy to create your own original works of art. Originally launched on Kickstarter, you can find out more info here (including links to the Github files for the PCB and chassis).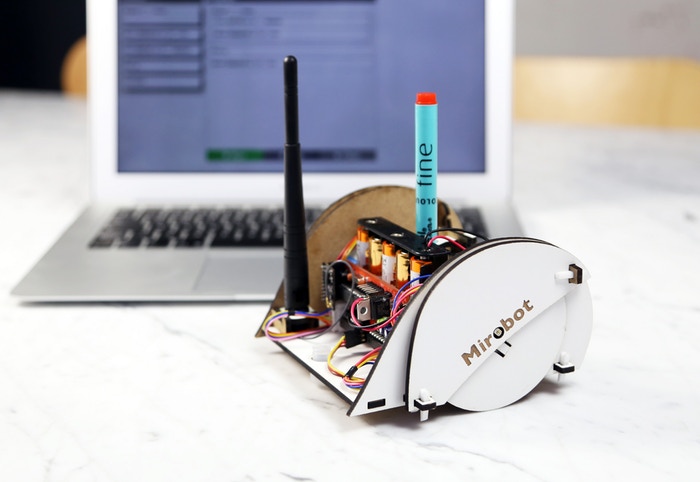 6. MeArm Robotic Arm
Robot arms. Because robots are awesome. The MeArm Robot Arm was developed to be the world's most accessible learning tool and smallest, coolest robot arm. #success. It comes as a flat-pack kit that you can build with nothing but a screwdriver and enthusiasm. Count us in. Described as the "Perfect Arduino Project for Beginners," it's a great kit to get anyone started in the world of programming, electronics, robotics and engineering.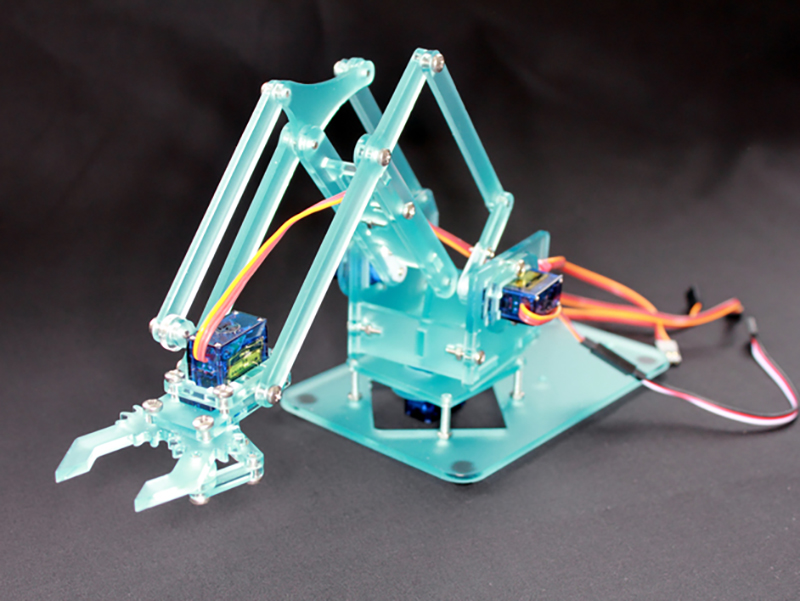 7. Datamonster
Want to build a robot that can not only see you but also respond to your presence and movement? Then dive into the world of datamonsters. In addition to responding to immediate interactions, they can also be influenced by events happening in the world outside. Lucas Ainsworth made this datamonster using the Intel Galileo board. Read all about the project (and get the detailed documentation links) here.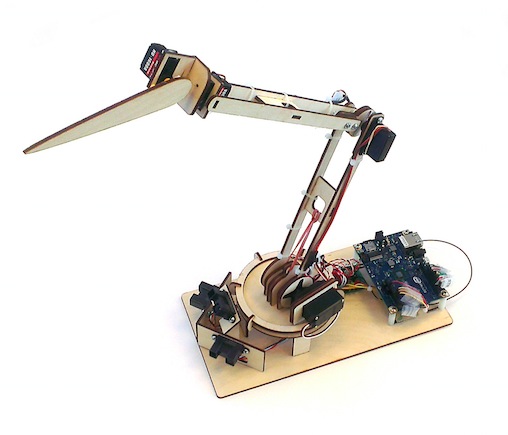 8. Quadcopter/FPV Racing Drone
If you'd like an easy drone build, then check out this quadcopter designed by Andy and Ollie, the kids behind Banana Science. While this demo version is laser cut from acrylic because it's aesthetically appealing, you may need to look at wood or metal materials if you need extra durability (read: your flying skills need work and you crash a lot). Get the files here.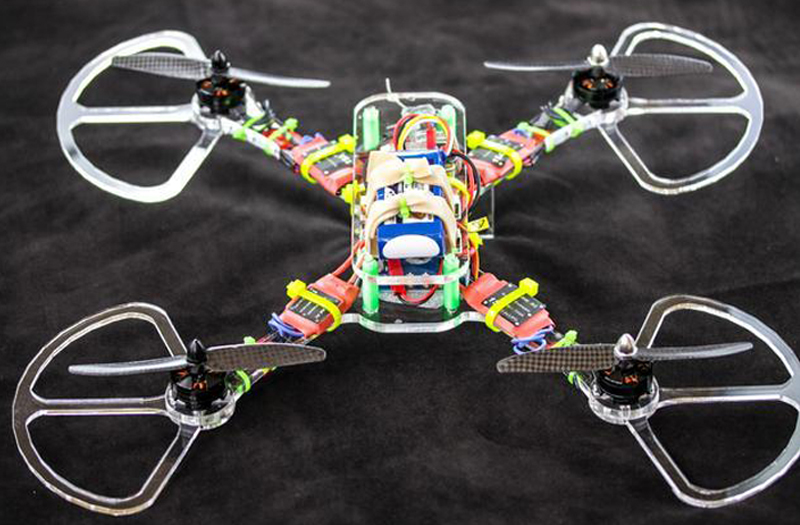 9. Flamewheel 2WD RC Robot
A part of the DFRobot Education Series, the Flamewheel is an agile two-wheeled robot with unique and innovative movement. It's constructed from laser cut wood and only needs a few screws to complete assembly. Based around a Romeo BLE mini 4.0 microcontroller, this robot is controllable via Bluetooth using your smartphone and Goble, a Generic BLE APP controller. Get the kit—and see the flames!—here.
10. RC Street Racing Car
The kids from Banana Science are back, this time with an ultimate one-week project for the classroom—or your dining room for those post-grads out there. This high-performance, remote-control street car is super fast, durable, and fun to both build and drive. In fact, it's so fast that it can do the "super doughnut," meaning the rotations are so intense that the car spins at a 45-degree angle. While all the parts of the frame can be completely 3D printed (including the tires and gear), there are options to incorporate laser cut parts as well. Learn all about it here.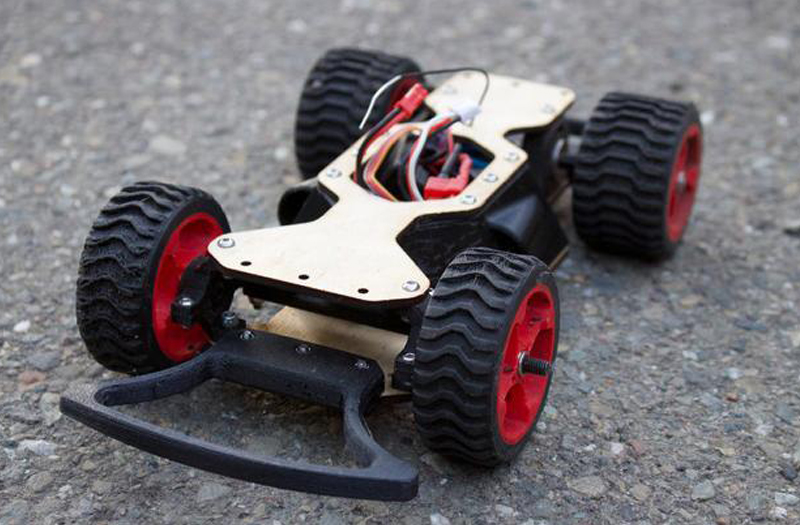 11. Walking Cat Robot
Once you've got the basics down, a really neat robot kit by Petoi (who specialize in pet robots) is Nybble—described as the world's cutest open source robotic kitten. Its purpose is to make programming and robotics easy to learn and understand, all in one adorable package. But don't let the cute-factor fool you. This is a legit Arduino-driven robot that stores instinctive "muscle memory" to act and react with and to the world around it.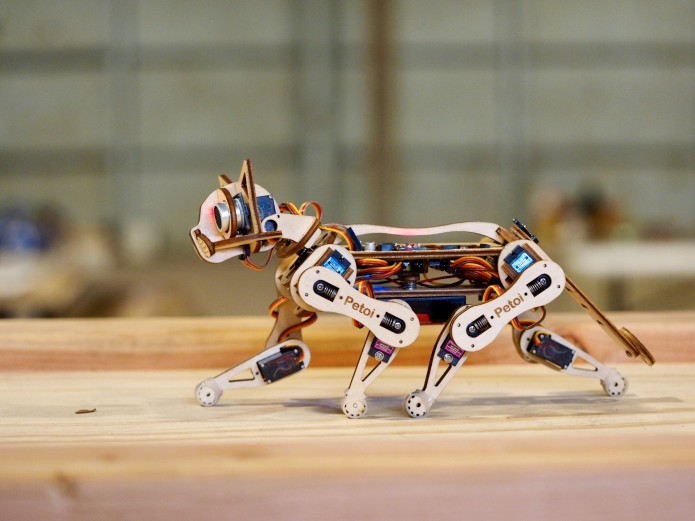 12. Escape Game RC Car
If you've ever been to an escape room, you've undoubtedly had to deal with a wide variety of puzzles that you have to solve in order to get out of the "prison" that you've willingly thrown yourself into. Beyond the puzzle that you're trying to decode, the mechanisms used can be extremely clever, and coming up with a new device to use in these scenarios was a perfect challenge for a team of Belgian college students.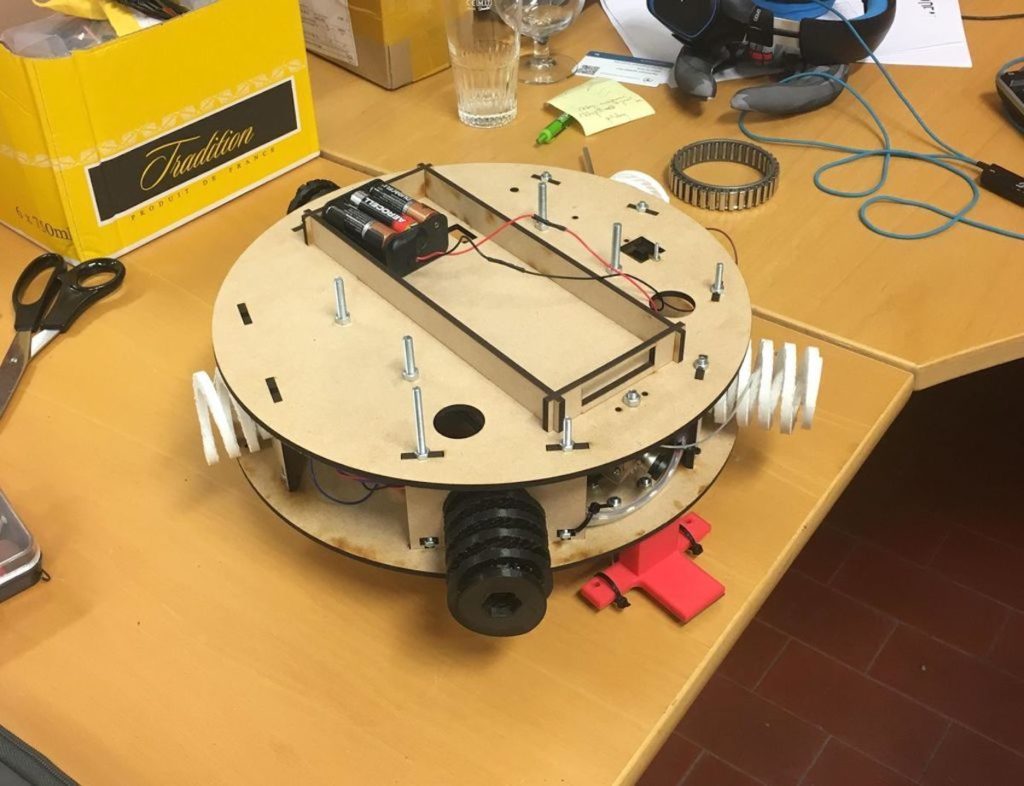 Based on the project requirements, they created a Roomba-like circular robot controlled by an Arduino Uno and motor shield that drives a pair of DC motors. The idea, while not fully implemented due to time constraints, is that it can be remotely operated only after solving a riddle and within a certain time period, then drive itself back to a designated spot once the game is over. Read all about the project here and download the plans here.
13. SelfieBot
If your selfies suck as bad as ours (arms just aren't long enough!), this SelfieBot will have you looking picture perfect every time without needing a full-size photo booth. The Raspberry Pi-powered selfie camera has an HDMI screen and thermal printer to print out the pic, Polaroid style. Use it to up your Instagram game, or incorporate into events such as tradeshows or team-building sessions to make memories even more memorable.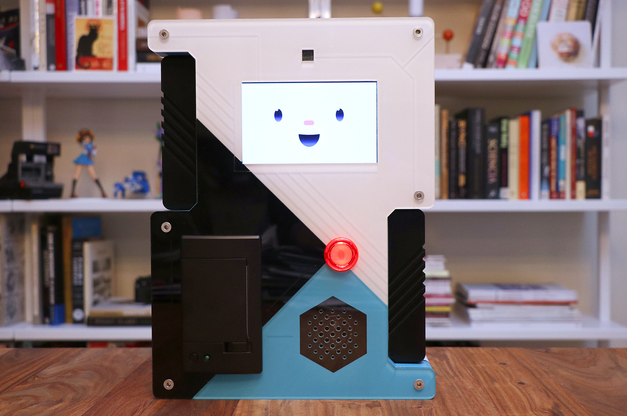 14. Roy The Robot
As a creature creator for Hollywood films and part of a successful combat robot team for the show Battlebots, Brian Roe knows a thing or two about bringing robots to life. Inspired by all the amazing micro-controller projects he was seeing online, Brian wanted to build cool mechanical creations. The concept of Roy the Robot was born.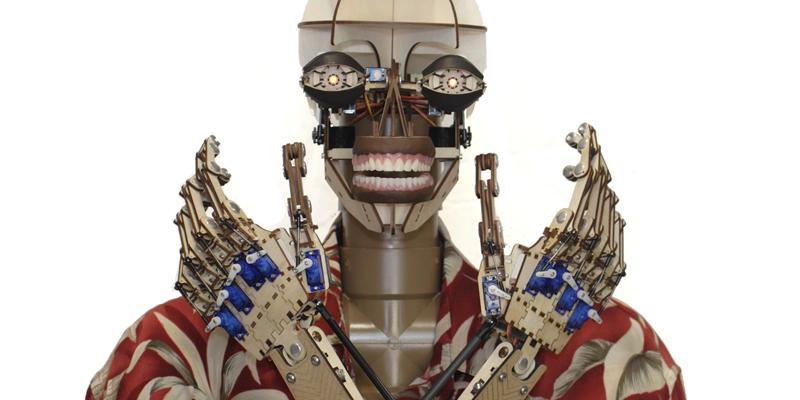 First was a finger. Then that finger became a hand. That hand needed an arm and that arm needed… But wait, what about a full eye mechanism? Those eyes needed a place to go, so then skull building commenced. That skull needed a jaw to talk… Well, you can see where this is going. The project has grown into creating a human-sized animatronic character from only laser cut mechanics and off the shelf hobby servos. Get all the details (and order your own kit) here.
15. Basic Computing Kits
Everybody knows that real computers have a wooden case. So if your RC2014 has an inferiority complex sitting next to your Apple I, Northstar Horizon or Video Genie EG3003, then fear not. The folks at RFC2795 Ltd. have a range of laser cut wooden cases available. These UK-based engineers like tinkering with old eight-bit home computers to see what can be done with modern solutions. Check them out over on Tindie to see all of their imaginative engineering design ideas.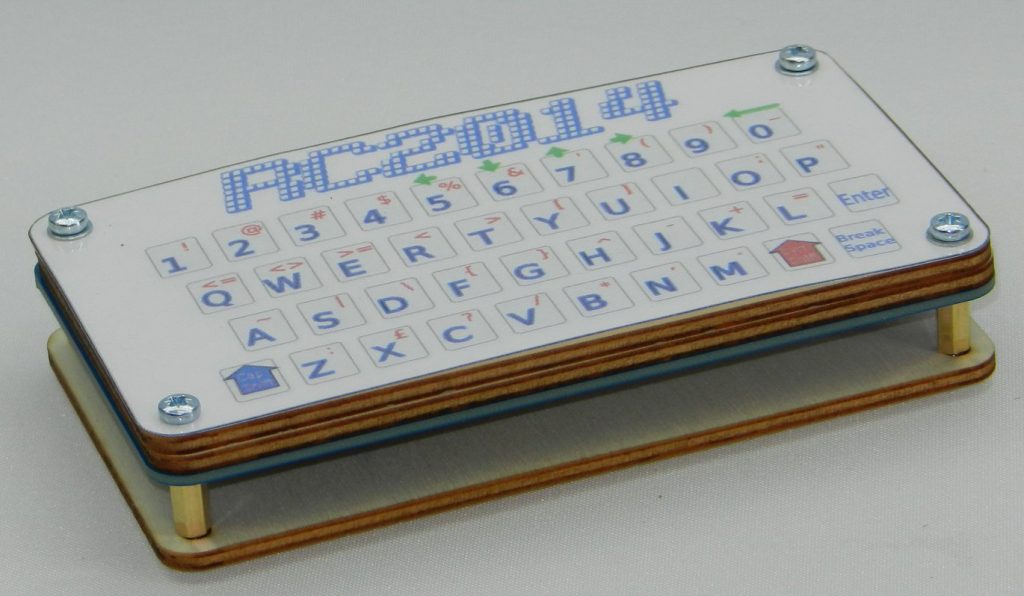 16. Engraved Raspberry Pi Case
Keep your Raspberry Pi in tip-top shape with this enclosure. It's made from 3mm acrylic; use clear for the top panel to see the engraving, then choose your fave color for the sides and bottom. Wouldn't this look cool in aqua? Or what about lavender swirl? Get started with the free files here.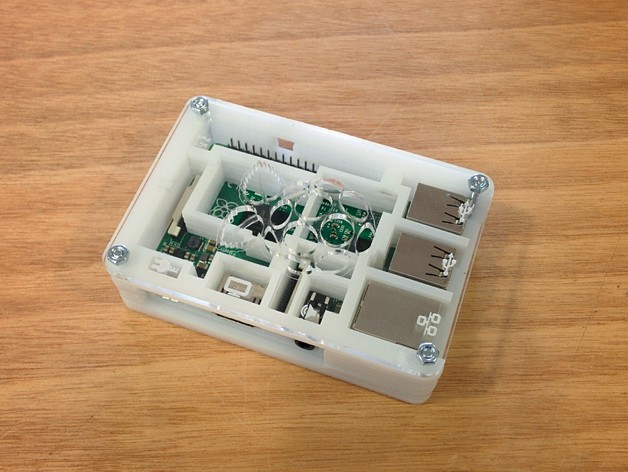 17. Raspberry Pi Zero Case
Created by the designers and engineers at Desertstone Academy, this simple Raspberry Pi Zero case is laser cut from acrylic and held together via four screws. Easy peasy! Clear acrylic was used so the board is visible, but you could also choose a translucent acrylic for a pop of color. Get the files here.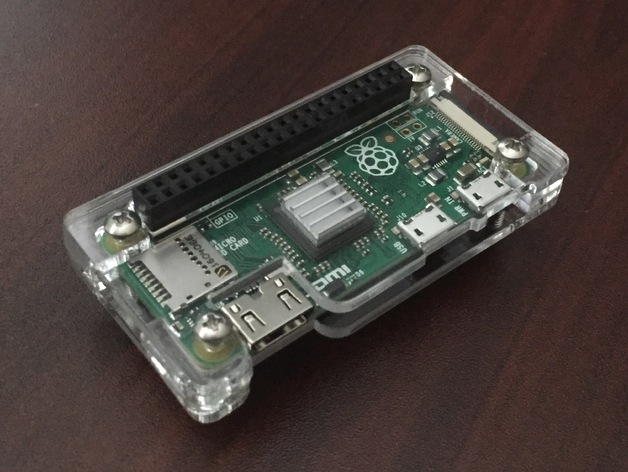 18. Colorful Raspberry Pi Case
Speaking of color…this just might be our favorite Raspberry Pi enclosure evvaahhh! It's like a bag of Skittles just opened up. Experience the rainbow! But showcasing the color spectrum isn't the only option. A black and silver combo has a modern aesthetic. Wood tones have an earthy vibe. Pair up colors to support your favorite Hogwarts House or sports team, or choose hues that align with your alma mater or company colors. Endless options! Get the files and make your own via Thingiverse.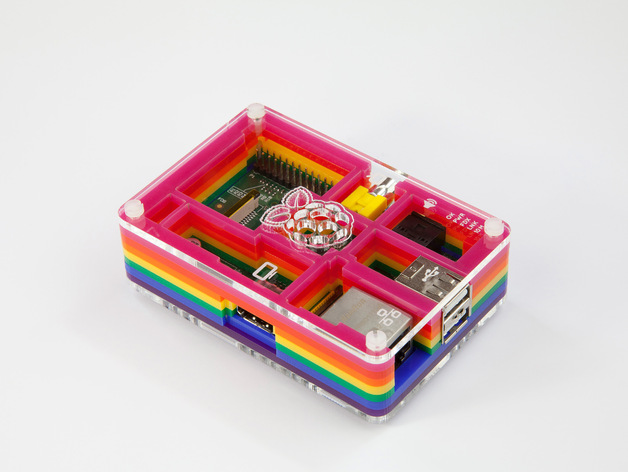 19. Raspberry Pi Cluster
For powerful builds using multiple RasPies, this case design uses a laser cut clip system to hold the sides together, no glue or screws needed. That's smart design! This site will also generate design files for clipped boxes in 3mm material, so get to downloading and making already.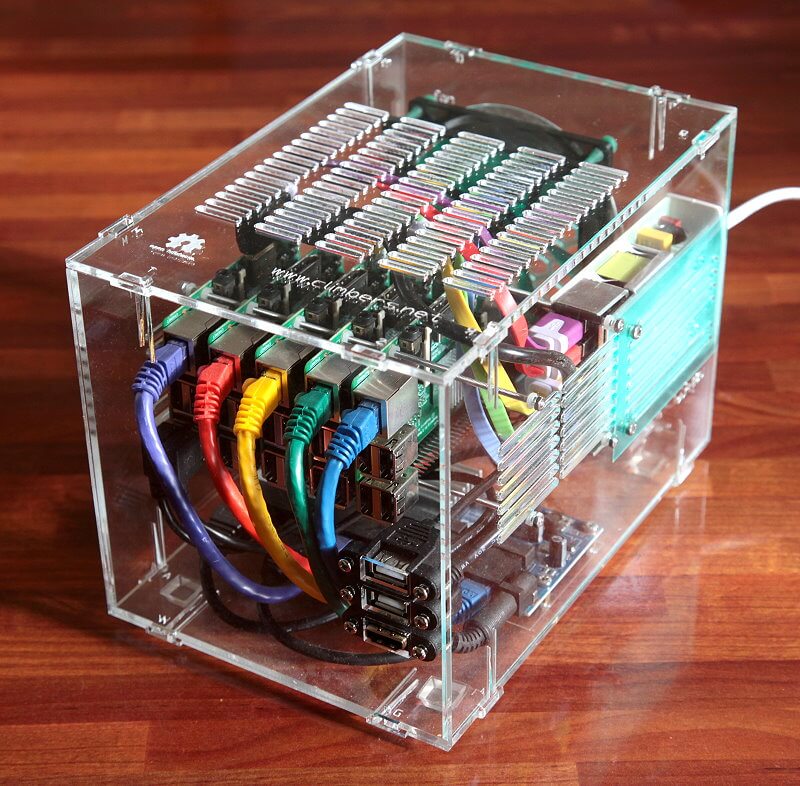 20. Marvell ESPRESSObin Case
The Marvell ESPRESSObin is an ARM-based SBC that offers two killer features over the usual Raspberry Pi and similar boards: Multiple networking ports and fast storage links via SATA and USB3.0. This makes it ideal for use as low-cost network file server/firewall/router.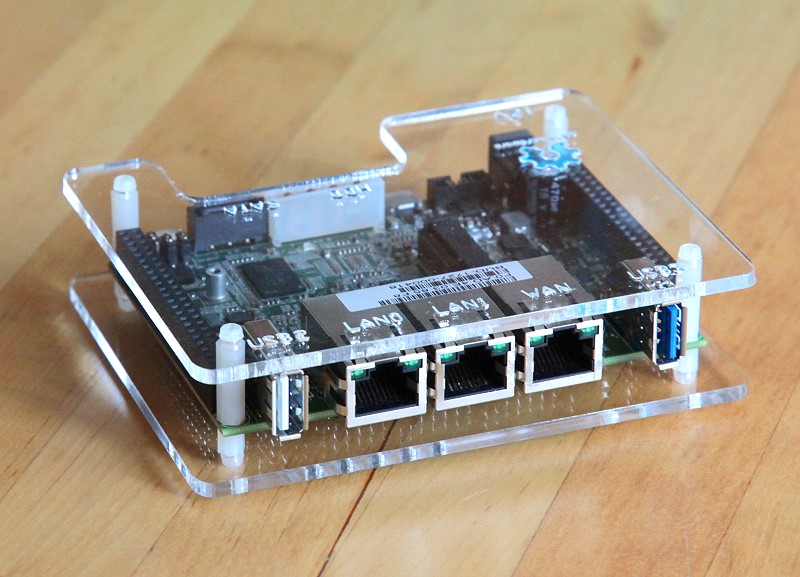 The case design is simple: A horizontal slice for the top and bottom pieces, each held together with four sets of two-hex spacers and screws. All the external ports are accessible with this case, and port labels are etched on its top. A small ventilation grill on the underside of the case is positioned to allow cool air to be sucked past the Armada 88F3700 SoC (the main heat-generating chip) by passive convection. You could easily customize the design for connecting to the GPIO headers from above. The bottom screws sit proud of the case and act as "feet" to stop the acrylic case getting scratched. Download the making files at Climbers.net.
21. Switch Game Cover
Laser cut from a single piece of real wood veneer for a precise fit, these covers for the Nintendo Switch gaming system will up your game. The perfectly matched grain patterns create a seamless look that wraps the sleek wood right around the dock and across the console from one Joy-Con controller to the other. That beloved contraption takes up some prime real estate in living rooms, so give it a case that shows off some savvy style. See the cases at Toast.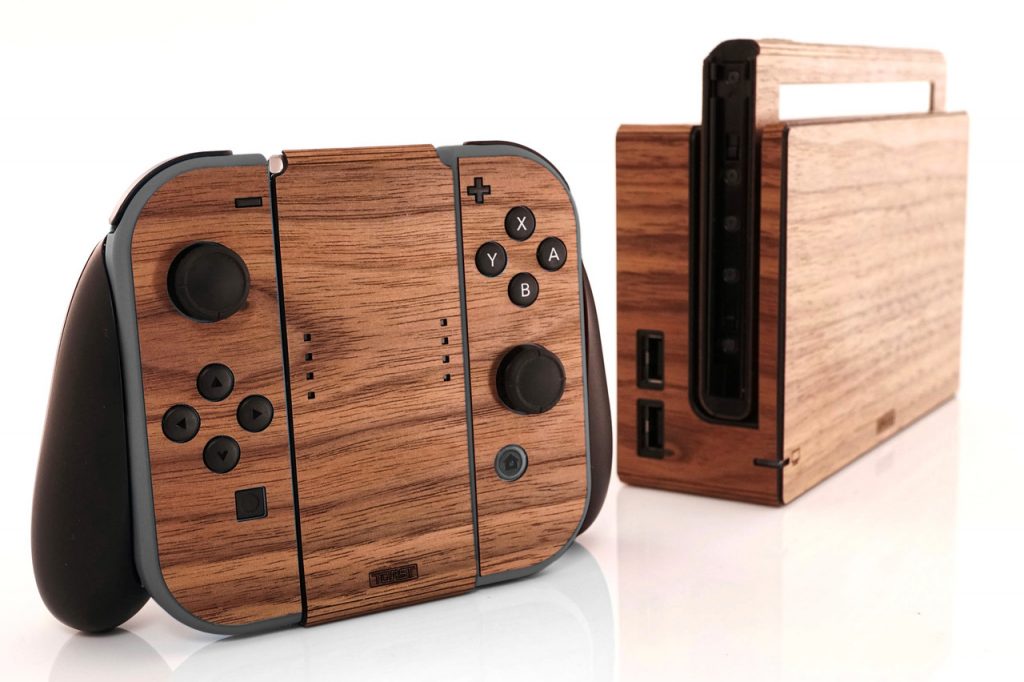 22. DIY Gamer Kit
The DIY Gamer Kit by Technology Will Save Us (TWSU) was intentionally made with lots of parts to put together to encourage people to engage with the product. The system contains an Arduino Uno, a custom-designed PCB shield and an LED matrix that delivers a stunning 64 pixels of graphical feedback. An IR transmitter adds support for multi-play, and a small piezo buzzer brings a sonic dimension to the system.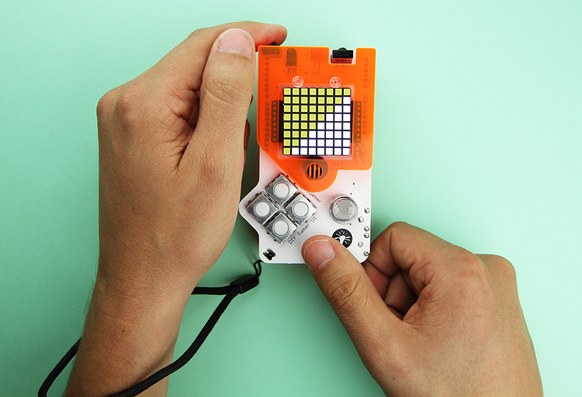 While founders Daniel Hirschmann and Bethany Koby say they want to empower kids and to get them excited about technology, this kit is just as fun for adults. Get the full story in Wired.
23. Gameduino Case
Gameduino connects an Arduino to a VGA monitor and speakers, giving powerful sprite and tile-based graphics for video game creation. The laser cut case and assembly images can be found here.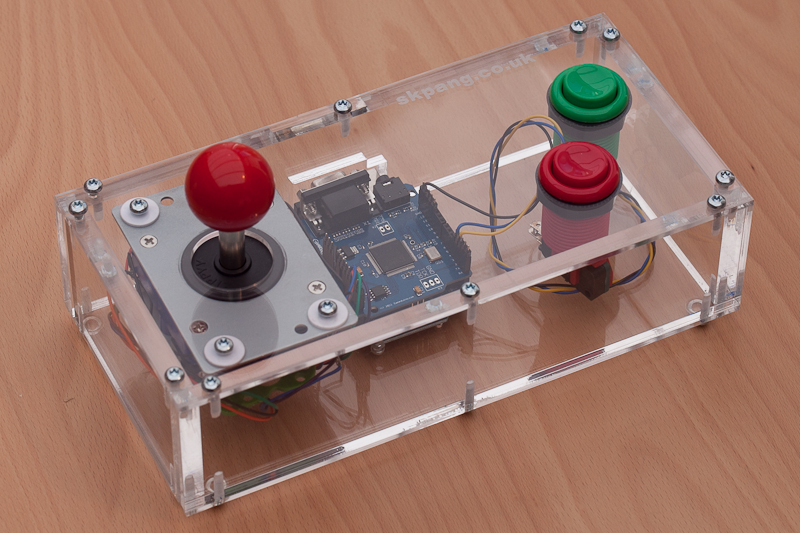 24. Game Boy Null
If retro gaming is your thing, then this kit from Ampersand will help you build a Raspberry Pi Zero W handheld game console with a 2.8″ screen and all the buttons needed for a Gameboy-inspired experience. Time to get the thumbs in shape! To get the Ponoko-compatible, free laser cutting files, download them here.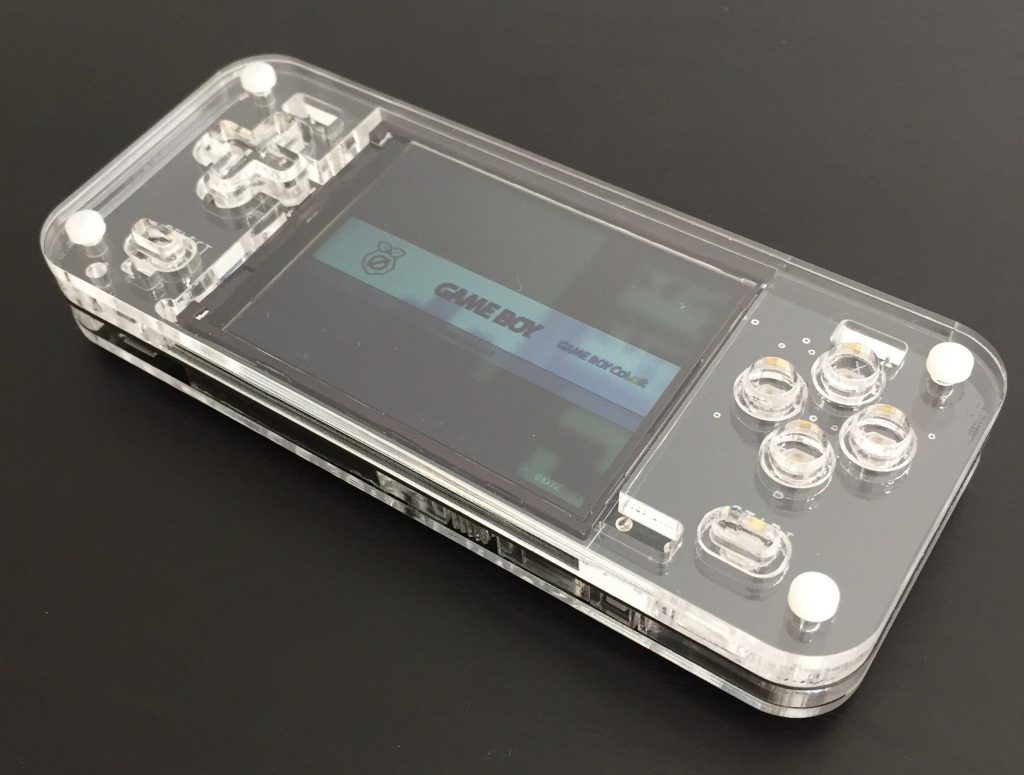 25. Portaberry Pi Ultra
For another retro gaming experience, look no further than Michael Barretta's Portaberry Pi Ultra. Powered by Raspberry Pi 2 running Retropie 4.1, this Portable RPI Game Emulator features a 5" HDMI display, stereo speakers and a full compliment of modern controls. Read the complete story on Make: and download the files for making here.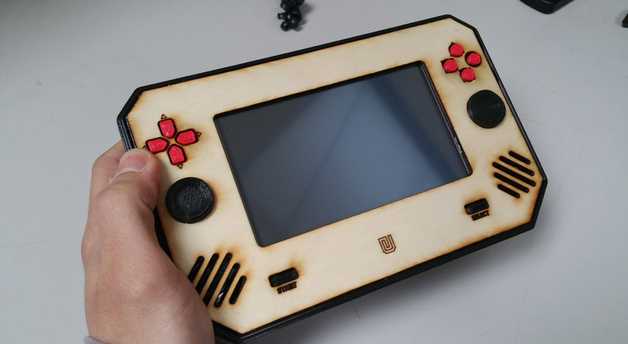 26. RetroPie Arcade Game Controller
Keeping with the vintage arcade games theme, you don't want to miss a little piece of electronics enclosures heaven with this throwback game console powered by Raspberry Pi. "It's not a piece of art nor an invention, but a pretext to play with electronics, programming and laser cutting," according to Joël Kempf, the computer scientist who designed this piece.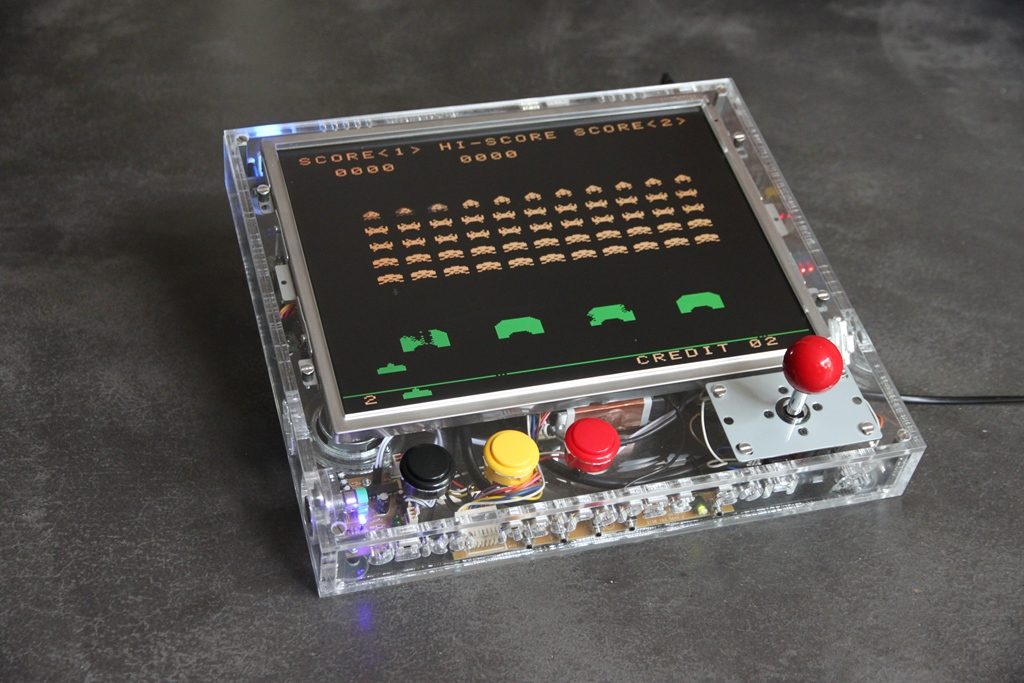 The idea is to use a Raspberry Pi for emulating old arcade cabinet games. All components are assembled in a single and portable box, the game is easy to use with three action buttons and a joystick, and inspiration comes only from the 1980s. Totally tubular! Follow his full journey on Wikimal, then go make your own.
27. Porta Pi Arcade
Need some good office desk swag? Miss the old days of those not-so-portable hand-held game consoles? Want to feel proud of building your own arcade cabinet without sacrificing the space? Need a home for your Raspberry Pi? Yes, Yes and YES!!! Then Ryan Bates has the kit for you.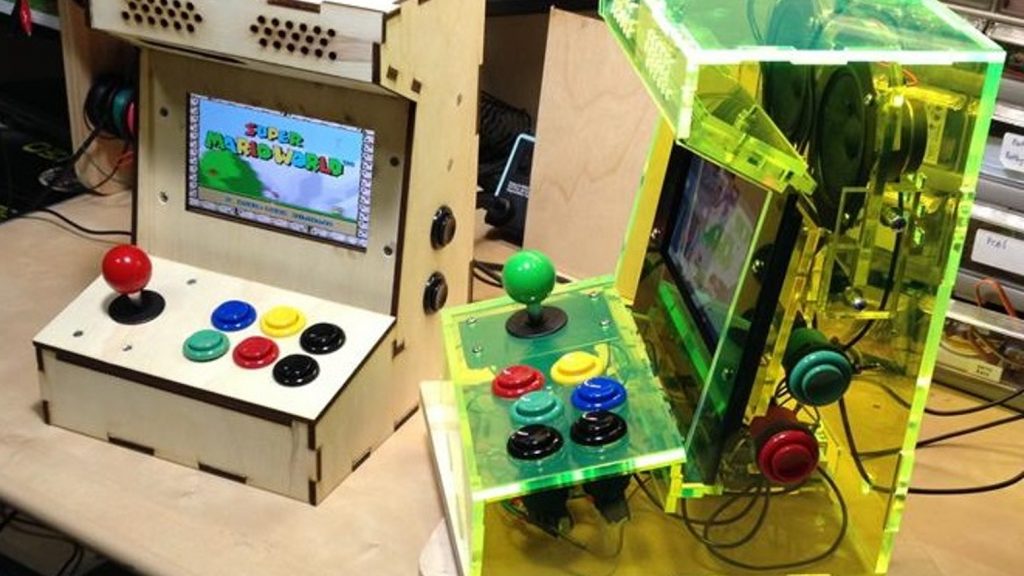 Originally launched on Kickstarter, the Porta-Pi is a desktop-sized arcade cabinet kit. The full kit includes all the parts (except the Raspberry Pi) and detailed instructions to have your own functioning mini arcade cabinet. See this and the other kits he offers at Retro Built Games.
28. Korg Nutube Amplifier Case
A particularly cool design such as the Korg Nutube Amplifier deserves a suitable enclosure to do it justice—ideally one that showcases the Nutube glowing during operation. And since the Nutube is to some extent microphonic, it benefits from being enclosed. What's unique about this design is that it includes self-locking 90-degree joints between parts, using no additional hardware. Check out the complete build here.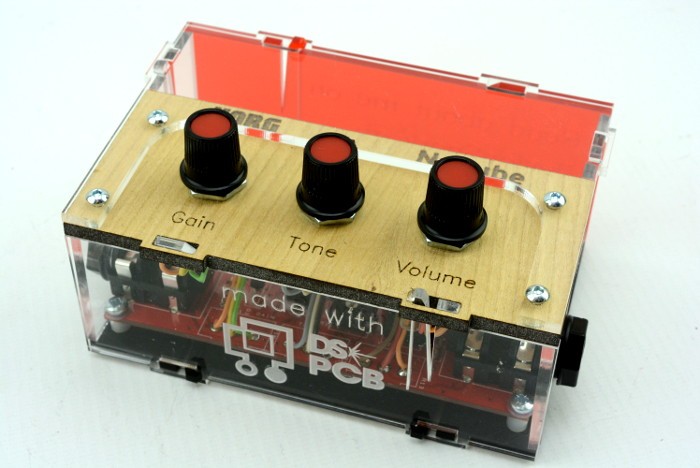 29. Electronic Instrument (Loop Machine)
If you like to sequence drum samples and play around with different beats and rhythms, why not make your own electronic instrument to sequence and loop audio and MIDI data? This portable design runs off a single 9-volt battery, uses Arduino for control and is housed in laser cut plywood (although any number of materials would work from acrylic to colored MDF). Build your own following this tutorial.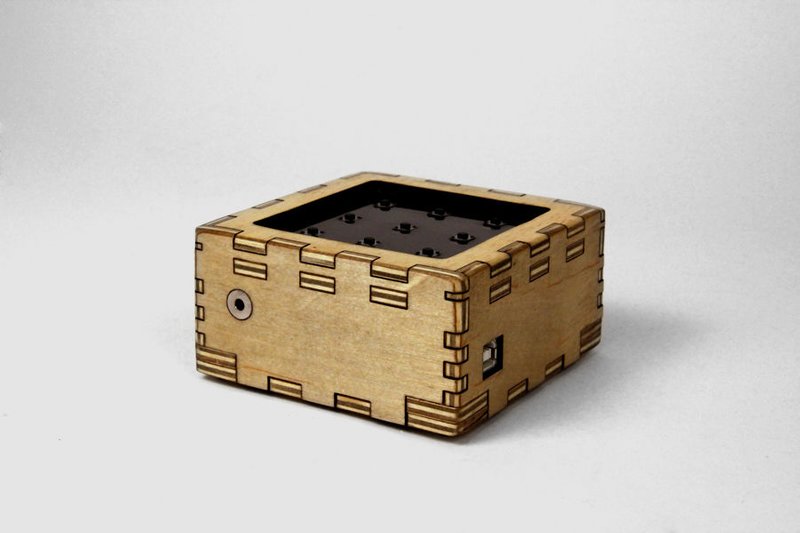 30. Simple Speaker
Have you blasted through another speaker because you're cranking up Britney Spears in the basement? Understandable. But you've gotta have your tunes, and this simple speaker is a great little project to start with if you're new to electronics. Once you have the laser cut parts, it's just configuring the digital amplifier board, speaker, DC jack and cable. Grab your screwdriver, and you'll be jamming to "Baby One More Time" in no time.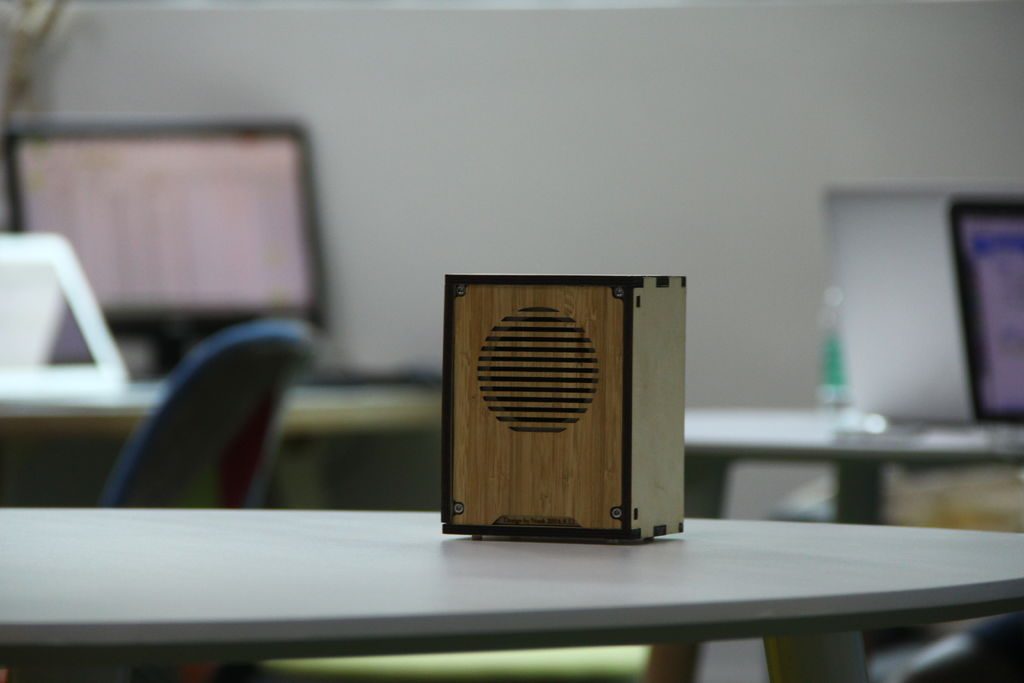 31. Raspberry Pi Mini HiFi
Spotify sounding a little soft on your iPhone? Pump up the volume by building your own mini HiFi system. All you need is a Raspberry Pi, PC speakers and these plans from Thingiverse. The laser cut plywood looks great on its own, but you could stain it for a richer tone or use the wood as a canvas for a custom, hand-painted masterpiece.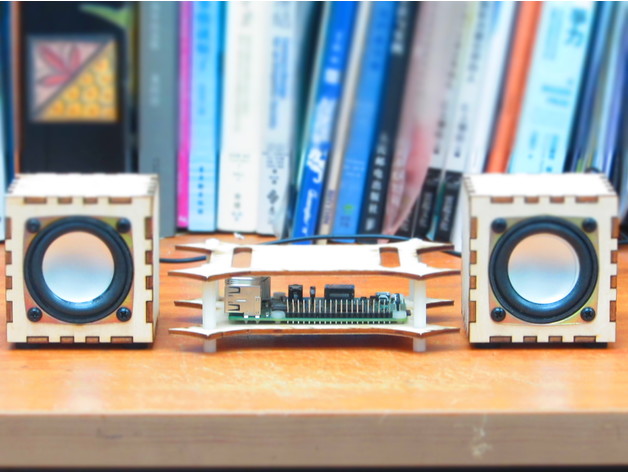 32. Portable Bluetooth Speaker
Over at VHS (Vancouver Hack Space) a maker called Luke has whipped up this portable Bluetooth speaker. It features 10+ hour battery inside a USB charging port at the back. There's also a 3.5mm line input and three brass buttons on the top. It was laser cut, kerf bent and stained for effect. See how he did it here.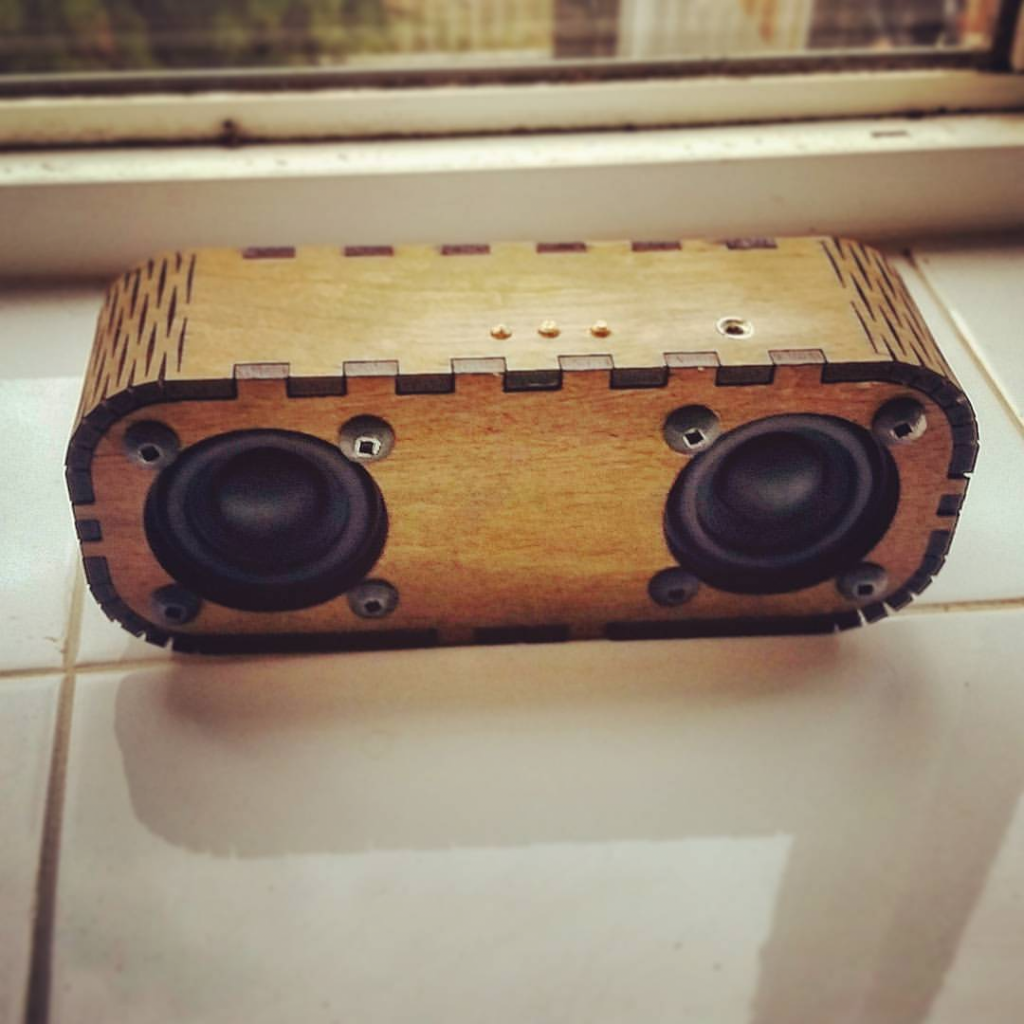 33. T3TRA Loudspeakers
Gone are the days where quality sound only came from large—and expensive—components. Good things do come in small packages, and T3TRA Loudspeakers from Alienology are definitely good things. These unique speakers have clear and natural sound reproduction + a visually striking laser cut enclosure. Yet there's more to the T3TRA's shape than meets the eye. Sure, the modern speaker design is beautiful. But there are specific auditory benefits as well. Get the inside scoop on the speakers and the Kickstarter that launched them here.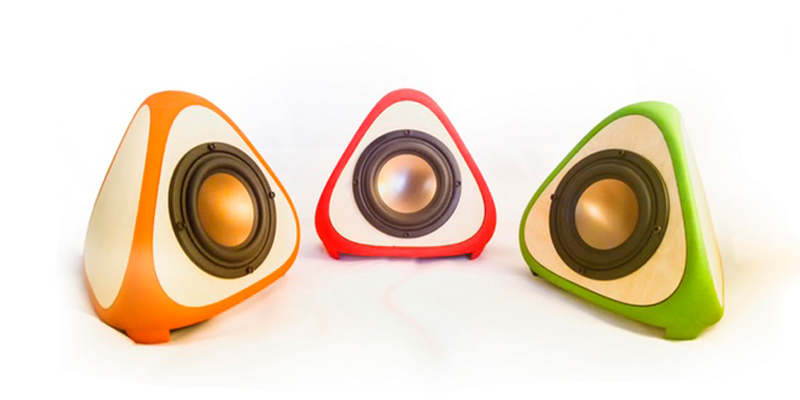 34. Vintage Suitcase Boomboxes
Aleksey Bochkovsky, the engineer behind Dandelion Sound, has taken vintage suitcase boombox design a step further by creating functional art that is way more than sum of the parts. By added laser cut parts that and specifically designed to the aesthetics of one suitcase, he creates pieces that set him apart from other designers. It's upcycling at its finest. See how he does it here.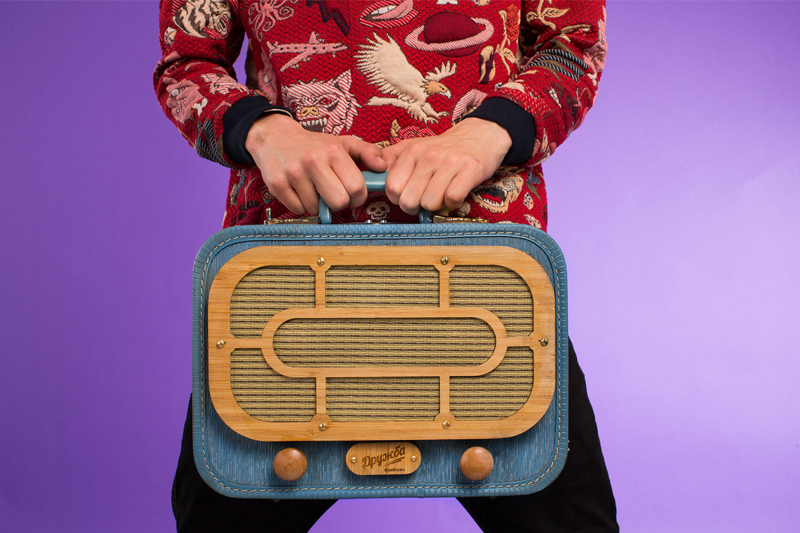 35. Ergonomic Mechanical Keyboard
As a software engineer, Ben Grabkowitz spends most of his days working at a keyboard—and has struggled for years with wrist pain from carpal tunnel syndrome. He tried some of the mass-marketed ergonomic keyboards, but there was something missing. He decided to build his own ErgoDox keyboard, and it was exactly what he wanted.
What started out as a hobby has now turned into a full-blown side hustle. With Profet Keyboards, Ben now brings ergonomic mechanical keyboards to the masses through full builds, complete kits or simple cases for custom made keyboard projects. Learn how he is turning his passion into profits here.
36. Custom Split Keyboard
Like Ben above, Branden Byers has dealt with repetitive strain issues in his wrists, elbows and neck throughout the years, A software developer by day and an audio device builder by night, he uses keyboards A LOT. As the pain got worse, he wanted a split keyboard, but nothing on the market felt right. That's when he got serious about making his own.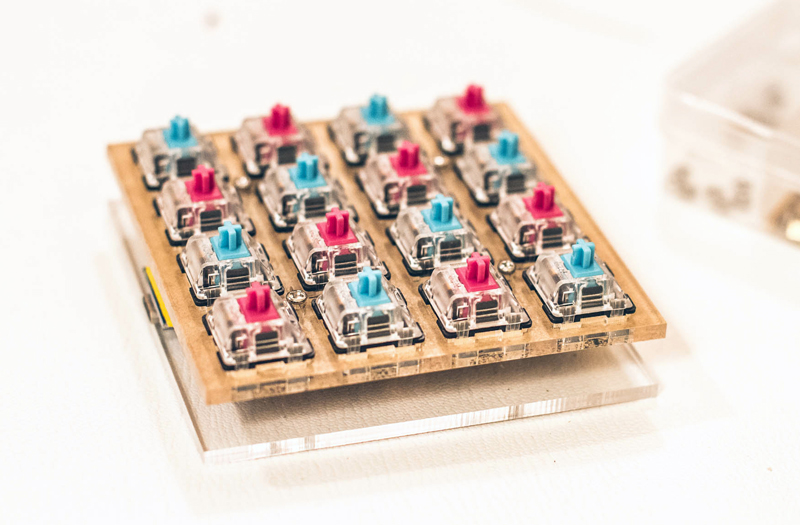 While Branden solved his problem and relieved the pain, he felt there was still more to do. Dreaming up new and better input devices was keeping him up at night. How could he share his passion with a broader audience? That's when he launched cKeys, a volunteer run 501(c)(3) nonprofit that hosts regular meetups and teaches workshops on electronics and building mechanical keyboards and other input devices. Find out how Branden not only builds laser cut split keyboards but also grows a community around them here.
37. Motorized Clocks
Like many engineers and product designers, Henry Stafford has seen his share of interesting laser cut products to make while surfing the web. But most often, those ideas stay right where they are—in cyberspace. But when he stumbled upon exposed gear bike chain clocks, he just had to figure out how to make his own. And after receiving lots of great feedback on his clocks, he also launched Needlessly Complex and began selling them, too. See how he got past the idea phase and into full-blown production mode here.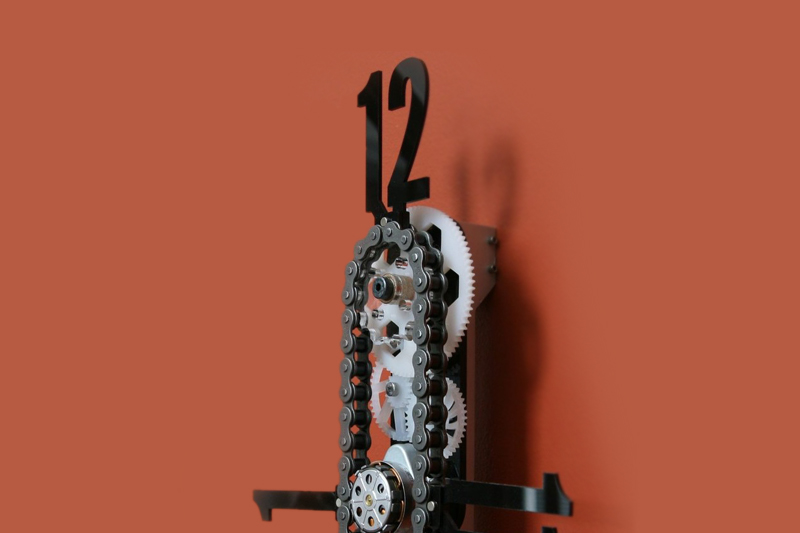 38. Lixie Clock
Engineer Connor Nishijima loves the style and functionality of Nixie tube clocks and wanted to build one of his own. But the price point in today's market was a deal-breaker. So he designed and built the Lixie—an LED Nixie clock—that incorporates edge lighting laser cut acrylic with a wooden base for a fresh take on modern time telling. The endeavor has been so successful that he has been able to quit his day job to focus on building his Lixie business full time. See how he did it here.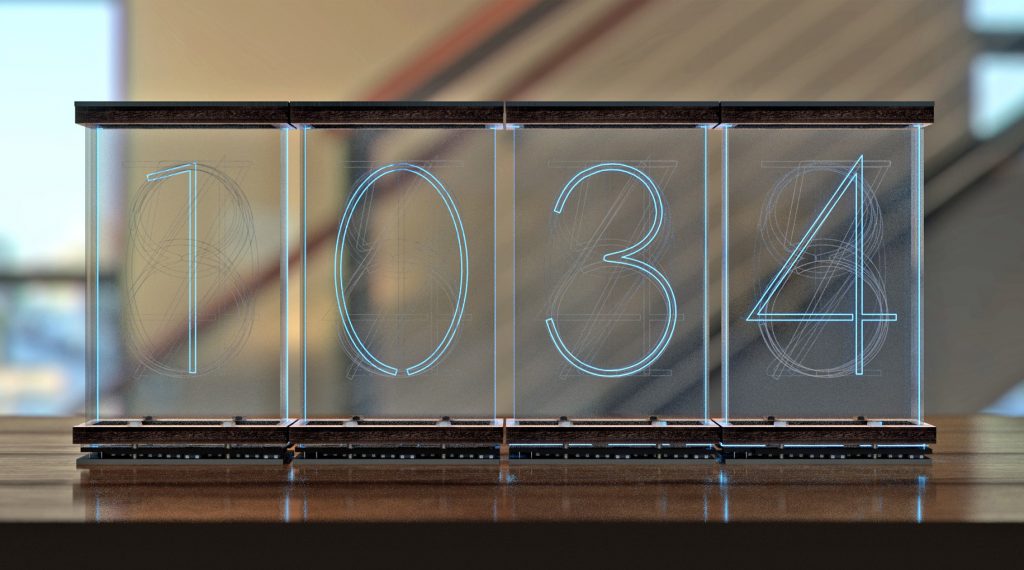 39. Owl Clock
Turns out, Connor isn't the only maker that likes the look of Nixie tubes but wants a modern, solid-state, low-power option that can be lit in any color. Using a similar design of stacked laser cut acrylic, Kurt Schaefer created the Plexitube—and then housed it in a steampunk wooden owl enclosure. Get the play-by-play of how he took this project from idea to finished product in this Retro Tech Journal feature and download the open-source files to make your own here.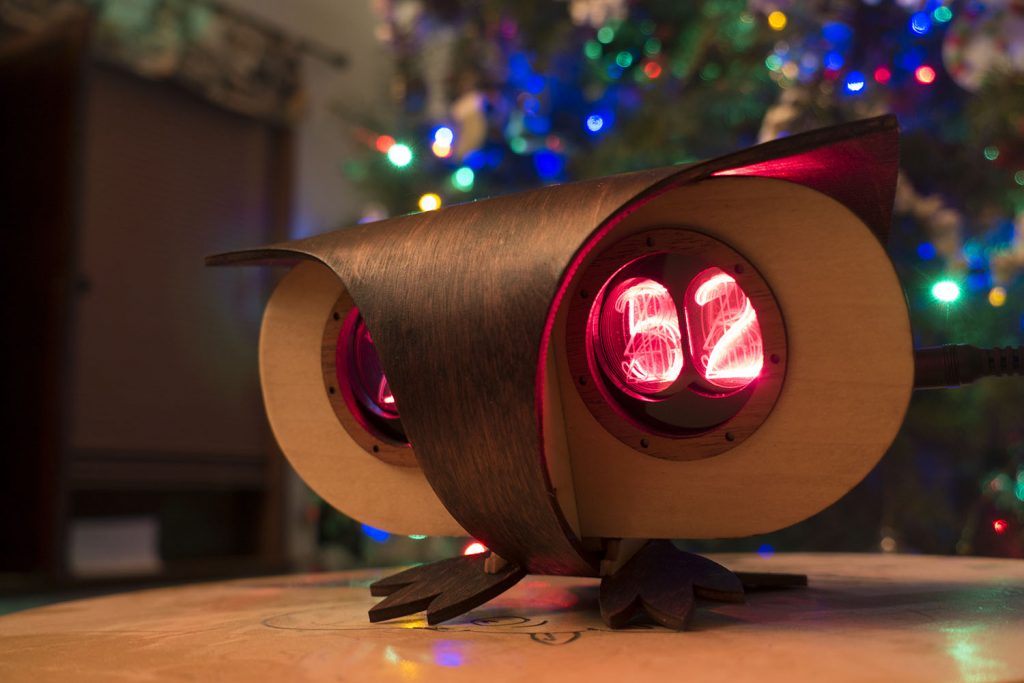 40. BigTime Minimal Watch
If you want to make a functional and (arguably) stylish watch with some serious geek-cred, then this SparkFun BigTime watch kit has you covered. A through-hole kit with a low parts-count, this kit makes a great project for beginners. And as an open-source branch from the SpikenzieLabs' Solder:Time kit, the BigTime kit is super hackable. An FTDI header is broken out to the side of the board and the watch-firmware is running on top of a bootloader, so you can use Arduino or Wiring to add your own code.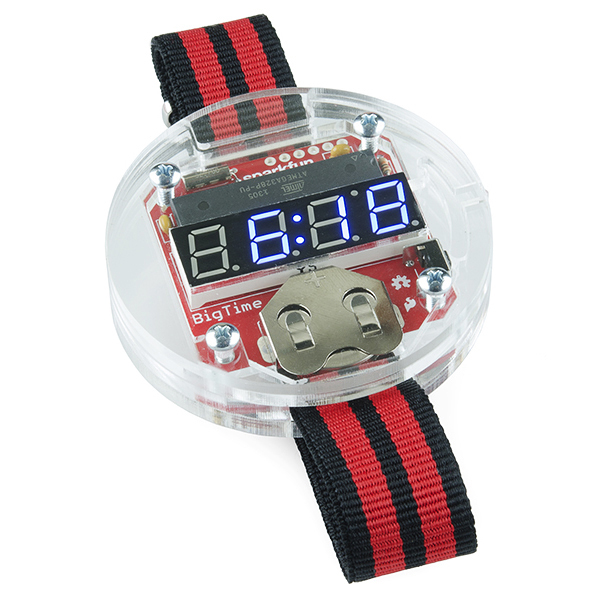 41. Twitter MoodLight
Before Connor Nishijima found business success with his Lixie Clock at #37, he cut his entrepreneurial teeth by launching the MoodLight via Kickstarter back in 2015. This three-inch tall USB powered lamp beautifully emits a twirl of color based on the emotion of the online world. A sample of all data posted to Twitter is checked against six emotions: Love, joy, surprise, anger, sadness and fear. The system keeps a weighted moving average of each emotion's Tweet counts per minute, then uses these numbers to build a sort of baseline average for each feeling. It then compares the most recent minute's data to the average to deliver a percentage value. From there, the colors assigned to each emotion will illuminate, giving you a new way to stay connected to world events. Read all about the project here.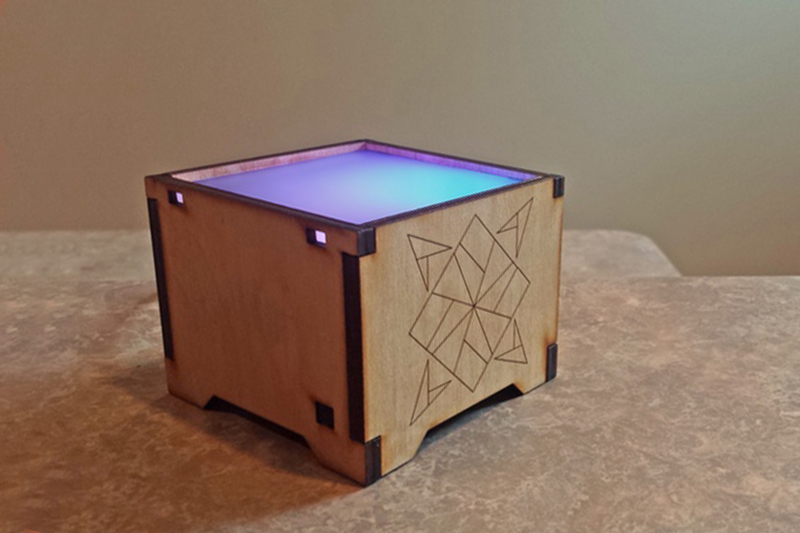 42. Kerf Cut Teeny Lamp
This little light may be small, but it sure is mighty—in design, that is. The Stanford Product Realization Lab, a multi-site teaching facility where Stanford students discover the power to create the future, designed this lamp as part of its laser-cutting curriculum. The kerf cutting pattern of slits allows the flat sheet of wood to bend, giving an otherwise boxy shape a much more interesting silhouette.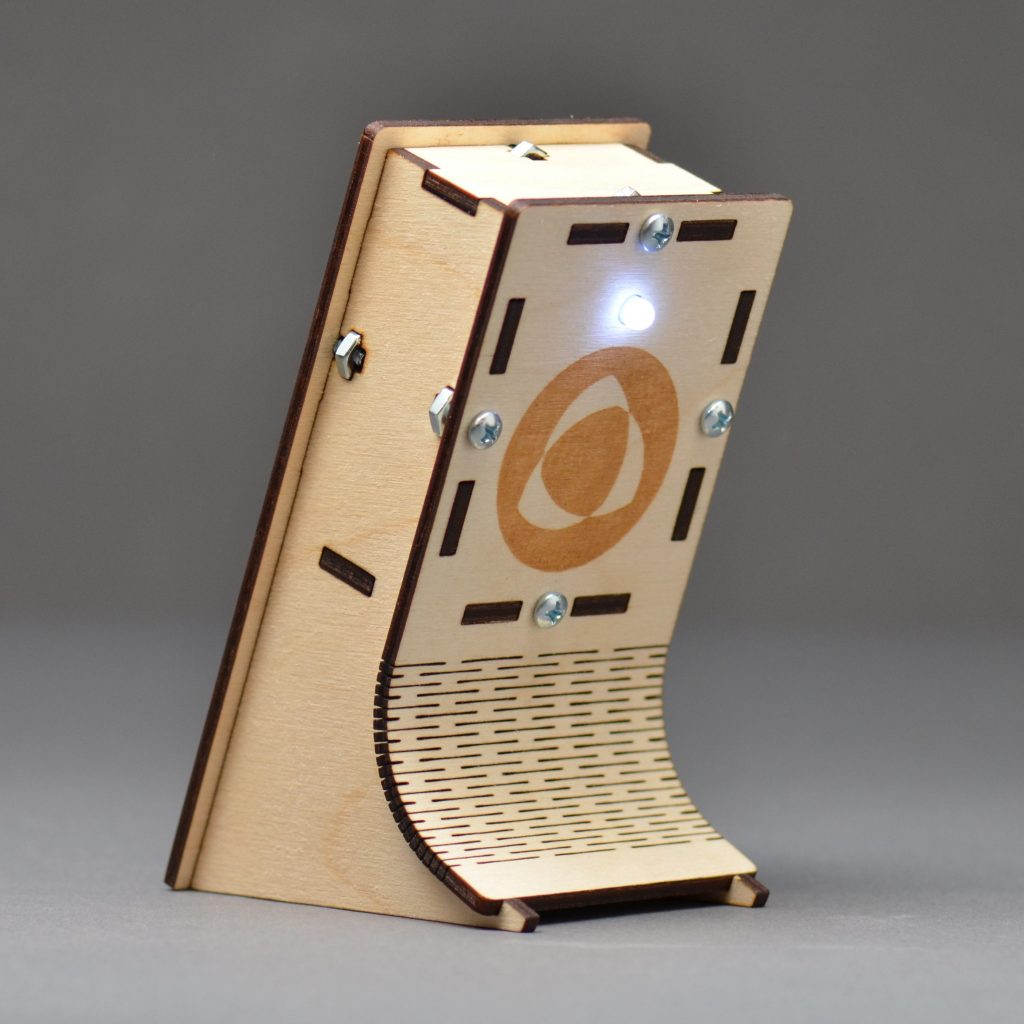 43. Optical Illusion Lamp
The Bulbing challenges you to look at lamps in a whole new light. Constructed from a flat sheet of laser cut and engraved clear acrylic with a birch base, this 2D light has the optical illusion of being a three-dimensional lamp. Since the acrylic is edge-lit via warm LED light, the lamp is energy efficient, lasts up to 50,000 hours and doesn't overheat. Check out this hot Kickstarter project for yourself here.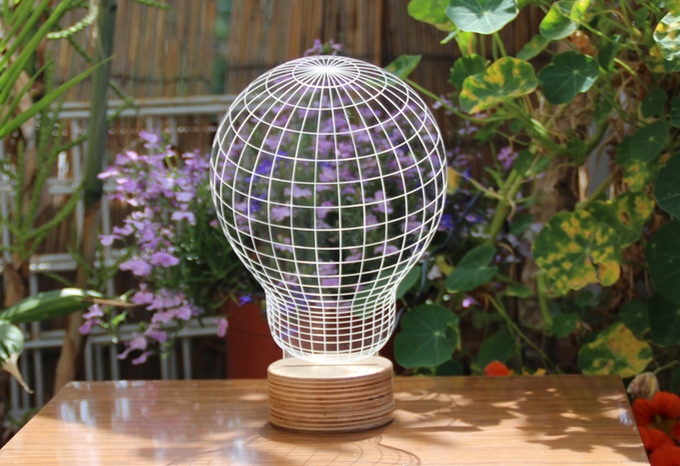 44. Neo-Pixel Edge-Lit Sign
In addition to the lamp above, edge lighting can be used for signage applications, too. Most LED illuminated signs use a single color light strip, while some feature RGB LED strips with three colors to choose from. These options are limited and typically do not fade between the color spectrum. What's cool about this example is the use of NeoPixel LEDs that allow fine control over each pixel, which gives the ability for fading between different colors to create amazing animations—anything from rainbow cycles, color wipes and sparkles, just to name a few possible sequences. See how to make your own over at Adafruit.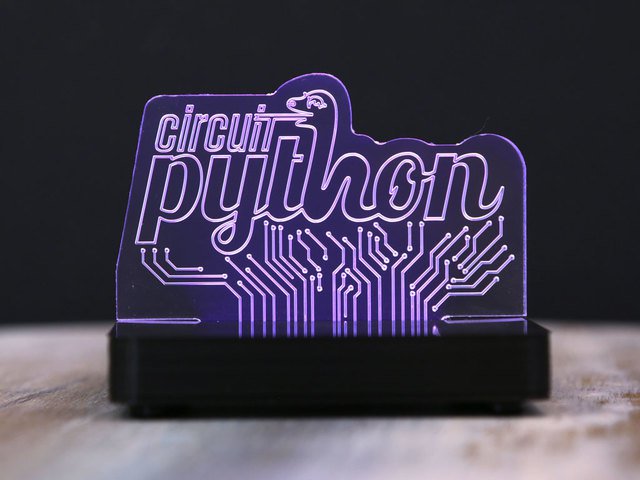 45. Game Frame
Video game artists used to draw everything—people, animals, you name it—with a sheet of graph paper, a few colors and a couple frames of animation. In spite of these limitations, they created some of the most iconic and nostalgia-packed imagery of the late 20th Century, the very symbols and mascots of the video game generation. Much like pointillist painting and stained glass, Jeremy Williams say these artistic icons deserve a frame—and the Game Frame was born.
Like a digital photo frame for pixel art, the Game Frame is way cooler. Each pixel is projected by a powerful LED though a mesh chamber and onto a sheet of white vellum. Colors are strictly isolated, and a black overlay sharply defines the grid. Since there is no global backlight, the visual effect is like a mix of traditional movie screen and OLED. Go behind the scenes with this unique product, which happened to raise $154,000+ on Kickstarter (far surpassing the original $15,000 goal), here.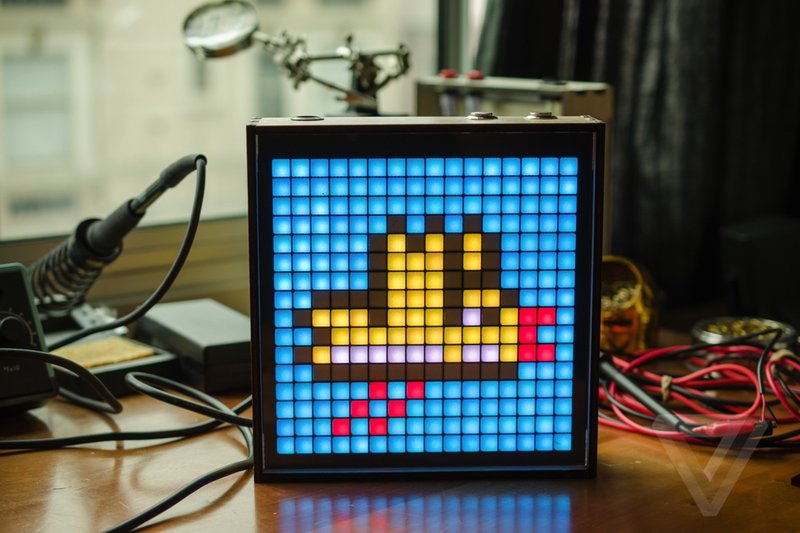 46. Split-Flap Display Board
If you've ever been to the Amtrak 30th Street Station in Philadelphia, you've heard a sound that is found in very few places anymore: The clickety-clack of the split-flap boards as they display the latest arrivals and departures. While these relics are mostly memories of a bygone era, Scott Bezek is bringing this style of nostalgic display pieces back to life. While he has always loved electro-mechanical displays, he wasn't about to empty his bank account to get one. He knew there had to be a better way, and so he set out to learn how to make a split-flap board himself. See how he did it here.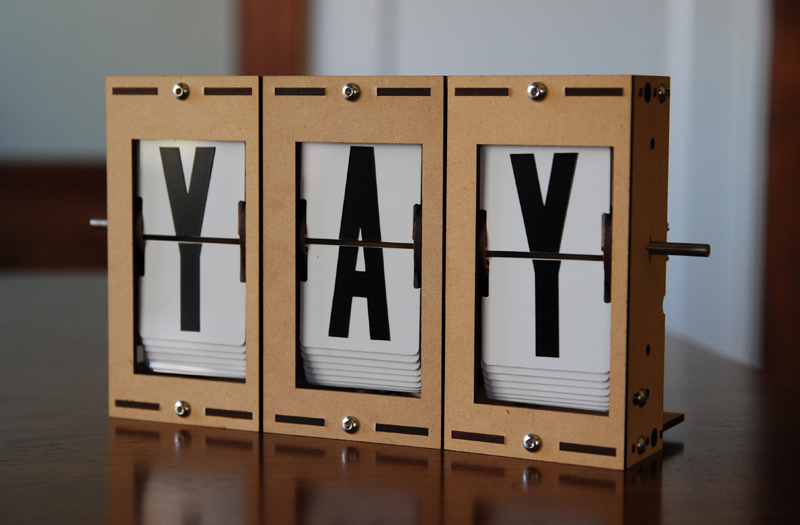 47. Photography Turntable
When taking product pictures or creating animated GIFs or walk-around views, having a motorized turntable sure is handy. Built on the concept of a Lazy Susan, Tiffany Tseng created her version using a laser cut turntable that is driven by a stepper motor controlled via an Arduino and an Easy Driver motor driver shield. Check out The Spin system here and download the files to make your own here.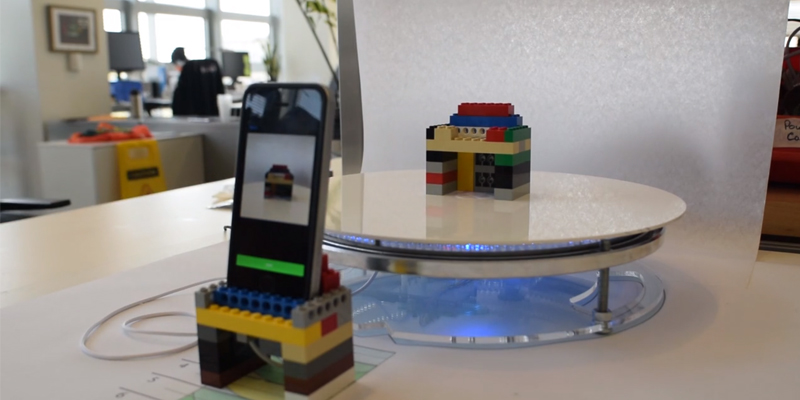 48. Rotating Hydroponic System
So you want to grow your own…salad. Without having a small garden plot, though, you're dependent on the local grocers for lettuce that's oftentimes not so fresh. To get the crisp greens you desire (and some satisfaction for growing your own food), hydroponic systems are an option—especially for apartment dwellers who don't have a yard.
To properly grow hydroponically, plants must occasionally be removed from water to air out the roots. But rather that raise/lower the water traditionally, Peter Fröhlich decided to go a different route and built a device to physically raise and lower the plants using a large wheel. This Ferris wheel for plants combined laser cut parts with bins purchased at a local hardware store. To make this interesting setup turn, he used a stepper motor from an old printer that's controlled by an Arduino and stepper driver. So if you want to put your green thumb to work like Peter, don't miss this story here.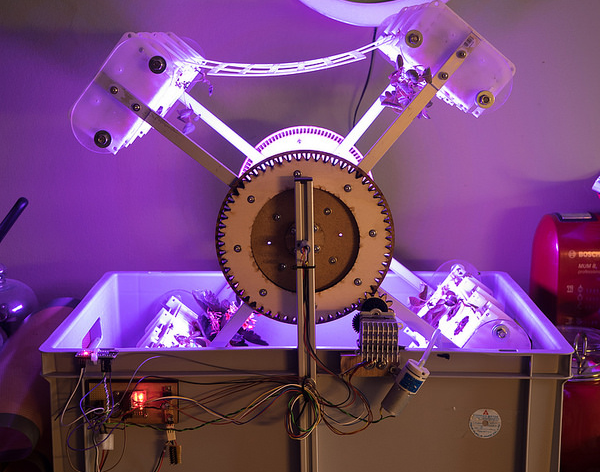 49. 3D Printer Case
If you want to make things so you can make more things, then don't miss this engineer's take on what he did to redesign a Prusa i3 3D printer, including a complete laser cut enclosure. What's cool about the Prusa is that it's a type of RepRap 3D printer, which is an open source printer you can make yourself. Fun!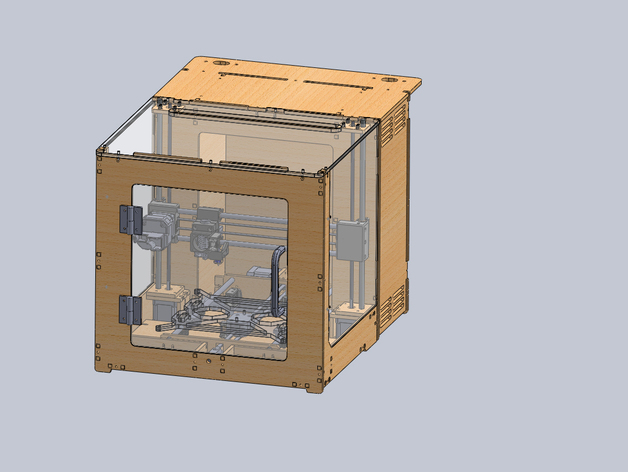 50. 3D Printer
While currently there is an influx of resin printers on the market, there still remains relatively few inexpensive options. That's why Brad Hill specifically designed The LittleRP to be both affordable to acquire as well as inexpensive to operate. He focused on smaller, higher-detailed prints in order to shrink and simplify the resin vat and overall enclosure design, which was laser cut from orange tint acrylic and melamine finished MDF. What's even better: This Kickstarter campaign hit its initial funding goal of $25,000 in less than 24 hours and ended up with nearly $119,000 in pledges to bring this project to life. Read all about it here.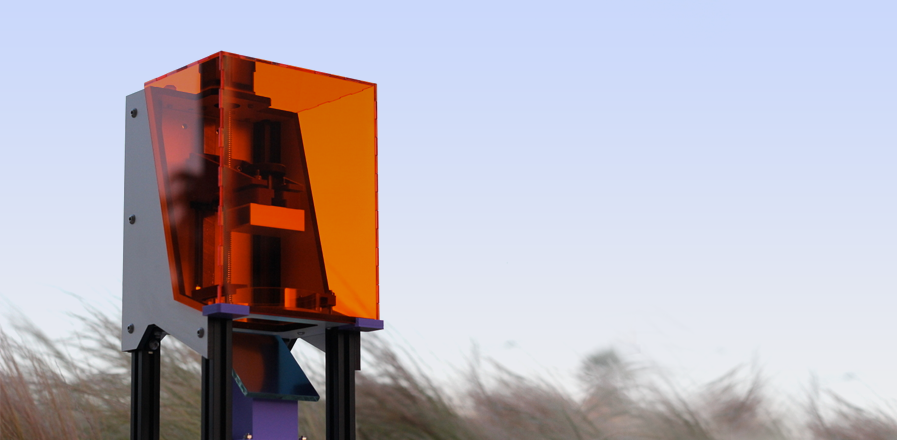 What DIY Engineering Projects Will You Make?
Feeling inspired? Ready to change the world? Let us know what kind of engineering projects you're building a business on by leaving a comment below!