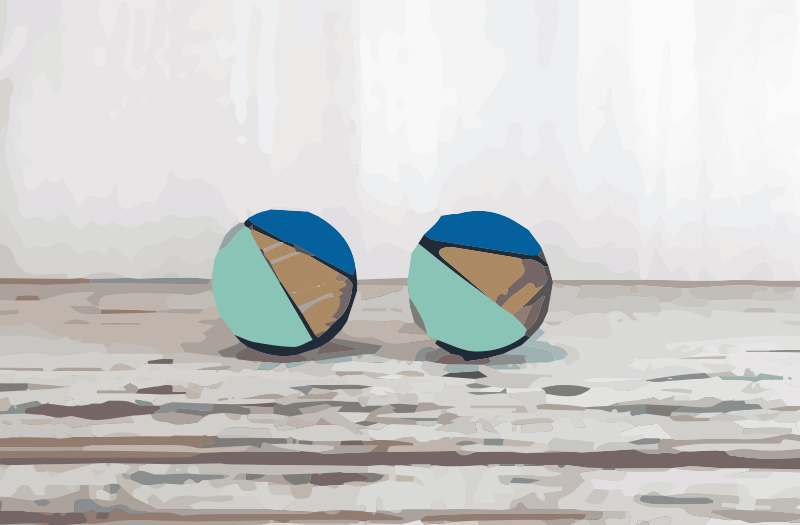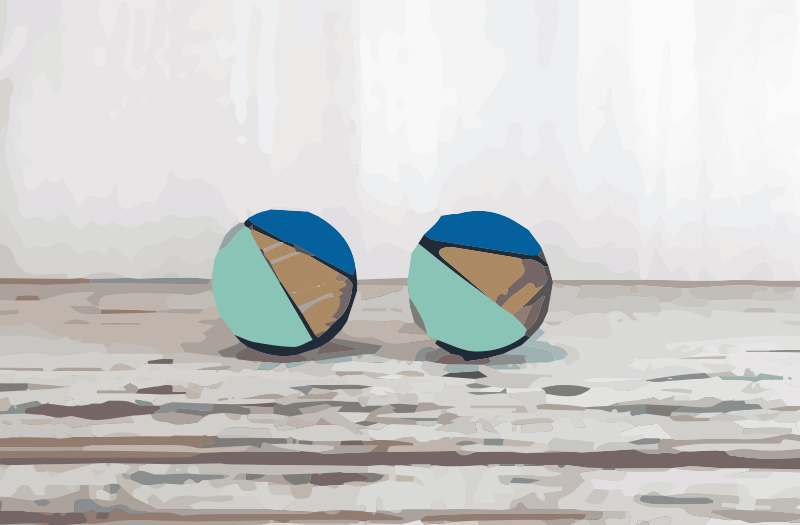 A Behind-The-Scenes Look At How Four Jewelry Designers Find Inspiration And Go To Market
Authentic. Creative. Local. Today's consumers are all about artisan products, goods that are typically made in small batches with craftsmanship and care. "Unlike mainstream and mass-produced products, artisan products represent unique, affordable luxuries made with mastery," writes Lisa Goller in Artisan Sales Soar As Consumers Invest In Quality.
With sites such as Etsy leading the way, sales of artisan goods look to have continued growth. According to this report on Etsy's Q4 2018, active sellers were up 9.4% year over year, active buyers increased 18.2% year over year and gross merchandise sales (GMS) volume increased 22.3% year over year to $1.25 billion—an acceleration from 20.4% GMS growth in Q3.
With this kind of consumer demand, there's plenty of opportunity for independent makers to create a product to sell and build a successful business. To get a sense of what kinds of laser cut products are selling, we went behind the scenes with four jewelry designers to find out where they get inspiration, what materials are on-trend and why laser cutting is their chosen means of production.
Ye Won Cho
After taking a bamboo laser cutting class for her work as a lighting technical director at Pixar, Ye Won Cho became fascinated not only with the laser cutting process but also the bamboo material itself. While this knowledge has been beneficial for her day job, she's turned this passion into an artistic side hustle. Creating laser cut jewelry under the brand YeWon Studios, she is making designs she couldn't find anywhere else.
"I love big and modern designs in earrings, but those are hard to come by since most earrings are metallic and tend to be on the heavy side," Ye Won says. "After taking the bamboo laser cutting class at work, I saw this as the perfect opportunity to finally create the earrings I always wanted."
Influenced by elements of nature, most of Ye Won's designs are laser cut on bamboo sheets. It's a smart choice, as bamboo is perfect for earrings because it is really lightweight (essential for larger designs) and the texture has a natural feel, which can be seen in this orchid-inspired design.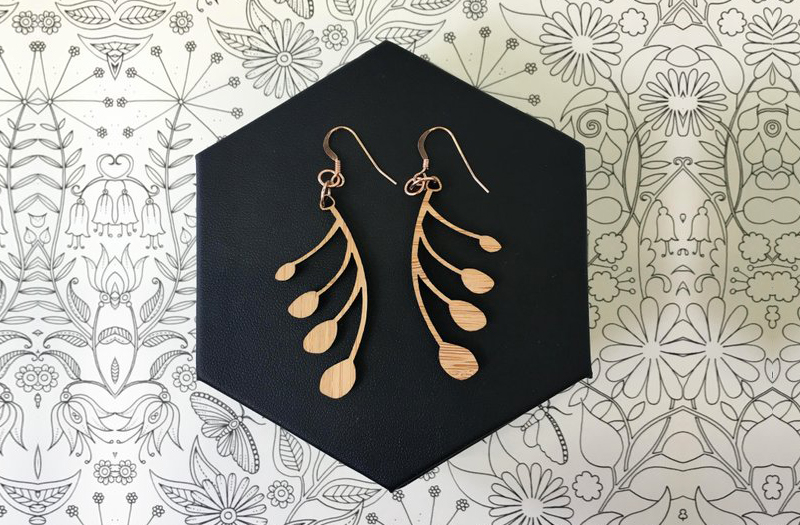 Ye Won also likes how precise laser cutting is, which is especially important for geometric designs such as these bold and irregular shapes inspired by Norwegian glaciers.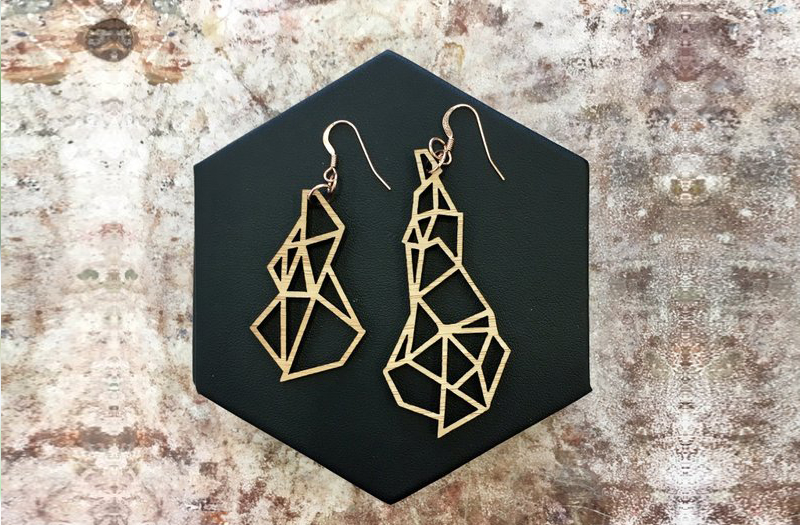 "I also like the fact that the cuts can be accurately recreated," she explains. "This allows me to focus my creative energy on the design part of the process, while taking away the hard work of making the product. The super simple production process and fast turnaround also allows me to constantly experiment with new ideas. Going from design to final product is as simple as choosing a material and uploading an Illustrator file on Ponoko website."
Ye Won makes a great point. By simplifying how her products are manufactured, she can spend more time on what she does best: Designing. And that's a smart business move.
To keep up with what Ye Won is designing, visit her Etsy shop and follow her on Instagram.
Lindsay Duck
Any successful business, whether big or small, begins with inspiration…that spark that brings an idea to life. "I am really inspired by good design that I encounter in my day to day life," says Lindsay Duck. "Spatial relationships, type, colors; it all leads me to create and try new things in my line of work."
That line of work, graphic designer by day and jewelry maker by night, gives her the freedom to learn and explore new mediums and methods of creation so she can connect with people through design. While technically she is only making earrings, these pieces are polished works of art.
As her interests shift, Lindsay's body of work morphs and evolves. Currently, her LH Duck Etsy shop is filled laser cut bamboo. "I love the natural color of the wood and the character that the unique wood grain brings to each project that I create," she says. "When I receive the laser cut pieces, I hand-finish the parts (such as hand painting the studs below) before using them in my jewelry designs. It's a blend of digital works and craft."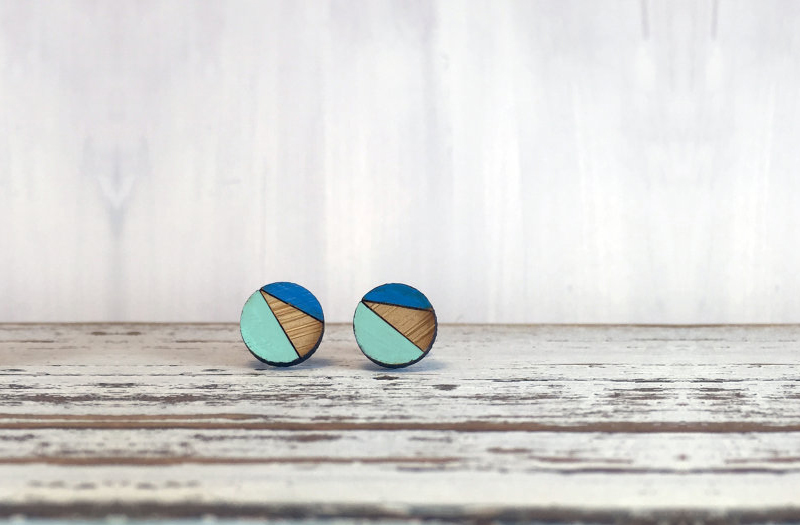 Lindsay says she likes incorporating laser cut components into her work. "I feel like it's a bridge between my experience as a graphic designer and a maker," she explains. "I also like the precision of laser cutting, and it brings my production time down so my product can be more affordable."
When making a product to sell, pricing is certainly important. But for Lindsay, there's more to it than simply making a profit. "I have a passion for art and design, and I love having the opportunity to share my designs and see it as a way to delight or brighten the life of another," she says. "Design gives me an outlet to challenge myself artistically. It is extremely rewarding to be able to take my products from the dream state all the way through to become a beautiful product to share."
To keep up with what Lindsay is creating, visit her Etsy shop and follow her on Instagram.
Kat Ammann
An artist almost all of her life, Kat Ammann says her mother has been especially influential in cultivating her creativity, teaching her to knit, sew, cross-stitch, etc. as a child. "She heavily encouraged the DIY spirit in our house," Kat says. "I have been selling my handmade work since high school, and it was her idea for me to start selling online, which I began to do in 2006. It has grown and changed a lot since then into some really exciting projects."
At that point, Kat was making most products by hand, with some projects more successful than others. "I tried making detailed jewelry with a tiny saw, but I just didn't have the patience for that," she says.
Then she learned laser cutting was an option. "I always admired the clean look of laser cut products, but I never knew it was accessible for independent artists until I began to see laser cut products showing up at handmade markets," Kat says. "At one local craft fair, I got to talking with the owner of one of my favorite shops, who told me about Ponoko. In 2011, I dove in and have been making all kinds of products ever since."
For example, these laser cut walnut veneer trapezoid earrings have a painted gold detail. The simple geometric design with a bold contrasting color combination makes a statement.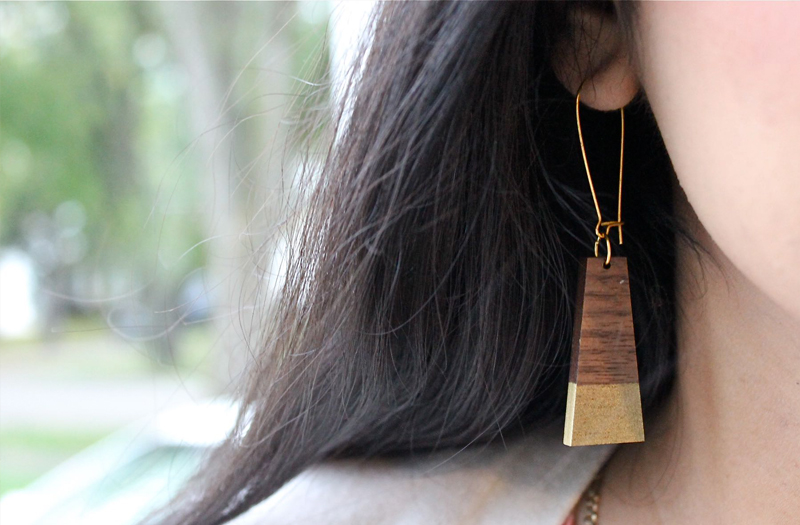 A lover of all things vintage, Kat's product line contains a wide range of styles and eras, but it all has the same fun retro flair to it, such as this vintage-motel-inspired keychain.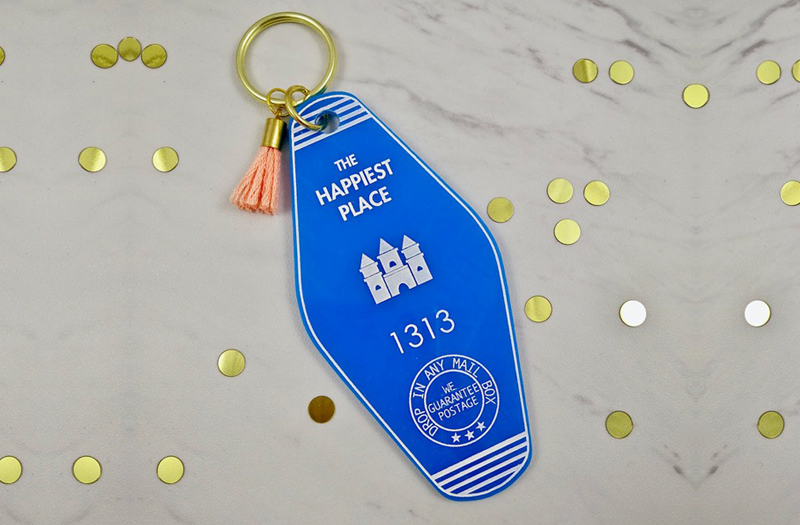 (Editor's Note: While Kat hand paints the details on these keychains, which is totally cool, two-color acrylic is available for those who aren't into hand finishing.)
When expanding her product line, Kat says that sometimes she falls in love with a new material and tries to come up with something to make out of it, while other times the product idea comes first. Either way, it's the precision of laser cutting that keeps her coming back.
"In order to sell my products," she says, "I need to be able to consistently reproduce each design. With laser cutting, I can put more time into the design and adding final touches once it is cut. Plus, I can continue to make the same high-quality pieces time and time again.
To keep up with what Kat is making, visit her Etsy shop and follow her on Instagram.
Yanna Fabian
Originally from central Europe, Yanna Fabian says she gets inspired by "literally everything around me," especially when walking the streets of Prague, Czech Republic, where Art Deco architecture can be seen around every corner.
"I love that style, and now that I'm based in Los Angeles, I miss it," Yanna says. "So I wanted to recreate an Art Deco feel in my jewelry while maintaining a modern twist."
While she knew the style she wanted to create, Yanna wasn't sure how to go about it. "When I started designing jewelry, I had to find a way to merge modern materials with a hint of Art Deco," she explains. "When I came across Ponoko, I was blown away by the opportunities it opened up."
For this design, Yanna combined 3.0mm ivory acrylic for the base and 1.5mm brushed silver on black acrylic for the ornaments. "The different thickness options worked out great," she says. "The thicker ivory acrylic offered a solid base and the thinner two-color acrylic was easier to attach and hold, yet the earrings feel light and have a nice motion."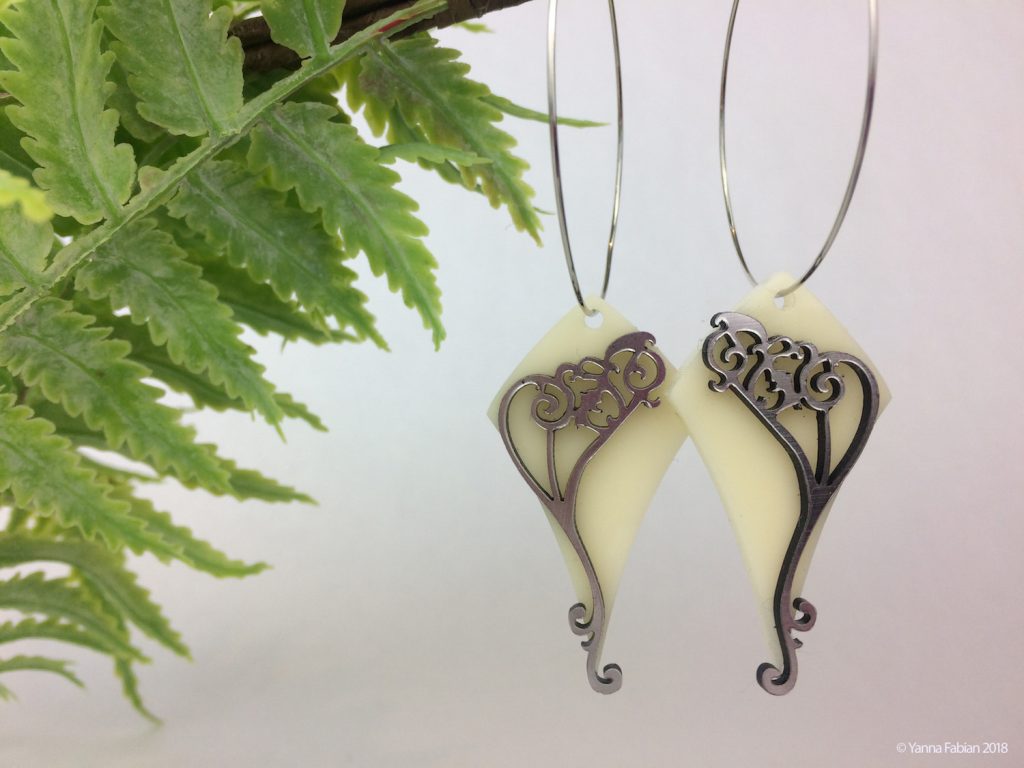 When incorporating a very specific design style such as Art Deco, the key is to find a balance that will appeal to a broad base of buyers and that can be worn with today's fashion styles. Yanna says her intent is to fuse modern sleek minimalism and Art Deco influence, which can be seen here with modern acrylic paired with nostalgic pearls.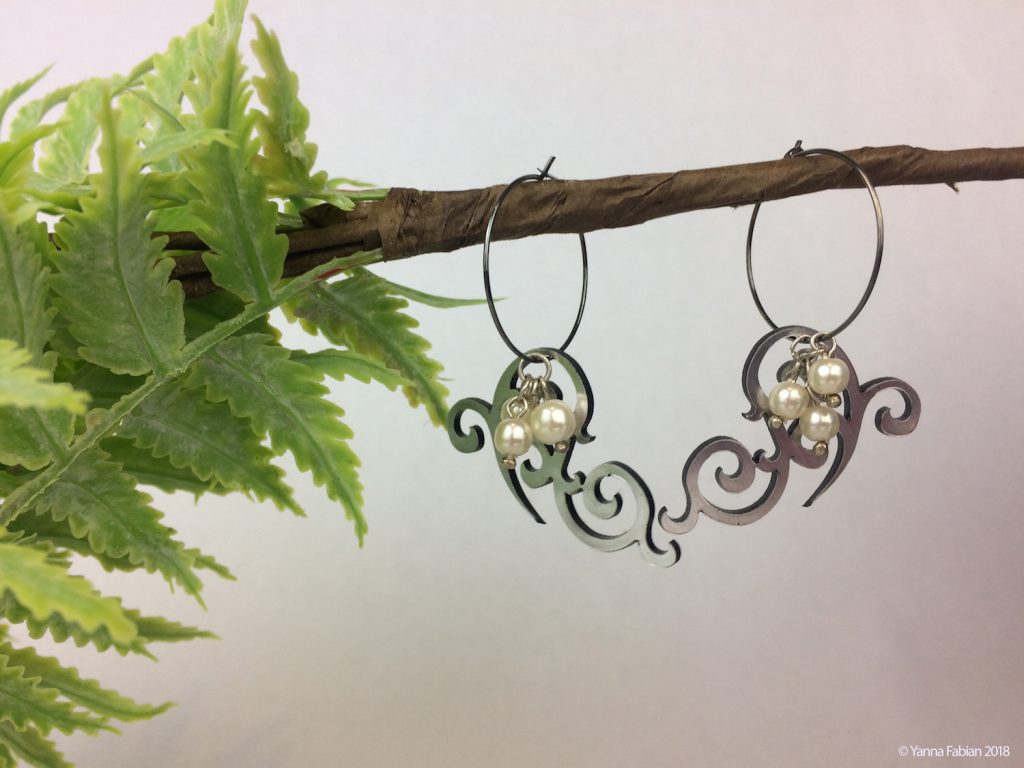 "A major challenge was figuring out how small can my designs be," Yanna says. "I was impressed by the laser cutting results. I think this project could never been made otherwise. In this case, laser cutting was the only option."
To stay in touch with Yanna, visit her Etsy shop and follow her on Instagram.
And for even more behind-the-scenes insights from jewelry designers, check out these maker spotlights on SpaceTime Coordinates, Galactic Affair, Melanie Lynn Design, Cottage On The Cliff, GioGio Design and The Moon Lab.