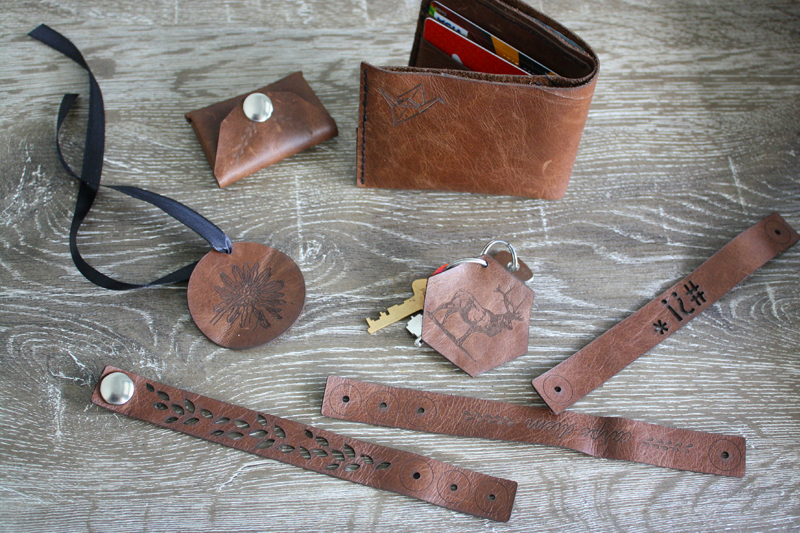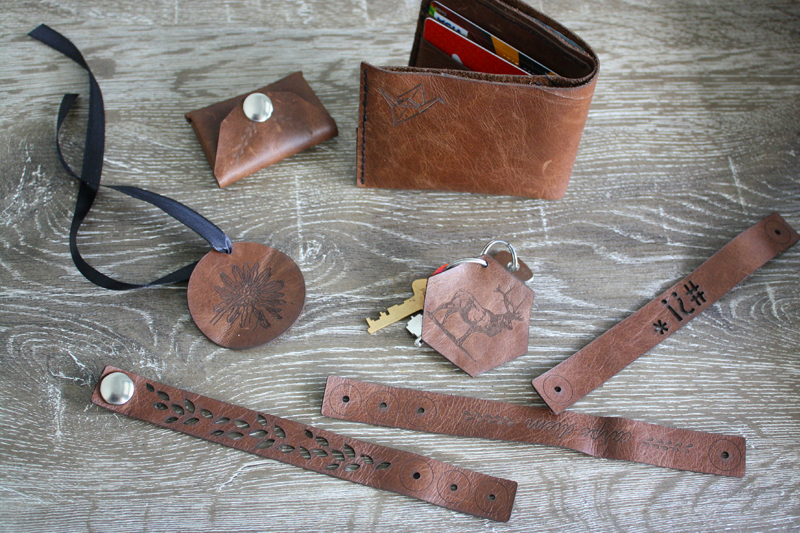 Mocha Upholstery Leather Has Just Been Added To The NZ Catalog
If you think leather is just for footwear, luggage and handbags, think again. Leather is a versatile material for laser cutting and one that's historically been underutilized. Whether used in in crafts, jewelry, wallets, cuffs, belts, placemats or coasters, leather gives a luxurious feel to any product. And with the new mocha upholstery leather just added to the NZ materials catalog, you too can begin making luxurious products of your own.
What You Can Make With Mocha Upholstery Leather
To put this mocha upholstery leather to the test, we tried five real-world ideas that you could sell for a profit or use to build your brand. We think they turned out pretty great. Take a look:
Wallets may seem easy; there's only so many ways to organize currency and credit cards. But what you may not know is that wallets are often a gateway product to getting started on Kickstarter.
"It's not that wallets are easy to create. But they're approachable," writes Nitsuh Abebe in the article Why Are There So Many Wallets On Kickstarter. "They tend not to involve many different materials or moving parts; they're built from a few simple pieces, folded or sewn or banded together. That makes them one step on a path that could lead creators just about anywhere."
Up for the challenge, we tried making a leather wallet of our own using this pattern. Admittedly, it took longer than expected (it's that sewing thing we're not so proficient at), but the laser cut premade holes did help. We added a laser engraved origami-inspired spacecraft for fun, but you could use any kind of graphic or initials to make it custom.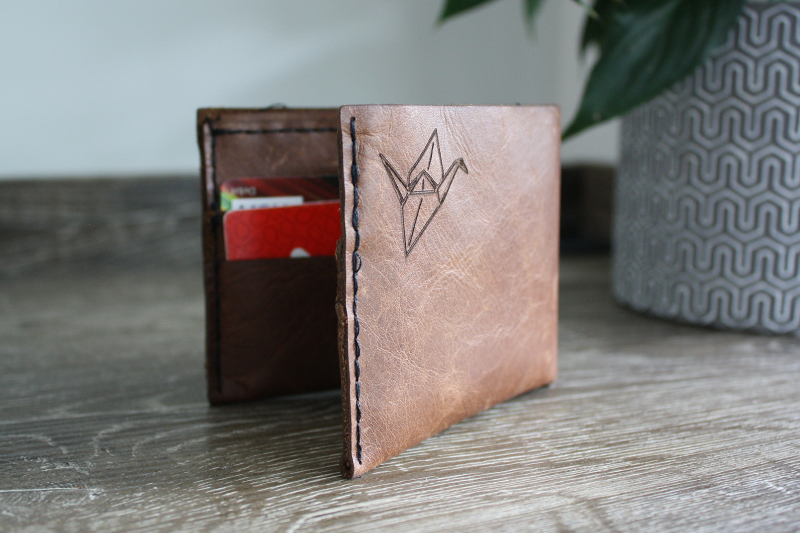 Instead of a standard rectangle or circle, this key tag's hexagon shape sets it apart. While not only eye-catching, hexagons are easily nested so you can maximize material sheet usage, which reduces costs when making larger quantities to sell or use as promotional products.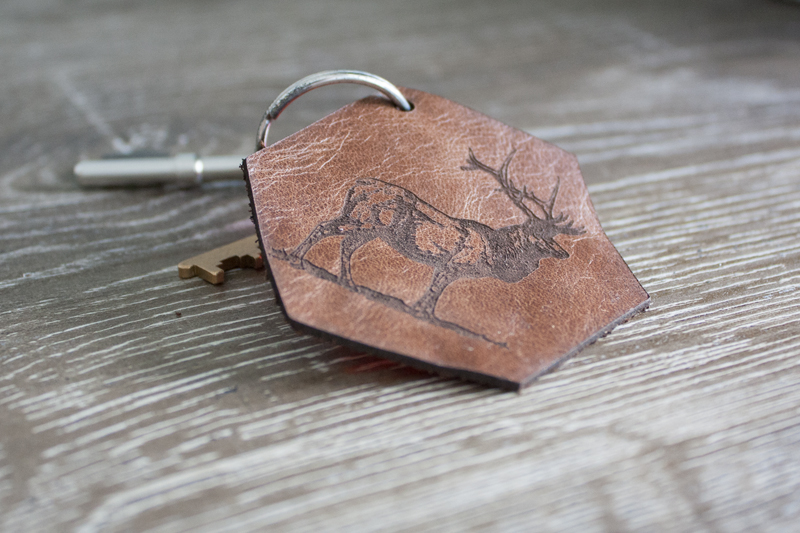 Complex and delicate cuts, such as the floral patterns on these leather cuff bracelets, would be slow work to do without the precision of the laser cutter. And the dome snaps are great to use when working with leather to make projects come together without really complex and time consuming sewing.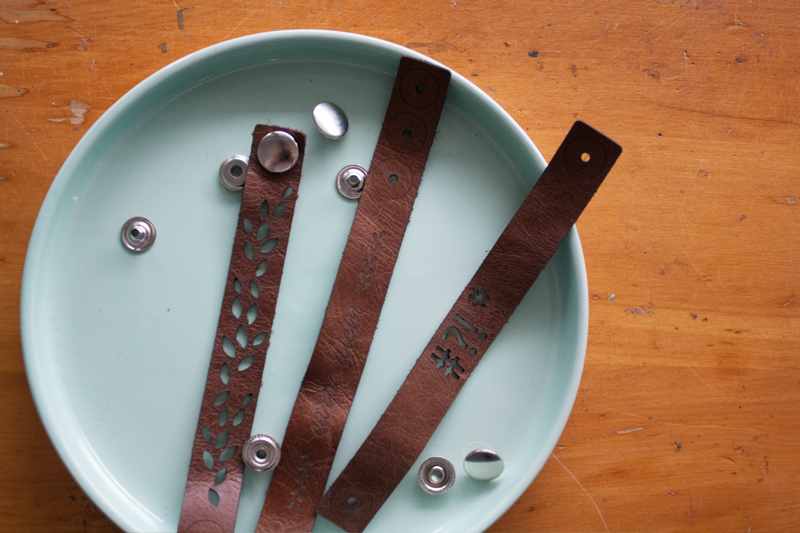 When selling your designs on sites such as Etsy, it's the extra details that help separate you from the competition. The silver dome snaps and laser engraving on the cuff bracelets above as well as the coin purse below add just enough artistic interest to catch buyers' eyes.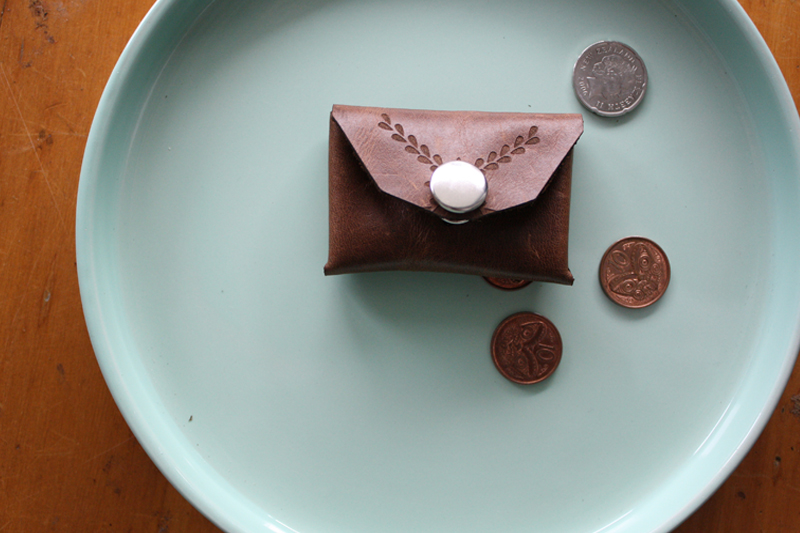 Whether you're making high-quality labels for products or adding a logo for promotional bag tags, the precision of line engraving means you can add first class graphics and text to create superior designs.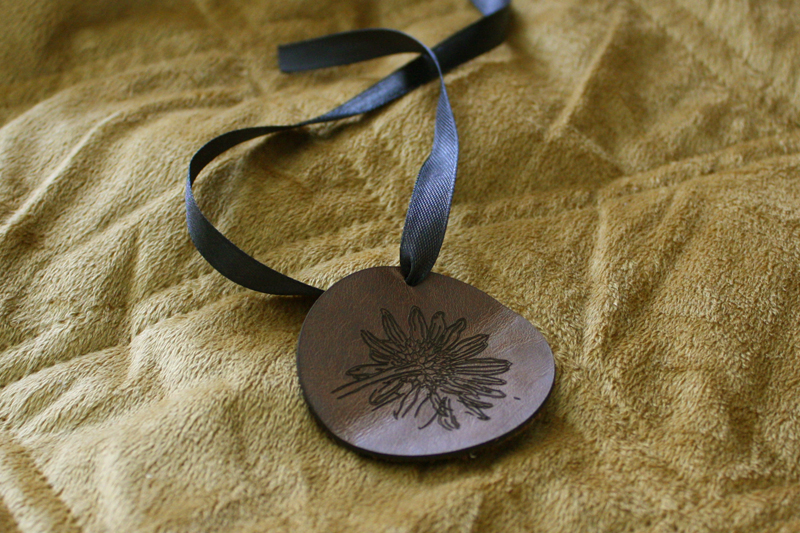 Now Available: Mocha Upholstery Leather
At 1.3mm thick, this mocha upholstery leather has a rich chocolate brown color with a traditional full-grain leather finish on one side and a suede-like finish on the other. Compared to our russet leather, which is 2.5mm thick, this upholstery leather is more flexible and softer to the touch. It's also at a better price than driftwood upholstery leather, which is being phased out (so plan accordingly).
Maker Tips: Leather will turn brown and powdery when laser engraved, so large areas of engraving are not recommended. Instead, use line engraving because it produces crisp and clean results.
The "antique" nature of the mocha upholstery leather finish makes it look aged and worn in. This includes cracking in the color and color variation. Some natural imperfections could appear on the surface of the leather. While this enhances the beauty of the leather, you'll want to design accordingly.
Unlike other materials, leather products will be shipped without the surrounding material sheet. The sticky paper we normally use to hold all cut pieces within the surrounding material can damage the surface of the leather, so we opt to individually pull designs off the laser and bag them for shipping. Add a cutting line around all pieces of the leather that you want to have shipped.
To learn more about mocha upholstery leather, get all the details here and pick up a sample here.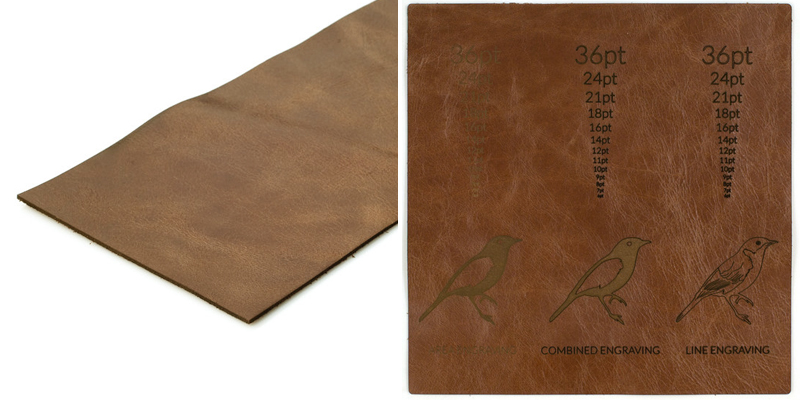 What Will You Laser Cut With Mocha Upholstery Leather?
What do you think? Is your brain swirling with all of the things you can make from mocha upholstery leather? Perhaps you'd like to design some wearable art such as these statement necklaces from ShopElenaDesigns?
Or maybe you'd like to try your hand a wallet making? "If you go to design school, every student has to design a chair and a lamp—things that have a lot of different styles and interpretations, but are also just basic building blocks of things we all have. Maybe when you get into manufacturing, the wallet is the same sort of thing," says Thomas Both, fellow at Stanford's Hasso Plattner Institute of Design (aka the d.school). "There's a lot of different possibilities to it, but it's on a scale where someone who's not as experienced with manufacturing can jump in and start making these things. And it's something people care about, something people have strong opinions on. We all want a better wallet."
Either way, we'd love to hear about the laser cutter projects you'd like to make with mocha upholstery leather. Just drop a line below to share your ideas!