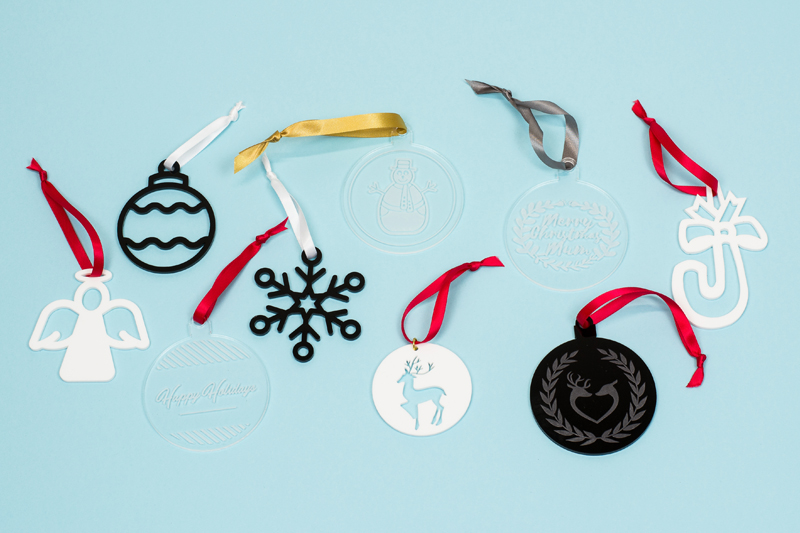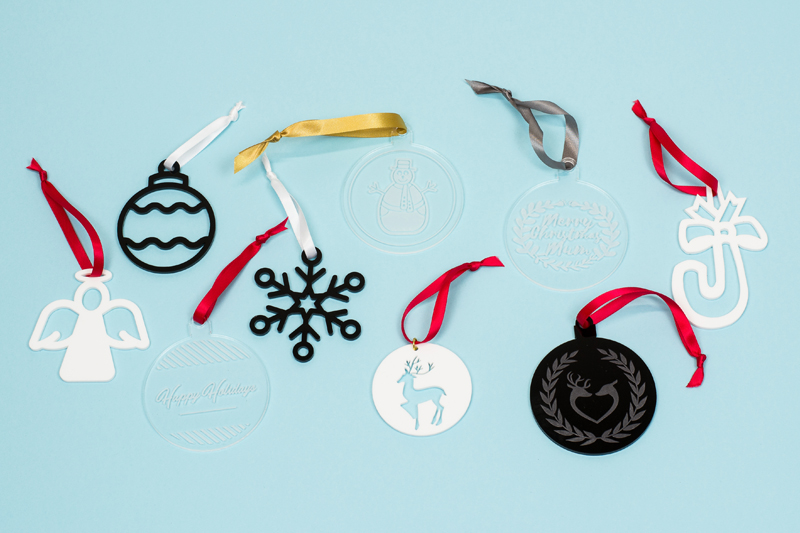 See The Inventive Ideas You Can Make Just In Time For The Holidays
When it comes to laser cutting, plastic is soooo fantastic. But…it's not so environmentally friendly. For those who want to build electronics enclosures or design jewelry out of acrylic because of the material's aesthetic appeal and huge color selection, there hasn't been an alternative. Until now.
Introducing recycled acrylic.
Yep, you read that right. Recycled acrylic is now available in the USA catalog and awaiting your creativity to bring it to life.
Acrylic is the #1 laser cutting material, and for good reason. It cuts exceptionally well and needs less finishing than many other materials (such as wood). Acrylic also melts reasonably easy, so the laser cuts those desirable smooth edges quite fast, keeping costs low.
What makes this recycled acrylic remarkable (and you're really gonna love this part!) is that it has the same extraordinary look and performance as virgin acrylic—with very little increase in cost, yet it commands a higher price point to give you more profit. Talk about having your cake and eating it, too. Well, dive in friends, because we've got some delicious designs for you.
Design Inspiration: Real Products You Can Make With Recycled Acrylic
To proved recycled acrylic looks and performs equal to virgin acrylic, we fired up the lasers on some sample products. Of course, we had to make a few jewelry and coasters examples. But since it's beginning to look a lot like Christmas, we whipped up some holiday ornaments. Ok, we made A LOT of them. But once you see just how great recycled acrylic looks, you'll be cranking out designs and counting the minutes until Santa Claus is comin' to town.
Black Recycled Acrylic
Let's start with black recycled acrylic ornaments. (Get the files here.) A simple round shape shows off the area engraving, which has a fantastic frosty appearance.
To contrast, here's the same principle, this time with line engraving.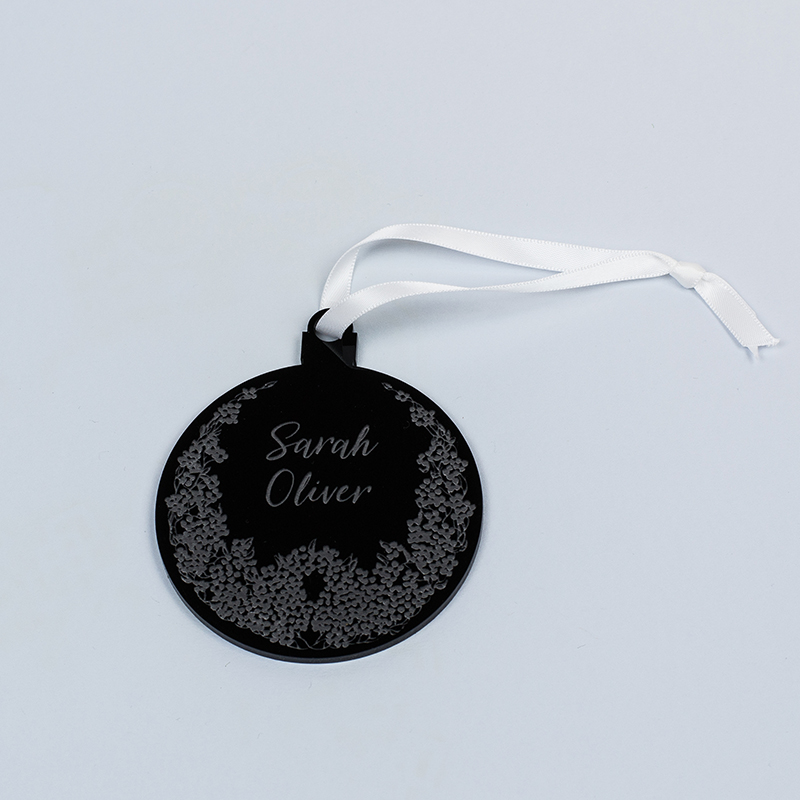 Note how font thickness plays a role with line engraving. In this third example, the text is harder to read. The design would benefit from a hardier typestyle.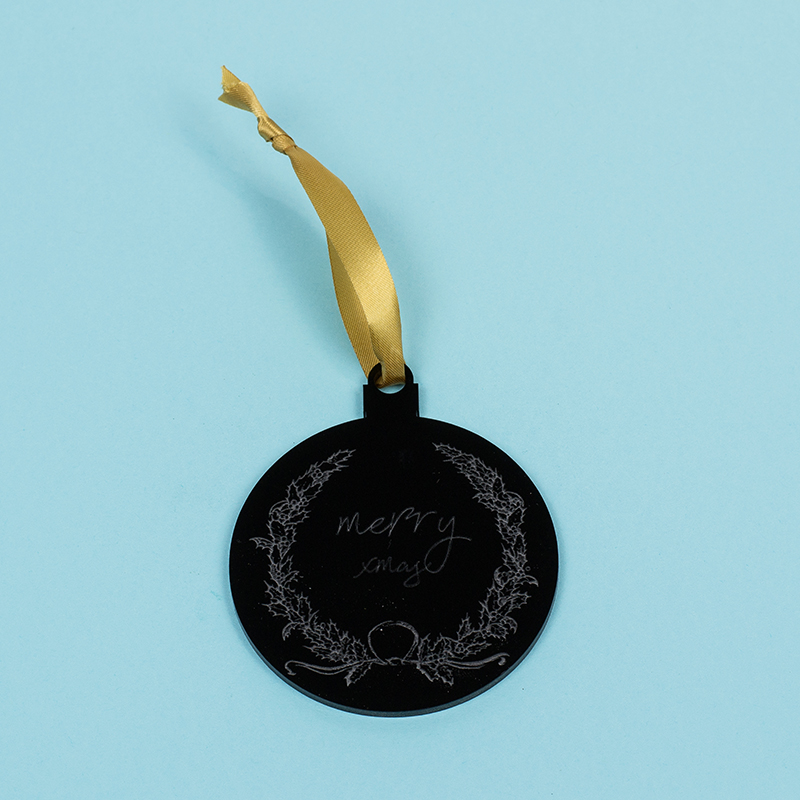 This snowflake design combines geometric shapes with curved edges to demonstrate the effectiveness of simple laser cutting.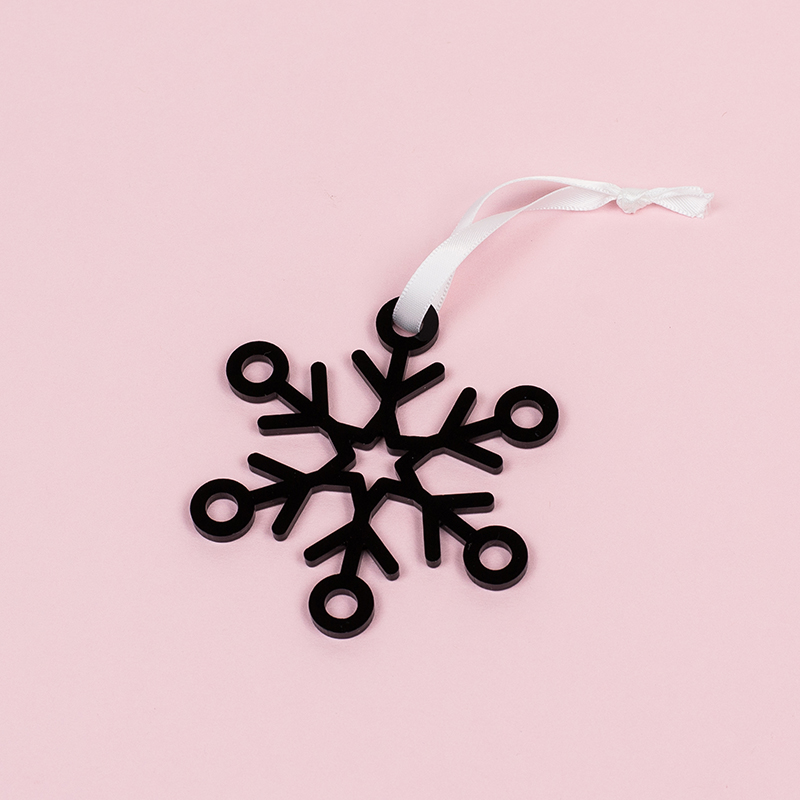 Here's another example, this time with a pine-branch-inspired design.
These floral-inspired earrings show the softer side of geometric design.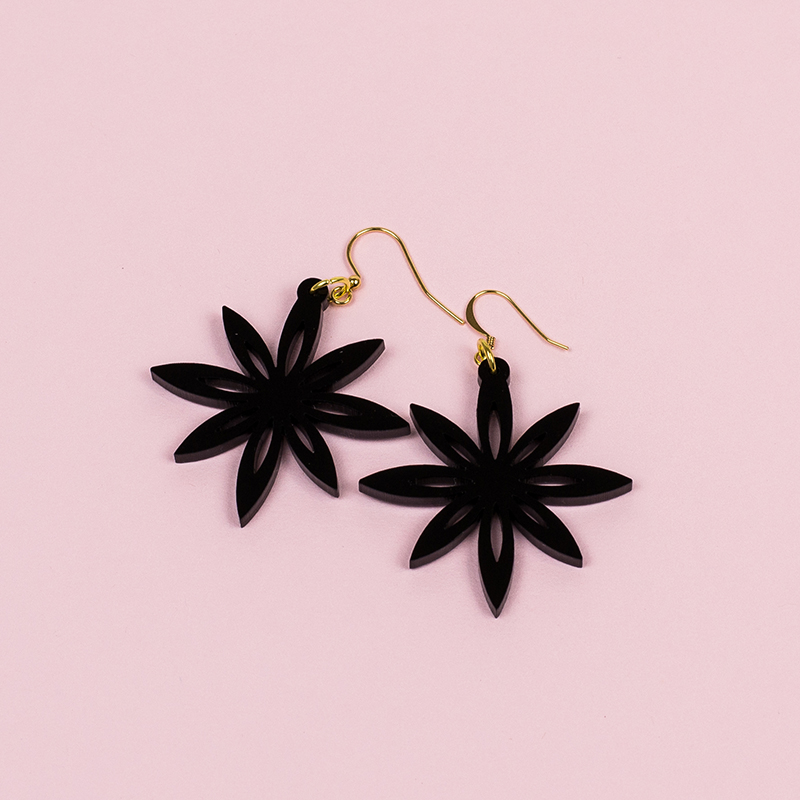 Diamonds are a girl's best friend, right? This geometric diamond-shaped necklace is just a bit more affordable—and fun!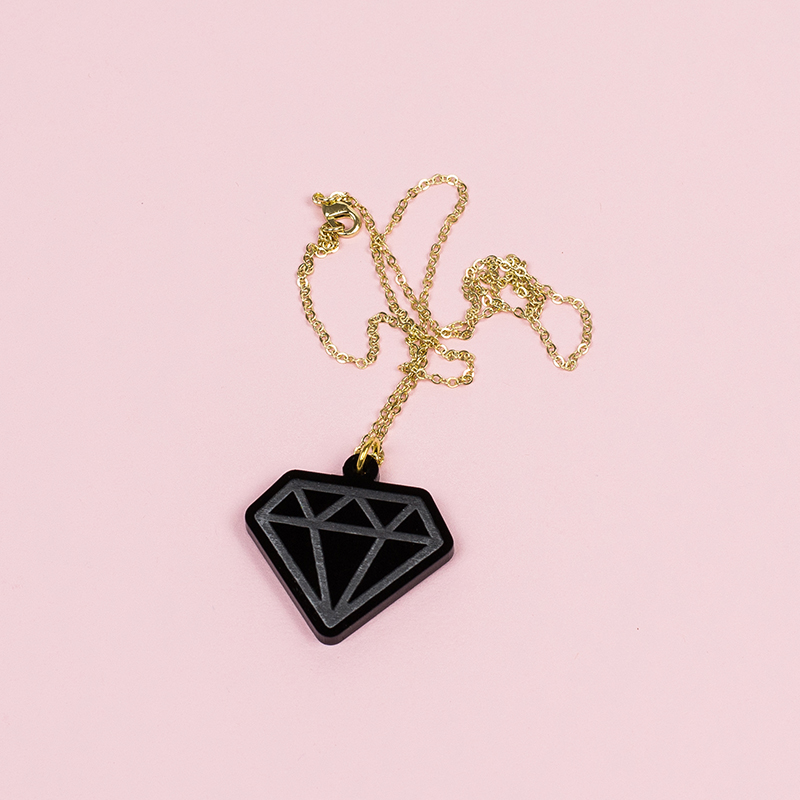 Who says coasters can't have high design. This trio of geometric designs is as artful as useful. Pump up the size and these could even become wall art pieces in a modern abode.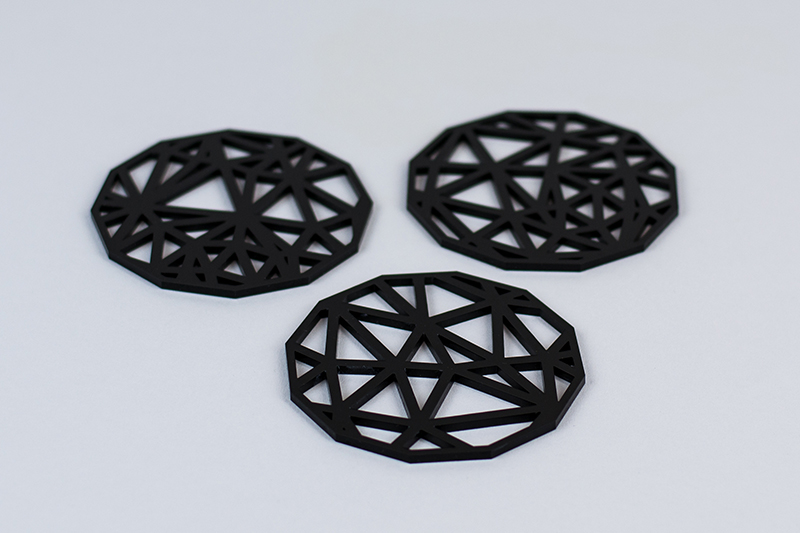 If black recycled acrylic catches your eye, get all the details here or collect a sample here to see it for yourself.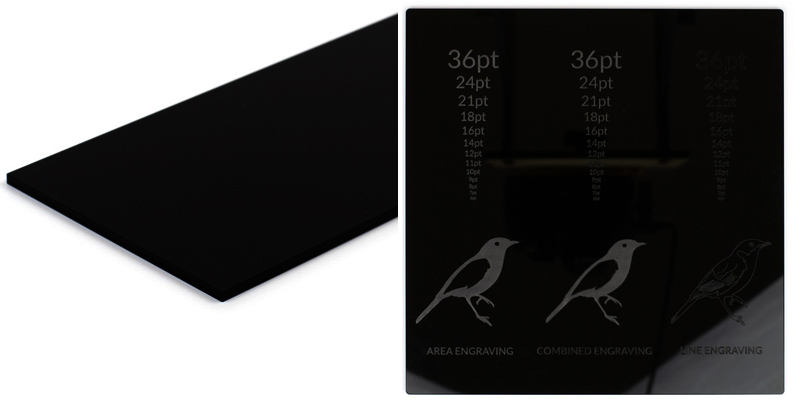 Clear Recycled Acrylic
So how does clear recycled acrylic stack up against the black? Here's an ornament to compare and contrast: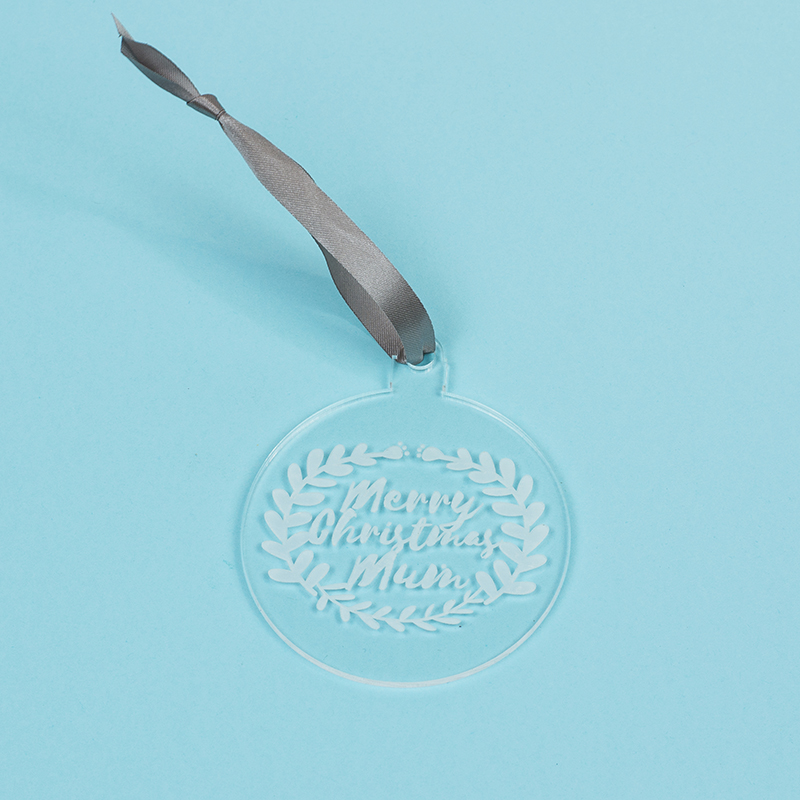 One of the nice things about clear acrylic when used for tree ornaments is how it will pick up the color of any nearby lights to create a pretty glow.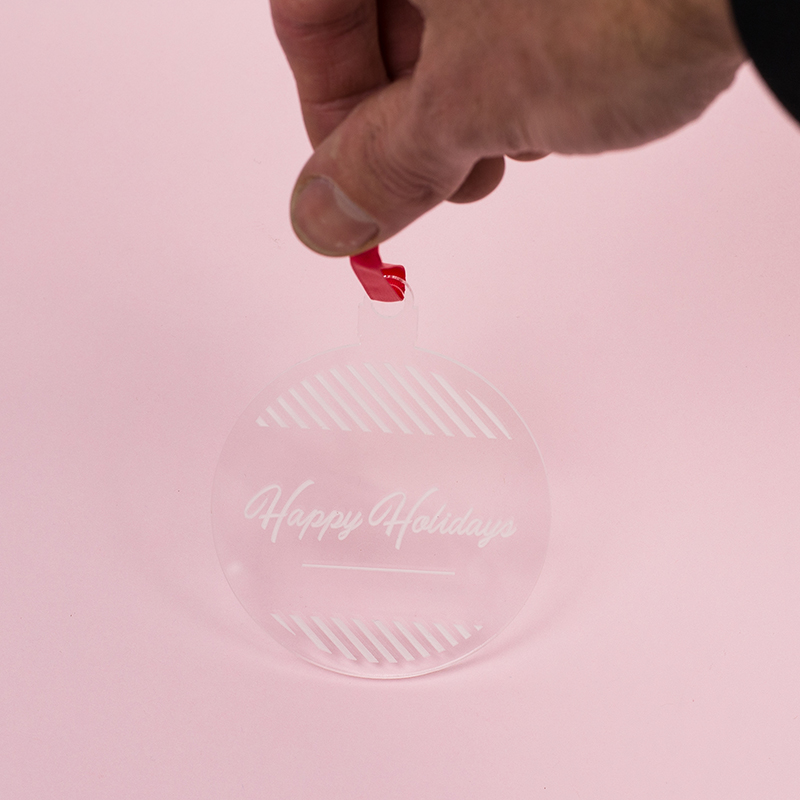 These mini snowflakes really take advantage of laser engraving to imitate the look of ice crystals.
This slotted Christmas tree is simple in design yet striking in appearance. Once you have the basic design (files here), you can customize the tree in any way you like. We gave a simple diagonal stripe pattern a go: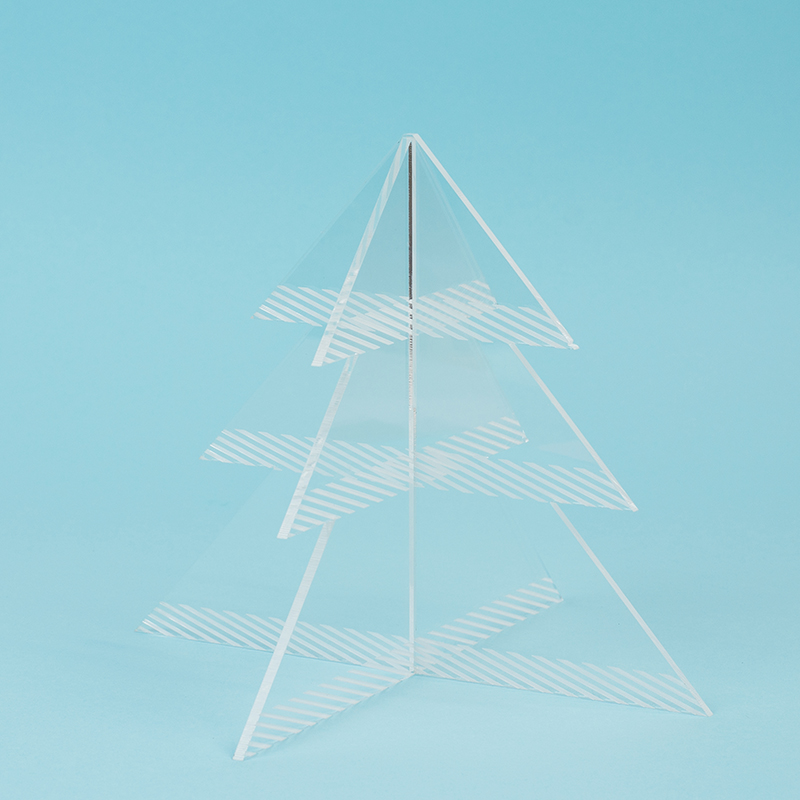 Here's another look, this time the lines are swirly and less geometric.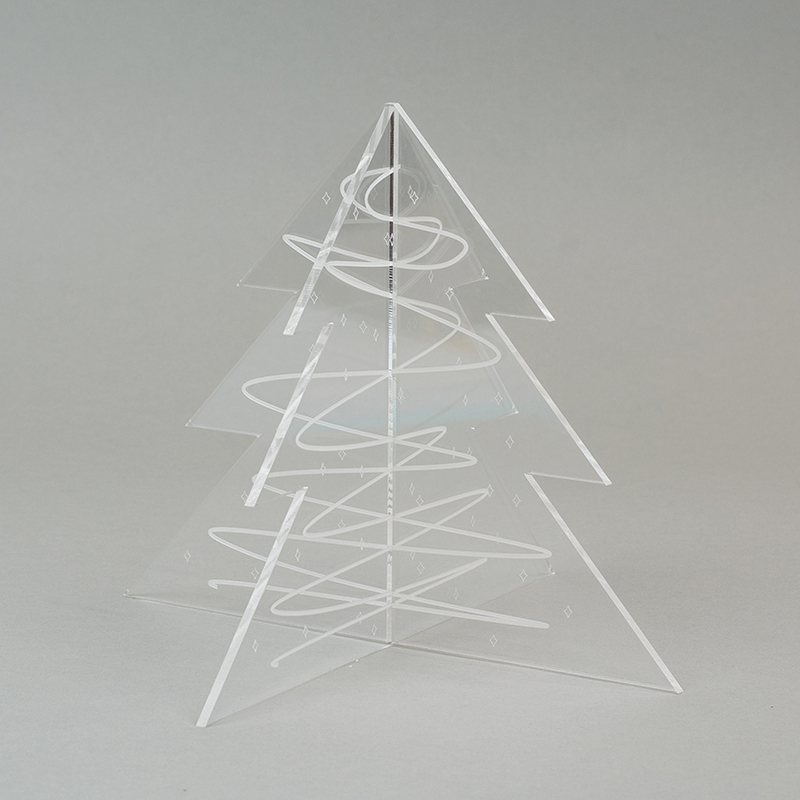 Not all projects from recycled acrylic have to be decorative. You can create functional pieces, too, such as this knitting needle gauge.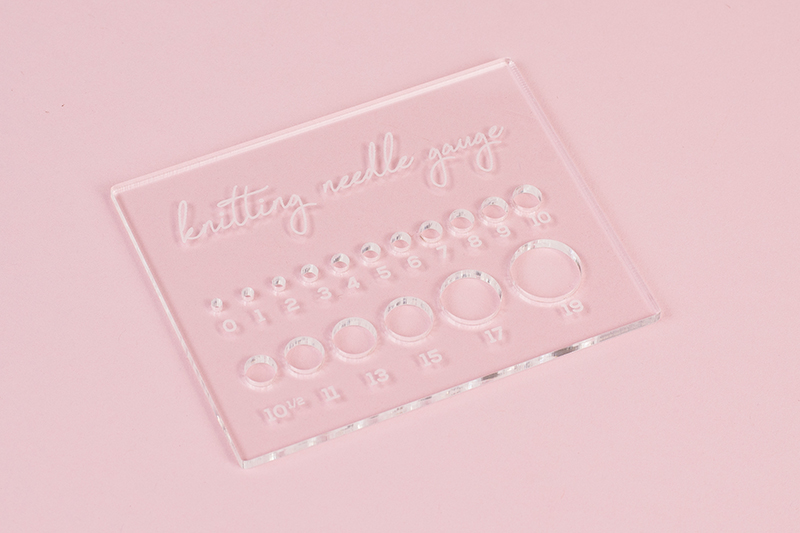 Is clear recycled acrylic clearly a winner? Read all about what makes it special here and get a sample here.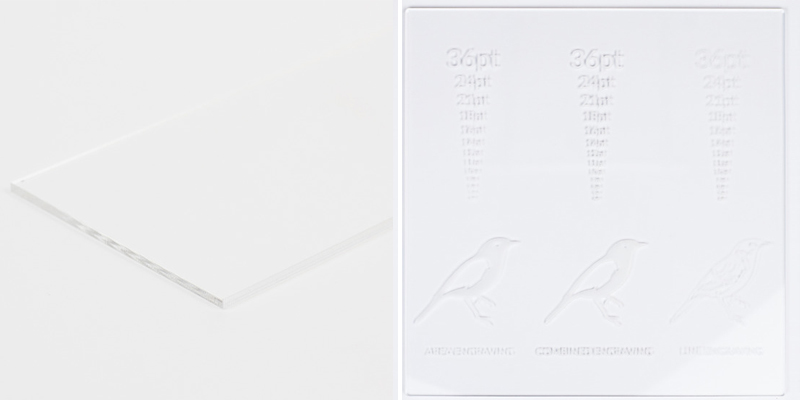 White Recycled Acrylic
Have some fun with perspective to give designs a sense of depth, like this pretty package topped with a bow: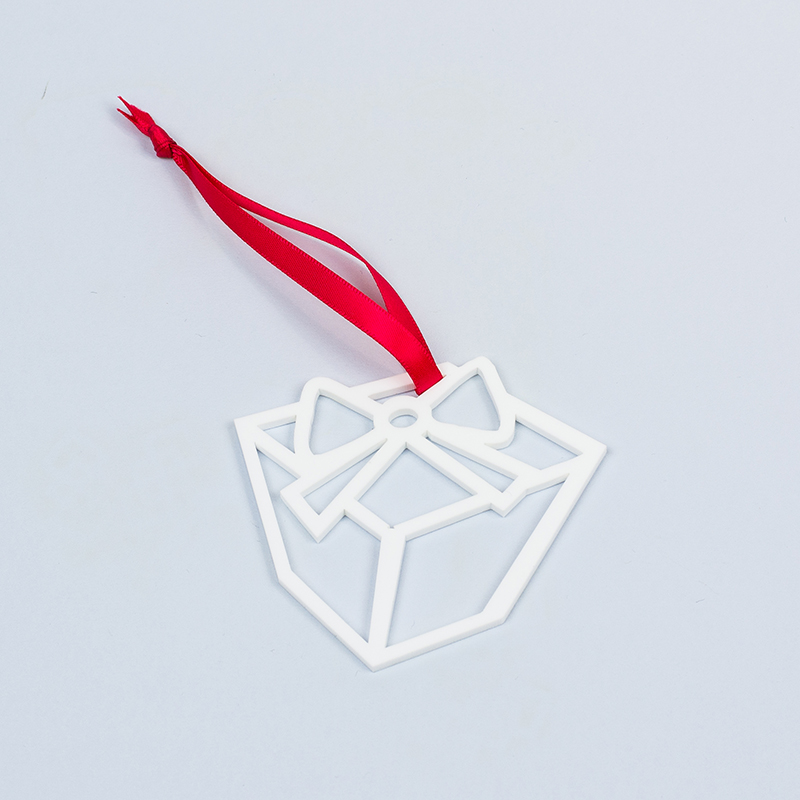 Sure, this is a pretty sweet looking stag. But you know what else would look stellar? Your logo. You could easily turn this into a promotional product. In addition to being a holiday ornament, you can attach it to gift bags for corporate gift giving and employee onboarding opportunities any time of year.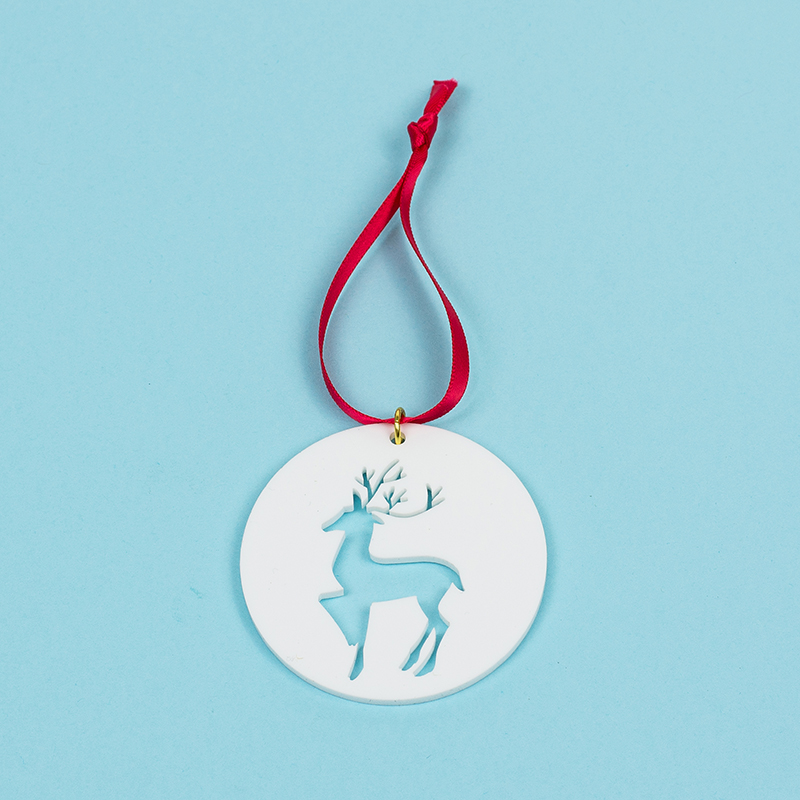 Speaking of promotional products, characters also work great in branding efforts. In keeping with the holiday spirit, we chose this smiling Santa. But you could laser cut school mascots for students to sell in fundraising efforts.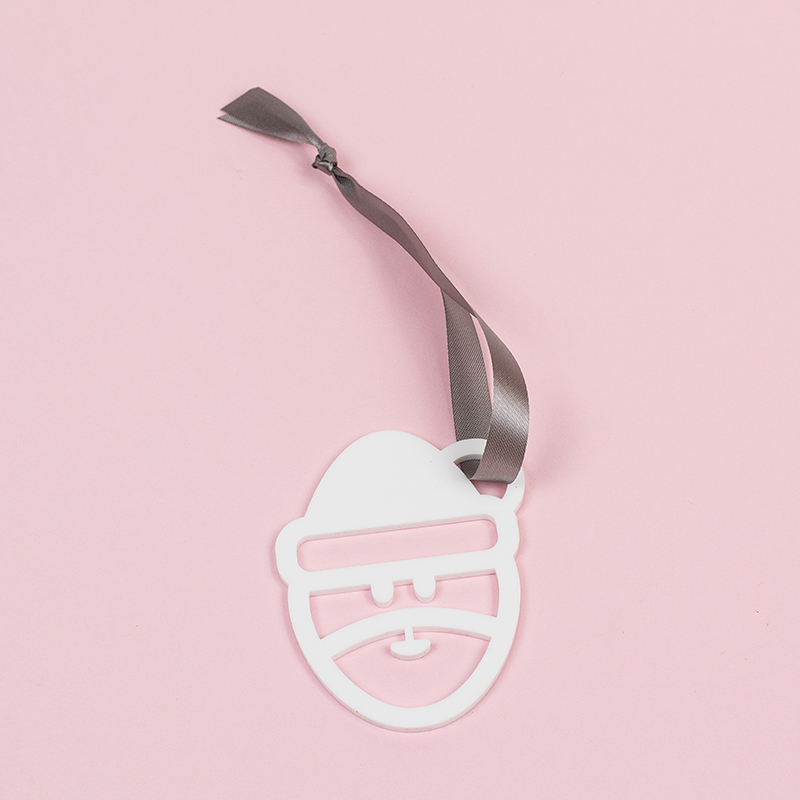 This jolly "J" will bring joy to any Christmas tree. But you could make it five times larger and create nursery signs for John, Jamie, Jace, Jennifer, Jude…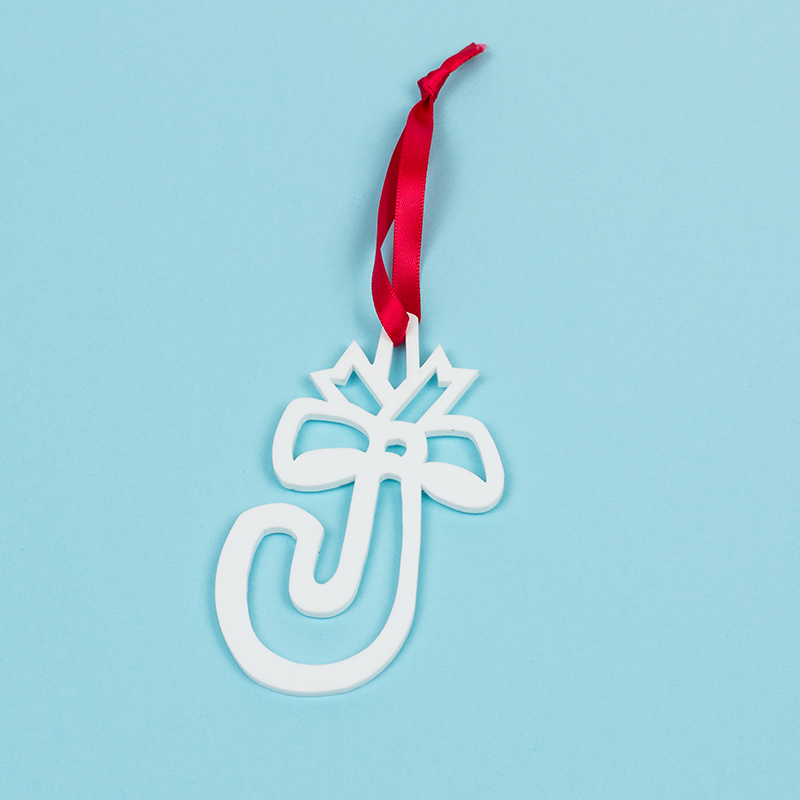 Is it an ornament? Is it a bag tag? Is a sign? YES! (Minus, the ribbon for that last one.)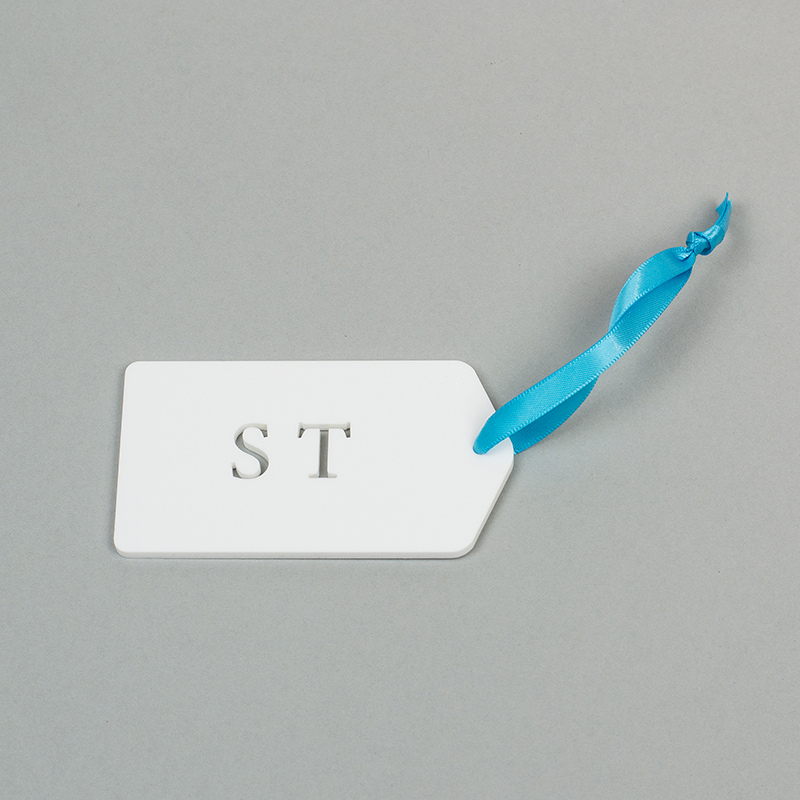 In addition to ornaments, these snowflakes make some pretty cool coasters.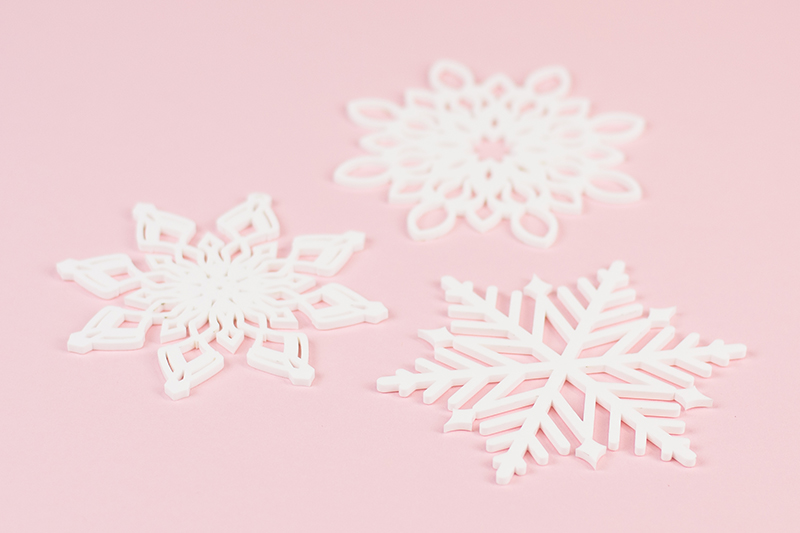 If white recycled material has you seeing green (sales, that is), don't wait to learn more about it here and pick up a sample here.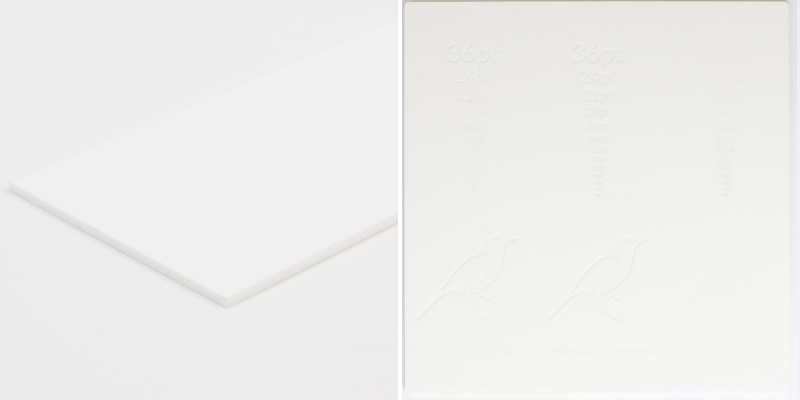 Maker Tips
Creating structures from acrylic can be tricky due to variations in the material thickness. Creating a design that can accommodate variations in the material thickness is the best way to go.
Additionally the laser cuts at a slight taper (one to two degrees) since the laser beam is shaped like a cone. The tapering causes one side to be slightly smaller than the other side. The taper is almost unnoticeable in 1/8″ material; the thicker the material, the more noticeable the taper. When using laser-cut parts such as wheels or gears, you might need to position the parts in an alternating pattern so that the tapers "cancel out."
For more tips on designing with acrylic, see this post.
What Will You Laser Cut With Recycled Acrylic?
What do you think? When we discovered recycled acrylic was finally available, we figured this would be something you guys would love for not only making holiday ornaments, jewelry and coasters but also clocks, electronics enclosures and even robots. We started with the most popular colors, so get buying and let us know if what other colors you'd love to see in recycled acrylic.