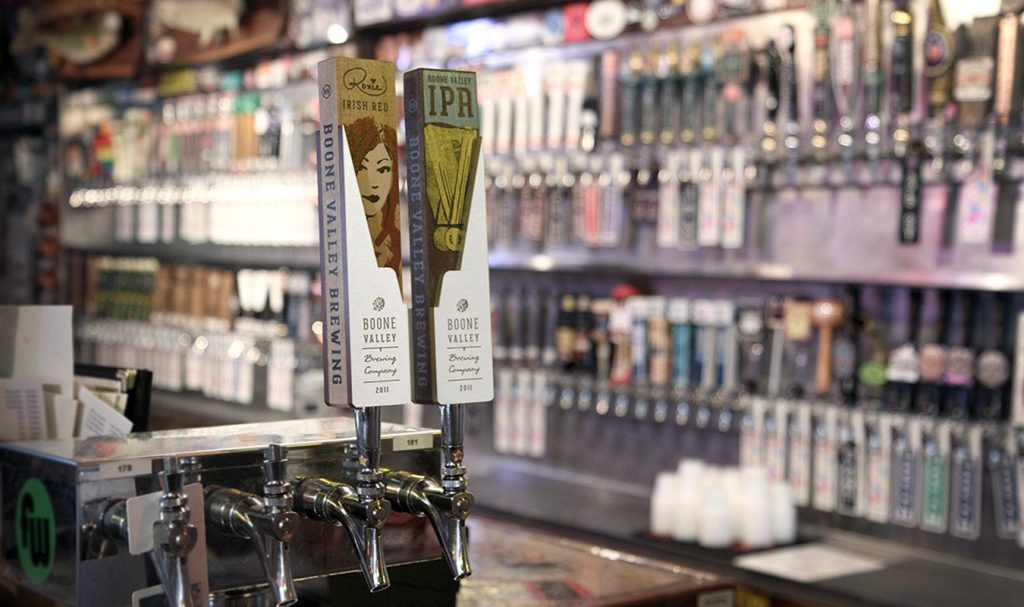 Eight Seven Central Has Won Business—And Awards—With Its Innovative Custom Beer Tap Handles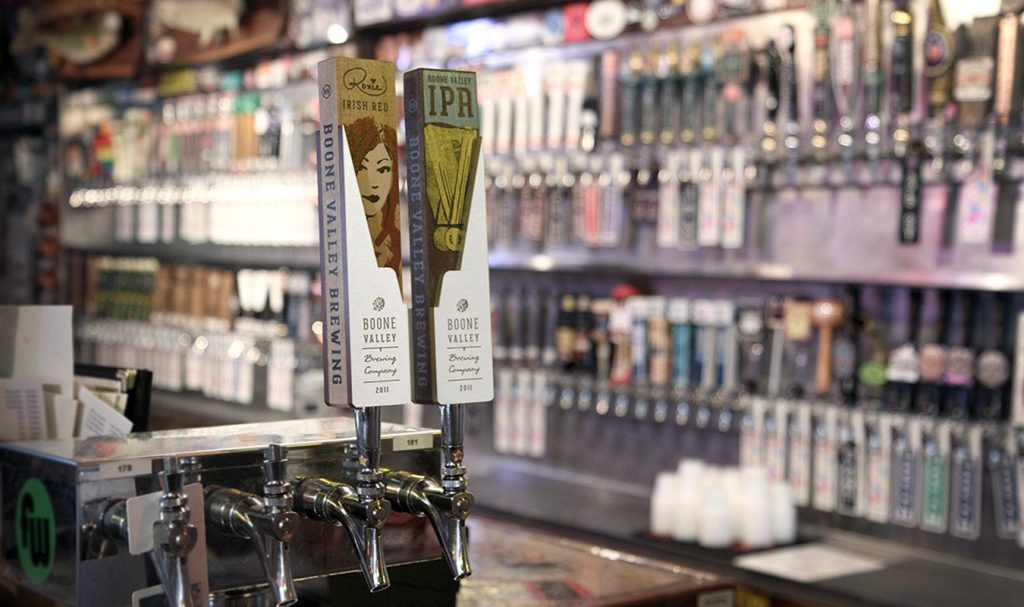 Craft brewing is a $22.3 billion industry, according to the Brewers Association, with more than 24 million barrels of beer produced and served annually across America in 2,397 microbreweries, 1,650 brewpubs and 178 regional craft breweries. In fact, the number of breweries increased 15% in 2015 (most recent stats available at press time).
Part science, part art, craft brewing has taken the U.S. by storm and now makes up 12% of the overall beer industry market share. What's cool about the scene is that most of the beers are made my small individual brewers who come into the business because of their love for the product.
Because these operations are small, especially when compared to the Budweiser's and Coors' of the world, they don't have hefty marketing budgets to get their brews noticed. And with the influx of new beers on the market, the competition to make one brew stand out from all the others is fierce.
Part of the marketing of a new beer is through name and imagery, which can be displayed on the actual tap handle. That's where great design mixed with smart marketing comes in.
Tapping A New Market
Des Moines, Iowa-based Eight Seven Central isn't your typical design studio. Nor it is a typical screen printer. They have found a way to combine award-winning design work and hand-crafted screen printing to produce unique brand identities, digital media and print materials for a broad range of clients—from young startups to influential commercial and cultural organizations.
This imaginative thinking is what brought Eight Seven Central to Ponoko in 2015 when a new brewery client challenged the company to develop custom beer tap handles for their line of brews.
"Our design work up to that point had been primarily two dimensional," says Adam Ferry, Eight Seven Central lead designer. "Tap handles are much more dimensional than a poster or business card. We began to experiment with screen printing onto sections of wood. These turned out great, but those pieces of wood needed more. We looked into sandwiching the wood with pre-made panels to add even more dimension and contrast to the tap handles. We found Ponoko online and submitted some designs to see if we liked the output. Our client was thrilled with the results, and we've been producing that style of tap handle for almost two years now."
To create all the personalized beer tap handles for Boone Valley Brewery Co., Eight Seven Central uses white melamine MDF face plates. There are now more than 100 of these out in the world.
The white face plates give consistency of design to all the tap handles while allowing for the customization of individual beer graphics on the cherry veneer MDF facing material. This inventive approach is getting noticed not only by consumers but also by critics.
The local American Advertising Federation honored the Boone Valley Brewing Co. Roxie Irish Red Tap Handle in the Countertop Display category for the white melamine MDF facing material on the handles.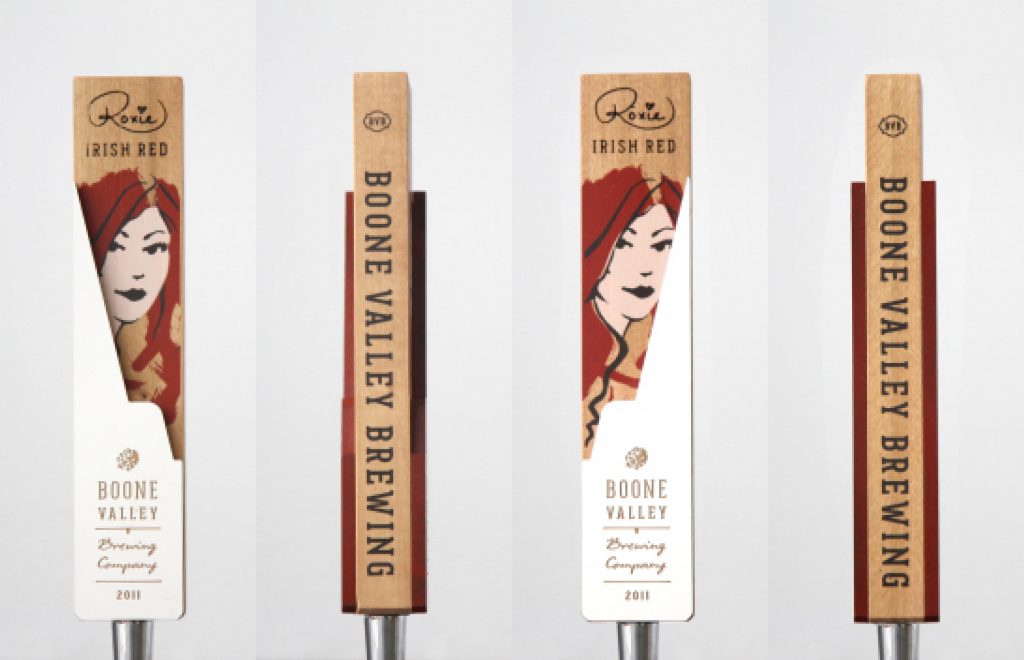 The Art Directors Association of Iowa awarded Best of Category for Distribution Assets for the Boone Valley's white melamine MDF facing material as well as the cherry veneer MDF facing material on the Oktoberfest tap handle.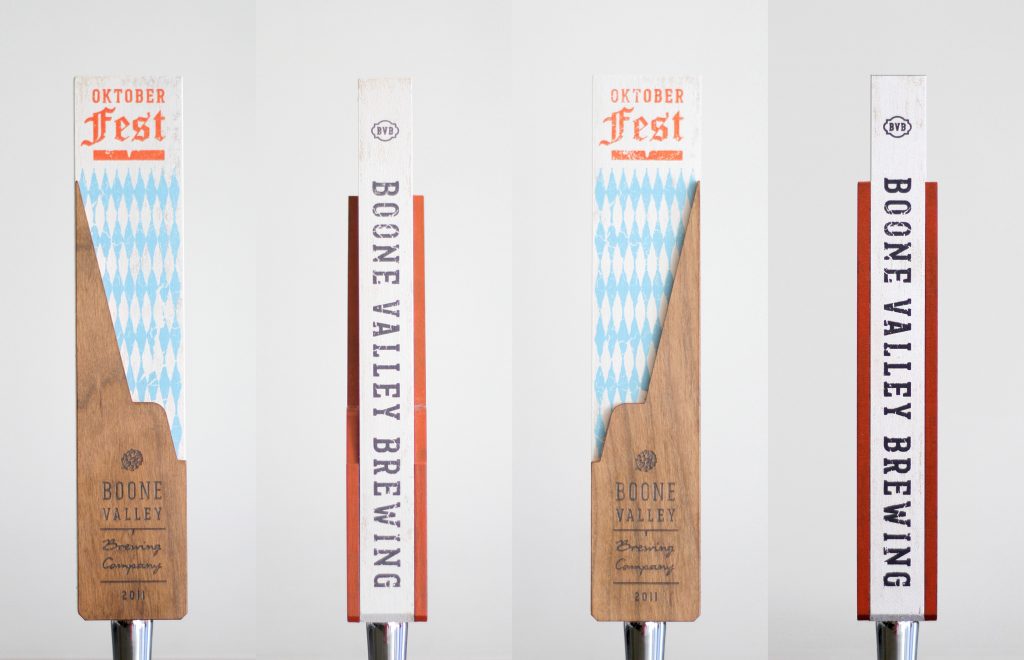 The Eight Seven Central designers took a different approach for the Boone Valley's Ol'Griz tap handle, using clear acrylic to make a mold box for the hand-sculpted tap that includes a chest piece made from laser cut and etched hardboard. Both of these design features were also honored with the Art Directors of Iowa Best of Category for Distribution Assets as well as the Judge's Choice Award.
Branching Out Beyond Cool Beer Taps
Once Eight Seven Central got going with the custom beer tap handles, they started making other things with Ponoko such as coasters, forms for silicon molds, custom lighting components, ornaments and signage.
These holiday ornaments are made from laser cut birch, which is then silkscreened by hand to create the festive graphics.

To create a one-of-a-kind sign for Moar Tacos, Eight Seven Central used an off-the-shelf lighting system and then retrofit it with laser cut acrylic panels. The back-lit floruo green masked with black gives it the company's signature style.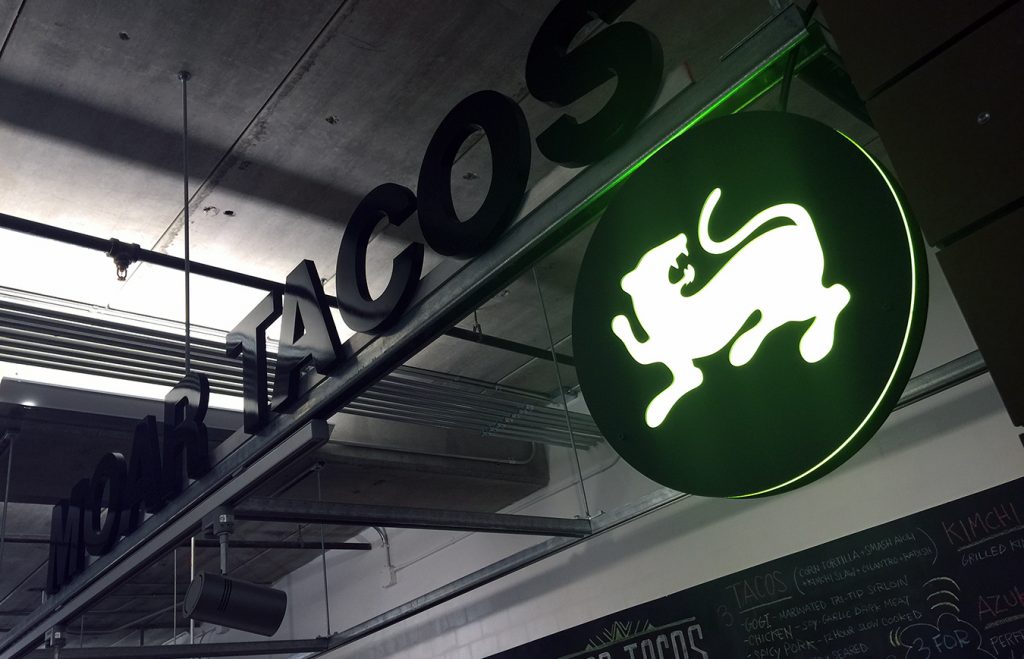 Currently, Adam says they are proposing a design for wall tacker signs to advertise the Boone Valley Brewing Co. at pubs. Most tackers are made of embossed tin and require significant quantity when ordering them. Being able to create individual tackers from materials that tie into already established corporate branding gives Eight Seven Central an edge.
"Our design would be composed from layering mirror acrylics and white melamine MDF," Adam explains. "We use the same white melamine MDF as the tap handles so that repeat of material makes sense. Tackers are meant to grab attention. If everyone's tacker is tin and yours is multilayered mirror acrylic, then your brand has a good chance of standing out."
Making Innovative Designs For The Future
"The problem all clients face is visibility, and we see Ponoko's service offering as a way to augment the solutions we develop," Adam says. "There are plenty of laser cutters out there with competent people running them, but I the reason we stick with Ponoko is that we didn't have to experiment with materials or do extensive testing. The materials and how to cut/etch them is already spelled out."
For anyone who wants to get into laser cutting projects, Adam says you must be clear on the design. "Sketch and mock up your ideas first," he says. "You have to sell the concept before you can sell the product. If you're using lasers just to say you used lasers, you may have missed the mark."
Adam comes from a package design background and several of his team members had previous experience with laser cutting at the design college they attended. Being able to combine laser cutting with their design and screen printing services ended up being a natural fit.
"Sure there are other ways we could have gone about making things," Adam says. "But automated precision using unexpected or even elevated materials is what inspires us for all of the projects we submit to Ponoko."