The future is looking solid for rejuvenated browser-based modeler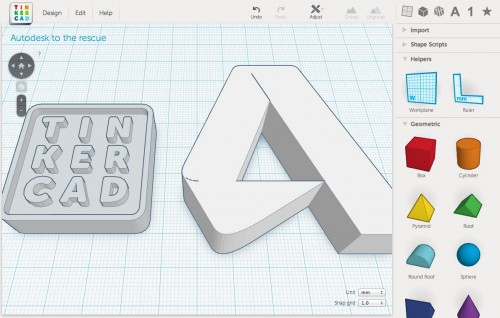 Fans of the 3D modelling app Tinkercad are turning their frowns upside-down with the big announcement that the company is back in action, and we're certainly getting excited… because Tinkercad has been acquired by Autodesk.
What exactly does this mean? Well, not only is it great to see Tinkercad back in action; but with the might of this industry juggernaut behind it, Tinkercad looks to be locked into a secure future as elements are slated to filter through into the innovative suite of 123D apps and more.
Tinkercad's revolutionary Gen6 geometry kernel played a significant role in sealing the deal with Autodesk. The strength of this browser-based solid modelling utility has already proven to be a hit within the Ponoko community. One of the notable success stories of the Ponoko API, Tinkercad makes generating SVG outputs that are ready for laser cutting or 3D printing so easy, it is literally child's play.
With Autocad at the helm, the Tinkercad free account now has unlimited designs and full import/export functionality, making it that much more appealing to new makers and educators.
"..we have supercharged the free plan. You can now create unlimited designs, all import and export functionality is enabled and ShapeScripts are turned on for free accounts."
Click through to see the full press release from Tinkercad.   (more…)