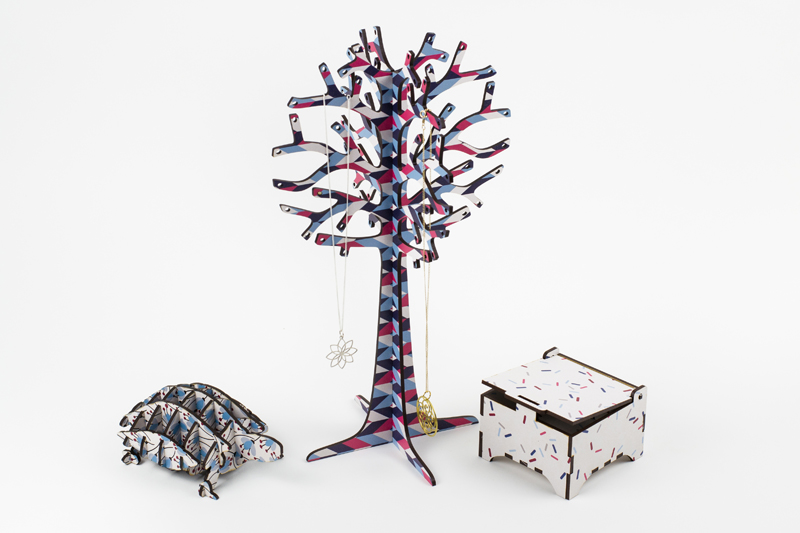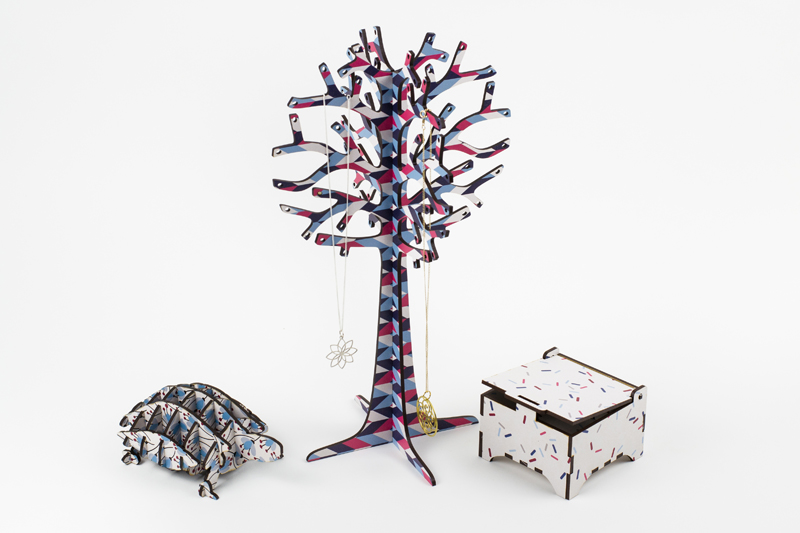 3 New Printed MDF Materials For USA & NZ
Last month, we introduced Ponoko Original materials with three colors of baroque printed MDF. We had lots of great feedback, so this month we're at it again. This time, we've added even more versatile prints to expand both the USA Catalog and NZ Catalog. Check out these three new multi-color prints just perfect for laser cutting:
Herringbone Printed MDF
Geometric prints are so on-trend. And this multi-colored herringbone print is a head-turner. Because of its consistent thickness and relative softness, printed MDF is ideal for slotting parts together such as this nifty jewelry tree.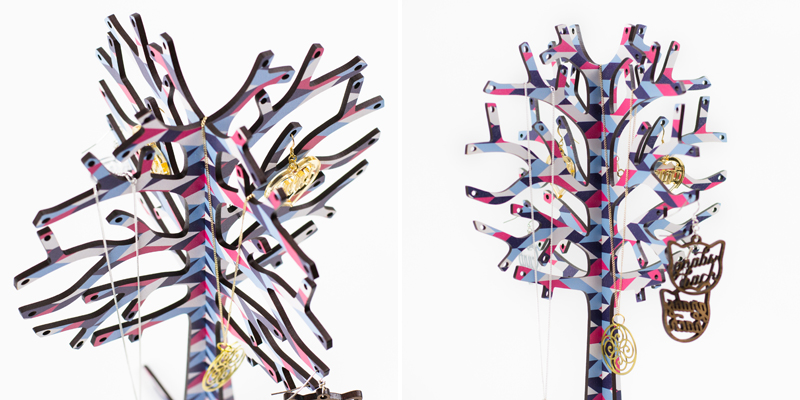 If you want to add some geometry to your projects, get more info on Herringbone Printed MDF in the USA Catalog or in NZ Catalog.
Bespeckled Printed MDF
If you want to sprinkle some fun into your next project, then Bespeckled Printed MDF is for you. Once again, the consistent 3mm thickness makes this material perfect for creating complex forms such as this cool jewelry or storage box.
This consistency also eliminates the need for multiple test cuts and more intricate slots to compensate for large material thickness tolerances you find in other materials, allowing you to make functional 3D forms with ease.
Does the Bespeckled Printed MDF make you want to have a making party? USA makers can learn more here, or click here if you're in NZ.
Botanic Printed MDF
This botanic print is a bright and happy floral that adds instant graphic impact and product appeal. No longer do you need to engrave plain material with intricate designs in order to achieve a great finish because the vibrant design does it for you. We thought this print has such great character, so we made a turtle out of it.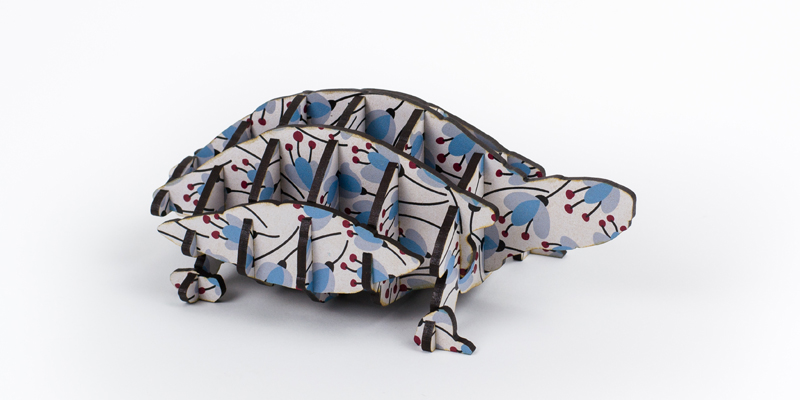 Make your next project blossom with Botanic Printed MDF. Get all the specs for USA here or in NZ here.
Now Available: Printed MDF
This 3mm MDF fiberboard is printed on both sides with UV-cured, full-color ink that has a matte finish with a slight texture to it. The edge laser cuts to a warm burnt brown color.

By using these one-of-a-kind materials, you can bring full-color to your designs that your friends, family and customers will love.
If you're selling your products, having designs that are more unique, fun and visually vibrant than ever before can not only help you stand out from the competition but also drive up the demand. And because of the higher perceived value, vibrant full-color materials should help you gain superior profits from the new things you make.
Maker Tips: Designing With Printed MDF
While we love being able to area and line engrave materials, printed MDF is actually best suited to designs without engraving because neither one is very noticeable in conjunction with the pattern. By using the printed pattern as the design rather than adding engraving, you can keep making costs lower.
Additionally, the printed surface may impact the ability to glue this material. A two-part epoxy is recommended. Any screw joints should be pre-drilled to avoid splitting.
What Will You Make With Printed MDF?
What ideas do you have for making with the new printed MDF? Will you make jewelry? What about electronics enclosures? Maybe even some fun wedding decorations?
And what do you think about these new patterns? Thumbs up or thumbs down? Would you like to see more? We'd love to hear your feedback on these new materials as well as what kind of products you want to make using them. Share your thoughts below!