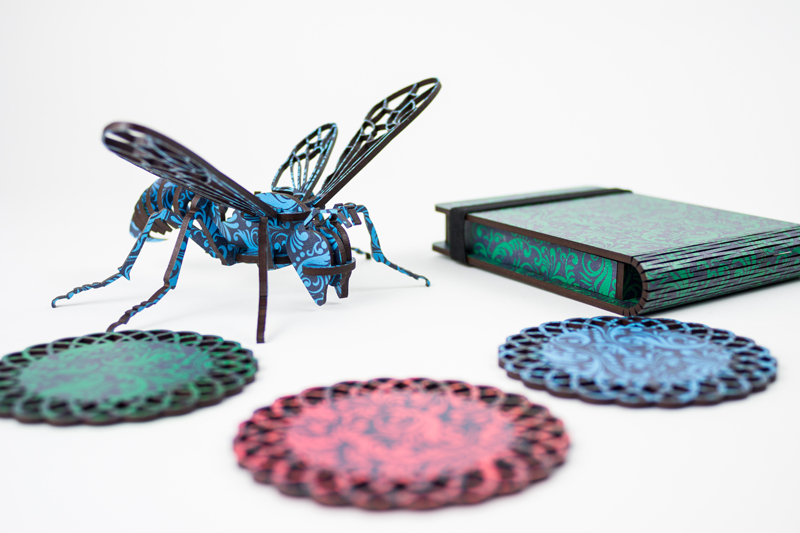 5 Reasons You'll Love Baroque Printed MDF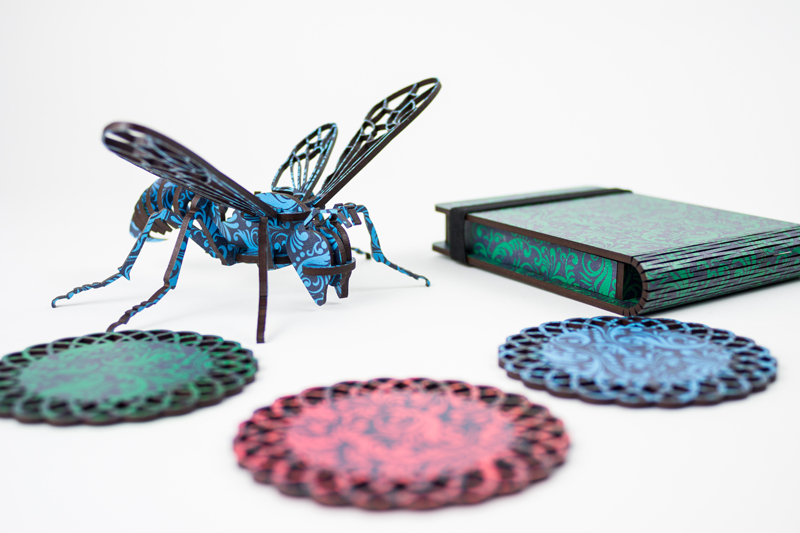 For the first time, we're offering laser cut materials with full-color digital art printed both sides of the sheet. Whaaaat?
You read that right.
We've created baroque printed MDF in three colors—blue, red and green—available in both the USA Catalog and NZ Catalog. And to kick-off the big event, we're even offering $50 Making Coupons (see details below).
And The 5 Reasons Are …
Creating materials that are Ponoko Originals has been super-duper exciting. Of course we love them, or else we wouldn't offer them to you! But here are five reasons why you should love the new baroque printed MDF sheets:
Your products will stand out with these one-of-a-kind materials that bring full-color art printed to both sides of the material sheet. Your friends, family and customers will love it!
You can make products look amazing without heaps of laborious finishing because the pattern is all done for you in the digital print.
With a consistent 3mm thickness, this printed MDF is ideal for designing 3D products.
If you're selling your designs, you should be able to drive up the demand because your products can now be more unique, fun and visually vibrant than ever before.
Because of the higher perceived value, vibrant full-color materials should gain superior profits from the new things you make.
What You Can Make With Baroque Printed MDF
To get your creative juices flowing for what you can make with these new Ponoko Originals materials, check out these ideas:
Slotted 3D Models: Because of its consistent thickness and relative softness, printed MDF is ideal for slotting parts together. It also looks amazing because of the bright, playful baroque pattern on both sides. Whether you're custom cutting scale models or cute like creatures like this bee, this MDF will give the perfect fit.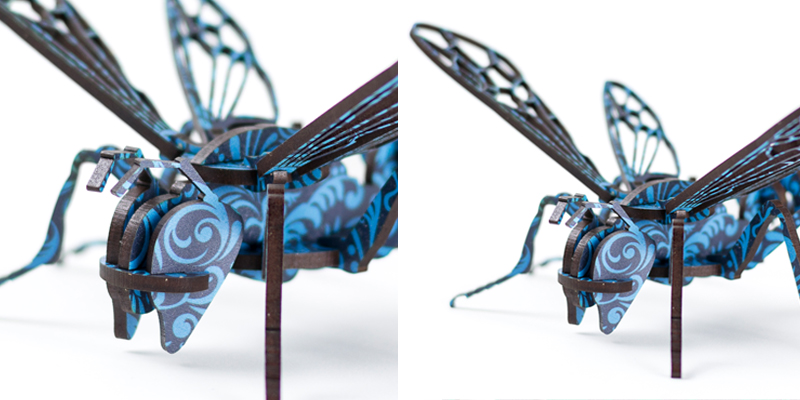 Graphic Impact: The baroque pattern on these materials gives them instant product appeal. No longer do you need to engrave plain material with intricate designs in order to achieve a great finish such as with this wall clock.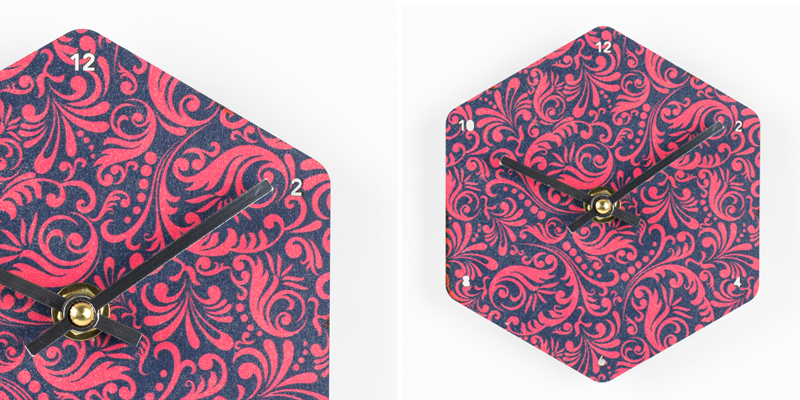 Functional 3D Forms: Once again, the consistent thickness makes this material perfect for creating more complex forms (such as boxes and cases) with ease. Often with other materials, multiple test cuts and more intricate slots must be cut to compensate for large material thickness tolerances. This costs time and money. But not so with this printed MDF. You can even use a living hinge to up the cool factor.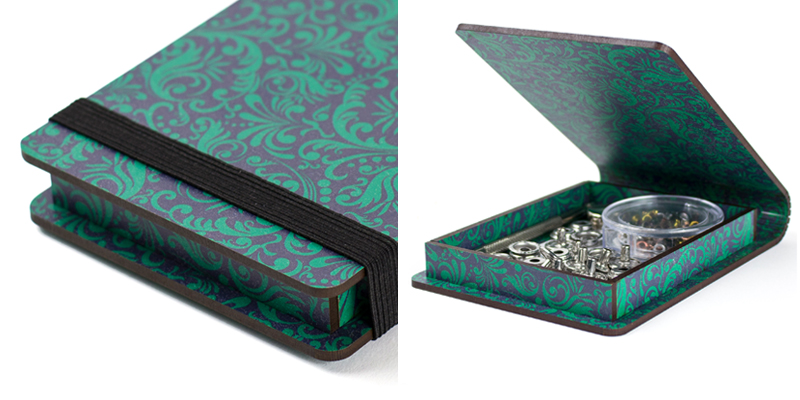 Intricate Cuts: Compared to other woods that have grains and bumps, MDF has a smooth consistency that laser cuts cleanly. This means you can create intricate details such as the lattice work on these coasters. You can even get the files here and make these coasters yourself!
Need more inspiration? How fun would these laser cut marble machines be in printed MDF! The notebooks and wall art in this previous post would be beyond cool. You could even make a smartphone alarm clock. And if you're into unique lighting (we are!), Etsy seller baraboda has beautiful laser cut creations. Check it out and then design some original lighting of your own.
Thingiverse also has a number of things that would look amazing in printed MDF. Check out this Raspberry Pi case, teardrop pendant light, bowl, jewelry tree and clock. Just keep in mind that some editing may need to be done for the files to be Ponoko ready.
Now Available Online
This MDF fiberboard is printed on both sides with UV-cured, full-color ink that has a matte finish with a slight texture to it. The edge laser cuts to a warm burnt brown color.

If you're diggin' Blue Baroque Printed MDF, get more info in the USA here or in NZ here. Grab a sample from USA or NZ.
Does the Red Baroque Printed MDF make your heart skip a beat? USA makers can learn more here while NZ makers click here. Then get a sample of your own from USA or NZ.
Don't be green with envy. Get the 411 on Green Baroque Printed MDF in the USA here or in NZ here. Don't forget to snap up a sample from USA or NZ.
Maker Tips: Designing With Baroque Printed MDF
While we love being able to area and line engrave materials, printed MDF is actually best suited to designs without engraving because neither one is very noticeable in conjunction with the pattern. By using the printed pattern as the design rather than adding engraving, you can keep making costs lower.
Additionally, the printed surface may impact the ability to glue this material. A two-part epoxy is recommended. Any screw joints should be pre-drilled to avoid splitting.
Special Offer: $50 Making Coupons
To celebrate the launch of Ponoko Originals, we're giving away $50 Making Coupons to the first five makers who:
Post photos on the Ponoko Facebook page of products made with these new materials & use #PonokoOriginals.
AND email feedback to service@ponoko.com about what you want to see next – we'd LOVE to hear your thoughts to guide us.
What Do You Think About This Idea For New Materials?
This is the first time we've created an original material just for you, so we really want to know what you think.
Shall we do more? What would you like to see in future—colors, patterns, etc.? What enhancements would you like incorporated? And we'd love to hear what kind of products you want to make using this new line of materials.
Share your thoughts by emailing service@ponoko.com or leaving a comment below!