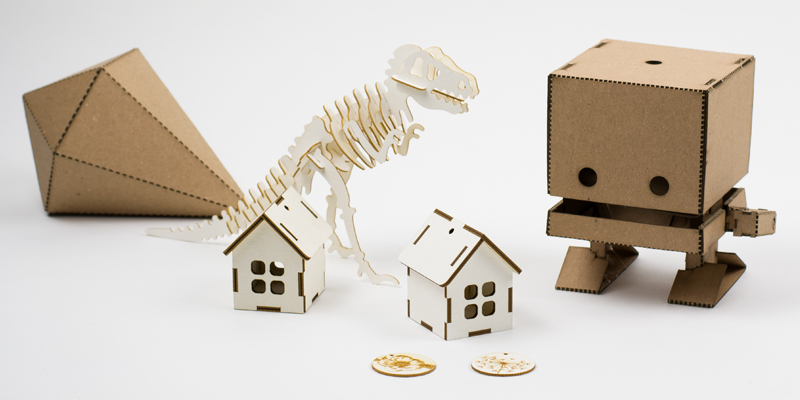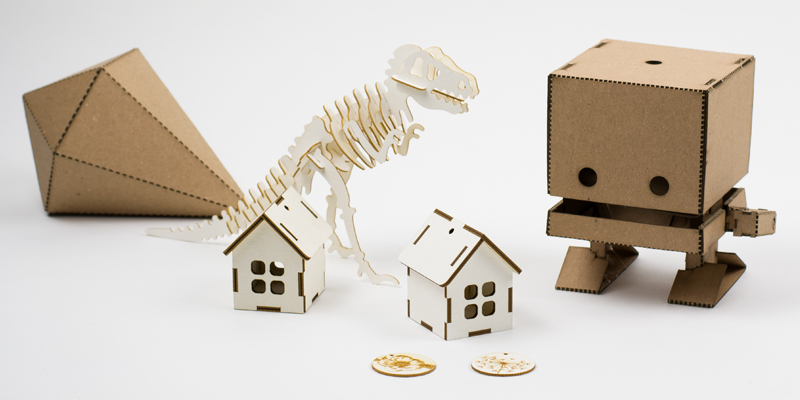 New Materials In USA Catalog: Cardboard & Taskboard
Are you making glueless interlocking parts? Or maybe you want to create snug fittings for your 3D products? Whether you're making 3D interlocking models, crafts or prototypes, have we got some new materials for USA makers that will have you constructing 3D forms like the pros.
Create laser cut 3D forms super easy with a thicker 1.3mm natural cardboard, or use the lightweight wood Taskboard for an even more professional finish. Both of these materials are especially useful for cost-effective prototyping before moving onto more expensive sheets. They're also a great alternative if your designs are decorative or sitting on a shelf and don't need to be super strong structurally.
And since the natural cardboard is made from recycled paper and Taskboard is made from 100% sustainable forestry wood, you can give a nod to the environment while creating something super cool.
1.3mm Natural Cardboard
Previously stocked in 0.5mm, natural cardboard has been added to the USA Catalog in 1.3mm thickness because customers were requesting a thicker cardboard option while still having an economical price point. It's a light brown, kraft-colored, single-layer cardboard that is made from recycled paper with a natural matte finish. It may contain flecks of color that some may see as imperfections (but we see as character!).
Speaking of character, this TJBot is full of personality. Born at IBM Research, TJBot is a DIY template to learn, experiment and explore AI with IBM Watson. Laser cut this cutie then use the open-source, step-by-step recipes—a.k.a. coding instructions—designed for a Raspberry PI to connect your TJBot to Watson developer services so you can teach it to dance, tell a joke or carry on a conversation!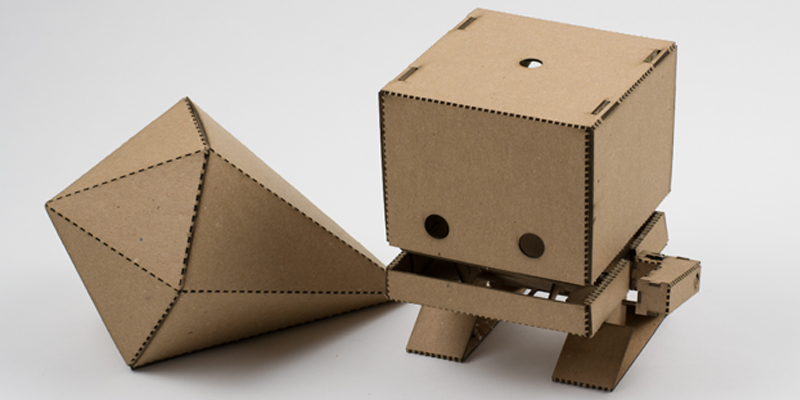 If you're ready to make this little guy, dive in and get the Ponoko-ready file for making the 3D interlocking models.
And learn more about 1.3mm Natural Cardboard and get a Cardboard Sample.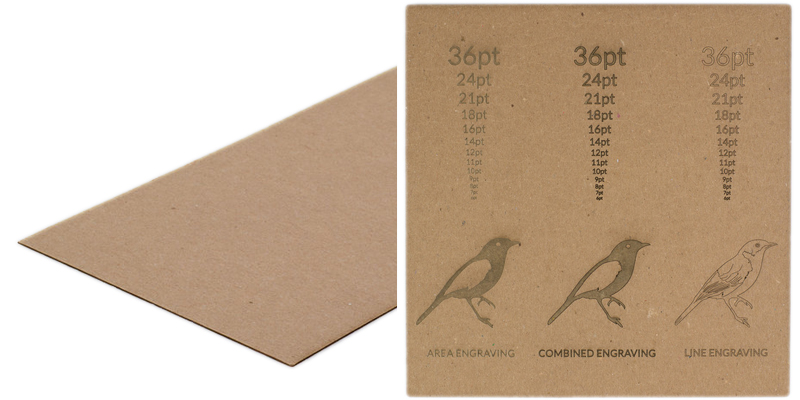 Want more great ideas for what you can make with this new, thicker cardboard? Check out this previous Materials Feature: Laser Cut Cardboard and don't miss these 20 Inspirational Designs Made From Cardboard.
1.5mm & 3mm Taskboard
Taskboard is an ultra-light wood fiberboard that is made from 100% sustainable forestry wood. It is manufactured under the strict standards defined at the UN convention on biodiversity: Harvesting from managed forestry that replenishes the forest while protecting the local biosphere.
But Taskboard isn't like any other wood product. When dry, it is rigid, stays flat and won't curl. Yet when sprayed with water on both sides, Taskboard becomes pliable and can be formed into 3D shapes (1.5mm thickness only).
It has a matte finish that may have slight texture. Structurally, it's characteristics fall between cardboard and MDF, and it is easy to cut because of its light weight. This saves time, and ultimately money, making Taskboard a budget-friendly option for 3D interlocking models and other laser cut designs that need more substance than cardboard.
Offered in two colors, the beige Taskboard has a more distinct wood texture where the white is better for forming 3D shapes or cutting smaller radii. Laser engraving either color produces crisp results, with a very light edge burn to give it a warm, natural feel.
Maker Tip: Due to the thickness and ply core, the surface layer will tear when folded. Use a dashed cutting line to control the fold line or try a living hinge. Additionally, small light pieces can shift or get sucked into extraction during cutting, so provisions need to be made for this at the design stage.
What can you make with Taskboard? How about this sweeeeeet T-Rex with a 3D interlocking design that's laser cut from the 1.5mm beige Taskboard.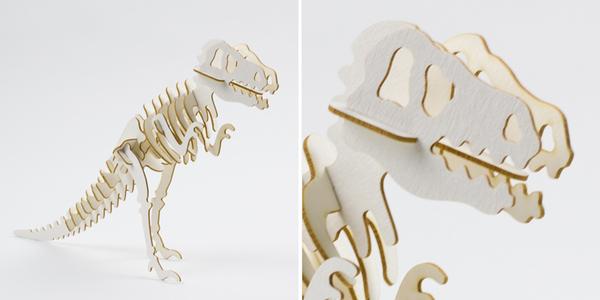 These pendants (also made using 1.5mm beige) show how Taskboard looks when laser engraved. A nice golden color, don't ya think?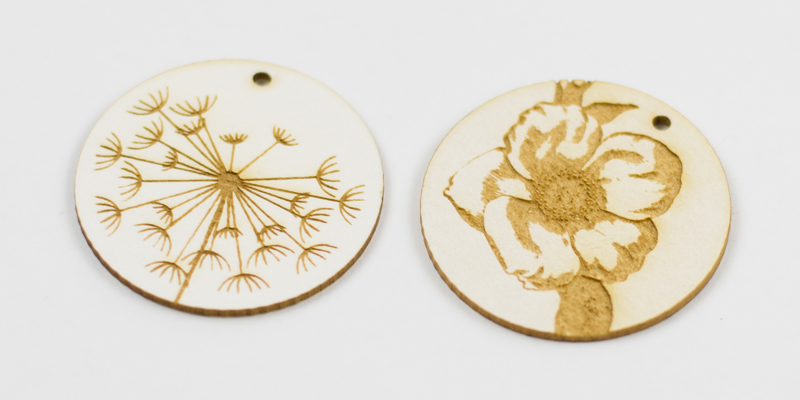 Learn more about Beige Taskboard and get a Beige Taskboard Sample.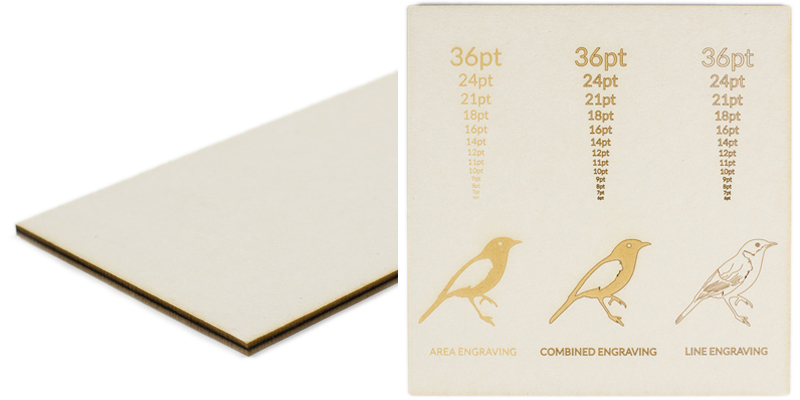 Tap into your inner architect and build these little houses with an interlocking design out of 3mm white Taskboard (get the plans at Thingiverse).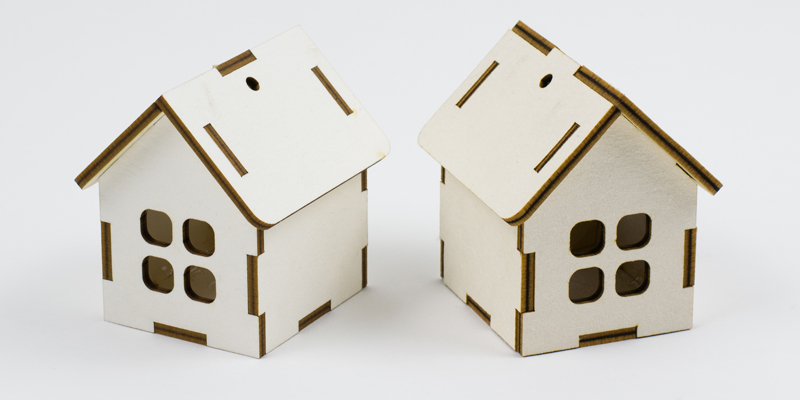 Learn more about White Taskboard and get a White Taskboard Sample.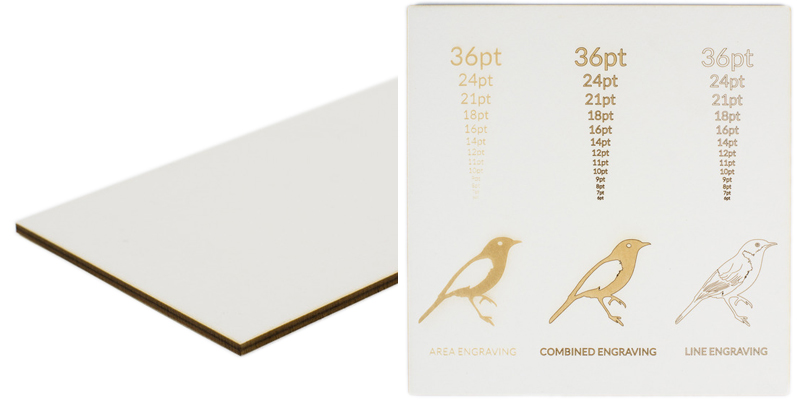 Want more great ideas for 3D interlocking models you can make with Taskboard? Use it as an upgrade from white mat board for making architectural models. Or check out this Press-Fit Construction Kit from Instructables, these Laser Cut Birds from Thingiverse or this festive Reindeer from Thingiverse.
What Will You Laser Cut With Cardboard Or Taskboard?
What ideas do you have for making with the new cardboard and Taskboard? Will you use it for 3D interlocking models, prototypes, decorative arts, crafts, collage and even packaging? Tell us all about how you envision using these new materials by leaving a comment below!