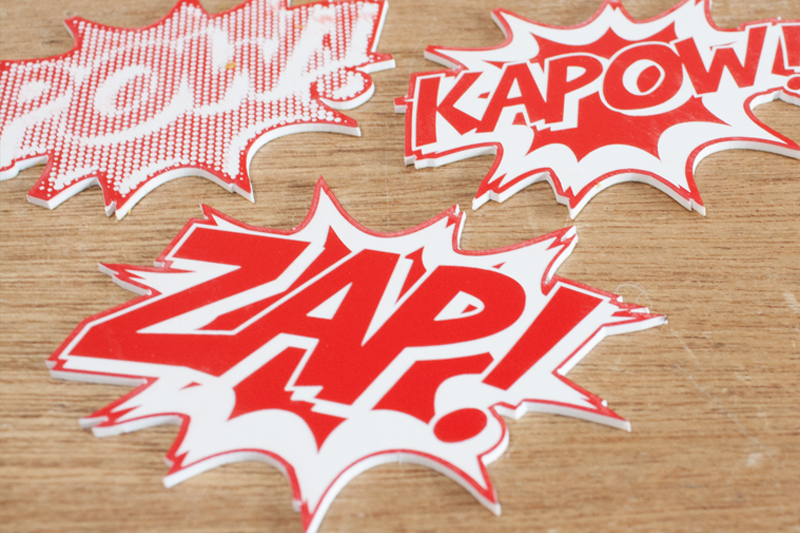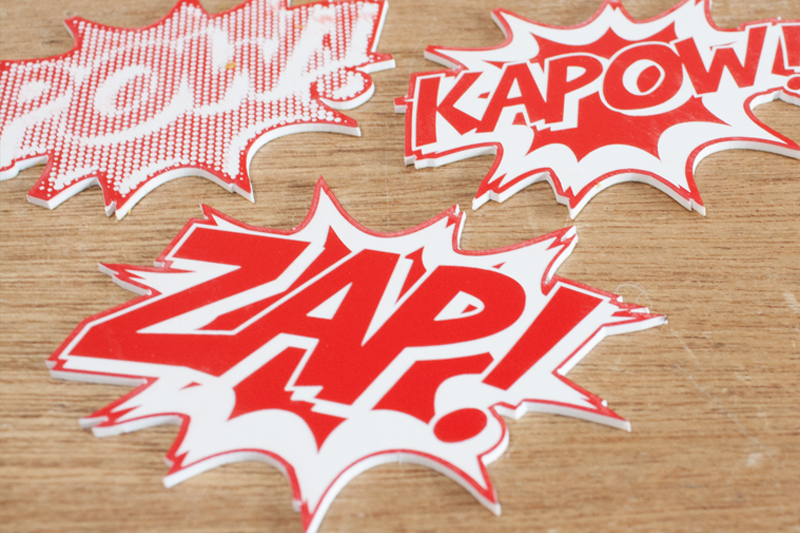 New Material In NZ Catalog: Red On White Two-Color Acrylic Sheet
Wondering how to get your laser cut products to go BOOM! POW! BANG! Get great graphics with a pop of color using Red On White Acrylic, just introduced to the NZ catalog.
Two-color acrylic sheet is a Microsurfaced Impact Modified Acrylic. This means it contains a small amount of polymer that is similar to rubber to give the acrylic extra strength and flexibility. As a result, two-color acrylic is slightly more flexible and melts a bit more during cutting than standard acrylics. This ability to bend makes two-color acrylic sheet particularly suitable for trophy plates.
So tap into your inner superhero (Wonder Woman is our gal, and that friendly neighborhood Spider Man is pretty swingin' too) and put this new two-color acrylic sheet to work for you. The results are WOW!
What You Can Make With Red On White Two-Color Acrylic Sheet
Even design superheros can use inspiration for their next laser cutting project. Check out these examples we made to pump up your creativity.
These comic-book-inspired coasters or badges show how much fun you can have with two-color acrylic sheet. In addition to the great contrast from engraving, you can cut really interesting shapes.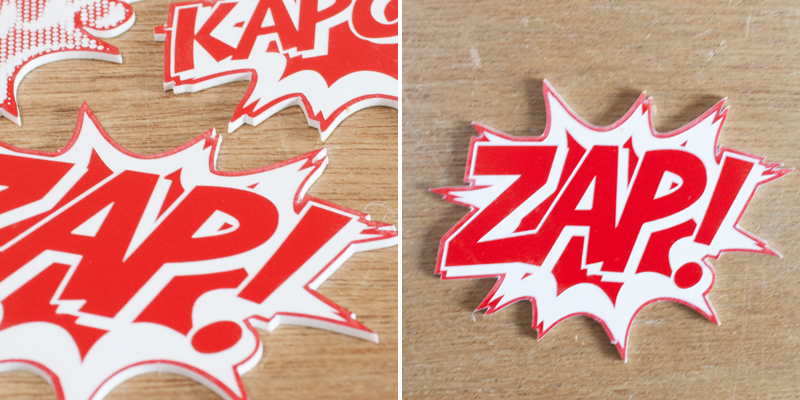 Too early to think about making for Christmas? Not if you want to sell products! Start now to prototype designs, order stock, photograph the product and prepare your campaign for maximum sales. And who knows, you could even test drive your products with a Christmas In July sale!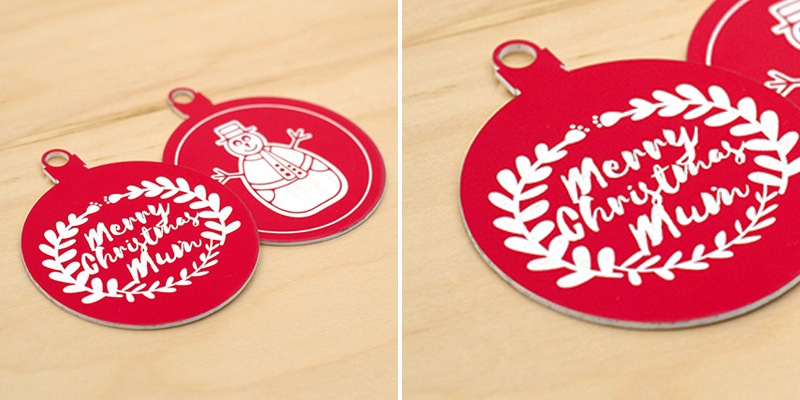 Two-color acrylic sheet is made for typography. It's all about the contrast! It's ideal for signs and front plates on electronics projects to label all the buttons. And see how the text really shines on this Save The Date wedding invitation? So beautiful. Unlike paper, this invite definitely won't get folded up and lost.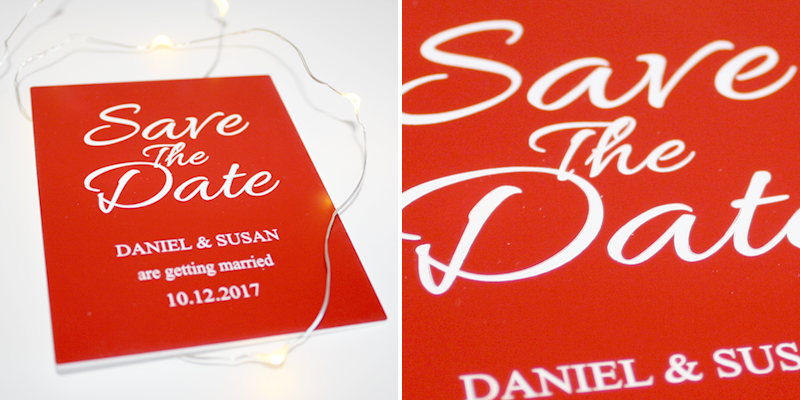 Now Available: Red On White Two-Color Acrylic Sheet
This 1.6mm two-color acrylic sheet is a thermoplastic with a matte finish on top. It has a thin top layer of red plastic that, when engraved away, reveals the white plastic underneath.
Learn more about Red On White Acrylic and get a Red On White Acrylic Sample.
And for those of you stateside, don't feel left out. You too can make designs that POP! with red on white two-color acrylic sheet in the USA catalog.
Maker Tips: Designing For Two-Color Acrylic Sheet
Because this acrylic is so thin and flexible, however, applying a constant laser beam of heat to it can cause it to deform. Therefore, caution is advised for very detailed and intricate cuts.
Additionally, due to the thin top layer, the underlying substrate is sometimes visible along the cut line as well. This is most noticeable in corners or angles, so you'll want to design accordingly.
Two-color acrylic sheet is manufactured with a UV-resistant additive. So while there will naturally be some fading with extended sun exposure, this acrylic holds up much better in UV light, making it quite durable for signage applications.
This material is cut without paper on the top surface, as this produces the best engraving results. So while two-color acrylic sheet is great for engraving details such as text, keep in mind larger area engraving may result in powder build up.
What Will You Laser Cut With Red On White Acrylic?
Whatever your design superpower, how will you create products using red on white two-color acrylic sheet? Will you make one-of-a-kind conference badges or name tags? What about attention-getting signs or point-of-sale displays? Perhaps something special and personalized for birthdays, weddings, anniversaries, Valentine's Day or Christmas? We love to know your ideas for laser cutting red on white acrylic. Share in the comments below!