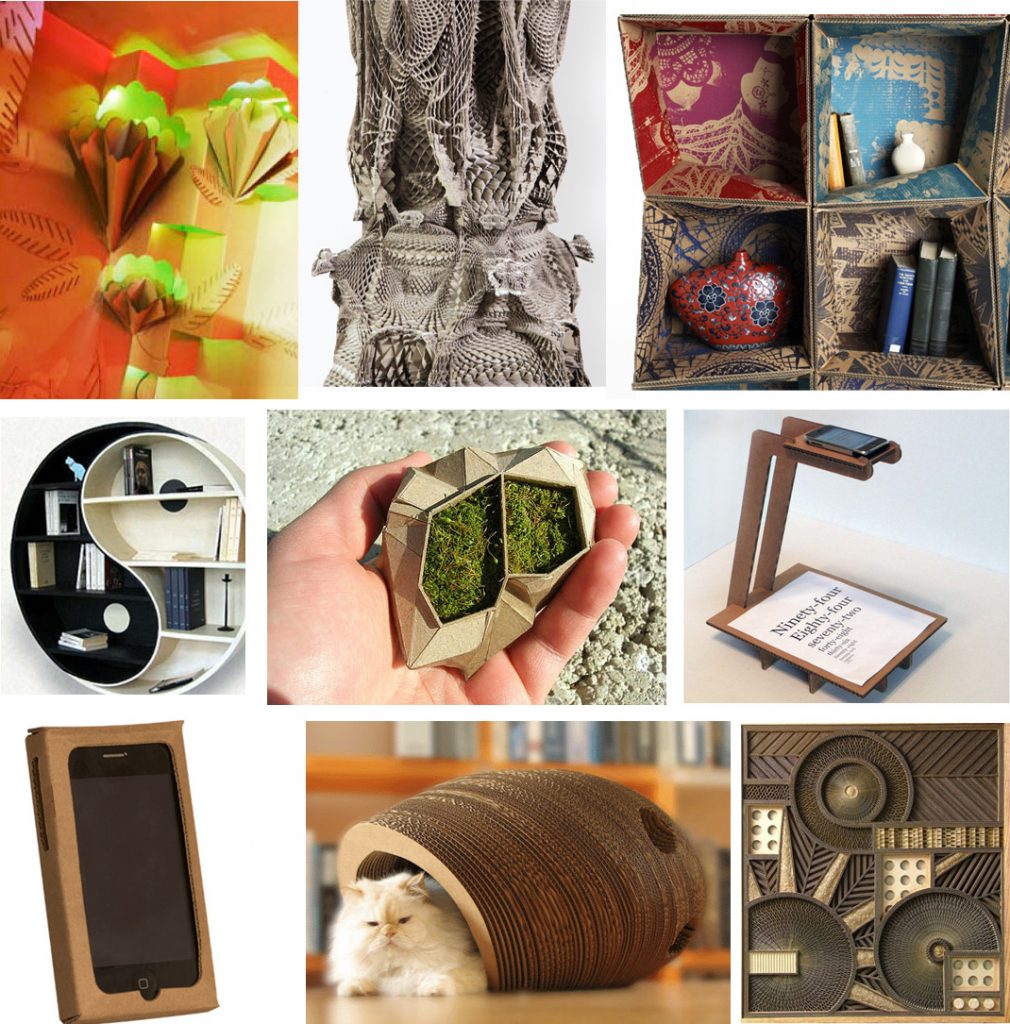 Getting Creative With Cardboard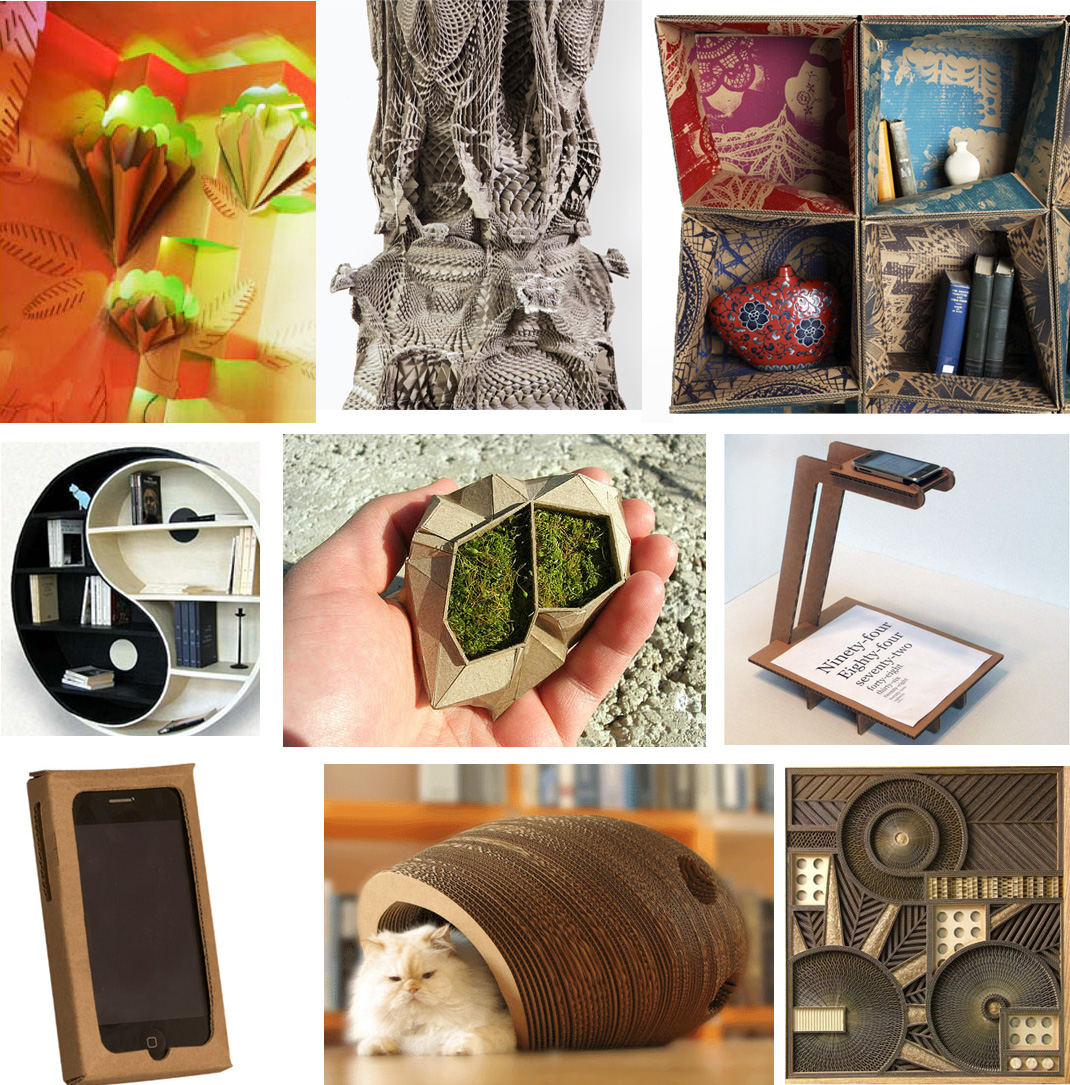 If you haven't heard, we're making our cardboard materials FREE all month when you make something with Ponoko.
Cardboard is a *great* material for prototyping your design and making it in another material later. But that doesn't mean you can't use cardboard in a final product. Check out these 20 inspirational designs made from good old fashioned recyclable cardboard.
1. Corrugated coardboard artwork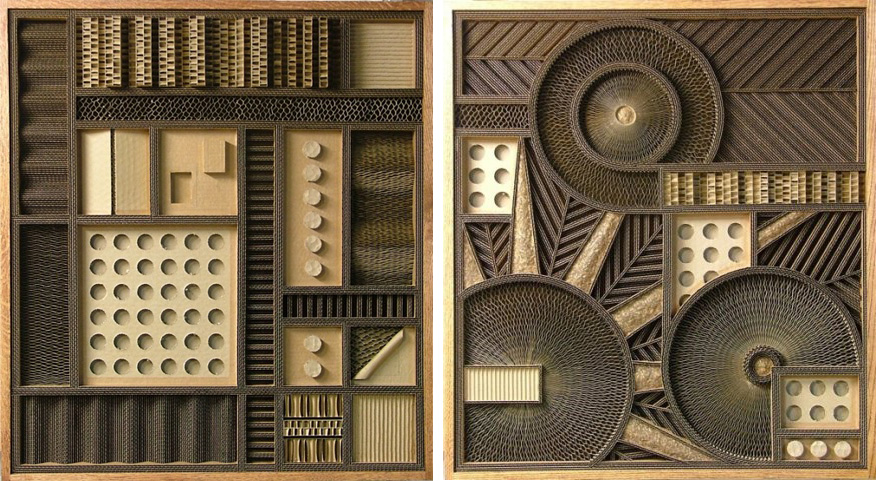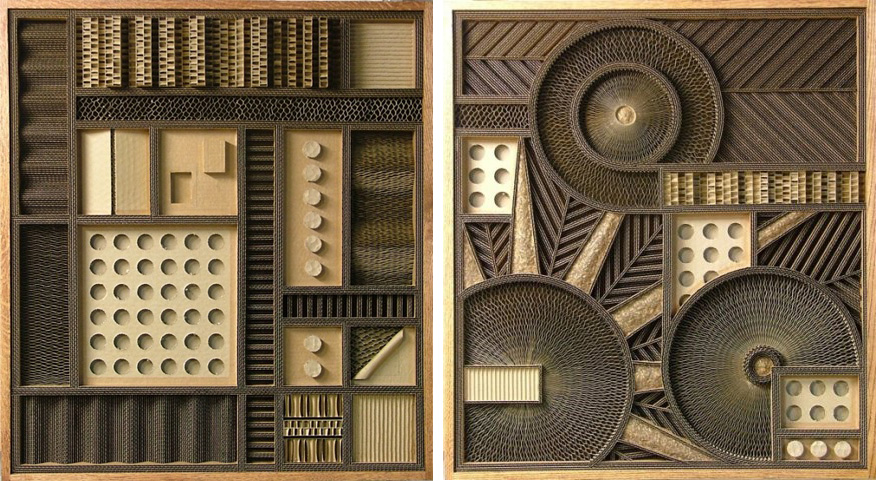 Artist Mark Langan creates stunning works of art entirely out of cardboard — from original gemoetric designs, to masterpiece interpretations, to corporate logos and signage.
2. Kranium cardboard helmet outperforms traditional helmets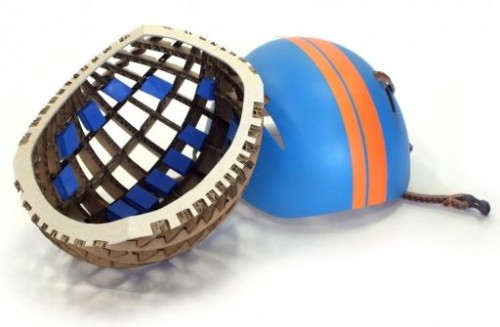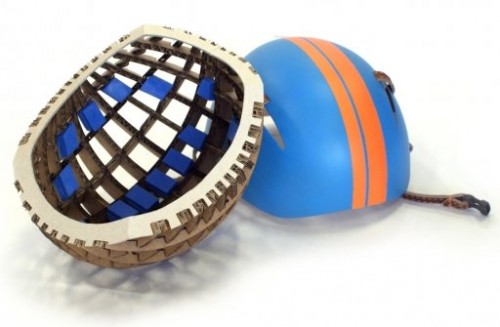 This student project Anirudha Surabhi demonstrates the impact resistance of corrugated cardboard. His Kranium cardboard helmet stood up to four times the amount of impact withstood by typical polystyrene shells. (Video of a DIY arduino powered test in the original post.)
3. Super cool cardboard box lamp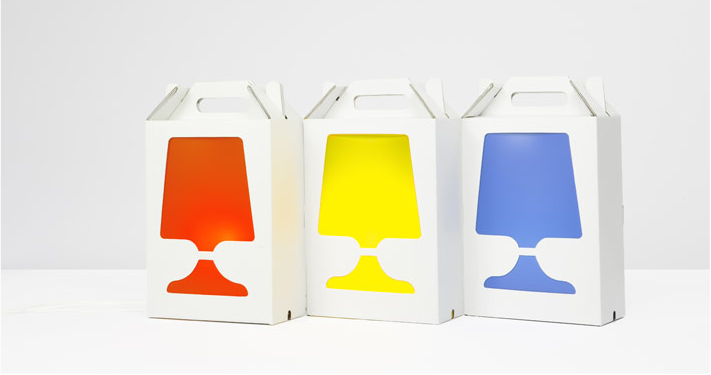 I was kind of obsessed with this lasercut cardboard lamp by Hiroshi Design Studio. Like the look yourself? Ponoko's got white white cardboard too and colorful acrylics, so you could make something just as cool.
4. Pop-up office made of giant cardboard sheet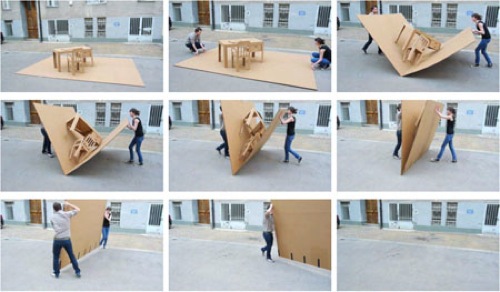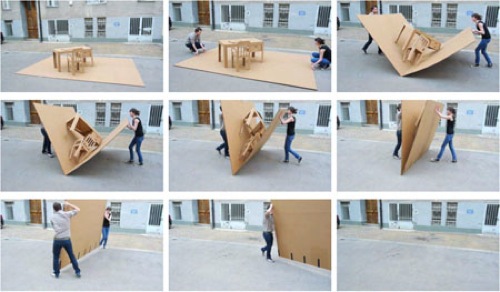 Ponoko doesn't carry cardboard sheets this big. (Our biggest size is P3: 31″x15″) But I had to share this amazing pop-up/fold-up office complete with floor, chair, desk and drawer!
5. Screen printed cardboard shelving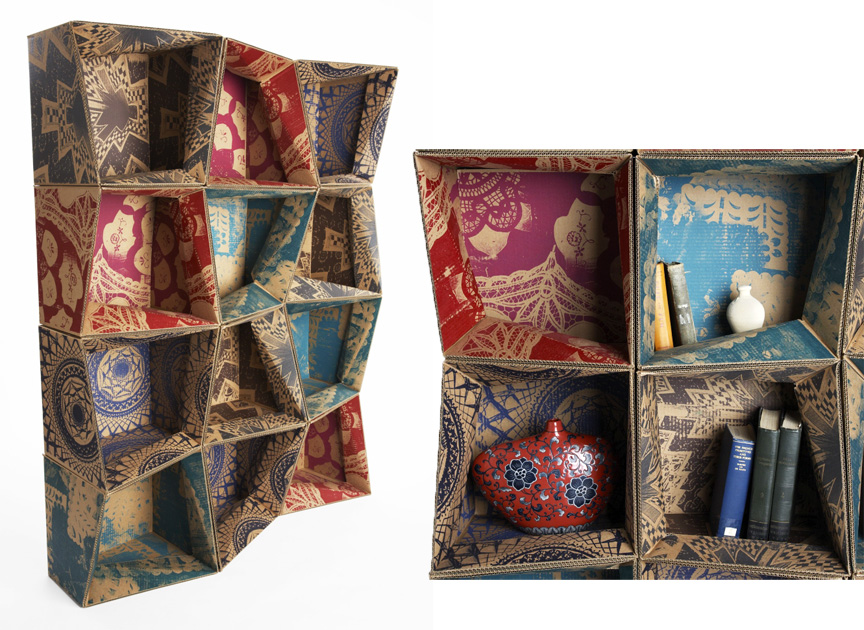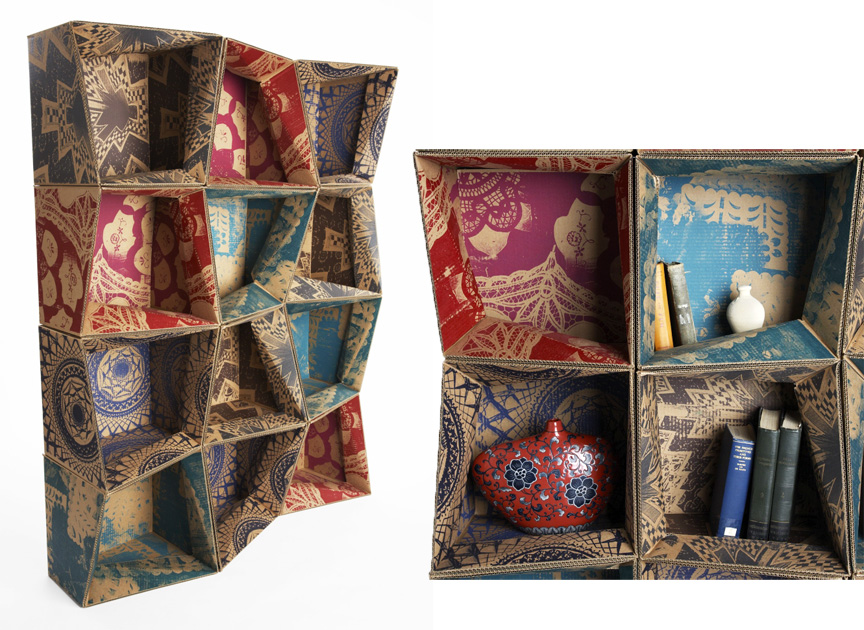 Pratt student Sahar Ghaheri created the Nemu storage unit to talk about "the immigrant experience". Each box is printed with pattern fragments from various cultures.
6. Geometric sculptures bring you a little bit of nature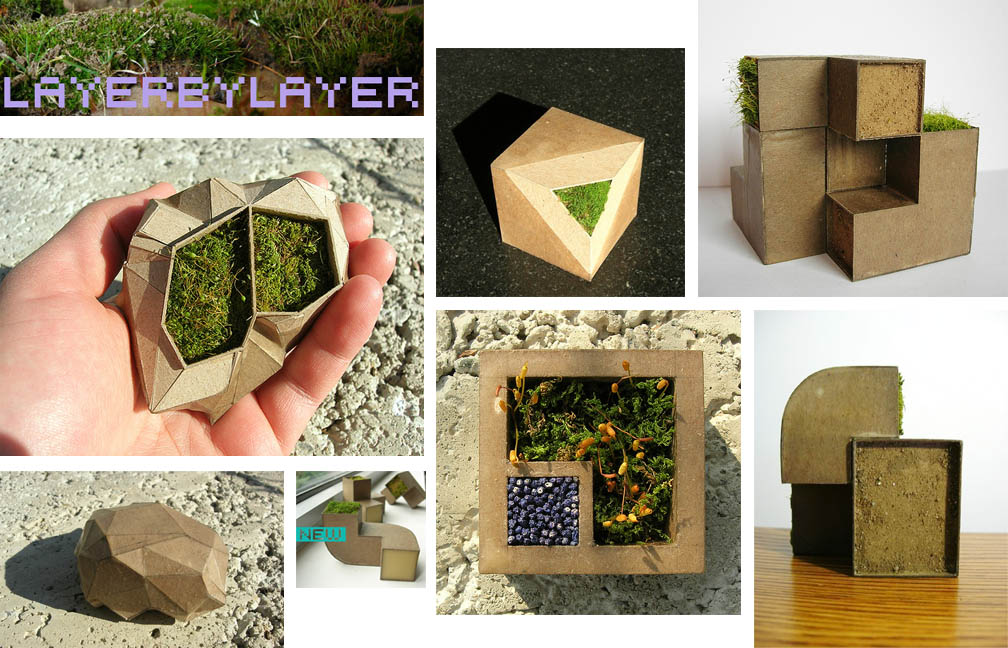 I love, love, loved these cardboard and beeswax sculptures from Layer by Layer. They are filled with simple bits of nature like dirt, moss, and dried lavender. <3
7. Cardboard cat cocoon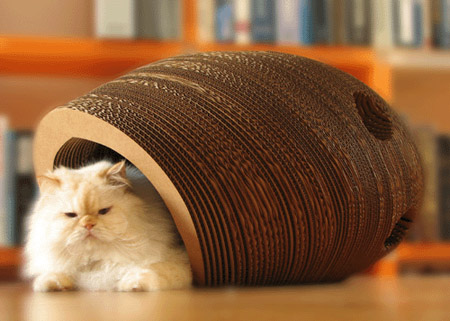 Cardboard is a great material for kitty furniture, like this cat cocoon.
8. A flat-pack chair kids can decorate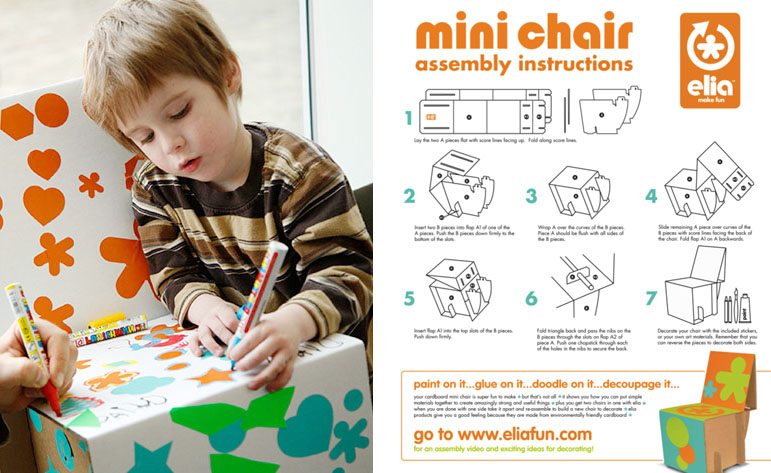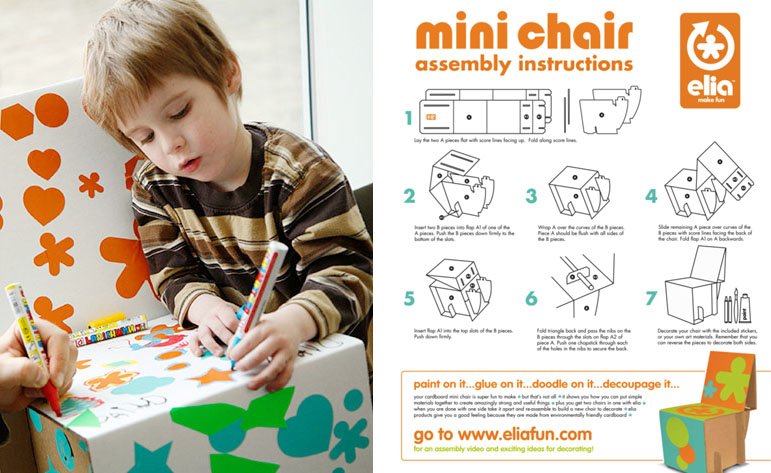 This tot-sized table and chair set lets kids do a some DIY decorating. The white surface is perfect for maker coloring, and the flat-pack kits come with stickers!
9. iPhone document scanner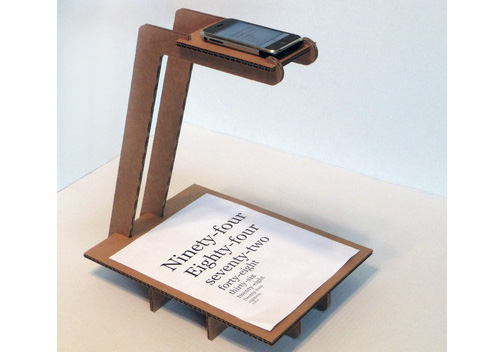 Industrial design student Kyle A Koch made his popular iPhone Document Scanner with Ponoko. You can read more about why cardboard is Kyle's favorite material to work with in this Maker Story interview.
10. Large scale furniture pieces of corrugated cardboard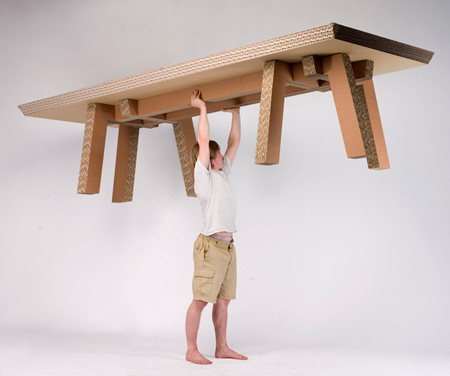 Check out these really big pieces of cardboard furniture designed by Arno Mathies.
11. Incredible cardboard furniture from the Cartonnistes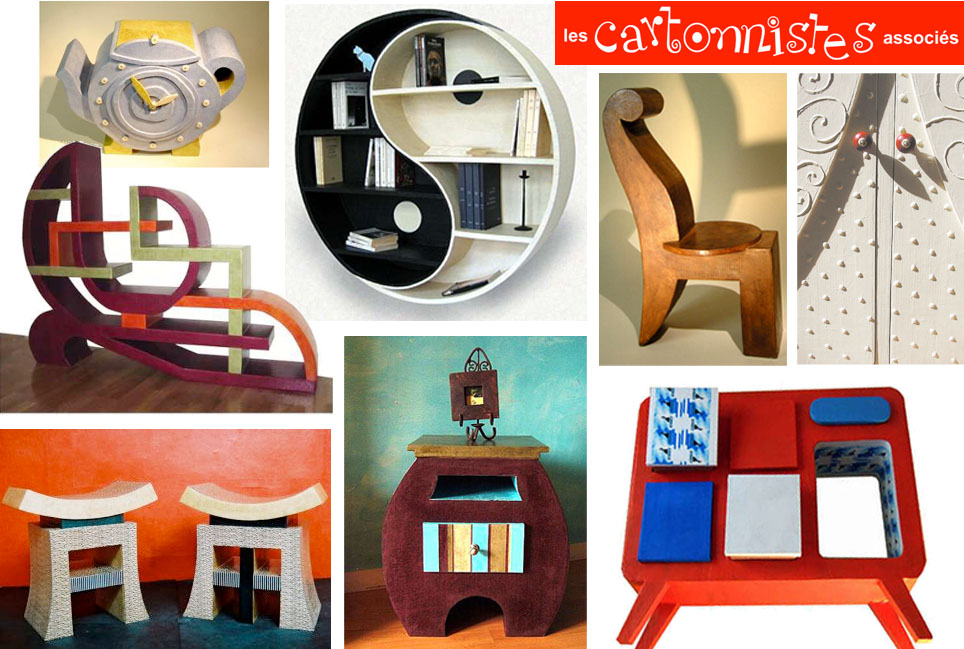 The Cartonnistes are a French collective of furniture makers who make some seriously impressive and wonderfully whimsical pieces entirely out of cardboard.
12. Roundup of kids cardboard furniture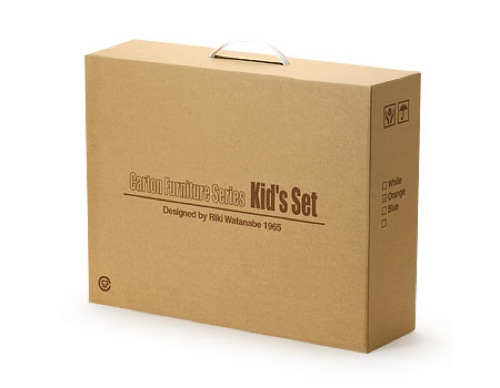 Cardboard is very kid friendly. Here's a roundup of various cardboard furniture sets for kiddies. (And I bet they have just as much fun playing with the cardboard box it comes in.)
13. Incredible columns created slice by slice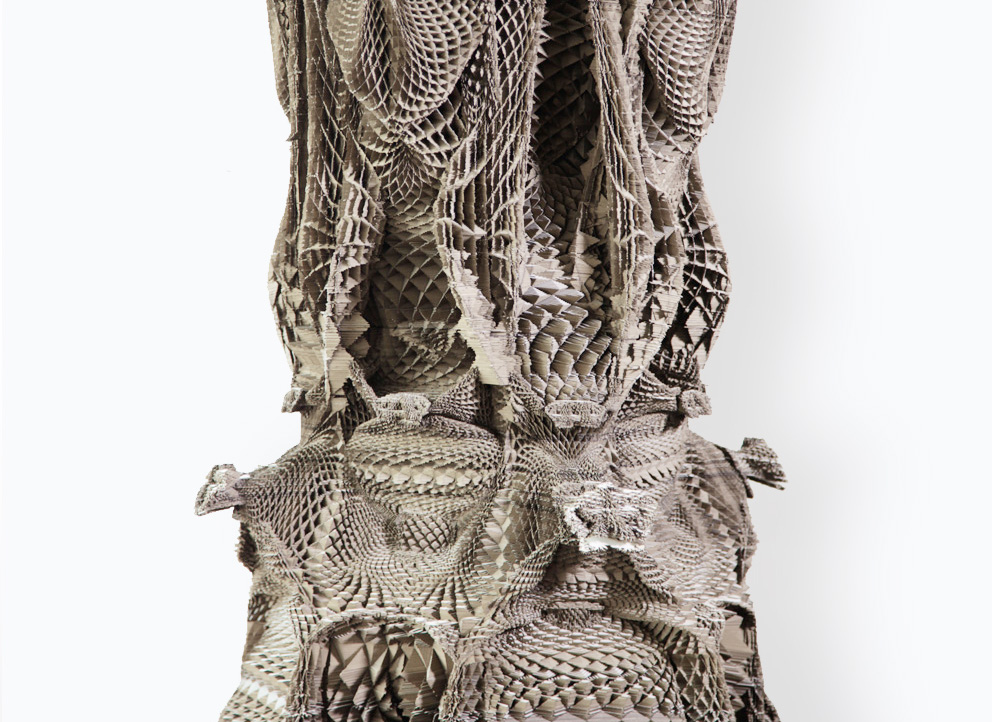 These mind-blowing, intricate columns are the lasercut prototypes from Michael Hansmeyer's CNC milled plastic column installation at the Gwangju Design Biennial in South Korea last year.
14. Customizable cardboard coffins


You read that correctly. LifeArt makes 100% customizable, 100% biodegradable cardboard coffins.
15. Crazy cardboard machine

This installation shows cardboard mechanics in action. A little bit of electronics and a lot of cardboard and you've got turning gears, moving levers, and moving pulleys!
16. Cardboard hotel room with lasercut interiors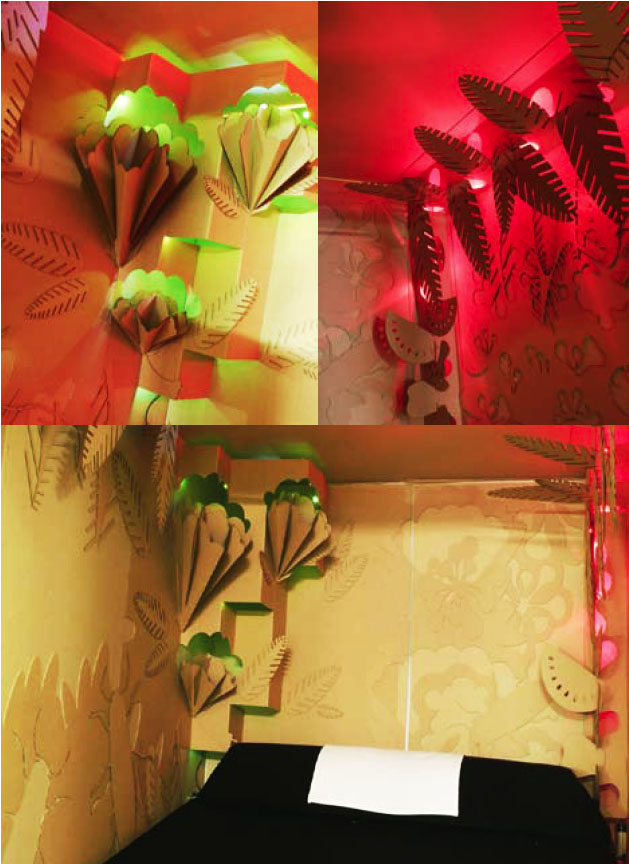 The Cardboard Hotel by Kueng Caputo features several rooms with beds, lighting, and lasercut decor.
17. Folding flat-pack chair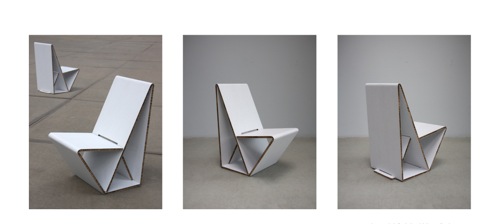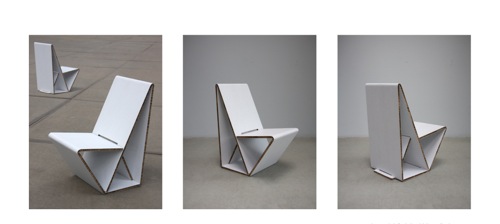 It's another flat-pack, fold assembly cardboard chair. But this one might just be the best.
18. Recession iPhone case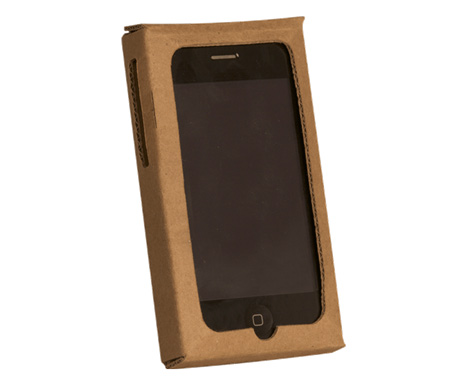 If cardboard can protect your skull (see #2), then why not use it to protect your iPhone? Check out this post on the Recession iPhone case from CaseMate, complete with humorous Q&A.
19. Cardboard squid stuck to ceiling


A big ole lasercut squid up in the ceiling. Yes; it's an installation by an art student.
20. Cardboard baby crib on wheels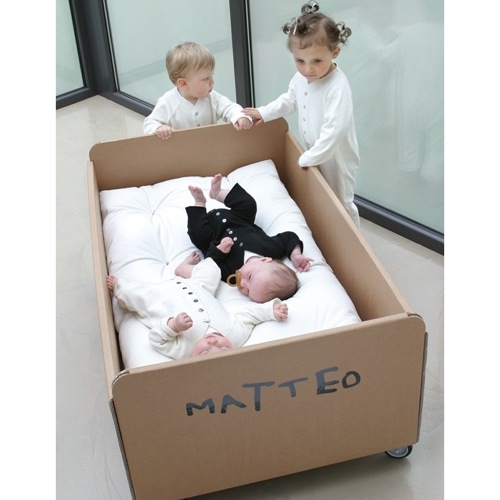 This is probably the funnest things on earth to little kids. It's a cardboard crib on wheels with rounded baby-safe corners and everything. Totally beats the laundry hamper as an imaginary boat.