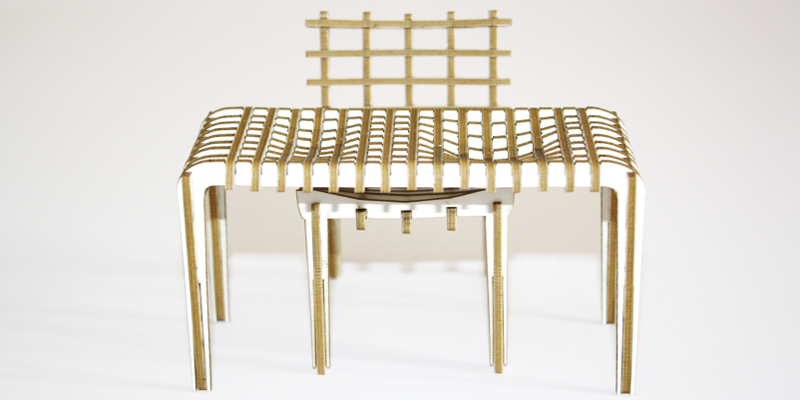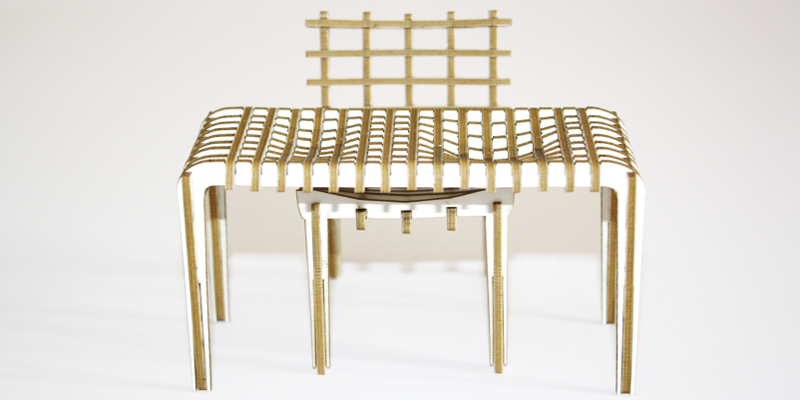 3D Model Building Just Got More Professional
Last month, an architecture firm made a materials request. They wanted to use 2mm White Mat Board for building architectural models for a proposed construction project.
They were attracted to the 2mm thickness because it's a round number that's easily scaled (in contrast to other cardstocks that are 1.3mm or 6mm thick). They also liked the clean white finish (as opposed to brown or grey substrates that often appear flat) because the laser engraving contrasts subtly with white for a more professional looking finish.
In fact, they liked it so much—and so did we—that it has now been added as part of the permanent collection in the New Zealand catalog.
But you don't have to be an architect to use this new material. White mat board can be used in any scale model making and is also ideal for laser cutting prototypes, decorative arts, crafts, collages and even packaging.
Check out this mini chair and table we made with SketchChair, a free, open-source software tool that allows anyone to easily design and build their own digitally fabricated 3D furniture.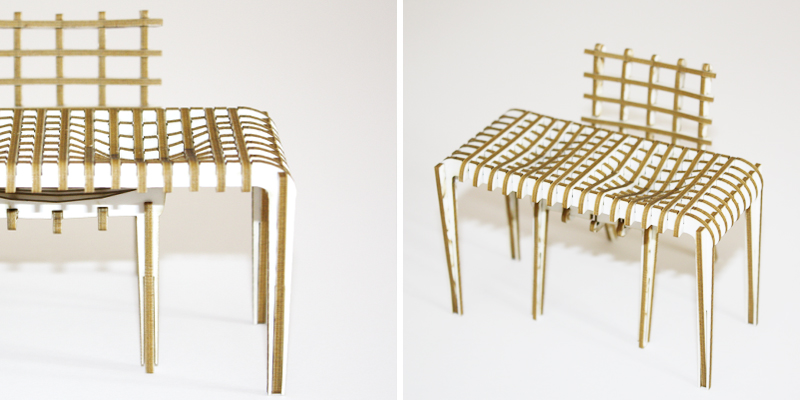 How Architects Are Using White Mat Board For Building Architectural Models
In the past, architectural scale models were made out of cardboard, chipboard, foam core, museum board, basswood and more for proposed construction plans. And architects did it all by hand.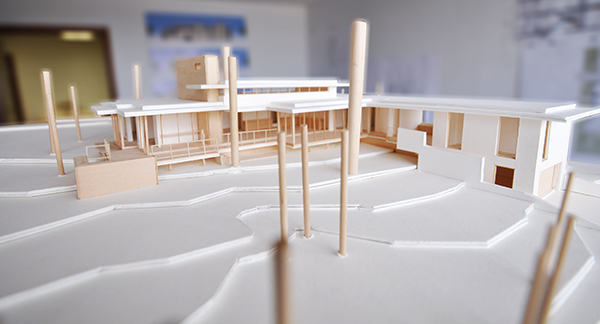 Fast forward 20 years, and architect Bob Borson finds himself asking, "What happened to all the architectural models?!" This is a reasonable question, especially since scale model making has become infinitely easier using laser cutting to make all of the parts.
"As we become more and more dependent on our computers, physical architectural models are becoming a lost form of communicating design ideas," Borson writes in "A Case For Building Architectural Models" on lifeofanarchitect.com.
It's not that Borson thinks computer models and 3D images aren't valuable. Quite the contrary. But he sees there are benefits to architectural model building that go way beyond a printout of a rendered image.
"Both physical and computer generated images are tools that architects can use to communicate the design directly to a client, but from personal experience, individuals have always seemed to be much more responsive to physical models that have the ability to convey a sense of depth, dimension & texture," he explains. "All you have to do is put a model in the middle of a room where there are images on all the walls and watch where the crowd spends their time."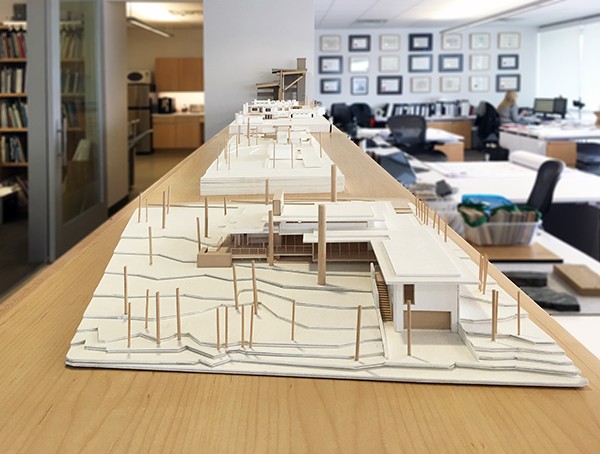 Taking a virtual tour on the Piercy & Company website, it would seem this London-based architecture firm agrees. There are a number of 3D architectural models to be found that show how this studio seeks a balance between modernist ideals of pure space and light, and a more poetic form of architecture that has a sensibility toward texture, historic fabric and place. These architects say they often find themselves negotiating and embracing complex relationships between new and old techniques to arrive at buildings that are generous in detail and strong in form.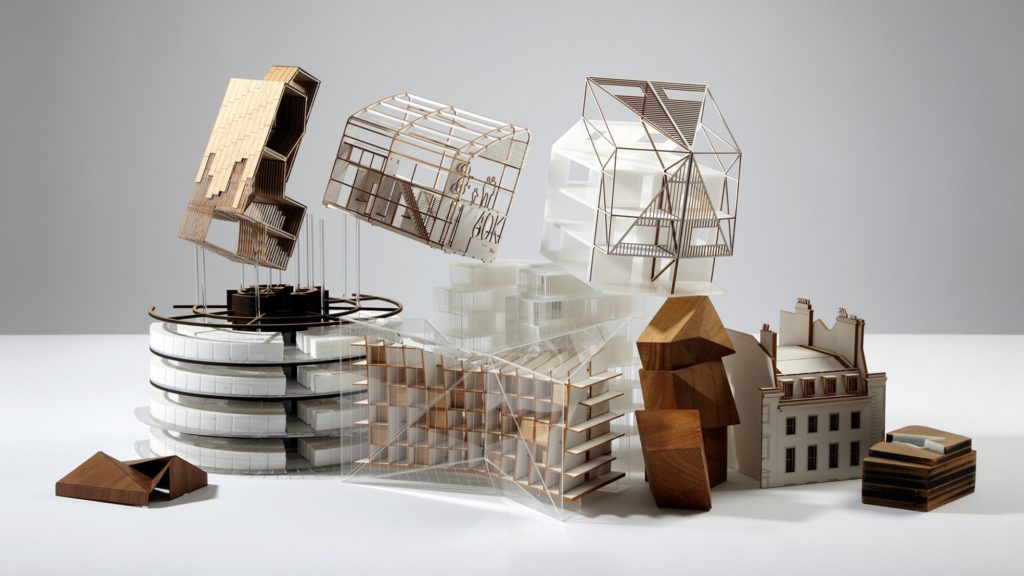 As a studio, Piercy & Company has adopted digital production and custom fabrication as a way to be more experimental and expressive with the design process. They deliver projects in collaboration with a growing network of craftspeople, suppliers, fabricators and makers who share their curiosity and sense of experimentation.
To get a sense of the studio's aesthetic, check out this 3D architectural model of the Camden Lock Market that is bringing designing and making back into the heart of the market.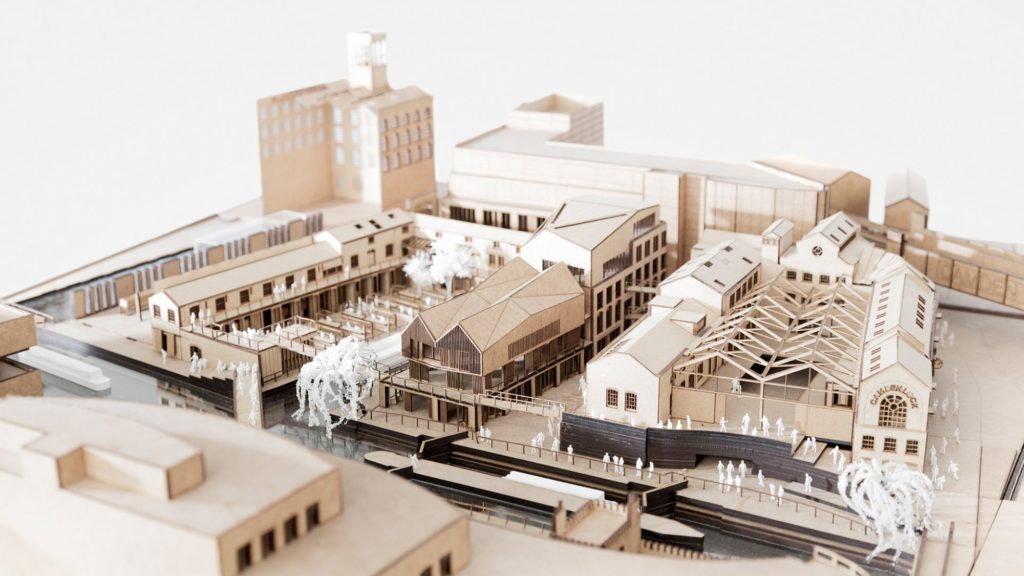 The design enhances the market offer, creating a series of varying spaces for traders, makers and designers as well as flexible exhibition and performance spaces.
How Film And Television Set Designers Use White Mat Board When Building Architectural Models
While you may think architectural models are limited to architects, engineers and construction firms, that's not actually the case. Set designers in film and television production also use to-scale miniature models.
In the article "White Card Models For Film/TV Work," David Neat gives a detailed account of the importance of building architectural models and how miniatures are used in creating our favorite movies and television shows.
"Although the film/TV production designer is free to use a wide variety of visual means in developing and recording a set design concept, including rough or 'sketch' models during the early stages, the so-called 'white card model' produced for the final stages conforms to very specific requirements," he explains. "It is usually made once the design has been finalized, most often incorporating the detailed technical drawings created for the construction of the set. It is therefore quite literally a three-dimensional 'blueprint' of the intended design."
As an undergrad and post-graduate lecturer as well as the author of the book Model-Making: Materials And Methods (Crowood Press 2008), Neat's work is focused on building architectural models by hand. However, his insights into how models are used in TV and film are sound and are applicable regardless of whether the miniatures are made by hand or via laser cutting. The advantage of using laser cutting when building architectural models is the precision of the cuts, detail of engraving and overall speed of production.
To get a sense of how intricate white card models can be, check out the beauty of Hogwarts at Warner Bros.' The Making of Harry Potter.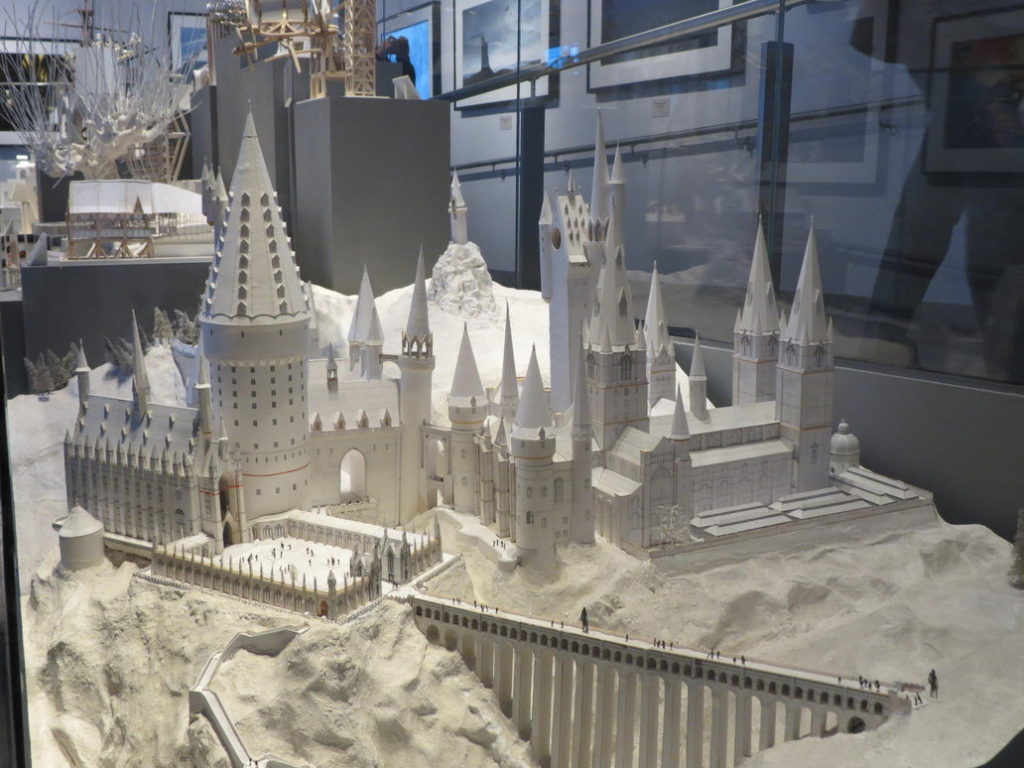 "Hogwarts was a very clever, highly complex and meticulously planned creation that brought together CGI, real locations, realistic physical models and full-size builds," Neat says. "This white card model is pivotal in giving the countless people involved a clear and immediate understanding of how each part is meant to go together."
With the foundation mapped out in the white card model, the set designers could then build the detailed model that was actually used in the filming of the Harry Potter movies.
How Makers Are Using White Mat Board
As an architect and designer, Tom Houha has an interest in geometry and building architectural models. He turned this inspiration into designing 3D models he could give as gifts to family and friends. But as interest and popularity for his models grew, he soon realized there was potential to produce his designs commercially.
He teamed up with Patty Mora, a graphic designer and photographer, whose art and business skills complimented his design and technical acumen. Together, they formed the Etsy shop ThomasHouhaDesigns that sells beautiful 3D model kits and gifts.
This architectural model of the Hawthorne Bridge in Portland, Oregon, is perfect for architects, engineers, designers or anyone who loves bridges. An attractive addition to a wall, desktop, bookshelf or mantel, the card can be displayed in a shadow box frame, with a small easel or simply propped up on a shelf.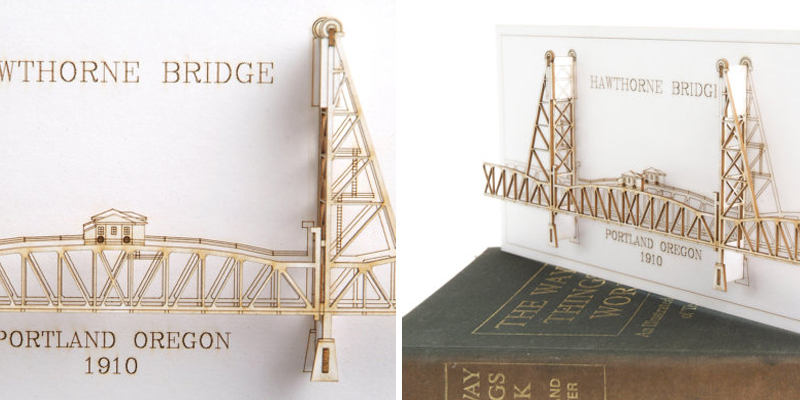 You don't have to be Elon Musk to dream about going to Mars. If you have stars in your eyes, this Mars Lander Model Kit will have you dreaming of exploring the final frontier.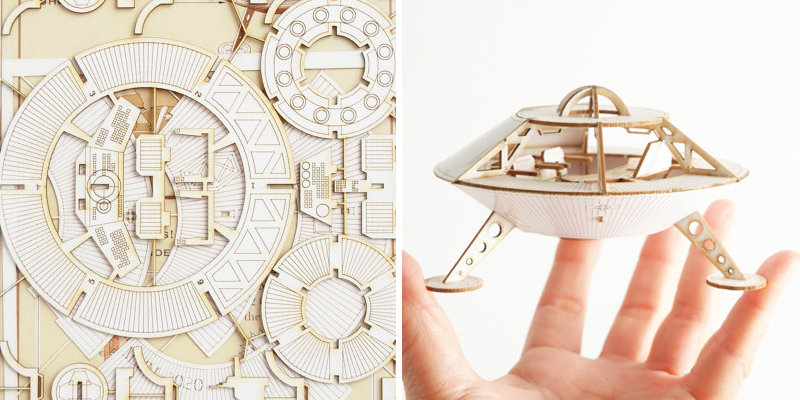 This miniature scale model of the Portland Oregon Sign is a fun sample of 1940s retro style and construction. Also known as the White Stag Sign and Made in Oregon Sign, this kit will appeal to model builders, architects, engineers and anyone who loves Portland, landmarks and unusual signs.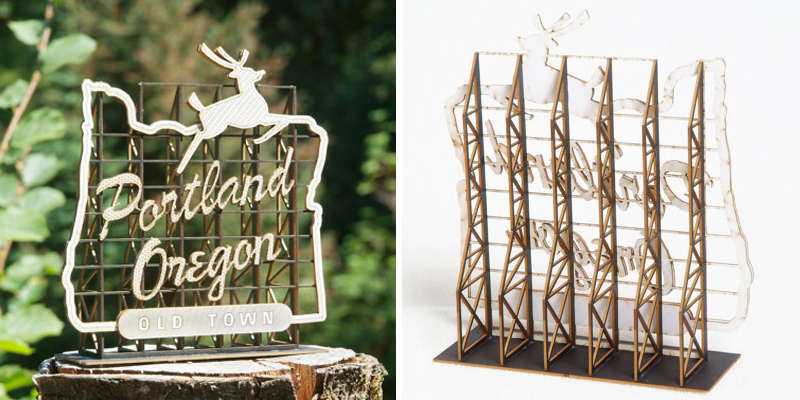 Add some international décor flair with this Sacred Geometry Model Kit. This kit builds three small dual tetrahedron orbs that make a lovely decorative grouping for home or office.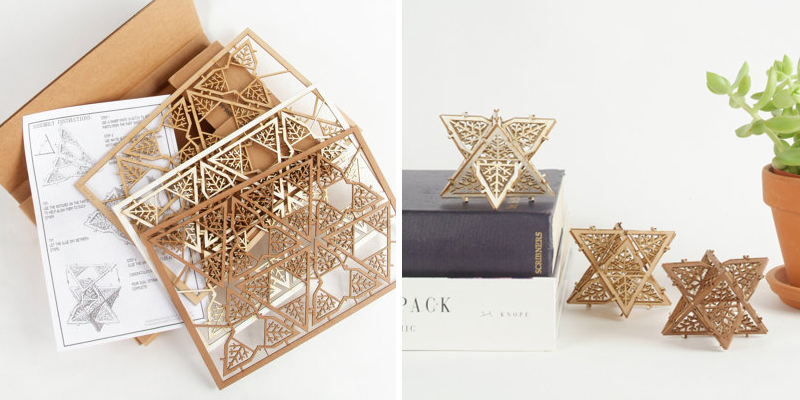 Part of the Tiki Treehouse Line, the Tiki Furniture And Accessories Model Kit includes bed, folding chairs, crates, water barrel, tiki totem, torches, row boat, oars, anchor, fishing pole and fish to build the perfect mini vacation getaway.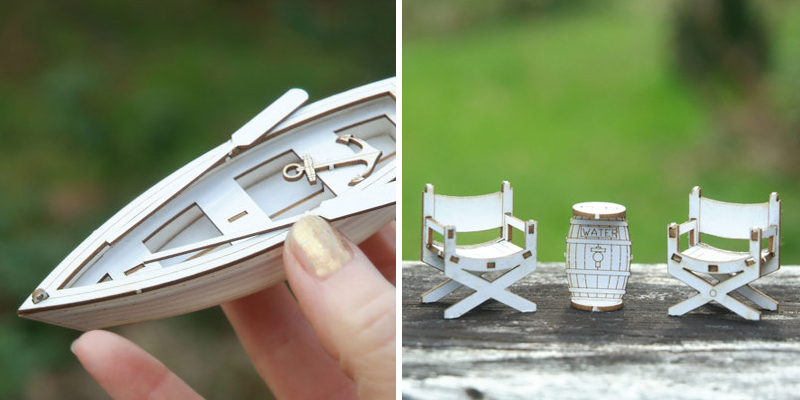 Now Available: White Mat Board
This mat board is white on both sides with smooth finish, and it engraves to a light brown color.
Maker Tip: Because of the nature of this material, scorch marks can be apparent around cutting/engraving lines. Additionally, keep in mind that large P3 sheets tend to bow. This means the kerf (the amount of material burnt away during cutting) may be a more significant on larger parts, so design files accordingly.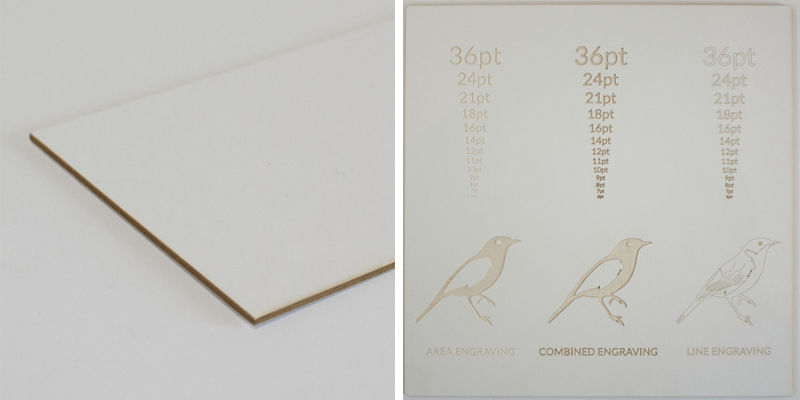 Learn more about 2mm White Mat Board and get a White Mat Board Sample.
While white mat board isn't currently available in the USA, there are four colors available: Blue, gray, green and red. Get inspired with these five ideas you can make with colored mat board.
Special Offer: Free White Mat Board P1 Card
From April 11-18, 2017, NZ makers can receive a free P1 card to give this new material a try. This special offer is for the material sheet only; making fees and shipping costs still apply.
No code necessary to take advantage of the offer. The price for the white mat board P1 card will automatically be $0 during valid days.
Note: With the Easter holiday, making may take slightly longer than usual.
What Will You Laser Cut With White Mat Board?
White mat board is excellent for architectural model building, prototyping, decorative arts, crafts, collage and even packaging. What ideas do you have for making with this new material? Tell us all about it by leaving a comment below!