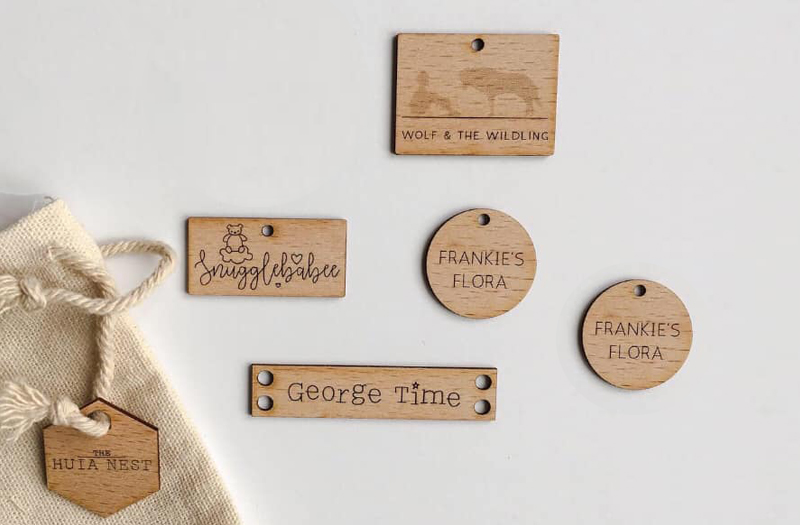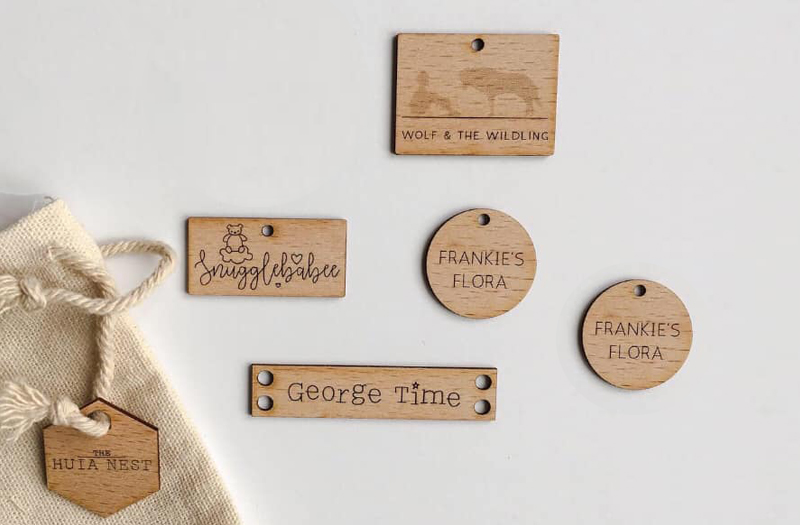 The Huia Nest Maps Out A Successful Business Through Custom Tags, Signs, Maps And More
When Sarah Silk went on maternity leave with her second son, she wasn't sure if she wanted to return to her corporate job in environmental regulation, but not bringing in any income wasn't an option. So she began brainstorming ideas for a business she could operate from home around her children's schedules.
"I stumbled across laser cutting and thought I could create some really beautiful and original pieces," Sarah says. "My husband (who is much cleverer with computers) initially created the laser cut files for me, and slowly I have been learning how to design these myself."
She founded The Huia Nest is 2018, giving a nod to the huia bird that is native to a small region in the mountains of New Zealand and has black white-tipped tail feathers prized by Maori chiefs and worn as insignia of rank. Incorporating revered items can turn a house (or apartment, or cabin, or yurt) into a home, creating a special nest for family and friends to make lasting memories.
What may have began as a traditional B2C endeavor, The Huia Nest has now grown into B2B offerings, too. Not only has Sarah carved out a recognizable brand for The Huia Nest but she also helps other companies build upon their own distinctive identities by incorporating laser cut products into their branding efforts.
Putting The Huia Nest On The Map
Whether you're building a nest or a business, you must start with a strong foundation. Sarah not only saw an opportunity with laser cut products but also had the vision to offer items that are truly custom. She took her love of home décor items and combined it with her husband Daniel's love of maps (and his mad tech skills) to design one-of-a-kind products their customers love.
"We specialize in laser cut maps and have found they are one of our most popular products," she says. "We can create maps of any town or city in New Zealand; we love customizing the maps to celebrate weddings and anniversaries."
This map commemorates Daniel and Sarah's wedding in Clyde, New Zealand, where they declared their love on March 23, 2013. Notice the little heart where the ceremony was held.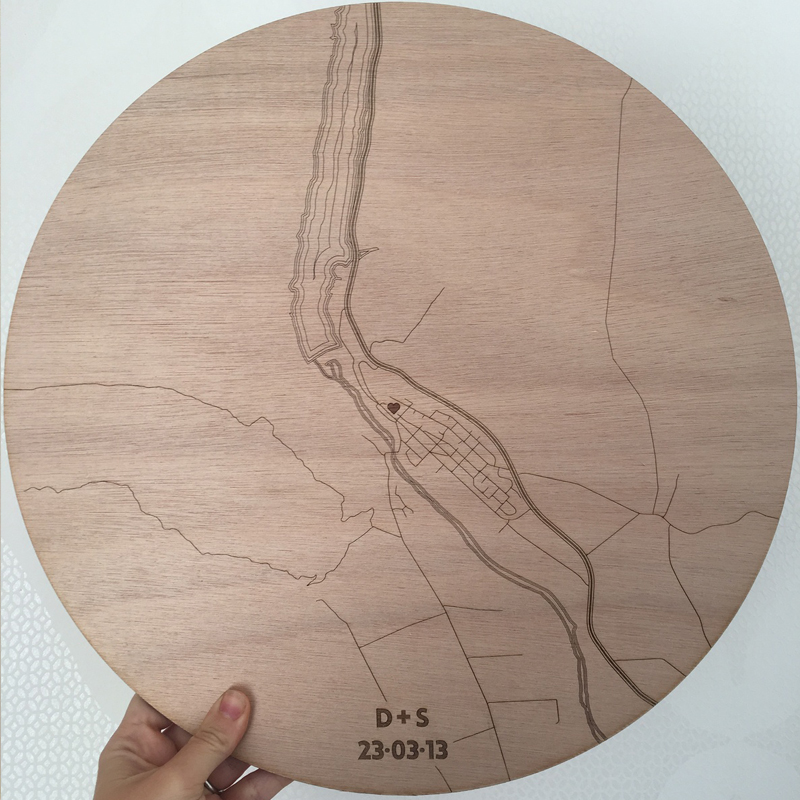 "We started off using bamboo as we like the warmth the bamboo provides," Sarah says. "Then once the gaboon marine plywood became available, we started offering it as an additional option as we feel like the laser engraving stands out more against the marine ply while still providing some natural grain and a really cost-effective material. Providing both options works well for our customers as they can pick what suits their taste better."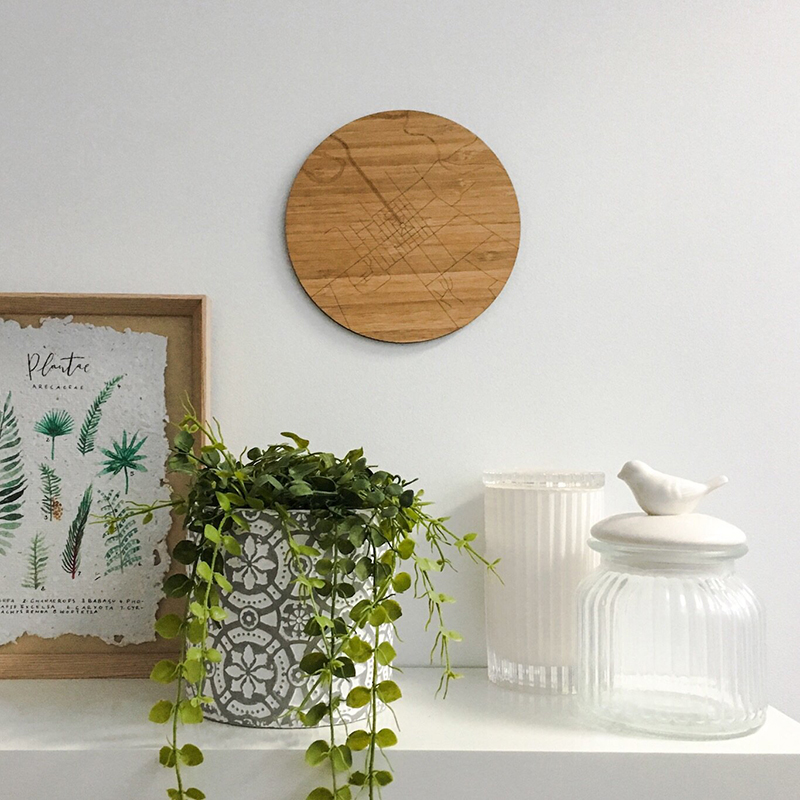 To commemorate crossing the finish line at the Wellington Round the Bays 10k road race, this map of Wellington is laser cut in gaboon marine plywood and highlights the course throughout the city.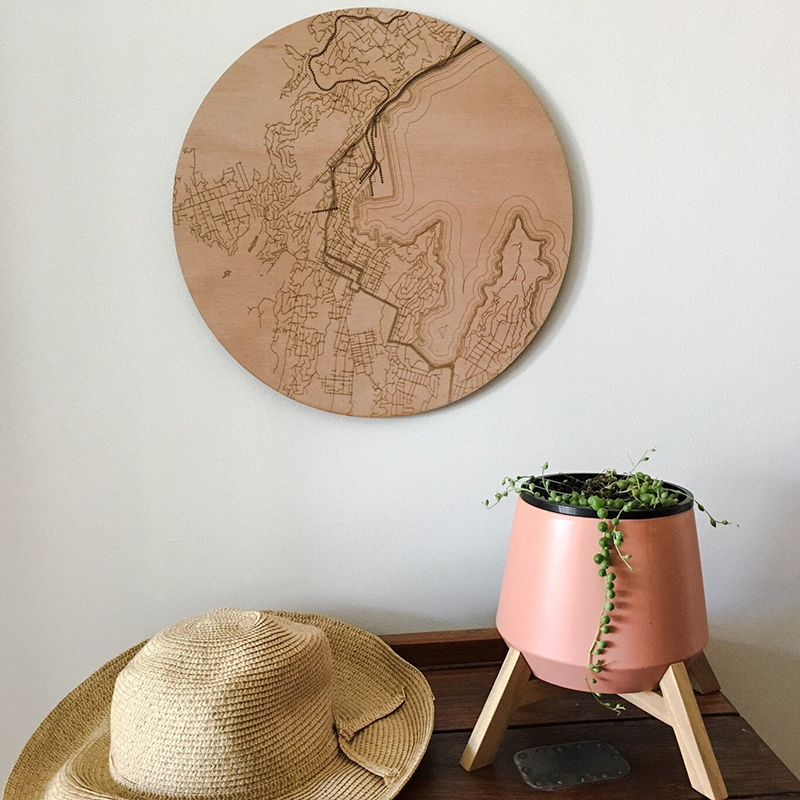 Tagging The Packaging Marketplace
When selling a product at retail, packaging can be a big influence on a product's success (or failure). First impressions count. And while much can be done in print to showcase well-crafted graphics, the very nature of flat surfaces is limited. To add dimension and artistic flair, Sarah works with companies to design laser cut wooden tags to augment existing packaging and add tactile appeal.
Holly & Twine, a Wellington City, New Zealand-based provider of custom floral bouquets for events and weddings, uses these diamond-shaped laser cut tags as part of their packaging.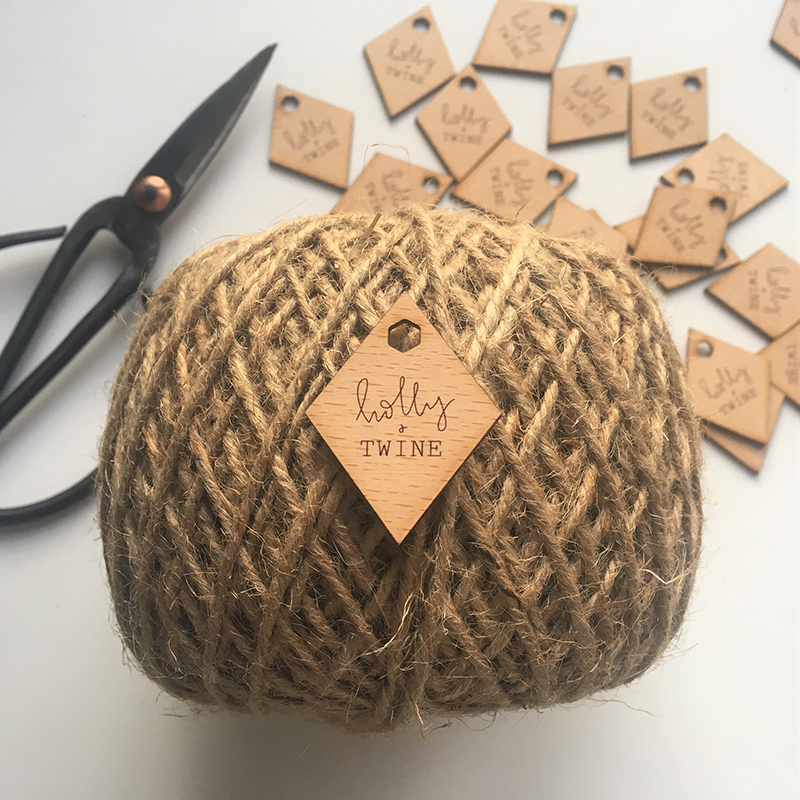 When bouquets are wrapped in paper for transport, these tags are tied with twine around the stems to keep the paper in place—and further the company's brand image.
Eliminating overuse of plastics is on most people's minds these days, and Primrose Bees Wraps is making quite the buzz around New Zealand with its natural, reusable food wraps. Sarah helps Primrose walk the talk when it comes to being an environmentally conscious business by crafting these buttons, which are part of the wraps closure design, from sustainable bamboo.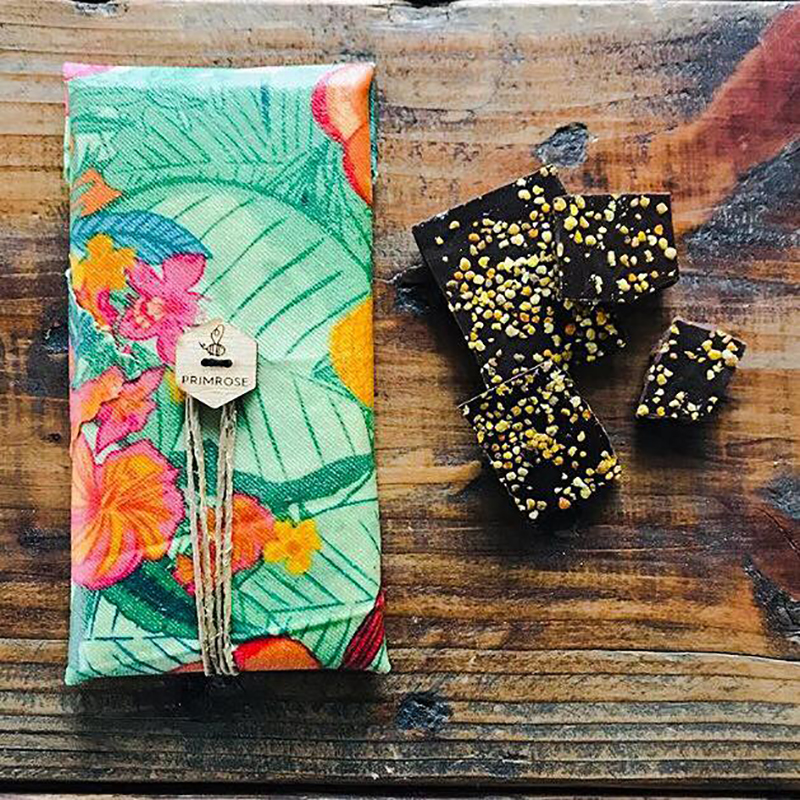 The hexagon shape is great not only in that it's more visually interesting than a square or rectangle but also the shapes fit together perfectly (a.k.a. nesting) to eliminate any material waste and keep costs low.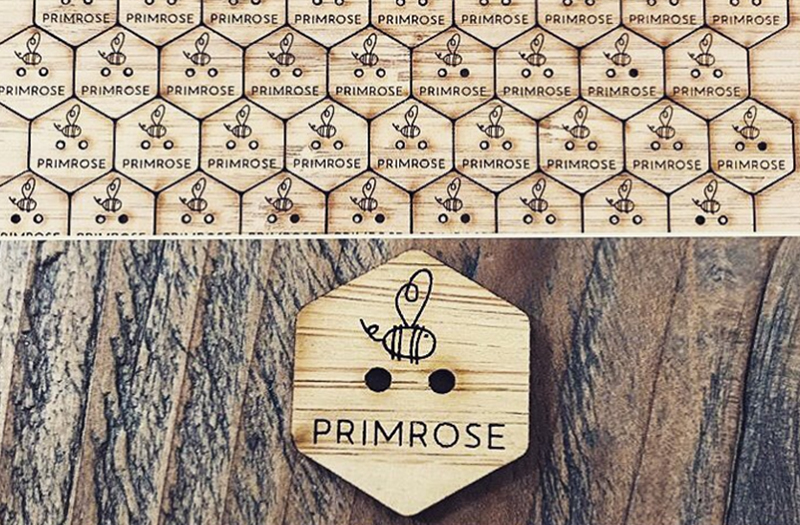 In addition to designing custom tags for businesses, Sarah also offers stock tags as a part of her ongoing collection. If you have young kids, you've surely seen the want/need/wear/read gifting trend being talked about on parenting blogs. The theory is that limiting holiday gifts to four—one item the child wants, one they truly need, one item to wear and one to read—will reduce expectations on the quantity of gifts, increase the quality and inspire more gratitude from both giver and receiver. These stock tags to not only help denote which gift is which, but they also add even more beauty to traditional gift-wrappings.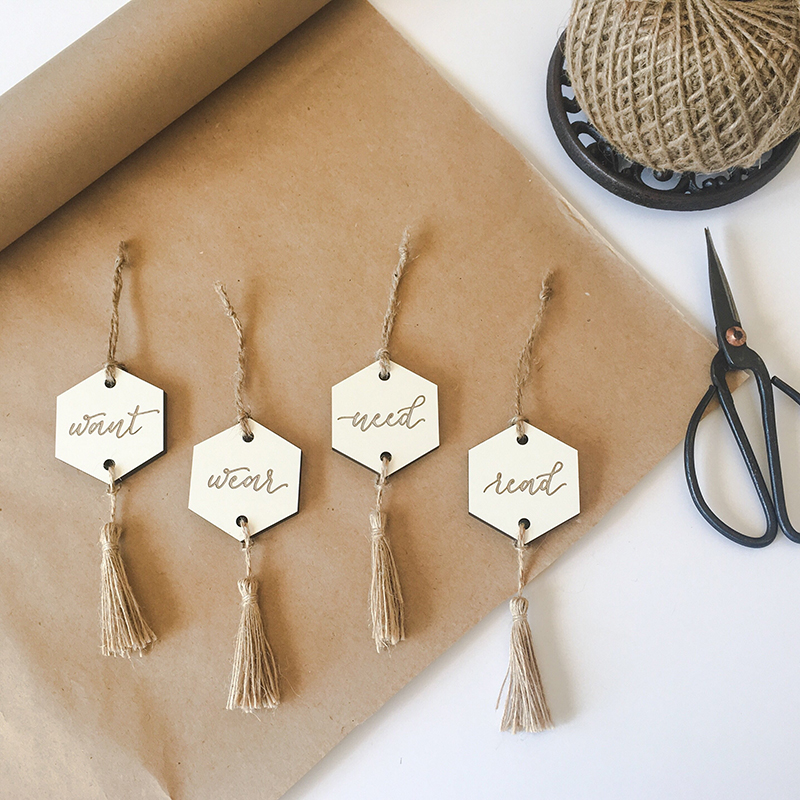 While there are a number of wood options available, Sarah says she prefers technoply beech plywood for the custom tags. "It lends itself perfectly for this purpose," she says. "It's thin and has a nice grain but still allows the laser engraving to pop."
Signing Up For More Sales
Like their little tag cousins, signs also serve to communicate and enhance the brand experience.
By incorporating the same design as its tags for image consistency, Sarah created another branding opportunity for Holly & Twine with this sign for its flower shed.
While Sarah created this custom sign as home décor for a family, the same principles apply for business signage. Simply incorporate a company name and/or logo in place of the family name and you've got a beautiful placard to welcome customers.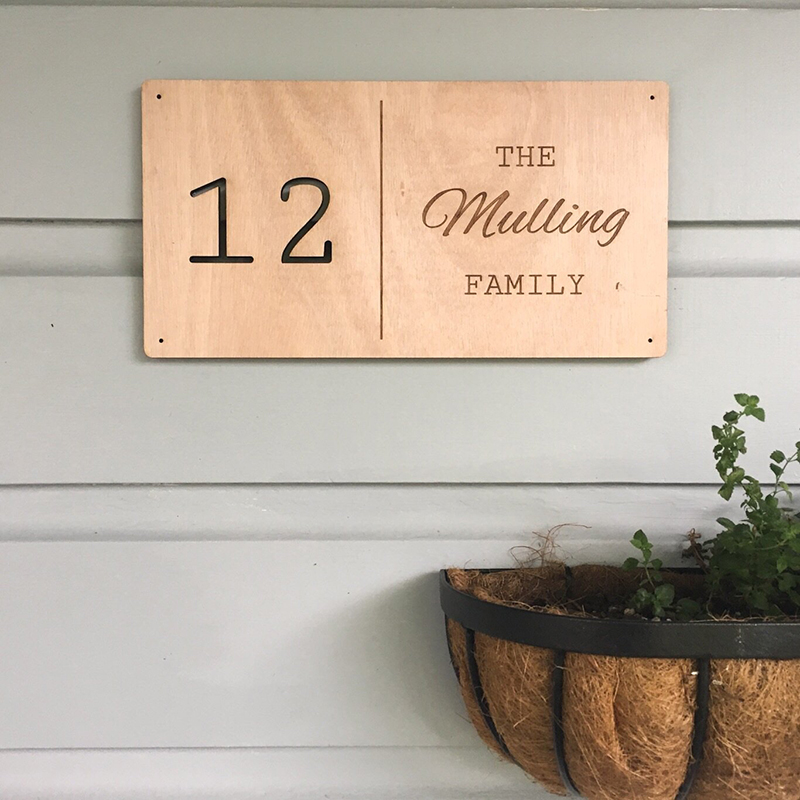 Bunting-style signage isn't only limited to decorating children's rooms at home. Think about all the possibilities for children-oriented businesses: Nurseries and daycares, pediatric doctors and dentists, dance studios, preschools, organizations that host children's birthday parties and events, photography studios and more.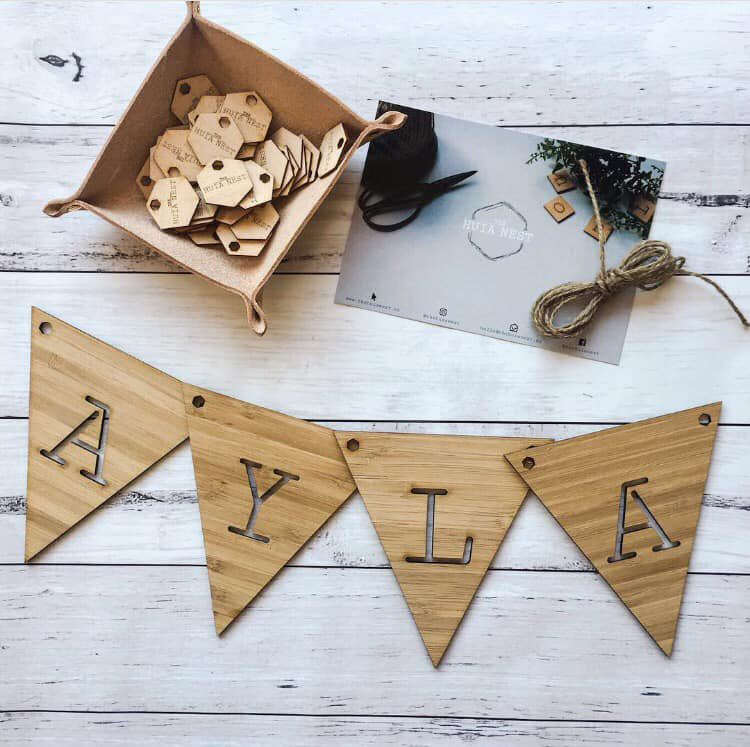 These script name signs make beautiful home décor, but there's so much more you can do with them. A retail clothing store could use them as directional signage for "customer service," "checkout," "fitting rooms," labels for individual fitting rooms (spelling out "one," two", "three") and even inspirational quotes such as "You are beautiful."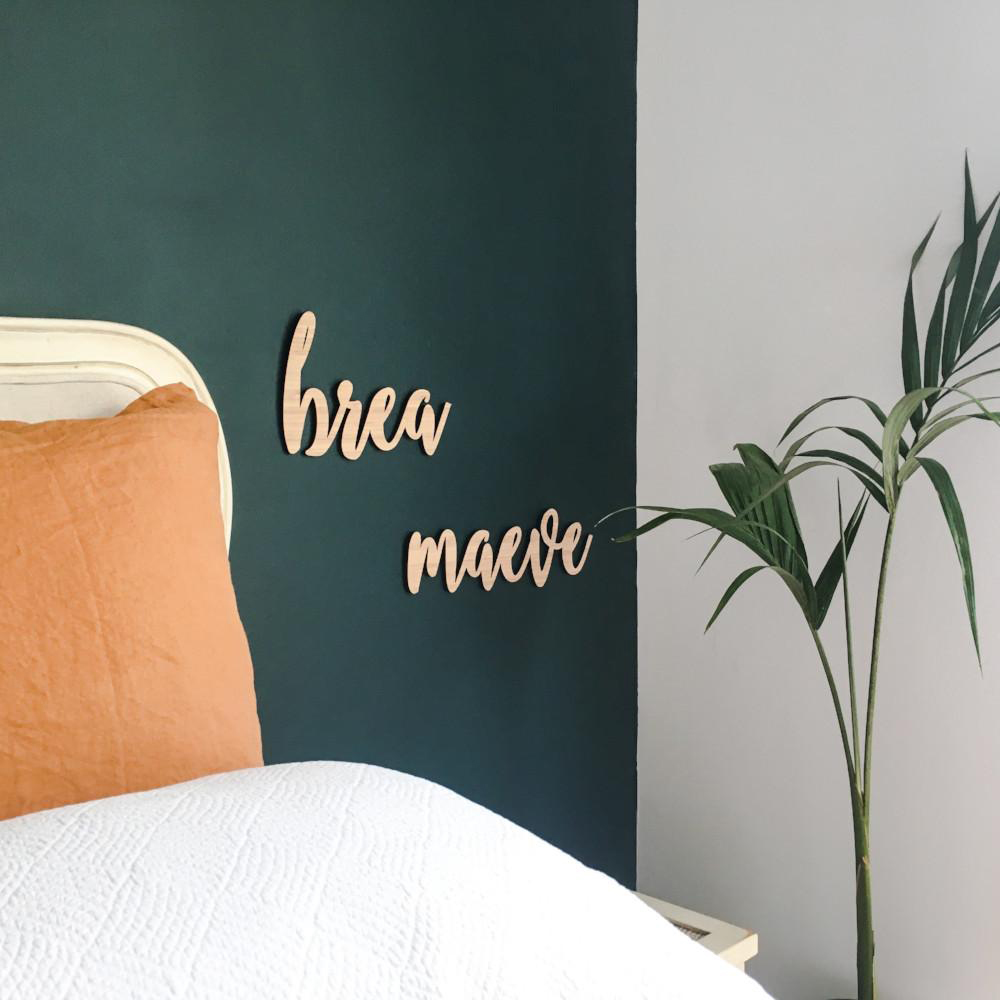 Working With Ponoko
Sarah notes that she and Daniel found out about Ponoko through researching online laser cutting manufacturers and felt like Ponoko met their needs best.
"Initially, we liked that there wasn't a file set up fee or minimum order; we could test the waters with small orders to see if this business idea was something viable and that we wanted to pursue long-term," she says. "Now, we value that we can focus on designing and marketing and have someone else look after the manufacturing for us."
Not having a minimum order size is important not only when starting a business but also as a part of a long-term cost-control strategy. "We mostly make-to-order to keep our expenses low, so we need to be able to order small quantities," Sarah says. "We also love that we can order samples of materials to see what they look like before placing the order."
While the ability to make small order quantities on-demand initially attracted Sarah to Ponoko, the customer service has built even more loyalty. "Any issue or question has been quickly resolved or answered through a friendly email, often with staff going over and above to help us," she says.
Expanding The Nest
In addition to the maps, tags and signs, Sarah has created line extensions into wedding decorations and nursery décor. She's even got jewelry, cheese labels and herb sticks as part of her on-going collection. (See the entire catalog here.)
Where does she find inspiration? "I make things that I would like to have in my home, or I design custom pieces based on customer requests, which I often then add as items on our website," she says. "But I often design a piece in collaboration with another small business I have met through social media. I find this the most fun."
To learn more about The Huia Nest, visit the website and follow it on Instagram.