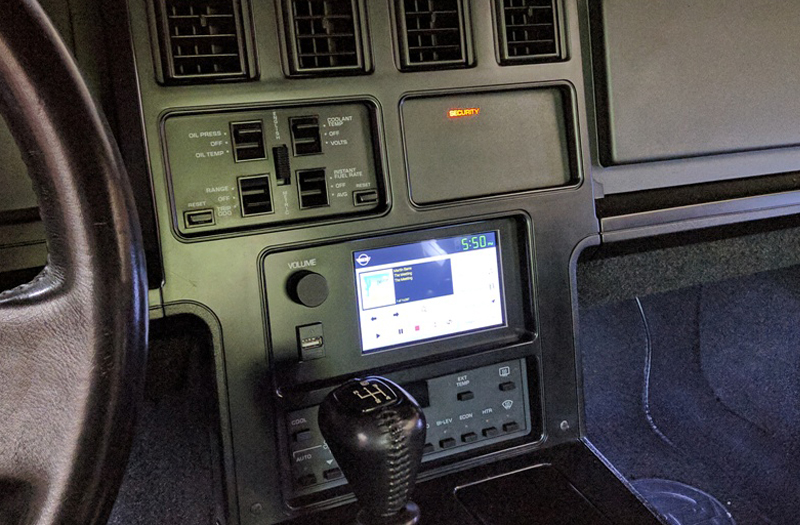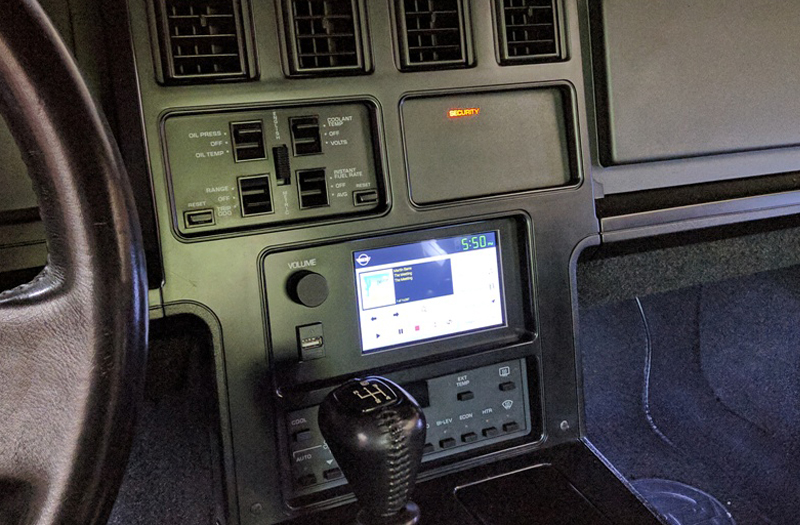 How The Comvette Project Uses Acrylic For A Seamless And Professional Finish
Look closely at the dashboard of this vintage Corvette. Now look again. Can you spot which parts were laser cut? Unless you're a fourth generation Corvette (C4) aficionado, probably not.
And that's by design. Wes Westhaver, a software developer who leans toward software/hardware integration projects, says he "wanted to build something that integrated into the car so well that only an experienced Corvette owner would notice that it wasn't original equipment."
So…what is actually laser cut?
It's the panel surrounding the sound system as well as the hidden chassis that holds all the components together. And it's all done with acrylic.
Seeing Opportunities For Improvement
Back when these cars were built (1984-1989), 90% of the 206,218 Vettes that rolled off the factory floor were tricked out with state-of-the-art BOSE sound systems. Rightfully so. Obviously, you can't listen to Whitesnake without turning it up to 11.
But time hasn't been kind to these tape-decks of old. Parts are hard to find if not altogether unavailable for the BOSE head units, and locating someone with the skills to fix the system is almost as difficult and is woefully expensive. That is if you actually want a tape deck. Most people fancy the new head units that offer AM/FM stereo tuners, CD/DVD players, backup cameras, GPS navigation and auxiliary inputs.
To make the issue even more complex, the 1.5-DIN form factor that GM chose to use is not a popular one with aftermarket manufacturers. With the non-existent selection for drop-in replacements, there are a couple options for incorporating a new sound system. One is to install a 1-DIN system, which typically lacks a touch-screen and requires filler plates to hide the unused space above and below the head. The other is to surgically cut up the dashboard so you can shoehorn a 2-DIN system into the 1.5-DIN opening to get the touch-screen and video playback that you really want.
Not happy with either option, Wes went to work finding a better solution.
Designing A Better Fit
Wes began addressing the issue of replacing the outdated BOSE system with current technology, but he had to do it in a way the left the dash intact. It was clear that whatever kind of electronics enclosure he designed would have to work within the space constraints of the 1.5-DIN form factor, especially because he had a big wish list of items he wanted to incorporate over time:
* FM stereo radio
* MP3 audio player
* MP4 video player
* WiFi connectivity for loading MP3/MP4 media
* Cellular connectivity for internet access on the road
* OBD1 diagnostics display and data logging (in progress)
* GPS flight recorder (in progress)
* Sport seat recliner and bolster control
* Dash-Cam recorder
* Backup camera
"My foremost priority was to build a unit that blended with the 'F-14A Tomcat' design aesthetic of the early C4's and has today's technology inside," he says. "And no dashboard hacks!"
That's how the Comvette Project was born.
Creating A Professional Finish
The chassis components for the Comvette Project are custom-designed acrylic pieces that exactly fit the dashboard cavity used by the original sound system. The electronics consist of readily available off-the-shelf parts, and the software is written in Xojo.
In order to replicate the professional finish of the front panel and seamlessly integrate it into the dashboard so that it was indistinguishable from the original parts, material selection was paramount.
"I chose black-on-white acrylic for the front panel because it blended well with the interior of the car and could be engraved with text in a typestyle that matched the fonts used elsewhere in the dashboard," Wes says.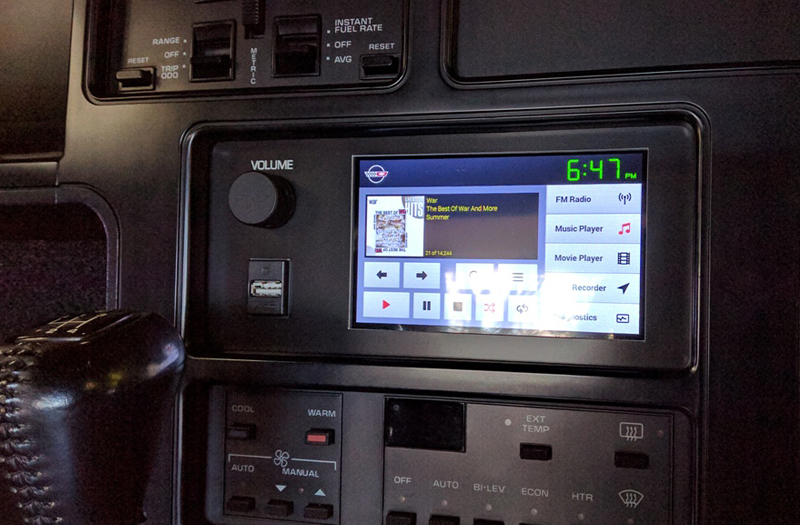 In addition to having the right aesthetics, two-color acrylics are great for this type of application because they are more durable than standard acrylics as they are less brittle and have more flex, plus the 1.5mm thickness allows for buttons to come through easily. But what makes two-color acrylics attractive (literally and figuratively) is how the engraving showcases the second color, giving excellent contrast and readability to graphics or text, such as the "volume" inscription shown above.
In order to support the technology, Wes chose a Raspberry Pi running Linux. "The heart of the system is the popular Raspberry Pi microcomputer, which handles the audio, video and controls various components in the car such as the electric antenna, and power amplifiers," he explains. "And the benefit of having a Linux based computer at its core is that it can be customized in ways not yet imagined," he says.
He housed all the components in a clear acrylic enclosure for its functionality, easy visibility (handy during assembly) and affordability.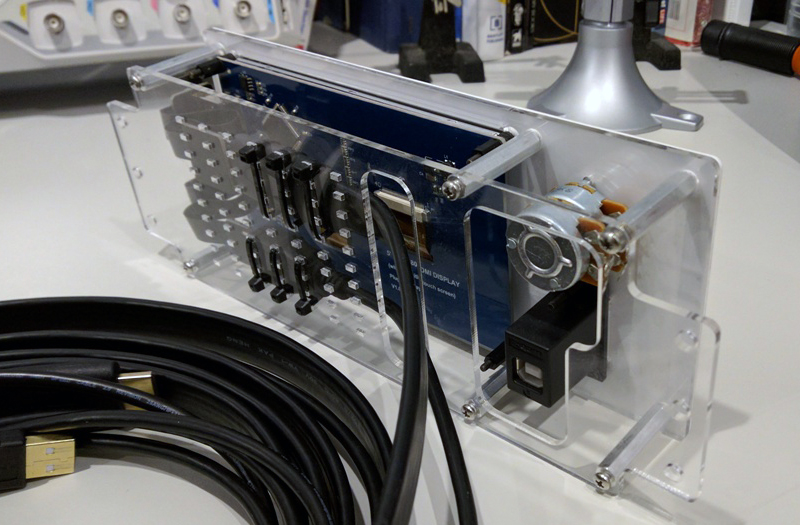 "In the past, I've contracted with metal fabricators to have various chassis components made, but the setup, labor and material costs are prohibitive for smaller builds like the Comvette Project," Wes explains. "Laser cut acrylic, on the other hand, is ideal for projects like mine and was actually my first choice. In fact, laser cut acrylic has opened the door to many projects that would have been too costly to pursue in the past because they would have required sheet-metal fabrication."
Working With Ponoko
It's safe to say that Wes is no stranger to building engineering projects. "I started disassembling my toys many years ago (much to my parents dismay) and eventually learned how to assemble them again (to my parents delight)," he says. "I've made a career out of fixing, building and enhancing things."
To expand his manufacturing acumen, Wes took a one-day class at a local community college to learn how to use the laser cutter in its fabrication lab. "The knowledge I gained there helped me understand the process, but after finding Ponoko and seeing the online ordering process and the prices, I decided to give it a try."
But that first order wasn't without a tad bit of trepidation. "I have to admit, I was a little anxious when I placed my first order, but when I received the parts I got a wonderful feeling seeing something that I had only imagined now existing in the real world."
Having confidence that the manufacturing side of his project is covered, Wes can focus on what's most important. "I'd much rather concentrate on developing my projects and let Ponoko handle the laser cutting for me," he says.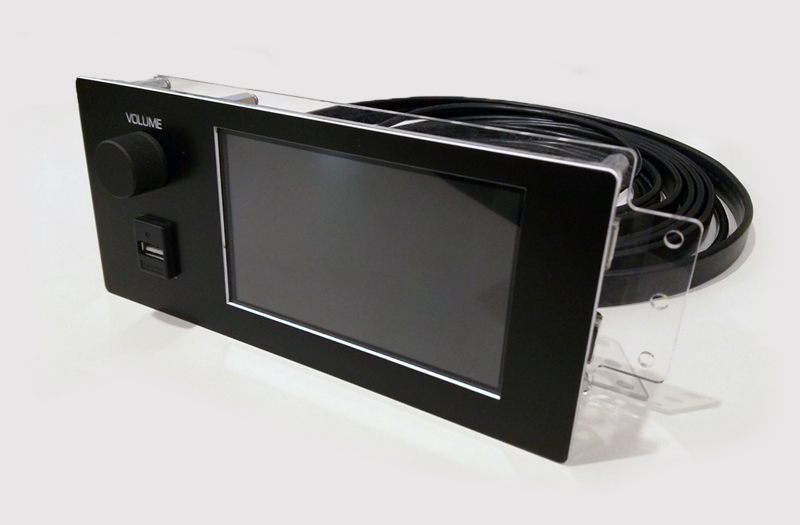 Wes notes that the material selection was one of the features that initially attracted him to Ponoko. Thanks for noticing! We put in a lot of hard work finding, testing and introducing new materials each month so you not only have variety for your projects but also so you don't have to guess about what works great with laser cutting (or what doesn't).
But what keeps Wes coming back? "Your high quality and low cost are super important to me," he says. "But your quoting and ordering system is my favorite."
To get all the details on the Comvette Project—and check out the open source files—visit the website.