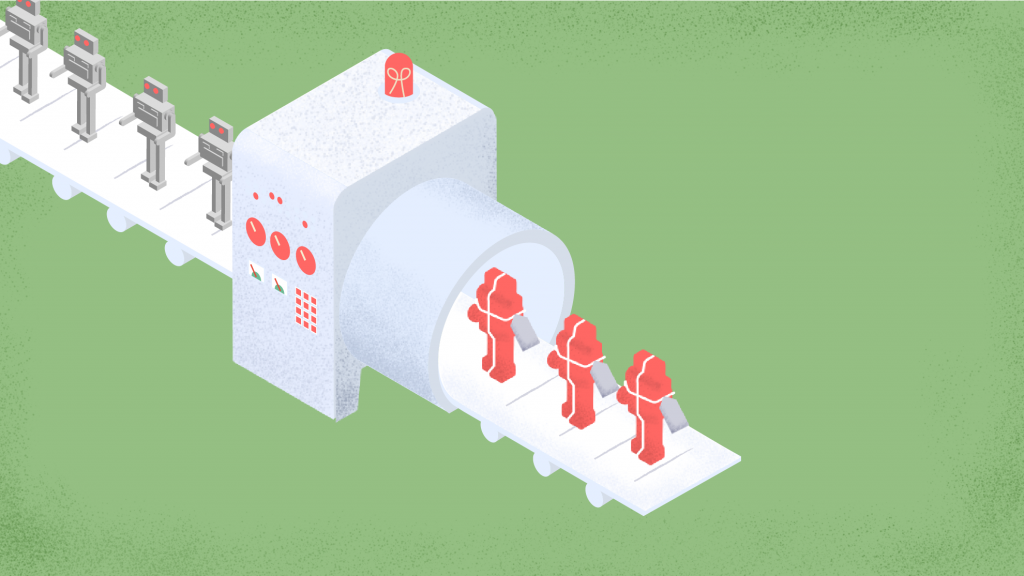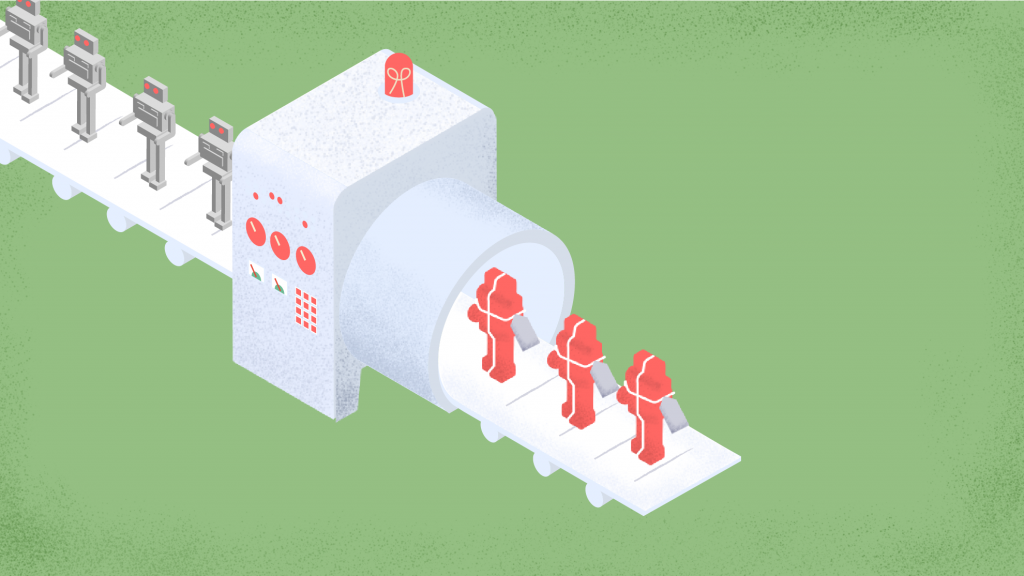 How To Design & Make Laser Cut Products For The Biggest Sales Season Of The Year
No matter what kind of products you make—anything from electronics enclosures to jewelry to intricately cut holiday cards—the biggest sales season of the year is just around the corner.
Sure, Christmas, Hanukkah, Kwanzaa and Festivas are technically months away. But if you're a maker who sells your products for profit, then you'll want to begin prepping now to sell new products this holiday season.
By starting in August, you will have adequate time to ideate, prototype, and get pricing and profit margins right. Plus you'll be able to make, package and sell a design that has proven market demand. And you get to beat the stress and extra costs of last minute scrambling.
It's also important to make a good impression during this time because you want your holiday-season customers to become long-term customers, too.
Are you ready to start making some holiday sales? Here's how you can get ready for the biggest show in retail.
Preparing For Holiday Sales: Your Four-Part Plan
Whether you're new to selling your laser-cut products or an established maker who wants to increase your sales volume, we've created this four-part series to guide you through the process to ensure you meet all deadlines and are totally prepared for holiday sales success.
Here's how the plan is structured:
Part 1: August – Ideation, design and prototyping
Part 2: September – Making, packaging and pricing
Part 3: October – Promotion begins
Part 4: November – Promotion increases based on what's working
At the beginning of each month, we'll publish the parts according to the schedule above and give you goals within each step to make the process easy—and fun! Let's get started.
Your August Goals For Holiday Sales Success
August is all about determining what product(s) to make that have the biggest chance of success. This is broken down into four goals:
Ideation
Decide what product will be a great seller for you this season. This includes brainstorming product ideas and doing market research.
Design
This is the fun part! You'll also learn how to get the most out of your chosen materials and the making process.
Digital Prototyping
In this step, you get to turn your design into a profitable product, without spending a cent.
Physical Prototyping
Finish the month with a variety of low cost prototypes in your hands so you know exactly what the product will be before diving into larger production runs.
Let's look at each of these goals in more detail.
August Goal 1: Brainstorm Ideas
What products will be great sellers for Christmas? Here's how to find out.
To start, you must build a plan. This includes a clear idea of what the product is, who would love the product enough to buy it and how much you need to make and sell it for in order to turn a profit.
But before diving into the fun part of actually designing and making the product, you gotta do some basic research to understand what products are already on the market, who is buying them and how you can create something different and better that appeals to your target audience. So don't skip this step. It's vitally important to your holiday sales success!
Identifying Your Ideal Buyer
Before we can talk product, it's essential to identify your ideal buyer. What does this person need and how can you make something to fulfill this need. Consider demographics such as age, gender, where they live, religious and cultural preferences. Also think about psychographics such as interests and lifestyle.
For our example, let's say our ideal buyers are nature lovers who are attracted to environmentally friendly holiday celebrations.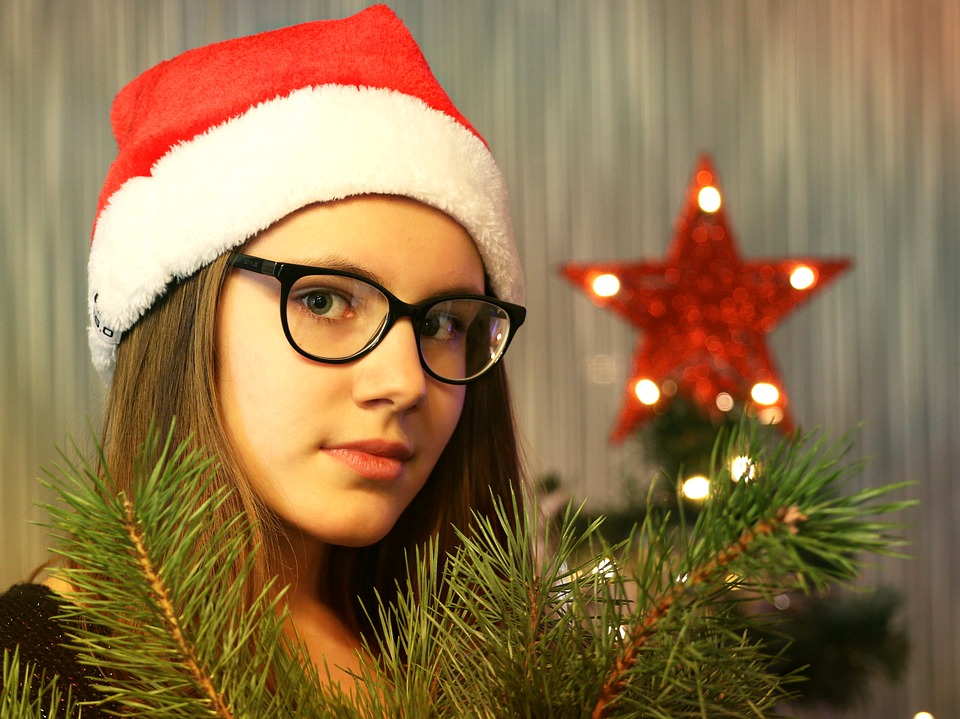 Determining Your Laser Cut Products To Make And Sell
Now that you know who your ideal buyer is, it's time to brainstorm and figure out the best-selling ideas for this target audience. Look at what's hot at retail. Search Pinterest for the most popular ideas. See what other sellers are offering on Etsy (so you can make something different).
Once you've narrowed down the possibilities, it's time to grab a pencil and paper or get into your fave digital design program to rough out the idea. For our example, we wanted to explore the idea of simple Christmas decorations such as snowflakes because they are holiday themed and have mass appeal.
Selecting Product Materials Your Buyers Will Love
The materials you choose for the laser-cut products you want to sell should not only make sense for the kind of product you're making, but they should also align with your ideal buyer's personality and expectations.
For our snowflake example, we want a durable material that not only looks the part but one that also stands up to repeated use and storage. While white acrylic makes sense in the context of a snowflake decoration, plastic may not be appealing to our example environmentally conscious buyer. So in this instance, bamboo would be a better choice because of its natural aesthetic and environmentally friendly properties.
Before making your product, though, be sure to get a few $2 material samples so you can decide the materials your targeted buyer will like best.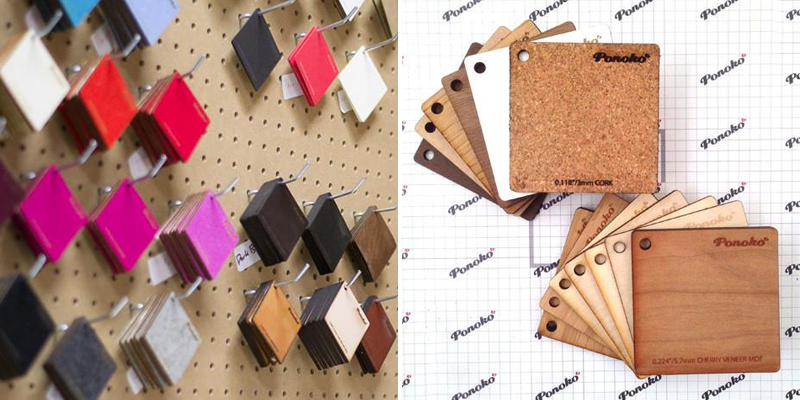 Calculating Your Target Price, Cost & Profit
Figuring out what to charge for your product can be one of the more challenging aspects for any maker/seller. What's the price point for comparable products? How do your products differ from these? Is there anything particularly special that could command a higher price?
How do you want to market your product? Do you want to sell a high volume of lower-cost products with a smaller profit margin? Or are you more interested in a lower sales volume of high-cost products with larger profit margins?
For our example, basic research indicates that a custom-made Christmas decoration retails for about $6 each (although this varies significantly). If you want to be able to sell wholesale, you need to make them for ¼ of the retail price. This means the $6 retail decorations must cost $1.50 or less in total for making, materials and shipping of each decoration.
August Goal 2: Design Your Product (The Fun Part)
Now that you have brainstormed what you want to make and have an understanding of who will buy it (and why), it's time to prepare your first design for laser cutting. Here are the top tips to get you started.
Read The Material Information
Check the available material sheet sizes and make sure you have read the material information carefully so that you understand all the characteristics of the material and if any special accommodations must be made in your design.
For our snowflake example, bamboo can warp on larger pieces, so it is recommended to leave a gap between designs when using larger sheets. This enables the laser cutting team to cut the larger sheets in half to make a flatter surface, giving the parts cleaner cuts.
Another note: Because bamboo is a natural material, the grain color can vary. That's pretty cool because it makes each Christmas ornament unique, but this variation should be added to the product description when selling them online so buyers know what to expect.
Download A Laser Design Template
Open a Personal Factory laser design template in your chosen software. Using the template makes it much easier to get a good result.
Keep It Simple
Good design is all about balance. Specifically to laser cutting and laser engraving, the balance is about detail. You need a certain amount of detail to create an aesthetically pleasing design. But too much detail makes the design overly busy—and expensive.
By keeping designs simple, the products are faster to cut and engrave, which means you get a better making price.
With our snowflake example, how can the design be simplified while still looking intentional? A geometric interpretation of the original snowflake would not only be better for laser cutting but it would also be different to many other designs already on the market.
Here's the progression. The far left is the original snowflake. The middle is a simpler version. The far right is the geometric interpretation.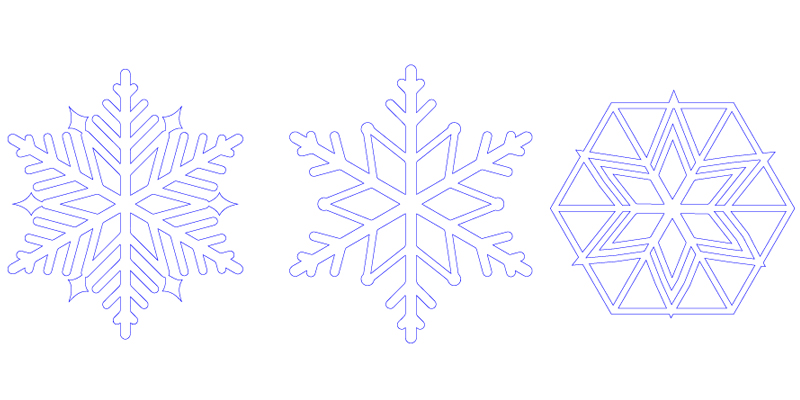 August Goal 3: Digital Prototyping
Now that your conceptual idea has a digital design, can it actually turn into a profitable product? Let's find out.
What's amazing about digital prototyping is that you can upload designs for instant quotes—with no commitment to buying. This step is super important because you can upload numerous variations of your product designs and easily and immediately see what design choices will decrease costs.
For our snowflake example, the goal is to find a happy compromise between design aesthetics (look/feel) and efficient engineering (cost). The target production cost is $1.50 or less per decoration in order to both sell wholesale and retail.
It took a bit of time and consideration, but it was possible to get from an initial quote of $7.42 per decoration to a final quote of $1.05 per decoration! Here's how we did it:
The First Quote
To start testing prices, we downloaded the design file for this step and created a layout for the snowflakes using the smallest P1 material sheet size for bamboo (the material of choice as described above). Then we uploaded the file here for an instant quote. Here's the result: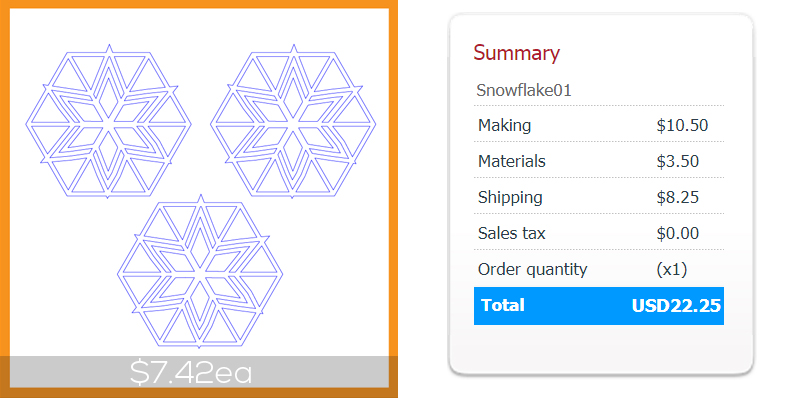 Oh no! The first quote was $22.25 total; that's $7.42 per decoration! This price would be fine if the snowflakes were a gift for a friend or for personal use. But we want to sell these for a profit, and this price is nowhere near the target price of $1.50 each. Back to the drawing board.
Cost Saving Tip 1: Simplify The Design
Since the "making" cost was the highest, the design had to be adjusted to bring the price down. (We'll look at materials and shipping costs later).
Making cost is tied to the time the laser spends cutting and/or engraving the design. As such, complex and intricate shapes take longer to make. How could the snowflake design be simplified so that the laser isn't slowed down by the detail?
Check out these design iterations and see how having fewer lines, a smaller size and shared lines reduce the cost.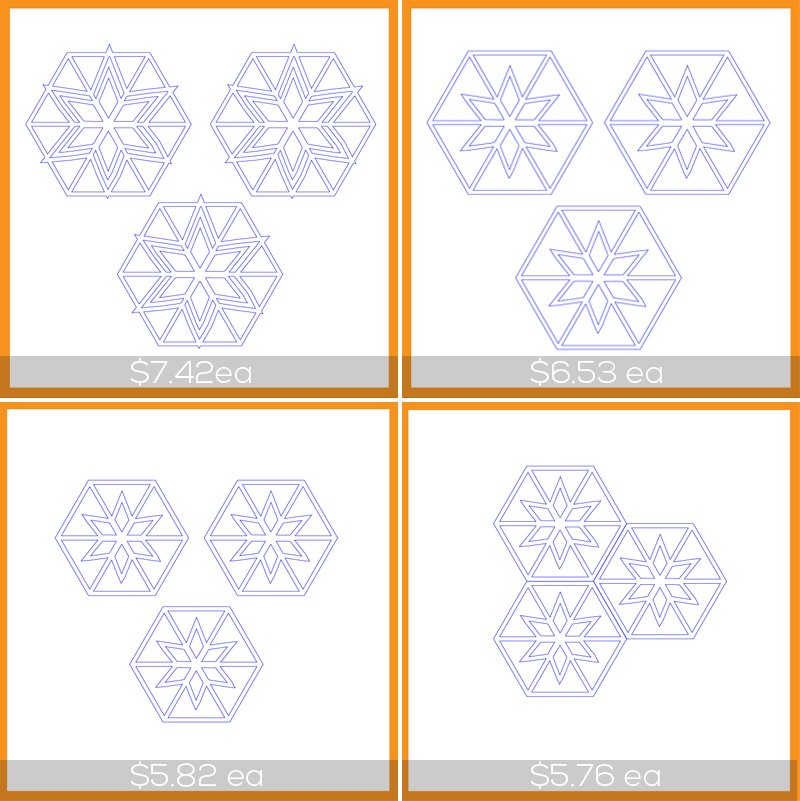 Cost Saving Tip 2: Increase Material Sheet Size + Bonus Free Shipping
Using a larger sheet allows you to tap into some economies of scale. The base cost of a larger sheet is less for the area, plus it's more efficient to cut a larger quantity of parts that share cutting lines all at once.
To test how this would impact pricing, we downloaded a design file for this step and created a layout of the lowest cost design. Instead of three snowflake decorations to one P1 sheet as shown above, now 112 decorations can fit on one P3 sheet.
Remember when we noted above that bamboo can warp? To avoid this, we added a cutting line down the center of the sheet. Cutting it in half first makes the sheet flatter, and this means the cuts on the decorations will be thinner and less burnt.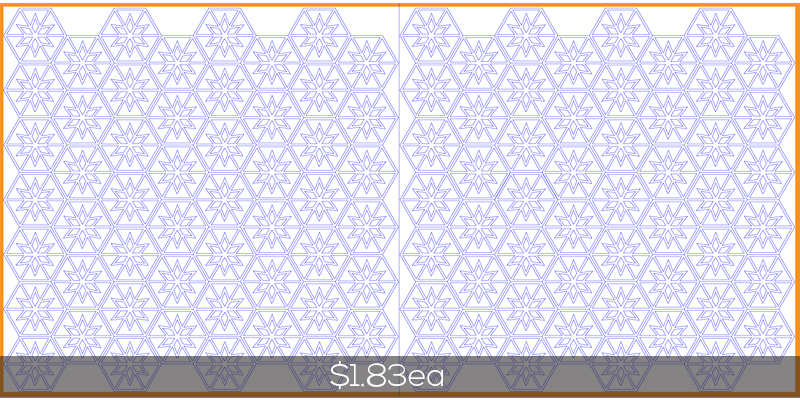 At $1.83, we're getting closer to the goal of $1.50 per decoration. And because the total order was more than $100 and is being sent within the USA, free shipping applies.
But there are still more ways to save money.
Cost Saving Tip 3: Check Out Ponoko Prime Pricing
Want to get better making rates? With Ponoko Prime, members immediately get 32.5% off making costs. And with more orders, member can increase the savings up to 55% off.
Prime is just $39 a month, and you can cancel any time. For a full breakdown of the volume discounts you'll get with Prime, check out this blog post.
Up to this point, the digital prototyping for our example snowflakes has been in through a Free Personal Factory account. But what would happen if we used the Prime Personal Factory?
When uploading the design files and choosing materials, look for "With Prime You'll Pay Just…" and compare this price with the Free Personal Factory Price.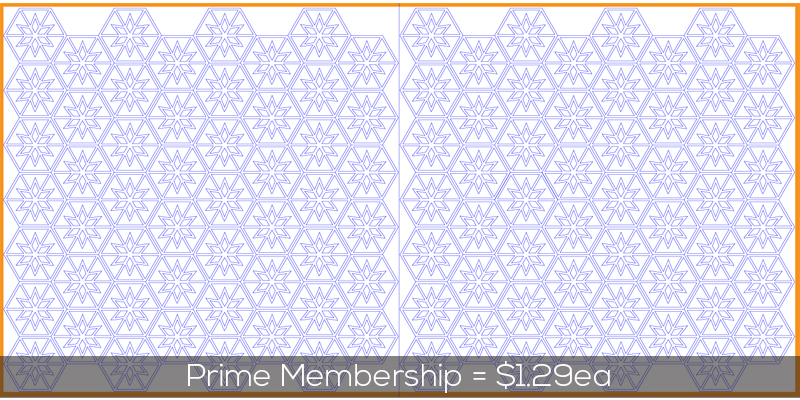 With Prime pricing, the cost drops to $1.29 per decoration—well below our goal of $1.50 each. Sweet!
But is this the absolute lowest price? Let's find out.
Saving Tip 4: Better Volume Prices With Ponoko Prime
Could our costs be reduced beyond the $1.29 per snowflake above? If so, we would have options to reduce the retail price, bank the extra profit or know there is some wiggle room if a retailer negotiates hard on the wholesale price.
To find out, let's see what the price is for a quantity of five sheets of P3 material to make 560 decorations: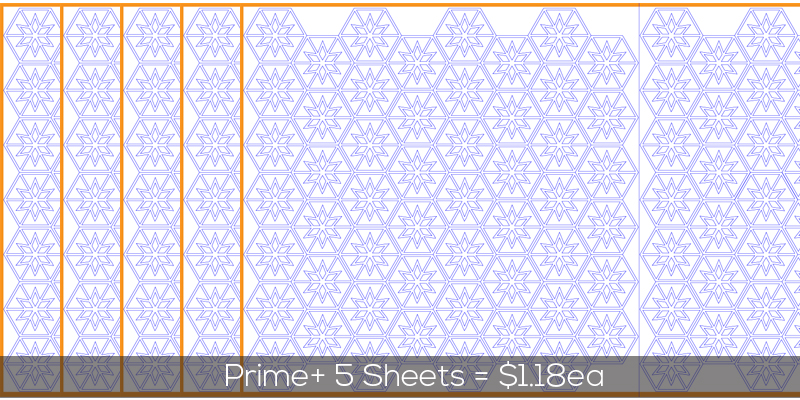 That just knocked off another 11 cents. Nice!
Just for fun, what if we quoted 20 sheets of P3 material to make 2,240 decorations: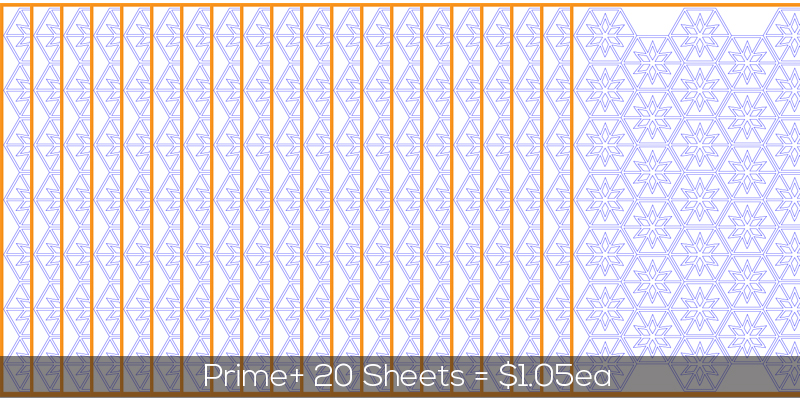 Whoa! Now the price has dropped to $1.05 each—that's 45 cents lower than the original target of $1.50 each. With the quantity of 2240 decorations, that's $1,008 more profit. Now we're talking!
Zero Cost Prototyping: Target Production Cost Surpassed
Digital prototyping with your Personal Factory can deliver the production cost you need to earn profit at competitive retail and wholesale pricing.
For our snowflake example, we were aiming at $1.50 or less per decoration. After spending $0 to prototype the design digitally, we were able to get the cost down from the original quote of $7.42 to $1.05 per decoration—and discovered plenty of other options along the way. Sweet!
August Goal 4: Physical Prototyping
Now that you have proven your idea can be profitable, can you turn it into a quality product that can compete for holiday sales? Here's how to find out: Place your first order by the end of August.
Using our snowflake decorations example, we have sorted out the pricing via free digital prototyping. Now it's time to see and hold the decorations.
But before submitting a full order, always start with a smaller sample first. This is extremely important. What if the proportions are all wrong? Or the sizing or materials aren't how you envisioned in your mind? Doing a trial run lets you confirm all aspects of the product, and make any necessary corrections, before committing funds for a larger order.
Print It Out On Paper
The first way to get a sense of what your product will be like is to print it out at 100% scale on paper. It's easy—and it's free. You'd be surprised how easy it is to misjudge scale on screen.
Laser Cut A Cardboard Proof
Once you confirm size and scale with a paper proof, next it's time to get an actual product in hand.
Going back to our snowflake example, we want to see all three designs. While the lowest-cost option looks great on paper and is the right price, it could look terrible once we see it in person. No matter how great the price is, if our buyers won't like the design, then it's a waste to order it. So let's make sure before investing any real money.
To get started, we used the P1 design template to create a layout with all three designs. Next, we selected the lowest cost material: Cardboard. At $.50 per sheet, it's the lowest cost prototyping material because it is soft, which means it is the fastest and least expensive to cut.
Here's the instant online quote for the first prototype. You'll see it's very low cost.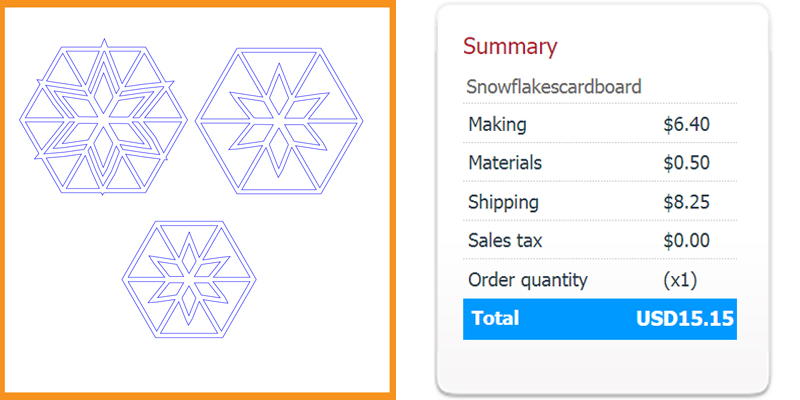 The First Delivery From Your Personal Factory
Getting the first prototypes is exciting! And maybe even a bit nervous. Will the products look as great as you hope? This is also how your customer will feel—so this is the time to ensure you have everything right for holiday sales so they'll be delighted when receiving their order.
Here are the first prototypes of our snowflakes decorations. They look amazing!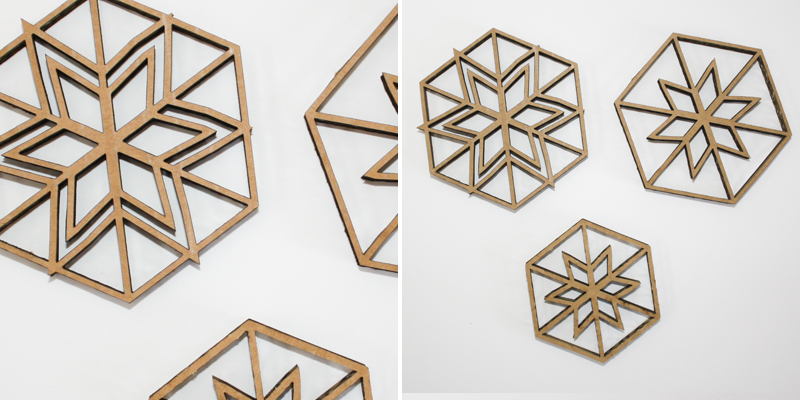 Based on the three different test prototypes above, we were able to confirm that the low-cost option not only works from a pricing standpoint but also from how the snowflakes look and feel in the hands.
Happy with our choice, in next month's installment of the holiday sales series we'll start making for real. In Part 2, we'll dive into making, packaging and pricing to help you continue on your journey to make and sell your new product this holiday season.
But for now, get started on the four August goals we've just gone through. This will ensure that you have plenty of time to get the product totally right and have adequate time for promotion later in the year.
Good luck!
SaveSave
SaveSave
SaveSave
SaveSave
SaveSave
SaveSave