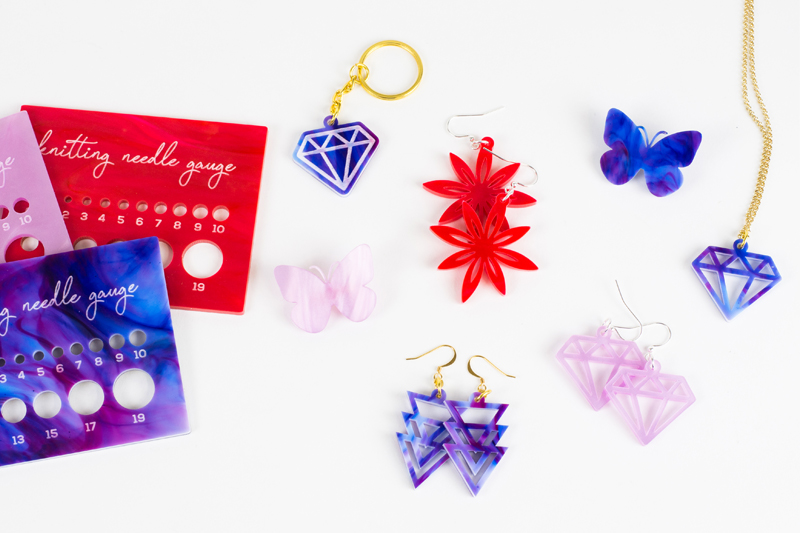 These Three New Swirl Acrylics Just Added To USA Catalog Will Make Your Heart Skip A Beat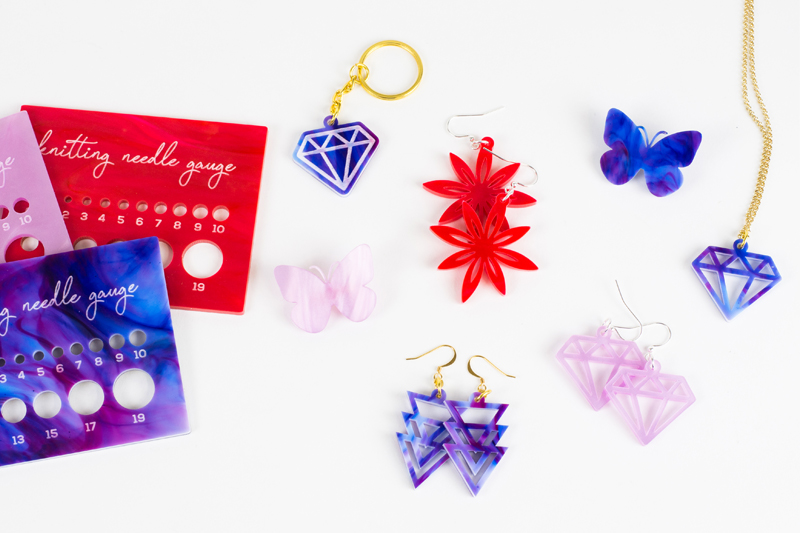 We get asked all the time if we can add more interesting colors of acrylic to the collection. You spoke. We listened! And man, are you gonna L.O.V.E. what we found: Swirl Acrylics.
These 3mm acrylics are unlike any others offered in the USA catalog. Each sheet is totally unique. So whatever you laser cut will be a one-of-a-kind work of art.
Unleash Your Creativity: What You Can Make With Swirl Acrylics
What can you make with these new swirl acrylics? Check out these ideas we whipped up:
Jewelry is one of the most popular applications for laser cut acrylic, so why not try it out with some stylish swirl?
Diamonds are a girl's best friend, right? These geometric diamond-shaped earrings are just a bit more affordable—and fun! The pearlescent finish of the Lavender Swirl Acrylic is subtle and pretty, and the edges laser cut to a lovely lavender.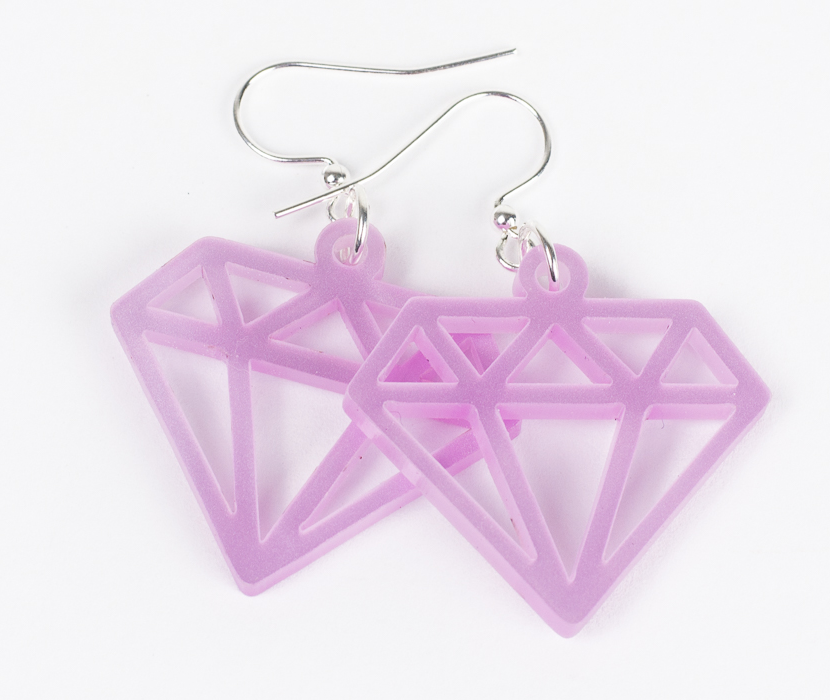 The Purple Swirl Acrylic has soooo many color variations. If you're looking to make a bold and dynamic statement (like these geometric earrings), this is your acrylic. It laser cuts to perfection with a white/purple edge.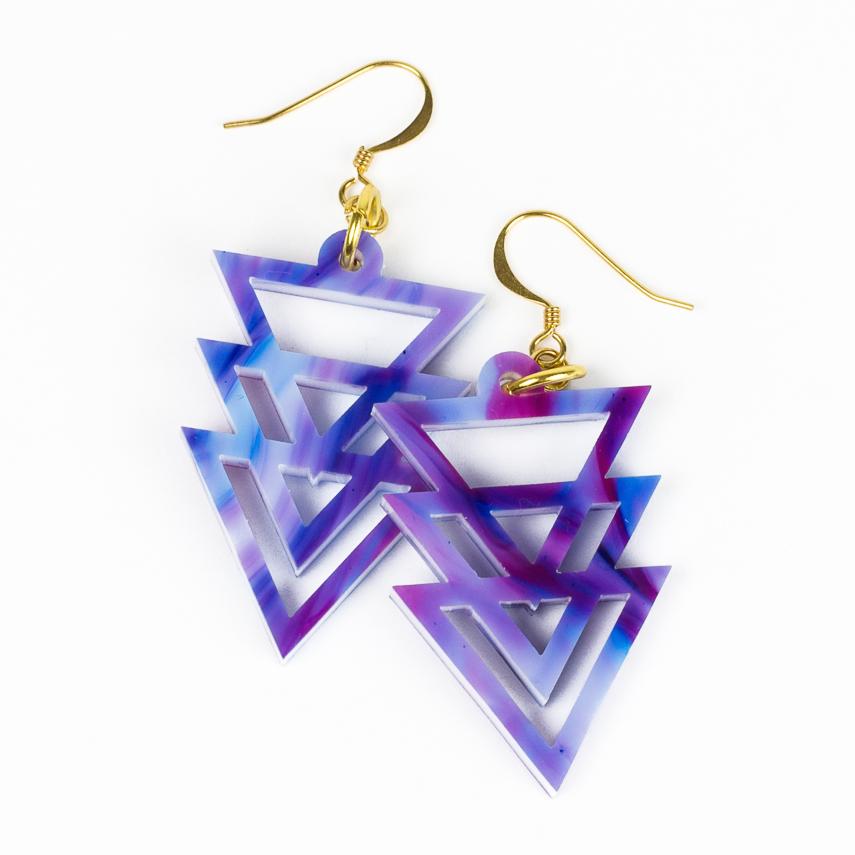 Red is a color that makes people stop and look. Get noticed with the Red Swirl Acrylic that has a softer appearance when it comes to traditional reds, giving it a nice balance for natural and geometric shapes alike. See what we mean with these floral-inspired earrings.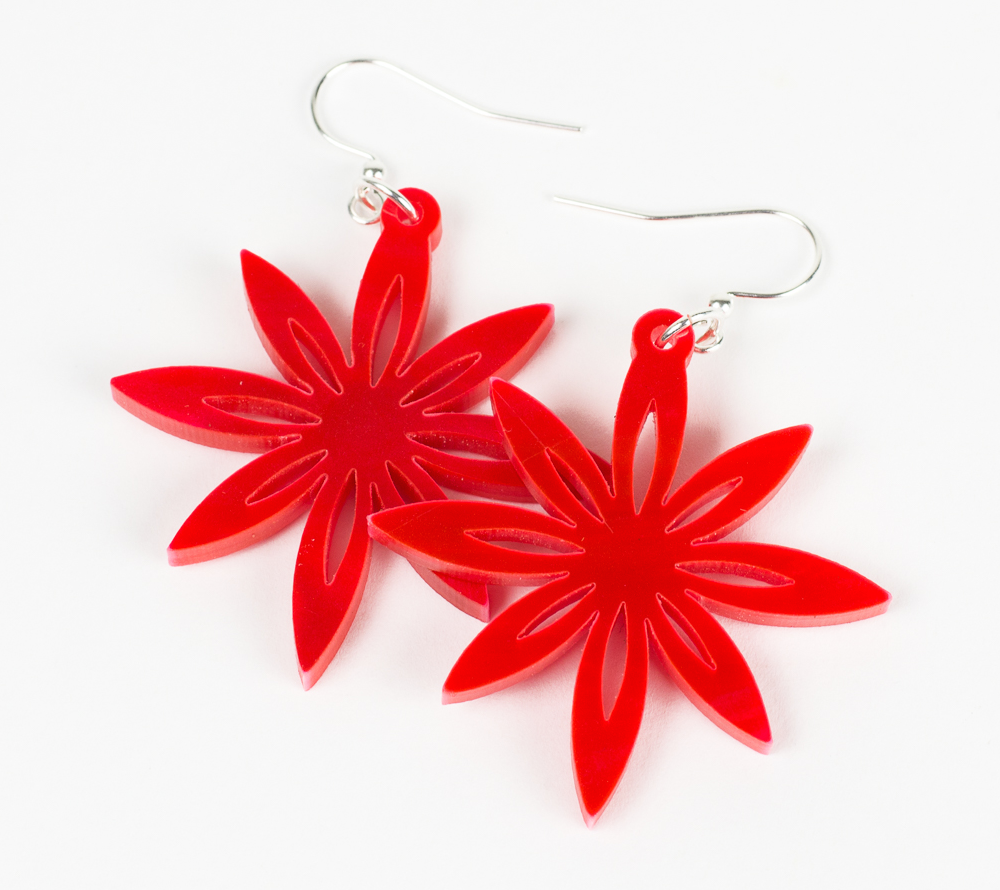 Since this is an acrylic material, creating detailed geometric shapes is a natural application. Cutting away the acrylic into intricate shapes like these snowflakes allows the swirl to be more subdued. This design could be used for earrings or a necklace pendant. Go larger to make coasters or a table centerpiece. Or do a series of sizeable ones to create a gallery wall collection.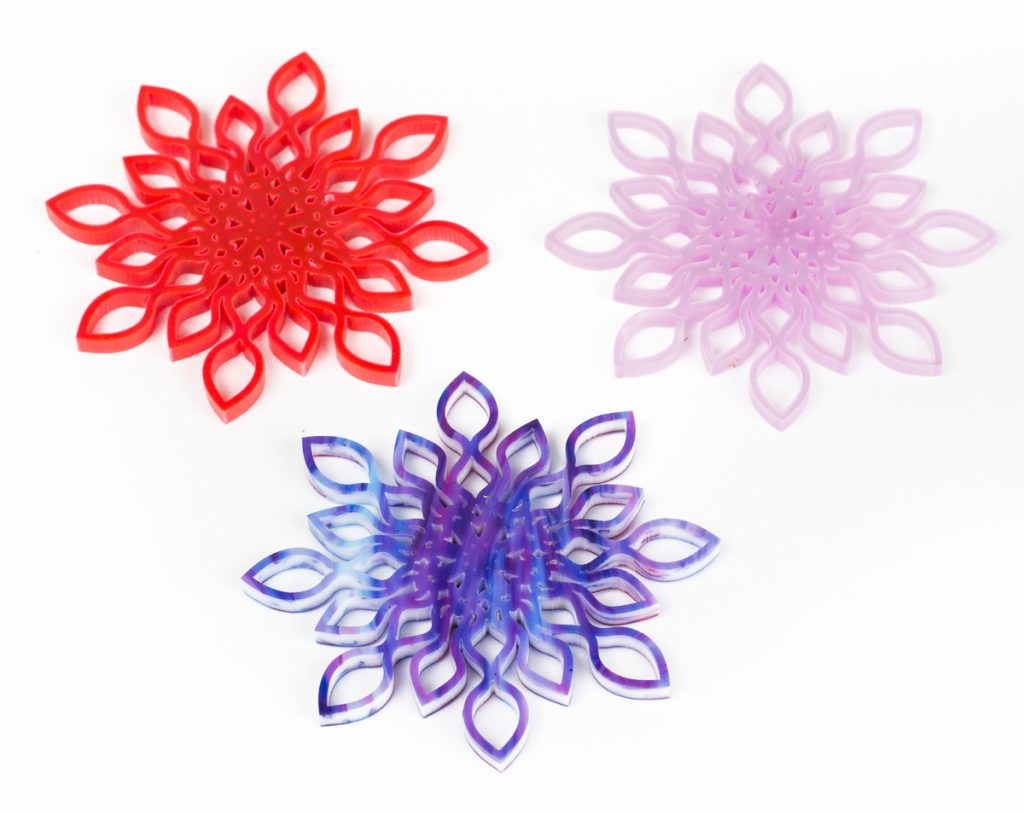 To see more of the swirl pattern, go for solid shapes like these butterflies that could be used as cabochons, for jewelry or for wall hangings.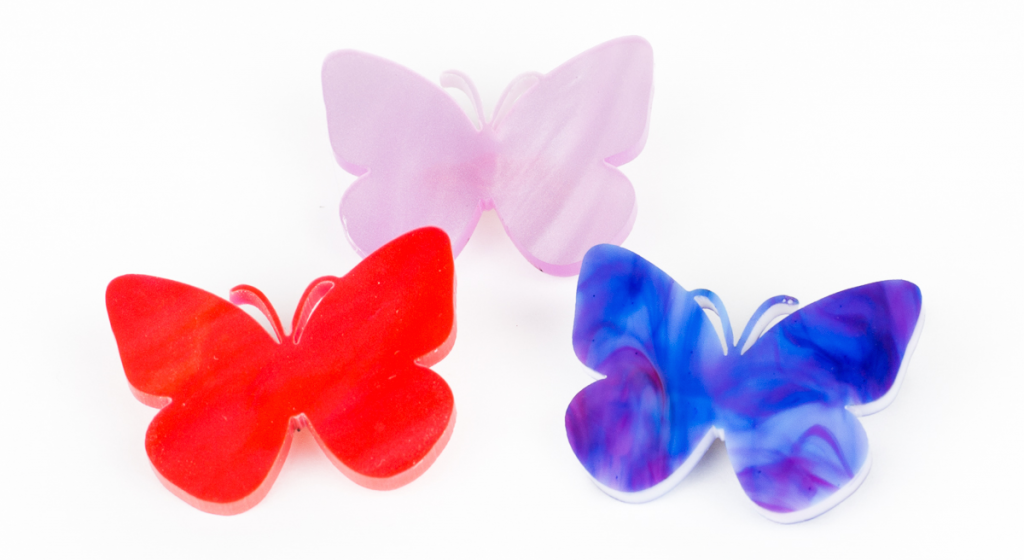 Finally, you could even use swirl acrylics in larger sheet forms to create functional pieces such as this knitting needle gauge. Just because a project isn't purely decorative doesn't mean it can't be beautiful!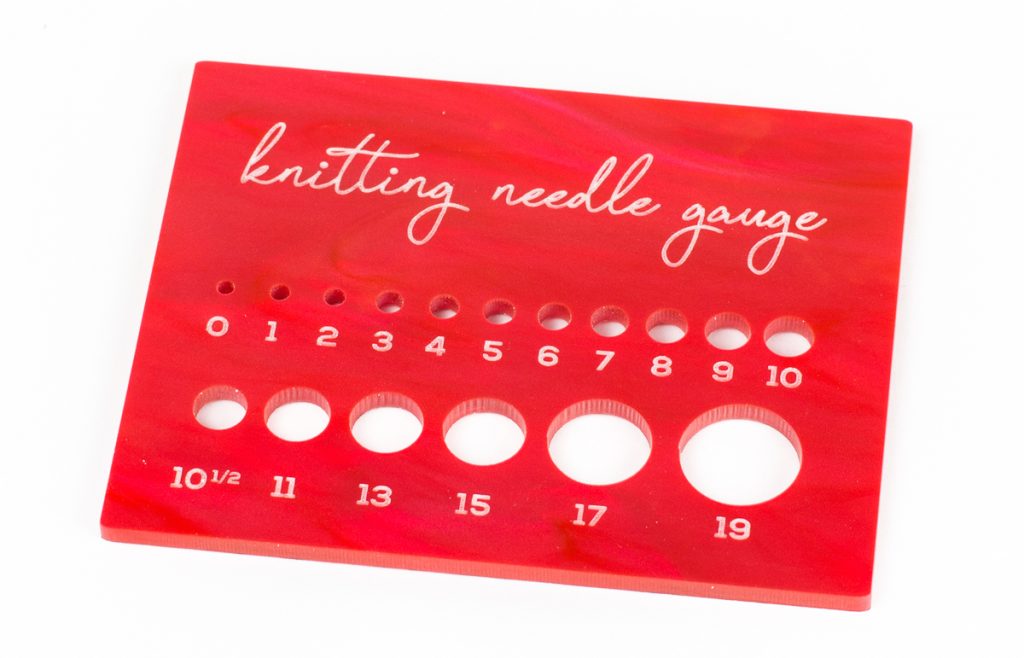 Now Available: Lavender, Purple And Red Swirl Acrylics
Are you loving this Lavender Swirl Acrylic as much as we are? Get ready to make by checking out all the details here and ordering a sample here. We could definitely see this being used to create pretty decorations for weddings or baby showers.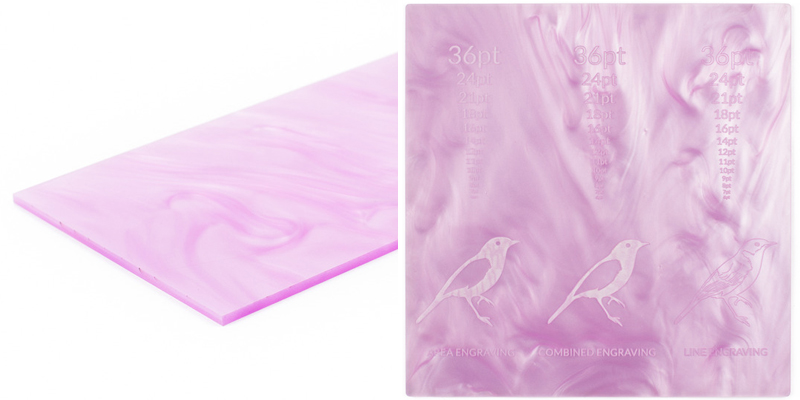 If you want a more dramatic impact, go for the Purple Swirl Acrylic. Get the details here and snatch up a sample here. How cool would some electronics enclosures be out of this material!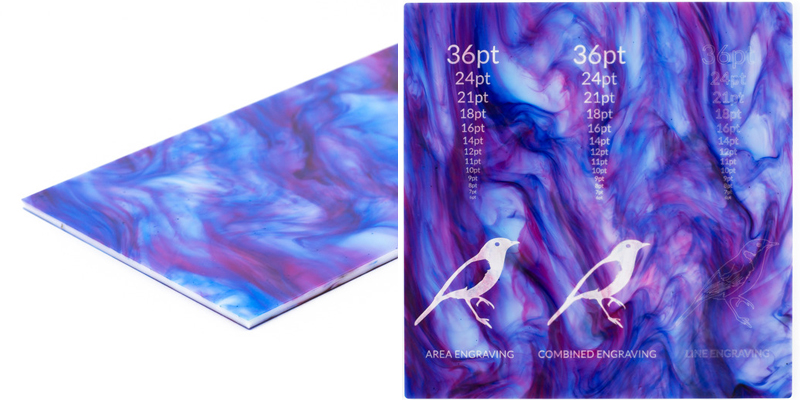 If red makes your heart beat just a little faster, find out all the details on Red Swirl Acrylic here and get your sample here. We would sooooo love seeing this used for some cool red robots!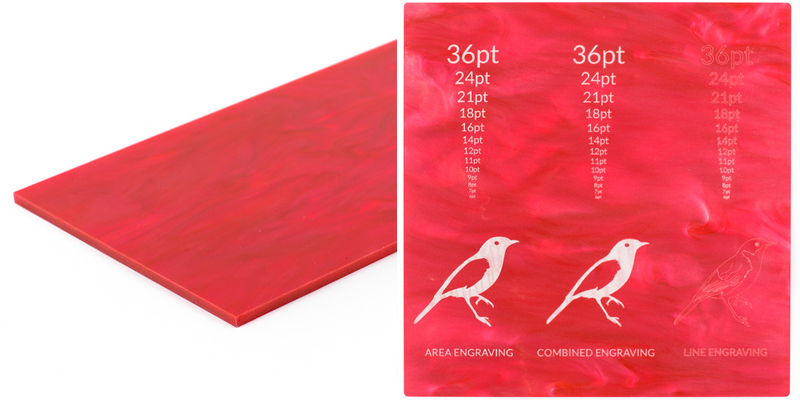 Maker Tips: Designing For Swirl Acrylics
When designing for these new swirl acrylics, there are some considerations. If you're used to making with our single color acrylics, you'll find that the swirl surface is slightly less consistent in order to achieve the cool pattern. Due to the manufacturing process, the surface finish on swirl acrylics may not be entirely smooth; there can be divots and scratches.
Additionally, each sheet's pattern is unique. As such, finished products will not be identical in color or pattern every time. We think this makes these acrylics more beautiful because every piece you make will be unique. But you'll need to take all these factors into account when designing your products.
Mix It Up: What Will You Laser Cut With Swirl Acrylics?
We're super excited to expand the USA catalog with these swirl acrylics. What will you make? Some of the ideas above? Or perhaps clocks, bookmarks, holiday decorations or some really out-of-this-world promotional products? Let us know your ideas and what you think of our latest introduction by leaving a comment below!