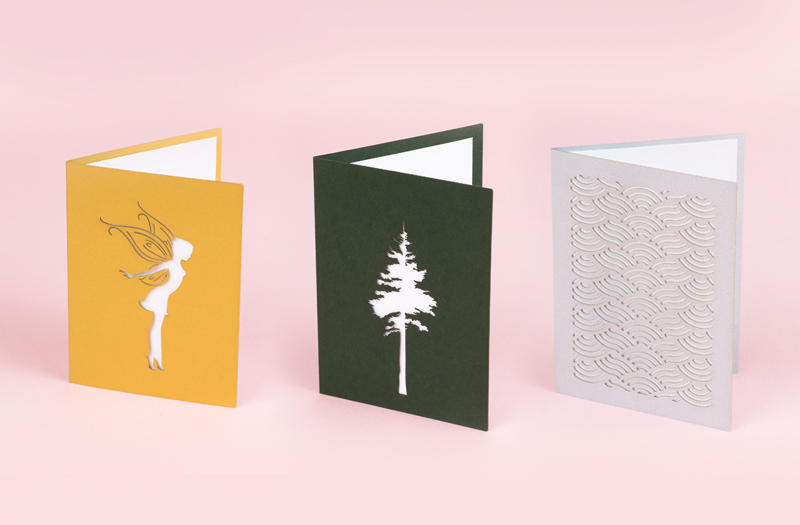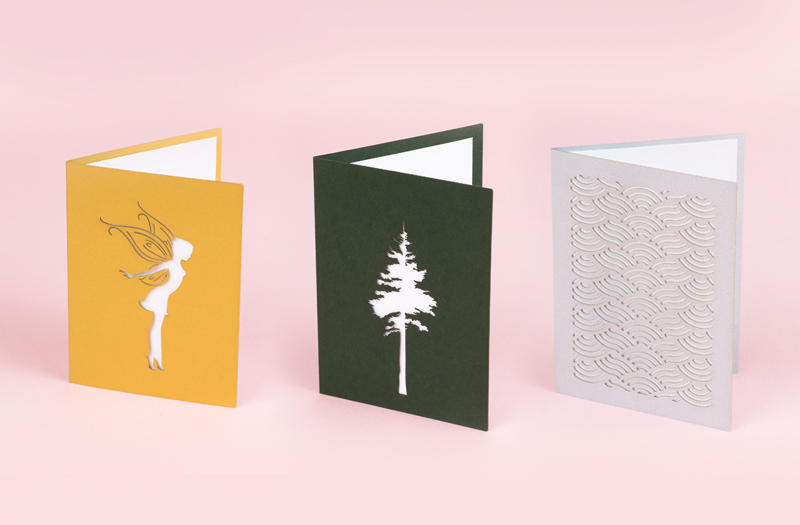 The USA Catalog Expands With Gold, Green And Silver Cardstock
Want to up your card game? Not Texas Hold 'Em. You're on your own for that. But if you want to create custom laser cut greeting cards, envelopes, invitations and other stationery products that will have customers coming back for more, these three new designer cardstock papers just added to the USA catalog are sure-fire winners.
Why laser cut paper when you could do it by hand? Lasers take all the hard work out paper cut artwork that would otherwise take painstaking hours—and laser cutting does it all with precision that can't be achieved when cutting by hand. This consistency is especially important if you are selling your designs or you're creating multiple designs to promote brands and agencies.
Get Inspired: What You Can Make With Cardstock Paper
What's great about cardstock? Adding a splash of color to your designs with gold, green or silver cardstock won't break the bank. Cardstock is an economical material, and since it is relatively thin (when compared to other substrates) it laser cuts quickly—saving you money and keeping your wallet happy.
Need some inspiration to design your next laser cutter project? Check out these examples we made.
Gold Cardstock Paper
Because cardstock holds a fold well, just a bit of line engraving to score the surface and control the fold is all you need to make eye-catching envelopes like these. With such a decorative design, whatever you're sending will get noticed. Talk about upping your card game!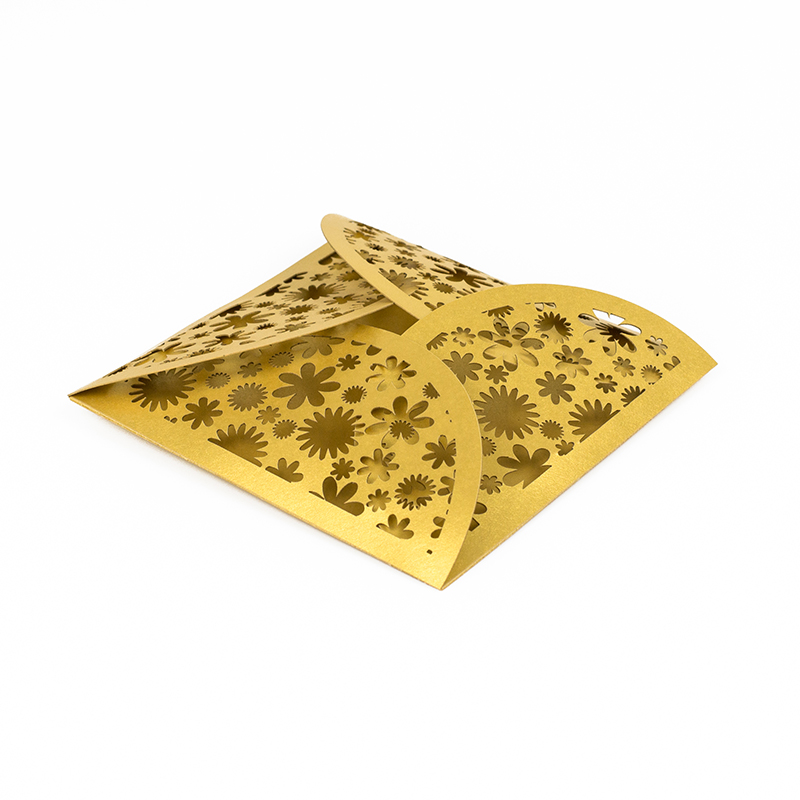 Whether voraciously reading New York Times Bestsellers, keeping tabs on the latest business trends or perusing the pages of the classics, every bibliophile needs one thing: A bookmark that's just as amazing as the books being read. This one was inspired by an organic coral pattern.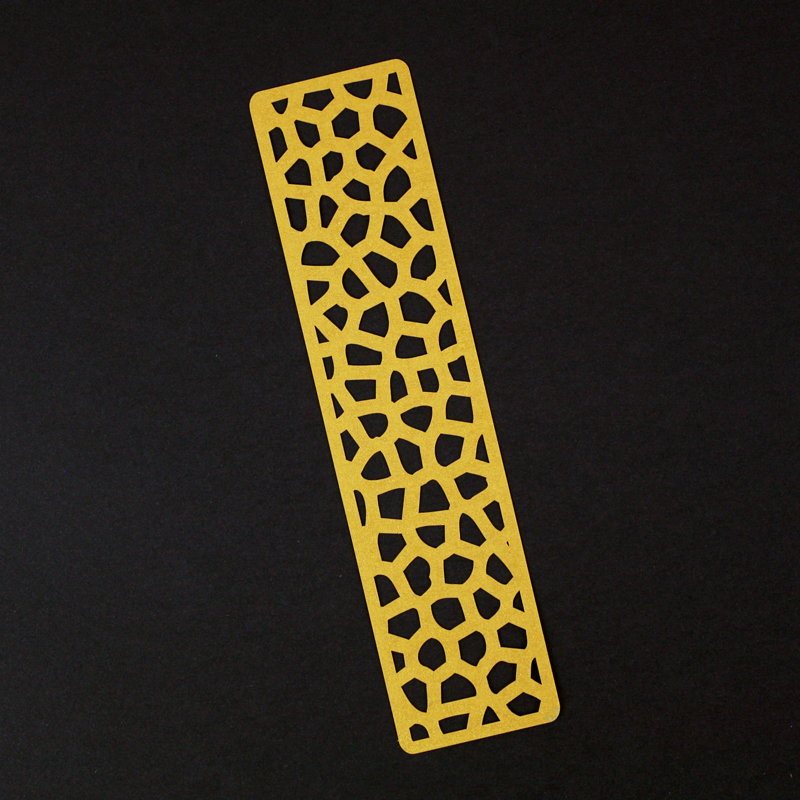 From traditional rectangles to something light as feather, bookmarks are ideal teacher gifts or birthday party favors that encourage reading—and they're inexpensive and impactful promotional products.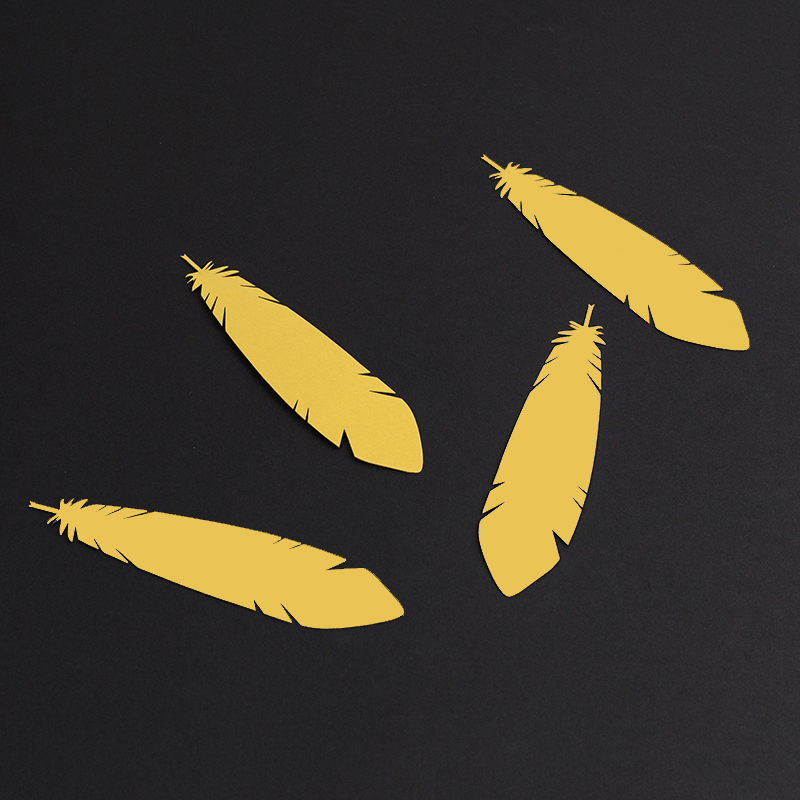 The shapes on this card have a soft organic feel that is both classic and contemporary. These could be used as custom holiday cards as well as wedding invitations or thank-you cards for the modern couple. Or, incorporate a logo rather than text for use in a business setting.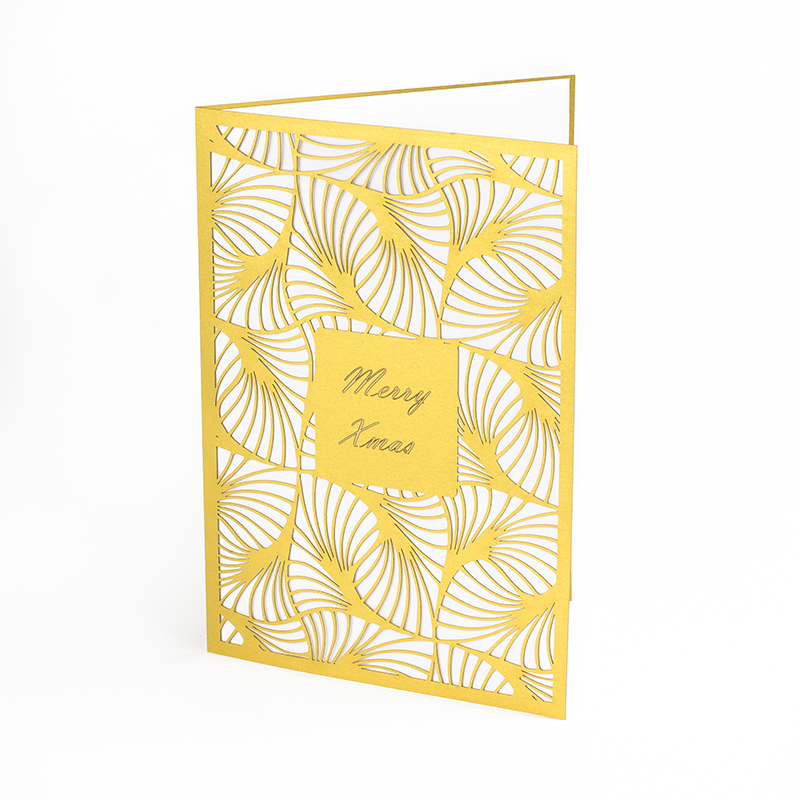 If you need to create a little holiday cheer on the cheap, laser cut some tree ornaments or bag tags to deck the halls.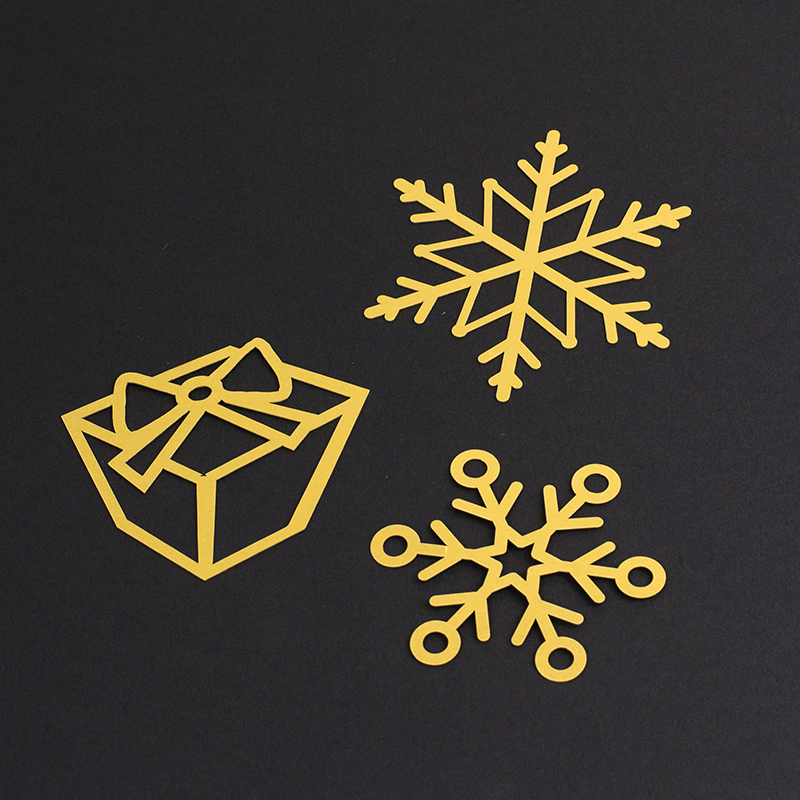 If you think all that glitters is gold, get all the details on Gold Cardstock Paper here and pick up a sample here to see it for yourself.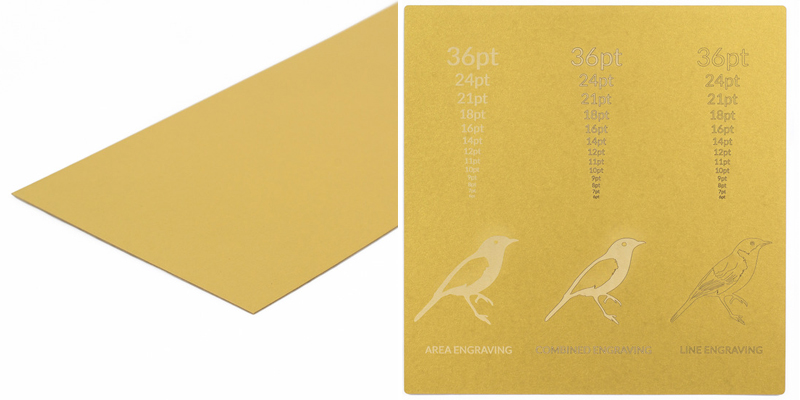 Green Cardstock Paper
Here's a second look at this special envelope, this time in green. This color is ideal for communications with an outdoorsy feel.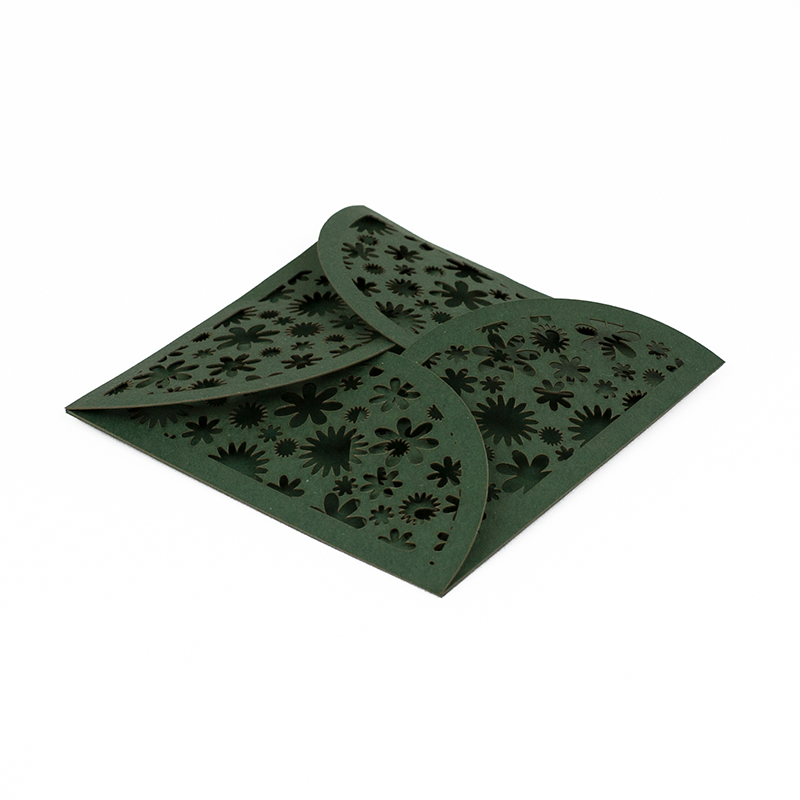 What's cool about this greeting card is the use of laser cutting for the negative space of the tree. This beauty could be sold en masse via those cute little boutiques found in mountain towns, and it could easily be framed and turned into a pretty work of art as a keepsake after the occasion on which it was given.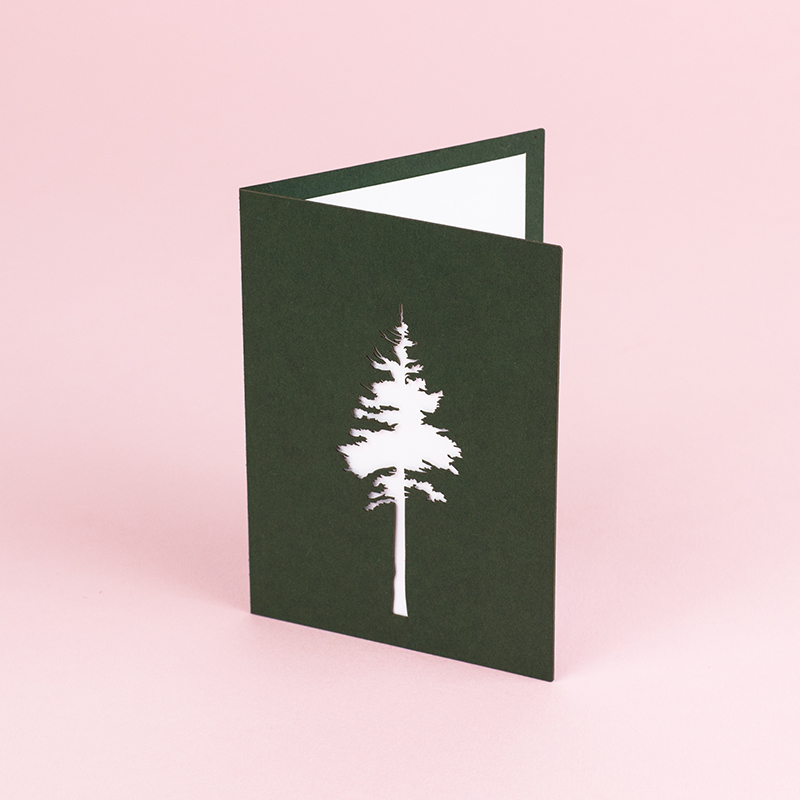 There may lots of talk about e-books and audiobooks, but not to worry, printed books are still the most popular format. So here's another look at some page markers, this time in green.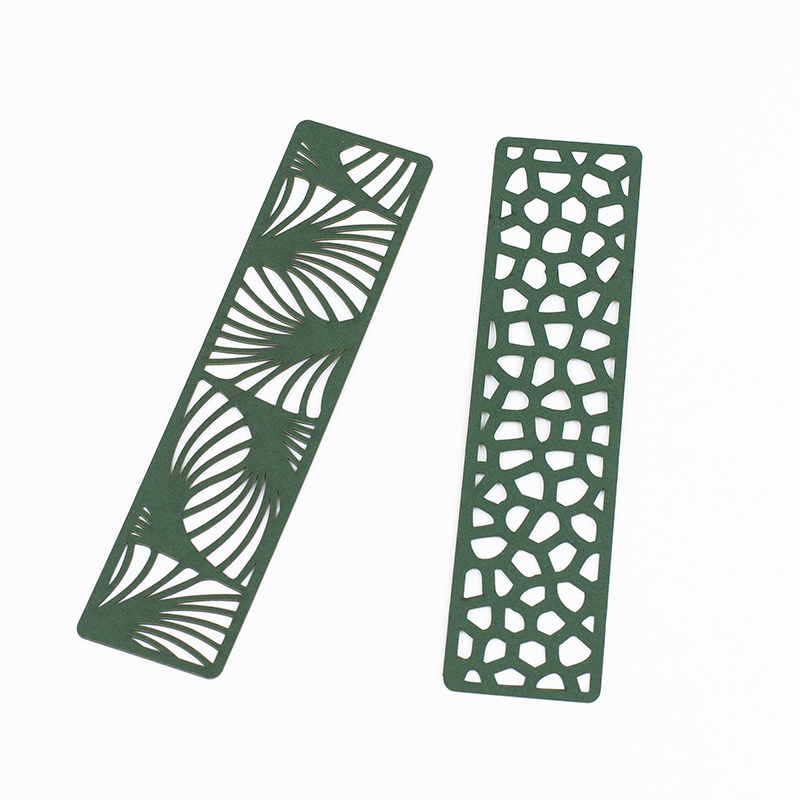 Business cards are meant to stand out. But that doesn't imply they need to be overly busy, graphic-intensive conceptual designs. Simple is super effective—and attractive. Laser cutting adds a fresh approach to the traditional introductory leave-behind that's actually more memorable than the traditional printed pieces. Check out these one-of-a-kind business cards that will certainly start a conversation.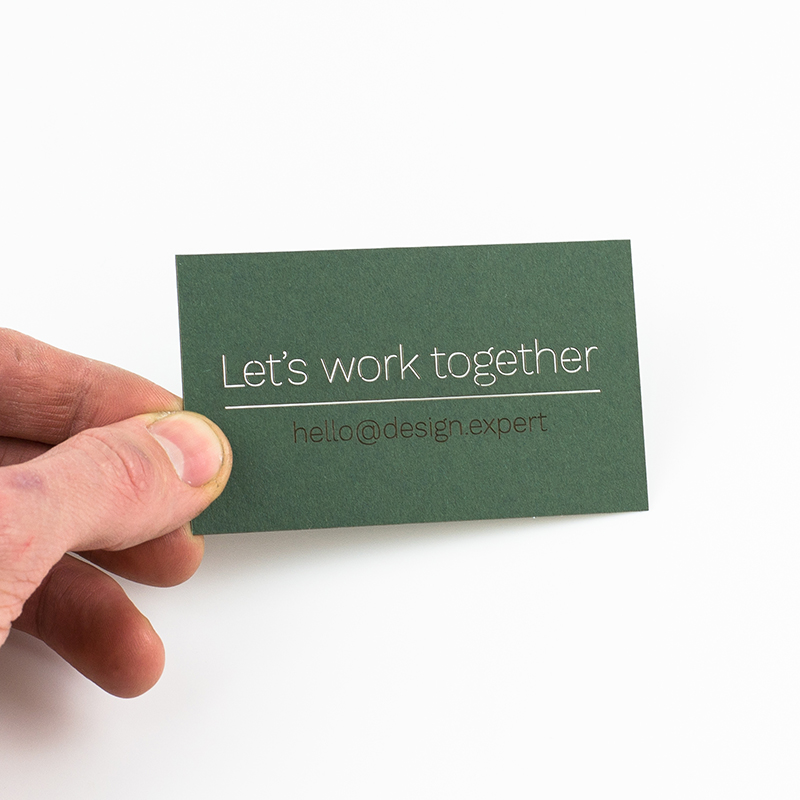 If Green Cardstock Paper has you seeing $$$ for your next stationery project, get all the details here and pick up a sample here.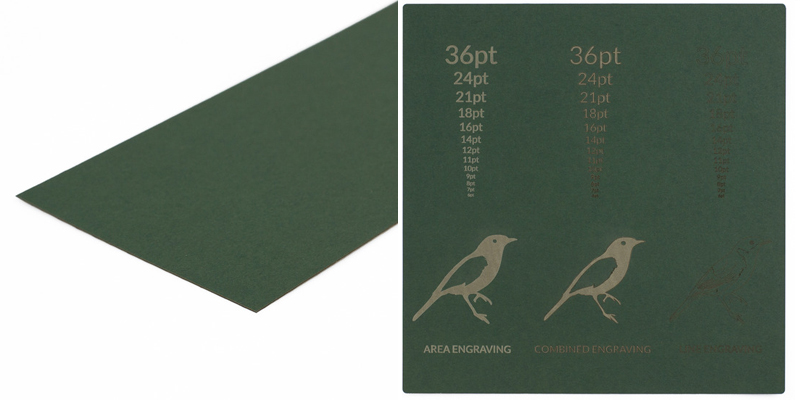 Silver Cardstock Paper
Here's a third look at this special envelope, this time in silver. The combo of a floral motif with geometric shapes is fun and flirty—perfect for birthdays, weddings and baby showers as well as salons and retail brands.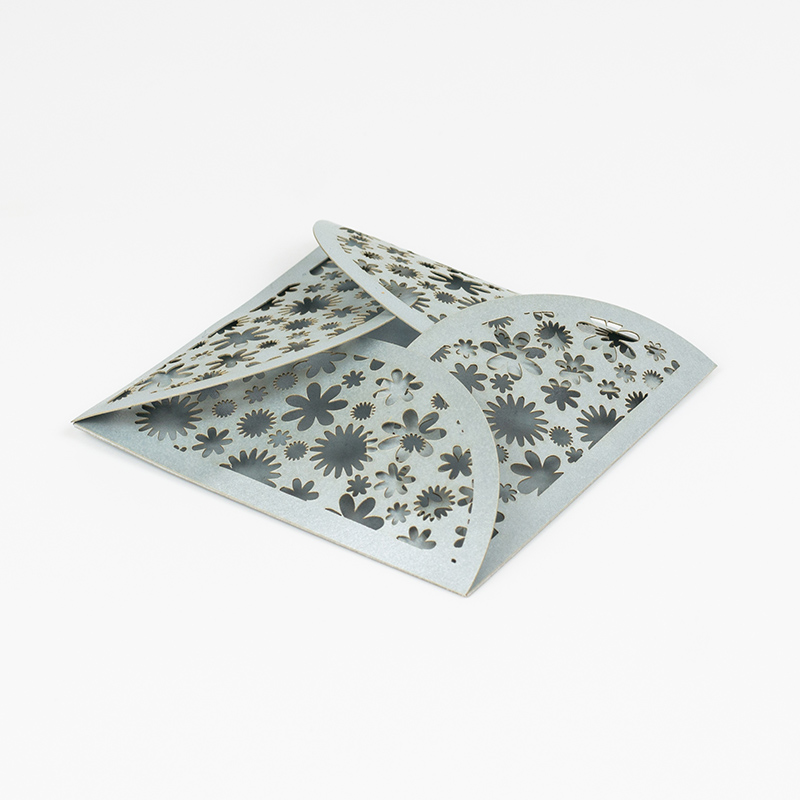 Here's a second look at this card, this time in silver.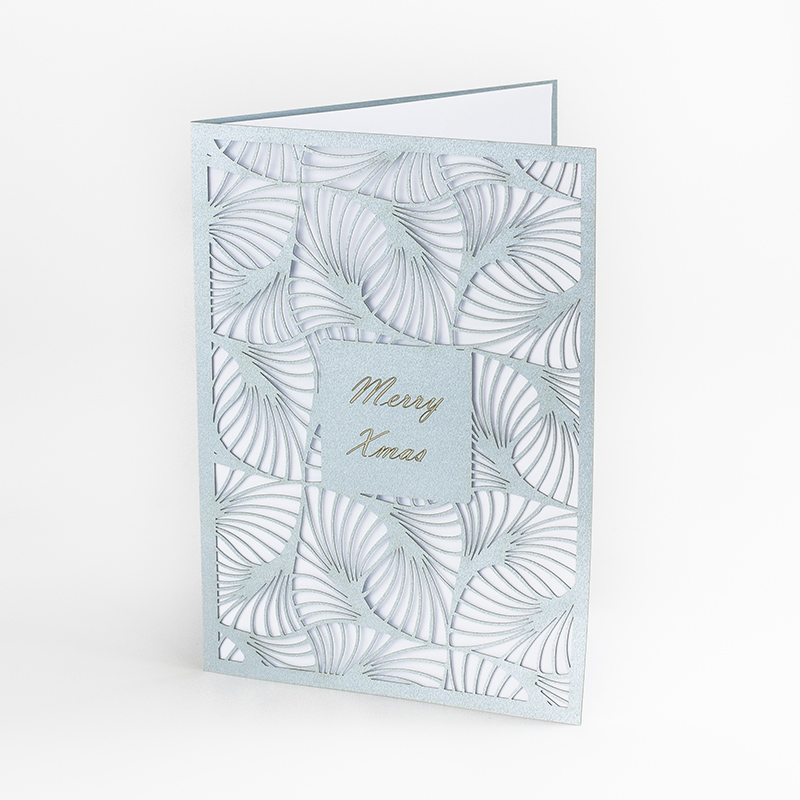 The geometric scales add a sense of depth to this card while showcasing the precision of laser cutting that creates an interesting oceanic optical illusion. To use the concept for corporate events, use a repeating logo design to create catchy customer communication.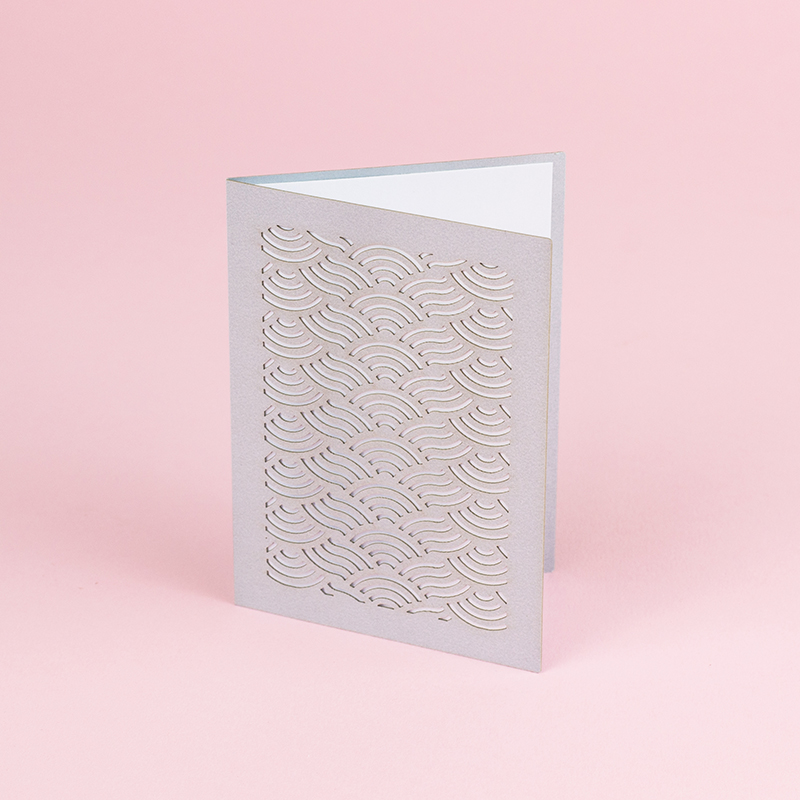 Here's a second look at these ornaments; the silver has a cool contrast to the warm gold tones shown above.
If you think Silver Cardstock Paper is sweeeet, learn all about it here and pick up a sample here to see it for yourself.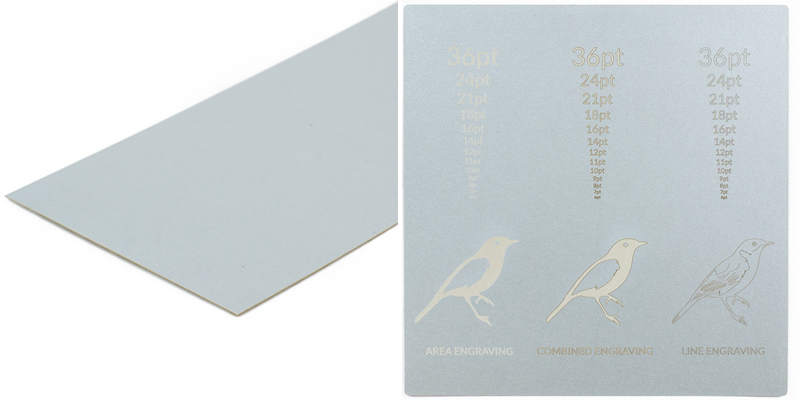 Now Available: Gold, Green And Silver Cardstock Paper
Perfect for projects that range from paper sculpture and modeling to decorative arts and crafts, this thick paper stock is 140lb weight (300gsm), laser and ink jet compatible, and acid free. Cardstock paper is also easy to curve, crease and emboss to create a three-dimensional work of art.
Maker Tips: The gold paper laser engraves buttery tan color with some yellow undertones, while the green and silver papers laser engrave to a taupe grey undertone. But a little area engraving goes a long way. Dense area engraving can leave a brown residue around the engraved area, so design accordingly.
Additionally, if your design contains lots of little cut outs (such as the decorative envelopes above), get the most out of your cutting time and materials by using these tiny pieces as confetti. Since small parts can be lost in the laser cutting process, tab them in if you need them. Tabbing leaves a gap in the cutting line so that the small part stays attached to the sheet of material. Once the entire piece is laser cut, use a utility knife to hand cut the tab (so be sure to make the tab quite small).
What Will You Laser Cut With Cardstock Paper?
With all the ideas above plus these additional seven craft and design ideas for cardstock paper, what laser cutter projects are you inspired to make? Will you pursue prototyping or package design? Architectural models would be awesome too. Of course, you could design laser cut wedding invitations to sell, or you could create custom collateral for corporate events. And if you're feeling crafty, collage or decorative arts may be your calling.
For those with corporate communication needs, foldable mascots and pop-up logoed cards make great promotional mailings. Since cardstock is lightweight, these kinds of mailings are inexpensive to make and they ship flat for additional savings. Plus, cardstock is more environmentally friendly than plastic, which is important when customers expect companies to make more sustainable choices.
Whatever your ideas, unleash your inner designer and get busy designing anything from the simple to the sublime. Then give us a shout in the comment box and let us know what you can't wait to make. We'd love to hear all about it!