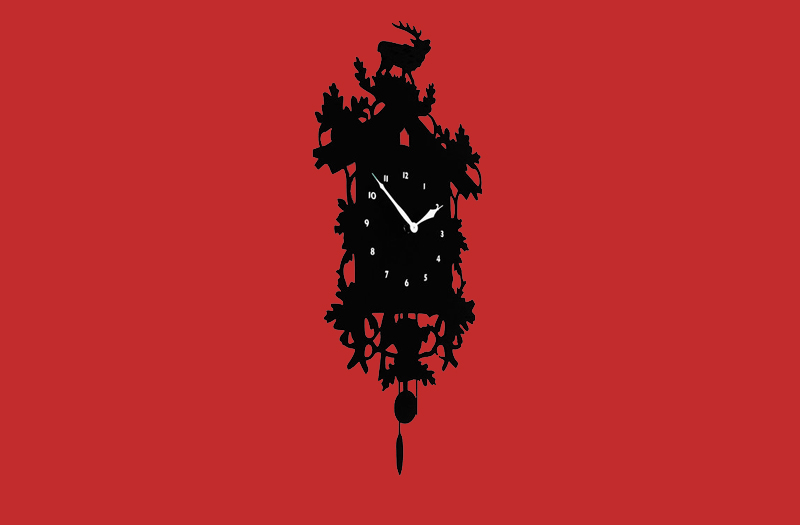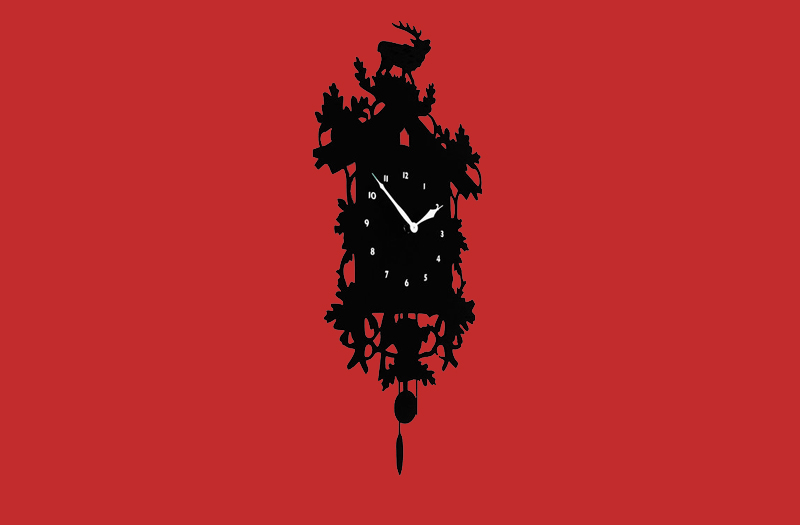 Antler And Pine Elevates Laser-Cut Design Through Its Dimensional Wall Art
When browsing Pinterest, Instagram or even the pages of magazine for home décor inspiration, what's one thing that makes a space feel complete? Wall art. Whether it's Picasso or Pier 1, displaying art on your walls defines spaces, complements furniture and showcases your personal style.
When Chris Hirsch and his wife moved into a new home in Auckland, New Zealand, they were looking for unique wall art to decorate their space, but nothing off the retail shelf seemed just right. Like the many makers before him that got into designing products for themselves because they couldn't find what was needed, Chris thought this was a good time to test out a few DIY project ideas.
"The first laser cut item I made was a wall clock, which had a relatively simple design and looked great," he says. "Soon after that, I started making several other pieces with more and more complex designs. Laser cutting quickly became my creative outlet. After we had a few pieces up on the walls, we got really good feedback from friends and family, and I started selling some of my art."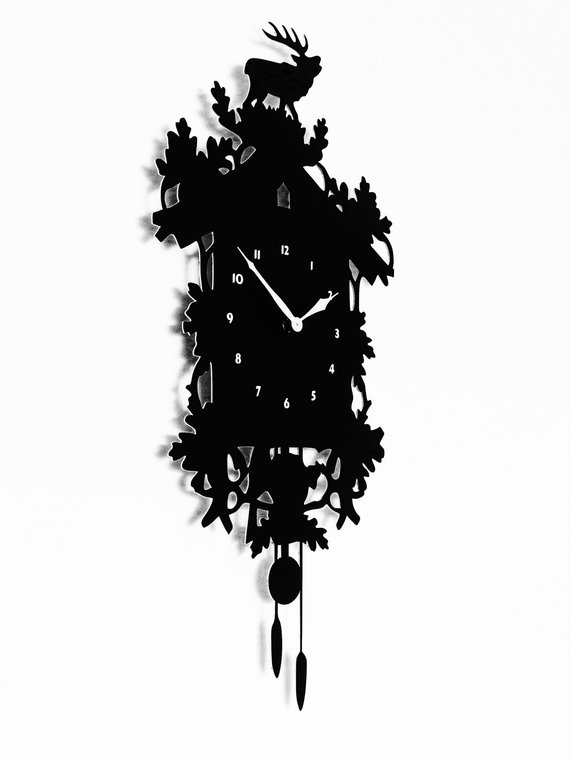 One of the more sophisticated clock designs, this wall clock is a modern yet classy take on the traditional Cuckoo Clock. As a minimalist design, this take on time telling doesn't include a bird that pops out at the top of the hour. But that's ok. We're still cuckoo for the design because the matte black acrylic finish not only works with almost any color scheme but it also fits into a number of interior decoration styles from farmhouse to modern to industrial.
Mapping Out A Creative Business
Chris currently features two main types of products—elevation maps and pieces that he calls "a re-imagining of vintage artwork"—under the Antler And Pine brand.
Elevation maps use real world topographic and bathymetric data (essentially the heights and depths above and below sea level) to create a three-dimensional display. While this technique is fairly common and there are a variety of maps from different shops and makers on the market, Chris says that what sets his designs apart is the use of materials.
"I particularly like to experiment with somewhat uncommon materials, such as the use of mirror," he explains. "I feel that this can have more of an artistic effect and is what makes my artwork stand out."
Stand out is right. Check out this large two-piece installation that showcases the north and south islands of New Zealand. The map is made up of 2 different shades of bamboo wood, assembled in 14 different layers, which represent the actual land elevation of the islands (in dark wood), as well as the water depths of the surrounding oceans (in a lighter wood).
While the above pieces were constructed from bamboo, this map of the Coromandel Peninsula in New Zealand combines 11 layers of sheets from bamboo wood (for the land areas) and mirror (for the sea areas) to blend the natural look of the wood with the modern aesthetic of the mirror.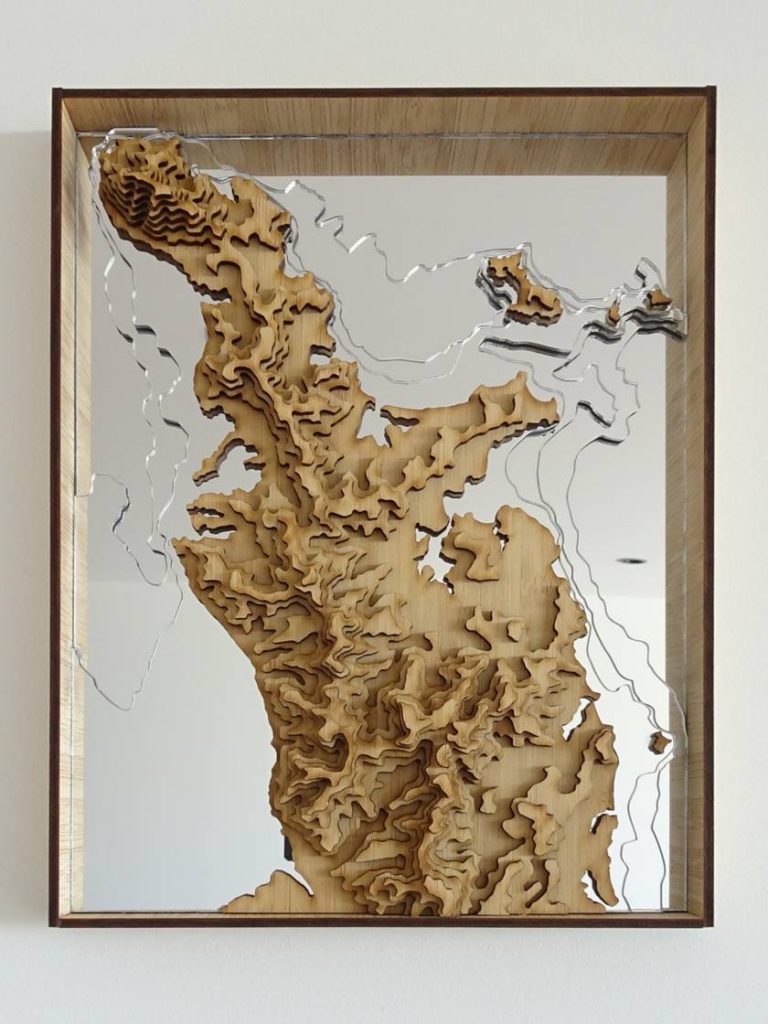 To get a sense of the depth of the laser-cut layers within these maps, this photo of Santorini Island was taken from a lower angle rather than straight on like the images above. The terrain changes, both on land and at sea, are quite striking.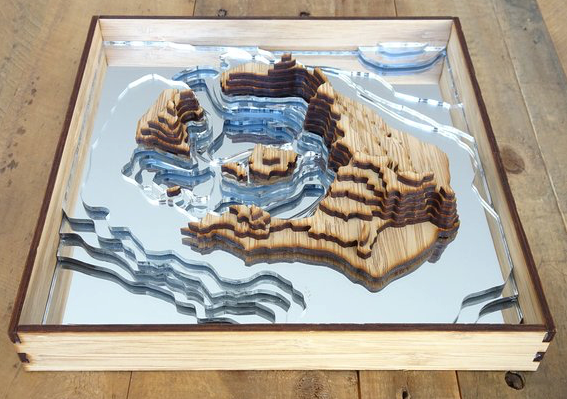 Making Vintage Designs Modern
The second product line Chris developed finds inspiration in vintage postage stamps. He takes the original flat design and adds dimension by creating layers and arranging them in a 3D display. By combining various laser cutting and engraving methods, as well as different materials, the result is a modern take on historical designs.
Since Chris calls New Zealand home, it's no surprise to find the kiwi—the national symbol of New Zealand and is the country's most famous indigenous bird—in his designs. This one is inspired by a 1935 postage stamp.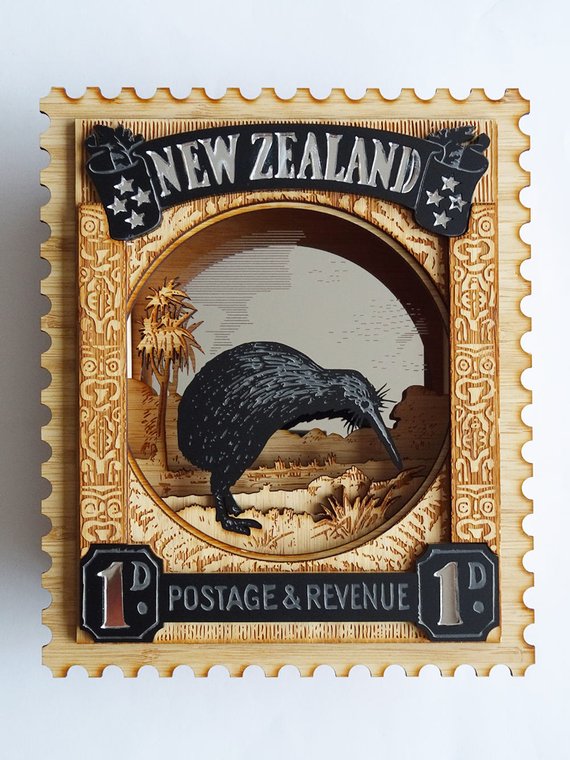 Another New Zealand native, the Tuatara is the only surviving member of the "Sphenodontians" family of reptiles, which flourished way back in the Mesozoic Era. The name "Tuatara" derives from the Maori language meaning "peaks on the back," which are highlighted to precision with laser engraving.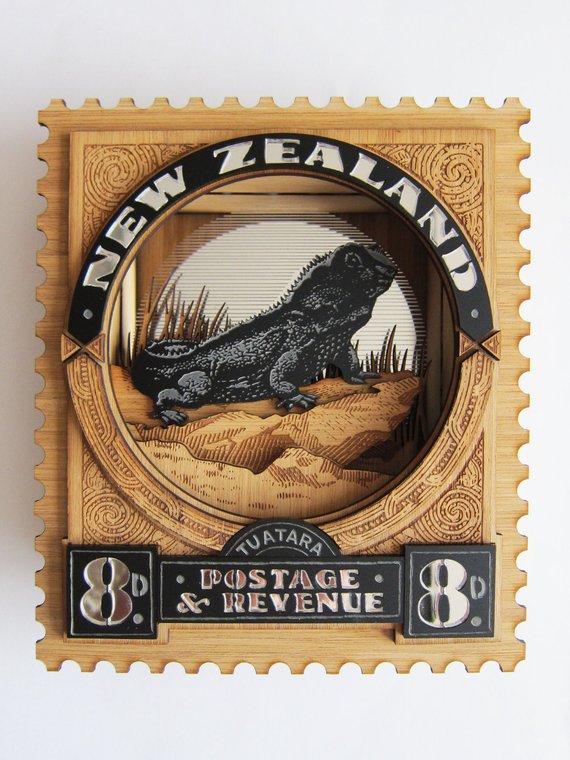 To get a sense of the detail Chris puts into these works of art, check out this interpretation of a 1935 postage stamp depicting a native Tui bird within a forest of trees and ferns. An intelligent bird much like a parrot, Tuis are able to clearly imitate human speech.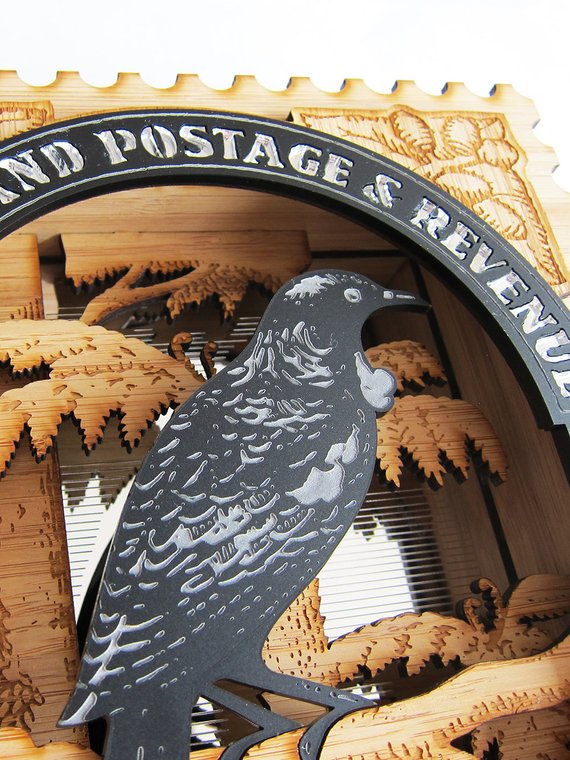 The piece consists of seven different layers made of bamboo, mirror and acrylic. "The wooden materials (different shades of bamboo) allow for an organic vibe, while the black acrylic and the mirror bring more of a crisp and modern look," Chris says. "The different possible combinations of those materials are what I find most interesting."
Working With Ponoko
Chris says he's been intrigued by the maker movement for quite a long time and has followed the many different tools and developments throughout the years. "I actually read about Ponoko the first time many years ago (probably around 2008), and somehow it's always been in the back of my mind, even before I considered using a service like it myself," he recalls.
Once he decided to try laser cutting for his designs, he did his due diligence and compared a few different options. "I tested out Ponoko and very quickly found out how easy it was to use and how fast I could get things made," Chris continues. "The option to get an instant quote has probably been the most important feature when deciding to use Ponoko. Even without much experience in laser cutting, it is extremely easy to upload a design, get an instant quote, and then start to change and optimize the layout to play with the costs. The process is also very fast, which is great as it allows for ordering on demand."
As a businessperson, Chris is always looking for ways to minimize costs so he can maximize profits—without sacrificing on quality or the overall design impression. "There are some basic costs saving tips, such as the use of large sheets and trying to place as many shapes as possible on a sheet," he says. "Besides that, I found the most cost savings by arranging shapes right next to each other (a.k.a. nesting) and deleting any duplicate lines. Also when laser engraving, placing all the engraving areas as close together as possible saves money, too. Both of these tactics can result in a bit of a puzzle, but it's well worth the time, as this can reduce the costs by a good percentage."
Blazing A Creative Path
With a background in the IT industry, Chris has done everything from web development to product management. He's drawn to the creative nature of the work, whether it's related to software product design and development or his own laser cutter projects.
"I really enjoy the combination of art and science, especially when creating the elevation maps," he says. "And I particularly enjoy having a tangible outcome of a physical product at the end."
But how does he get from idea to finished product? Chris says that he strongly believes that "everything is a remix" and that pretty much any creative process starts with looking at what's already been done and then either improving on that idea or combining things in new and creative ways.
"My artwork certainly has aspects of that, and I usually start my creative process by exploring what's already there and identifying where is there any room for creativity," he explains. "Once I get interested in a topic (such as my current interests regarding maps and vintage designs), I collect anything relevant that I can find. From there is a matter of having that spark of inspiration."
Ah, that spark. It may be elusive. But once found, that's all it takes to ignite the creative fire required to blaze a trail—and grow a business.
To learn more what Chris is making, check out the Antler And Pine website and visit his shops on Etsy and Felt.