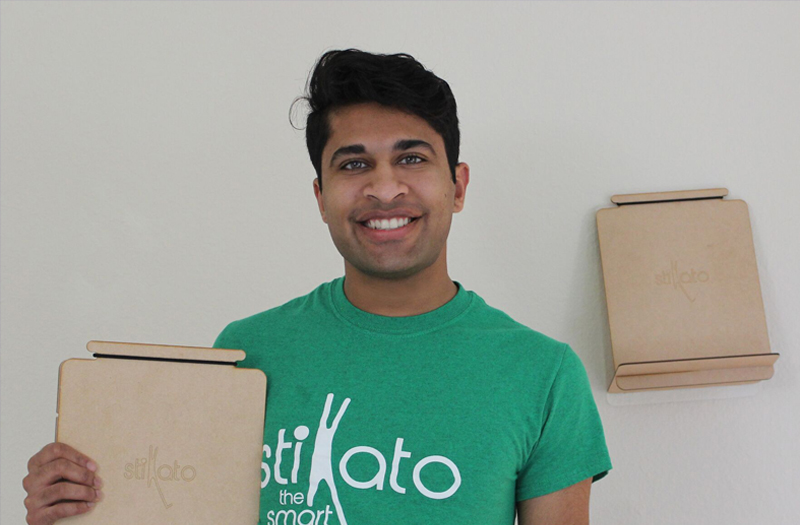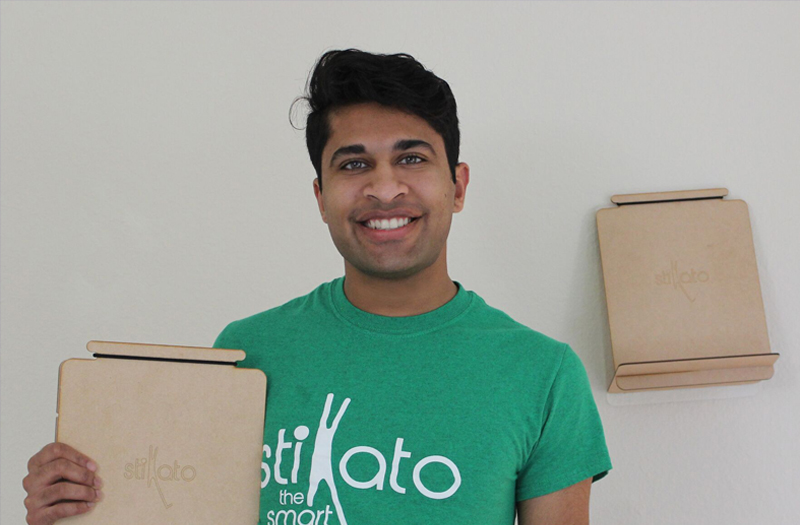 By Combining Engineering And Artistry, A Product Designer And Musician Solves A Critical Problem—And Revolutionizes An Industry
If you've ever played music, you know that the current design of music stands is #lame. They've looked the same for hundreds of years: Clunky, bulky and never at the right height. And that's the problem. Having a stand that's too low causes pain and poor posture, which can have devastating and debilitating physical ramifications over time.
Akshay Dinakar, a violinist and product designer that loves combining his engineering and artistic experience for social good, knew there had to be a better way. As an active performing artist and arts administrator, he's had lots of experience with poorly designed music stands—from being a multi-year member of the National Youth Orchestra of the USA to participating in several international performance tours.
Now as an entrepreneur at Stanford University, he leads his own team of designers under the Chameleon Design Firm brand, and they're setting out to revolutionize the world of music stands and how musicians use them.
Sticking It To Traditional Music Stands
Akshay has been playing violin since the age of three, and there's nothing his violin teacher said more than "DON'T SLOUCH." But the slouch seemed inevitable.
His traditional music stand was always too short for his height, and he often forgot the flimsy portable stand when traveling. He'd end up putting sheet music on a table or chair and practice hunched over, afterward wondering why his back hurt.
With more and more of his fellow professional musicians spending thousands of dollars on chiropractors and medical treatment to manage their back pain, Akshay realized that practicing with proper posture wasn't just important to his personal well-being, it's critical for any serious musician who wants to play throughout life.
So if traditional music stands are causing so much pain, then why has no one thought to innovate on the design?
As a recognized violinist who has spent several years as a member of the National Youth Orchestra of the USA, a not-for-profit entrepreneur who founded Carnegie Hall's NYO-U music education platform and a designer at Stanford University who has invented prosthetic arms for string-instrument players, Akshay realized that this was the perfect opportunity to create a solution that could really help other musicians. And after nearly two years of prototyping and testing, the Stikato music stand is launching on Kickstarter, with the campaign running from January 24 to February 21, 2019.
Playing off the musical term "staccato," Stikato is the world's first music stand that can stick to any surface and support the weight of an entire binder of music. Weighing just a few ounces, it's compact enough to store in any music folder or instrument case (so it's never left behind), yet it's wide enough to hold extra-large orchestra scores.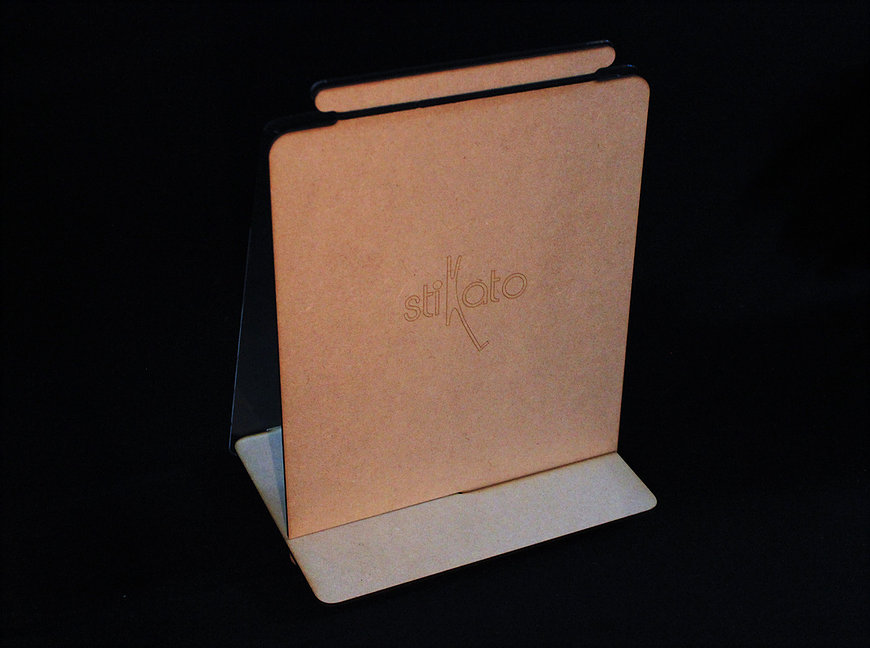 And the best part is that it can be used at the height that is right for each individual musician. See how it compares to the traditional music stand—quite the difference!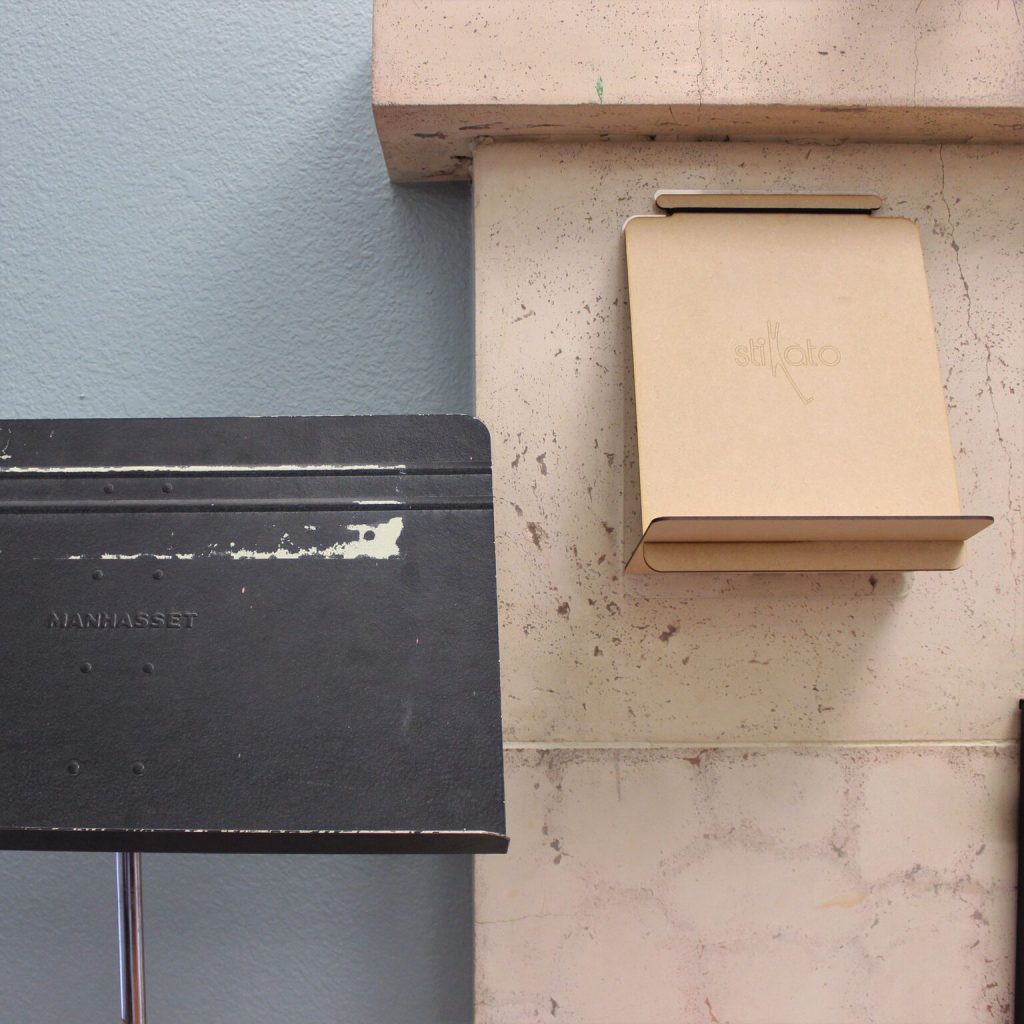 To get the design perfect, Akshay extensively tested prototypes with acclaimed performers at top music centers across the nation—including the Met Opera, SF Symphony, Curtis Institute of Music, The Juilliard School and The Philadelphia Orchestra—as well as with YouTube influencers Nathan Chan, Ken Kubota and Drew Forde (ThatViolaKid).
The result is a durable yet ultra-light music stand laser cut from MDF wood and acrylic, which minimize environmental impact compared to other metals and plastics used in traditional music stands. Its patent-pending sticky pads (interestingly inspired by gecko feet) adhere to almost any surface, are reusable and are rated for >600 rinse cycles (its recommended to rinse the pads once for every 10 practice times). Even for hardcore musicians practicing twice a day, Stikato is designed to last for 10+ years of use.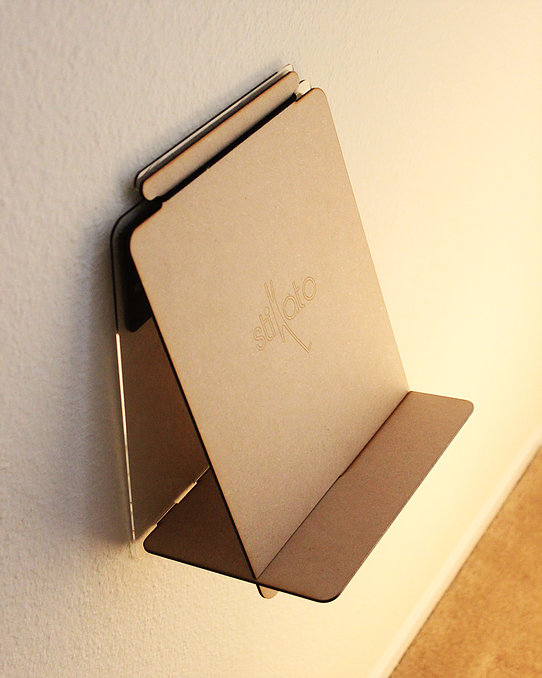 Additionally, it supports approximately two pounds (more than enough for an entire binder of music), and is wide enough to hold an open spread of sheet music. There's even extra room for pencils, reeds and other accessories.
Here's the Stikato in action:
Working With Ponoko
When Akshay was initially considering how to build the Stikato, injection molding was in the conversation, but he was hesitant to go down that route because he loved the look and feel of laser cutting.
"I was recommended to Ponoko by Scott Doorley, creative director of the Stanford d.school," Akshay explains. "I explored a couple other laser cutting vendors, but I was so impressed and attracted to the specialization that Ponoko has in entrepreneurs and supporting them in their journeys. I love the personal feel of interaction with the service, the reliability of shipping and the transparency of pricing."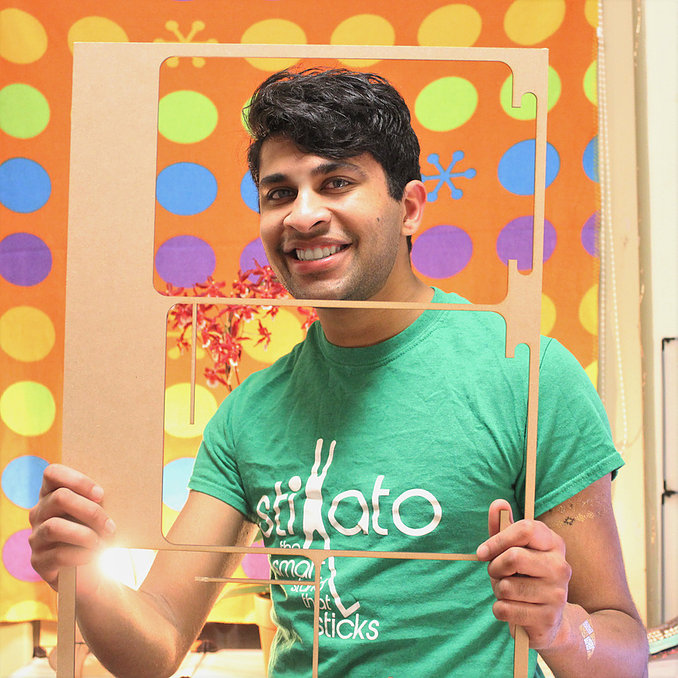 During the design phase, being able to tap into Ponoko's on-demand resources made the all difference in keeping the project moving forward. "I didn't have access to maker spaces during the summer, so using Ponoko was critical for prototyping," Akshay explains. "The service was also awesome for quickly manufacturing a high number of beta-testing units that I sent to different celebrities to test out for me."
Electrifying The Creative Current
While Stikato is the latest endeavor, it's not Akshay's first product design and manufacturing venture. "My freshman year of college, I challenged myself to design my own electric violin," he says. "Customization of the violin's aesthetics is such a big component of the acoustic instrument experience, but electric violins all look the same, as they're made more 'factory style.' I had the idea, inspired by Lego bricks, to design an electric violin as a combination of customizable components that any user can assemble to create a functioning instrument that fits their aesthetic vision.
"I had so much fun, I couldn't stop there," he continues. "I've since built more than 12 different types of electric violins, designed toys and games, interactive furniture, digital healthcare apps and a whole collection of lamps. With my design consulting team at Chameleon, we've been actively working on a variety of projects for the past two years, and felt that it's about time we launched a product of our own. And that's how Stikato was born."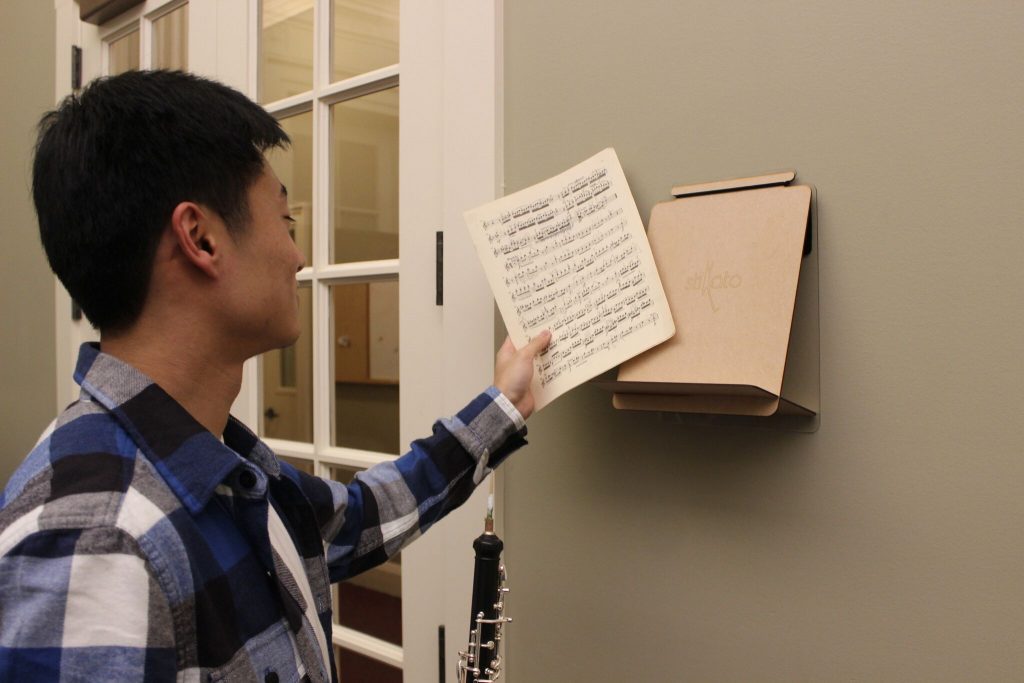 With the variety of product innovations, you'd think Akshay is a pretty creative guy. And you'd be right. He actually wrote the book on creativity. Creative Current: 50 Ideation Techniques To Spark Your Lightbulb equips readers with a starter pack of 50 out-of-the-box, creativity-catalyzing ideation strategies that will ensure that you'll never struggle with sparking your lightbulb again.
"Creativity is not a trait unique to a few lucky individuals who are born with an ability to effortlessly come up with clever team names, construct the tallest marshmallow-toothpick tower and wow others with their ingeniously simple, yet profound solutions that make you grumble, 'Why didn't I think of that?'," Akshay says. "The truth about creativity is that it's a lot like leadership. Sure, we can agree that some people start out with a slight genetic edge in their ability, but with the right mindset, strategies and thought tools, anyone can nurture both qualities to the point of excellence."
It's this kind of excellence that makes Akshay's products successful. While Stikato's design may seem simple, it solves a critical problem for musicians—and has the potential to revolutionize an entire industry of music stands.
"My dream is to help as many musicians as possible with Stikato," Akshay says. "The music stand has looked the same for hundreds of years, and I think it's high-time a musician designed a better solution for other musicians. We want to solve posture pain in musicians and help them practice better on the go, all without damaging their bodies. This mission of improving the health and wellness of fellow musicians will collectively help all of us so that we can share the joy of music with the world for years to come."
To support the Stikato Kickstarter before the February 21, 2019 deadline, click here. To keep up with all the projects Akshay is working on, visit the Chameleon Design Firm website. And to hear his music, subscribe to his YouTube channel.