How Sayre Brothers Games Perfected The PentaHex Gaming Platform Design
Prototyping isn't a game…unless you're talking about how Sayre Brothers Games is using it to build the PentaHex Gaming Platform.
As the name suggests, the PentaHex Gaming Platform is geometry board game based upon nine pentagons forming two hexagons. Then you connect as many PentaHex Board Units as you like. You can use just a few or create a massive board. Tier them. Even add RPG figurines. Play is only limited by the imagination. Check it out:
While the beauty of the game is in its simplicity, getting all the pieces to fit wasn't easy. And that's why prototyping has been an integral part of the board game building process.
Inventing A New Gaming Platform
While Jeff Sayre and Michael Sayre are often mistaken as a father/son duo because of their 31-year age difference, they are indeed brothers. And they love playing games—anything from board games to disc golf to games they invent on the fly.
While neither one can quite recall how the PentaHex Game idea began, there was a point during a Catan board game where they started creating additional rules and proposing ways in which the game play could be improved and enhanced.
This led to discussions on different configurations for a game board. "Eventually we realized that we could create individual board game units that would allow players and game designers to leverage their own imagination and creativity," Jeff says. "Players could assemble boards in many shapes and sizes by connecting identical units."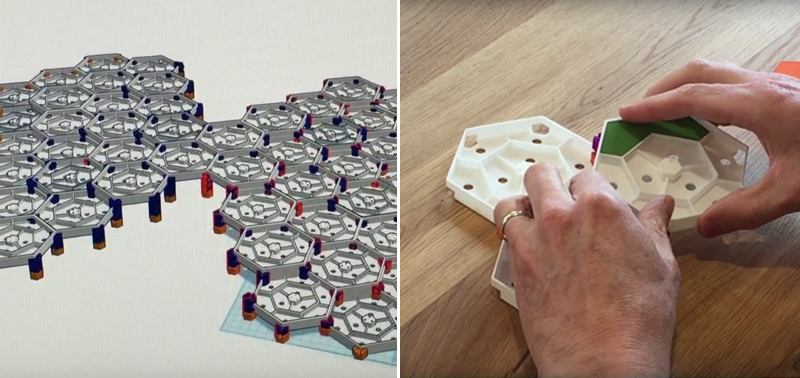 And so the research began. The brothers explored various tiling geometries to find a board unit design that itself was comprised of even smaller atomic tiled units. "We found a hexagonal shape that is formed by the precise tiling of nine identical, irregular pentagons," Jeff explains. "And this is how we came up with the name of PentaHex."
What's cool about this arrangement is that it creates two hexagons. A larger hexagon is formed by the perimeter of the game board unit, and a smaller interior hexagon is shaped by three of the irregular pentagons.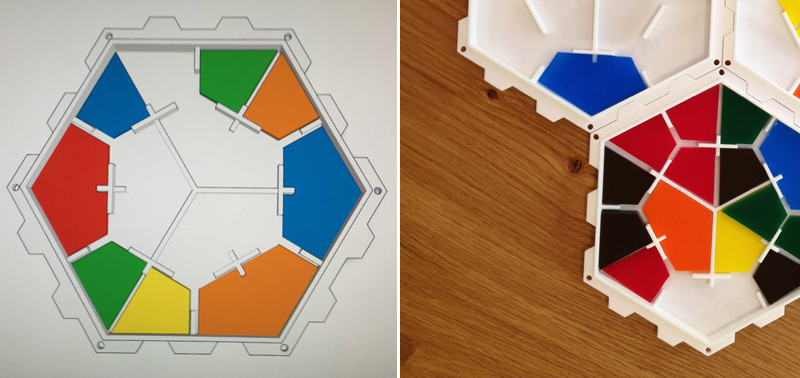 Next the brothers had an idea that would really turn the traditional two-dimensional nature of game boards on its head. "We decided that our board game units would offer playable space in the z-axis," Jeff says. "In other words, it would allow for three dimensional play."
Finally, they decided that simply building a new type of physical game board and a unique game utilizing that board wasn't quite enough. They wanted to expand the idea to design a gaming system that would benefit other makers and creators. And the PentaHex Gaming Platform was born.
Perfecting Product Design With Prototyping
The Sayre Brothers knew they had a lot of details to work out before even considering mass manufacturing the game pieces via injection molding. So they did what any other inventor does when starting out: Grab paper and pencil.
They began by building cardboard mockups for testing of the first board game prototype. Once they worked out the initial designs and developed the corresponding computer files, they 3D printed a handful of the more complex game pieces.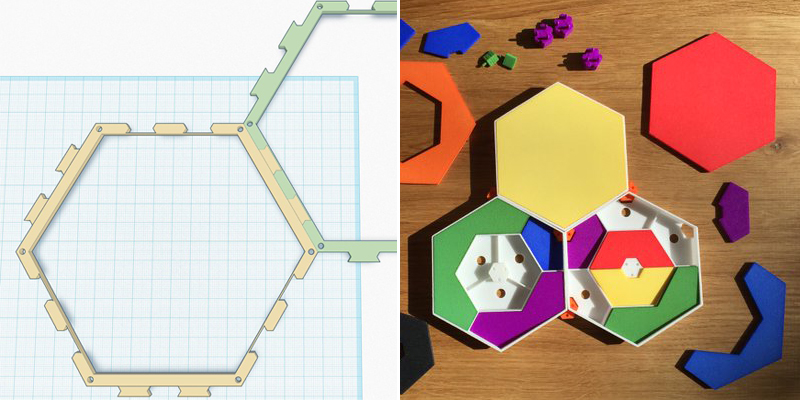 "But when we reached the stage of a more advanced board game prototype, we needed a hundred or so game pieces for testing," Jeff says. "3D printing that many game pieces was way too expensive, and creating that many cardboard pieces by hand was too mind-numbing of a project. So, laser cutting sheet materials was the obvious choice!"
Jeff notes the brothers found Ponoko when working on the third PentaHex prototype. The reason they chose Ponoko's services over other laser cutting offerings? Jeff says it was simple: Makers' recommendations.
"The information on the Ponoko website helped attract our initial interest, but it was what people were saying about Ponoko that made us feel comfortable with the choice," he says.
Working With Ponoko
Jeff says the primary benefit gained from using Ponoko's laser cutting service is validation of the board game prototype designs. "With past prototypes, we used handmade cardboard game pieces," he says. "Not only are they not dimensional accurate, they are also a poor substitute for testing gaming dynamics. Having proper-sized, uniform game pieces makes testing significantly better—not to mention that the laser cut acrylic pieces look awesome in our PentaHex board game units!"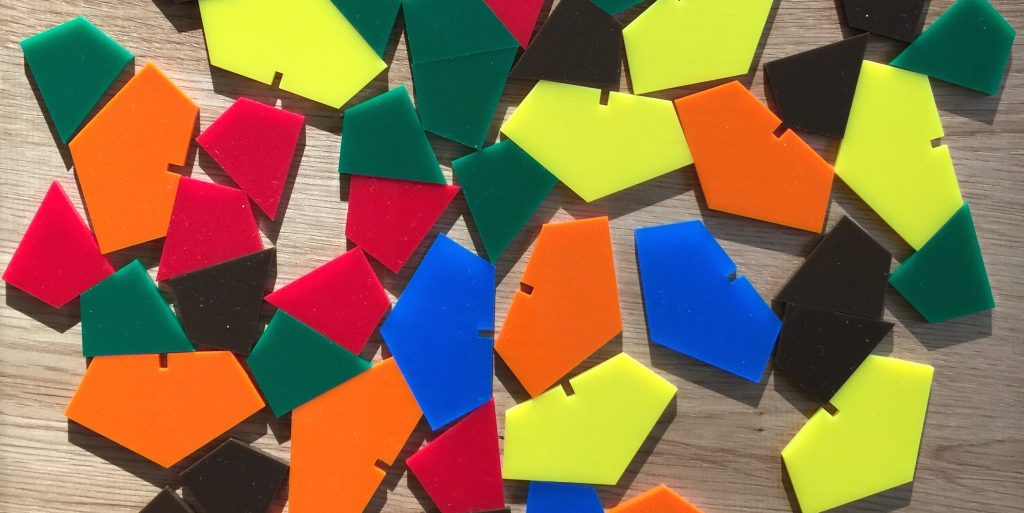 When the brothers placed their first order, there were some questions about the design files. "The Ponoko customer service team reached out to make sure that the size of the game pieces in our design file was accurate," Jeff says. "Instead of not caring and simply loading the design into the queue for cutting, they took the step to make sure it was right before wasting time, materials and our money. We really appreciated that."
What keeps the brothers coming back to Ponoko? The results. "Not only did Ponoko over deliver in terms of the very proactive quality assurance/quality control, they also got the game pieces into our hands sooner than had been promised," Jeff says. "The quality was great, the service was fantastic and the order shipped sooner than we had been told. That is a BIG win!"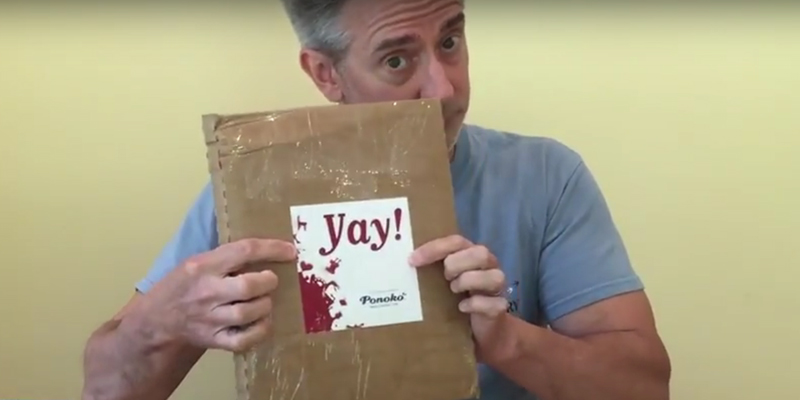 For makers that are new to laser cutting, Jeff recommends taking advantage of some of the useful tools to help maximise returns and drive down costs.
"Once such tool is the Adobe Illustrator Starter Kit," Jeff says. "It provides a number of details on how to obtain good results. Details such as what are the best stroke widths for lines, how to most effectively prototype, how to convert fonts for laser output and many more."
For initial prototyping, laser cutting cardstock or cardboard is a great way to test product designs. This helps you check the size and feel of your product before investing more to get it made.
Using modular pieces within product design, especially board games such as PentaHex, is a smart move. Modular pieces mean you'll need fewer parts to achieve multiple tasks within the game—saving you money.
Speaking of money, Jeff is also a big fan of the helpful Cost Savings Guide. "One seemingly obvious suggestion, but often missed by many, it the technique of tiling your designs to get as many pieces on a single sheet as possible," he says. "If your design lends itself to close tiling, fine tuning the design layout can make a big difference in the cost per piece. The more pieces you can get out of one sheet, the lower the price per piece."
Completing The Board Game Design
The brothers are fans of a number of board games—from classics such as Clue and Monopoly to new civilization-building games like Catan and a few role playing games. So they have used these concepts as inspiration for the PentaHex Gaming Platform.
When the brothers set out to develop their new board game system, they knew it had to meet certain requirements in order for it to gain early adoption. "We would have to offer a full-fledged game or two that can be played right out of the box using the PentaHex board units and default game pieces," Jeff says. "We're currently creating two unique games that will be included with the initial box set. So not only are we conceptualizing and designing a new in-board game system, we're also creating a few games using that new system."
Taking The Next Step With Crowdfunding
Before the PentaHex Gaming Platform is ready to launch, the brothers must finalize the prototype design. Prototyping occurs in three different areas: The board game units (the white 3D printed PentaHex pieces), the board game pieces (the multi colored parts laser cut with Ponoko), and designing and testing the gaming mechanics of the first games.
So far, they've been through three iterations and are currently in the final prototyping phase. Once this step is complete, they can launch via a crowdfunding campaign (probably Kickstarter) sometime later this summer.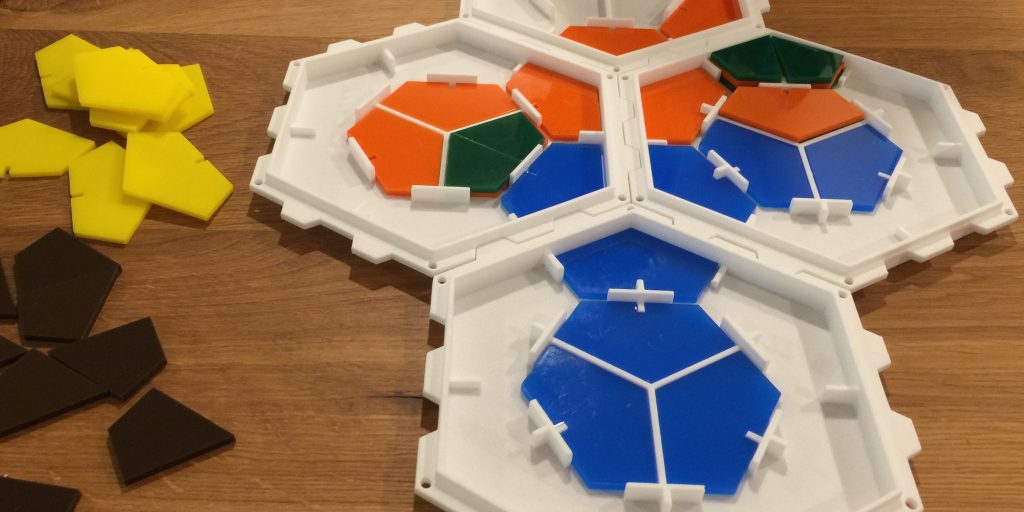 "Unlike a number of crowdfunding campaigns for games, we decided early on that we wanted to already have the prototyping complete and an actual physical product in our hands before we launched," Jeff explains. "This way, people who support us will know that this is not a pipe dream, that the product has been in development for some time and is actually ready to be manufactured. What's needed are the initial funds to buy the plastic injection molds and place our first-run order. We should be able to provide quite accurate projections of those costs."
Using Lessons From Sayre Brothers For Your Own Board Game Prototyping
Ever had ideas to expand on your favorite game? Are you inspired by the Sayre Brothers and have dreams to make your own board games? Use these lessons as a foundation for building your own games: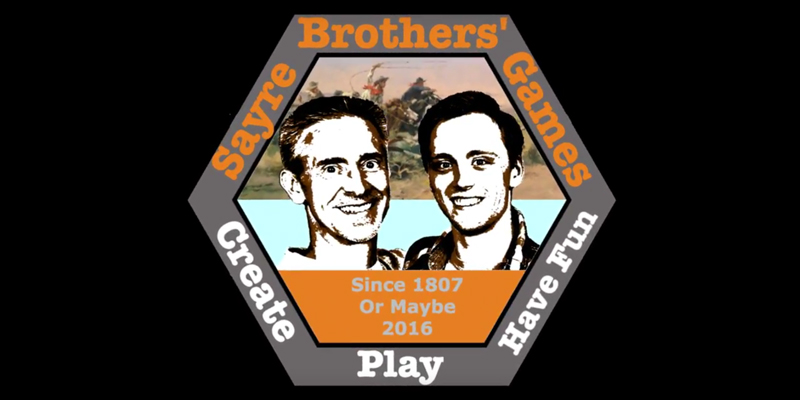 * Before investing hundreds to thousands of dollars in molds for large scale manufacture, test out your ideas in small laser cut runs. You can confirm product design as well as identify problems at a fraction of the cost.
* Because there are no set-ups or minimum orders, laser cutting makes existing game expansion and new game prototypes easily viable.
* Laser cutting compliments other board game parts, from 3D-printed pieces or even simple cards. The contrasting material tactile interactions give a game more depth.
* Quality prototypes are great for crowdfunding. Having a tangible example when pitching for money can't be beat.
* Offer users the freedom and involvement to add to your creation. Since digital files can be easily edited between cuts, laser cutting lends itself wonderfully to this kind of customer community and adds a deeper level of customer engagement to your board game after it's launched.
But the biggest lesson is understanding that your imagination is the only limit. Unleashing your creativity can yield amazing ideas!
Looking To The Future
The Sayre Brothers joke that they've been here before pasteurisation, dynamite and Nikola Tesla's AC motor, and that their dreams were flying long before the Wright Brothers. In actuality, Sayre Brothers' Games has only been around since 2016. "But man, getting to this stage seems like it has taken centuries!" Jeff exclaims.
While the prototyping process is nearly complete and they're preparing to launch via crowdfunding, there still will be work to do. They PentaHex Gaming Platform enables game designers to leverage the system to create their own unique game pieces and entire gaming worlds, and the brothers want to support this.
"We plan to eventually create a community and online platform that will enable others to submit and manage their creations and earn money from sales of their PentaHex-based games," Jeff says. "We may even open source some of the designs and design files. But we are not there yet."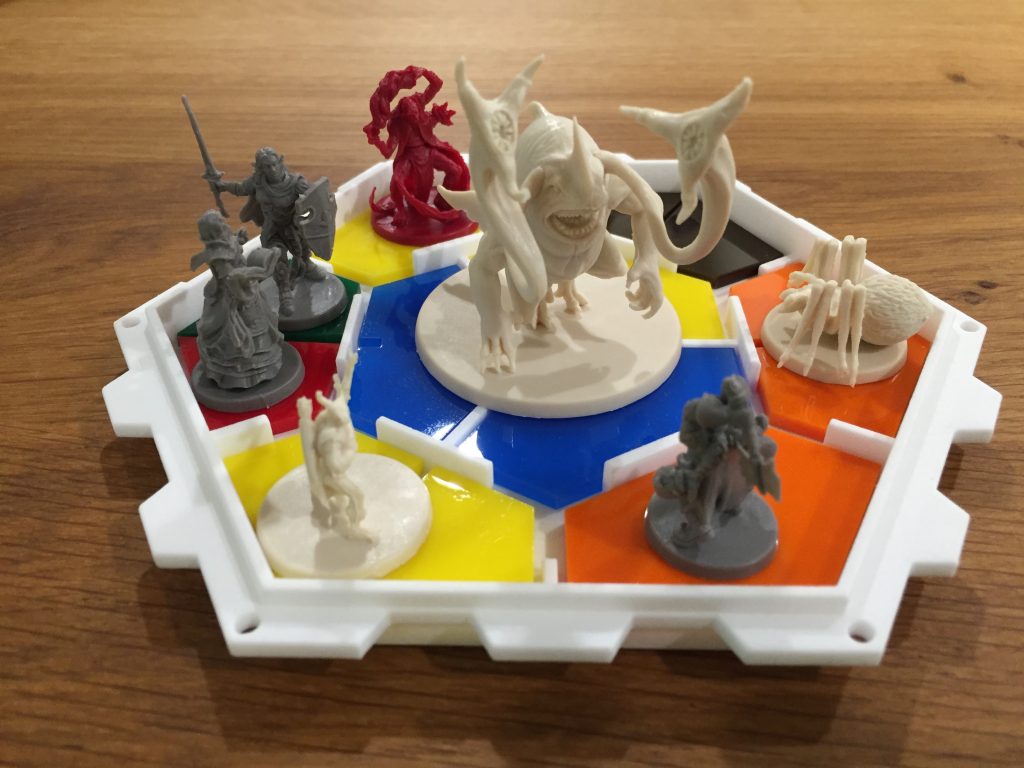 Keep up with how the PentaHex prototyping is progressing and when the gaming platform will launch by following the brothers on Facebook and Twitter. Don't miss their entertaining videos on YouTube. And show your support with donations via the Sayre Brother Patreon Page.
Sayre Brothers' Games was invented to help inspire today's gamers and tomorrow's game developers. They want to help game enthusiasts create, play and have fun along the way. We're in! Are you?