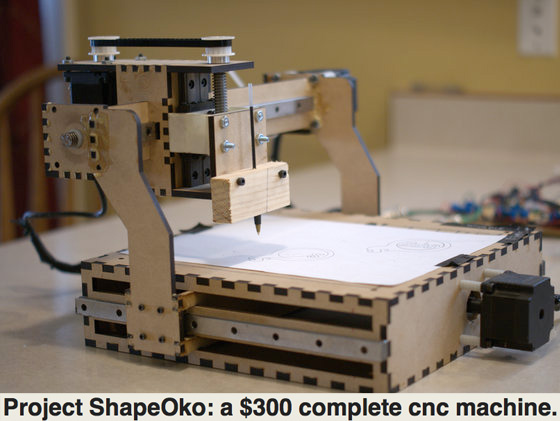 Help make the ShapeOko DIY CNC machine a reality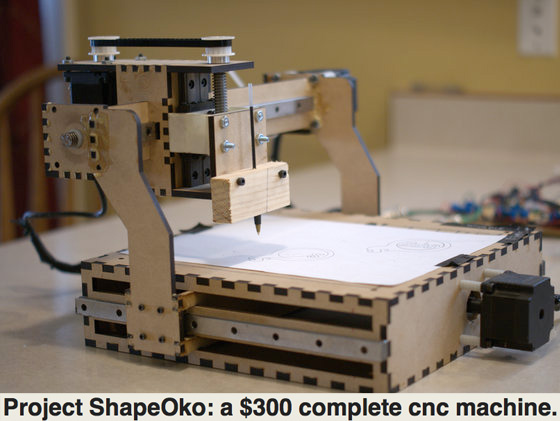 When Edward Ford told us about his plan to launch a Kickstarter project for his self-built CNC machine — made with SparkFun electronics and laser cut with his Personal Factory — we jumped at the chance to support his project.
The ShapeOko is a complete, desktop CNC machine that anyone can build for about $300. And its all open-source!
From the ShapeOko Kickstarter page: "From CAD and CAM software to the CNC controller; every step has an open source solution. Did we mention the entire project itself is open source? Every nut, every bolt, every belt, fully documented with part numbers and vendor list. Do with it as you please!"
The goal is to finalize the ShapeOko design, make it repeatable, and then freely distribute it under an open source license.
Once the design is complete, you'll be able to create a fully operation ShapeOko CNC with your Personal Factory — all the lasercut and 3D printed parts, plus the electronics. Only some easy-to-find hardware parts need to be purchases separately.
And project funding will go to finishing the design (purchasing materials, paying for laser cutting time, testing new designs, and exploring ways to drive the final build cost even lower than $300)
This project needs just $1,500 by July 26th.
• Pledge $1 and be part of an awesome project.
• Pledge $5 or more and you'll be entered to win a ShapeOko CNC mill and get a big ole Thank You
• Pledge $50 or more and you'll get a $50 Personal Factory making voucher + be entered to win the mill SOLD OUT
• Pledge $50 or more and you'll get a $25 Personal Factory making voucher from us
• Pledge $100 or more and you'll get 3 stepper motor drivers AND an Arduino pre-loaded with GRBL + be entered to win the mill
• Pledge $500 or more and you just bought yourself a full ShapeOko CNC mill = the hardware, electronics, frame, and rotary tool
Note: Giving away a mill is against the Kickstarter rules. Edward is super sorry about that oversight. But just maybe we'll order one of these ShapeOkos ourselves and make it a monthly blog giveaway. 🙂

For more info on this project, visit the ShapeOko Kickstarter page.
For more info, pics, and video of the CNC mill, visit ShapeOko.com
Keep up with the status of this project by following @shapeoko or @ponoko