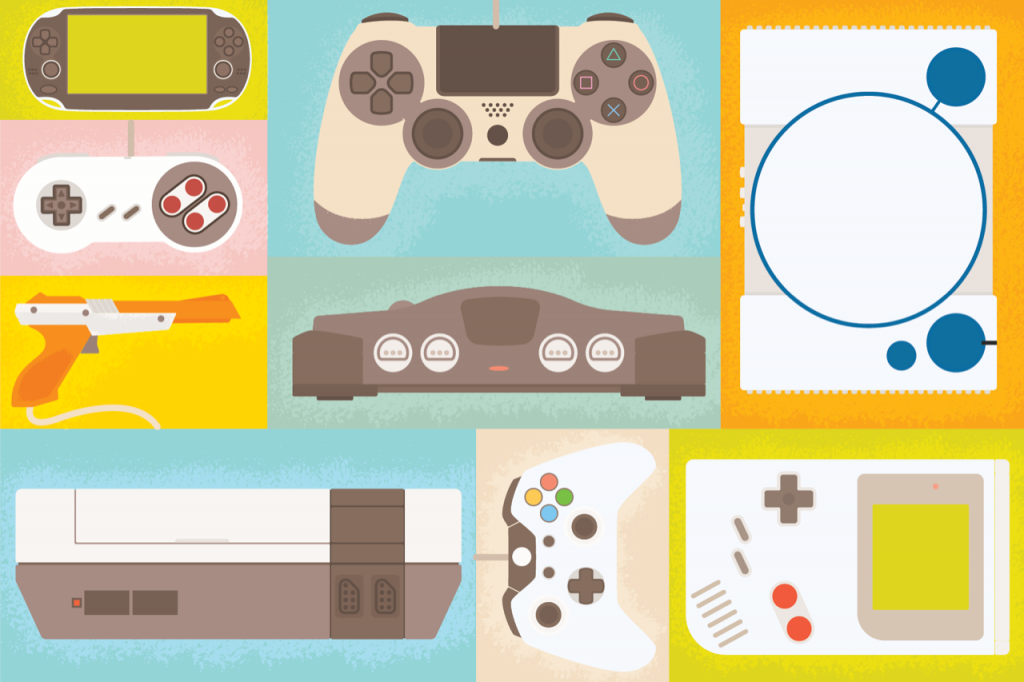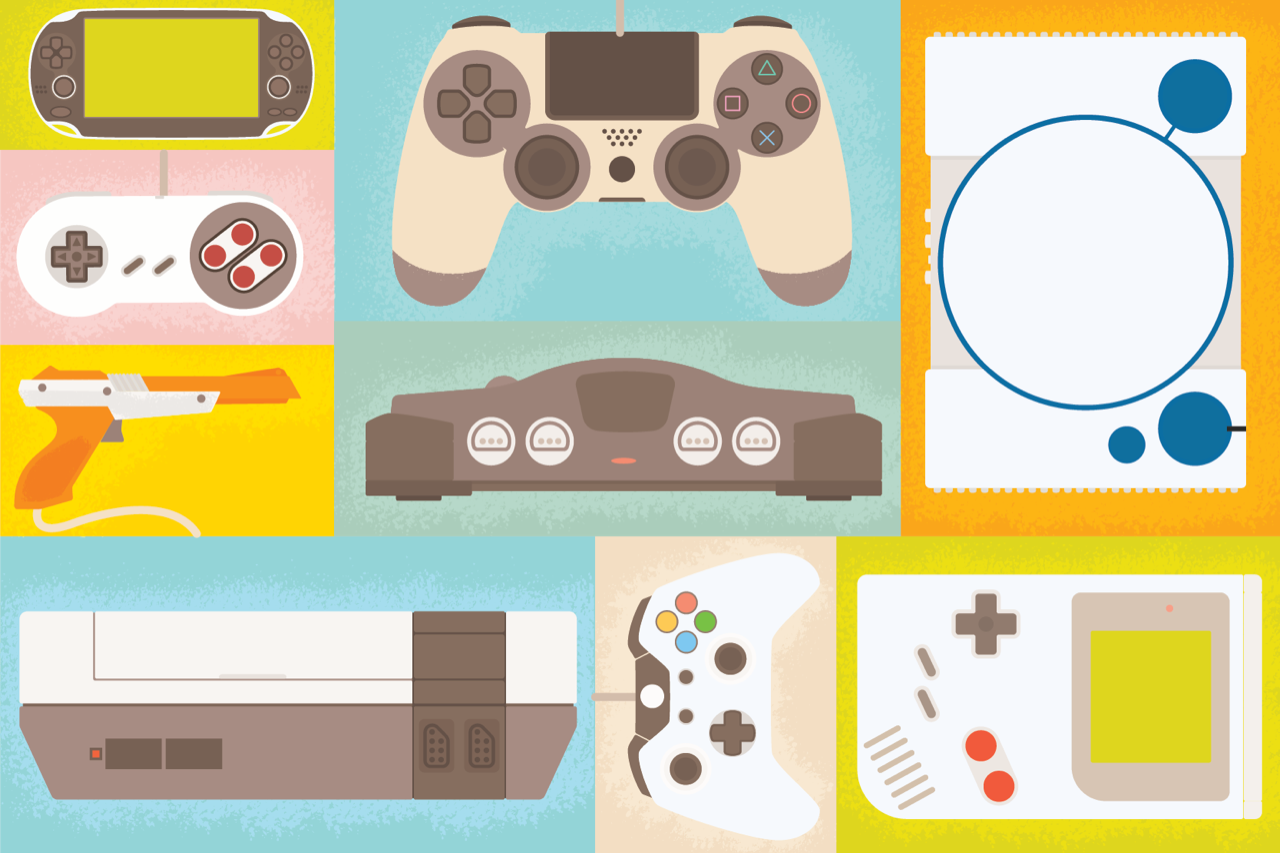 Congratulations To The Winners!
We had a great time running this contest and saw a bunch of neat designs come through. Awesome work everyone! Here are the winners…
1st Place – Judge's Choice: Nathan Pryor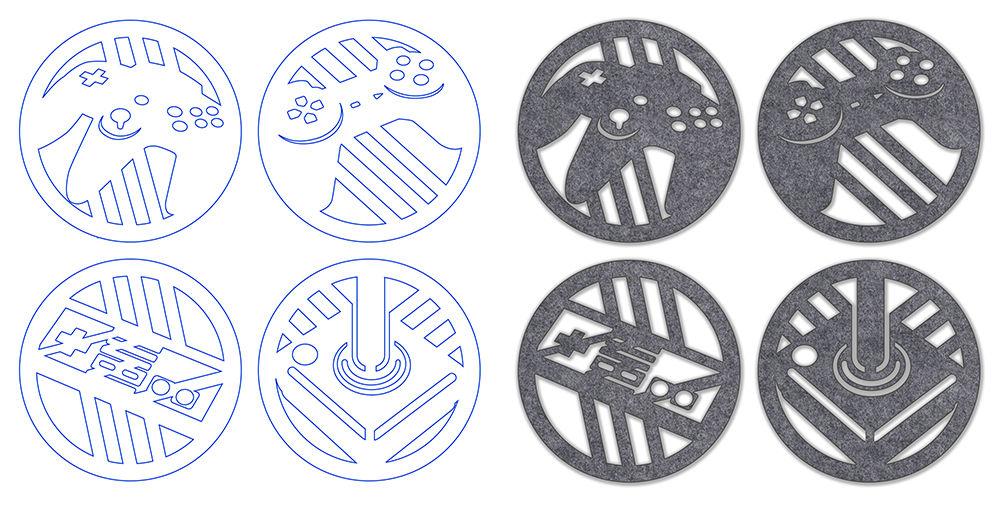 Representing four iconic game controllers of days gone by, this set of coasters in grey felt is sure to evoke nostalgia.
The controllers are instantly recognizable to all gamers, cementing Fictitious Gaming in customers' minds as a company in touch with them. With a wide variety of color options available in felt, colors in a set could be mixed for variety.
Cost is minimized by using a low-cost material, and by only cutting—not engraving.
Like them? Buy some from the designer via their Etsy store HaHaBird.
2nd Place – Judge's Choice: Em Caraballo
Level Up Your Drinking Game!
This set of 4 aqua acrylic laser cut coasters will have every conference attendee asking "Where did you get that!?" Attendees will flock to your booth to learn about your products.
Lines are simple and clean. No overlaps, no extra fluff. Design is minimal, yet powerful.
Like them? Buy some from the designer via their Etsy store EmIsCrafty. Bonus goodness – a percentage of this designers profits go to help tiny premature babies (more info on their Etsy page).
3rd Place – People's Choice: Miller Wallis & Megan Elleser
In a thrilling turn of events, two entries got exactly 93 votes making them third equal!
3rd Equal – People's Choice: Miller Wallis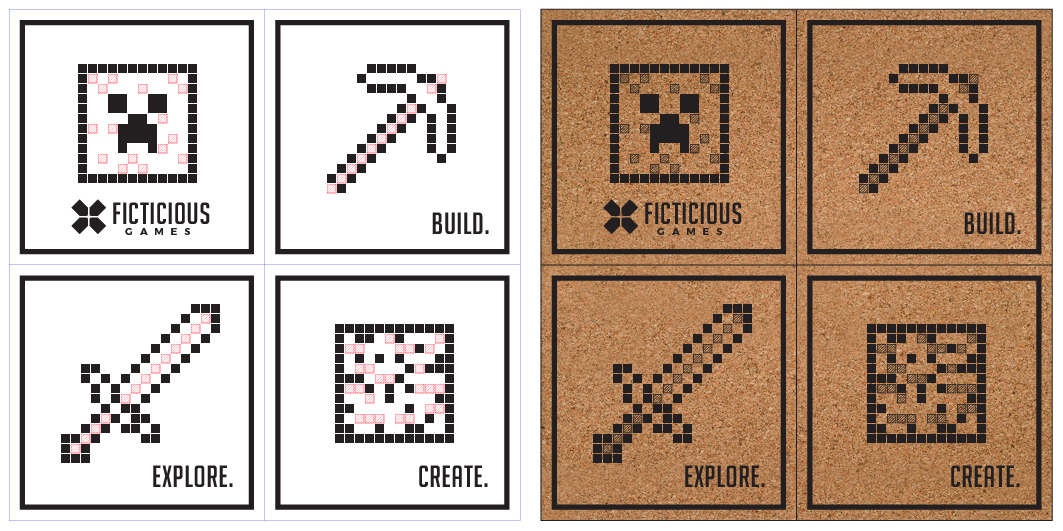 A coaster kids everywhere will actually use! A stylized retake on the popular Minecraft series, this arrangement features a bold design and a call to action to inspire programmers, developers and designers alike.
This coaster design makes a great give-away that is made for use by the conference attendees. It draws attention to the Ficticious Games Inc. brand while providing an attractive, cost-friendly product.
I've selected cork because of it's renewability, tactile properties and low material cost. Bonus: it's also earth friendly as a natural material which saves us all money in the long run!
3rd Equal – People's Choice: Megan Elleser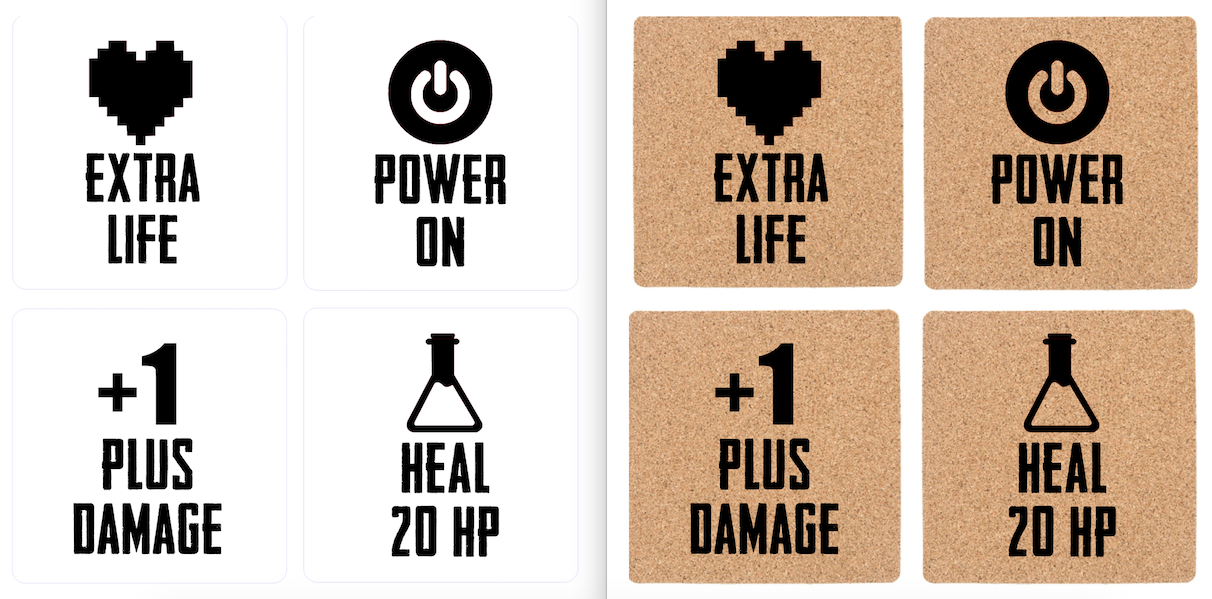 Components of every game, these are important no matter what genre of game!
This design is versatile because it is appealing to all types of gamers, these elements are present in every video game
By engraving the cork and using simple icons the cost of production for these coasters is relatively low.
Like them? These aren't available yet, but Megan has an Etsy store called CutxCreative. Let them know if you want some and they might put some up for sale.
---
---
The Design Brief
Our make-believe company Ficticious Games Inc. has come to you and said: "We want coasters to sell on our website and giveaway at an upcoming gaming conference. And we need your design ideas within the next 10 days!"
Ficticious want you to design a set of four coasters to fit its target market needs:
The Brand: Ficticious Games Inc. provides software tools for gaming designers and developers. It also sells gaming-related merchandise on its website (and gives it away at conferences).
The Event: Game Developers Conference is "the world's largest professional game industry event."
The Audience: You are designing for gaming developers, designers and players. (See gaming themes on Google, Pinterest, Instructables and Etsy.)
The Product: A set of four laser cut coasters designed to meet all aspects of this design brief. (See laser cut coaster examples on Google, Pinterest, Instructables and Etsy.)
Product Purpose: To sell on the Ficticious merchandise website; To draw crowds of people to the Ficticious booth at events; To give away to 500 lucky conference attendees; To create social buzz for Ficticious.
---
---
The Prizes: $2,470 Free Laser Cutting
1st Place – Judge's Choice: $1,068 Free Laser Cutting
$600 Ponoko voucher + $468 Ponoko 12 months of Prime (55% off laser cutting).
2nd Place – Judge's Choice: $868 Free Laser Cutting
$450 Ponoko voucher + $468 Ponoko 12 months of Prime (55% off laser cutting).
3rd Place – People's Choice: $534 Free Laser Cutting
$300 Ponoko voucher + $234 Ponoko 6 months of Prime (55% off laser cutting).
---
---
How To Win (Judging Criteria)
Design is all about balance. The winning designs will have the most market potential for Ficticious, based on a smart balance of these three traits of successful commercial product design:
Production Feasibility
Can your design actually be made (at scale) and used by real Ficticious fans?
Your design needs to be:
1. Formatted for lasers (use these design guidelines).
2. Ready to sell (no assembly or finishing required).
3. Functional as a coaster.
Product / Market Fit
Does your design achieve all aspects of the Ficticious brief above?
Your design needs to be:
1. Remarkable to your audience (gaming designers, developers and players).
2. Something users feel they can't do without.
3. Original.
Profitable And Competitive Pricing
Does your design minimize cost so Ficticious can set a retail price at least 4x the cost?
Using these cost reduction guidelines your design needs to be:
1. Efficient: Simple straight line shapes cost less than complex curved line shapes.
2. Nested: Share cutting lines, place parts close together, inside other parts.
3. Engraving Savvy: Small simple areas close together cost less than big complex stuff.
---
---
Design Requirements
Step 1: Create Your Laser Design File
– Use a vector design software tool such as Adobe Illustrator, Inkscape, Corel, etc.
– Fit all four coasters inside a 7.1" x 7.1″ square.
– Use blue line for cut line; red line for line engrave; black fill for area engrave (raster).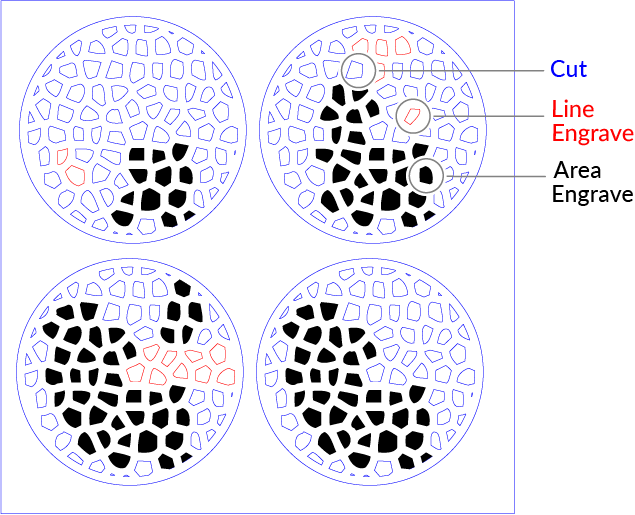 Step 2: Apply Your Material Color
– Select (from here) the material from which you wish to make your coasters.
– Copy/paste your laser design, then apply your material's color to the copy.
– In these examples we've selected the Aqua Acrylic and Amber Bamboo: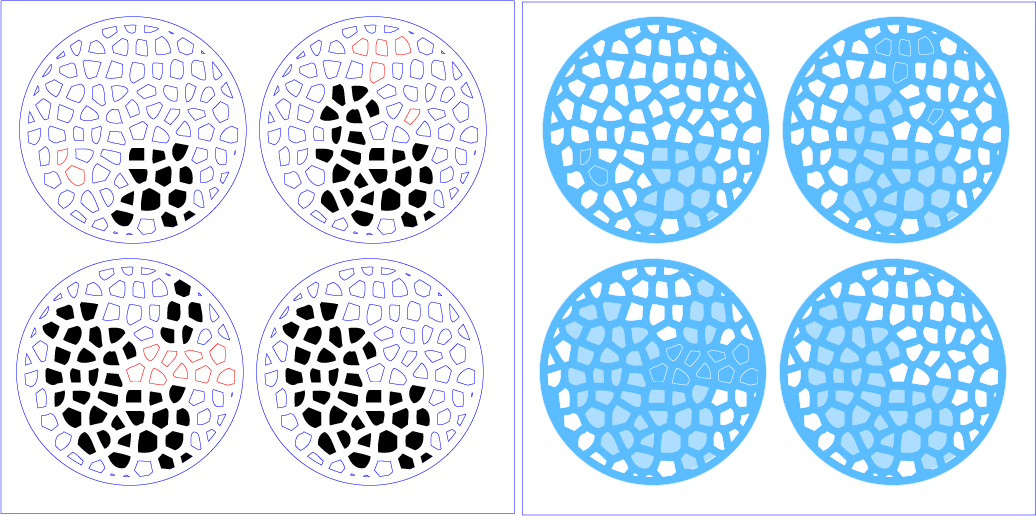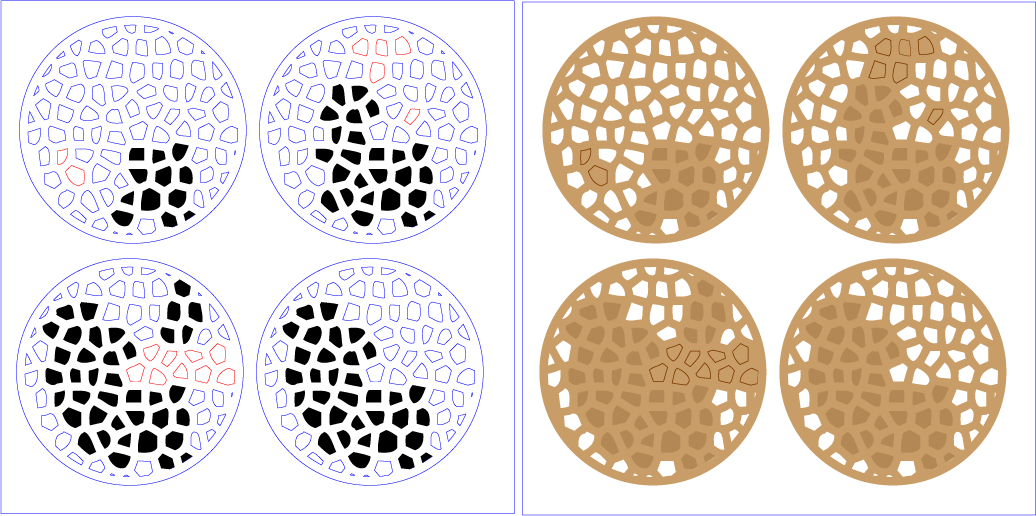 Step 3: Submit Your Screenshot
– Screenshot your laser design and material image side by side (see examples above).
– Submit the JPG or PNG screenshot as your design entry (no vector design needed).
Helpful Info
– Each of the four individual coasters in the set can be the same or different.
– If submitting multiple entries, each entry must be a completely unique design.
– Coasters don't have to be round, blue or brown (like our basic examples above).
Go wild!
---
---
How It Works
OCTOBER 4, 2018
Design Submissions And Voting Are Open!
– Design a set of four coasters that achieve the design brief, the judging criteria, plus the design requirements above.

SATURDAY OCTOBER 13, 2018 at 11:59 pm PT
Design Submissions Close (While Voting Continues)
– Submit a JPG or PNG screenshot of both your laser and material designs side by side.
– Answer the questions within the submission form below.
– Share your entry so others will vote for you (optional, but useful if you wish to win).
– Your "pretend.name@gmail.com" email will display publicly as "pretend.name".
SATURDAY OCTOBER 20, 2018 at 11:59 pm PT
Voting Closes And Judges Deliberate
– All entries are open for People's Choice voting now plus seven days after the entry submission deadline of October 13, 2018.

THURSDAY OCTOBER 25, 2018
Winners Announced
– 1st and 2nd Judge's Choice winners are determined by a panel of Ponoko team members.
– 3rd People's Choice winner is determined by the popular vote.
– Winners will be emailed first, then announced here and by our media partners.
Design Challenge Rules And Guidelines
– Enjoy reading the details over here.
---
---
Media Partners
Say thanks to our partners who are promoting your design entries far and wide: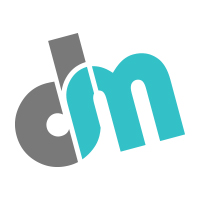 ---