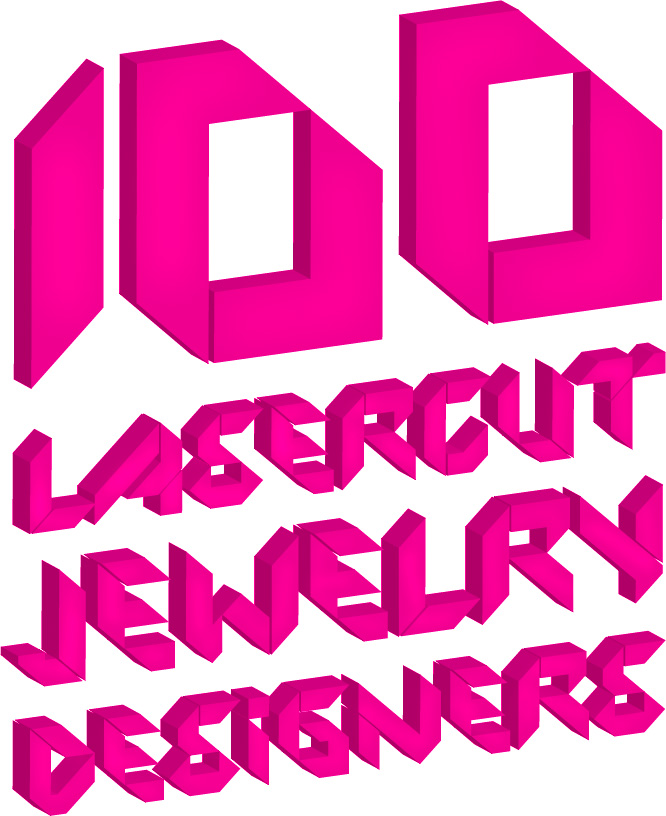 Beautiful wooden and acrylic jewelry that is inspired by the designers travels. See the nature and architecture that informed various pieces on Instagram

Intricate earrings are just a glimpse of the range from Ms. Mooney.

An eclectic assortment of bejeweled acrylic. (Great gifts for moms.)

Crop Circle, Aztec and Mayan pendants, and other mystical land art like the Nazca lines.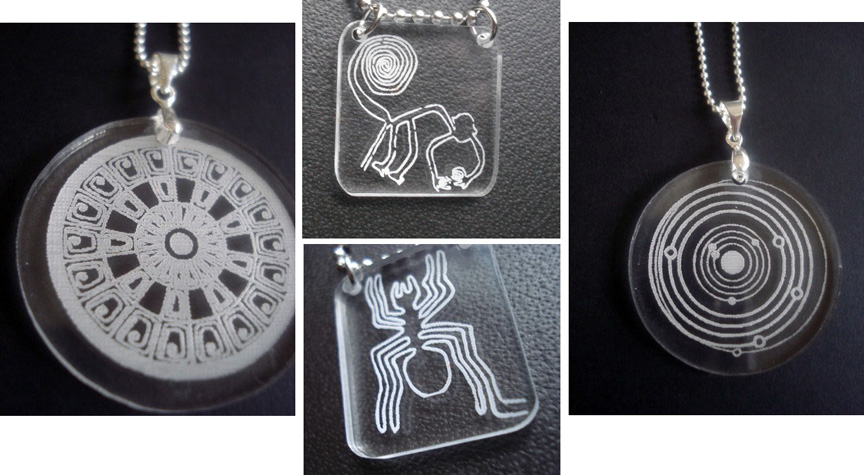 Although mostly working in polymer clay, the designer offers a few pairs of laser cut earrings.

In addition to knitwear and handbags, Bena also makes lasercut broaches.

Those with a Poe streak will love the macabre designs from Black Pill Red Pill.

Earrings inspired by nature.

As it says on the Singapore design team's profile, "Bria loves delicate laser cut jewelry; Marco loves really. big. bling. So far, so good."

Cathy's Unique Creations
Popular shapes in lasercut acrylic.

Okay, so the cake necklace is not lasercut. It's made of polymer clay. But ohmygod it's a CAKE necklace.

Hand shaped wooden pendants with laser-etched drawings.

Indie twee perfection.

Acrylic and inlay earrings.
The company name says it all.

Not everything they sell is gold. But when gold is an option, it's the only option for me.

Things for spring.

Get your Goth on.

They are not kidding when they say eclectic. Whether you love gears, skulls, the at symbol, or the tree pose — the EC's got ya covered.

This Australian/Taiwanese team makes quirky jewelry in a beautiful amber acrylic.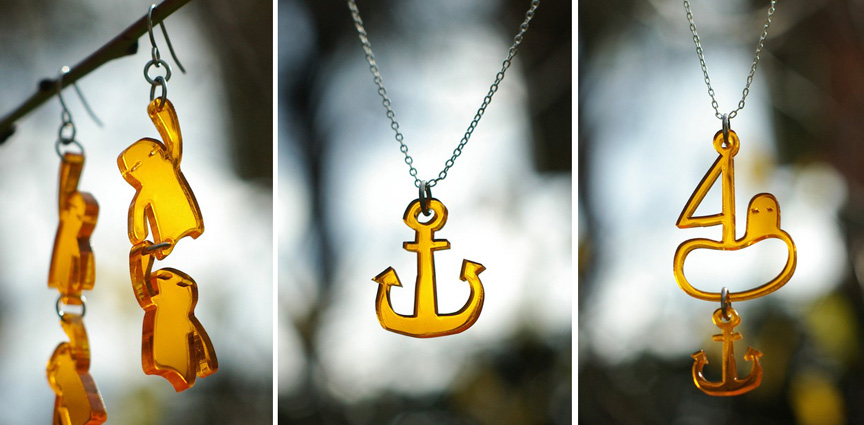 Gold and silver veneered acrylics are paired with vintage elements for an original look.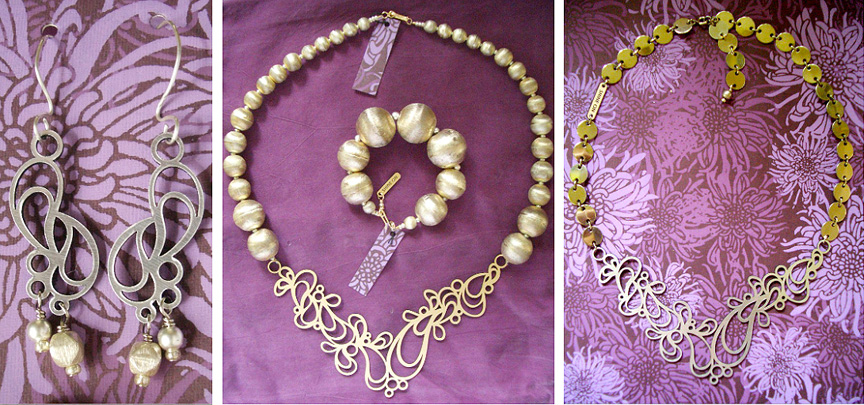 Laser engraved sterling silver cuffs from South Africa.


For the tweens.

Mostly known for their miniature dinosaurs aka tinysaurs, Everything Tiny also makes animal silhouette jewelry.

Fable & Fury
For neo-Victorians that like things a little twisted.
Cleverness is what unifies these designs. There are a lot of fang necklaces out there, but only this one comes with a jewel blood drop. Love the science beakers and the clock in the crocodile.

Using inlaid wood gives these earrings a much richer look.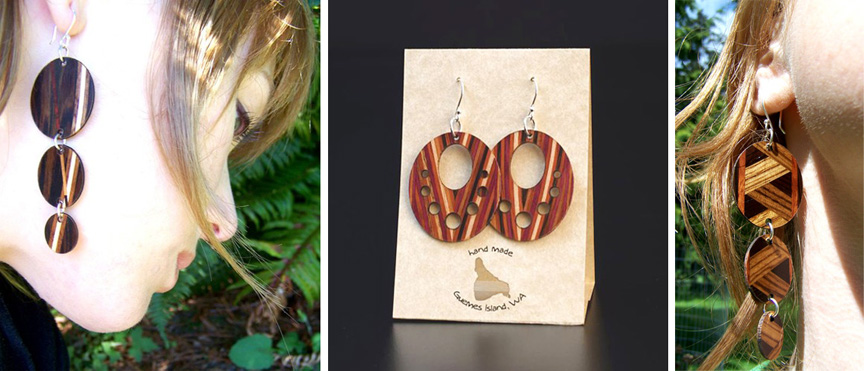 Props to Foxie for doing something in green. My most versatile pair of earrings happen to be forest green.

Charming, quirky, cute designs.

Wooden jeweler to the stars.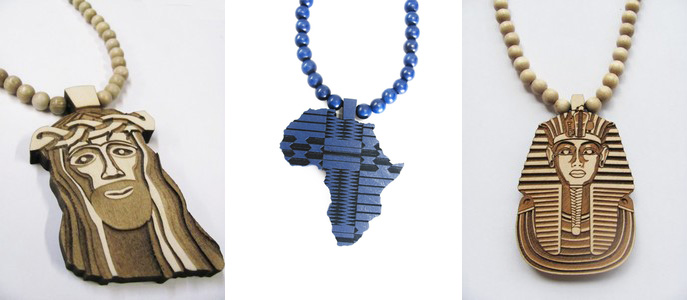 What can I say? I heart The Harbinger Co.

Fantastic designs all from recycled materials. The "sea monster" earrings are lasercut from a vinyl-linen blend.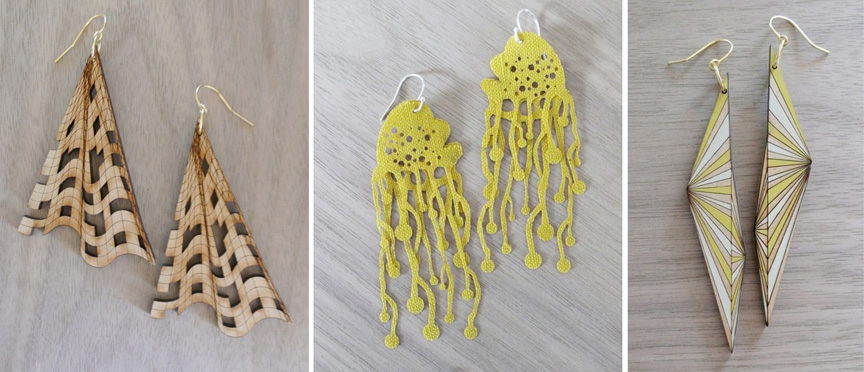 This Chicago designer loves "animals, food, color and scale."

Delicate botanical and geometric designs.

Laser cut leather pieces are hand sewn into statement necklaces.

I'm always happy to see the work of a fellow SCAD alumnus. Bamboo simplicity from Jarrett Parker.

This Texas (not Jersey) based designer spends her days in a science lab.

So, these are apparently photo-etched. But it's laser-cut looking. And he does have very similar laser-cut clocks. Below: maps of Central Park, Graz, and Zurich.

Bling with steam.

Designer Marie developed her jewelry label specifically for those with nickel allergies like herself.

Kitsch goes boutique.
Organic shapes in stainless steel.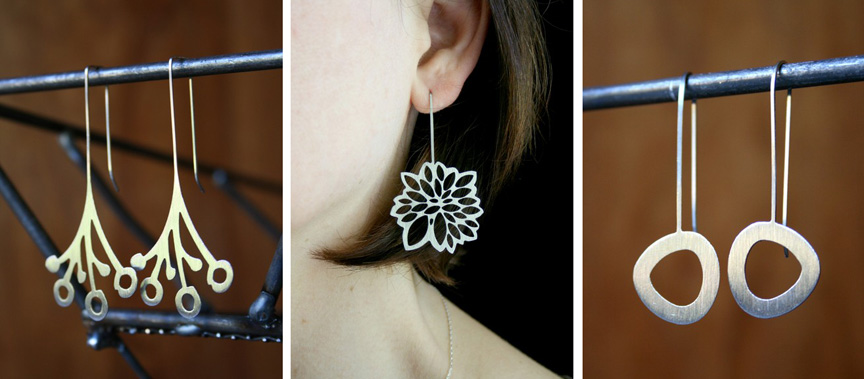 The spiky patterns are a secret message, "only revealing itself upon intimate inspection."

Calligraphic designs based on the work of typographer Arthur Baker. (He designed the font for the Coke logo, Baker Signet.)

Art you can wear.

Rings that make a scene.

Precious designs from Perth, Australia.

Australian designer Simone combines laser cutting with engraving and hand stitching to create pieces with a bespoke feel.

Whimsical broaches of everyday life.
Designs from the FabLabABQ in Albuquerque, New Mexico.


Felt accessories based on binary code.

In addition to these too-cute charms, Mariska also makes adorable DIY plush toy patterns.

Melanie combines lasercut pieces with beads, chains, and thread for a one-of-a-kind feel.

Colorful perspex rings, gold leather necklaces, and even emerald acrylic cuff links. This Argentinian design duo has something for everyone.

Fabric, fashion, home decor, and jewelry — Ms. Rose does it all.

Fresh + pretty jewelry designs.

Neon acrylic is some of the best acrylic.

Everything from Missy is smiling. Must be the sunshine in Athens, Georgia.

Very bio-cellular.

Beautiful architectural details.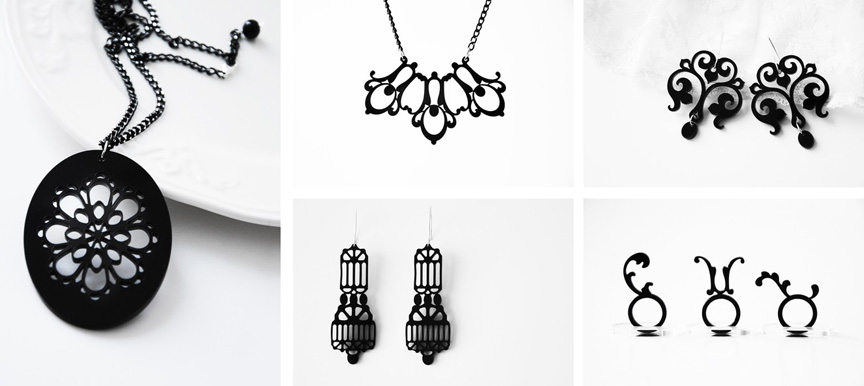 Le ne plus ultra in geek chic.

Textile designer Amy Kerr combines Australian and Japanese influences in her intricate designs.

Laser-cut beads in hammered silver settings. 

Steel filigree earrings from an Etsy newbie.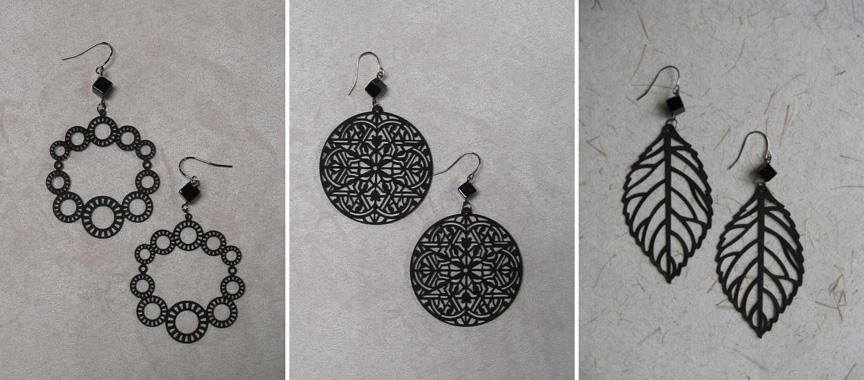 Retro-inspired pins and necklaces. The bowler is pretty brilliant.

Now that's fashion.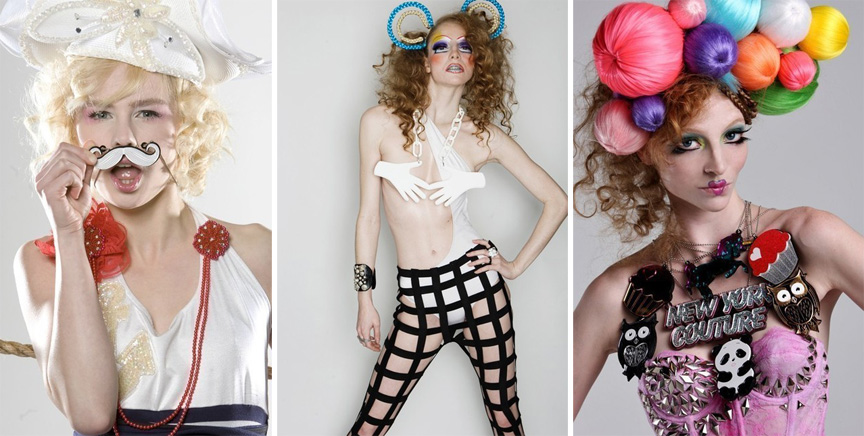 Laser cut filigree from Israeli designer Galia.

One of the most original players in the laser cut jewelry game. Designer Angie Johnson also makes killer Karen O-esque elastic harnesses belts.

They sell cute embroidered pillows, too.

I love Pokeadot's Paris Market patina look.

Computer science meets Pre-Columbian.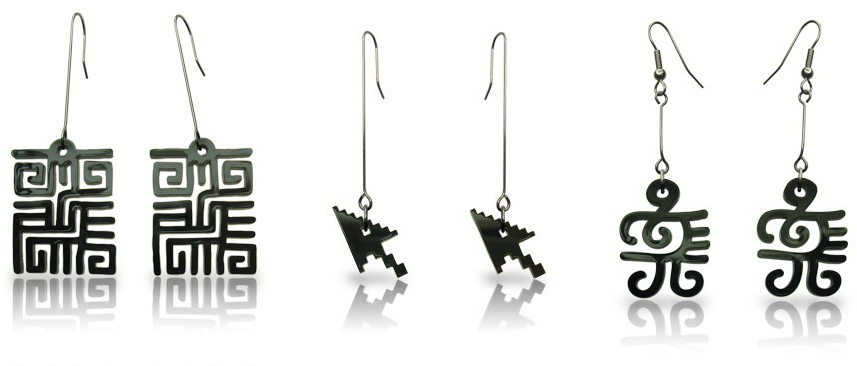 This talented studio also makes home accessories and lighting.

A variety of materials explorations.
Organic lines in lasercut acrylic.

Unique pieces in acrylic from a multidisciplinary designer.

Fit for a queen.

Adorable felt broaches from Brit crafter, Clarie Walls.


Sustainable and swirly.

Playful accessories from Rome, Italy.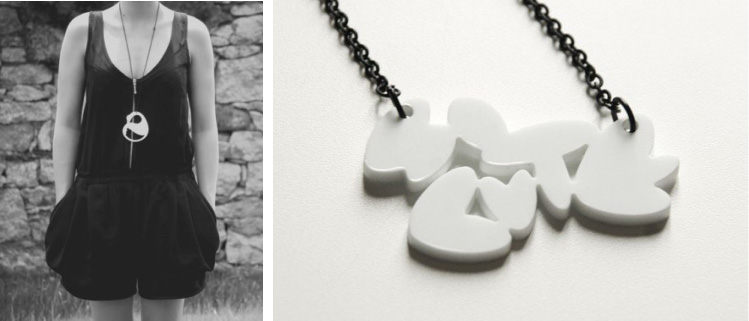 Keep it sweet.

Known for his steampunk goggles, Giant Eye also makes acrylic jewelry — albeit not for everyone.

Layering makes these charms something more than you're average acrylic jewelry.

This designer pairs her lovely hand illustrations with lasercut wooden frames to create sweet, storybook broaches.

If you think the laser cut designs are beautiful, you must check out the Tensha beads!

Show off your locale-love.


Bones bracelets available in citrusy acrylics and walnut wood.

Pop-culture inspired punch.

Lobsters, bombs & fighter jets!

Clockhand earrings.

Typography inspired designs for the modern girl.

Tatty Devine makes some of the most innovative lasercut jewelry ever.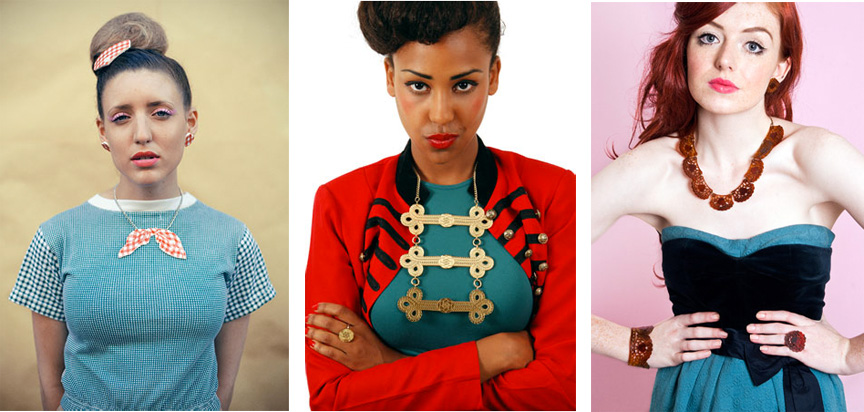 The perfect jewelry line for those, like me, who love tea time and video games (nearly) equally.

Screen printed patterns make these simple laser cut wooden pieces something special.

Laser cut leather with metallic sheen.

Sick of minimalism? Fall in love with these poetic necklaces.

Lasercut wood with print transfers.

Spring time scenes on a chain.

Super intricate laser-etching makes these especially lovely.

As if the laser cut illustrations weren't beautiful enough, the stamped cotton swatch branding is worth the purchase alone.

Acrylic stylings from fashion savvy designer Julia Roy-Williams.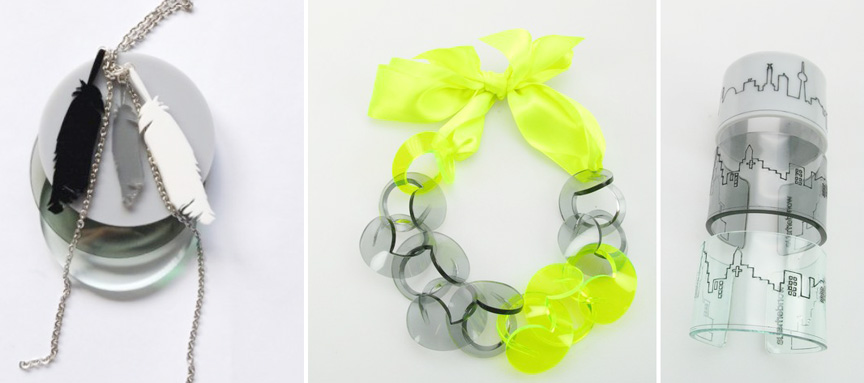 Bamboo and red acrylic paired with brass chains from Paris.

Would you like to be on next year's list of lasercut jewelry designers?
CLICK HERE to learn how you can create your very own jewelry with Ponoko.
100 not enough? Want even more?
Check out 2009's list of FORTY LASER CUT JEWELRY DESIGNERS.