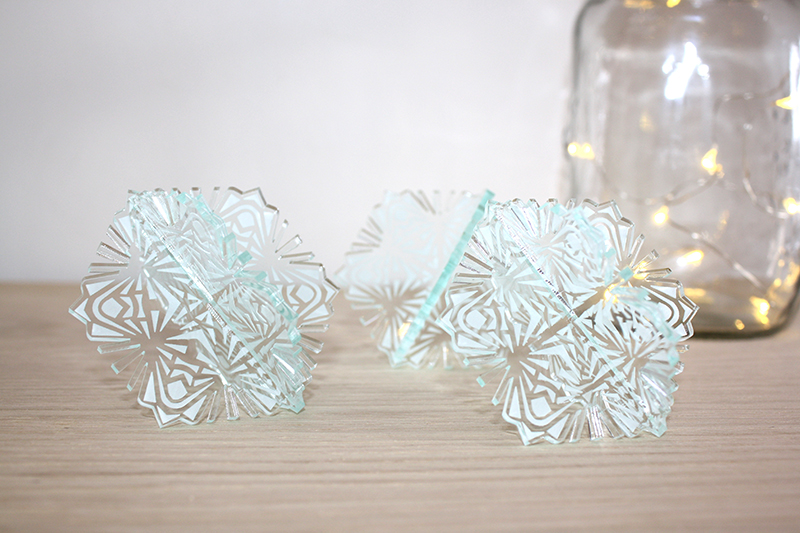 New Material In NZ Catalog: Green Glass Acrylic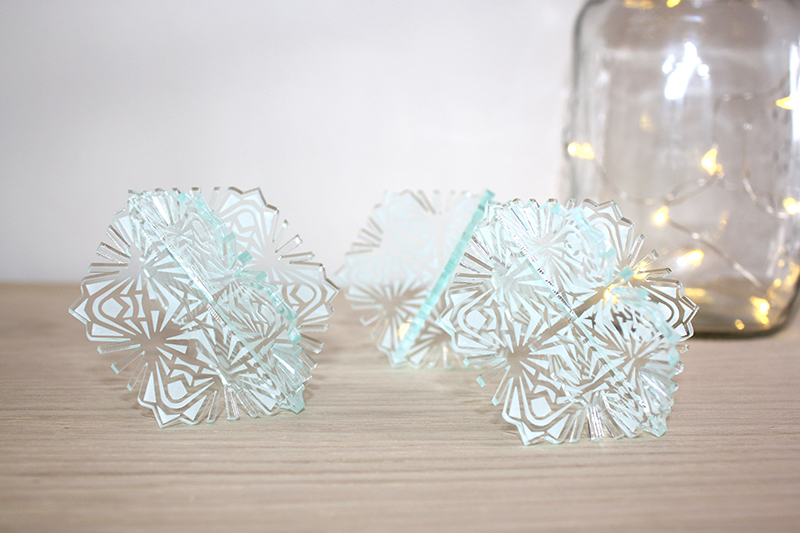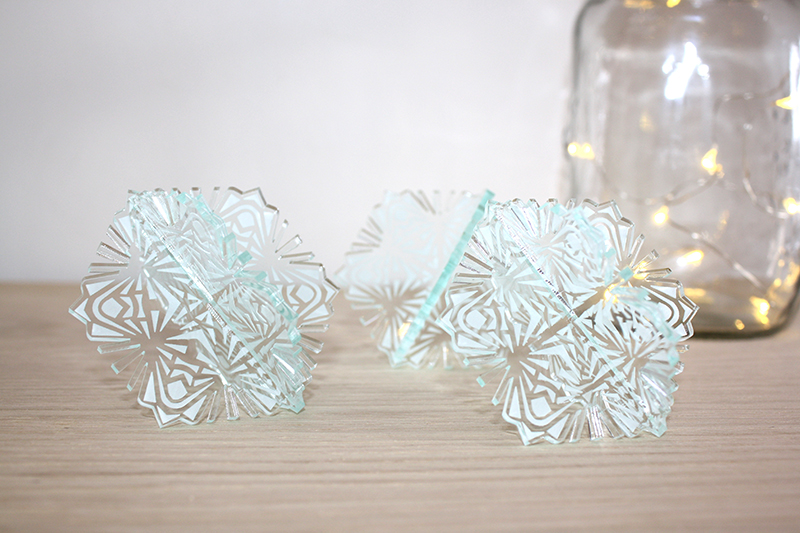 This popular material in the USA is now also available in NZ! Introducing laser cuttable 'glass' without the cost.
Why Green Glass Acrylic Is Amazing
Green glass acrylic is smooth on both sides and transparent, making it perfect for projects where the objective is to have the look of glass without the high price and pesky breakage issue.
The mini snowflakes above really take advantage of the icy, glass-like color you get with this material. But keep in mind that the smaller the design, the less green and more transparent it will look on the edges.
Green Glass Acrylic And A Samsung Camera
Because of the transparent nature of green glass acrylic, you can combine it with other materials to create one-of-a-kind displays like this one from Milos Paripovic.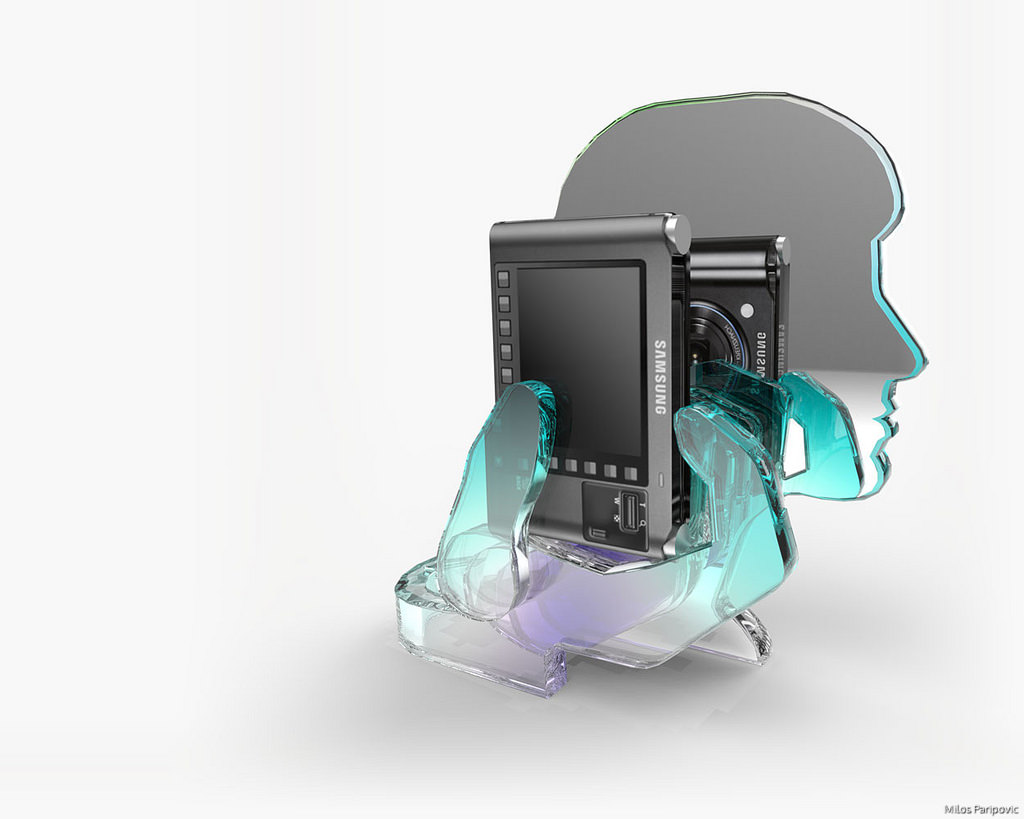 This point-of-sale store display for a Samsung camera was laser cut and then mirror foil was fixed to the head so customers could simultaneously see the back side of the camera. The design is certainly an attention-getter, and what could be better camera holder than a hand!
Green Glass Acrylic On Etsy
How are Etsy sellers using green glass acrylic in their shops? Check out this mini greenhouse from 2of2.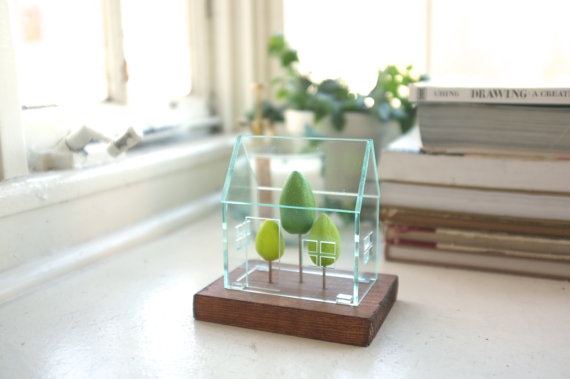 The little structure brings the outdoors in with an interior stand of tiny trees. The sleek geometric lines of this "glass-look" house are softened by the whimsy of the trees inside. A fun way to tap into the terrarium home décor trend.
Next, you won't believe what OMGoshShop can do with green glass acrylic. Cut into the sensuous curve of the Kanagawa wave, this bracelet is based on the famous woodblock print by Hokusai.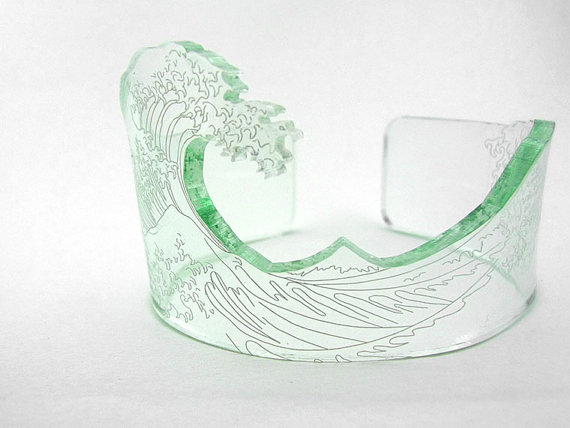 The waves, though they look ferocious, have been designed so that the tips won't scratch or snag. The acrylic is etched, hand highlighted to emphasize the crashing waves, heated to 140+ degrees and then molded by hand. Unlike mass-made round bracelets, this cuff is oval and curves closely to the wrist making it comfortable for everyday wear.
Available Now – Green Glass Acrylic
This acrylic is clear with just a hint of green tint on the edges, giving you a subtle acrylic option versus the stronger colors available.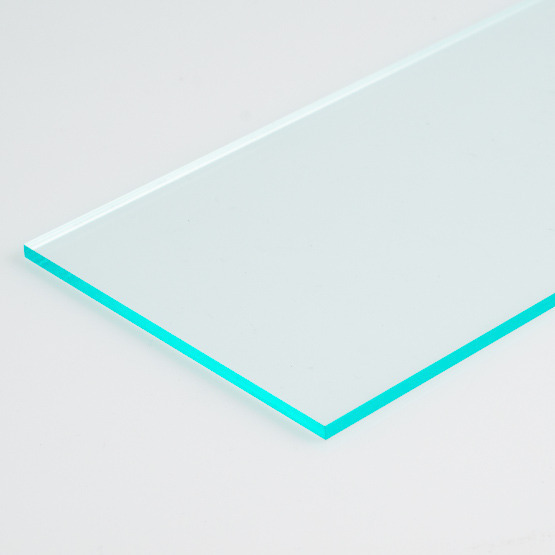 Learn about Green Glass Acrylic details and get a Green Glass Acrylic Sample.
Now It's Your Turn
You could clearly have tons of fun making with this new material. What ideas do you have? Tell us all about it by leaving a comment below. We have a $20 coupon for the best idea!