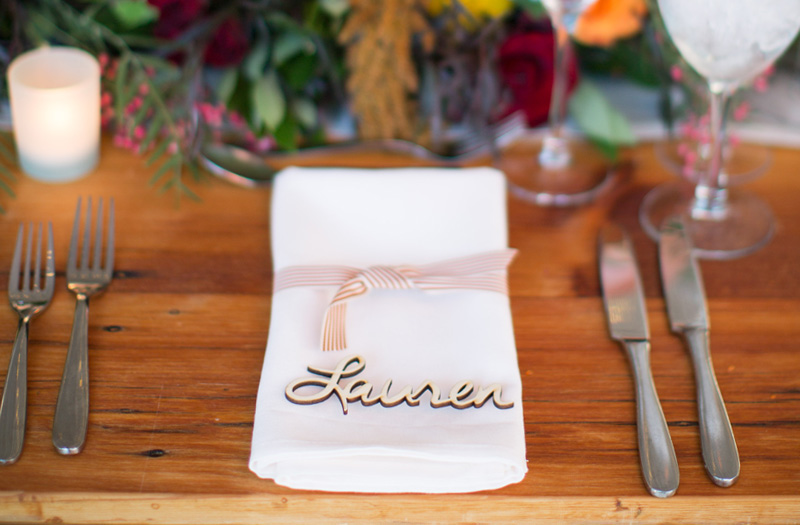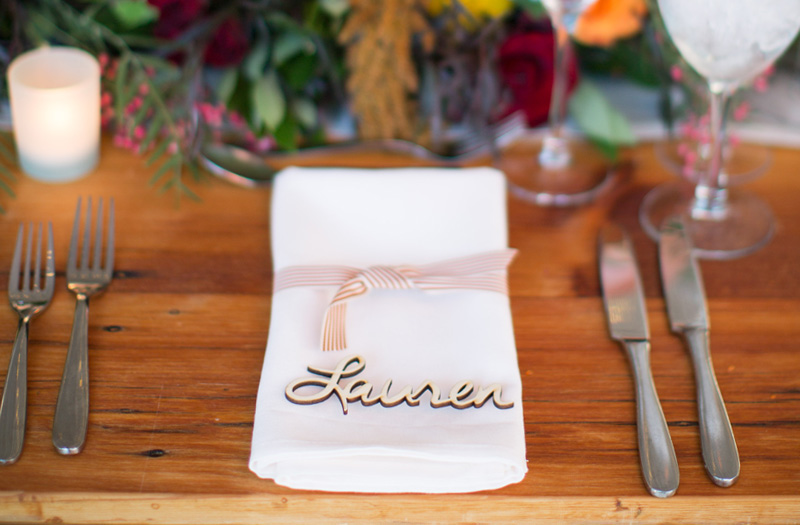 Michelle Edgemont Design Uses Small Details To Create Big Experiences For Clients
When planning events—whether wedding celebrations or corporate festivities—much time (and blog space) is dedicated to invitations, decorations, entertainment, swag bags, etc. Don't get me wrong, it's critical to get all those aspects right.
But what often sets one event apart from all the others can be found in the small details—those personal touches that are a clear indication that this particular celebration could only belong to a specific host.
At Michelle Edgemont Design, Michelle Edgemont says she and her team do two things, and do them well: Event design and floral design. Clearly they're doing something right, as Michelle has been named one of the 35 under 35 Brightest Stars in the Floral Business by Floral Review Magazine, quoted in the NYTimes and the best-selling book A Practical Wedding, and featured multiple times on Style Me Pretty, Martha Stewart Weddings, The Knot and HGTV.
When Michelle plans a client's event, she begins by building a design board and color palette. "From there, a robust design deck is created to show off the complete plan to the client," she explains. "Then we get down to the nitty-gritty by designing the small details that really make an event super special—such as laser cut place cards."
Laser Cutting For Social Events
Since launching her namesake company in 2011, Michelle has been building "a community that inspires, supports and applauds all couples who are promising their lives to each other through bold, beautiful celebrations." Based in Brooklyn, Michelle's clientele are typically from the greater New York area, although she has branched out into New Jersey and Pennsylvania.
Regardless of the event location, Michelle has one primary goal. "We strive to create events for our clients that feel well thought out and special," Michelle says. "Many times at weddings, we need to assign exact seats to guests, especially when working with long rectangle tables. By giving each guest their seat, it takes away that weird feeling of 'where am I going to sit,' like in a high school cafeteria. Guests feel well taken care of and comfortable. The added touch of the laser cut place cards makes each place setting feel more luxe and high end."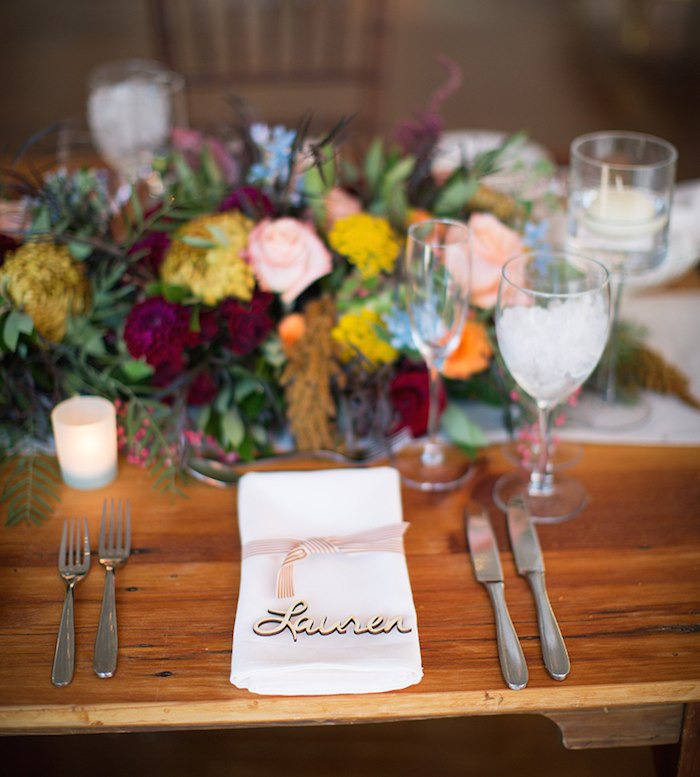 For a modern, quintessential NYC wedding upon the Tribeca Rooftop in Lower Manhattan, Michelle found inspiration in the skyline's clean architecture. "We designed contemporary florals in a black and white palette," Michelle says. "Lucite escort cards, geometric lanterns, sequin table linens and the coolest laser cut monogram place cards you've ever seen topped off their amazing celebration."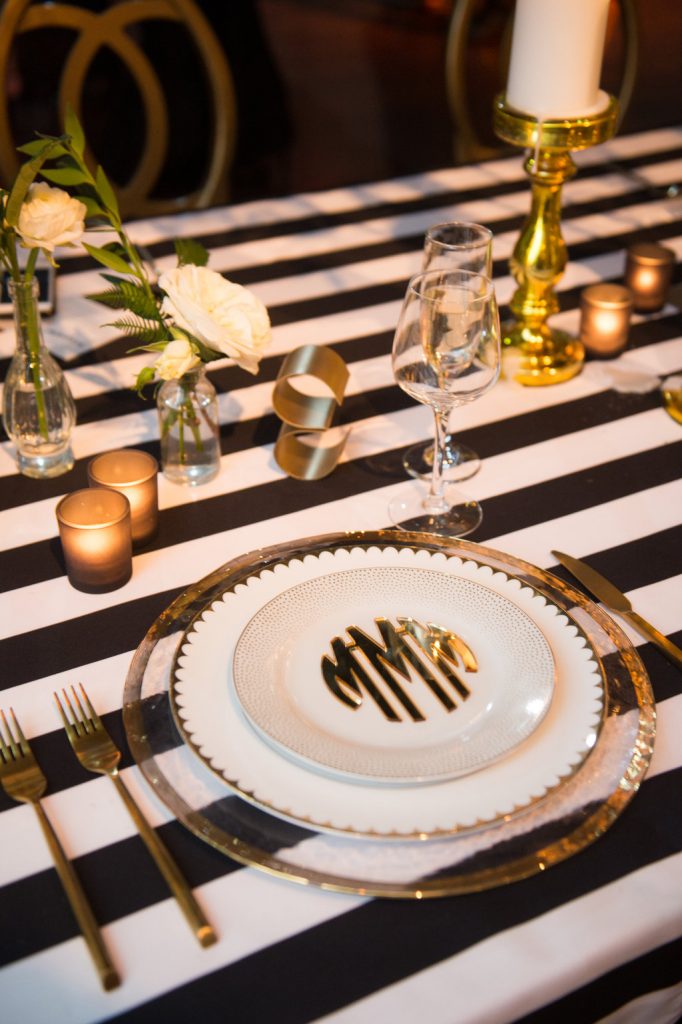 Here's a twist on a wedding easel sign. For a geometric inspired wedding at the Metropolitan Building in NYC, Michelle laser cut green acrylic for the sign and paired it with fresh flowers on the easel. The result is a beautiful mix of modern with traditional. Note the hexagon design in the bottom left and top right corners; it was carried throughout the event design from invitations and table numbers to menus and more.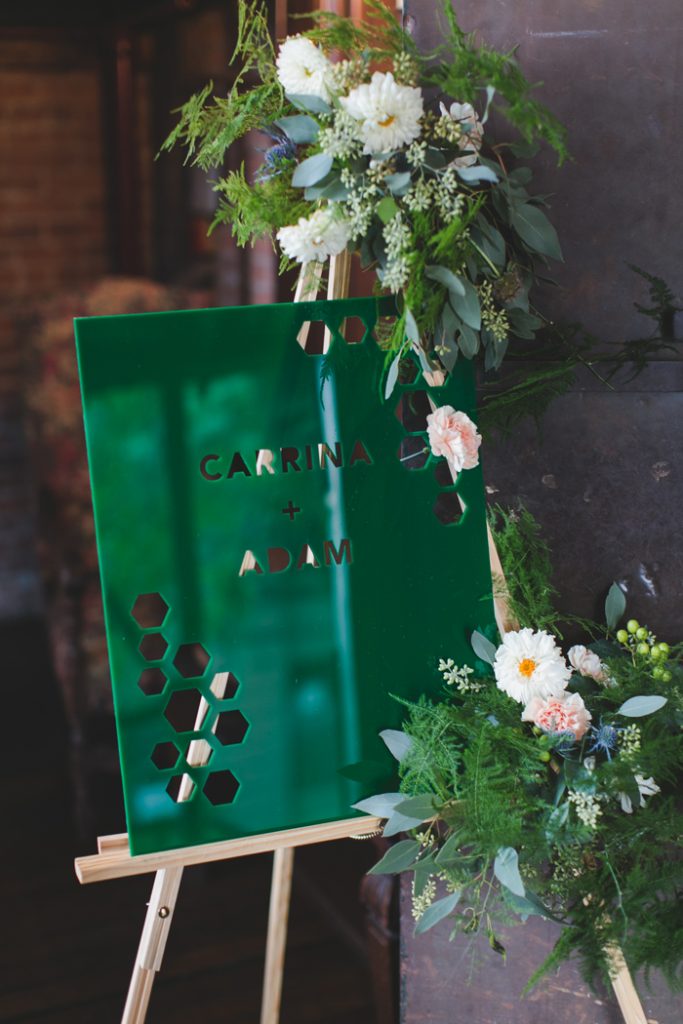 For the same wedding, Michelle also built a custom laser cut acrylic backdrop installation to bring contemporary color into the antique space. These special details perfectly tailored the event for the bride and groom.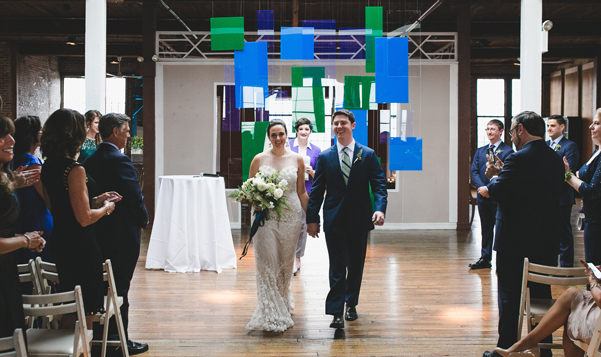 When a couple chose the Inn at Barley Sheaf Farm in Bucks County, Pennsylvania, for their reception, Michelle wanted table numbers that were in keeping with the style of the venue's oversized tent that included a full wooden floor, barn tables and a maze of cafe lights. Using a wooden square as the base, she affixed laser cut brass numerals to create custom table numbers that not only were functional but also tied into the fall-inspired theme.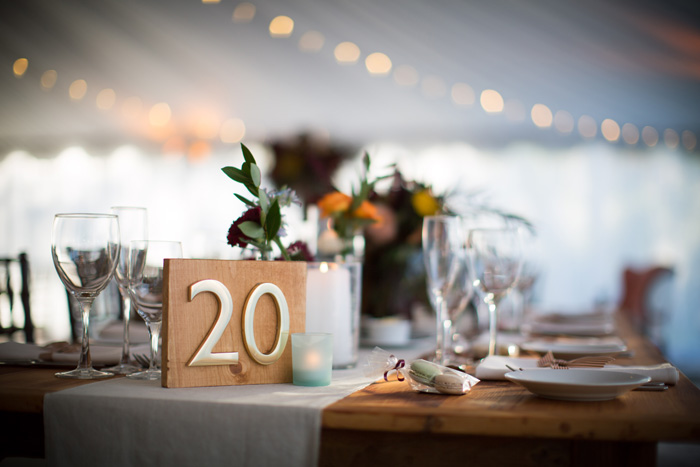 The beauty of using laser cutting when creating custom wedding decorations is that you can design to the exact size you need while creating the aesthetics the client wants. These chair decorations fit perfectly and incorporate a font that ties into the overall event theme (including the table numbers above and the printed menu cards).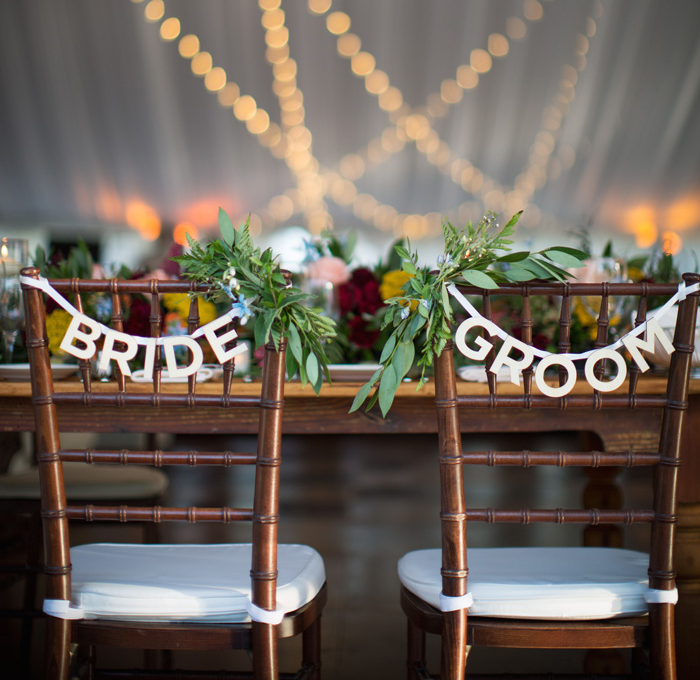 For a woodland themed baby shower at Gramercy Terrace in New York City, Michelle laser engraved attendees' names on wooden woodland creatures for place cards that became keepsakes for the special occasion.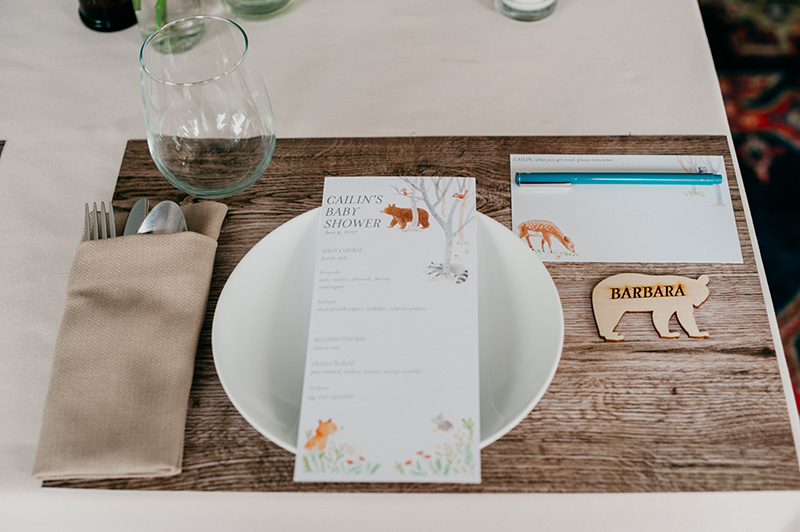 Laser Cutting For Corporate Events
Planning for weddings and corporate events is quite similar…especially when the corporate event is for the wedding industry. The Be Sage Conference is an annual retreat for wedding professionals to learn how to better their businesses. For the convention held in Cabo San Lucas, Mexico, Michelle Edgemont Design was the official event designer charged with building three distinct, yet complementary, spaces for the attendees to experience during the conference. Each venue was to be consistent with Be Sage's branding while incorporating the beautiful environment of Cabo.
One of the scenes included a fresh, clean conference room where attendees would spend two full days of deep business learning. To give the room a contemporary design, Michelle brought the outside in by creating a tropical wonderland of lush leaves within a dramatic backdrop for the stage.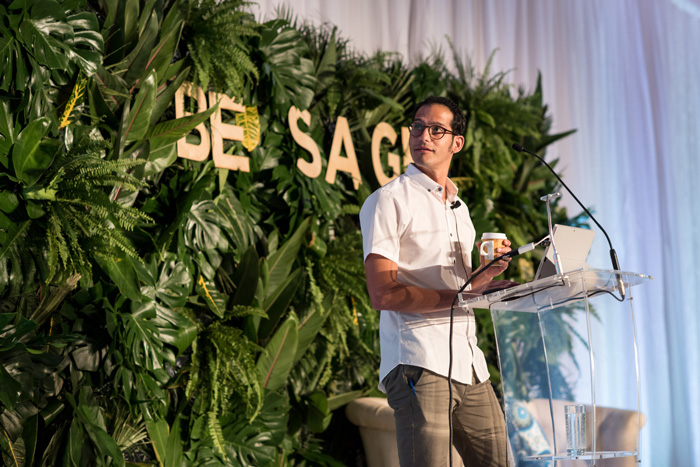 Notice how she incorporated the Be Sage logotype in laser cut letters to further support the brand identity.

To complement the tropical décor details, Michelle also laser cut name tags so attendees would have a professional way to identify themselves. "Unconventional details, such as wooden name tags, acted as the perfect instagram-able moments for attendees to share with their followers," Michelle says.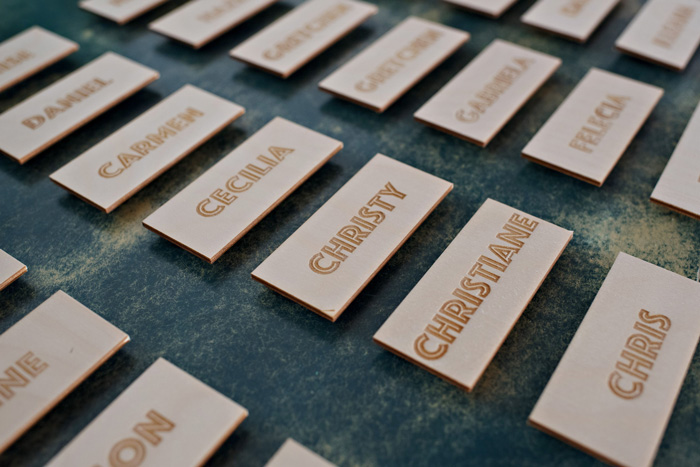 Styling The Perfect Event
Michelle often works with acrylic or wood, but depending on the aesthetic of the event, she chooses materials that work best with the look. "For a woodsy baby shower and a fall inspired wedding [above], we chose bamboo for its warmth. A more modern wedding works best with crisp, shiny acrylic.
"I love the hearty materials that we can use with laser cutting," she continues. "The weight of the wood and the thickness of the acrylic bring a dimension that we wouldn't be able to achieve with paper."
Being able to create the artwork for each project and upload it herself is important to Michelle since she is selling a completely customized event to her clients. Clearly, buying off the shelf just won't do. "Working with Ponoko is often less expensive than local options here in NYC as well," she says. "Even with the shipping, Ponoko is fast, convenient and the customer service is A+."
As a lifelong creative, Michelle holds a BFA in Textile/Surface Design from the Fashion Institute of Technology and spent seven years working the fashion industry before finding her passion of designing joyful events and whimsical florals.
"My experience putting together cohesive collections of textile designs for well-known brands is evident in the way I piece together the many items needed for a completely immersive event experience," she says. "I love working with companies that are unapologetically themselves, smart with their marketing positions and appreciate out-of-this-world instagram-able moments at their events."
Michelle knows that in order to create these big moments for her clients, the little details truly matter. "I'll always be that person who would rather spend more money and time making something then buying it pre-made," Michelle says. "I want to use my creative talents to serve people with a larger purpose. What better way then to create memorable decor for celebrations!"

To learn more about Michelle Edgemont Design or to work with her on customizing your next event with laser cut details, visit the website and follow her on Instagram.