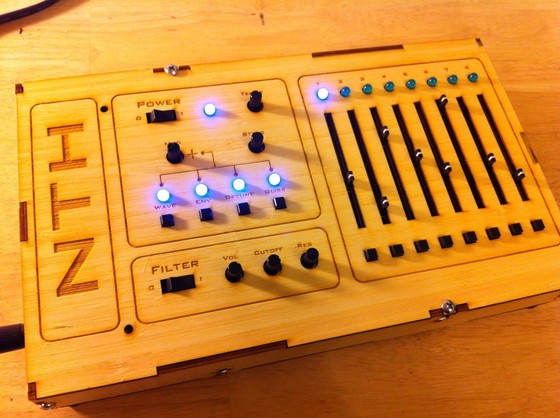 Meet the makers of the NTH Synth, following their successful Kickstarter campaign

This mouth-wateringly good looking machine is the NTH Synth, a product that was recently crowd-funded on Kickstarter. I interviewed the guys behind NTH Synth about DIY electronics, designing for Ponoko, and how to get your crowd-funding campaign to stand out from the crowd.

Congratulations on your successful Kickstarter campaign: the NTH looks amazing! It's obvious you guys have put a lot of work into the design, and that effort has now been recognised by the community. What's your background? Is electronics a hobby that got serious or is it your real job?
Kevin: Thank you for your kind words. We are very grateful for the response that the NTH received.
My background is a bit varied, but I majored in music, and have spent the last decade or so in synthesis and generative music. I run sineqube.com which offers freeware and shareware Max/MSP applications geared toward the niche electronic musician. I also have some art and graphic design background, dabble in programming, and tinker with electronics. My day job is teaching music.
John: My day job is designing electronics for my company, Highly Liquid. Before that, I worked in the telecom equipment industry as a software engineer.
Tell me about the process of getting from the first breadboard prototypes to this slick product: how long have you been working on the design? Is it the result of a gradual evolution or a more intentional process.
John: It took roughly a year to get from the first breadboarded "bird's nest" mockup to the production prototype. We built one breadboard version, followed by 4 custom PCB revisions.
Our main design goal was to build something fun and simple to use. Development followed in a mostly straight line with lots of refinements along the way. Looking back, the first prototype can be easily identified as a primitive, very ugly version of the production NTH.
How have you found working with Ponoko's making system and services? Any unexpected hurdles or pleasant surprises?
Kevin: John had some experience cutting things for Highly Liquid, but this was my first real laser cutting project. Getting the enclosure finalized was certainly a challenge at times, due to file transfer issues between programs, scaling anomalies, layout discrepancies, etc. So, getting to the final product once all of the issues were rectified was a big win.
Our enclosures were all prototyped using a local laser at the Columbus Idea Foundry, and the shipping units will be cut by Alex Traxler at Griffen Hollow Studio.
We decided to produce a Ponoko article so that we would be better informed about the process for those backers interested in making their own enclosures. The Ponoko making system is impressive and helps identify any issues in the file before moving to the cutting phase. This is obviously a great financial and temporal boon as the customer can feel confident that their first order will be done correctly. Also, it gave us an excuse to make a bamboo NTH.
Watching the pledges roll in on Kickstarter must have been a thrill and a tremendous validation for your hard work. How did you make your project stand out from the crowd? What kind of supporting publicity work did you have to do to make this a success?
John: We are very grateful for the support that the NTH has received. Interacting with our backers has been the most rewarding part of the project.
For the Kickstarter project itself, we did our best to have a very concise project description and video. We also got the help of a professional photographer to do product photos. To drive traffic to the project, we sent press releases to synth related blogs and took advantage of the mailing lists from our individual businesses. Finally, Kevin spent lots of time creating interesting demonstration videos for inclusion in project updates that we posted during the funding period.
Kevin: It's obviously a very surreal and humbling experience to see such a strong positive response to anything one puts so much time into creating. We are very pleased so many people are as excited about the NTH as we are.
We have been very fortunate to know some great people in the DIY and electronic music fields over the years. John's work at Highly Liquid has garnered great praise from his community, and I've been lucky to meet fantastic artists and musicians through sineqube.com. We mentioned our collaboration with the NTH to the people we met through these ventures and some of the publicity took care of itself as a result.
We tried to use the Kickstarter Update process as a vehicle to show all of the NTH's great features in more detail than we had time for in the primary video. We kept an eye on the feedback we were getting during the campaign so we could address any confusion about the instrument. For example, it became clear to us that a few people weren't sure about the NTH's MIDI capabilities, so we made sure to make this explicit in subsequent media. Our goal with the NTH was always to make it as fun as it is technically interesting, and we made a strong effort to show both sides of its personality in our video, audio, and images.
The DIY electronics community is really held together by a combination of a few core forums and a million scattered blogs: what are some of your favourite online resources?
John: I like the reading about DIY projects at GetLoFi and Make. I also love seeing the musical creations of the users at the Highly Liquid forum.