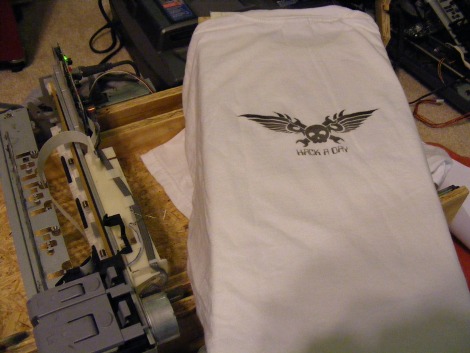 Build Your Own Thrifty T-Shirt Printer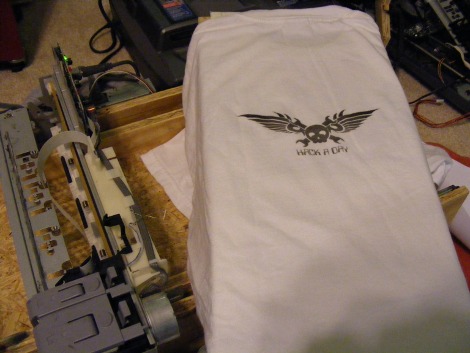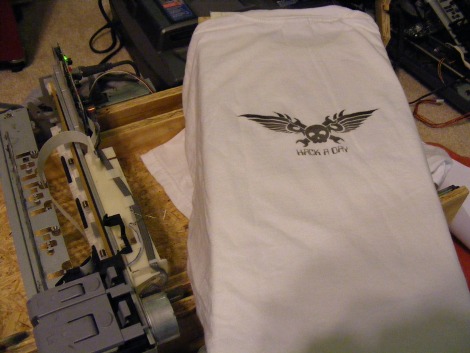 It is great to see someone putting discarded inkjet printer hardware to good use. The guys at Hackaday have published a step-by-step tutorial on how to take an old printer, and turn it into your very own t-shirt factory.
The process is referred to as Direct To Garment (DTG) printing, and becomes surprisingly accessible thanks to fabric friendly inks that can be used in standard inkjet printers. The trickiest part of this project seemed to be choosing which printer to use:
The printer you choose is the most absolutely crucial part of this hack. We took apart an HP DeskJet 3845, Canon iP1500, Brother MFC420CN, Epson Stylus Photo 820 and an Epson Stylus c40. Why so many? We literally purchased every printer the local thrift store had (at $6 a printer, it's not that bad actually)
After selecting one of the Epsons (the location of the paper sensor and the ink cartridge setup were among this printer's strong points) the next step was to build a feeder bed out of particle board, and reconfigure the disassembled printer components. The construction appears to have been fairly straightforward, with one minor hiccup – as can be seen in the image below, the paper sensor caused a bit of trouble and has to be held down manually at the beginning of each print run.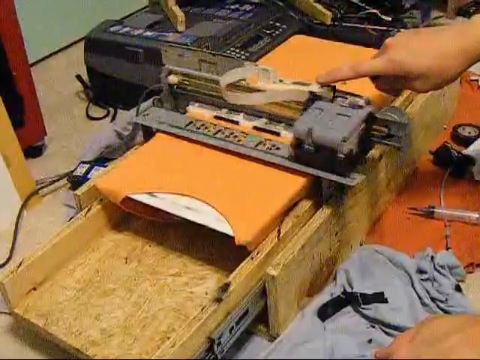 Be sure to click through to the Hackaday source article for full, thorough instructions and a brief video of the completed garment printer in action.
With the weird and wacky pricing on inkjet printers these days, many people choose to replace their entire machine rather than buy new ink cartridges. This DIY Direct to Garment Printer is one example of how easy it can be to adapt an everyday device and give it a whole new function. Perhaps the next step from here will be to hit the Ponoko Materials Library and get the laser cutters fired up for Version 2…
Via Hackaday